The Top 10 Clinics for Best Spine Specialists in Singapore
By Michaela Koh
If you're currently suffering from back pain or leg pain due to work/age-related conditions or a sports injury, you should consult with the best spine specialist in Singapore.
That's why we've searched all the medical centres in the country and come up with only the most trusted and best spine specialists in Singapore. Take a look at our list to find which one you'd like to visit.
(Note: This list is in no particular order.)
1.  Spring Hope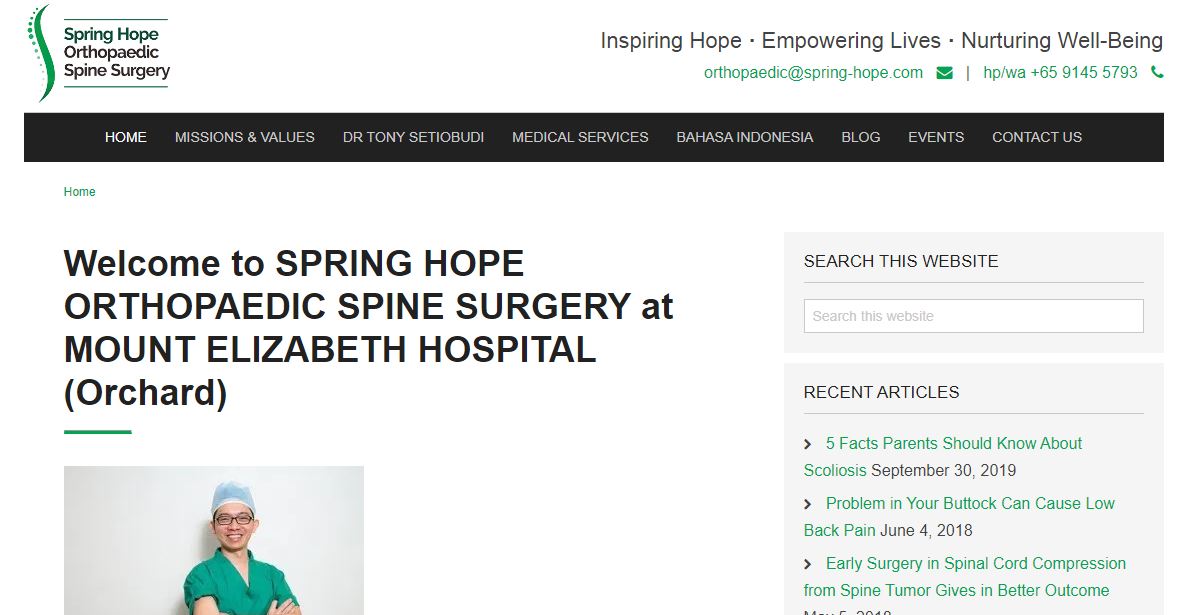 BEST FOR 
Wide range of treatments for orthopaedic conditions
WEBSITE
https://spring-hope.com/
ADDRESS
Paragon Medical Tower 1 (Lobby F, #18-06, Singapore 238859
CONTACT DETAILS
+65 6493 2541
OPERATING HOURS
Weekdays: 9am–5pm

Saturday: 9am–1pm
Spring Hope is equipped with some of the best spine specialists in Singapore who provide diagnoses and treatments for osteoporosis, back pain, scoliosis, and even children's conditions.
Their procedures include both surgical and non-surgical options, ensuring safety and effectiveness for greater improvements.
Other conditions that they treat include shoulder pain, tennis elbow, trigger finger, fracture, infections, nerve compression, and many more.
As they're a part of Paragon Medical Group, one of the largest medical establishments in the country, you can truly rely on their group of professionals and services.
Highlights
Treatments for children conditions
Surgical and non-surgical treatments
2.  Health In Your Hands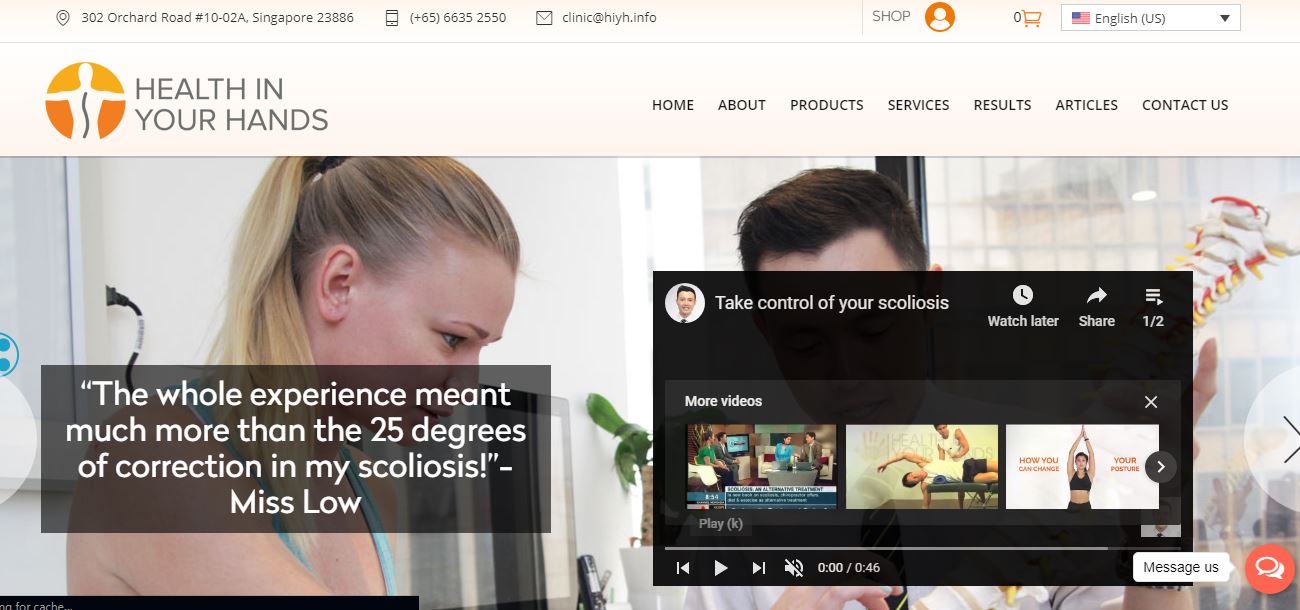 BEST FOR 
Scoliosis treatments
WEBSITE
https://hiyh.info/
ADDRESS
Tong Building 302 Orchard Road #10-02A Singapore 238862
CONTACT DETAILS
(+65) 6635 2550 / (+65) 9488 6501
OPERATING HOURS
Weekdays: 10am to 6pm

Saturday: 9am to 1pm
If you're looking for a professional who has great expertise in scoliosis conditions and mainly focuses on its treatment, Health In Your Hands may have the best spine specialists in Singapore for you.
Unlike other clinics, this place focuses entirely on scoliosis treatments. They specialise in providing effective non-surgical treatments with their advanced therapies and equipment.
They've even released books and other publications that can help the patients to manage and maintain their condition with an excellent nutrition guide.
Highlights
Special scoliosis program
Useful platforms for effective treatments
Customer Reviews
Many clients have been coming back for the medical services of Health In Your Hands. They've complimented their friendly staff, professional specialists, and detailed consultations that result in immediate improvements.
A client from Google reviews left this feedback:
"Dr. Lau is extremely kind and knowledgable. I have been consulting him for one year now and I must say I saw some visible results in my scoliosis condition. I am glad I found him after 4 years of my scoliosis journey and I wish I had found him before my scoliosis got worse."
3.  Precision Spine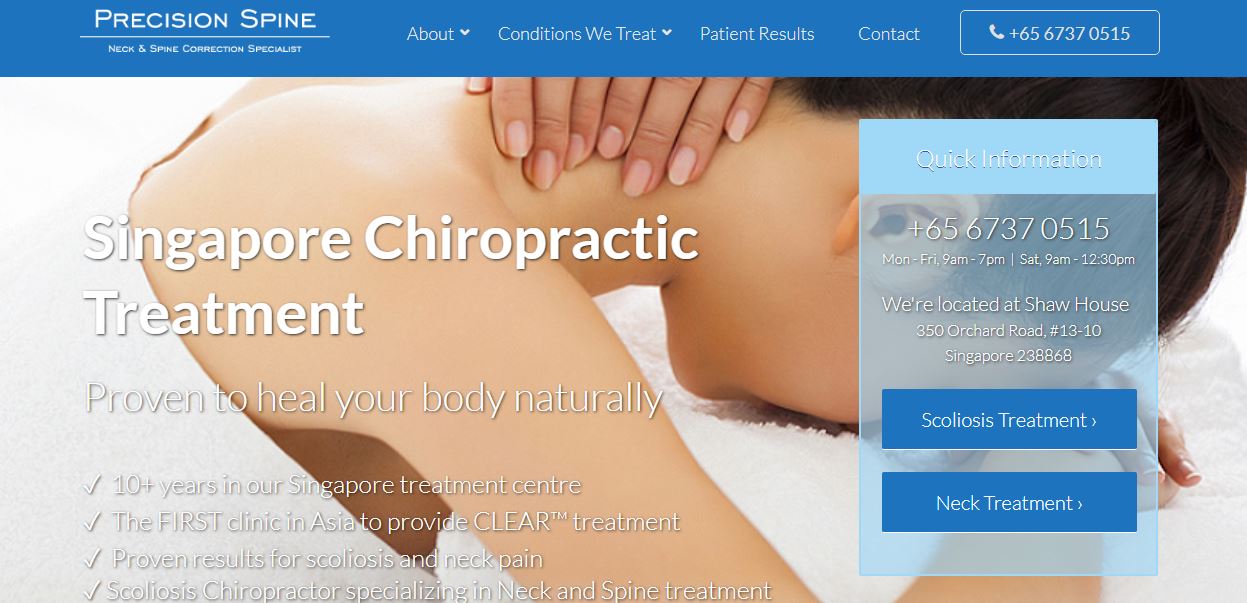 BEST FOR 
Neck and spine treatment
WEBSITE
https://www.precision-spine.com/
ADDRESS
350 Orchard Road Shaw House, #13-10 Singapore 238868
CONTACT DETAILS
+65 6737 0515
OPERATING HOURS
Weekdays: 9am – 7pm

Weekends:  9am – 12pm
As they've been serving countless clients for more than a decade, Precision Spine has become one of the most recommended clinics for spine treatment.
Their chiropractic therapies aim to heal and manage scoliosis, neck or shoulder pain, sports injury, poor posture, pregnancy aches and pains, and more treatments.
They give an inclusive guide on proper exercises and prevention that each individual must do to avoid possible severe conditions. With their modern techniques and equipment, they're known to have the best spine specialists in Singapore.
Highlights
Sports injuries
Chiropractic care
Customer Reviews
Most of Precision Spine's clients have shared delightful stories of their journey and experience with the clinic. They've mentioned the quality treatments and excellent consultations and advice of the specialists.
A client posted this review on Google Reviews:
"I travel the world and was fortunate to fine Dr. Kalla who did wonder work on my leg and back injury. my accident occurred around the first part of December 2017 and when I returned home to Orange County California in January 2018. I could walk with aid of cane or need for wheel chair after his treatment. He may well be on of the most knowledgeable  people in his field. His advice and treatment was superior to going to the E.R and being shot up with pain killers that did not work."
4.  Mount Elizabeth Hospital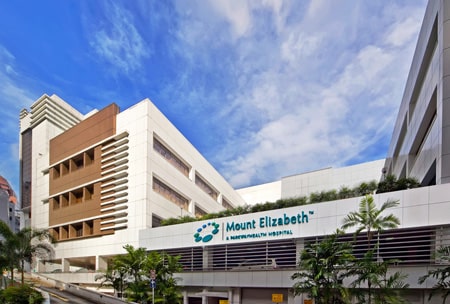 As we all know, the largest medical hospitals will always provide a full range of services — and this includes Mount Elizabeth Hospital, where they have some of the best spine specialists in Singapore.
They conduct physiotherapy treatments for spine conditions. These procedures will help improve strength and flexibility.
They also offer other orthopaedic treatments for knees, foot, hand, shoulder, as well as sports injuries.
Highlights
Orthopaedic treatments
Excellent facilities
5.  Gleneagles Hospital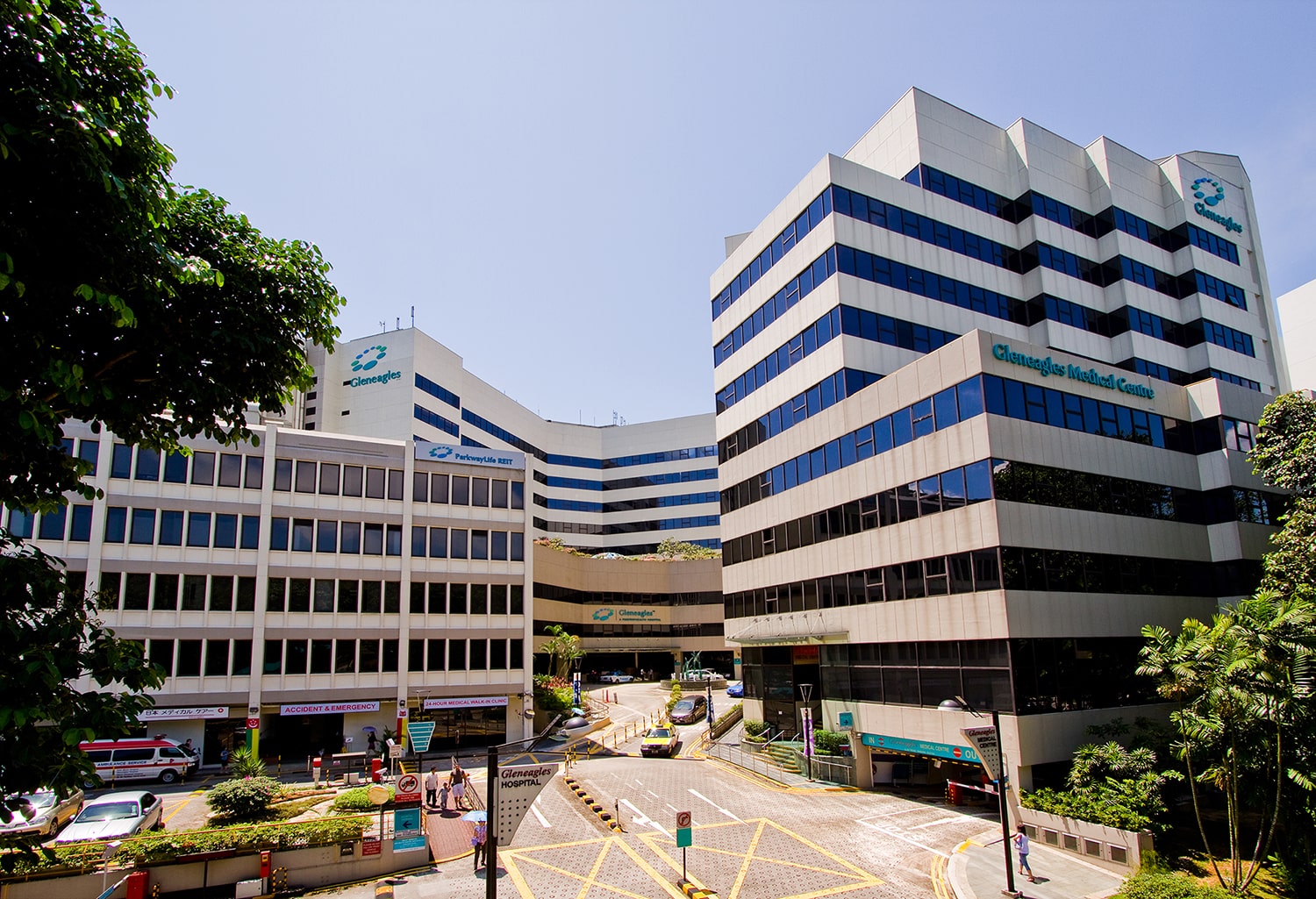 | | |
| --- | --- |
| BEST FOR  |  Extensive financial options |
| WEBSITE | https://www.gleneagles.com.sg/ |
| ADDRESS | 6A Napier Road Singapore 258500 |
| CONTACT DETAILS | +65 6473 7222 |
| OPERATING HOURS | Open 24 Hours |
Gleneagles Hospital provides treatments for common spine conditions such as lower back pain, slipped discs, nerve decompression, and more. They also treat ankle and feet, elbow, hand and wrists, hip, knee, shoulder, and sports injuries.
They have a group of the best spine specialists in Singapore so you can certainly be accommodated with amazing service and treatment.
Highlights
Financial counselling
Price guarantee
6. Heartland Physio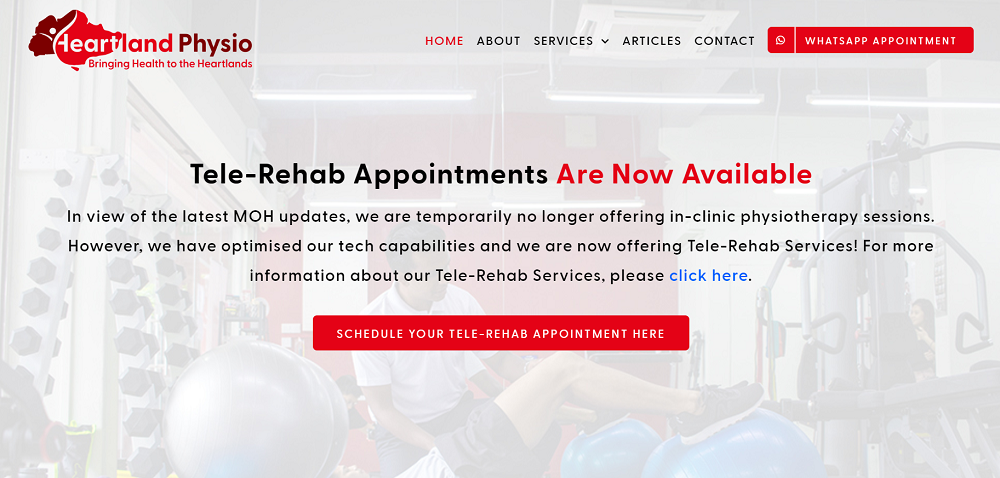 BEST FOR

Sports & Spine Physiotherapy

WEBSITE
https://heartlandphysio.com/
ADDRESS

11 Jalan Bukit Merah,  #01-4454, S150011, 2 Orchard Link, #02-15, *SCAPE 237978

CONTACT DETAILS
+65 9424 7154 | i

[email protected]

OPERATING HOURS
Mon – Fri: 8am – 9pm , Sat: 8am – 3pm (by appt)
Heartland Physio takes pride in their team of AHPC registered physiotherapists that specialize in various fields from sports rehabilitation, orthopedics rehabilitation to spine rehabilitation. The clinic most especially caters to athletes who are more prone to injuries and would require constant physiological care.
Nonetheless, they also open their doors to people of all ages, should they need a professional staff to attend to their physiological needs.
Some of the services that Heartland Physio offers are Sports Massage, Musculoskeletal Physiotherapy, Home Physiotherapy, etc.
Highlights
Highly-qualified specialists

Sports team coverage

Tailored exercise program

Home service
Customer Reviews
The clients of Heartland Physio were extremely delighted to have availed their service as they clearly showed quick improvements in their condition after just a few sessions from the team.
"Came across [Heartland Physio] through Google in search of Physiotherapy due to a back injury I thought I've sustained. Was apprehensive about going because it was my first time. Was greeted by my physiotherapist Timothy when I came, he started the session off with  consulting me about the whole process of how I got my injury, he then slowly explained to me how it is most likely a sprain rather than an injury. Throughout the following sessions, he helped me through doing a lot of stretching exercises, through correcting me and teaching me what the proper posture was. I really enjoyed the sessions as they were really professional and effective in helping me recover from the sprain. Now I'm feeling much better and well recovered to carry out my tasks in the army."
7. Elite Spine Centres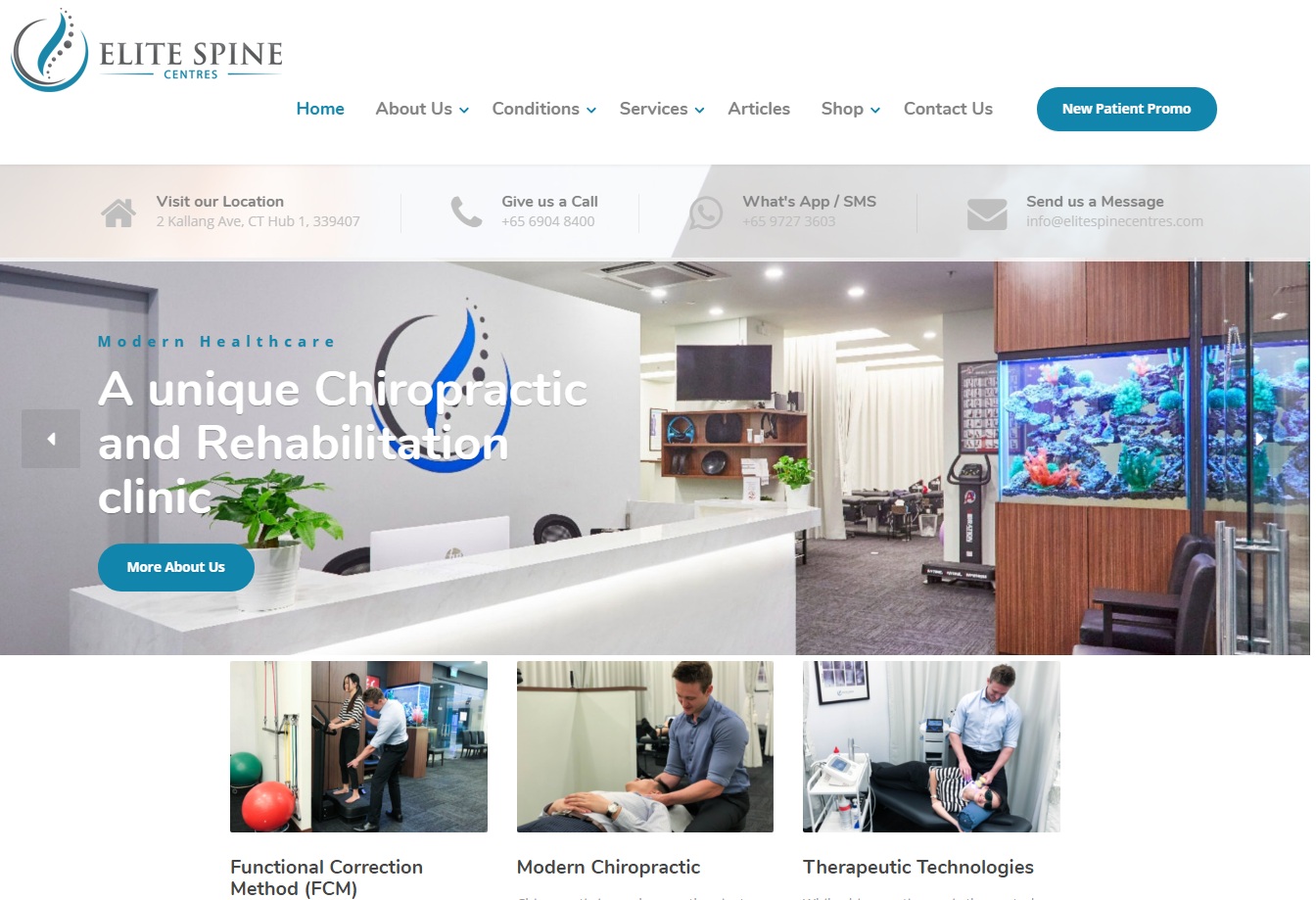 BEST FOR

Modern Chiropractic

WEBSITE

https://www.elitespinecentres.com/

ADDRESS

2 Kallang Ave, CT Hub 1, 339407

CONTACT DETAILS
+65 6904 8400/+65 9727 3603 | [email protected]
OPERATING HOURS

Tuesday: 08:30-19:00

Wednesday: 08:30-19:00

Thursday: 08:30-17:00

Friday: 08:30-19:00

Saturday: 09:30-15:30
The mission of Elite Spine Centres is to provide the people in Singapore some first-class physiological treatments that will help ease their pain and injuries. 
Applying proper and quick procedure is vital in addressing concerns like this that is why they make sure to conduct initial assessment on the patient's current condition and from there they will design a program that is suitable and deemed effective for them.
Dr. Michael Bryant, the in-house chiropractic specialist is a member of the Alliance of Chiropractic (AOC) Singapore and along with his team, he guarantees optimal solutions for your therapeutic needs.
Highlights
Extensive range of conditions treated

Therapeutic technologies and modern chiropractic

Highly-qualified specialists
Customer Reviews
"Dr Mike and team have done a fantastic job in helping me with my back and neck issues. His treatment is top class and he always knows exactly where the sore spots are! The treatment has been highly effective in helping to ease the constant pain and soreness in my neck and shoulder areas, and has been a great help in allowing me to work pain free and more importantly enjoy sports (squash) pain free! I highly recommend Dr Mike and team if you have any been suffering from constant back and neck pain issues!"
8. Chiropractic Health and Wellness Clinic Pte Ltd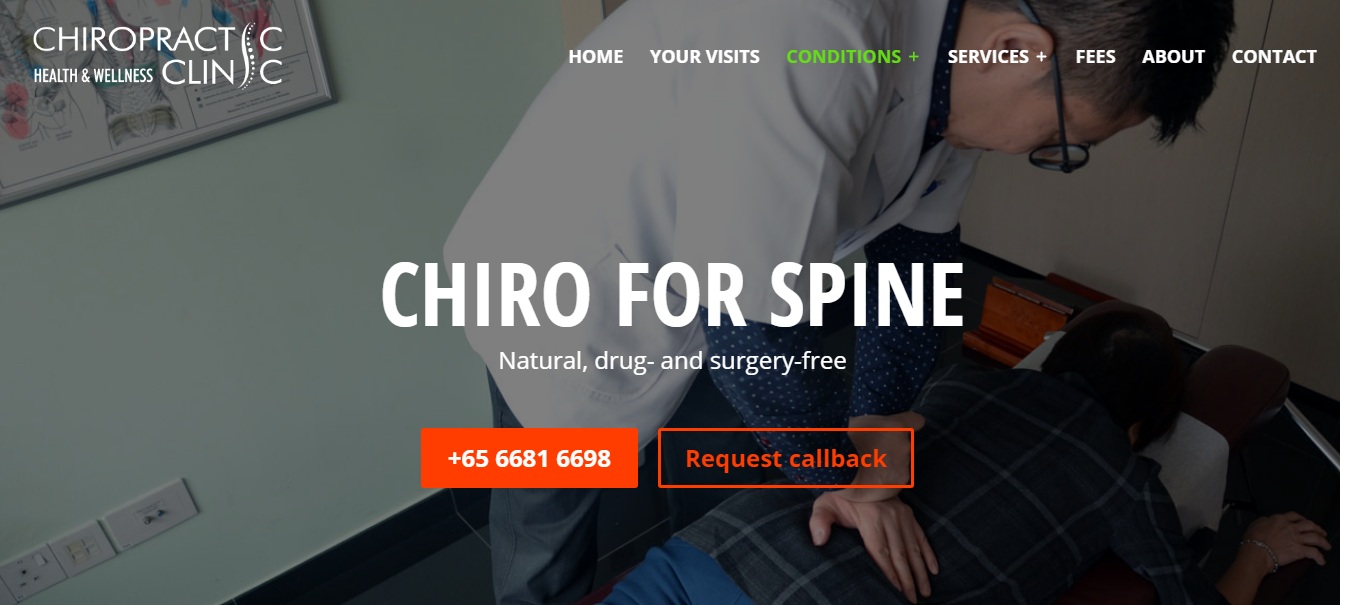 Chiropractic Health and Wellness Clinic Pte Ltd offers a holistic chiropractic procedure uniquely designed for each of their patients. The team avoids any complications or damages by incorporating natural, drug-and surgery free procedures.
Their services cover correcting of misaligned spine, relieving of muscle spasms, and therapies to counter pain.
Part of the team is Dr. Liew, a pain management specialist and a certified chiropractor. He aims to help people of all ages address their spine concerns in the easiest, most comfortable way possible.
Highlights
Surgery-free

Results-oriented philosophy

Dependable chiropractic services
Customer Reviews
The clinic has a 4.2-rating on Google and this is what one of the clients posted in the review.
"Have tried many chiropractor. this is definitely somewhere i would recommend. Dr Liew is a vry experience, serious, and efficient doctor. Feeling much better after session. No sales and promotion of packages."
9. Rapid Physiocare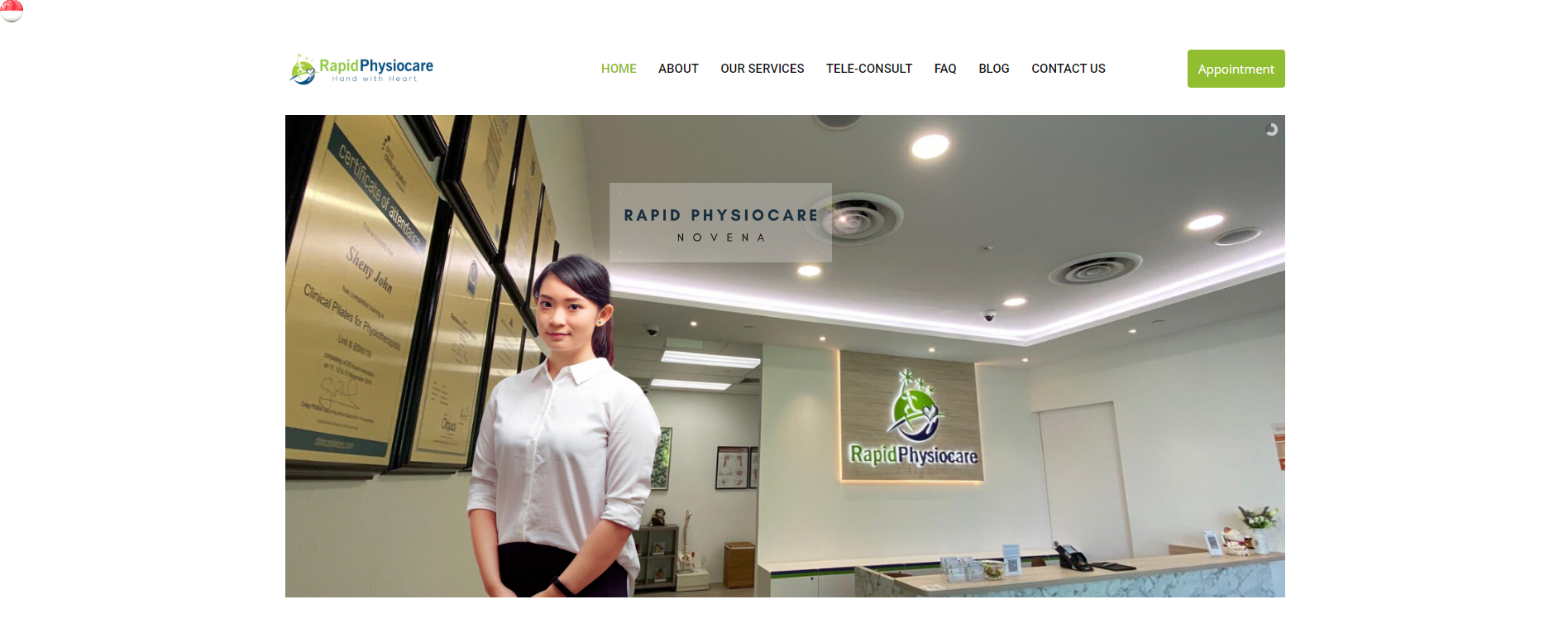 BEST FOR
Physiotherapy Needs
WEBSITE
https://rapidphysiocare.com/
ADDRESS
Tanjong
10 ANSON ROAD,#21-15,
INTERNATIONAL PLAZA, SINGAPORE 079903Novena
8 SINARAN DR #02-02/03 NOVENA SPECIALIST CENTER, SINGAPORE 307470
CONTACT DETAILS
 +65 6904 4900 / +65 9093 3549 | [email protected]
Known as a prominent physiotherapy clinic in Singapore, Rapid Physiocare always makes sure to provide only the most effective specialist physiotherapy services. To make this happen, the therapists they hire are highly trained and qualified professionals, with extensive experience in treating a multitude of conditions.
They aim to improve the quality of lives of as many people as possible by empowering them and helping them realise their potential. For many years they have been delivering the best clinical service to their clients with excellent outcomes, which makes them the most trusted choice for physicians, families and health professionals.
Acquiring their services is a must, if you ever need specific treatments to better improve your life. You will not have to worry, for their staff is thoroughly experienced– you are safe in their hands.
Highlights
Musculoskeletal Physiotherapy
Pre / Post Orthopaedic Conditioning
Manual Lymphatic Drainage
Customer Reviews
Here is a review left by a very satisfied client:
"Wonderful caring therapists that help explain my problem and guided me on posture changes that improve my quality of life." – Hooi Cheng Goh
10. Dr. Yeo Sow Nam – The Pain Specialist
| | |
| --- | --- |
| BEST FOR  | Pain Management |
| WEBSITE | https://www.painspecialist.com.sg/ |
| CLINIC | Mount Elizabeth Novena Specialist Centre |
| ADDRESS | 3 Mount Elizabeth #15-09 Medical Centre Singapore 228510 |
| CONTACT DETAILS | (+65) 6887 4756 | [email protected] |
| OPERATING HOURS | Monday – Friday, 9:00 AM – 5:00 PM |
If you're looking for a pain specialist with an impressive education and professional background, then Dr. Yeo Sow Nam would be the right match for you! For one thing, he's the director of the pain management team of Mount Elizabeth.
What's more, Dr. Yeo trained and practiced in Prince of Wales Hospital in Sydney, making him the first physician in Singapore to be accredited in the pain management specialty. Dr. Yeo also has an extensive area of expertise that includes cancer pain, back pain, post surgical pain, neuropathic pain, and many more.
Dr. Yeo is more than capable of dealing with all sorts of pain and providing effective diagnosis and treatments — which is why we name him one of the best pain specialists in Singapore.
Highlights
With local and international exposure
Trusted by patients of all ages
That's it for our list of the best spine specialists in Singapore. If you've got more options in mind, let us know so we can include their medical services among our selections.
Also, you may want to consult with these best orthopaedic specialists in Singapore as they also focus on treating various spine conditions.