Our 12 Favourite Spine Specialists in Singapore
If you're currently suffering from back pain or leg pain due to work/age-related conditions or a sports injury, you should consult with the best spine specialist in Singapore.
That's why we've searched all the medical centres in the country and come up with only the most trusted and best spine specialists in Singapore. Take a look at our list to find which one you'd like to visit.
(Note: This list is in no particular order.)
HC Orthopaedic Surgery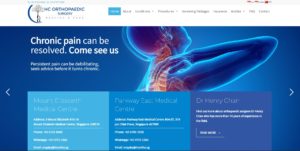 BEST FOR
Orthopaedic surgery and post-surgery care
SERVICES

Total Hip Replacement Surgery 

Total Knee Replacement Surgery 

Viscosupplementation

Slipped Disc Treatment

Sciatica Treatment 

Tennis Elbow

Carpal Tunnel Syndrome

General Geriatric Fractures

General Paediatric Injuries

Elbow Fractures in Children

PRICING
Call their hotline for fees
ADDRESS

Mount Elizabeth Medical Centre

3 Mount Elizabeth #15-14

Singapore 228510




Parkway East Medical Centre

319 Joo Chiat Place #04-07

Singapore 427989

CONTACT DETAILS

Tel: +65 6732 8848

Emergency: +65 9755 5366

Email: [email protected]

WEBSITE
https://www.hcortho.sg
OPERATING HOURS
Monday – Friday: 9:30 AM to 5:30 PM
Saturday: 9:30 AM to 1:00 PM
If you're looking for a clinic that can address your spinal issues and other orthopaedic needs, then look no further away from HC Orthopaedic Surgery.
You will be under the care of Dr. Henry Chan, who is well-versed in treating degenerative spine disorders, such as prolapsed intervertebral discs (slipped discs), as well as adult and pediatric fractures and trauma.
The clinic conducts an MRI scan of the spine and physical examination before administering any slipped disc treatment. They will also look into your medical history to prevent any complications.
All patients get intensive post-operative care from HC Orthopaedic Surgery in order to encourage full and effective recovery. The facility's support medical staff keeps track of each patient's post-surgery recuperation and attends to all of their recovery needs.
With all that said, we highly recommend HC Orthopaedic Surgery if you're looking for the best spine specialist in Singapore.
Highlights
Provides comprehensive post-surgery care

Offers geriatric orthopaedic care

Emergency 24-hour hotline
Spring Hope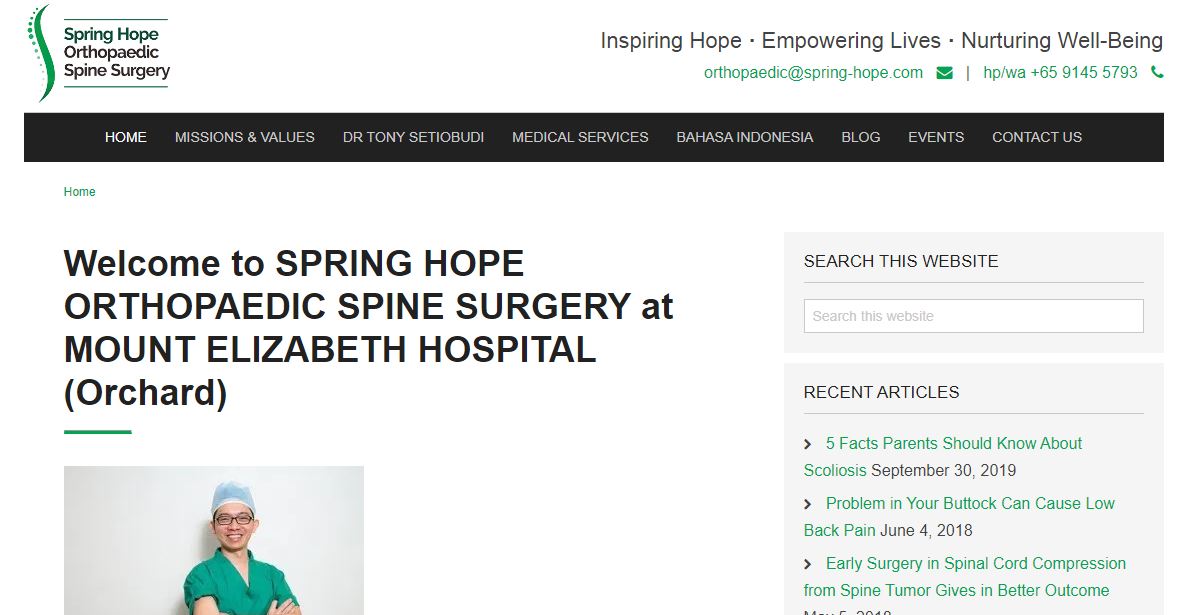 BEST FOR 
Wide range of treatments for orthopaedic conditions
WEBSITE
https://spring-hope.com/
ADDRESS
Paragon Medical Tower 1 (Lobby F, #18-06, Singapore 238859
CONTACT DETAILS
+65 6493 2541
OPERATING HOURS
Weekdays: 9am–5pm

 

Saturday: 9am–1pm
Spring Hope is equipped with some of the best spine specialists in Singapore who provide diagnoses and treatments for osteoporosis, back pain, scoliosis, and even children's conditions.
Their procedures include both surgical and non-surgical options, ensuring safety and effectiveness for greater improvements.
Other conditions that they treat include shoulder pain, tennis elbow, trigger finger, fracture, infections, nerve compression, and many more.
As they're a part of Paragon Medical Group, one of the largest medical establishments in the country, you can truly rely on their group of professionals and services.
Highlights
Treatments for children conditions
Surgical and non-surgical treatments
ScolioLife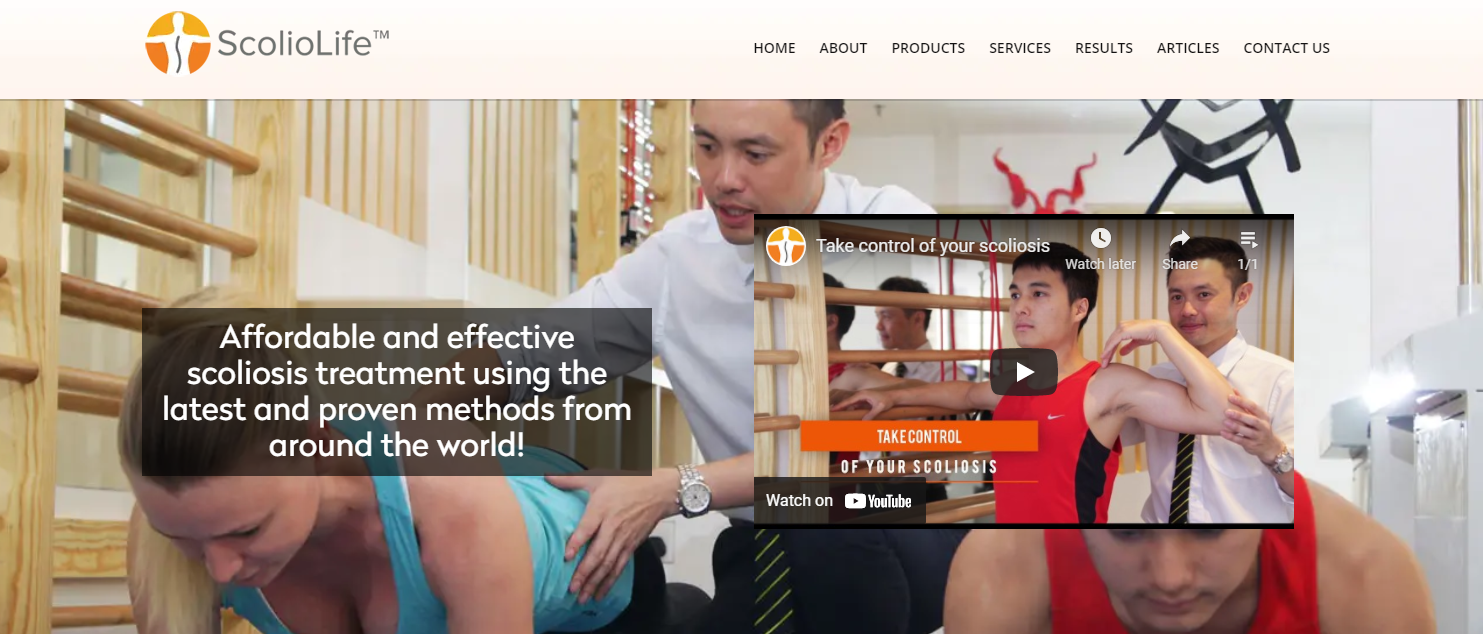 BEST FOR
Scoliosis treatments
WEBSITE
https://scoliolife.com
ADDRESS
302 Orchard Road #10-02A, Singapore 23886
CONTACT DETAILS
(+65) 6635 2550
[email protected]
OPERATING HOURS
Weekdays: 10am to 6pm

Saturday: 9am to 1pm
If you're looking for a professional who has great expertise in scoliosis conditions and mainly focuses on its treatment, ScolioLife may have the best spine specialists in Singapore for you.
Unlike other clinics, this place focuses entirely on scoliosis treatments. They specialise in providing effective non-surgical treatments with their advanced therapies and equipment.
They've even released books and other publications that can help the patients to manage and maintain their condition with an excellent nutrition guide.
Highlights
Special scoliosis program
Useful platforms for effective treatments
Precision Spine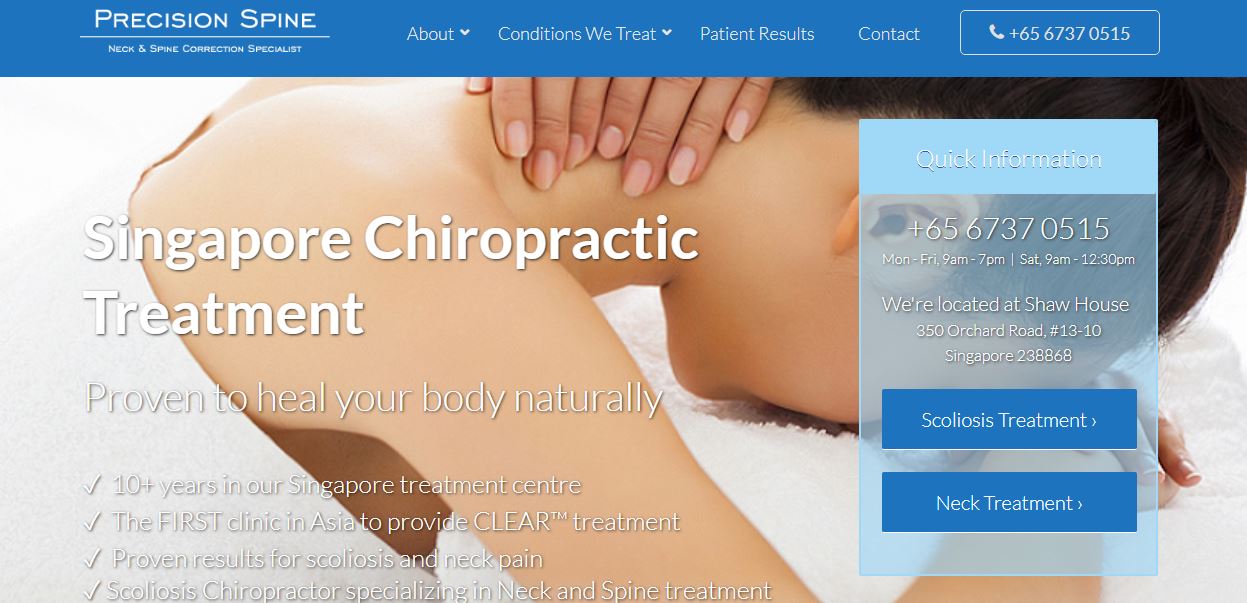 BEST FOR
Neck and spine treatment
WEBSITE
https://www.precision-spine.com/
ADDRESS
350 Orchard Road Shaw House, #13-10 Singapore 238868
CONTACT DETAILS
+65 6737 0515
OPERATING HOURS
Weekdays: 9am – 7pm

Weekends: 9am – 12pm
As they've been serving countless clients for more than a decade, Precision Spine has become one of the most recommended clinics for spine treatment.
Their chiropractic therapies aim to heal and manage scoliosis, neck or shoulder pain, sports injury, poor posture, pregnancy aches and pains, and more treatments.
They give an inclusive guide on proper exercises and prevention that each individual must do to avoid possible severe conditions. With their modern techniques and equipment, they're known to have the best spine specialists in Singapore.
Highlights
Sports injuries
Chiropractic care
Mount Elizabeth Hospital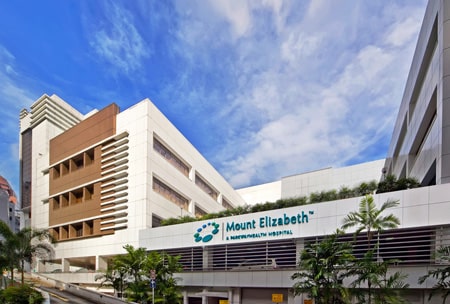 As we all know, the largest medical hospitals will always provide a full range of services — and this includes Mount Elizabeth Hospital, where they have some of the best spine specialists in Singapore.
They conduct physiotherapy treatments for spine conditions. These procedures will help improve strength and flexibility.
They also offer other orthopaedic treatments for knees, foot, hand, shoulder, as well as sports injuries.
Highlights
Orthopaedic treatments
Excellent facilities
Gleneagles Hospital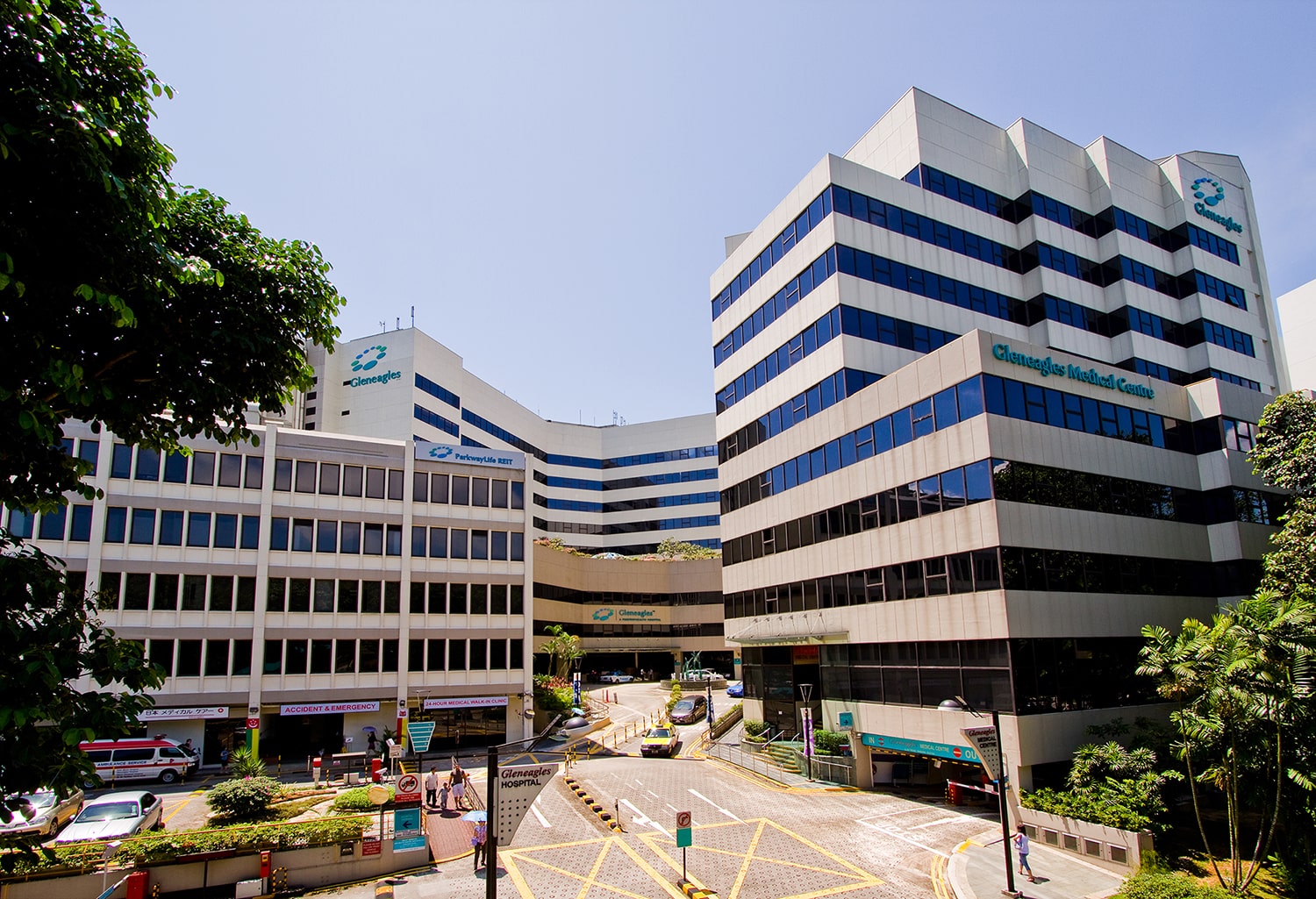 | | |
| --- | --- |
| BEST FOR | Extensive financial options |
| WEBSITE | https://www.gleneagles.com.sg/ |
| ADDRESS | 6A Napier Road Singapore 258500 |
| CONTACT DETAILS | +65 6473 7222 |
| OPERATING HOURS | Open 24 Hours |
Gleneagles Hospital provides treatments for common spine conditions such as lower back pain, slipped discs, nerve decompression, and more. They also treat ankle and feet, elbow, hand and wrists, hip, knee, shoulder, and sports injuries.
They have a group of the best spine specialists in Singapore so you can certainly be accommodated with amazing service and treatment.
Highlights
Financial counselling
Price guarantee
Heartland Rehab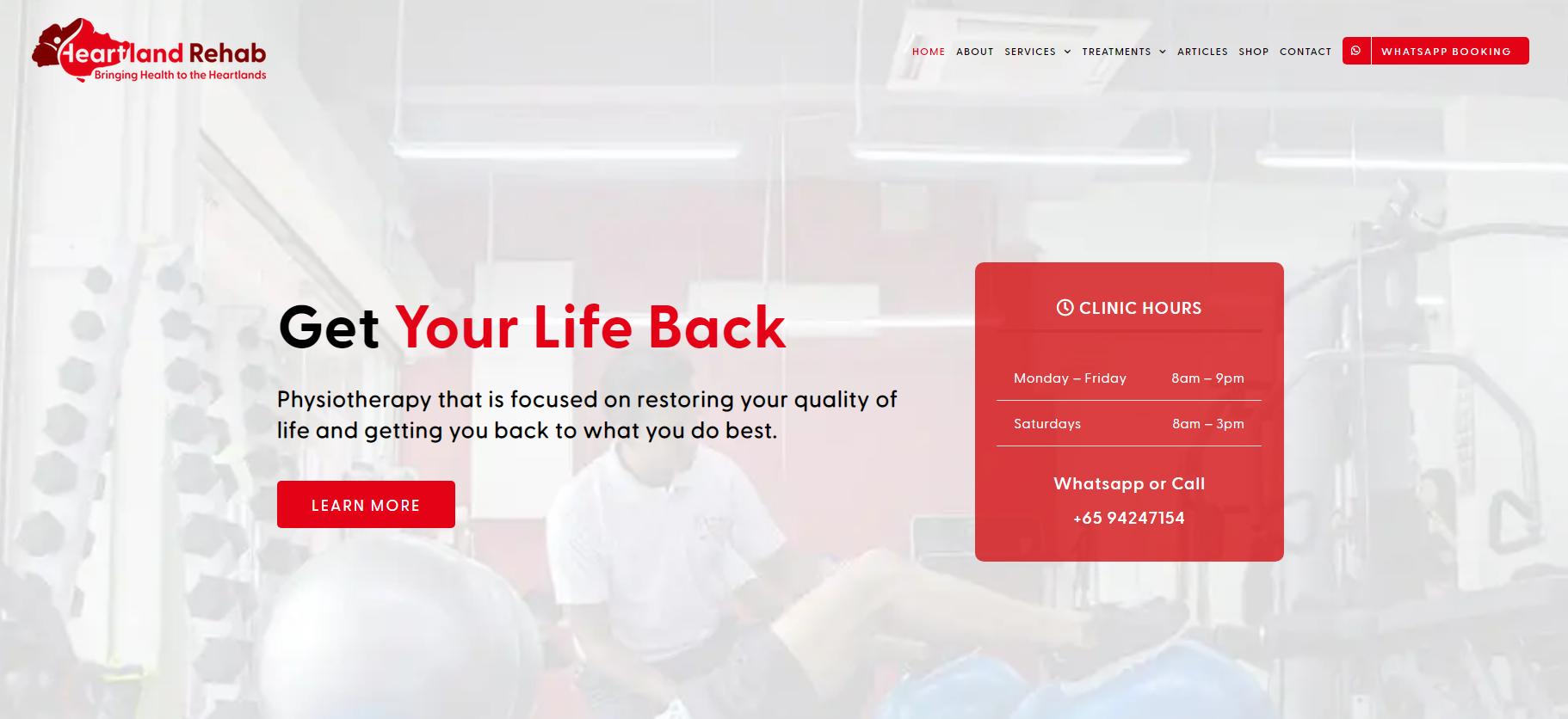 BEST FOR

Sports & Spine Physiotherapy

WEBSITE
https://www.heartlandrehab.sg
ADDRESS

321 Alexandra Road, #03-21/22, Singapore 159971

180 Depot Rd, #01-07, Singapore 109684

111 Somerset Road, #07-02, Singapore 238164

CONTACT DETAILS
OPERATING HOURS

Monday – Friday 8 am to 9 pm

Saturdays 8 am to 3 pm
Heartland Rehab takes pride in their team of AHPC registered physiotherapists that specialize in various fields from sports rehabilitation, orthopedics rehabilitation to spine rehabilitation. The clinic most especially caters to athletes who are more prone to injuries and would require constant physiological care.
Nonetheless, they also open their doors to people of all ages, should they need a professional staff to attend to their physiological needs.
Some of the services that Heartland Rehab offers are Sports Massage, Musculoskeletal Physiotherapy, Home Physiotherapy, etc.
Highlights
Highly-qualified specialists

Sports team coverage

Tailored exercise program

Home service
Elite Spine Centres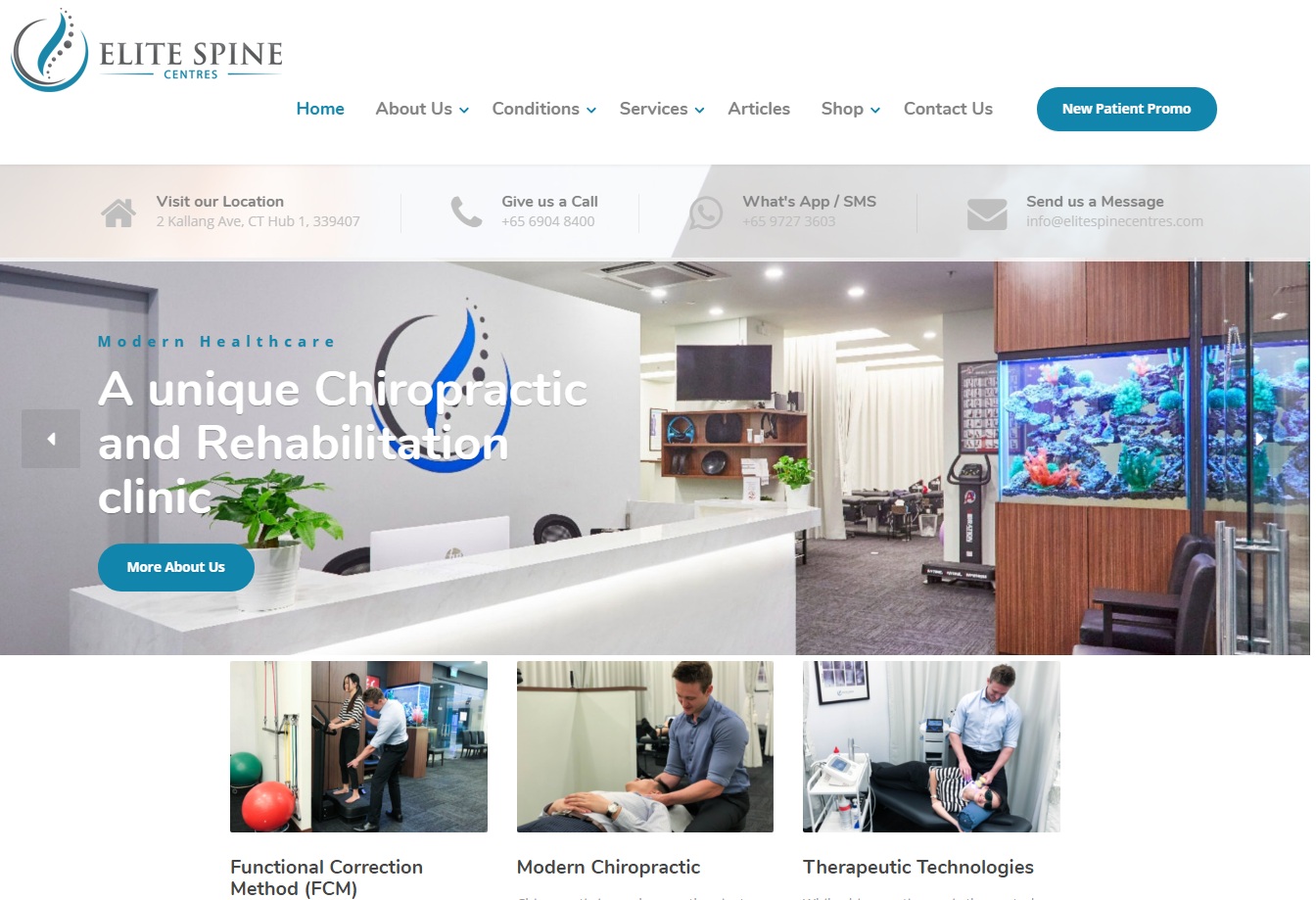 BEST FOR

Modern Chiropractic

WEBSITE

https://www.elitespinecentres.com/

ADDRESS

2 Kallang Ave, CT Hub 1, 339407

CONTACT DETAILS
+65 6904 8400/+65 9727 3603 | [email protected]
OPERATING HOURS

Tuesday: 08:30-19:00

Wednesday: 08:30-19:00

Thursday: 08:30-17:00

Friday: 08:30-19:00

Saturday: 09:30-15:30
The mission of Elite Spine Centres is to provide the people in Singapore some first-class physiological treatments that will help ease their pain and injuries.
Applying proper and quick procedure is vital in addressing concerns like this that is why they make sure to conduct initial assessment on the patient's current condition and from there they will design a program that is suitable and deemed effective for them.
Dr. Michael Bryant, the in-house chiropractic specialist is a member of the Alliance of Chiropractic (AOC) Singapore and along with his team, he guarantees optimal solutions for your therapeutic needs.
Highlights
Extensive range of conditions treated

Therapeutic technologies and modern chiropractic

Highly-qualified specialists
Chiropractic Health and Wellness Clinic Pte Ltd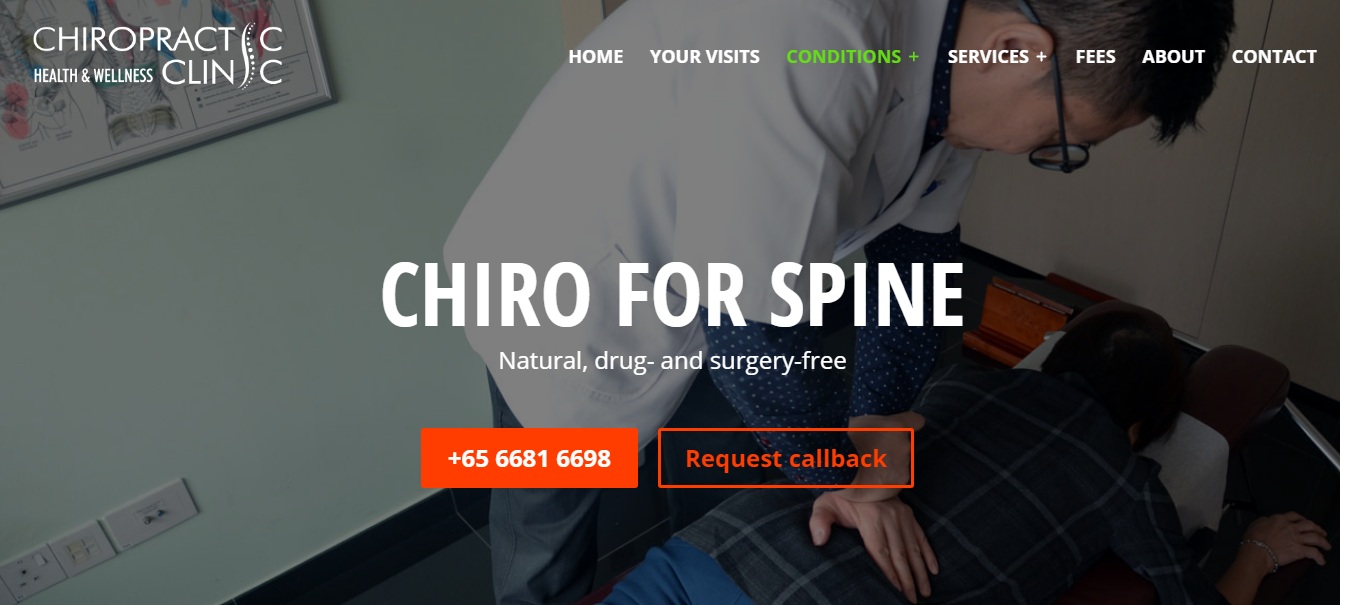 Chiropractic Health and Wellness Clinic Pte Ltd offers a holistic chiropractic procedure uniquely designed for each of their patients. The team avoids any complications or damages by incorporating natural, drug-and surgery free procedures.
Their services cover correcting of misaligned spine, relieving of muscle spasms, and therapies to counter pain.
Part of the team is Dr. Liew, a pain management specialist and a certified chiropractor. He aims to help people of all ages address their spine concerns in the easiest, most comfortable way possible.
Highlights
Surgery-free

Results-oriented philosophy

Dependable chiropractic services
Rapid Physiocare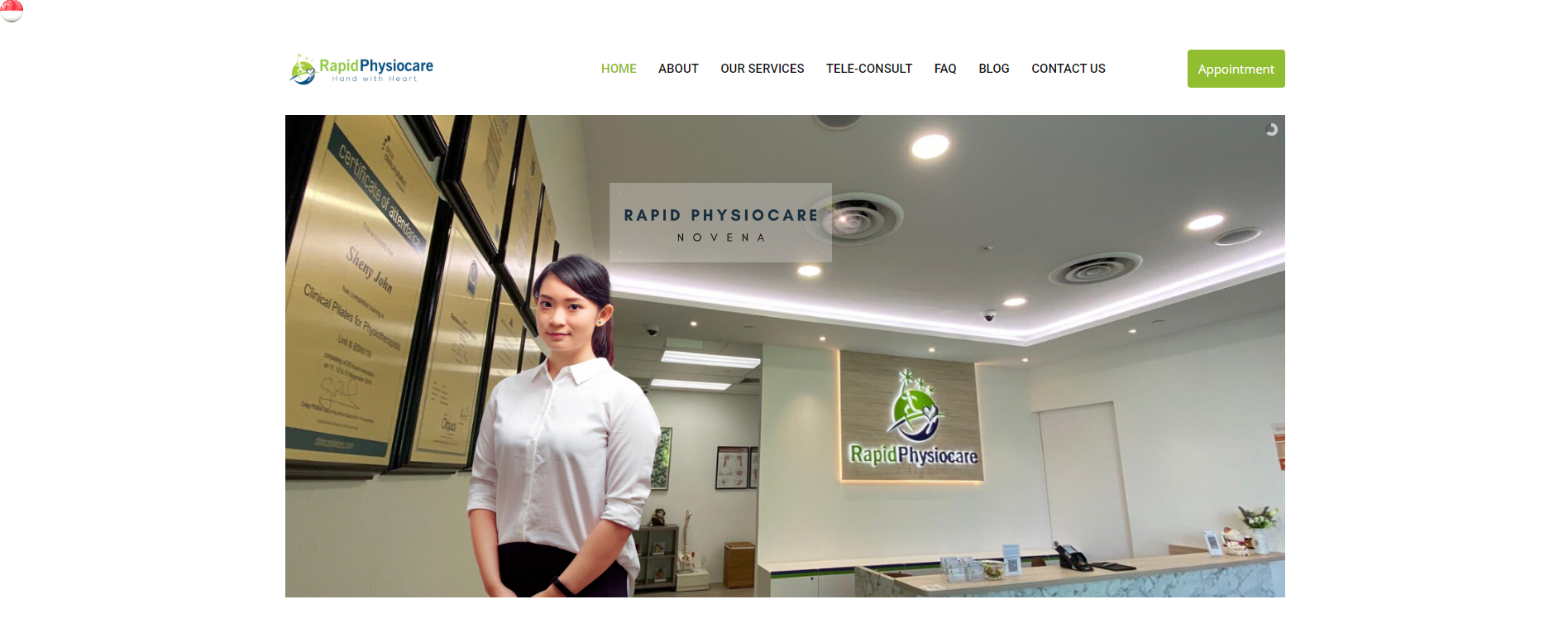 BEST FOR
Physiotherapy Needs
WEBSITE
https://rapidphysiocare.com/
ADDRESS
Tanjong
10 ANSON ROAD,#21-15,
INTERNATIONAL PLAZA, SINGAPORE 079903Novena
8 SINARAN DR #02-02/03 NOVENA SPECIALIST CENTER, SINGAPORE 307470
CONTACT DETAILS
+65 6904 4900 / +65 9093 3549 | [email protected]
Known as a prominent physiotherapy clinic in Singapore, Rapid Physiocare always makes sure to provide only the most effective specialist physiotherapy services. To make this happen, the therapists they hire are highly trained and qualified professionals, with extensive experience in treating a multitude of conditions.
They aim to improve the quality of lives of as many people as possible by empowering them and helping them realise their potential. For many years they have been delivering the best clinical service to their clients with excellent outcomes, which makes them the most trusted choice for physicians, families and health professionals.
Acquiring their services is a must, if you ever need specific treatments to better improve your life. You will not have to worry, for their staff is thoroughly experienced– you are safe in their hands.
Highlights
Musculoskeletal Physiotherapy
Pre / Post Orthopaedic Conditioning
Manual Lymphatic Drainage
Dr. Yeo Sow Nam – The Pain Specialist
| | |
| --- | --- |
| BEST FOR | Pain Management |
| WEBSITE | https://www.painspecialist.com.sg/ |
| CLINIC | Mount Elizabeth Novena Specialist Centre |
| ADDRESS | 3 Mount Elizabeth #15-09 Medical Centre Singapore 228510 |
| CONTACT DETAILS | (+65) 6887 4756 | [email protected] |
| OPERATING HOURS | Monday – Friday, 9:00 AM – 5:00 PM |
If you're looking for a pain specialist with an impressive education and professional background, then Dr. Yeo Sow Nam would be the right match for you! For one thing, he's the director of the pain management team of Mount Elizabeth.
What's more, Dr. Yeo trained and practiced in Prince of Wales Hospital in Sydney, making him the first physician in Singapore to be accredited in the pain management specialty. Dr. Yeo also has an extensive area of expertise that includes cancer pain, back pain, post surgical pain, neuropathic pain, and many more.
Dr. Yeo is more than capable of dealing with all sorts of pain and providing effective diagnosis and treatments — which is why we name him one of the best pain specialists in Singapore.
Highlights
With local and international exposure
Trusted by patients of all ages
The Brain and Spine Clinic – Dr. Timothy Lee

The Brain and Spine Clinic comprises a team of exceptional neurology specialists, spearheaded by Dr. Timothy Lee.
Armed with several years of experience, they are all very adept in the diagnosis of grave medical conditions involving the nervous system, and are also quite capable of dealing with them accordingly.
The scope of their knowledge ranges from the most common ailments such as back pain and muscle strain, up until the most acute disorders like malignant brain tumors, stroke, among others.
The treatment of various spinal injuries also fall within their field of expertise. In addressing all of their patients' needs, they employ not only their skills but also advanced, state-of-the-art equipment, enabling them to perform operations safely and smoothly.
Combatting neurological problems is a serious business. Secure premium-grade care of the nervous system for you and your loved ones by consulting Dr. Timothy Lee and his co-specialists at The Brain and Spine Clinic in Singapore.
Highlights
Expert neurosurgeon consultant
Wide area of expertise
Utilises the latest technologies
Skilled team of specialists
That's it for our list of the best spine specialists in Singapore. If you've got more options in mind, let us know so we can include their medical services among our selections.
Also, you may want to consult with these best orthopaedic specialists in Singapore as they also focus on treating various spine conditions.