5 Best Power Trip Repairs in Singapore: Options for 2021
Have you been experiencing sudden blackouts or flickering lights at home? It's probably because of a power trip caused by circuit overload, low supply voltage, or power disturbances. Whichever it is, you'd need an expert who can provide the best power trip repair in Singapore.
Any electrical issues, especially power trips, require certified skills. To help you find experienced and reliable professionals to hire, here are some of the top-recommended specialists that offer the best power trip repairs in Singapore.
We've selected the ones that serve both residential and commercial electrical needs. See our list below to know more about their locations as well as offered rates!
1.  Nation Electric Singapore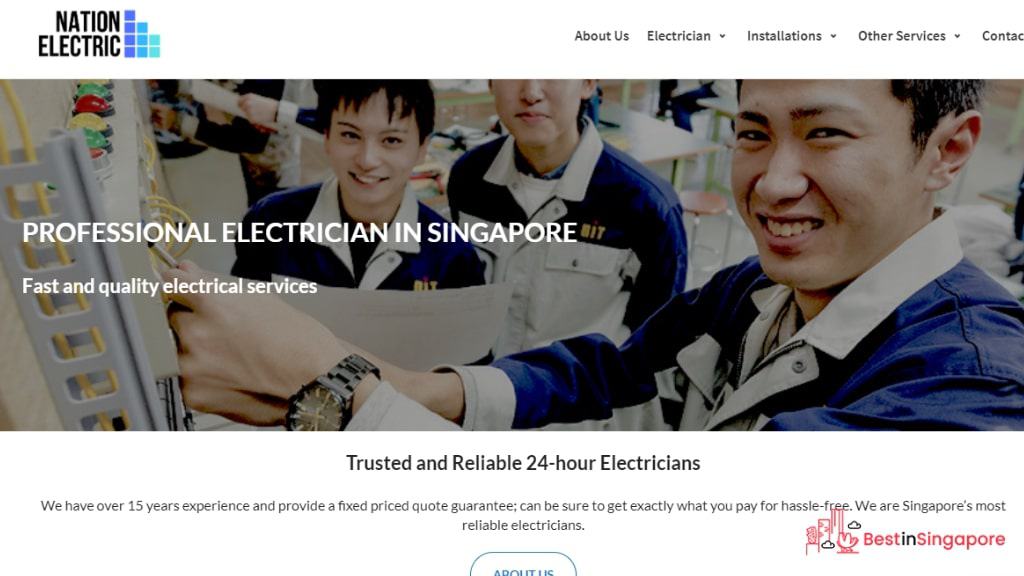 | | |
| --- | --- |
| BEST FOR    | Troubleshooting, repairs, and maintenance services |
| WEBSITE | https://nationelectric.sg/ |
| ADDRESS | 42 Canberra Drive Yishun Sapphire Singapore 768434 |
| CONTACT DETAILS | +65 9738 4920 |
| OPERATING HOURS | Open 24 Hours |
Nation Electric Singapore is housed with a skilled team of electricians who are not only knowledgeable in household electrical but also in industrial and mechanical electrical problems.
They perform power failure emergency services to immediately fix Singapore power trip issues and conduct preventive measures. Their services include resolving overloaded circuits, short-circuit power issues, and ground fault problems.
They're always on standby 24/7 at various locations. So in case you need urgent assistance should a short circuit in Singapore happen, they're only one call away and will arrive at your location as soon as possible.
Aside from these, they also help fix faulty or damaged electrical appliances to keep your place safe from possible dangerous hazards.
Highlights
Electrical installation and wiring services
Fixed priced quota
Free electrical assessment
24-hour emergency service
2.  SC Electrician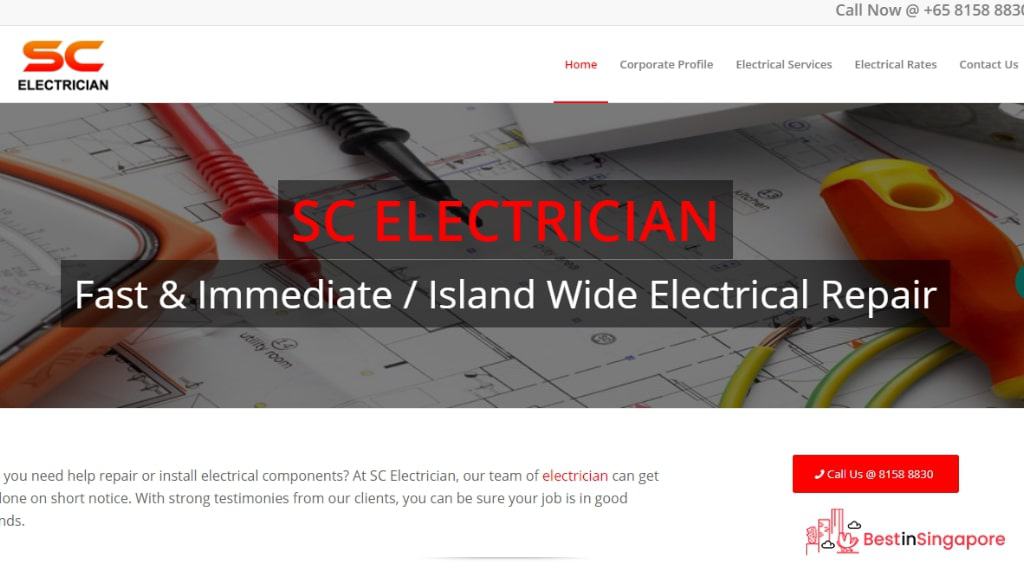 | | |
| --- | --- |
| BEST FOR    | Island-wide electrical services |
| PRICING | Rates |
| WEBSITE | https://www.scelectrician.sg/ |
| ADDRESS | 103 West Coast Vale #28-14 Parc Rivera Singapore 126754 |
| CONTACT DETAILS | +65 8158 8830 |
| OPERATING HOURS | Open 24 Hours |
If you live far away from the city and you're worried that the service team might not be able to reach your area if a power trip in Singapore occurs, then you certainly need to consult with SC Electrician! With their team on standby 24/7, they provide emergency Singapore power trip support and repair island-wide.
Aside from the best circuit breaker trip repairs in Singapore, their services also include fixing electrical overload, faulty appliances, and bad wiring works. They also offer installation and replacement of circuit breakers, electrical appliances, switches, sockets, lights, and other Singapore electric trip issues.
They can accommodate a service request even on short notice. To prevent the recurrence of any power trip issues, they determine the root of the problem and provide efficient solutions as well as recommendations.
Highlights
Budget-friendly repair options
24/7 services
On-site quotation
Commercial and residential services
Customer Reviews
SC Electrician is greatly acknowledged by their customers due to their timely services, responsive staff, and skilled technicians. A customer shared their experience:
"Thanks it's done.. your guy is very polite and nice.. explain in details as well as checked every detail ensuring that things are right.. thanks.."
3.  Daylight Electrician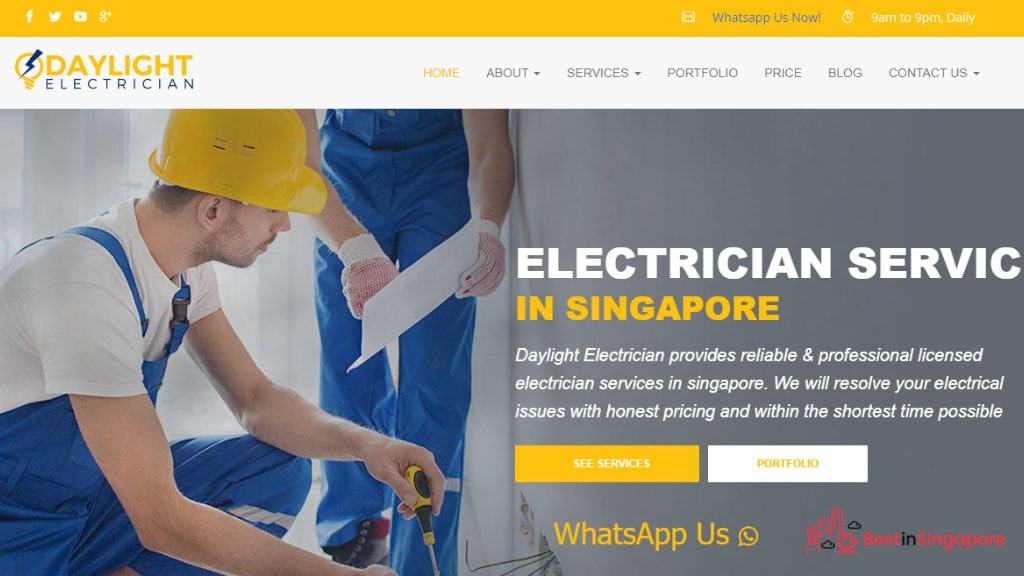 | | |
| --- | --- |
| BEST FOR    | Electrical services for commercial works |
| PRICING | Rates |
| WEBSITE | https://www.daylightelectrician.com/ |
| ADDRESS | 1090 Lower Delta Road #03-07J Singapore 169201 |
| CONTACT DETAILS | +65 6909 9921 |
| OPERATING HOURS | Monday – Sunday: 9:00 AM – 9:00 PM |
Daylight Electrician is well-versed in all kinds of electrical repairs and works, including power trip services. From troubleshooting to replacement, they've got you covered!
They use modern technology to rectify the problem and get the job done in a few minutes. Regardless of how major the damage is, they can immediately provide urgent help and make sure that your place is fully safe from any electrical risks.
If it's not an emergency case, they offer free consultation. You may simply call or email them, and they'll have a trained electrician to assist you with your needs.
They've worked on the largest residential and commercial electrical projects. They've also been awarded by well-known organizations and featured on various media publications for having the best electricians on the island.
Highlights
Electrical distribution board installation
Emergency services
Award-winning company
Fixed rates
Customer Reviews
Having worked with the most respected corporations in the industry, Daylight Electrician has become known for their best electricity trip repairs in Singapore.
Many clients praised the professionalism, one-stop electrical solutions, quality assurance, and transparent pricing of the company. A client wrote this feedback:
"Very responsive to my WhatsApp queries. Provided me an estimate based on the description of the problems (of course subject to onsite inspection). The electrician was punctual and friendly and could detect the problems easily. All resolved in less than an hour."
4.  Everyworks
| | |
| --- | --- |
| BEST FOR    | Sourcing original electrical spare parts, broad range of home repair services |
| PRICING | Rates |
| WEBSITE | https://www.everyworks.com/ |
| ADDRESS | 1090 Lower Delta Road #03-07, Singapore 169201 |
| CONTACT DETAILS | +65 6909 0990 |
| OPERATING HOURS | Monday – Sunday: 9:00 AM – 9:00 PM |
With Everyworks, you can instantly get an instant diagnosis and direct quotation just by booking one or multiple services online! This includes the best circuit breaker trip repairs in Singapore which feature managing lights, switches, sockets, writing, restoration, and so much more!
Unlike most service companies, they have an online shop where you can buy originally-sourced spare parts needed for repairs/replacements. Moreover, you can request for an installation service to come along with the delivery.
Aside from electrical services, they also provide aircon, plumbing, and handyman assistance—making them a one-stop service company for every homeowner!
Similar to the previous option, they've also served thousands of corporate clients across Singapore. The only difference is that they have a greater range of repair services.
So for those who are looking for a dedicated team who can handle electrical and other home repairs, they have the best deals for you!
Highlights
Online shop for spare parts
Electrical repair and maintenance services
On-site inspection
DB box troubleshooting
Fixed quotation
Customer Reviews
Most customers mentioned that they were highly satisfied with the open and responsive communication from the staff. They were also impressed with the hassle-free transactions and convenient scheduling.
A customer left this review:
"The electrician was quick to reply my WhatsApp, noting the issues I faced and asking for details/pictures. Even the charges were explicitly stated to avoid any misunderstanding. Appreciate that their staff came within a day, well prepared and aware of the various issues. Excellent service, good comms, and affordable rates. Highly recommend !!!"
5.  PowerMax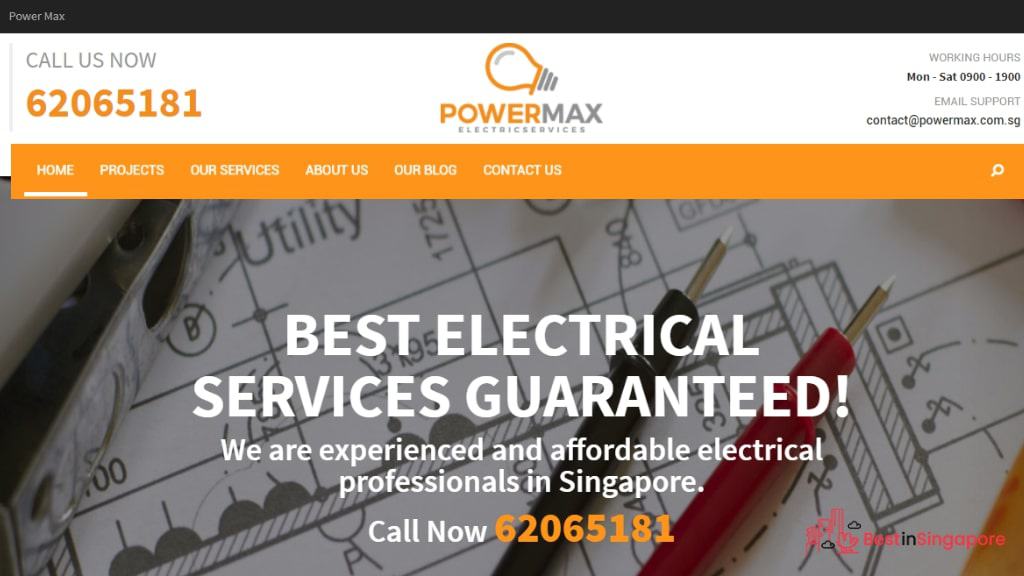 | | |
| --- | --- |
| BEST FOR    | Residential, commercial, and industrial services |
| WEBSITE | http://www.powermax.com.sg/ |
| ADDRESS | 5001 Beach Road, Golden Mile Complex #03-58 Singapore 199588 |
| CONTACT DETAILS | 6206 5181 |
| OPERATING HOURS | Monday – Saturday: 9:00 AM – 7:00 PM |
Whether it's for residential, commercial, or industrial electrical needs, PowerMax is fully equipped with up-to-date equipment and experienced electricians to ensure comprehensive solutions.
They consist of licensed and skilled experts who are highly proficient in inspecting and solving any faults or damages in your electrical system.
To accurately detect the root of the issue and fix it, they perform thorough check-ups all over your place and develop tailored strategies suitable for your power system.
This whole process is the reason why many locals and business owners praised them for providing the best power trip repairs in Singapore.
Highlights
Repairs, installations, and upgrades
High-quality replacement parts
24/7 emergency service
Customer Reviews
Customers left positive remarks on the overall services of PowerMax. They mentioned the promising technicians who successfully delivered quality, safe, and reliable workmanship.
They also said that the team was able to restore the power in no time—proving that the company truly offers the best power trip repair services in Singapore.
A client posted this review:
"I was having an issue with my power 'cos the fuse shut down. I need to have it fixed right away because the kids are coming home and I don't want to have no lights at night. The electricians came quickly before it turned dark and fixed the issue in a matter of minutes. Thanks for being quick, or we have no lights the entire night that day."
And that's our list of service companies with the best electricity trip repairs in Singapore! Have you already decided which one you'd like to hire? Tell us all about it in the comments below!
For more options, you may also see the best electricians in Singapore. They specialise in a great range of electrical services including power trip repairs.