The 7 Best Litigation Lawyers in Singapore for 2021
Are you planning on filing a lawsuit against someone? If so, consulting with the best litigation lawyers in Singapore should be your top priority to make sure your complaints have legal grounds and are valid in court.
The best litigation lawyers in Singapore manage all the phases of litigation, from investigation down to appeal processes. Your lawsuit wouldn't see the light of day in court if it isn't handled by an experienced and competent litigation lawyer.
Anyway, if you don't have experience in hiring lawyers, worry no more because we have you covered! We scouted the entire island in search of the best civil litigation law firms in Singapore that can help defend your lawsuits.
Check them out below to know how to get in touch with these litigation lawyers in Singapore:
1. Joo Toon LLC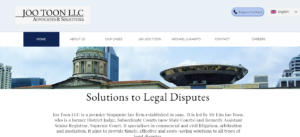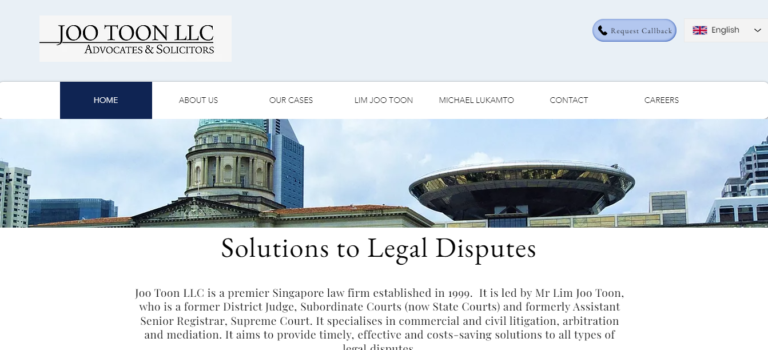 BEST FOR
Resolution of legal disputes
EXPERTISE

Commercial Litigation;

Company Law;

Arbitration & Mediation;

Wills, Inheritance & Estates Disputes;

Property & Land Law Disputes;

Building & Construction Disputes;

Committal Orders & Regulatory Breaches;

Copyright & Trademark Disputes;

Defamation;

Employment Disputes;

Insurance Disputes;

Medical & Other Professional Negligence & Disciplines; and

Tax Disputes.

WEBSITE
https://www.jootoon.com.sg/
ADDRESS
2 Havelock Road, #06-03 Havelock 2, Singapore 059763
CONTACT DETAILS

Tel: +65 65361009

Fax: +65 65368819

OPERATING HOURS
Monday – Friday: 9:30 AM – 7:30 PM (open after operating hours for urgent matters)
Aside from having expertise in dispute resolution of legal disputes by litigation, arbitration, and mediation, Joo Toon LLC's work also extends to all areas of the law and all types of disputes.
This is one great thing about their law firm since they can cater to anyone that needs the following services mentioned above.
In comparison to other firms, their team is fully committed and dedicated to the provision of legal services in the most advantageous and cost-effective manner.
One of their lawyers is Mr Lim Joo Toon, a former District Judge and former Senior Assistant Registrar. His judicial experience provides him a unique advantage of being able to view and analyze legal disputes objectively from the perspectives of the Court. He has immense experience and in-depth knowledge acquired in the course of private practice, as former State Counsel, Attorney-General's Chambers, and as an Arbitrator in international and domestic disputes.
Another one of their lawyers is Mr Michael Lukamto whose practice focuses on commercial law and civil disputes, and has expertise and experience in litigation and mediation.
These credentials are more than enough reasons why you can trust them. Additionally, they can provide services relating to all types of applications to the Court including non-contentious matters, such as probate and letters of administration, and divorce and family matters.
Highlights
Provides solutions to legal disputes in an expeditious and effective manner
Provides legal advice and drafting for all types of contractual and commercial document
Fees may be fixed or agreed upon in advance
Customer Reviews
Take a look at some of the comments shared by their previous clients:
"I am grateful to Joo Toon LLC for their hard work in our family's case involving a dispute over breach of contract. The case had caused a lot of stress to my family but the team's affable personality and expertise in law made the trial less trying."
2. Farallon Law Corporation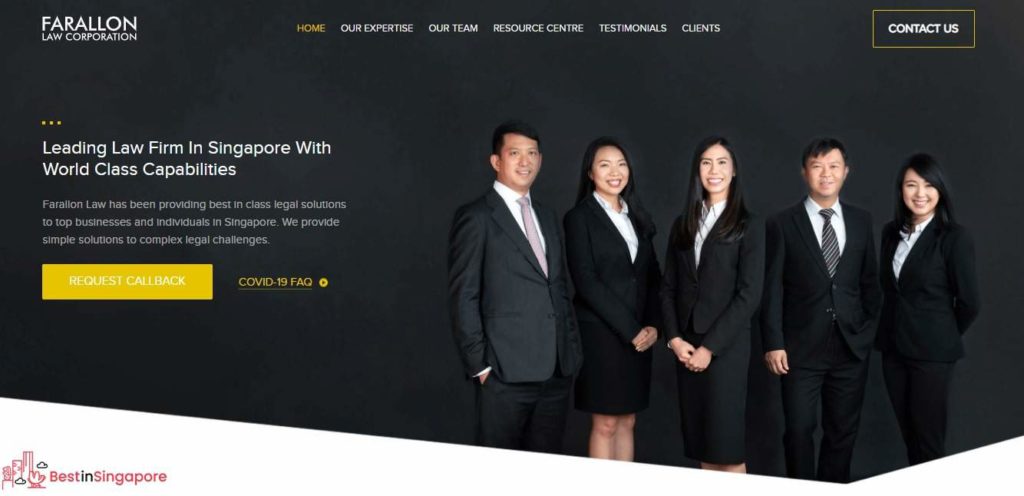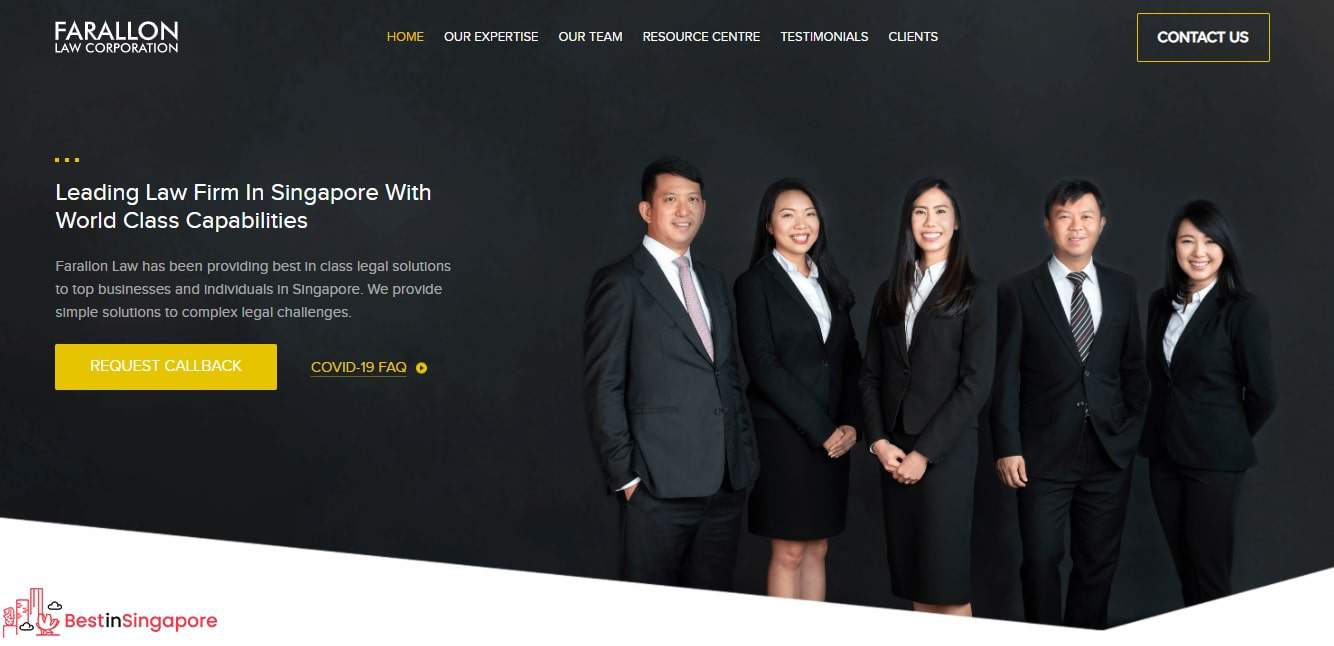 | | |
| --- | --- |
| BEST FOR | Business and individual clients |
| EXPERTISE | Civil litigation, corporate law, criminal law, debt collection, employment law, international arbitrations, and mergers and acquisitions |
| WEBSITE | https://fl.sg/ |
| ADDRESS | 6A Shenton Way, #04-01 OUE Downtown Gallery, Singapore 068815 |
| CONTACT DETAILS | +65 6931 9000 | inf[email protected] |
| OPERATING HOURS | Monday – Friday: 9:00 AM – 6:00 PM |
If you're looking for a law firm that can handle both individuals and businesses, then look no further than Farallon Law Corporation. It's an independent law firm that's committed to providing top-notch legal services.
Its area of expertise includes commercial law, civil litigation, debt collection, corporate law, employment law, and international arbitration, among others. It even boasts a large team of lawyers with years of experience under their names.
Speaking of litigation, Farallon Law Corporation is known for housing some of the best litigation lawyers in Singapore. Its civil litigation lawyers have been described as polite, sharp, punctual, and knows that settlement—not litigation—is the ideal option.
Highlights
Cost-effective legal services
Experienced lawyers
For businesses and individuals
Customer Reviews
Take a look at some of the comments shared by its previous clients:
"I have consulted Nicolas on a number of occasions and he was totally professional. He is a lawyer with good character and conscience who puts the client's interest first and not how much he could make from the client. He would go to great lengths to explain why it was not feasible to spend money on a case which was not in the client's favour."
"I highly recommend this law firm – We worked closely with Nicolas Tang on a jurisdiction case. Nicolas and his team were patient, thorough and kept us up to date on every step of the case. They explained every step and the reasoning being each decision. We felt fully informed, and confident in his team's professional ability. The result of the case was as we hoped! Great experience and would definitely recommend Nicolas and his team."
3. Providence Law Asia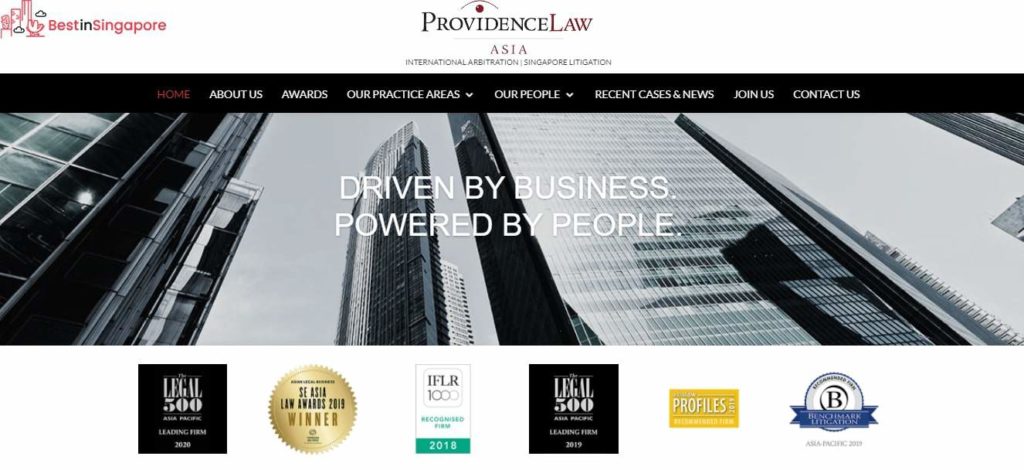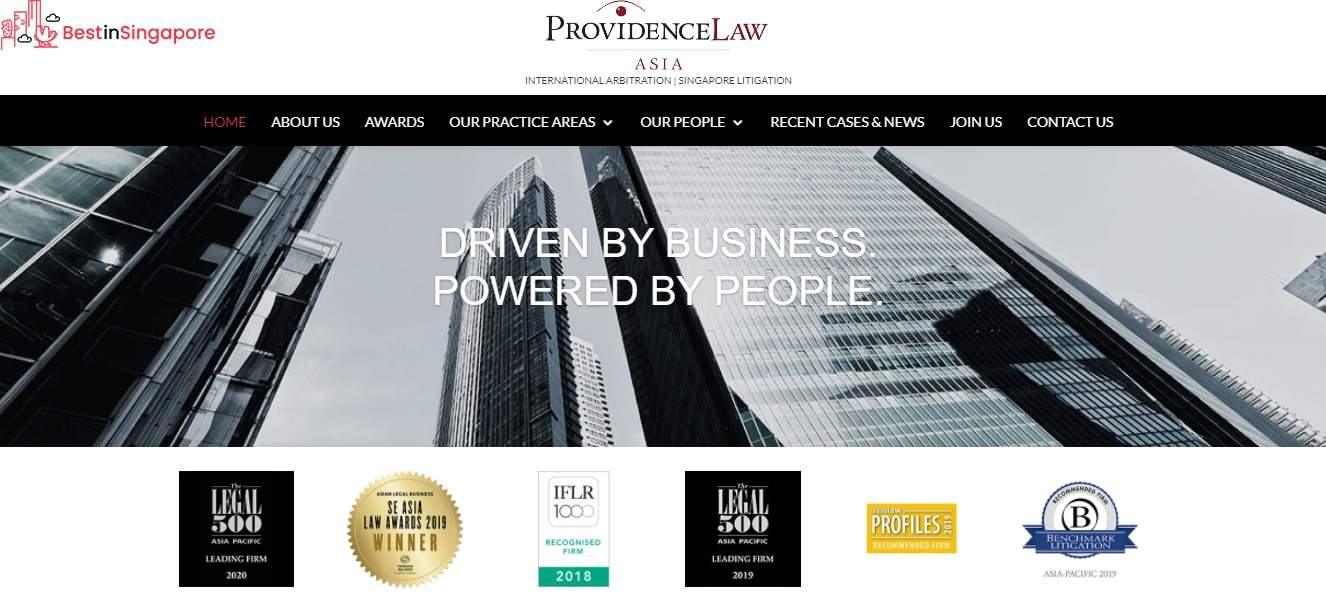 BEST FOR
Commercial litigation
EXPERTISE
Civil litigation in Singapore, employment law, international arbitration, asset tracing and recovery, private wealth and tax, start ups and venture capital, and business crimes
WEBSITE
https://www.providencelawasia.com/
ADDRESS
20 Collyer Quay, #21-02, Singapore 049319
CONTACT DETAILS
+65 6438 1969

[email protected]

OPERATING HOURS
Monday – Friday: 9:00 AM – 6:00 PM
If you're looking for top litigation lawyers for corporate litigation, then Providence Law Asia should be your top pick. It's one of the few law firms on the island that focus on helping business get out of lawsuits.
Providence Law Asia is known for having the best civil litigation lawyers in Singapore, each having extensive experience in complicated corporate and commercial clashes. Their best litigation lawyers in Singapore can even handle foreign corporations and family-run businesses.
Highlights
Experienced lawyers
A diverse team of lawyers
Commercial and commercial disputes
4. I.R.B Law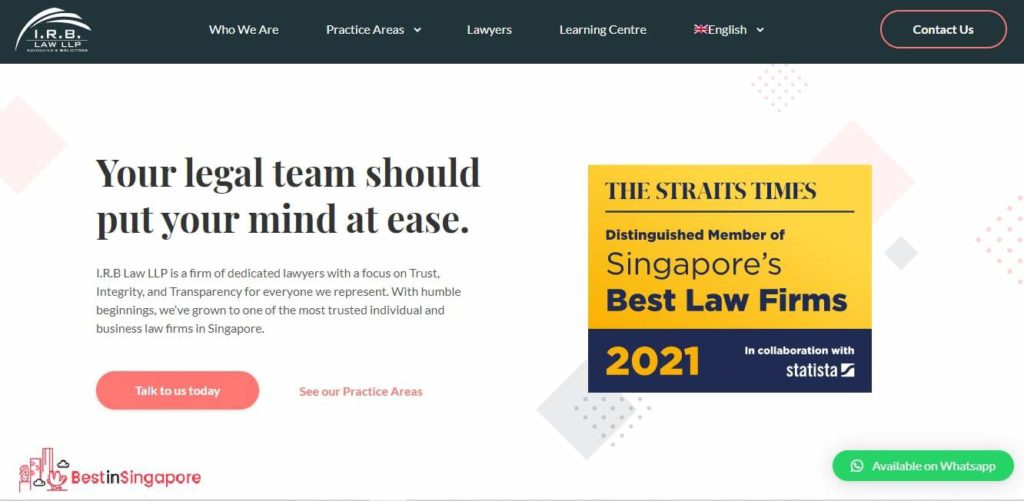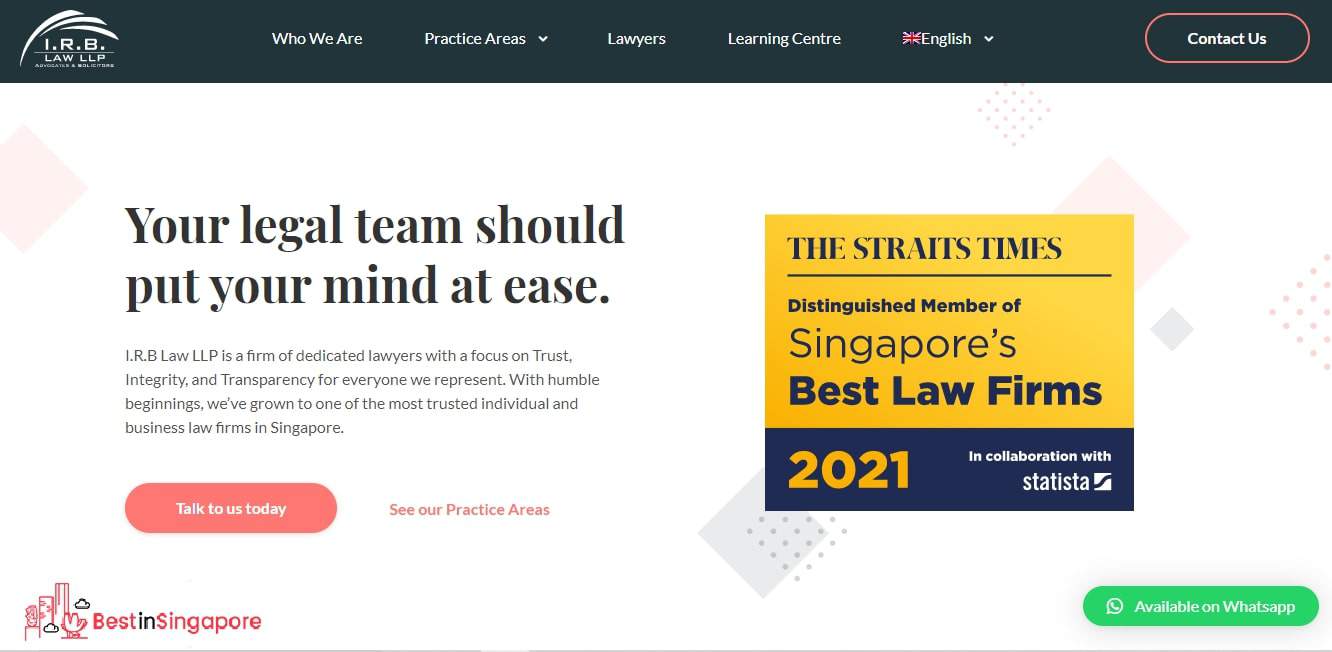 | | |
| --- | --- |
| BEST FOR | Personalised legal services |
| EXPERTISE | Civil litigation, commercial law, criminal law, employment law, personal injury, divorce, annulment, real estate law, debt recovery, and will writing |
| WEBSITE | https://irblaw.com.sg/ |
| ADDRESS | 119 Jln Sultan, Singapore 199008 |
| CONTACT DETAILS | +65 6298 2537 |
| OPERATING HOURS | Monday – Friday: 9:30 AM – 6:00 PM |
Established in 2012, I.R.B Law has grown to become one of the most trusted law firms in Singapore that offer a wide range of legal services. It may not have as many lawyers as other well-known law firms, but it can guarantee personalised services to clients.
One of the benefits of having fewer employees is that their top litigation lawyers gets to focus properly on each case, making sure that the outcome will be favourable to their client's interests as much as possible.
Its legal services are open for both individuals and small businesses, offered at reasonable prices. Its area of practice includes litigation, employment law, criminal law, debt recovery, probate law, will writing, divorce, and annulment, among others.
Highlights
Competitive rates
Competent lawyers
Personalised services
5. Civil Lawyer SG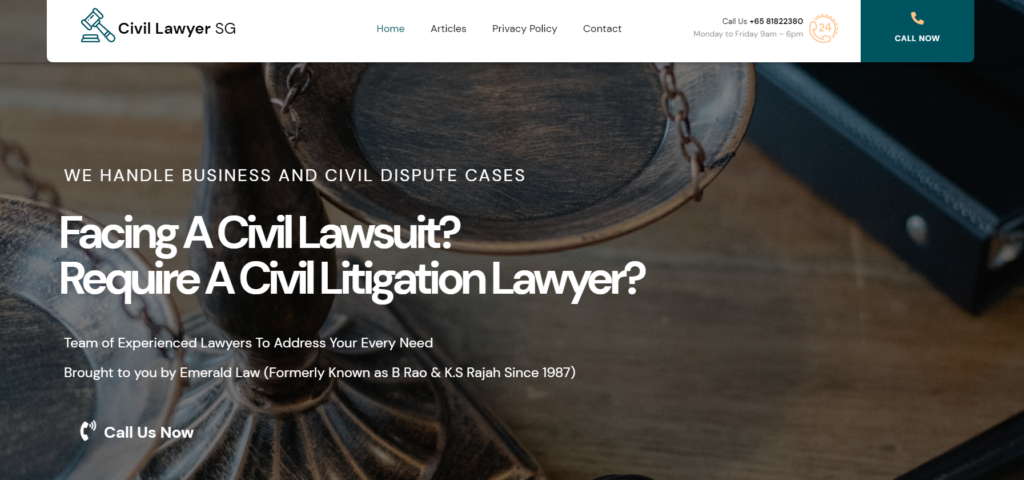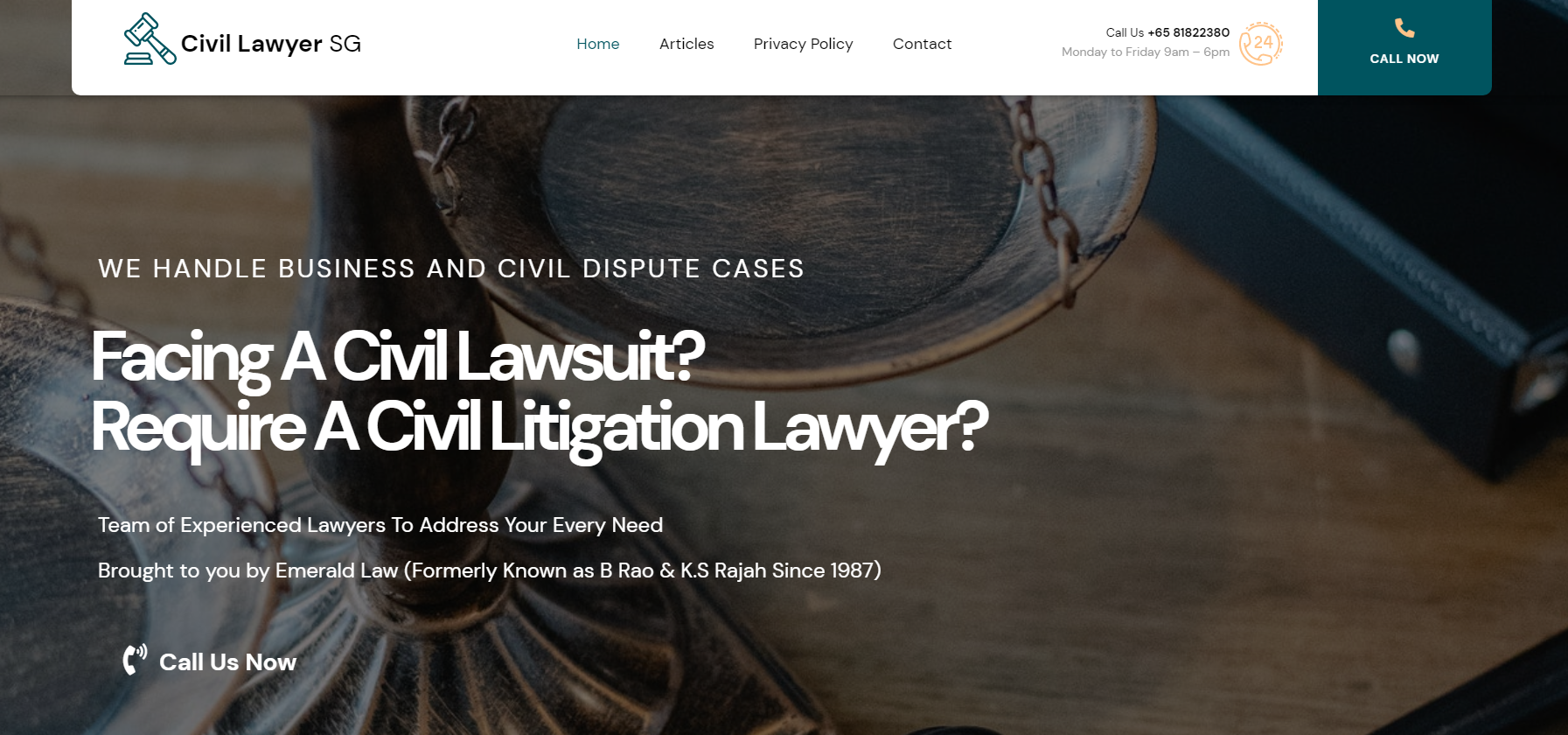 BEST FOR
Affordable Legal Fees
EXPERTISE
Civil Litigation, Civil Law Contracts, Debt Recovery, Defamation, Arbitration, Writ of Summons, Contractual Disputes, Landlord & Tenancy Agreement
WEBSITE
https://civillawyersg.com
ADDRESS
No.3 Shenton Way #11-10 Shenton House Singapore 068805
CONTACT DETAILS
(+65) 81822380 | [email protected]
OPERATING HOURS
Tele-Consultation:
Monday to Friday 9am – 11pm
Walk-in:
Monday to Friday 9am – 6pm
Strictly by appointment:
6 PM – Onwards
After being in service for more than 30 years, Civil Lawyer SG is committed to protecting your legal rights and interests. Their team of experts can provide you the knowledge and legal skills to resolve your case effectively, focusing on results.
At Civil Lawyer SG, they understand that your case will have a huge impact on your life, so hiring them will guarantee you a dedicated team who is intimately familiar with your individual legal needs. Their legal expertise include: Debt Recovery, Defamation, Arbitration, Writ of Summons, Contractual Disputes, Landlord & Tenancy, Agreement.
In the end, you'll be in good hands with their team of lawyers because they will be available to you every day to answer all your questions. Civil Lawyer SG will work hard to win your case and the best part is that you don't even have to break the bank to be in good hands!
Highlights
30 years in service
Competent lawyers
Quick responses
Gives regular updates
Customer Reviews
Read what some of Emerald Law's clients have to say about how they handled each of their cases:
"The service is very good, managed to settle my case with ease with the help of Mr Rizuan and his Team. Thank you very much"
"Mr Rizuan and team is very supportive, with effective direction from them. Mr Russell too was very encouraging with his help. Thanks for all the effort team"
"So far so good…quite impressive w Russel on his knowledge of Syariah Law and the way he explains…Ridhuan is the type of lawyer that I want my sibling to be represented…Fana is outspoken and i like that…now time to work n see if they does excel…pricing is reasonable n installment plans available…worth the last minute arrangement…best of wishes and hopeful for a just outcome…."
7. DL Law Corporation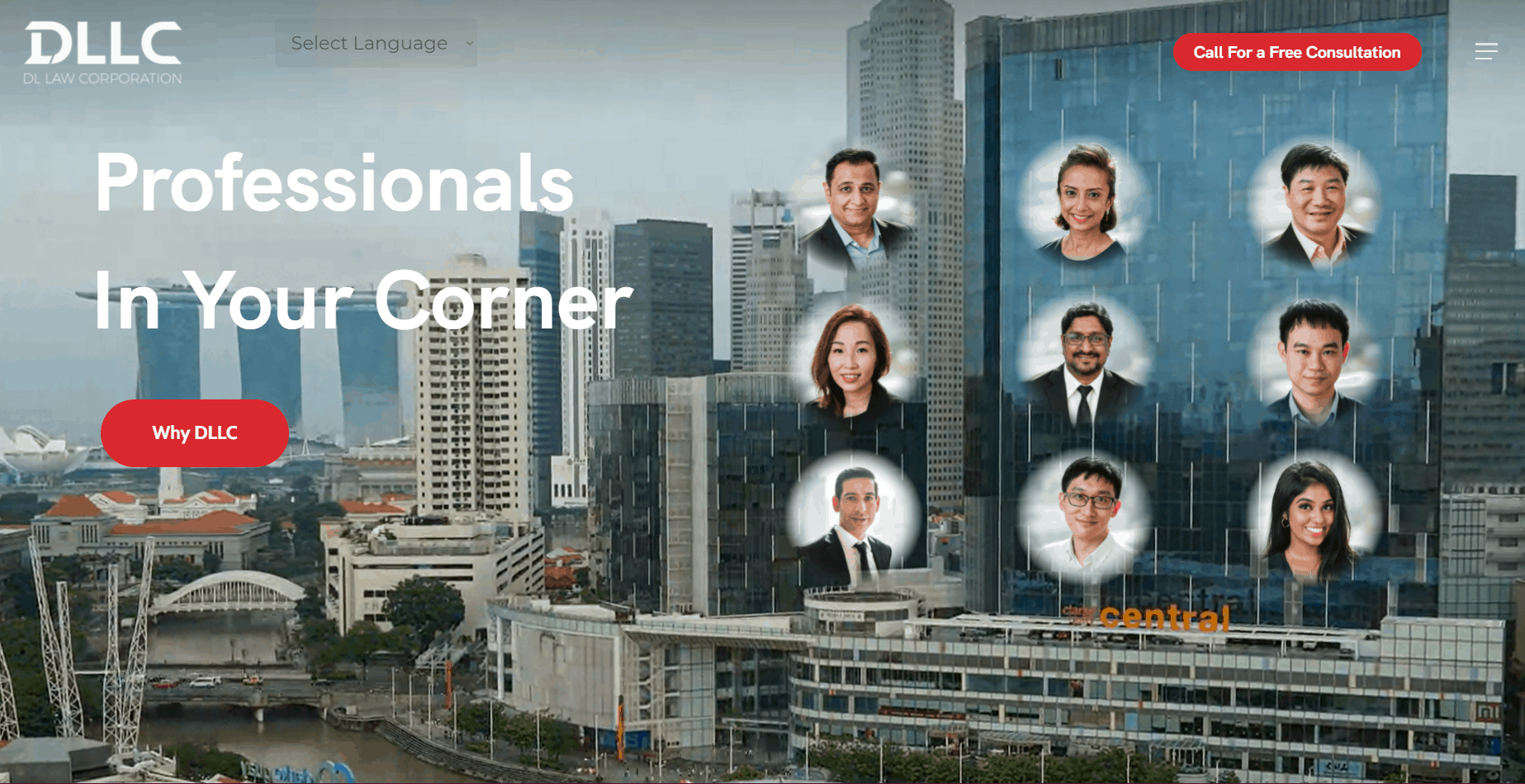 BEST FOR
Technologically Advanced Law Firm
EXPERTISE
Business Agreements
Corporate Law
Divorce
Employment Rights
Motor Accidents
Personal Injury
Road Traffic Accidents RTA
Small Medium Businesses
SMEs
Traffic Accident
WEBSITE
http://www.dllclegal.com/
ADDRESS

8, #20-98 Eu Tong Sen St, Clarke Quay Central, Singapore 059818

CONTACT DETAILS
+65 6557 0215 | [email protected]
OPERATING HOURS

Monday – Friday: 9am–6pm
DL Law Corporation is a sought after law firm in Singapore when it comes to all-around service.
They're a team of lawyers that are capable of providing timely solutions to their clients while also finding the best possible solution for the case.
They utilise technology and their years of expertise to the maximum, allowing them to cater to each of their clients in a more personal way.
For any assistance in agreements, rights, and even litigations, DL Law Corporation is available to help you.
If you're considering DL Law Corporation, their website offers an easy and hassle-free consultation process. They make sure to get back to you within a 2-day notice.
Highlights
Forward-thinking solutions
Available via online, text, or in-person consultations
Proactive approach
And with that, we conclude our list of law firms with the best litigation lawyers in Singapore. If you've consulted with any of these lawyers in the past, share with us your experience with them.
If you know of other litigation lawyers who can help clients file and get out of lawsuits, don't hesitate to tell us their names in the comments below.
For those with business-related disputes, we strongly recommend taking a look at our list of the best corporate lawyers in Singapore. Like this one, we feature only the trusted and competent law firms there.