7 Best Packing Cubes in Singapore for Travellers Reviewed (2021)
If you've ever struggled trying to fit all your clothes inside luggage, you might want to consider purchasing the best packing cubes in Singapore to make packing a lot easier. Getting a packing cube is an effective way of organising your clothes and other items when packing for a trip.
Luckily for you, we've done the work ourselves and compiled the best packing cubes in Singapore. We've also included a brief explanation of the uses of packing cubes — these can help you pick a cube from our list, as it may identify the priorities for your purchase.
If you already know enough about the best packing cubes in Singapore, feel free to jump right ahead to our picks. Otherwise, let's get started on our guide to packing cubes!
Benefits of Best Packing Cubes in Singapore
For those who aren't that familiar with packing cubes, they're small, cube-shaped containers, often made of fabric, used for packing clothes in an organised manner.
Despite being small, a packing cube can carry clothes, travel items, shoes, and other things that you'd need while on the road. It can also be used to separate clean clothes from the used, dirty ones.
Anyway, let's elaborate more on the benefits of using the best packing cubes in Singapore. If you're a frequent traveller, better pay attention!
1. Organises Clothes
One of the best benefits of using a travel packing cube is that it allows clothes to be stored properly inside your luggage.
If you've ever tried just throwing your clothes inside the luggage and zipping it up, getting your hands on the best packing cubes in Singapore will change the way you pack clothes.
One packing cube can be used for shirts, and another for pants and shorts, and a third one for underwear. You can even colour-code to make it easier to know which packing cube has the shirts and which one carries the underwear.
2. Keeps Clothes Neat
If you often go on business trips, maintaining the neatness of your clothes should be your priority. That's one of the many benefits of using the best packing cubes in Singapore.
Since your luggage will be passing through different areas as well, from the check-in to the conveyor belt, your clothes will likely get thrown around inside, making them wrinkly.
Using a packing cube will minimise the chances of things like that happening, so no need to iron your clothes anymore when you get to the hotel.
3. Offers Alternative Storage
While packing cubes are mostly used for clothes, they can also be used to store other items such as jewelries, cosmetics, travelling documents, small workout equipment, and many more.
Since the best packing cubes in Singapore come in a variety of sizes, they're able to accommodate more than just clothes, making them a must-have item for every frequent traveller out there.
We've encountered some people using packing cubes to store souvenir gifts for friends and family members as well, since they're most likely going to ask for a few gifts while you're overseas.
4. Serves as an Alternative Pillow
If you've been travelling a while now, you know that cancellation of flights is as common an occurrence as flight delays… so travellers must be prepared for anything.
For the times when you have to spend extra time at the airport, a well-packed packing cube will definitely come in handy as it can be turned into a pillow.
The Best Packing Cubes in Singapore
Now that you know the benefits that come with using packing cubes for travelling, we're sure you're itching to get a hold of the best packing cubes in Singapore. So, time to go over our picks!
We included only those packing cubes with enough storage space, reasonable prices, and quality materials to ensure that you're getting your money's worth!
1.   Itzy Ritzy Packing Cubes
Best Design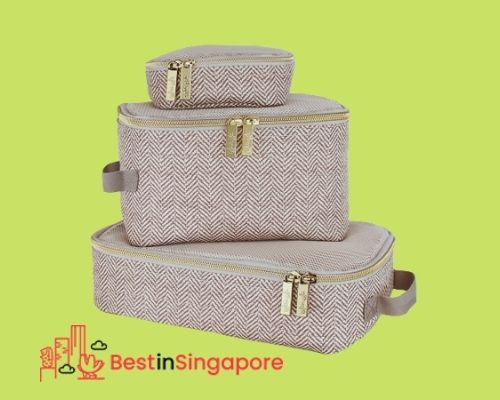 Price: $55.00
If you like travelling in style, then you're definitely going to fall in love with the Itzy Ritzy Packing Cubes, considered one of the best packing cubes in Singapore for its modern design.
It's more expensive compared to the standard packing cube, though, so make sure you can spend before buying it.
In terms of design, we believe it takes the top spot. It's made from soft fabric with a wide variety of prints to choose from, allowing users to choose which one fits their style.
More than that, each purchase of the Itzy Ritzy Packing Cube will give buyers 3 pieces of packing cubes of different sizes. Each one comes with a mesh-top panel to help you see what item is inside the cube.
Another feature we love in the Itzy Ritzy Packing Cube is how multipurpose it is! Some buyers have used it as a lunch box, diaper bag, and even storage for their cosmetics!
Pros
Variety of designs
Durable fabric
3 sizes
Multipurpose 
Cons
Expensive
Heavier than others, as it's made from fabric
Customer Reviews
Take a look at what buyers have said about the Itzy Ritzy Packing Cubes: 
"I love these packing cubes! I just had my 4th baby so I'm trying to stay a little more organized for sanity reasons and these packing cubes are perfect. No more digging around trying to find what I need. I keep extra clothes and blanket in 1 cube, diapers and wipes in another and little extras in the smallest one. Diaper cream, suction bulb, etc. They're also great space savers! I wish I discovered these with my older babies!!"
"I ordered these to go with my vanilla latte boss bag. They are great for keeping both my toddler and newborn's items separate, but easy to get to. I can carry around everything they need while being stylish and organized."
2.   Ariza Packing Cubes
Best for Affordability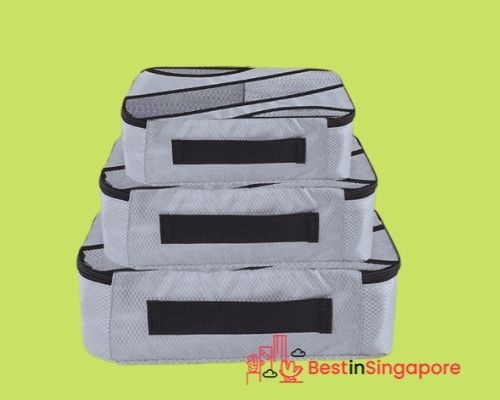 Price: $23.50
Let's start off our list with one set of the cheapest and best packing cubes in Singapore. Here's the Ariza Packing Cubes set, a set of 5 packing cubes that come in a variety of sizes and colours, allowing travellers to use them to store different items, from clothes to cosmetics.
Each purchase of the Ariza Packing Cube will come with 5 pieces of different sizes, from small to extra large. The largest one is 13 inches while the smallest is 6.7 inches.
Another thing worth noting about the Ariza Packing Cube is that it's made from breathable yet durable nylon fabric, giving your clothes a bit of ventilation while inside the luggage. It comes with high-quality zippers as well to keep your items intact and secured.
What's more, the Ariza Packing Cube is super portable and lightweight, weighing no more than a pound… so rest assured that it won't add to your luggage weight while checking in.
Pros
Affordable
5-piece packing cube
Breathable mesh material
Cons
3.   AmazonBasics Packing Cube
Best for Durability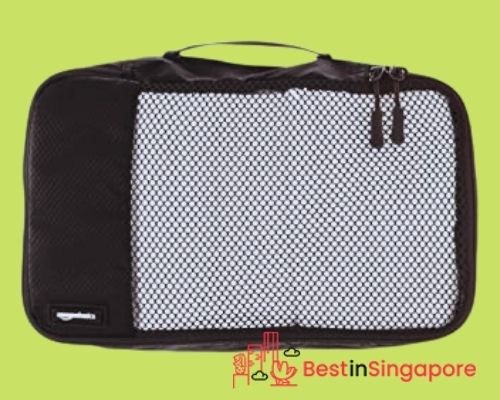 Price:$33.49
If you're skeptical about the durability of packing cubes, then allow the AmazonBasics Packing Cube to change your mind. It's one of the top items in travel essentials on the island and is known for its durability.
A purchase of the AmazonBasics Packing Cube from Amazon will provide you with 4 durable packing cubes made from premium mesh material, an ideal material that allows clothes to breathe.
One reason we call it one of the best packing cubes in Singapore is its possession of double zippers that provide extra security. Should users choose to store important items inside, they can be confident that those things are not going to be stolen that easily.
Speaking of zippers, the AmazonBasics Packing Cube's zippers are of high quality and won't break down easily, unlike those on other packing cubes.
In terms of size, the AmazonBasics Packing Cube also comes in medium and large sizes, giving users more space to store not only clothes inside. It comes in different colours too, so it's easier to remember where a particular piece of clothing is stored.
However, it's a bit more expensive compared to the previous option, so if you're not willing to spend this much on a packing cube, move on.
Pros
Durable material
Breathable mesh
Double zippers
Cons
More expensive than the first option
4.   BUBM Grid Packing Cube
Best for Gadgets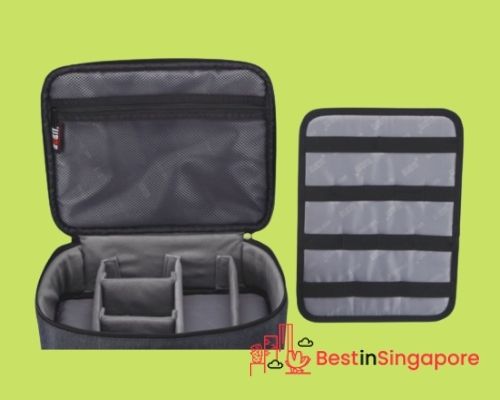 Price: $39.18
If you're looking for storage for your gadgets while on the road, you might want to check out the BUBM Grid Packing Cube. It's one of the few packing cubes designed to be a storage for a long list of gadgets, from cameras to laptops.
On top of that, it's made from durable, heavy-duty, and waterproof nylon material to ensure that your gadgets are safe and protected at all times. It offers a large space that fits more than 5 gadgets at once.
It also comes with dividers and zipped mesh pockets to help users organise their gadgets and have enough extra space for cords and chargers — which is why we call it one of the best packing cubes in Singapore.
If other options in our list give buyers 4-5 pieces of packing cubes, the BUBM Grid Packing Cube only comes with one, but customers tend to look past that given the extra security it offers for their gadgets.
Pros
Large storage space
Durable and waterproof nylon
With dividers and mesh panels
Cons
A purchase comes with only 1 packing cube
Customer Reviews
Here are some of the comments of its buyers:
"I tried several other choices before choosing to purchase this one – mainly because it had enough room for the plug in charger heads and places for cords. Many of the other options had such small elastic holders that the cords would not fit – making the choice useless. This one is larger than I wanted but holds all my chargers – and extra accessories for computer – all in ONE handy location."
"I am using it to keep electronic meters I use to measure voltage and wattage of electrical products. It works very well and I can have them in one carrier and know they are protected. I am very pleased with the organizer bag and will look for products made by same company if needed in the future."
5.   MICOM Packing Cubes
Best for Toiletries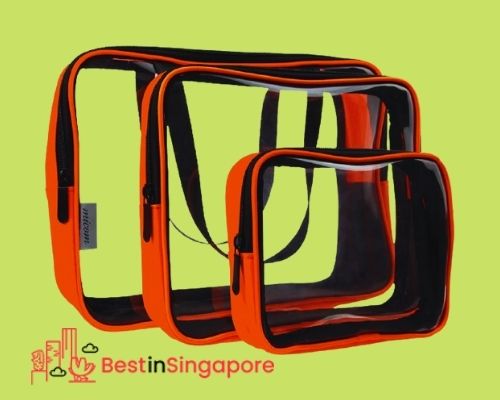 Price: $20.95
If you only need storage for your toiletries, then look no further than the MICOM Packing Cube. It's cheap, portable and lightweight, everything that a traveller looks for in the best packing cubes in Singapore.
In terms of durability, we can't say that that's its strong suit, considering that it's cheap and made from lightweight materials. If you're only using it for cosmetics and toiletries, though, then we think that it can last for a decent amount of time.
Every purchase of the MICOM Packing Cube comes with 3 pieces of packing cubes, however, allowing users to store more than just cosmetics and toiletries. You may even use it to store light dirty clothes after hitting the gym.
If there's anything we couldn't pass up about it, it's the transparent material that makes it a lot easier to spot the items you're searching for.
Pros
Transparent
Affordable
Lightweight and portable
Cons
6. Travelab Compression Packing Cubes
Best for Clothes Organisation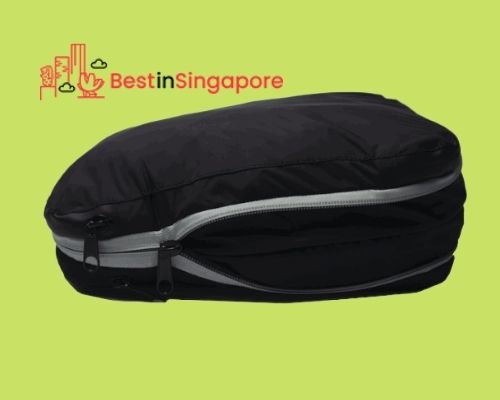 Price: $69.00 for 2 Cubes
Long time travellers know how annoying it can be to organise clothing, especially when there is little space to keep the clean clothing from the dirty ones. 
Fortunately, Travelab's Compression Packing Cubes can solve this problem.
Coming in packs of 2s, 3s, and 4s, the Compression Packing Cubes features two separate compartments, perfect for separating clean and dirty clothes. 
Aside from the spacious compartments, the Compression Packing Cubes also comes highly recommended because of their make. The cubes are created with waterproof lining and zips, making it easy to protect the contents and wash it afterwards.
Unfortunately, it only comes in one colour: Black, but the material makes it long-lasting and easy to keep clean. 
Pros
Perfect for organisation
Waterproof material
Comes in various sizes
Cons
7. CabinZero Classic Cabin Cubes
Best for Large Luggage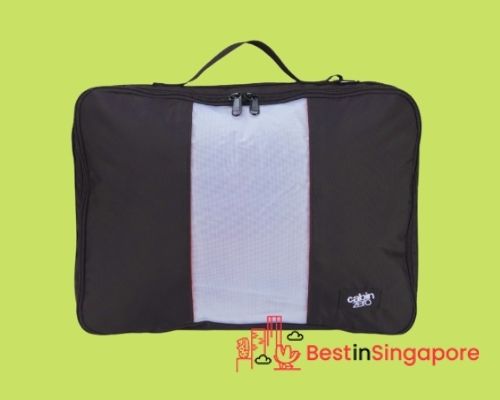 Price: $‌25.00
If you're looking for a packing cube that works best with large bags and luggage, then CabinZero's Classic Cabin Cubes may pique your interest.
These packing cubes are made with nylon fabric that is not only water-resistant but rip-proof as well. The zippers are YKK® zippers, which features the highest quality primary zips available for packing cubes.
Additionally, the Classic Cabin Cubes come with convenient grab handles and Okoban's global luggage trackers, making it easy to pack even for first-time travellers.
It comes in two sizes: Medium and Large, and also features a translucent partial cover, so that users can easily see the cubes' contents.
Pros
Large compartment
Water-resistant material
25-year warranty
Cons
And with that, we end our list of the best packing cubes in Singapore. We hope you were able to pick at least a few that you think can cater to your needs as a traveller.
If you know other packing cubes in Singapore, don't hesitate to drop their names and we'll check them out ourselves. Only the best ones can make this list!
Anyway, if you're also searching for travel bags, you might want to check out our list of the best travel backpacks in Singapore. Any of these bags can accompany you to your trips!