The 9 Best Massage Chairs in Singapore
Who wouldn't love to sit on one of the best massage chairs in Singapore after a day of stress at work or school? If you're looking to get your hands on one, worry no more because we have you covered!
Today, we're going to look at the best massage chairs in Singapore that seem to be a hit with locals. We asked around for recommendations and included only the ones that came up multiple times in suggestions and whom we judged to be superior in our own research.
Anyway, before we introduce our picks for the best massage chairs in Singapore, we're going to share the factors that buyers need to consider when setting out to buy one. That's so you know how to pick a specific one from among our list.
If you already know how to do that, feel free to jump right ahead to our list of the best massage chairs in Singapore to make things faster. So, let's start!
How to Buy the Best Massage Chairs in Singapore
Given the benefits of the best massage chairs in Singapore, it's no surprise that more and more people are getting one for themselves. However, purchasing one isn't that easy: there are a lot of things to consider.
Of course, your priority when looking for the best massage chairs in Singapore should be to find one with the massage functions you need.
Checking for its massage positions, massage rollers, airbags, and chair upholstery will surely be worth it in the long run as well.
Let's go over these points below.
1. Massage Functions
Some of the massage functions you should look for are vibration, rolling massages, trapping, kneading, shiatsu, and reflexology. It's rare for a massage chair to have all these functions, but a set of 3 or 4 should be enough.
High-end massage chairs usually come with basic and advanced massage functions such as Zero Gravity and Inversion Therapy, both of which will make the user feel good.
If you're on a tight budget, we wouldn't recommend going for high-end ones, of course, because there are a few decent ones that come with an affordable price.
2. Massage Positions
Another feature that makes a massage chair worth buying is the presence of varied massage options. We strongly recommend going for one that comes with any of the following and not just back massage: leg, foot, arm, and wrist massages.
Even the cheapest massage chairs offer at least 1 or 2 of these extra massage positions, so looking for one shouldn't be a hassle.
For those with cash to spare, advanced massage chairs can also offer thumb-like massages to the head.
3. Massage Rollers and Airbags
A lot of massage chairs come with massage rollers, but only a few come with height and width customization.
It's important to consider this, especially if the massage chair is going to be shared with others. It's practical to go for one that can accommodate a range of weights and heights.
Airbags can also make your massage even more comfortable. They offer relief from tension and stiffness through pressurised air located in the back, sides, and legs of the massage chair.
These two things are the ones to look out for if you want a better experience from sitting on your massage chair.
4. Chair Upholstery
If you thought that genuine leather was the only fabric for massage chairs, you're wrong. Yes, it's the popular and safe choice, but even the most expensive massage chairs can use synthetic fabric.
Synthetic fabrics are designed to withstand tear, wear, and even heat, making sure that your massage chair will be useful for a long period of time.
The Best Massage Chairs in Singapore
Now that you're aware of the factors to consider when looking for the best massage chairs in Singapore, we hope that you're ready to browse our list and pick something!
So, without further ado, here's our list of the best massage chairs in Singapore.
1. EMPIRE Premium Massage Chair
Best for Affordability and Space Saving Design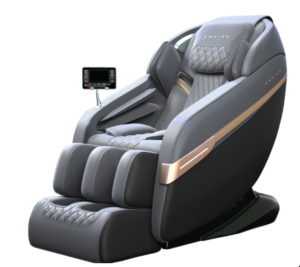 Price: $1,399
Have you always desired a massage chair but they are too expensive? The EMPIRE Massage Chair was created with a single objective in mind which is to make massage chairs affordable to all Singaporeans. 
Enjoy their amazing features and material quality at the lowest feasible price. The EMPIRE Massage Chair uses a 10-Hand massage technique to deliver the most thorough full-body massage from the neck, shoulders, back, and hips. 
It massages you all at once, giving you the incredible sensation of "ten hands" massaging you all at once. In addition, these chairs are fitted with premium-quality PU leather, much like those in high-end cars, this massage chair is built to last and withstand long years of usage. A perfect marriage of material quality and design aesthetics.
EMPIRE's massage chairs have received plenty of 5-star reviews from both satisfied Singaporean customers and celebrities. Check out their website to read the reviews.
Pros
Affordable price

Provides a comprehensive full-body massage

Whole-body airbags

Leg & sole reflexology

Premium PU leather

Heat therapy

Can do 180° recline angle

Bluetooth speakers

Lots of 5-star reviews from Singaporeans & celebrities
Cons
Weight limit up to 120 kg
2.  Miuvo Massagers Distribution HQ – MiuDeluxe Massage Chair with Foot Massage
Best for Customisable Massage Modes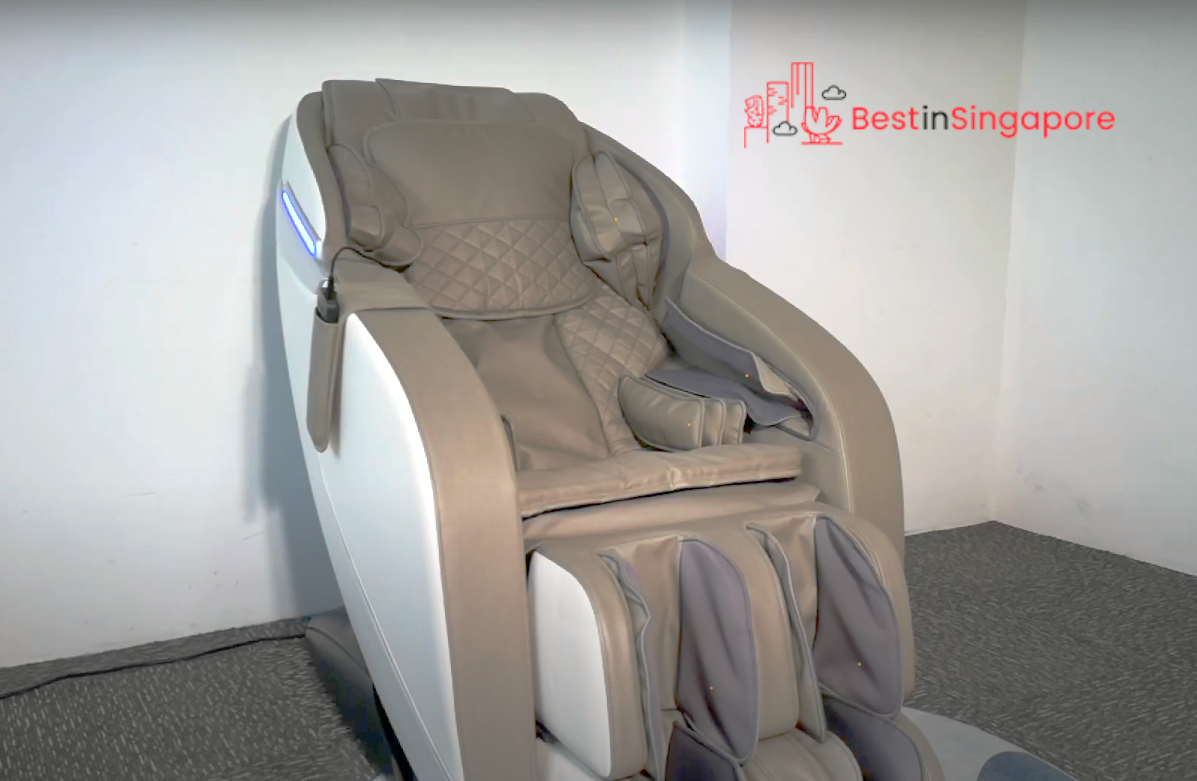 Price: $2,699.00
It's time to bring a full body massage into the comfort of your homes. With the MiuDeluxe Massage Chair with Foot Massage by Miuvo Massagers Distribution, you will be having the best full body massage just in your own space!
This one is a Full Feature Massage chair along with leg and foot massages. It easily fits your size and height and provides long-track massages that closely conforms to your body contours.
The best part of the MiuDeluxe Massage Chair is its customisable massage modes where you can choose the pressure and type of massage you'll want to get. Despite making a jab at your wallet, many customers have commended this product for its exceptional value for its price.
Pros
1-Year Warranty
Air Compression Therapy
Zero Gravity Recline
Soothing Heat Therapy
Cons
3. Ogawa iModa Plus Massage Sofa
Best for Maximum Comfort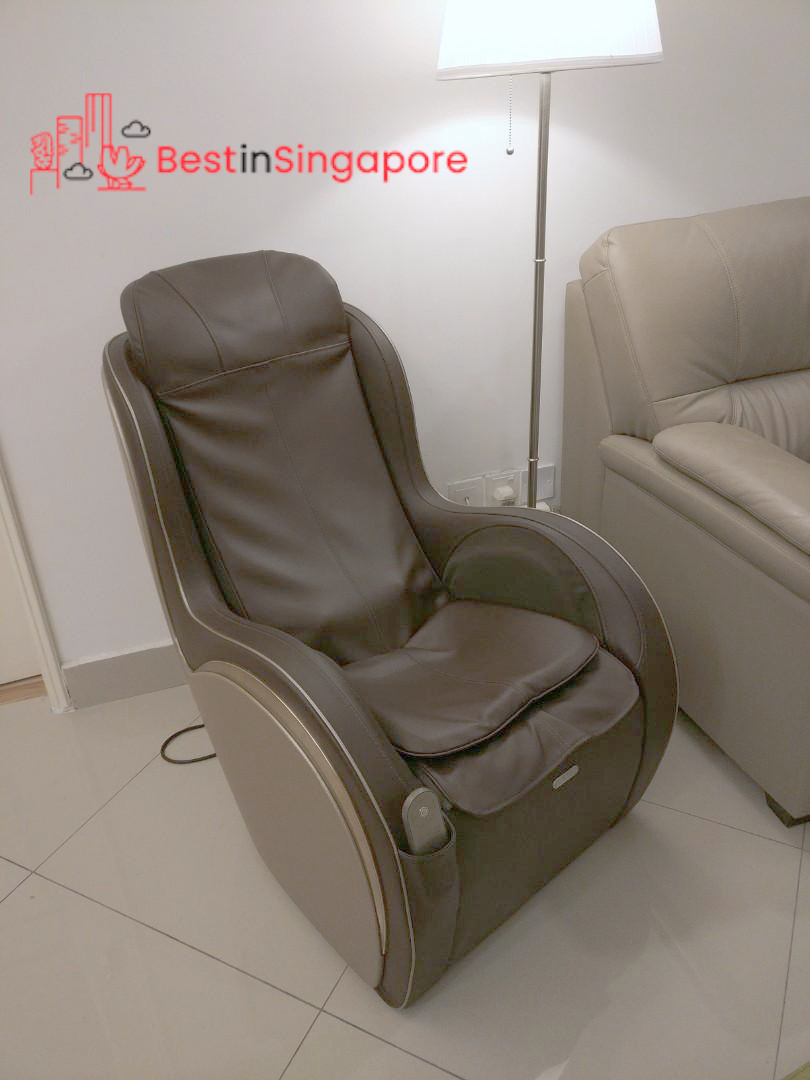 Price: $815.00
If you're looking for a massage chair that can give a one-of-a-kind massage that you've never had before, then look no further than the Ogawa iModa Plus Massage Sofa.
Its name was brought up a lot of when we asked for recommendations from locals, so that definitely says something. Its size is a bit small compared to other massage chairs, but we think it's the ideal option if you have limited space at home.
More than that, the Ogawa iModa Plus Massage Sofa comes with different features such as an L-shaped massage tracker, massage programmes, and comfort rollers and airbags. It's no surprise that it's called one of the best massage chairs in Singapore.
With its L-shaped massage tracker, users can experience a massage that adjusts to the shape and curves of their back, providing a soothing sensation from the neck down to the back.
Since its size is a bit smaller than average, though, it might not be able to accommodate people with larger body frames.
Pros
Affordable
L-shaped massage tracker
With rollers and airbags
Cons
Small size, not suitable for those with larger builds
Customer Reviews
Here's what a customer had to say about it:
"I didn't expect so fast delivery.order on yesterday afternoon and received a call from the seller to confirm address n delivery timing. Driver also called up this morning to double confirm the address to be delivered and inform that stocks are on the way. Like the colour so much and the price is on offer.I bought it for father's day gift. I will definitely purchase from Ogawa again."
4. MiuDelight V2 Massage Chair
Best for Extra Features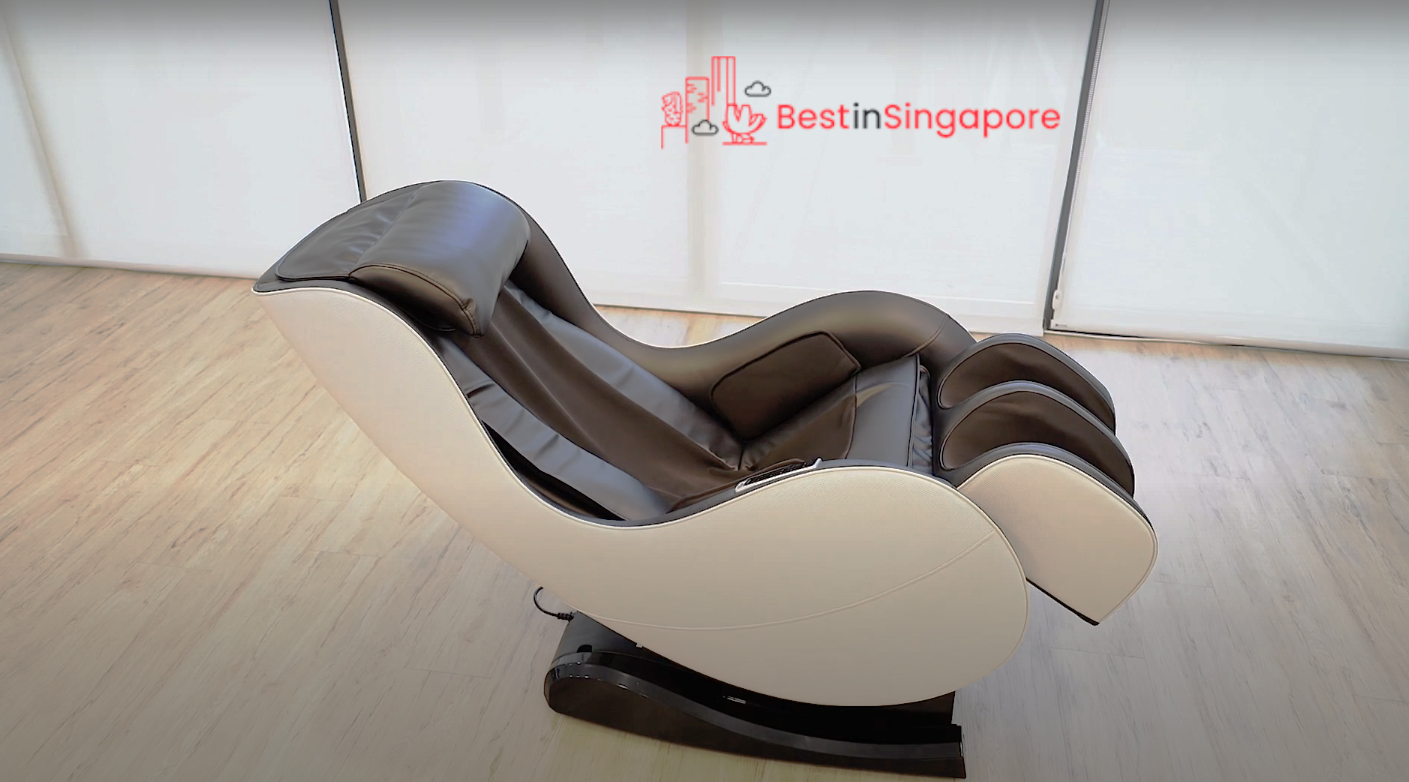 Price: $1,299.00
The MiuDelight V2 Massage Chair takes the top spot in terms of extra features. It might have a price that will make your wallet cry, but it will surely give you your money's worth, down to the last dollar.
For one, it comes with USB ports that allow users to charge their devices while having a relaxing massage. It even has Bluetooth speakers where users can play their favourite songs.
Another reason we consider it one of the best massage chairs in Singapore is its 3D massage features, giving users a sensation like that of a massage given by a professional masseuse.
More than that, the MiuDelight V2 Massage Chair comes with an ultra-long massage track that relaxes and massages the entire back area, from the shoulders down to the thighs.
Some of the additional features of the MiuDelight V2 Massage Chair are air compression, zero gravity massage, air spa therapy, varied massage programs, and many more.
Pros
Airbag compression
With Bluetooth connection
With USB ports
Cons
Customer Reviews
Take a look at what some of the buyers have said about it:
"Best massager chair for this price. It feels like it is a business class seat, everything is pure leather and the item is really well built. I also noticed that it has many different functions of massage. And you can actually manually move on your own of the massage positions that you prefer. Feels like a lot of design and quality has been put into consideration for this particular model. It does everything a normal expensive massage chair would do. I'm so happy to get this new model that just came out this year. I'm a very extremely happy customer!!!!"
"Bought this massage chair for my parents and they love it very much. My parents in their 60s find it easy to operate the chair and it works wonders in relieving their muscle aches. Excellent product at a great price. Can be used as a recliner bed too."
5. OTO Massage Chair
Best for Space-themed Design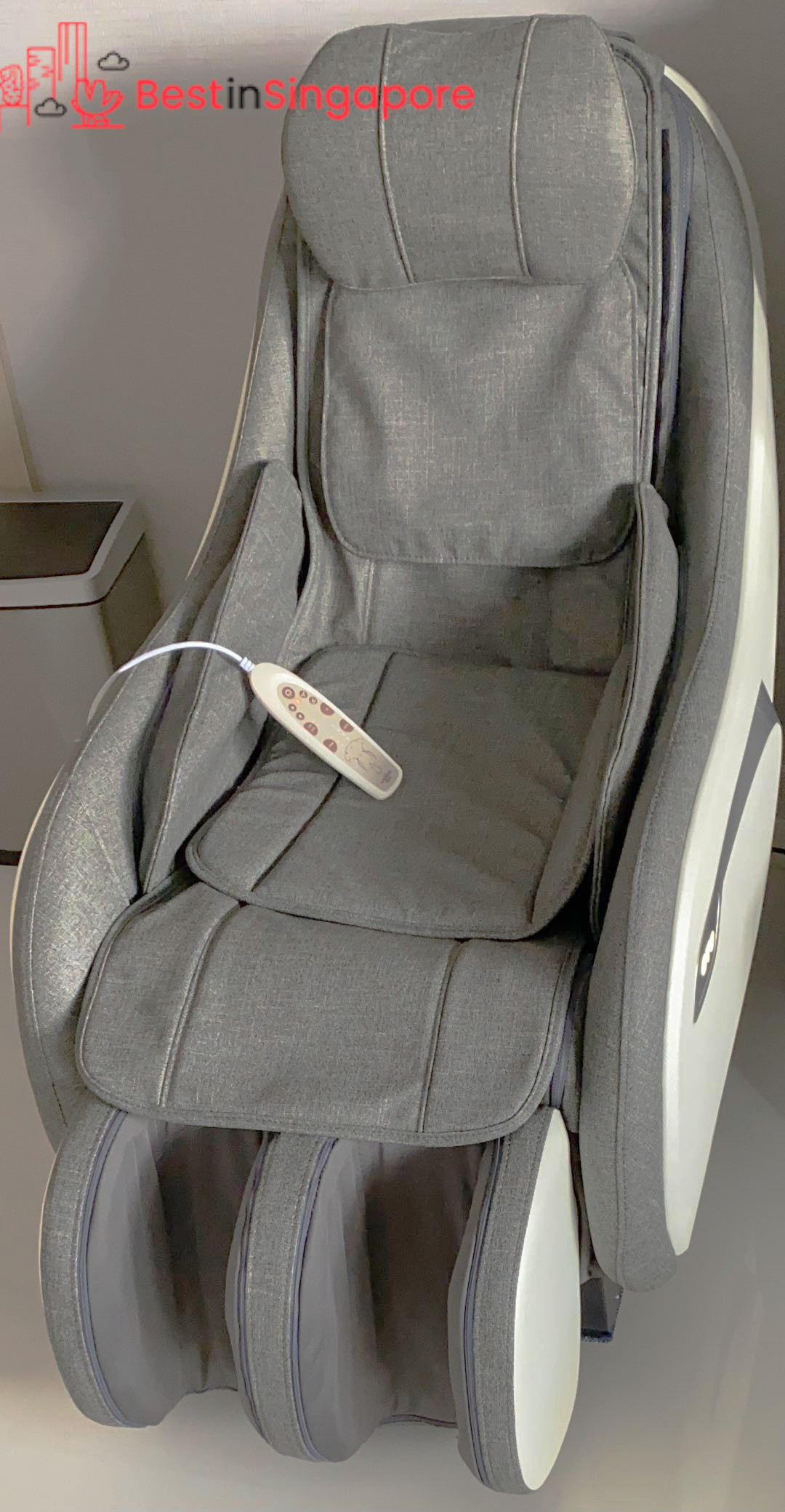 Price: $1,380.00
As one of the most trusted names in massage chairs, OTO was surely going to make it to our list. Here's the OTO Quantum Massage Chair, and we believe that it's one of the best massage chairs in Singapore.
The OTO Quantum Massage Chair is the perfect option for those who have limited space at home. It's one of the few massage chairs that come in a small size and are thus easy to fit into even smaller apartments.
What's more, it features a 20cm long L-shaped massage track that covers the entire back area, starting from the neck down to the thighs. It's even equipped with a footrest for a more focused massage on the leg and foot area.
Another feature that makes it worth buying is the inclusion of varied massage strokes and modes that can be adjusted based on the type of massage users want. Any of these strokes will surely relieve users of back and shoulder pains too!
Pros
Small and cool design
Long massage track
Different massage modes
Cons
Not suitable for those with larger body frames
6. OSIM uDivine V Massage Chair
Best for Overall Value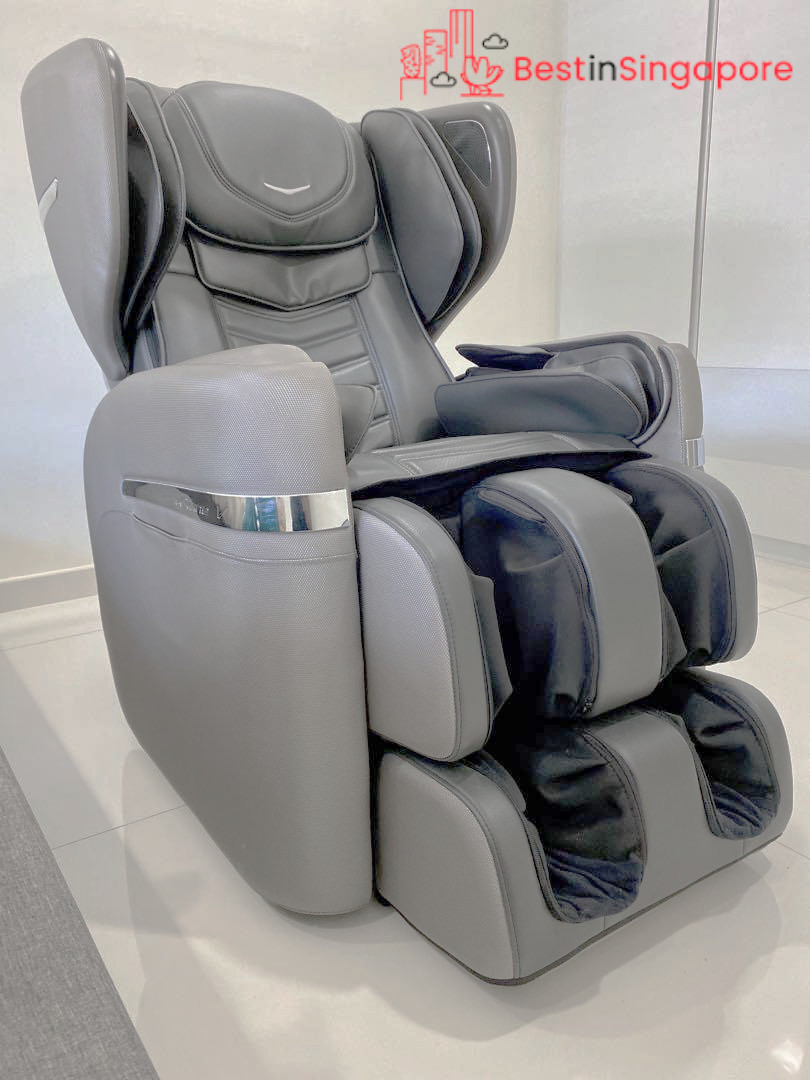 Price: $3,749.00
If you have a lot of cash in your pockets, you might want to check out the OSIM uDivine V Massage Chair, considered one of the best massage chairs in Singapore for its amazing features.
Priced at $3,999, it's definitely not the most budget-friendly massage chair out there, but it can relieve anyone who sits on it of stress and anxieties. It's the reason behind it being an in-demand massage chair despite how expensive it is.
The OSIM uDivine V Massage Chair is engineered to help users sleep and rest better and comfortably, boasting a design based on scientific research. It can even closely emulate the sophisticated techniques of a real masseuse.
On top of that, it comes with different massage programmes to accommodate the needs of the users. If you're looking for a particular massage pattern, you may also download one and install it in the OSIM uDivine V Massage Chair.
Pros
Advanced massage technologies
V-Hand™ Technology with 720° Roller Balls
4-Hand Massage
Cons
Expensive
Eats up a lot of space
7. Ergoworks Zero Gravity Massage Recliner
Best for Ideal Reclining Position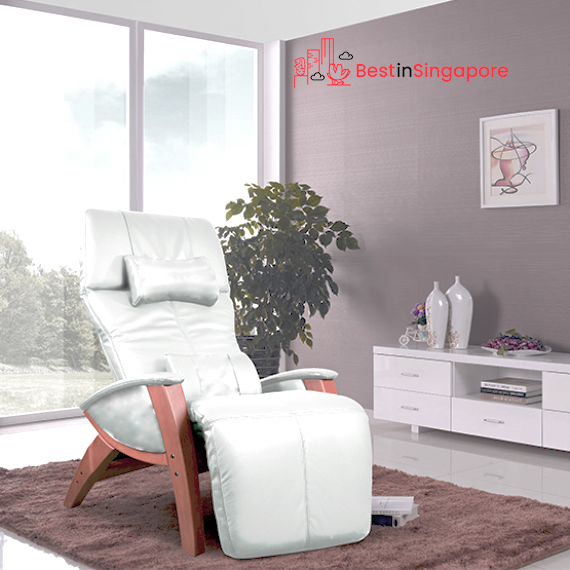 Price: $3,999.00
Ergowork's Zero Gravity Massage Recliner will help you relax to the fullest. It achieves this by reclining the body into the ideal position that reduces the strain on the body, particularly the vertebrae.
It places the user into the ZeroG position. While this position was originally ideal for launching astronauts, it was also discovered to be ideal for massages. By positioning the feet above the heart, your heart rate will slow down– inducing the body to relax naturally.
The Zero Gravity Massage Recliner also has many automated features for you to explore and experiment with. If you're interested, make sure to check it out and try it for yourself.
Pros
Adjustable headrest
Facilitates deeper and relaxed breathing
Cons
Relatively expensive price
8. GINTELL DéVano SC 女王椅
Best for Three usage in One Chair, Your All-Time Favorite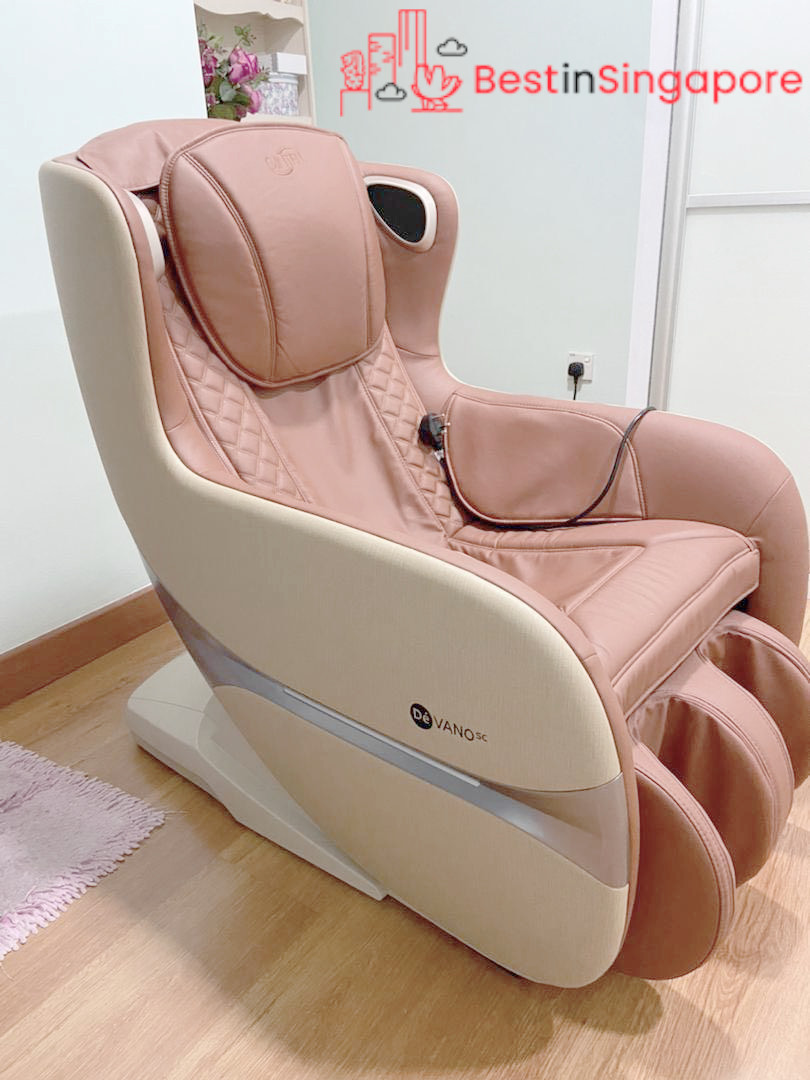 Price : SGD 1'988.00 | Usual Price : (SGD 3'488.00)
Check it out at Gintell
Widely praised for it's sofa concept design, petite space saving size yet able to provide out-of-world massage experience!
Versatility, functionality and style – this fabulous choice from GINTELL has it all! Enjoy three usage modes in one chair: Sofa mode, lounger mode and massage mode. Small but complete, the I-Power Hand is designed with seven massage techniques and six lifestyle auto-massage programmes. Plus other features like the easy control panel with USB charging port, Bluetooth music speaker, flexible soft pillow for head rest and two levels of zero gravity to choose from.
Pros
Reasonable Price
Heating Therapy for footrest
Compact Size
2 Levels of Zero Gravity Program
USB Ports
Bluetooth Connection Speakers
XV Massage Track
iPower Hand Massage
2 Years Local Warranty
Side Panel with Blue LED Strip
Cons
Without sole massage
Without armrest massage
No colors choice
Fix Controller
9. Cowhide Massage Chair
Best for Affordability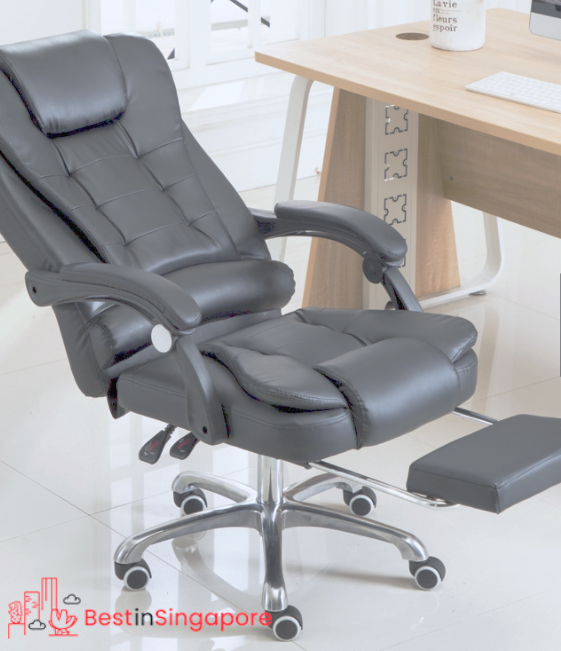 Price: $139.40
It's no secret that massage chairs tend to go for ridiculously high (but reasonable) prices. If you're hoping for a cheaper option, then you might want to check out the Cowhide Massage Chair.
It functions both a gaming and massage chair, but we believe that it's one of the best massage chairs in Singapore. It comes with a back and shoulder pad filled with premium leather foam that relaxes the user's entire back and shoulder area, especially if they have injuries.
It can be reclined up to 90 degrees too, allowing the users to lie down while taking a break from work. It will keep the user comfortable and free from discomfort even after hours of sitting, making it a perfect massage chair for workers and gamers.
More than that, the Cowhide Massage Chair's armrest and footrest are both covered in memory foam and synthetic leather. It doesn't come with lots of special features, but it's still such a steal considering how comfortable it is.
Pros
Affordable
Memory foam
Recline feature
Cons
And that's it for our list of the best massage chairs in Singapore. If you've used any of these in the past, share with us what your experience was like when using them!
If you know of other massage chairs in Singapore worth checking out, tell us their names and we'll check if we can add them to our roster.
By the way, if you ever miss the real touch of a professional masseuse, we recommend checking out our list of the places with the best massages in Singapore. A visit to these places is all you need to relieve yourself of the stress and body pains!