Where to Find the Best Health Insurance in Singapore for Foreigners
If you're a foreigner working in Singapore, having steady health insurance is one of the most effective ways of protecting yourself against hospital bills and treatments. It's a good thing that there are a few insurance providers that offer the best health insurance in Singapore for foreigners.
Searching for the right insurance company isn't going to be easy. You have to consider the benefits and privileges offered by each company and compare them to each other.
To make your lives easier, we researched the leading insurers on the island and created a list of the best health insurance in Singapore for foreigners.
Here are the options we found worthy of everyone's attention and money. Check out each plan below to see which one caters to your needs as a foreigner.
Repatriation coverage
International medical coverage
1. Allianz Care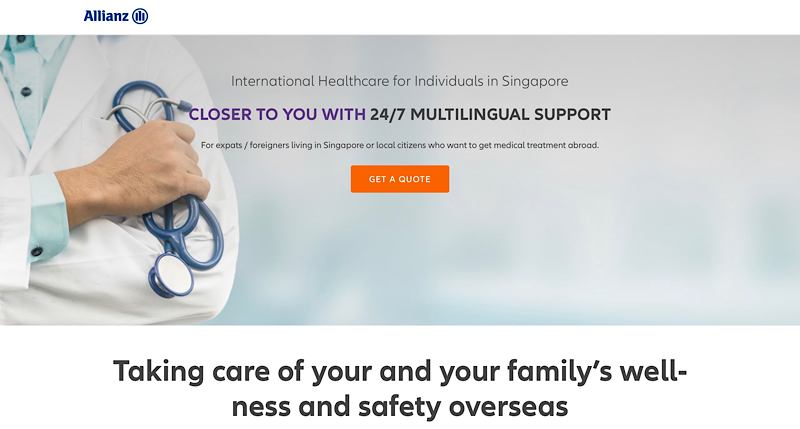 For foreign nationals looking for insurance, Allianz Care offers international health, life, and disability cover. As one of the prime global corporate insurance carriers, they do not only cater to individuals but to multinational companies and intergovernmental organisations as well.
An international insurance varies from a travel insurance and a local insurance. This means that Allianz Care offers a lot of perks to its clients like multi-country health covers, extensive medical coverage, and a lot more.
Allianz Care has different plans their clients can avail, which is benefitting because everything will come in a package. Their plans include Core Plans, Out-patient Plans, Maternity Plans, Dental Plans, and Repatriation Plans.
Aside from plans, they provide various solutions that cover diagnostic tests, organ transplants, and the likes. Prices of these solutions start at SGD 888,000.
We have found it convenient that their website presents all the information on their plans and solutions. Those who look for overly responsive customer support, however, might have to be patient with their helpline.
Highlights
Extensive coverage and multi-country insurance

Insurance for foreign nationals

Various plans and solutions to choose from

Free quotation is available
Customer Reviews
Here is a Facebook review from their client:
"Everything single of one experiences has been impeccably flawless/immaculate to the very highest degree! I remember when I had an interview with them in October 2008 for the position of customer service assistant in the Brentford branch, the interviewers were nothing but absolute perfection! They were thorough, meticulous, perfect, impeccably flawless and immaculate to the very highest degree. I learnt a lot about myself, took their constructive criticism and successfully amended a lot of failed shortcomings/weaknesses. When I spoke to one of the advisors back in March 2017, they were very strict about their financial checks, etc!" – Sachin Naik
2. FWD Insurance

| | |
| --- | --- |
| BEST FOR | Family Coverage |
| SERVICES | Health Insurance for Foreigners, Personal Accident Protection, Carl Insurance, Home Insurance Maid Insurance, Endowment, and Personal Insurance |
| WEBSITE | https://www.fwd.com.sg/international-health-insurance/ |
| ADDRESS | 6 Temasek Blvd, #18-01 Suntec Tower Four, Singapore 038986 |
| CONTACT DETAILS | +65 6820 8888 |
| OPERATING HOURS | Monday – Friday, 9:00 AM – 6:00 PM |
If you're searching for health insurance that also protects your family, then look no further than FWD's International Health Insurance. It's considered one of the best health insurance in Singapore for foreigners as it provides access to world-class medical facilities anywhere in the world.
It's ideal for foreigners because whichever country they find themselves in, they and their family will always be protected. What's more, it automatically reloads your coverage even if you've already reached the annual life but need it to cover accidental hospitalisation coverage.
You may also customise the plan to make it more appropriate for the needs of your loved ones. If you plan on leaving Singapore, you may also bring it to the next country you're moving into.
Highlights
Access to world-class facilities
Customisable plan and benefits
Automatic renewal of limit
Customer Reviews
Here are some of the reviews that FWD Insurance has received throughout their years of service:
"I am very pleased with the help that Tracy of the Customer Engagement Team of FWD Insurance provided. Not only was she friendly, patient, she was also emphatic with the frustrating issues I had with the doctor whom I had consulted. She even went out of her way, assuring me that she understood my problems by sharing her personal experiences. She volunteered to speak on my behalf to the officer in charge of my insurance claim."
"Hands down the best insurance company in Singapore. Not only are my claims processed through the mobile app, they pay promptly for claims through paynow and they do not require people to fill up paper forms, affix a stamp and send it in only to receive silence. Truly an awesome company run by people who actually care about consumers. All my travel insurance moving forward would be with FWD only. The rest are just so far behind. Thanks FWD!"
3. Cigna Insurance

Cigna Insurance is only the insurance provider in Singapore that allows clients to create their own insurance plans to ensure that all their medical needs are accommodated. It's the perfect option for foreigners as it includes international medical coverage.
Among the inclusions that clients may choose from are international outpatient, international medical evacuation, international health & wellbeing, and dental and vision.
Clients may also choose between its three tiers of health insurance, depending on how much coverage they want and how much they're willing to pay.
It's one of the few insurance providers that have a large network of trusted hospitals around the world, which is why we call it one of the options for the best health insurance in Singapore for foreigners.
Highlights
Dependable customer service
Large network of medical facilities
Hassle-free and convenient claiming
4. Now Health International

| | |
| --- | --- |
| BEST FOR | Students and Expats with Families |
| SERVICES | Health Insurance |
| WEBSITE | https://www.now-health.com/en/ |
| ADDRESS | 4 Robinson Rd, The House of Eden, Singapore 048543 |
| CONTACT DETAILS | +65 6880 2303 |
| OPERATING HOURS | Monday – Friday, 9:00 AM – 6:00 PM |
Now International Health operates in a number of countries across different continents, including Asia. It caters to the medical needs of expats with families and students living abroad, providing them with dependable insurance with comprehensive coverage.
It also has an extensive network and international connection with various medical institutions all over the world, so no need to worry about being unprotected while in a foreign soil. As a matter of fact, it has connection to over 1 million medical facilities worldwide.
If you encounter problems, you're free to call their 24/7 customer care and support. It can address your problem even if you don't speak English, as their staff is multilingual.
Highlights
International coverage
Multilingual customer support
Perfect for students
Customer Reviews
Take a look at these reviews proving that Now Health International is among the best health insurance in Singapore for foreigners:
"Now Health has been excellent since the beginning, with clear communication channels and supportive staff. They offered coverage for my partner even with a pre-existing condition (albeit at a higher premium), when many other insurance companies would not even consider us. They have a modern web interface, with easy claim submission and clinic locators. I also have been able to contact a member at the company at any point during the night/day – which is a big plus. I would thoroughly recommend them to anyone seeking international health insurance."
"I'm really happy with my insurance policy from Now Health. I'd been searching for a global health plan for a while, as I travel regularly. But most policies seemed to have a million different benefits that I wouldn't use. I basically just wanted emergency cover. I stumbled across the WorldCare Essential plan and it is exactly what I'd been looking for"
5.  AXA Insurance

With AXA's Expat Health Insurance, foreigners will no longer have to worry about paying for basic medical services such as physical check ups, dental treatments, and hospitalisation.
It also covers laboratory tests, transportation in an ambulance, and even repatriation efforts under a worst-case scenario.
Moreover, it has access to a number of world-class hospitals in Singapore such as Mount Elizabeth and Gleneagles Hospital, which is why it's on our list of the best health insurance in Singapore for foreigners.
Even if you're overseas travelling for work or leisure, you will also be protected, as it has international medical coverage.
Highlights
Repatriation coverage
International medical coverage
6.  Pacific Prime Singapore

BEST FOR 
Wide range of insurance plans
SERVICES
Individual Plans, Family Plans, Group Plans, Maternity Plans, Dental Insurance, Home Insurance, Jewellery Insurance, Pre-existing Insurance, Business Insurance, Car Insurance, Senior Insurance, General Insurance, Travel Insurance
WEBSITE
https://www.pacificprime.sg/
ADDRESS
Cross Street Exchange #14-05,
18 Cross Street,
Singapore, 048423
CONTACT DETAILS
Tel: +65 6346 3781
Fax: +65 6722 8610
OPERATING HOURS
Monday – Friday: 8am–7pm
Pacific Prime Singapore is definitely one of the best choices in insurance for healthcare, as it covers a wide range of plans and benefits. Their flexible packages help people determine what they should be taking, since each person has a different set of needs.
It's also perfect for foreigners, particularly to those who often go in and out of the country for various reasons, as Pacific Prime has included a travel and business insurance for them to register in. The travel insurance includes worldwide coverage, inpatient and outpatient coverage, lost baggage and valuables, possible coverage for pre-existing conditions, flight cancellation and delays, as well as cover for water and winter sports.
Each insurance are fully customisable, so you need not worry about having to pay for something that you most certainly wouldn't encounter in your life.
Highlights
Attentive and Helpful Communications Staff
Personalised Plans
24-hour coverage
Customer Reviews
Read what some clients of Pacific Prime Singapore have to say about their top notch services:
"I hold Pacific Prime Insurance Brokers in the highest regard as far as customer service goes especially Jarett Mathew. You folks are top notch. Whether by phone or email, I get the information and answers I need in a prompt and courteous manner. Thanks again for the continued support in choosing an appropriate plan for my insurance needs."
"Highly knowledgeable in his products. Bolster that with strong customer focus, empathy and a good listening ear to understand the unique needs of his customers is godsend. Jarett Mathew exhibits both and more! Contrary to my selected plan, he proposed a more superior one which meets my immediate needs (at no extra costs)! Responsive even during the weekend when I had enquiries. Truly an insurance professional made in Heaven!"
And that's it for our list of the best health insurance in Singapore for foreigners. If we missed out on other great insurance providers, don't hesitate to give us a heads up and tell us what makes them a reliable insurance provider.
By the way, if you're a foreigner based in Singapore who travels for leisure regularly, then it's recommended that you protect yourself with the best travel insurance in Singapore. Knowing that you have the back of some of the best insurers in Singapore just makes your trip worry-free and more enjoyable.