5 Best Hand Warmers in Singapore from Electric to Disposable
The colder months are finally setting in, so gear up! Fortunately, the best hand warmers in Singapore can help your chilly fingers find some warmth within your pockets.
We've gone looking for hand warmers that can fend off the chill of the cooler Singaporean nights and keep you warm for a long time. But first, we gathered some good intel on how to look for a quality hand warmer.
That way, you can choose the type that suits your needs when you do go through our list of the best hand warmers. Anyway, let's get started!
Types Of Hand Warmers in Singapore
There are 3 ways to power a hand warmer, and we're here to guide you through each, to properly address your needs. Essentially, hand warmers can be electric, catalytic, or disposable:
Electric
Electric hand warmers can be reused since they're rechargeable, so if you're looking for something that can be used in the long run, then electric is the way to go. Nowadays, these types are USB-compatible for ease of charging.
Catalytic
The catalytic type is usually heated by using lighter fluid, so if you're the outdoorsy type, this is your best bet. It's also environmentally friendly, since it's sustainable and its only energy source is the lighter fluid.
People are apprehensive towards this kind of hand warmer since it needs manual lighting, however. Nonetheless, rest assured that when used properly, it's not a fire hazard.
Also this type needs constant refills of lighter fluid. That may be a concern if you don't want to tote lighter fluid around.
Disposable
Disposable ones can come in small packets and can be used in place of a hot compress. If you need quick relief, this type is good for you. However, these babies only last for 8 hours at most.
The Best Hand Warmers in Singapore
Now that we know the types of hand warmers, let's go to the list of the best hand warmers in Singapore. These picks vary in size and kind, so you should be able to find one that suits your needs.
1.   Zippo Hand Warmer
Price:$43.99
Limited Stocks At Shopee, Buy Now
Zippo's reliable catalytic hand warmer can keep you warm in a cinch. This will keep hands warm for up to 12 hours, if you're constantly outside or in cold environments for periods of time.
And it's easy to use as well: just remove the burner, fill the warmer with lighter fluid, then place the burner in there again and light it up, and then replace the cap.
Voila! Now your fingers are once again safe from the assault of the cold!
The slew of recommendations for this product is just another of the things that convinced us that it's really one of the best hand warmers in Singapore. A word of warning, however: many say that it can smell of butane for a while and you may need to get used to that when lighting it.
Pros
Refillable
Lasts for 2 hours
Warms quickly
Cons
You can smell butane
Doesn't work on 46" opening
Customer Reviews
Here are some reviews from Amazon about the this amazing product:
This hand warmer has really good heat output, and for a long time. I've always used the air activated solid hand warmers that you have to shake before using, and this is much more consistent and stronger than that. Make sure you put the hand warmer in the included bag, since the metal definitely gets hot enough that touching it with bare skin would be very uncomfortable.
Make sure to read the instructions thoroughly before filling and using the product, as I had a hard time trying to get the heat started for the first time. You definitely want to let the fuel sit for a few minutes so that it can be absorbed into the warmer. The first time you light the hand warmer will also feel strange, because it seems like you're holding the flame to light the warmer for much longer than you expect, but this is required. It probably took me about 10-15 seconds of holding the flame at the tip of the hand warmer for it to finally get started.
My only bother is that you can definitely smell the burning lighter fluid, but that's expected with any Zippo product since they burn liquid fuel. I haven't tried the hand warmer fluid, so it's possible that might not have the same smell, but I'm giving this product a 5 star since it does exactly what it should!
-Jeremy
You have to take some time to learn how to light this thing but it's worth it.
I got the six hour and it stayed lit for at least 8 hours.
10/10
-UrKungFuNoGood
2.   Peacock Hand Warmer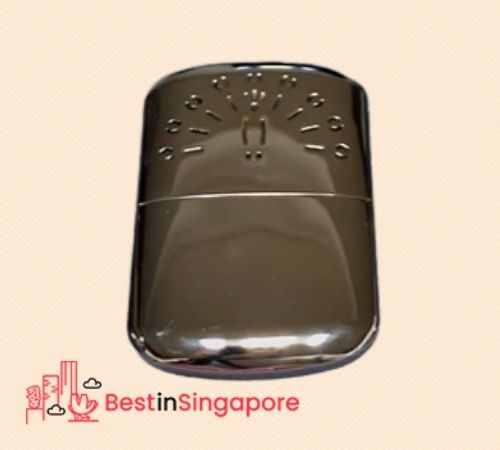 Price:$6.60
Limited Stocks in Amazon, Buy Now
This pint-sized powerhouse snags a spot on our list of the best hand warmers in Singapore for its pocketability and quick-warming mechanism. It's a budget-friendly alternative to other hand warmers out there, so if you're a nature lover, then this is the most logical must-bring for your outdoor adventures.
For one thing, this thing lasts a whopping 24-hours! So, if you're going to be out for sometime, this is one of your holy grails.
You can actually add scented oil if you want a little aromatherapy too: based on our tests, 5-20 drops will do the trick.
This can get to about 60℃, which makes it quite cozy! It uses the same fuel as the Zippo lighter, as per manufacturer's instructions.
Pros
Sleek, tiny design
Long 24-hour life per fill
60℃ temperature
Cons
Customer Reviews
Here are some reviews from Lazada about the this amazing product:
There is not a single battery powered warmer that exists in this size and weight that can last as long and run as hot as this does. The throw away air activated warmers do not even compete either. Simply put, nothing has the same energy density as combustibles at this time. Just 10ml of fuel is enough to put out an ample amount of heat for 18-20 hours (tested and confirmed).
Take a cheap hoodie and sew in 2 inner pockets up on either side of the chest and place one of these warmers in each pocket. You'll have yourself a heated jacket that no battery powered one can beat. Even if you work a double shift outdoors during winter. It lasts so long you don't need to worry about carrying extra fuel, but if you did its just a tiny vile worth. And compared to battery power, you don't need to worry about extra batteries or waiting hours for anything to recharge. And that also makes it a good survival item. I simply am amazed on how much heat this tiny device can put out vs the amount of fuel it needs to run for such a long time.
No flame, very low odor and works laying on its side too so long as you don't overfill it. If its in a hand pocket you wont notice any odor. If its in a pocket up on the chest and under another jacket, you may notice a mild smell at times, but more me it is minimal and is not a nuisance.
-Growing Answers
Got the baby size. It gets really warm, too warm to hold without the fabric case it came with. The round edges are comfortable, but I wish the bottom was at least a little flat so it could stand up on a table. I don't want to lay it down when not in use because it may leak. The size is nice for a pocket. I made a carrier that hangs from my neck(see pics) so it frees up my pocket and warms me up from my core instead of just one pocket. I wish it came that way from the factory, but maybe people would complain about the smell even more. If you need to "turn it off" just put in in a ziplock bag for a bit until it runs out of air. The filling system worked great. I like the heater a lot. If it could stand up it would get 5 stars.
-Merchant
3.   Hot Hands Hand Warmers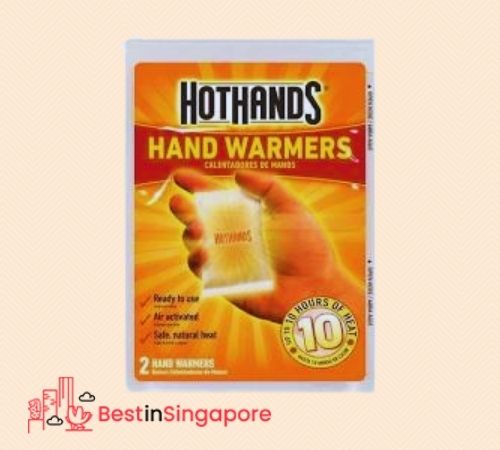 Price:$21.02
Limited Stocks At Amazon, Buy Now
Hot Hands is a popular option if you need a warm compress. They're easy to use and dispose of: just shake them and they're ready to go.
You can get 10 hours of use without any trouble, unlike most brands that only last for 8. They're quite small, and you shove them in your gloves… or even your shoes, if your toes are starting to feel a bit chilly.
The best part is, you can buy them in bulk! That makes them one of the best hand warmers in Singapore for their convenience.
Pros
Lasts for 10 hours
Lightweight
Easy to use
Cons
Customer Reviews
Here are some reviews from Amazon about the this amazing product:
I don't live in a cold climate, but I purchased these because I had the beginning stages of tendinitis in my Achilles and needed to keep heat on it to promote healing after workouts (significantly reduced intensity so avoid further injury). They take about 15-30 mins to warm up so I'd activate them before I started to get ready for bed and by the time I was getting into bed about 20-30 mins later, they'd be hot. I wore them placed around my ankle (put sock on first and then a hand warmer placed on my ankle and one on my heel and then a compression/support bandage wrapped over to keep them in place). The next morning when I took them off they'd still be warm. I'd place them on the bed and sometimes forget to toss them and 12 hours after activating, they'd still be pretty warm. Tendinitis symptoms were gone in just over a week.
As an aside, I would use these (this brand specifically) 15 years ago when I did live in a cold climate and that's exactly why I purchased these this time, because I knew I was getting a good quality working product. They worked exactly like I remembered from my high school days!
-Alisa
I bought 20 pairs for a recent fall camping trip with sub-freezing temps. These were great! I opened them up when the sun went down as we were cooking dinner and just put them in my pocket. By the time dinner was over and the temps were dropping, they were really warm/hot. My husband and I put them in our gloves when we went to the campground campfire talks and our hands & fingers stayed nice and warm. Then we kept them in our gloves or pockets throughout the night for an extra bit of warmth when needed. They advertise as good for 10 hours, and ours were warm at least that long. Very happy with them.
-Laura S.
4.   Savior Heated Gloves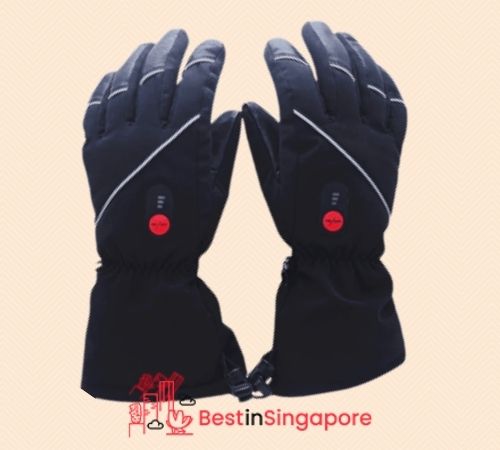 Price: S$167.74 – S$350.94
Limited Stocks At Amazon, Buy Now
Need something a little more heavy-duty? Savior Heated Gloves has got you covered. If tiny, flimsy hand warmers aren't enough to keep your numbing, frostbitten extremities warm, Savior is definitely… well, your savior.
These full-finger gloves will gently warm the length of each finger, back of the hand, and even the palms to battle the cold. It's perfect for vacations in cold countries as well.
The best part is, it's breathable enough to fight sweating.
Anyway, when you engage in cold, outdoor activities, your hands no longer have to suffer. All in all, this truly deserves a spot in the list of the best hand warmers in Singapore.
Pros
Instant heating
Breathable
3 temperature settings
Cons
Cannot be machine washed or handwashed
Customer Reviews
Here are some reviews from Amazon about this amazing product:
I've used these gloves now for 6 weeks nearly every day biking to and from work (15 minutes each way), and walking for an hour or so each night in temperatures from -26°C to 0°C (-15°F to 32°F). My hands are about a men's surgical glove size 8.5 and the XXL glove fits just right. The fabric and materials are good. The quality of the heating is good, I didn't time how long the batteries last, but enough for the one hour walk and 30 mins of biking. To remove the batteries, you unzip the waterproof zipper on the back cuff side of each glove, and disconnect the battery from its plug in the pocket, and move it to the charger. The charger light turns green after the batteries are charged. One issue I ran into with these gloves is that on three occasions, I put the gloves in my coat pocket to store them after they had been turned off, but the pressure of compressing them in the coat pockets inadvertently turned on the gloves. I caught this twice before the batteries were completely drained, but the third time both batteries were dead. I think this could be fixed by using a different type of switch, perhaps one that can be locked in the off position. Another mildly annoying thing is that the red led light that turns on on the back of the glove when you turn the gloves on is pretty bright and distracting when you are out in the dark, if you don't want lights to be on your hands. It might also be good to make it possible to disable this red light, but then you woudn't know when the gloves are on.
-Entropophile
These gloves work really well, even to your fingers and thumbs. I bought them for my cycling commute (about 50 minutes each way) central Ohio. So far I have had four days that warranted these gloves 29F, 33F, 27F and one at 22F (some days with 15mph wind) and they worked great! I am a female with frequently cold hands and I used to use mittens with chemical warmers for cold days, especially mornings. The combination kept my hands warm, but were awkward for shifting and braking. These gloves are a game changer with excellent dexterity and grip, more even heat and rechargeable. These are perfect for cycling. For my rides, I set the level on the highest setting and my fingers were toasty. For temps in the 30s, I am pretty sure a lower setting would provide plenty of heat, and I am also thinking that high heat will work into the teens. Off bike, it would probably work well into single digit temps. I will update my review if anything changes, but so far I am really impressed and am getting a pair for my spouse for when we ride our fat bikes in the snow.
On sizing (I don't know why Amazon populated this review with XL, I bought a medium), I wear a medium or large in women's gloves and no more than a small in men's gloves. The circumference around my palm is 7″ and the length of my hand "bird finger" to where palm meets wrist is also 7 inches. The medium fits like a glove. (perfectly)
-Greenfreak
5.   Hotsnapz Reusables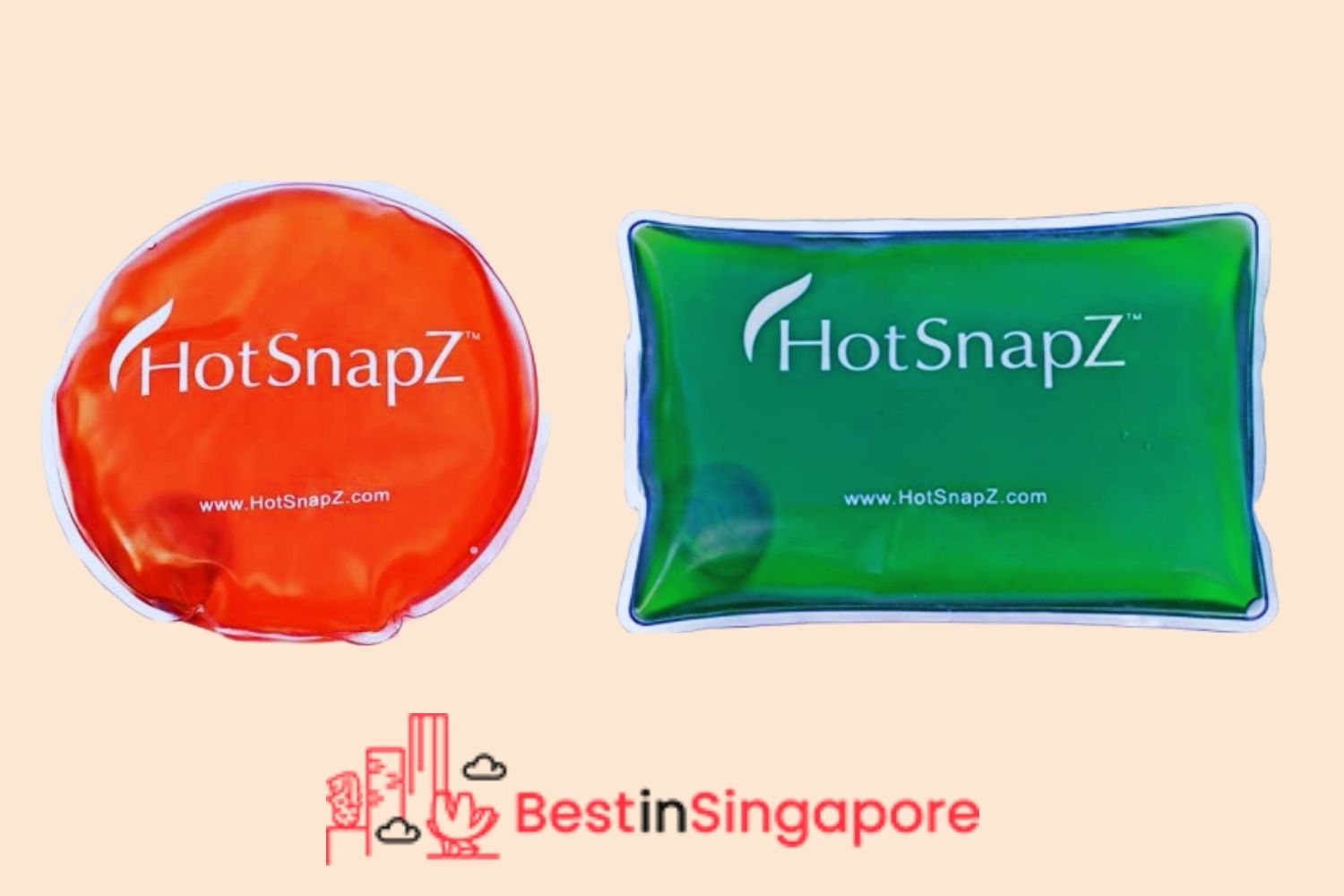 Price:$25.25
Limited Stocks In Amazon, Buy Now
HotSnapz is a reusable hot packet that can be activated via the metal disk inside the packet.
The process works because the packets contain food-grade sodium acetate and when the metal disk is moved or bent, it produces a chemical reaction that warms up the entire packet.
It can be returned to its liquid form when tossed into hot water for around 10-15 minutes. These come in a set of eight and they last up to 40 minutes.
These babies deserve a spot in the list of the best hand warmers in Singapore for being convenient and giving a quick burst of heat. Another perk is that they're good to use as compresses.
Pros
Reaches high temperatures
Ideal for hot compress
Reusable
Cons
Heat doesn't last long
Volatile
And our list of the best hand warmers in Singapore is given a great curtain call with that product. We hope that you found the perfect one from among these hand warmers to keep your fingers warm during the cold months.
Did we miss a great option, though? Tell us its name and what makes it great in the comments below!
If you need to keep cool during the summer months instead, then head over to the list of the best tower fans in Singapore and check out our picks for those.
We can also help if you need some heaters to warm your bath during the colder months, by the way. Check out the best water heaters in Singapore for that!