The 5 Best Fibre Broadband Deals in Singapore for 2021
Nobody wants to suffer through a slow and unstable Internet connection. If you don't know which companies offer the best fibre broadbands in Singapore, then you've come to the right place — because counting down the best fibre broadbands in Singapore!
The fibre broadbands we found are great for gaming, browsing social media, school research, and video streaming. With our list of the best fibre broadbands in Singapore, you won't have to struggle looking for a Net provider that can do all these things.
1.  Starhub

If you want an affordable fibre broadband in Singapore with fast and stable connection, then Starhub would be a great match for you!
For only $62.90 a month, you can enjoy an Internet speed of 2Gbsp, allowing you to play games, stream videos, and browse Facebook without interruptions!
Starhub's connection is powered by reliable, high-speed, and stable fibre-optic network. You will never experience a slow connection again when you're using Starhub.
If you sign up for their 24-month contract, you will receive a bonus of free 2 months' worth of subscription. What's more, its service installation and activation comes with no price! This great customer service and sign-up deal makes us consider Starhub to have one of the best internet plans in Singapore.
Highlights
Free 2-month subscription
Free installation and activation
Free ROG gaming router
24/7 customer service
2.  Singtel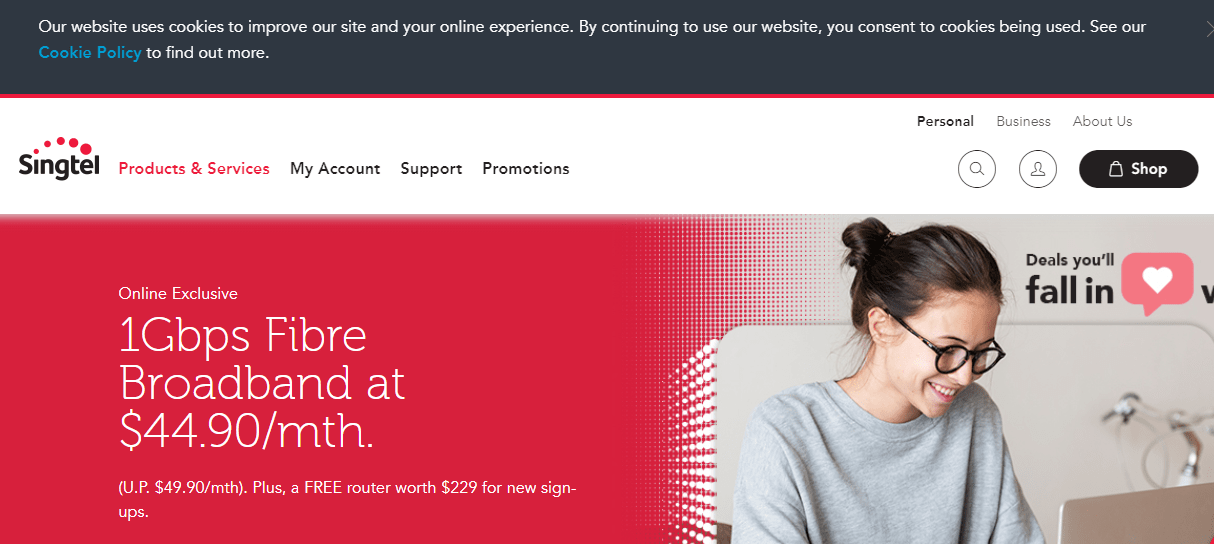 It's no secret that Singtel is considered one of the best internet providers in Singapore that offer the best fibre broadband. Customers who sign up for this fibre broadband plan will enjoy an Internet speed of 1Gbps for only $44.90 a month!
On top of this, Singtel is known for providing stable Internet connections, so no need to worry about losing connection while you're binge-watching a series on Netflix. It's really one of the best fibre broadbands in Singapore for 2021!
If you're an existing Singtel subscriber, you will be entitled to 10% off your mobile subscription plan. Meanwhile, new Singtel subscribers will receive free registration, AC router, and 10% discount to their mobile subscription. We like this extra service that they provide to both existing and new customers, definitely one of the best services in a Singapore internet provider. 
Highlights
Free registration
Free installation
Dependable customer service
3.  WhizComms
Established in 2016, WhizComms has been improving the lives of Singaporeans by providing them with stable and fast internet in Singapore for an affordable price!
So, if you're looking for the best home fibre broadband in Singapore without going beyond your budget, then make sure to get your hands on its fibre broadband plan.
One of its goals as a company is to provide quality services for an accessible price to allow more people to enjoy its services. All its products and services meet the highest quality standards, so customers will see their money's worth.
For as low as $34 a month, you can enjoy an Internet speed that goes up to 1Gbpbs. If you're not yet ready to commit with a 24-month contract, you can opt for its 12-month contract for a slightly higher price.
In addition, both plans also come with discounts and promos such as free Viu subscription, service fee waivers, free audit service, and many more. It's really one of best fibre broadbands in Singapore today!
Highlights
Free delivery
Free installation
Free activation
Shorter contract commitment
4.  M1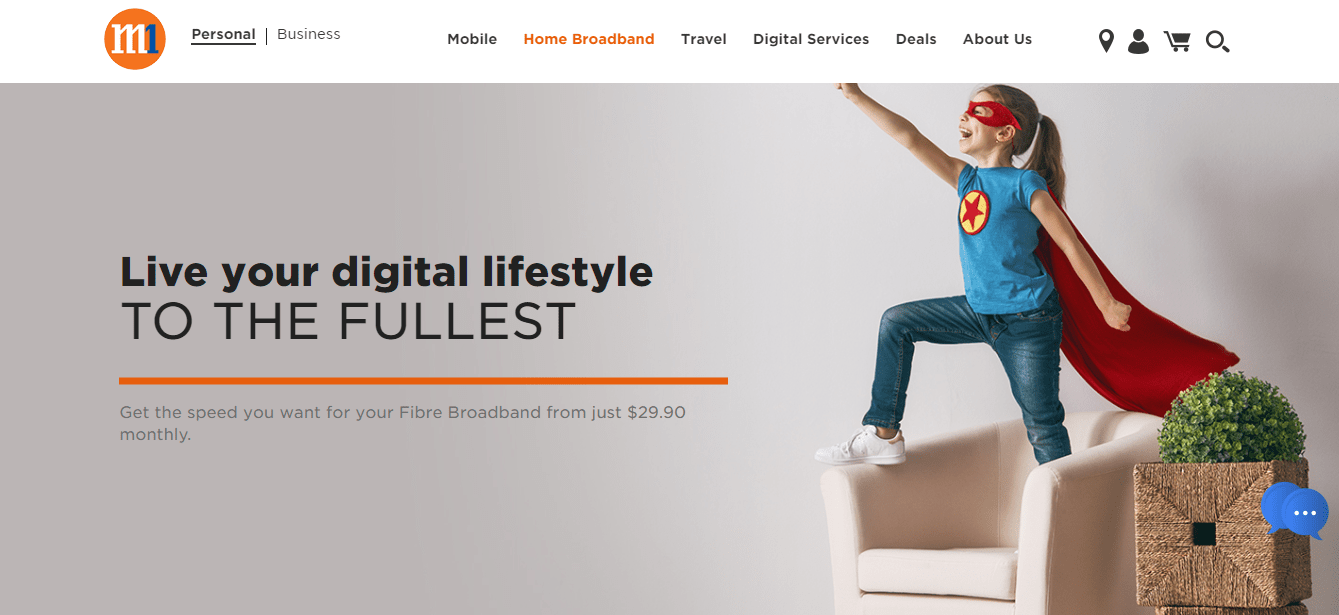 M1 knows that Singapore has a huge population of gamers, so it made sure to create a fibre broadband plan that caters to the needs of gamers. Here's GamePro, and we think it's the best home broadband in Singapore for professional and even casual gamers.
Priced at $52 a month, it's more expensive than the other options on our list, but it's the ideal plan to get if you want a seamless and uninterrupted gameplay. Among its features are a dedicated network, lower latency, and managed routing — which admittedly is not all present in most internet service providers in Singapore. 
M1's GamePro prioritises your network's traffic to provide you with smoother gameplay, decent graphics, and of course, stable Internet connection. Say goodbye to losing in your games because of a faulty and unstable fibre broadband connection!
If you're a gamer (or have one at home), this is hands down the best fibre broadband in Singapore that you can get. 
Highlights
Free gaming router
Smoother gameplay
Prioritized traffic
Overseas servers
5.  MyRepublic's Google Nest Wifi
Do you want a fast and reliable Internet connection that can be used by the entire family? If so, then MyRepublic's Google Nest Wifi is the best fibre broadband plan for you!
Compared to other fibre broadband plans, this one's definitely a lot more expensive since it comes with a Nest Wifi Router that can cover your entire home in stable and super-fast Internet. It also comes with a free Google Assistant that can be used for extra help around the house.
Among the features of the Google Nest Wifi are a home phone line and activation and installation service fee. If you're recontracting with MyRepublic, you will be entitled to one month of free subscription. We're not so surprised to know that they have been considered the best fibre broadband in Singapore in 2020. 
Highlights
Safe network
Stable connection
Google Assistant
And that's it for our list of the best fibre broadbands in Singapore! Any of these options will definitely restore fast and reliable Internet into your homes.
Do you know an Internet provider that also offers the best fibre broadband on the island? Share it with us by leaving a comment below!
And oh, if you want to be protected while browsing the Internet, you better get yourself a decent VPN. Good thing that we also have a list of the best VPNs in Singapore!