The 9 Best Female Gynaes In Singapore
By Michaela Koh
Whether it's because you're having a pregnancy or just seeking the best gynaecological care, it's perfectly normal to seek the top female gynaes in Singapore to help you.
A lot of women still feel more comfortable dealing with female doctors when it comes to reproductive health, after all. It's the same as those men who feel more comfortable dealing with male doctors for the same thing.
Anyway, to help the women out there who want a reliable female gynaecologist, we've gone over the top female gynaes on the island. Here are the ones we've found to be the best female gynaes in Singapore:
(Note: This list is in no particular order.)
1. Dr. Wendy Teo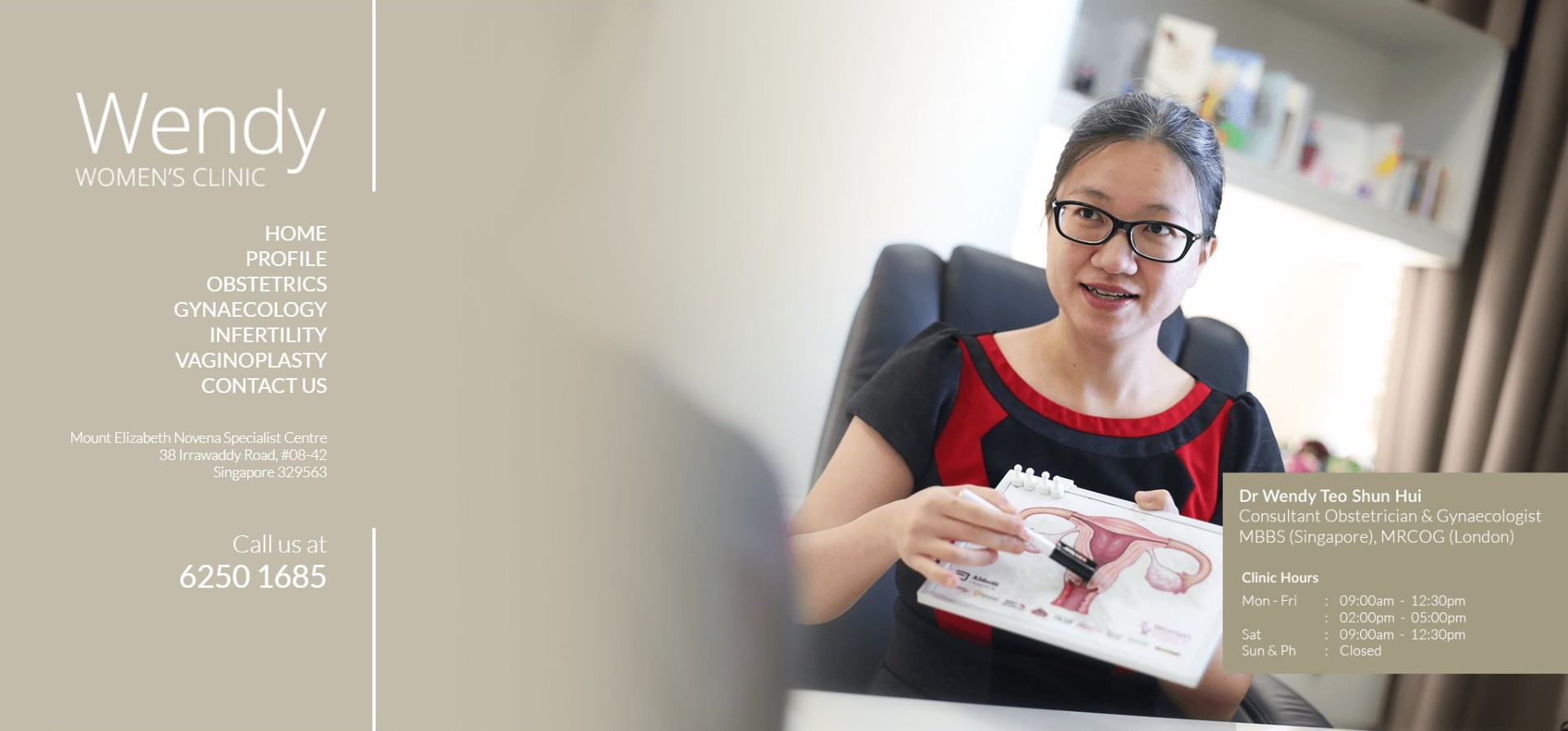 BEST FOR 
Infertility
SERVICES
Obstetrics | Gynaecology | Infertility | Vaginoplasty
WEBSITE
https://www.gynaesingapore.com/
ADDRESS
Mount Elizabeth Novena Specialist Centre
38 Irrawaddy Road, #08-42
Singapore 329563
CONTACT DETAILS
+65 3129 2381
OPERATING HOURS
Mon to Fri: 9.00am – 12.30pm, 2.00pm – 5.00pm
Sat: 9.00am – 12.30pm
Sun & PH: Closed
Dr Wendy Teo is known for her warm and cheerful disposition which puts her patients at ease. She specialises in infertility. As a mother of two beautiful children herself, she can empathize with couples who have difficulty conceiving and uses her expertise to help them complete their family.
Dr Wendy graduated from medical school in 2002 and has been treating women's medical conditions ever since. She was a member of the Obstetrics and Gynaecology (O&G) Ward Workflow Improvement Committee in 2004 and was awarded the Best Medical Officer in 2008 while working in KK Women's and Children's Hospital, Singapore.
SERVICE HIGHLIGHTS
Flexible patient management
Award-winning doctor
CUSTOMER REVIEWS
My wife delivered 2 kids with the help of Dr Wendy in 2018 and 2019. A very calm and patient female gynae. Unlike other reviews, I don't find her receptionists rude – I find them highly efficent, clear and direct. I highly recommend Dr Wendy. – Mark Chng via Google
2. Dr. Liana Koe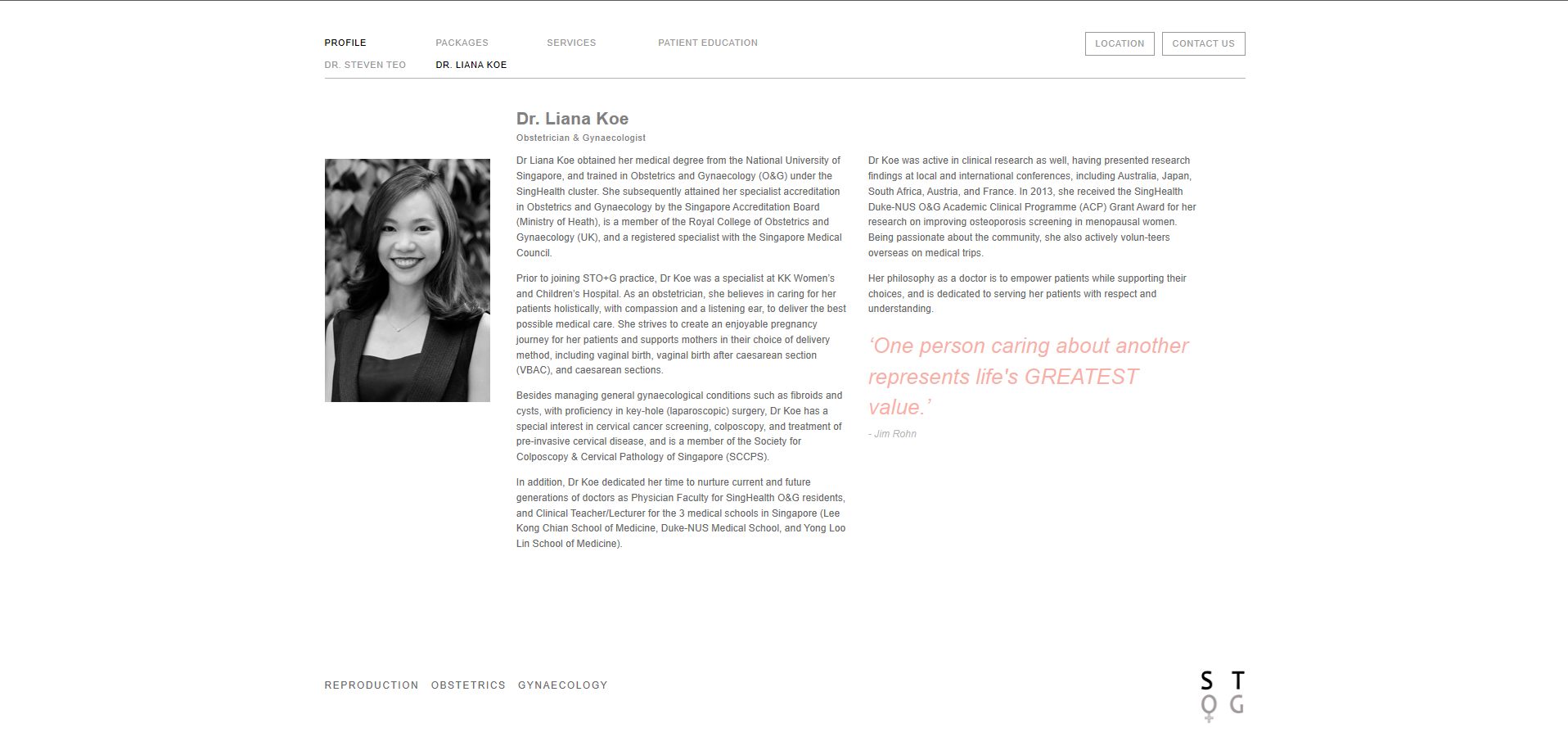 BEST FOR 
Obstetrics and Gynaecology care
SERVICES
Pregnancy Care
Fertility Care
General Gynaecology
General Healthcare for Women
Family Planning
Termination of Pregnancy
WEBSITE
https://stogpractice.com/profile2.html
ADDRESS
Thomson Medical Centre, 339 Thomson Road #04-06A, Singapore 307677
CONTACT DETAILS
(65) 3129 2198
OPERATING HOURS
Morning session (Mon to Sat) 8:30am – 12:30pm
Afternoon session (Mon to Fri) 2:00pm – 5:30pm
Dr. Liana Koe is a professional obstetrician and gynaecologist who is equipped with many specialties and numerous years of expertise. She also works as a lecturer at 3 medical schools in Singapore. She has attended local and international conferences wherein she presented her clinical study about osteoporosis screening in menopausal women.
She offers a wide array of medical services for a number of gynaecological conditions, such as fibroids and cysts. Aside from that, she also performs cervical cancer screening, colposcopy and treatment of pre-invasive cervical disease. She is well-known for her supportive dedication towards empowering her patients.
Whenever you need a hand for your health concerns, don't hesitate to consult with Dr. Koe. She will attend to your concerns and give you the detailed and caring attention that you deserve.
SERVICE HIGHLIGHTS
Full range of Obstetrics and Gynaecology services
Years of expertise
Compassionate and dedicated
CUSTOMER REVIEWS
"Dr Liana Koe is very professional, knowledgeable and patient. She's friendly and takes time to answer your questions and gives you reassurance on the various dos and dont's on pregnancy. She also explains the baby ultrasound scans in detail, which I really enjoy and appreciate. Would highly recommend her to any mummy-to-bes!"
3. Dr Chia Yee Tien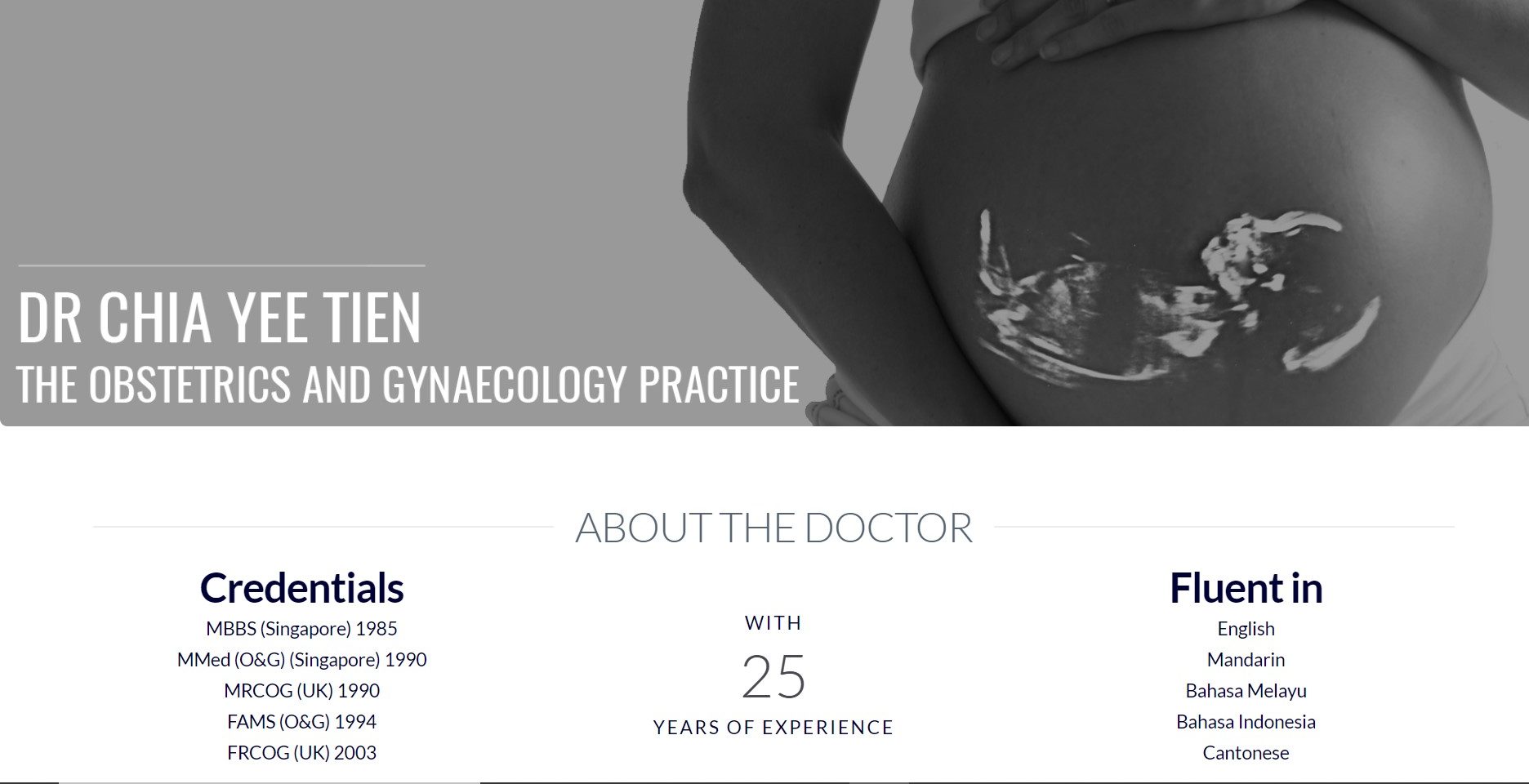 BEST FOR 
Maternal-Fetal Medicine
SERVICES
Obstetrics | Gynaecology
WEBSITE
http://drchiaforwomen.com/
ADDRESS
#13-13 Mount Elizabeth Medical Centre
3 Mount Elizabeth
Singapore 228510
CONTACT DETAILS
6235 2500
OPERATING HOURS
Mon – Friday: 9am to 6pm
Sat: 9am – 1pm
Closed on Sun and Public Holidays
Dr Chia Yee Tien has been in private practice since 1995, offering a full range of Obstetrics and Gynaecology care for women. Her sub-specialty is in Maternal-Fetal Medicine. She graduated from the National University of Singapore with the MBBS in 1985 and the Master of Medicine (Obstetrics and Gynaecology) in 1990.
Dr Chia Yee Tien is also a Fellow of the Royal College of Obstetricians and Gynaecologists (UK) and a Fellow of the Academy of Medicine, Singapore. She holds a Certificate of Specialist Registration from the Singapore Medical Council (1998).
SERVICE HIGHLIGHTS
25 years of experience
Emergency obstetric & gynaecological consultations via the A&E of Mount Elizabeth Hospital
Minimally invasive laparoscopic surgeries
Urogynaecology
Full range of Obstetrics & Gynaecology services
CUSTOMER REVIEWS
Dr Chia is amazing. I had natural births whereby she delivered all 3 of my children. She is very knowledgeable and experienced. – Siimynn Liew via Google
Professional and skillful. Excellent obstetrics care. – Celine Chia via Google
4. Women Fertility & Fetal Centre (Dr. Ann Tan)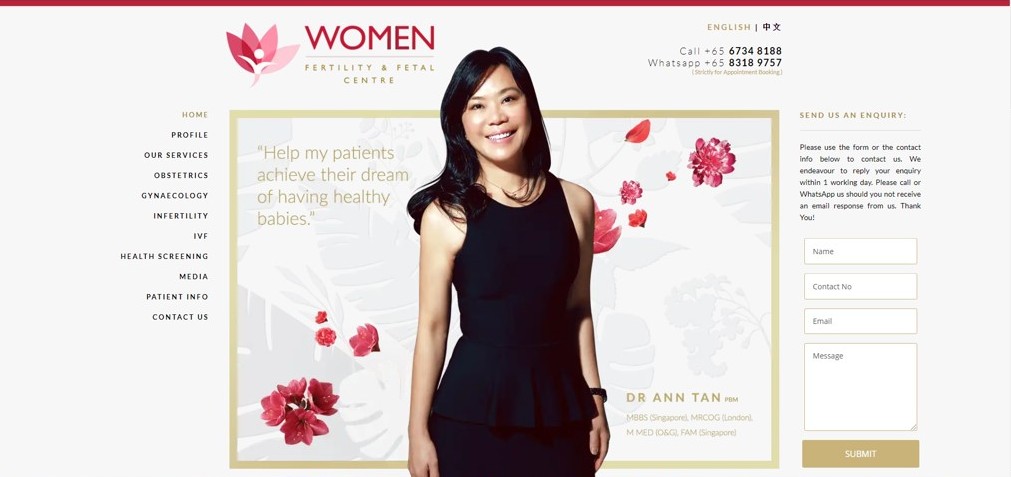 BEST FOR 
Trained and accredited in both fetal medicine and reproductive medicine
FEES
Enquire for fees.
WEBSITE
https://www.anntan.com.sg/
ADDRESS
3 Mount Elizabeth #11-12
Mount Elizabeth Medical Centre
Singapore 228510
CONTACT DETAILS
(65) 6734 8188
OPERATING HOURS
Mon – Wed : 9 AM – 6 PM
Friday : 9 AM – 6 PM
Lunch Hour : 1 PM – 2 PM
Thurs & Sat : 9 AM – 1 PM
Dr. Ann Tan is trained and accredited in both fetal medicine and reproductive medicine. She's also the medical expert behind this particular IVF clinic in Singapore.
For over two decades, Dr. Tan has been using her knowledge and expertise to care for both local and expatriate communities as well as women of all ages. She is the first Singaporean gynaecologist to hold the Diploma of Fetal Medicine from the Fetal Medicine Foundation.
She is a dedicated OBGYN in the field of prenatal diagnosis and care of both mother and fetus.
SERVICE HIGHLIGHTS
MOH-accredited fertility & IVF practitioner
Warm, supportive environment
Highly rated by past patients on Google Reviews
CUSTOMER REVIEWS
Previous patients left many positive comments on Google Reviews about Dr. Ann Tan and the clinic. They praise her for her patience, welcoming demeanour and competence.
Hayley Chiam wrote:
"Ann Tan was absolutely marvellous on both a personal and professional level. She made both my husband and myself comfortable during a tense situation. She's the kind of doctor that I would love to invest my time and trust on."
5. Dr. Chee Jing Jye
BEST FOR 
Advanced facilities and services
FEES
Enquire for fees
WEBSITE
https://www.drjjcheegynae.com/
ADDRESS
3 Mount Elizabeth #12-02
CONTACT DETAILS
+65 6732 9882
OPERATING HOURS
Monday to Friday 8:30am to 5:00pm
Saturday 8:30am to 12:00pm
Mount Elizabeth Hospital aims to build a supportive community for womanhood. They offer personalised treatments where they will conduct consultation, medication, and advice that will help you adjust to a new lifestyle or with your current condition.
Gynaecology here covers a broad scope of conditions and this includes general, cancer, and female bladder disorders. If you want to have a checkup for one of these conditions, they will be able to provide the necessary treatment and prescriptions.
SERVICE HIGHLIGHTS
Paediatrics (children) and Neonatology (newborn infants)
Antenatal and postnatal care
Comprehensive gynaecology cancer treatment
CUSTOMER REVIEWS
Aside from gynaecologists, they also have specialists for obstetrics to assist expectant mothers during their pregnancy. A reviewer left a comment on Google Reviews:
 "Amazing service people really care and take care of you. my wife went in for a head injury and the doctor was so concerned, she made her stay out of her intuition. The prices compared to the u.s. are ridiculously cheap. Insurance and no problem. if you're traveling to Singapore be sure to buy travelers insurance, they have no problem paying for it." 
6. Gynae

MD Women's Clinic (Dr. Regina Zuzarte-Ng)


Gynae MD Women's Clinic is known for raising awareness of women's health and disease prevention. In every part of a woman's life, Dr. Regina Zuzarte-Ng will guide you throughout the changes in your life, from puberty to menopause.
The services include seeing to cancer screening, contraception, menstrual problems, hormonal balance treatment, and other gynaecology-related conditions.
SERVICE HIGHLIGHTS
Infertility investigation & management
Uro-gynaecology
Minimally invasive surgery
CUSTOMER REVIEWS
As the clinic focuses solely on helping women community maintain a healthy lifestyle and stay well, Gynae MD Women's Clinic has earned many compliments from its former patients. Janice Seow shared her story on Google Reviews:
 "After dealing with infertility over the past 3 years, I visited a Gynaecologist as natural means of conceiving did not help. I heard from a friend of mine that GynaeMD Women's Clinic (Clementi) is one of the trusted gynaecology treatment centers in Singapore as well as she is just nearby our neighbourhood in Clementi. After taking an appointment over the phone, I visited the clinic next day.
 One thing I must mention is that everyone, right from the nurses to the doctor are truly compassionate and dealt my case with utter care and understanding. After a series of tests and diagnostic processes, my case report was prepared within 72 hours and I was ready for my treatment. As suggested by the report, I had problems in my fibroids that was actually hindering by pregnancy. Though I had menstruation regularly, but experienced unusual blood flow at times. Vaginal discharges happened occasionally. After informing all my issues, my treatment began. Undergoing a fibroid surgery that was totally successful, I began to recover quickly. The medication was excellent and the treatment facilities were the latest. This relieved me the most. After a year's medicinal therapies and the successful fibroid surgery, now I am the proud mother of a healthy 10 months baby boy. I thank my infertility specialist and all others at the hospital, as without their care and accurate diagnosis, I would have never attained motherhood." 
7. Mount Alvernia Hospital (Dr. Chua Yang)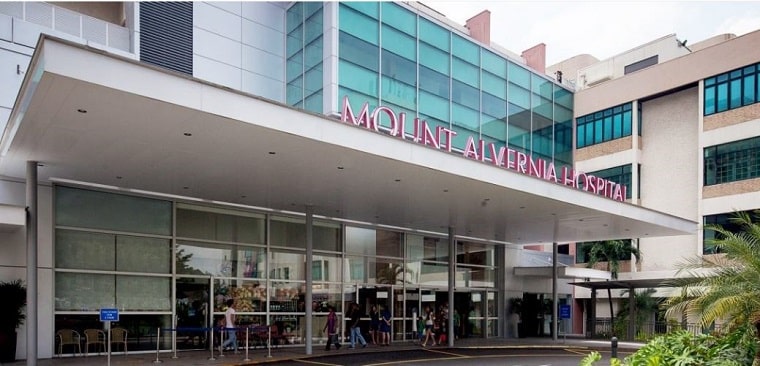 Mount Alvernia Hospital is claimed to be the first private and non-profit Catholic hospital in Singapore.
They have their own pharmacy within the area so that it will be easy for you to buy prescriptions. Also, a nutrition & dietetics department is provided if you some consultation before you start a healthy lifestyle.
They even have advanced rehabilitation services and diagnostic imaging that most hospitals may not have. And of course, they offer gynaecological care too.
SERVICE HIGHLIGHTS
Several retails and amenities
International patient services
Nutrition & Dietetics
CUSTOMER REVIEWS
Aside from the gynaecology services, they offer obstetrics and other relevant medical services. A reviewer left this positive feedback on Google Reviews:
"Private hospital with facilities and amenities!  All services including accident & emergency services specialists and operation & deliveries paediatric cares. Friendly fast attentive caring for romantic intimates groups students tourists Expats and families."
8. Singapore Women's Clinic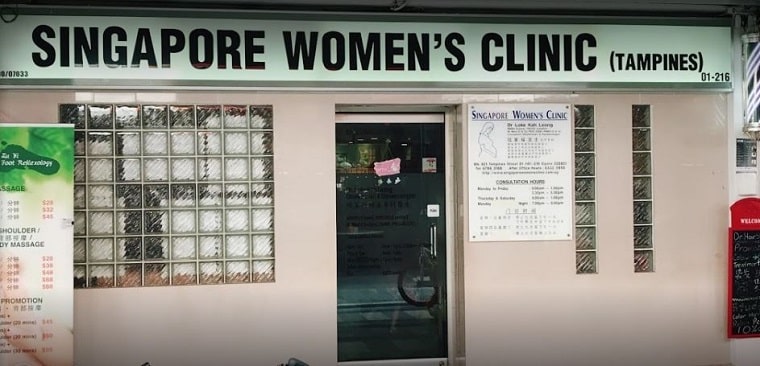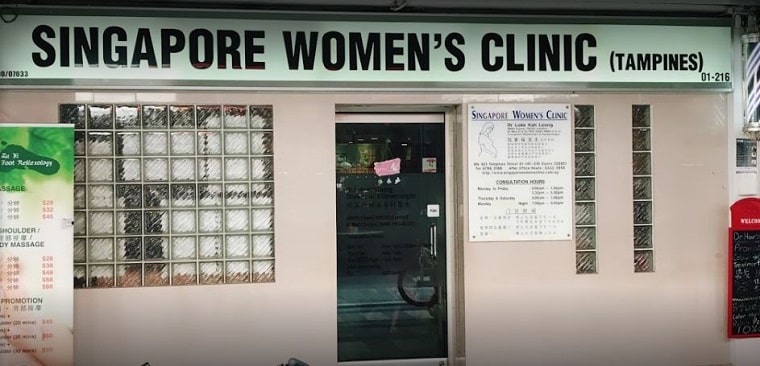 Singapore Women's Clinic offers a variety of services, treats different women's conditions, and performs a broad scope of medical practices.
Their services include general obstetrics, minor gynaecological procedures, dilatation, and curettage as well as female wellness and menopause management. They are also able to treat endometriosis, fibroids, ovarian cysts, and menopause.
SERVICE HIGHLIGHTS
Family planning
Women's general health checkup
Female cancer screening
CUSTOMER SERVICES
Singapore Women's Clinic has gained the loyalty and trust of many, thanks to their proficient and reliable obstetrics and gynaecology specialists. A reviewer from Google Reviewers wrote:
"Dr. Loke was very experienced and friendly approach. After every routine checkup he explained the details about the baby condition clearly and also gave me an enough space to ask our questions. Staffs are very friendly especially who assist with doctor is very polite. Staffs are in reception also efficiently and with friendly manner."
9. Sidek Clinic For Women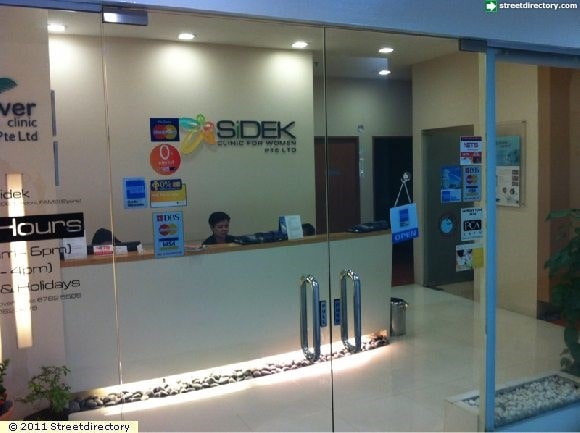 | | |
| --- | --- |
| BEST FOR  | Reasonable medical fees, obstetrics and gynaecology services |
| FEES | Service Rates |
| WEBSITE | https://www.sidekclinic.com/ |
| ADDRESS | 8 Sinaran Drive #06-03 Novena Specialist Center Singapore 307470 |
| CONTACT DETAILS | (+65) 6787 8863 |
| OPERATING HOURS | Monday to Friday: 9am–5:30pm & Saturday: 9am–1pm |
Sidek Clinic For Women focuses on providing obstetric and gynaecology treatment and services. They have medical professionals who have years of experience in their fields.
Despite being located in Singapore, they also serve patients from the other side of Asia. They have a wide range of services that will help you with body concerns, pregnancy, and even delivery.
For those women who want to maintain the overall wellness of their health, this clinic has all the consultations that you must have.
SERVICE HIGHLIGHTS
Private delivery services
Well women screening
Treatment of menstrual abnormalities
CUSTOMER REVIEWS
Most people who have had consultations and treatment from the Sidek Clinic For Women have complimented the facilities, fees, and especially, the consideration for special circumstances.
Marina was very impressed with their services and wrote this feedback on Google Reviews:
"Absolutely amazing doctor! Friendly, kind, caring, patient. Super sweet team of nurses make the best of first impressions by the moment you walk in. As a whole, it is a clinic that fully cares for one's wellbeing. Would give 6 stars if I could!"
As you can see, there are a lot of great female gynaes in Singapore. Any one of the professionals we listed above can give you the sympathetic, expert assistance you need for your reproductive health.
By the way, if you want even more options for gynaes in Singapore, here are more of the best gynaes in Singapore. Both female and male gynaecologists are included in that list, though.
---
*Images are taken from each company's official websites/social media.