The 7 Best Dishwashers in Singapore Under $800
Washing the dishes yourself can no longer be called practical when there are already so many affordable dishwashers out there. Gone are the days when only the rich could afford to have the best dishwashers in Singapore installed in their kitchens.
For today's article, we're taking a look at the best dishwashers in Singapore that won't drain anyone's bank account. Luckily, we found a few ones that can be ordered online and delivered straight to your home!
Anyway, before we take a look at our picks for the best dishwashers in Singapore, we're going to share a few secrets on how to choose the right one for your home. Knowing this will make it much easier for you to browse our list later!
Let's start, shall we?
How to Pick the Best Dishwashers in Singapore
When you get your hands on the best dishwashers in Singapore, your work at the kitchen will be reduced dramatically. This is why it's important to check if the dishwasher you're eyeing is what you really need.
One of the first things you have to consider when looking for the best dishwashers in Singapore is cleaning power, of course. Type, noise level, and speed only come second.
Let's elaborate more on these points below.
1. Capacity
One of your first considerations when looking for the best dishwashers in Singapore should be capacity.
If you're looking for a dishwasher fit for an entire family, then we recommend going for the 24-inch standard-sized dishwashers. Dishwashers in this size usually have a capacity for 12 to 14 standard place settings.
On the other hand, if you're a couple living in a small apartment, we think that a compact 18-inch dishwasher would be perfect for limited spaces and occasional use. It can usually hold up to 6 or 8 standard place settings.
2. Type of dishwasher
There are only 3 types of dishwashers: standalone, portable and fixed ones. There's not much of a difference in terms of their prices, but you have to consider the space of your kitchen.
If there's not much space left in your kitchen it's ideal to get a portable dishwasher that can be removed and transferred to a different spot.
Otherwise, you may want to consider the standalone and permanent dishwashers, as they usually have higher capacity.
3. Noise level
If you're bothered by small noises, we recommend going for a dishwasher with a low noise level. Since most dishwashers can get really noisy, buyers might have a hard time looking for one that would fit their preferred noise level.
It's also worth noting that the noise level of the best dishwashers in Singapore is connected to their price. If you want a whisper-quiet dishwasher, you're going to need to spend more money.
You can easily find the noise level of a dishwasher written on its manual. We believe that the standard ones have a noise level of 80 dBs, while the high-end ones are around 40 dBs.
4. Speed
Some of the best dishwashers in Singapore have a combination of different speed levels. Our suggestion is to search for one with at least 3 speed options, especially if you regularly throw parties at your home.
If your dishwasher comes with different speed levels, you will be able to use it even if you're only washing plates for 2 or 3 persons.
The Best Dishwashers in Singapore
Now you know the important features you need to take note of when looking for the best dishwashers in Singapore. Keep them in mind while checking out the items below, which we think are the best dishwashers in Singapore.
1. Midea Dishwasher
Best for Affordability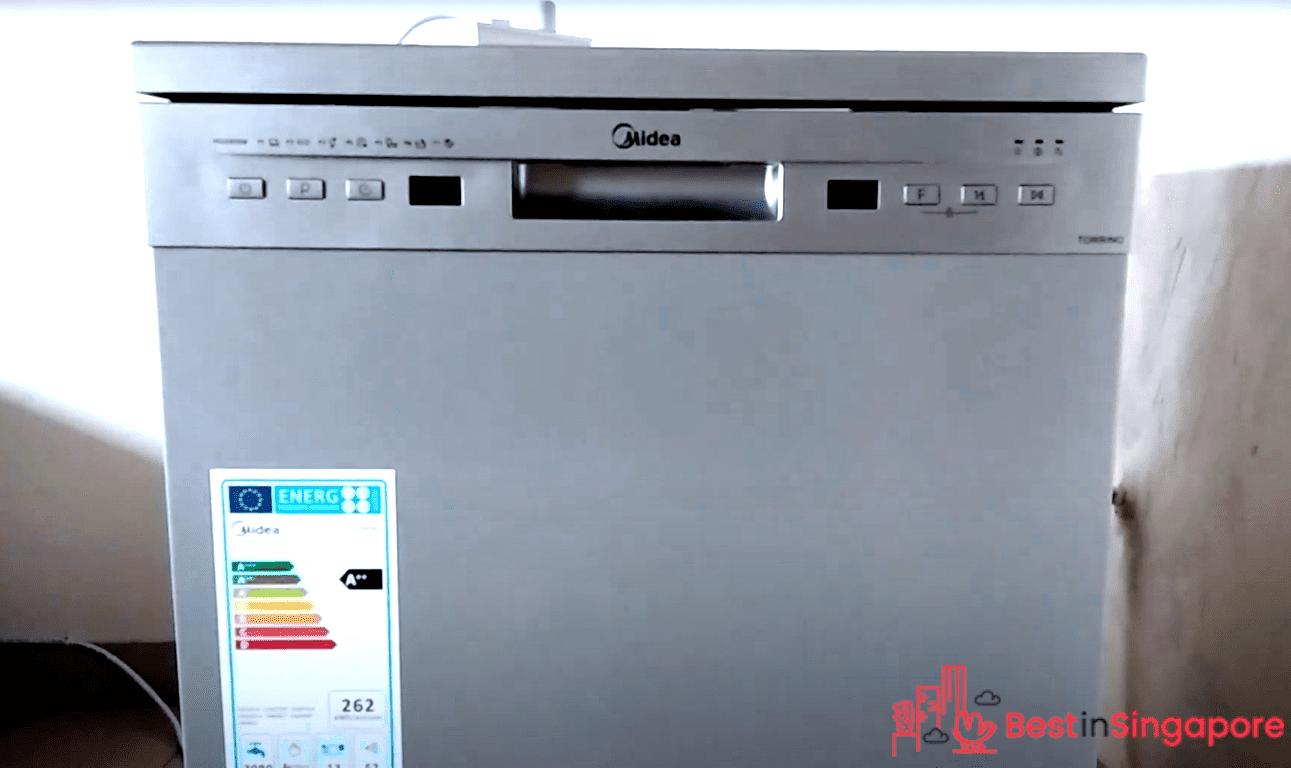 Price: $346.32
For only $346, the Midea Dishwasher is the cheapest one in our list! It might be cheap, but it doesn't erase the fact that it's truly one of the best dishwashers in Singapore.
One of the first things that caught our attention is the 7 washing programs that can remove all sorts of residue from your plates. It also takes 7 place settings in terms of capacity.
It's also an eco-friendly model as it reduces water consumption by at least 70%, significantly higher than other dishwashers.
In terms of noise level, it's only 49 dBa, which is at par with the noise level of other high-end dishwashers. It only proves that you don't need to spend a lot of money to get your hands on a quality dishwasher!
Pros
Self-cleaning
Energy efficient
Low noise level
Cons
Durability is questionable
No warranty

2. Xiaomi Tabletop Dishwasher
Best for Portability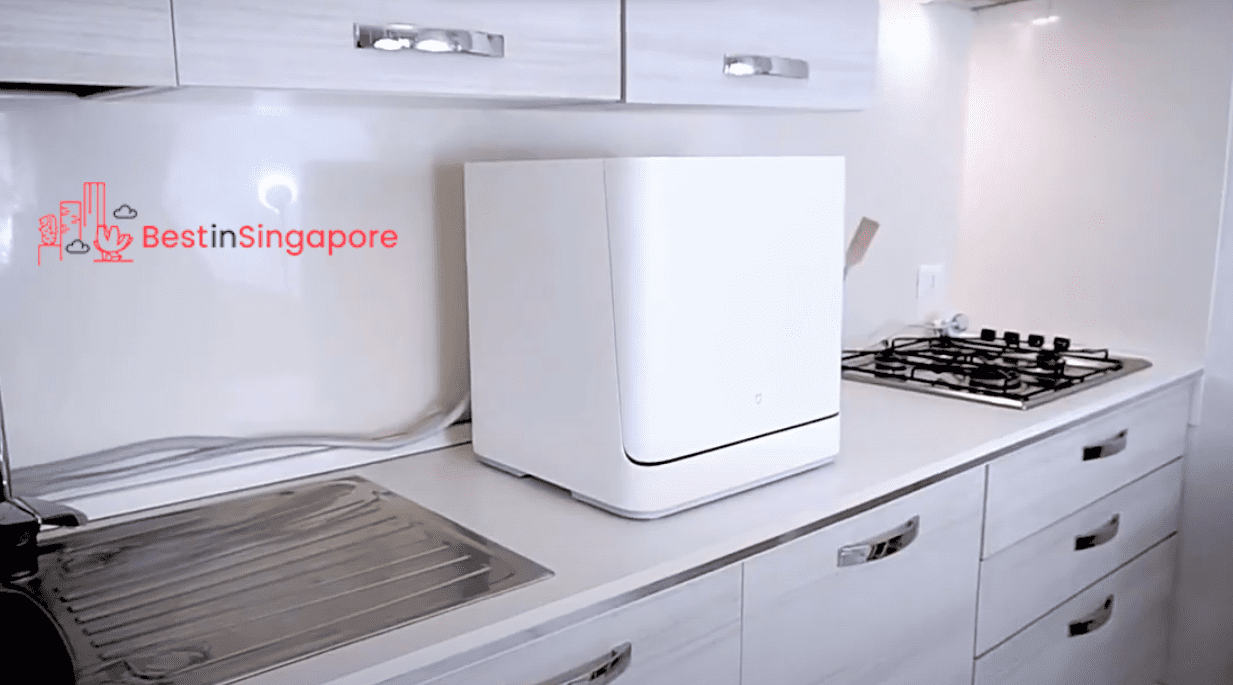 Price: $420
The Xiaomi Tabletop Dishwasher is the one of the best dishwashers in Singapore for homes with limited kitchen space. It's so portable that it can be placed on top of any kitchen counter!
Another feature we love is that it consumes less power compared to heavy-duty dishwashers. There's also no need to install it: just plug it in and wash as many dishes as it can carry!
Speaking of dishes, the Xiaomi Tabletop Dishwasher can wash a total of 32 items, spoons, forks, and mugs included (6 place settings). It can be the perfect after-party companion while you're cleaning up everyone's mess.
You may also control the Xiaomi Tabletop Dishwasher using your phone as it comes with its own mobile application. You can change the speed or setting without having to go all the way to the kitchen to press the button.
Pros
Lightweight and portable
Controlled via app
Modern design and finish
Low power consumption
Cons
Limited warranty coverage
App can be difficult to use
3. Toshiba Mini Dishwasher
Best for Multifunctionality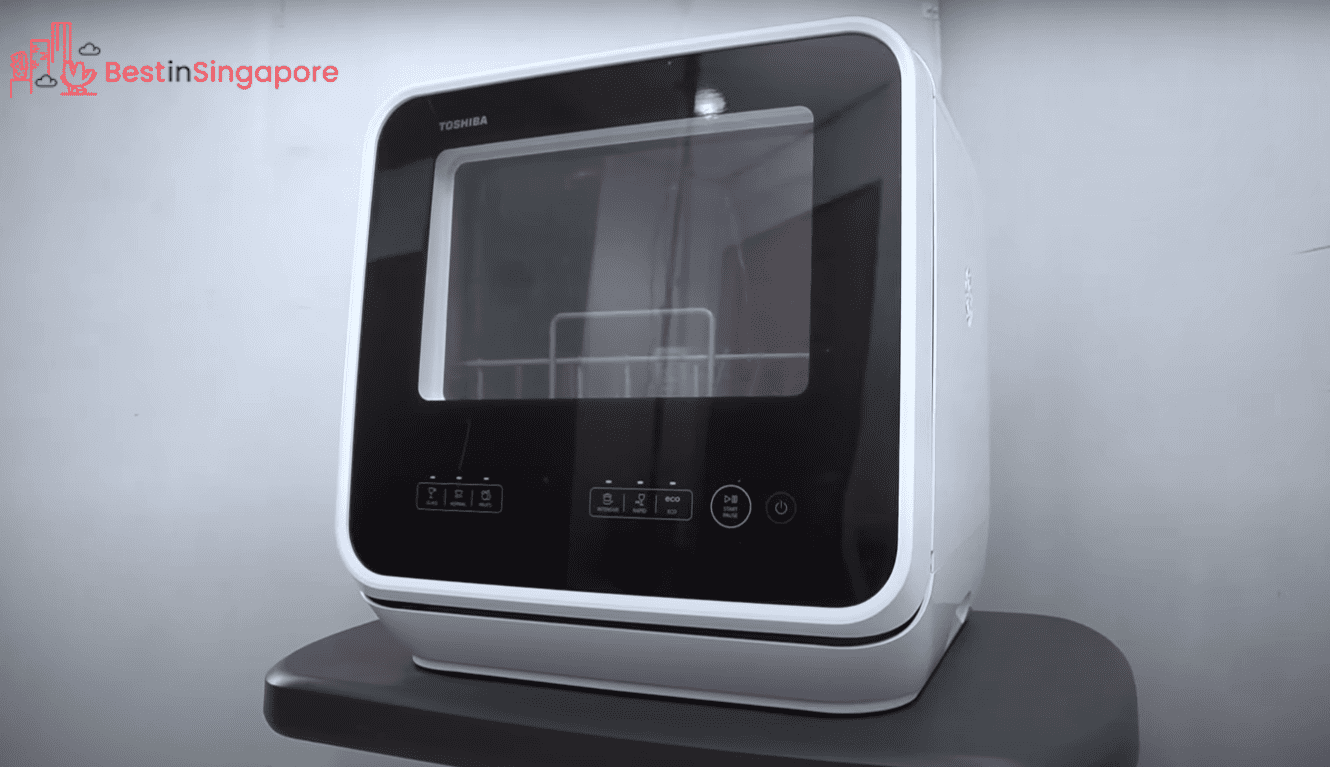 Price: $499.00
The Toshiba Mini Dishwasher might be a tad smaller than your average dishwasher, but it can do more than just clean dishes. It can be used to wash fruits and vegetables too — which is why we call it one of the best dishwashers in Singapore.
On top of that, it doesn't take up a lot of time in washing dishes. The Toshiba Mini Dishwasher can finish washing everything, from plates to mugs, in less than 30 minutes!
Other items that can be washed inside the Toshiba Mini Dishwasher are bowls, saucers, chopsticks, small pans, and more. It looks small on the outside but can definitely wash more than you'd expect, with a capacity of 7 place settings.
There's also no need to go through the complicated process of installing it as it can be used pretty much right away. Prepare yourself for the noise though, as some buyers noted that it can get a bit noisy.
Pros
Compact design with 18-inch frame
Can wash all kitchen items
Can wash fruits and veggies
Cons
Higher noise level than some others
Warranty may depend on the seller
Customer Reviews
Some customers have commented that the Toshiba Mini Dishwasher isn't the best when it comes to noise, but some just look past it as it's a cheap but multifunctional dishwasher.
Here's another comment by a customer who got it from Shopee:
"Best purchase of CB period as the extra cooking and dishwashing has brought on more problems for my sensitive skin. This dishwasher is compact yet spacious and installation was as easy as plug and play. Do be careful when lifting it up to the kitchen counter as it weighs 14kg. Lifesaver!"
4. Electrolux Dishwasher
Best for Multiple Features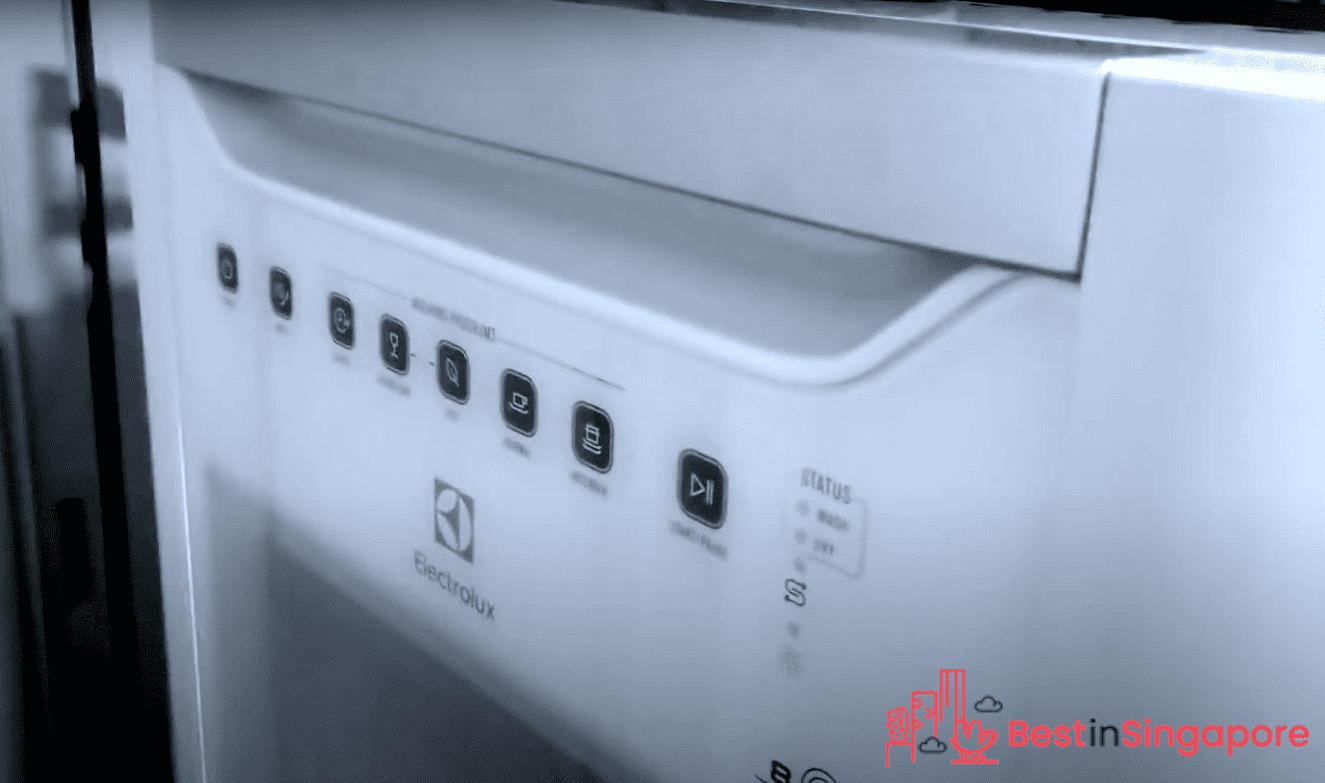 Price: $619.00
The Electrolux Dishwasher is another compact dishwasher perfect for homes with limited kitchen space. It might be a bit more expensive compared to the other compact dishwashers in our list but you'll definitely get more from it!
For one, it comes with a multi-washing program that will suit everyone's needs and preferences. Whether you live alone or with family members, you will be able to maximise the Electrolux Dishwasher.
Another reason we call it one of the best dishwashers in Singapore is the fact that it comes with multiple features, something that not a lot of models have. It has an auto-off function, sensor control, and thermo-efficient system.
You won't have to worry about its performance as it constantly delivers excellent cleaning performance. However, you have to prepare your wallet as it leans towards the pricey side!
Pros
8 place settings
Multiple features
Compact and portable
Auto-off function
Cons
Pricier than the standard dishwashers
Multiple functions may get complicated at times
Customer Reviews
Here's what buyers had to say about the Electrolux Dishwasher:
"Great Product. I love it. In the past, I would have to wash dishes after dinner. Now, I just have to ensure that the dishwasher is loaded, and then I am able to get other things done, even jump onto a conference call. The product is small and handles well on most days for my family of 4. The only complaint really is sometimes the dishes don't come out dry. Apart from this small issue. My wife and I are glad that we bought this small dishwasher. Fun fact: Our water consumption over the 1 month has not increased although we use it for almost every day except weekends."
"It is a big relief with this dish washing machine. It released me from the boredom and this time consuming chore of washing dishes. Singapore is hot so I always use the Quick wash without drying. It uses less water than hand washing the plates one by one."
5. BOSCH Dishwasher
Best for Overall Value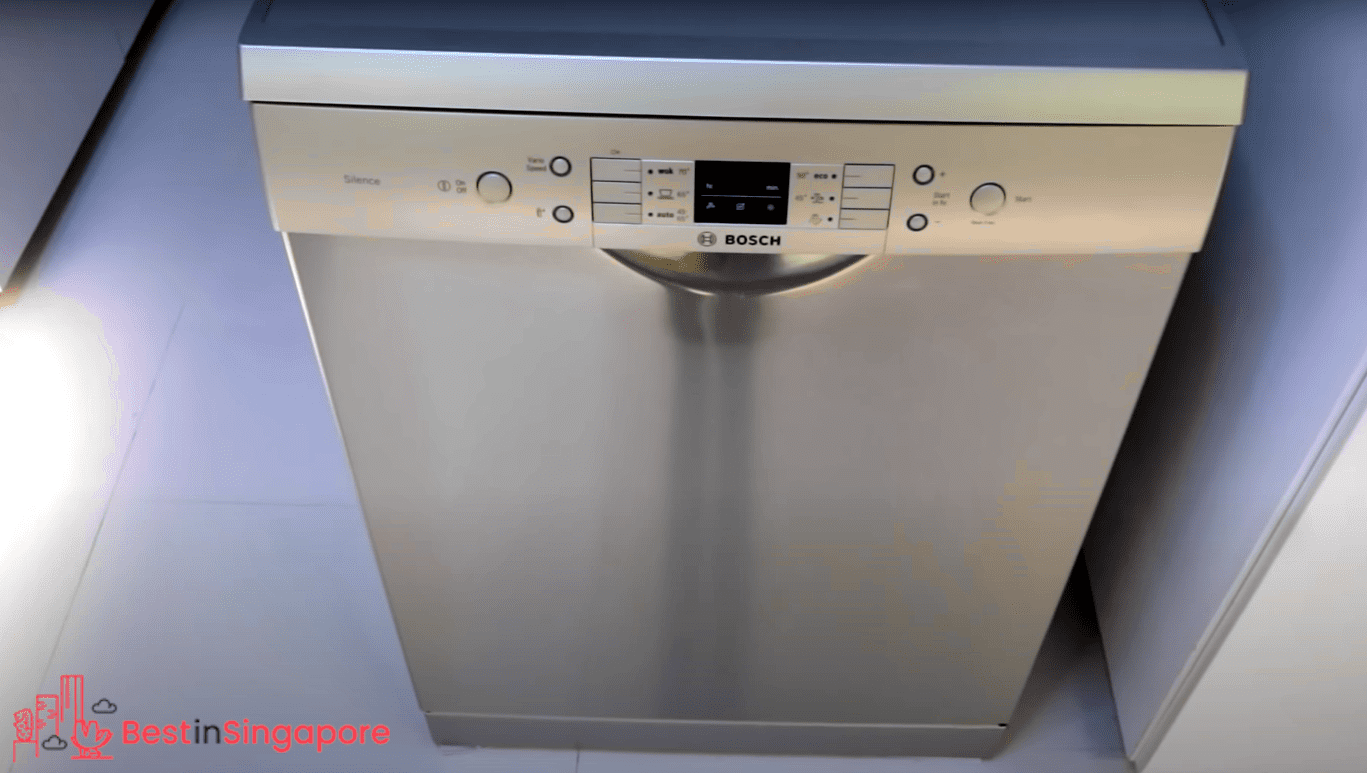 Price: $788.00
Originally priced at over $1,000, you can get the Bosch Dishwasher for a discounted price of only $788.00. It's definitely not cheap, but it's already a reasonable price considering that high-end dishwashers usually go beyond a thousand bucks!
Since Bosch is one of the most trusted names in home appliances, we believe that it doesn't need anymore vouching from us, but we're going to do it anyway.
The Bosch Dishwasher comes with a patented ActiveWater Smart system that helps users save water consumption. As a result, users contribute to the welfare of the environment as well!
In terms of features, the Bosch Dishwasher surely doesn't disappoint. It comes with a 7-segment display that indicates remaining time and other standard information such as weight of the load.
It's also exceptionally quiet, having only a noise level of 48 dB. It's a useful feature if you get irritated by the smallest noises. This is one of the reasons why it made the cut as one of the best dishwashers in Singapore.
Pros
20-inch
6 place settings
Less water consumption
48 dB noise level
Glass protection
Cons
Expensive
Less place settings for its price
6. Omega BS-50 Under-Counter Dishwasher
Best for Space Saving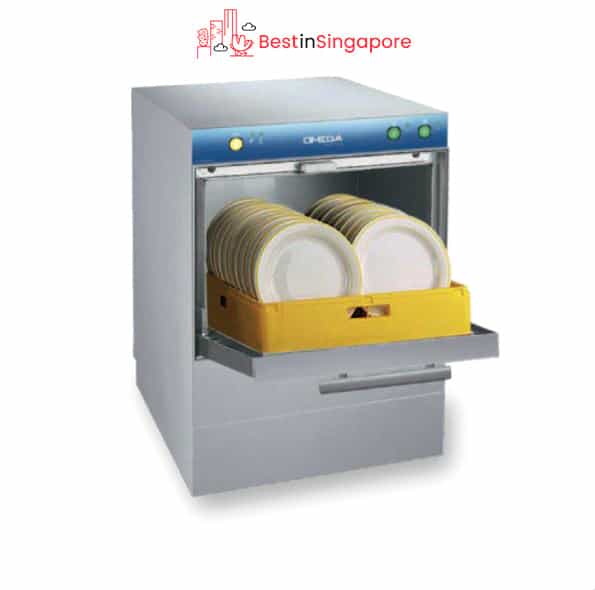 Price: Enquire with Company
If you don't have much floor space for a dishwasher, then you might want to consider purchasing the Omega BS-50 Under-Counter Dishwasher. It's one of the best when it comes to front access dishwashers.
Its smart design ensures easy operation, even for the inexperienced. It is also design to be durable, so you can rest assured that it can serve you for many years. Check it out on U-Save now!
Pros
Double insulated door
Rinse aid dispenser
Easy access
Cons
Size limited by counter space
Other colors unavailable
7.  Dishy Sales & Services Pte. Ltd
Best for Energy Efficiency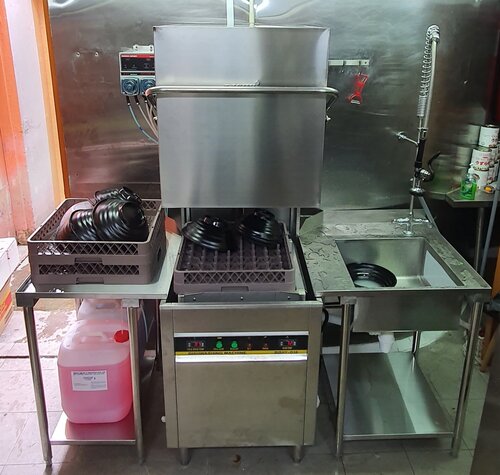 Price: Contact for more information
Get it on Dishy Sales & Services Pte. Ltd
Dishy Sales & Services Pte. Ltd is a business that provides all-around cleaning materials and products geared to help clients get tough cleans in a more efficient and easier manner. With over 25 years of experience in the industry, they have since then become a staple provider of such products and even supplied over 800 industrial dishwashing machines all over Singapore.
What we find exemplary is that their products are all specific and tailored to solve tough cleaning stains for a particular area in the kitchen and prevent any unwanted bacteria from remaining in our everyday eating essentials such as dishes and other utensils.
Established back in 1997, their approach on the field proves to be effective as their industry partners have commended and have stayed as their loyal customer up until their present.
However, it is important to note that they only accept bulk and commercial-setting orders and so their packages and deals may not be ideal for clients wishing buying for the purpose of residential use.
Another thing we found to be a possible point of improvement could be that some cleaning products geared for other functional rooms such as bathrooms and other purposes such as for clothes and other laundry needs could be lacking when it comes to variety.
Nonetheless, we recommend this company for businesses looking for a reliable and stable supplier of kitchen cleaning products due to their numerous positive reviews and excellent customer services as well.
Pros
Ideal for industrial settings
Available for free trial
PUB WELS Certified
Cons
No price ranges unavailable
And with that, we conclude our list of the best dishwashers in Singapore. If you've chosen which one to take home, share with us your reasons for picking that model!
By the way, if you're also looking for the best electric stoves in Singapore, we have a list for those as well! Check it out if you're looking for recommendations on which electric stove to get for your kitchen.