The 5 Best Computer Speakers in Singapore
If you want to binge-watch your favourite movies/series or play games for long hours with ease, you'll need a surround sound setup for the ultimate streaming/gaming experience. And so, we've selected some of the best computer speakers in Singapore, offering powerful sounds and durable builds.
But with the countless options available on the market, ranging from wireless speakers to soundbars, how will you know which one is perfect for your needs?
Well, to help you find the right speaker for your ideal setup, you need to know first which features to consider.
So before we head onto our list of the best computer speakers in Singapore, let's see first what key factors to watch out for.
How to Pick a Good Computer Speaker
As mentioned earlier, computer speakers vary in size and functionality. And if you haven't bought a speaker before, some features might be too confusing for you.
Here are some tips to determine if a speaker is suitable for your needs and preferences, based on certain factors.
1. Size
If you're just looking for an addition to your existing sound system, then a smaller one will do. Portable speakers are also great for travel use since they're light and easy to carry wherever you go.
But if you need a speaker for an entertainment or gaming setup, then you must opt for a large speaker, capable of producing a wider and more spacious soundstage.
2. Power
If you want to have a speaker that comes with solid bass, you must choose the one with a high wattage or power output. This feature is important for gamers to have an engaging gaming experience.
However, if you're fine with lower bass sound, then a speaker with low wattage is a good option.
3. Amplifier
For those who are highly sensitive and certain about the sound that they want to experience, adding an amplifier is a great option.
An external amplifier connected to the soundcard is also an alternative option for extra watts — meaning a deeper bass sound.
4. Additional Features
Some speakers have more advanced functions, such as radio, Bluetooth connectivity, memory slots, and docking stations. It's your choice if you want these — but bear in mind that each feature generally adds to the price.
Best Computer Speakers in Singapore
Now that you already know how to choose the right speaker, let's take a look at our selected best computer speakers in Singapore!
1. Bose Companion 50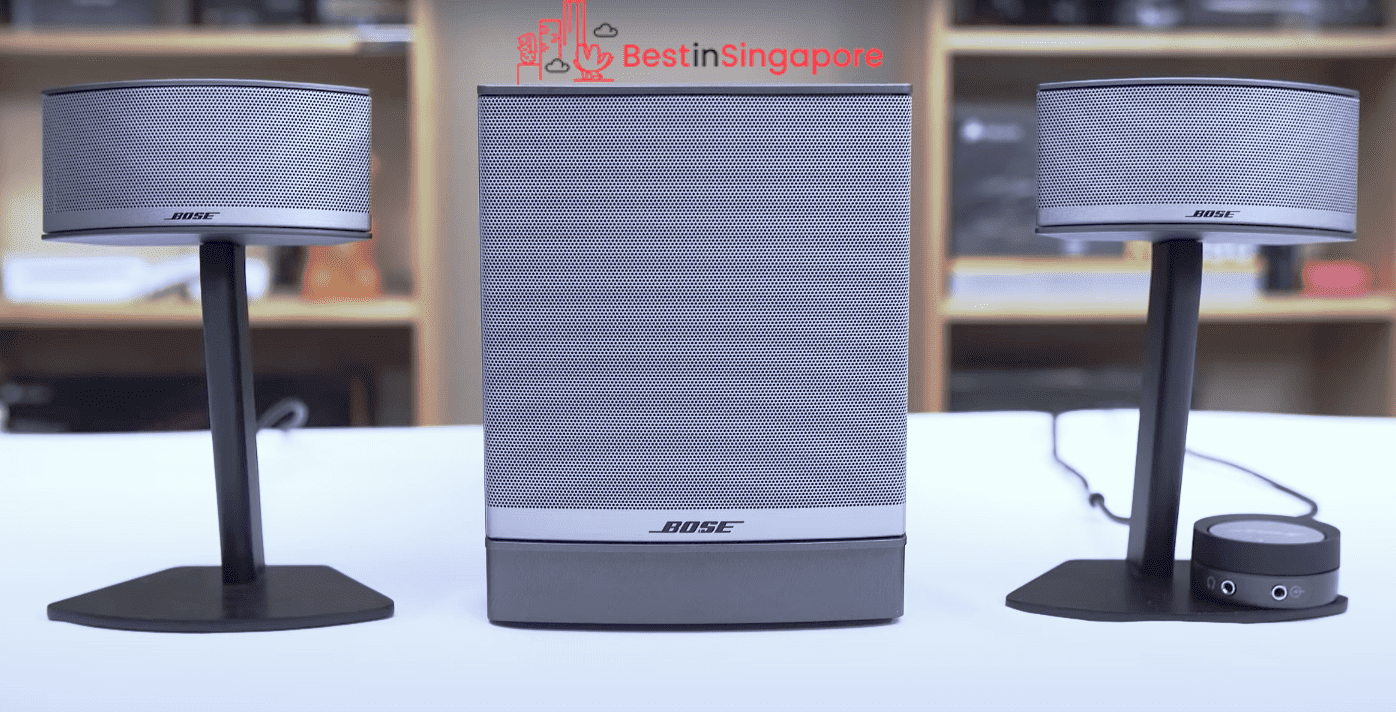 Price: $599.00
The Bose Companion 50 offers a whole sound system setup that produces an immersive audio experience with only 2 desktop speakers!
With this best computer speaker in Singapore, you can hear rich and detailed sounds, giving you a clear and realistic soundstage while watching your favourite movies or playing games.
For enhanced quality, you can easily modify the sound settings on the all-in-one control pod. This includes volume control, single-touch mute, headphone jack, and auxiliary input.
It'll also automatically switch to sleep mode after a few minutes of inactivity, saving you from high energy costs. It only requires a single connection from the speaker to the computer — there's no need to install special software or hardware upgrades.
Pros
Wide and spacious soundstage
Deep bass sound
Single connection only
All-in-one control pod
Sleep mode
Cons
Customer Reviews
Customers loved the clean and accurate sounds produced by the Bose Companion 50. They also said that it truly has great quality and that it's so easy to set up as well.
A user shared this experience:
"Amazing audio quality. These are able to provide you a surround sound stage much more effectively than many 5.1 speaker setups, and I've used a few. Very crisp, clear, and differentiated sound. You can hear almost every instrument separately. I've played everything from classical to ghazals to hard rock and these can handle anything you can throw at them.
The woofer is rather bigger than I expected but the speakers have a small footprint. Easy to install and use. The puck shaped remote is touch sensitive and works like a charm.
There's really no negative to these speakers, they cost a lot but are more than worth it."
2. Audioengine A2+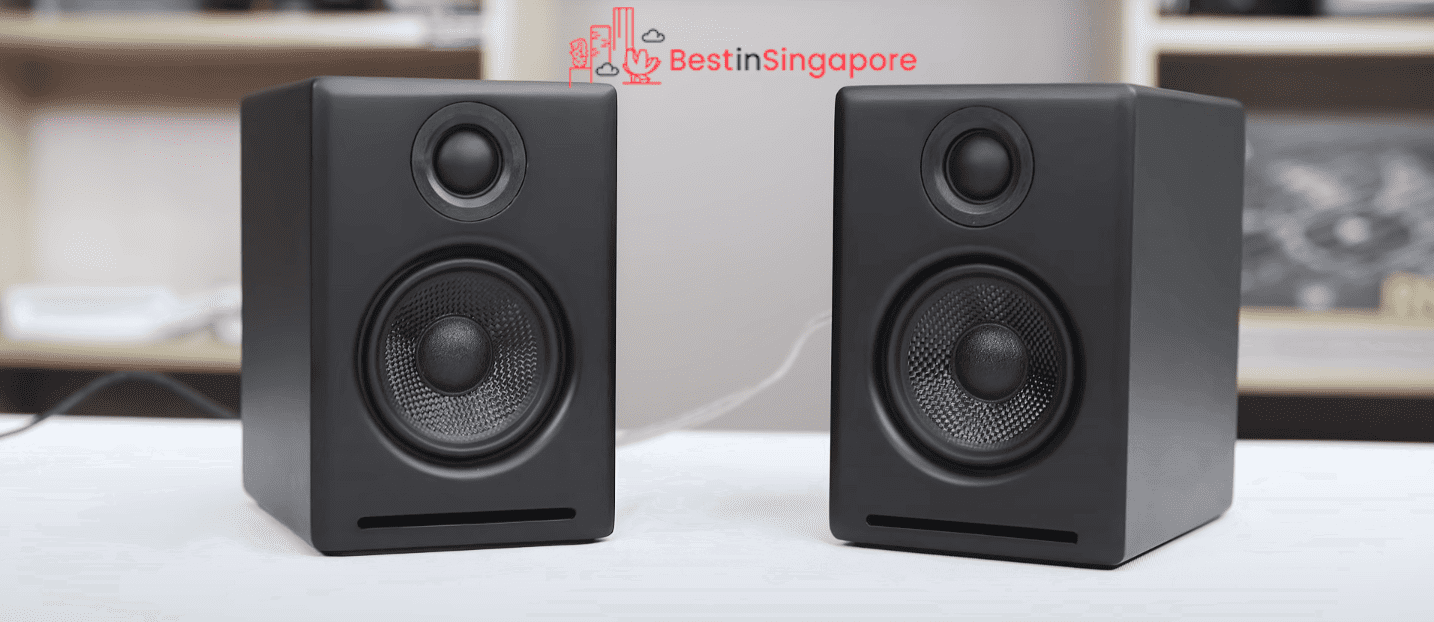 Price: $469.00
The Audioengine A2+ is a compact yet powerful desktop speaker suitable for smaller spaces. It's a simple and highly functional speaker that comes with built-in power amps for precise tunes.
This best computer speaker in Singapore also offers a subwoofer connection so you can further enhance the audio quality behind every movie, music, or game. Unlike the previous option, it has a wireless option so you can instantly connect it to your smartphone or tablet.
Pros
Great sonic clarity
Solid connectivity
No DSP
Cons
Doesn't have remote control
Volume control is placed on the backside
A bit pricey
Customer Reviews
Being an award-winning desktop speaker, the Audioengine A2+ has captured the interest of many users. Most customers said that they were impressed with the great sound quality of the Audioengine A2+ despite it being a small-sized speaker.
A customer posted this feedback:
"Audioengine's A2+ Wireless speakers are ideal for anyone who doesn't want to sacrifice stereo separation, accuracy, or DSP-free audio in the Bluetooth era."
3. Creative Pebble 2.0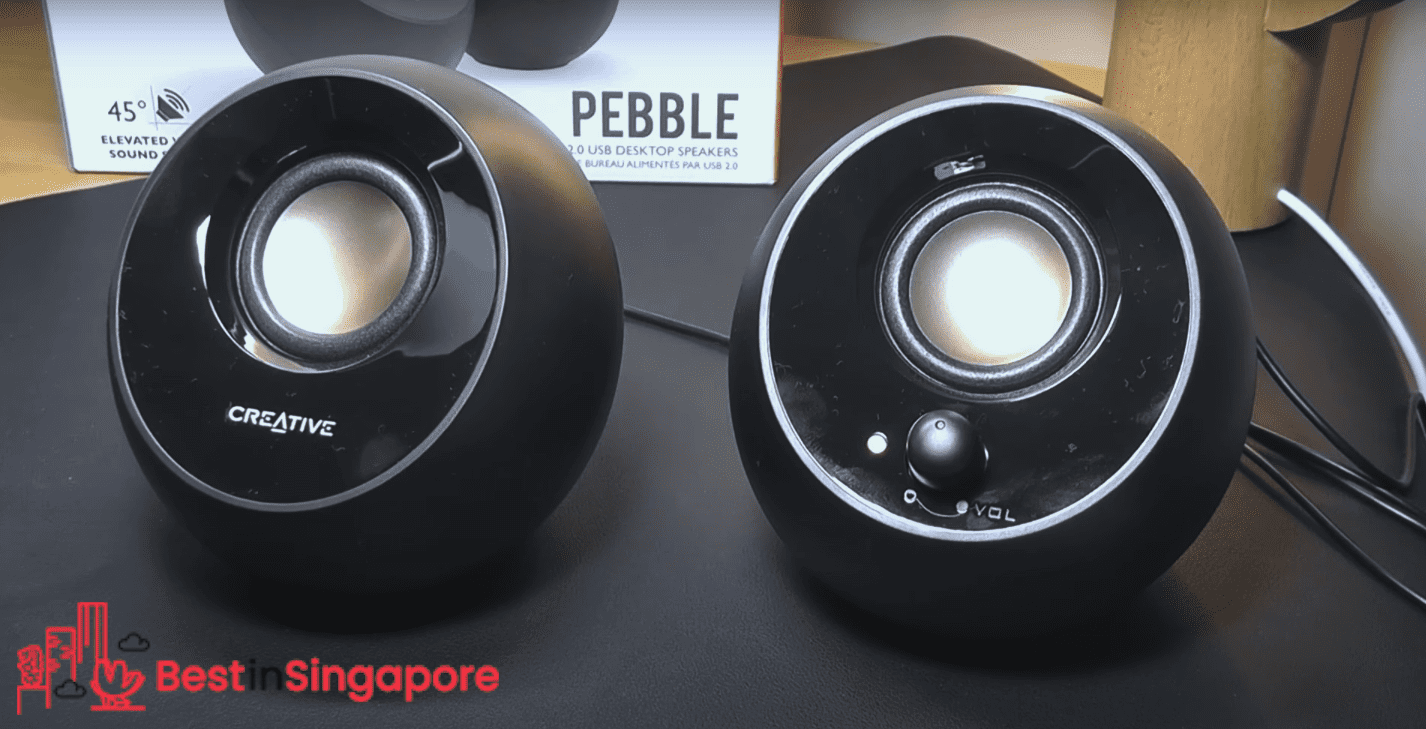 Price: $51.55
The Creative Pebble 2.0 is another portable speaker that has been widely recognised because of its elevated soundstage housed in a sleek and elegant design.
It features custom-tuned drive solutions for direct and accurate sound quality. With its built-in passive radiators, you'll be blown away by the depth of the sound.
Since it has a small build, you can conveniently place the speaker beside your laptop/PC. You can simply connect it to your computer with a single USB cable, leaving you with a hassle-free audio upgrade experience!
Pros
Space-efficient design
Solid audio quality
Affordable
Good cable length
Cons
Only one input available
Sounds are not quite good at louder volumes
Customer Reviews
Many users recommended the Creative Pebble 2.0 and mentioned the accuracy of the sound and its compact design that can fit in any space. A customer wrote this review:
"These Pebble speakers are tremendous. I'm no audiophile but I know enough that these speakers produce great sound. And at the price point offered you can't go wrong with them. There is no distortion at loud settings and the bass is actually quite good. The overall quality of sound highlights both high and low midpoints very well. I mainly use them to listen to YouTube music videos but also use them continuously for all purposes. The only negative that I have read is that it may be hard to use these speakers if you are traveling. And there is no protective "screen" over the speakers themselves. But these are minor points. For one, they are not meant to be used for traveling, they are desktop speakers. And with proper handling the speakers protective "screen" being missing is not an issue if you are careful with them. Overall, these Pebble speakers are awesome and highly recommended!"
4.   Logitech G560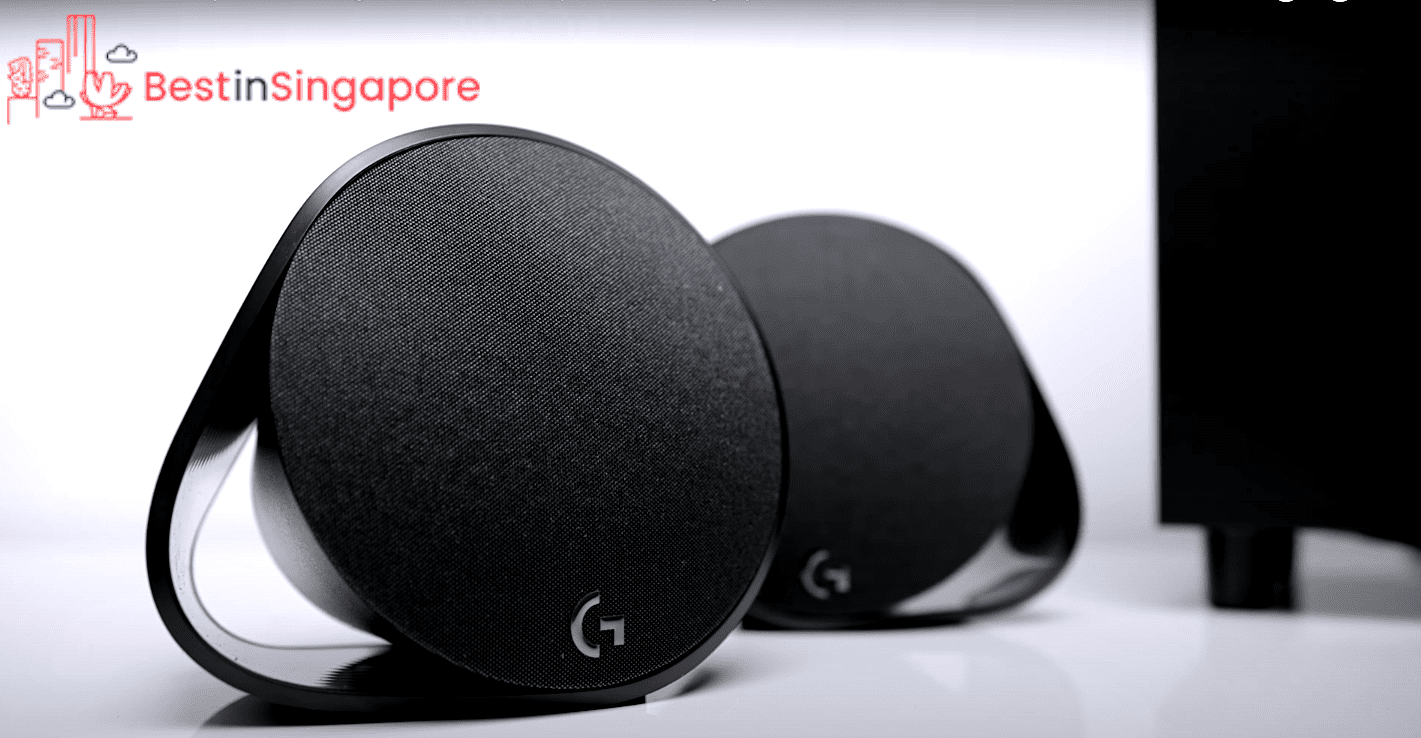 Price: $255.00
For all the gamers out there, the Logitech G560 would be a great option. It's built with an advanced audio equaliser program where you can activate custom commands for applications, letting you have an interactive gaming experience!
The best thing about this one is that you can sync the audio to the lighting and customise it by creating your own effects. It has rear ambient projection and front-facing lights that deliver exceptional and customised lighting.
You can also connect speakers on up to 4 devices via USB or Bluetooth connection. With its powerful and huge soundstage, you'll be able to hear every single detail of the game!
Pros
Best for gaming purposes
Engaging lighting effects
Works with any device
Wireless connectivity option
Virtual surround sound
Cons
Way too much bass for some
Only works with games in borderless window
Customer Reviews
Customers were highly satisfied with the Logitech G560's RGS lighting effects and additional subwoofer feature that brings out thrilling and exciting gaming effects. A customer gave this feedback:
"Logitech has crafted some seriously superior-sounding speakers for the PC that aren't quite as robust as they could be from a lighting perspective. For a rather steep price, however, what you will get here are speakers that will undoubtedly bring flash and fun to your PC gaming setup."
5. Bose Soundlink Revolve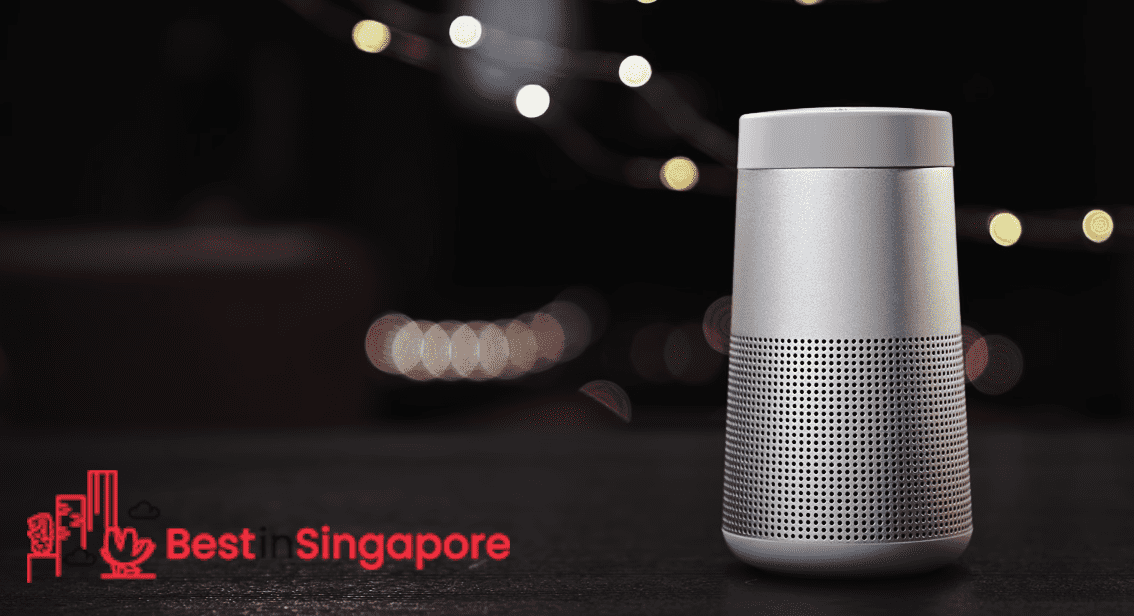 Price: $249.00
If you don't need additional sound modification features, the Bose Soundlink Revolve can be the best computer speaker in Singapore for you. It produces basic yet consistent audio quality with which you can enjoy your favourite movies and songs with lifelike sound.
This portable speaker is made with water-resistant design and bumpers so you can also place it by the pool or by the kitchen sink, making it an ideal choice for outdoor trips. It can last for up to 12 hours, letting you listen to all your favourite songs or podcasts for the whole day!
Pros
360-degree sound coverage
Sturdy build
Long battery life
Easy to set up and use
Cons
Customer Reviews
The Bose Soundlink Revolve has become one of the best computer speakers in Singapore due to its simple yet high-performance quality and durable build. A customer left this feedback:
"Like all of my Bose equipment, I love my Soundlink Revolve. When I got sent home to work, I bought this for my office. I use it every day to listen to Pandora from my phone. The sound is incredible. It's portable so I can take it outside too but we have two Revolve Plus speakers that we use for that. You cannot beat the quality of Bose."
And that's our list of the best computer speakers in Singapore! Have you already decided which one you would like to buy? Tell us all about it!
And for more options, you may want to see these best Bluetooth speakers in Singapore! With these lightweight yet powerful speakers, you can enjoy the whole trip and breathtaking scenery with good music!