The 7 Schools for the Best Badminton Lessons in Singapore
There's no doubt that learning how to play badminton becomes more fun when you're doing it with a friend. If you're after the best badminton lessons in Singapore to sign up for with a friend, worry no more because we made a list of what you're looking for.
Even if you'd rather learn the sport on your own, though, the best badminton lessons in Singapore will surely be a huge help. Luckily, finding the sports academies with the best badminton classes in Singapore isn't that hard, based on our own experiences.
We found some of the best badminton lessons in Singapore open for private classes, group classes, and even semi-private classes. You're even free to pick how you're going to learn the sport.
Check them out below!
1. BG Badminton Academy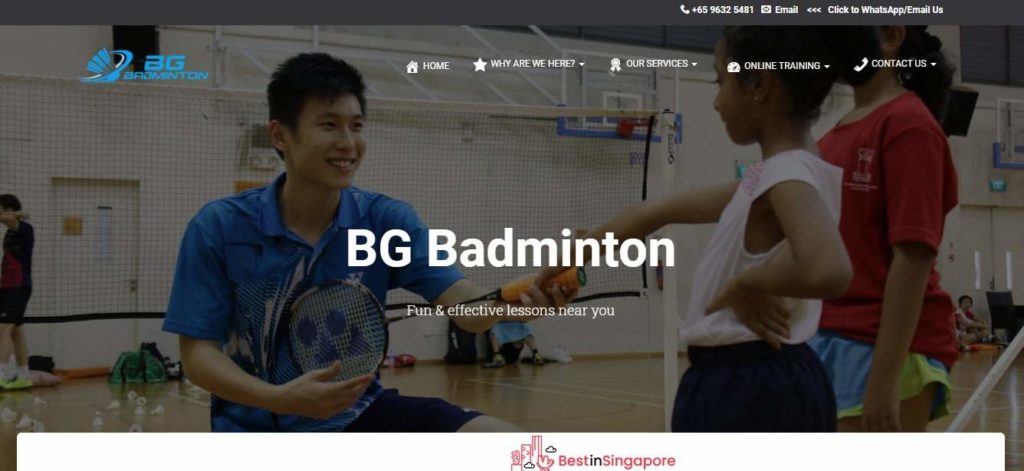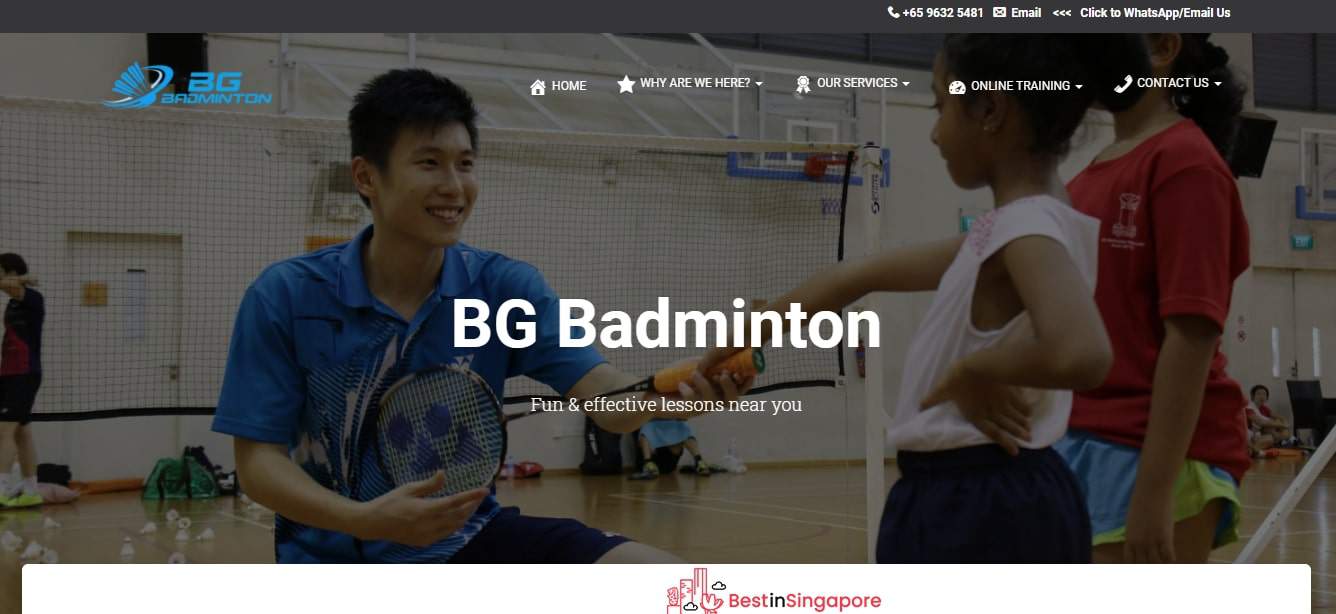 | | |
| --- | --- |
| BEST FOR | Flexible schedules |
| SERVICES | Adult badminton classes, kids badminton classes, and private badminton training |
| WEBSITE | https://www.bgbadminton.com/ |
| ADDRESS | 409 Choa Chu Kang Ave 3, #13-317, Singapore 680409 |
| CONTACT DETAILS | +65 9632 5481 |
| OPERATING HOURS | Monday – Sunday: 2:00 PM – 9:00 PM Friday: Closed |
Let's start off with the best-reviewed badminton academy on the island: BG Badminton Academy. It has an average review of 5 out of 5 on Google Reviews, making it one of the few badminton schools with a rating that high.
Apart from that, BG Badminton Academy offers private and group badminton classes for adults and children. Schedules of its classes are pretty flexible, so it's your choice what time you're going to play for the day and how many times you're going to come in a week.
If you want to learn the sport on your own, BG Badminton Academy will make sure to accommodate your location and schedule. You will be assigned one of the best badminton coaches in Singapore, of course.
BG Badminton Academy also provides free consultation over the phone to help students know if badminton is the right sport for them. It's a no-obligation consultation, so there's no pressure!
Highlights
Free consultation
Experienced coaches
Money-back guarantee
Flexible classes
Customer Reviews
As one of the sources of the best badminton training in Singapore, it's received mostly positive comments from its students. Here are some of them:
"Coach Aaron is meticulous in his coaching. He spotted the weakness of my child, worked with him towards certain goals, and that enabled him to enter the school's prep school team. His classes are always fun-packed and he will throw in little friendly matches to boost the confidence of the students. The team works on a "slot securing basis" which means you only pay for the lessons attended and not when you are sick or overseas. Bernard, who is the team administrator, has always been patient in answering my queries and I am happy to continue our coaching sessions and will recommend this responsible badminton academy to all."
"The academy was very responsive to my enquiry and connected me with Coach Rostam almost immediately. Coach Rostam is super knowledgeable and shared so many tips with me within one lesson. I wish I had met him earlier."
2. ST Badminton Academy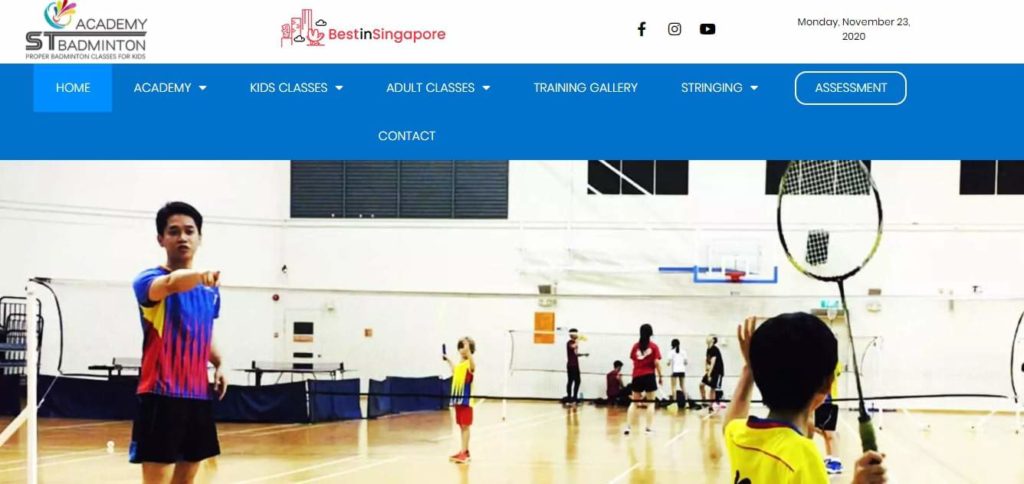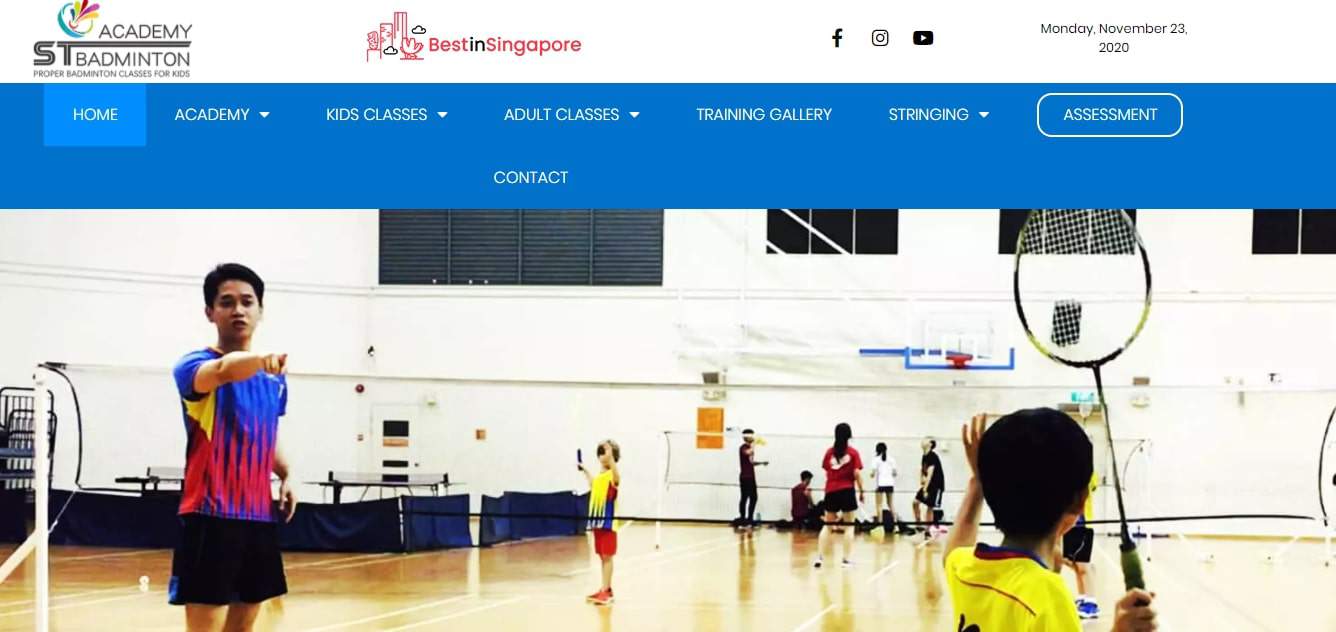 BEST FOR
Badminton training for children
SERVICES
Adult badminton classes and kids badminton classes
WEBSITE
https://stbadmintonacademy.sg/
ADDRESS
Bukit Panjang Road, Singapore 679910
CONTACT DETAILS
+65 9232 2562

[email protected]

OPERATING HOURS
Monday – Sunday: 9:00 AM – 11:00 PM
ST Badminton Academy is the perfect badminton academy for children and young adults who want to learn badminton. It's one of the few schools on the island that cater to the needs and abilities of sports-inclined children.
If there's a guarantee in signing up kids for its classes, it'd have to be that each session will be fun and exciting. Its badminton courses are designed to be engaging to keep young students interested throughout.
To make sure that every kid learns by the end of the course, ST Badminton Academy maintains 2 hours of intensive coaching every day. Its fees may be a bit more expensive compared to other schools, but your kids will definitely learn.
These are just some of the reasons we call it one of the top schools for the best badminton lessons in Singapore. If you're interested in these classes, don't hesitate to call or shoot them an email.
Highlights
Professional coaches
Informative and engaging training sessions
Customer Reviews
Coach Eric serves as the head coach of ST Badminton Academy. Here are some comments left by the parents of his students:
"After 2 trial and 5 months to get my son into Eric badminton coaching. He promised to help my son get into the school team and he did it. Spent one week a few times training my son, I feel my son is more mature now. He likes coach Eric training and always tells me he can learn a lot of skills from the coach. We are really lucky to have found this coach. Hope my son can keep improving"
"Honestly this badminton coach Eric is good, we are very satisfied with his badminton class for our kids. Not easy to slot my two kids into coach Eric class, waited for about 4 months. Coach Eric is really good at teaching all the badminton skills, last time my kid made too many mistakes but now looks more professional and stable. Highly recommended."
3. Singapore Badminton School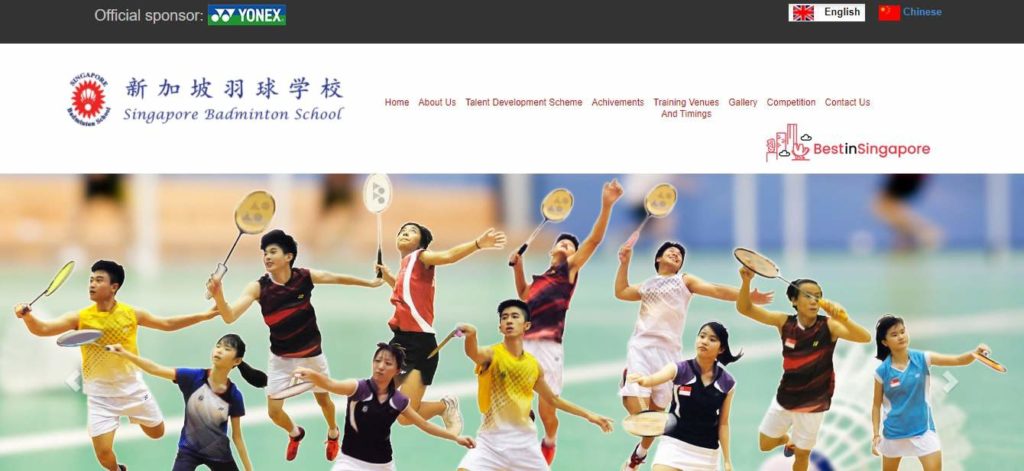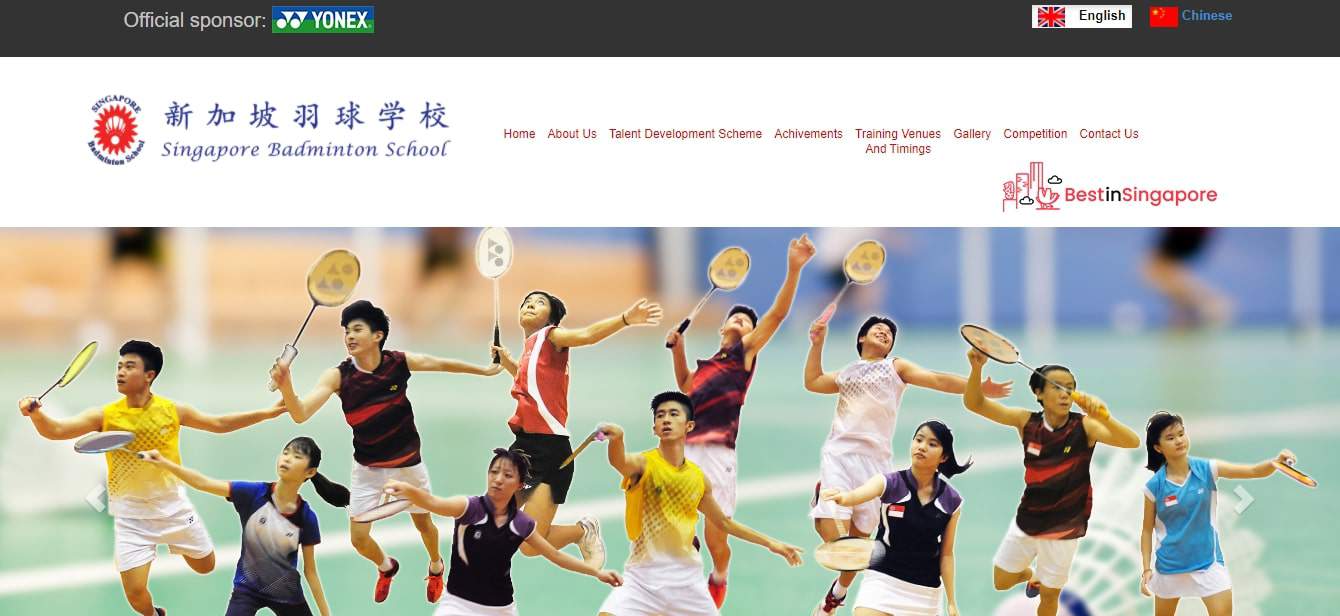 BEST FOR
Pro and experienced coaches
SERVICES
Adult badminton classes and kids badminton classes
WEBSITE
http://www.singaporebadmintonschool.com.sg/
ADDRESS
Block 474 #01-108, Tampines Street 43, Singapore 520474
CONTACT DETAILS
+65 8301 0069

[email protected]

OPERATING HOURS
Monday – Friday: 2:00 AM – 8:00 PM
As one of the top badminton schools on the island, Singapore Badminton School is known for housing some of the best badminton coaches in Singapore. If you want to be under the care of professional and topnotch badminton players, then there's no better option than this one.
Most of its badminton classes are mainly taught in groups, but if you're after private sessions, you may come in every Thursday and Friday. Either way, group and private classes are facilitated by its team of experienced badminton coaches.
One of the reasons we consider it one of the top schools for the best badminton lessons in Singapore is the fact that most of its students went to become professional badminton players themselves, with accolades under their names.
Highlights
Topnotch badminton classes
Experienced and professional coaches
Comprehensive and organized training programmes
Customer Review
Here's a comment shared by a student on Google Reviews:
"I am the eldest player in their competitive squad till now and the coaches in Singapore Badminton School are very motivating and very supportive when trainees approach them to discuss their training concerns. They have very sharp senses to talent-spot and groom potential players. I would advise those players who aim to get into the National Team in future to register with this badminton school as this school has a proven track record of players who made it into the National Team. Listen to the coaches and nothing will go wrong in the path of Badminton. They spot you and will lay the path well before you. You will be an edge above the rest."
4. BE a Champ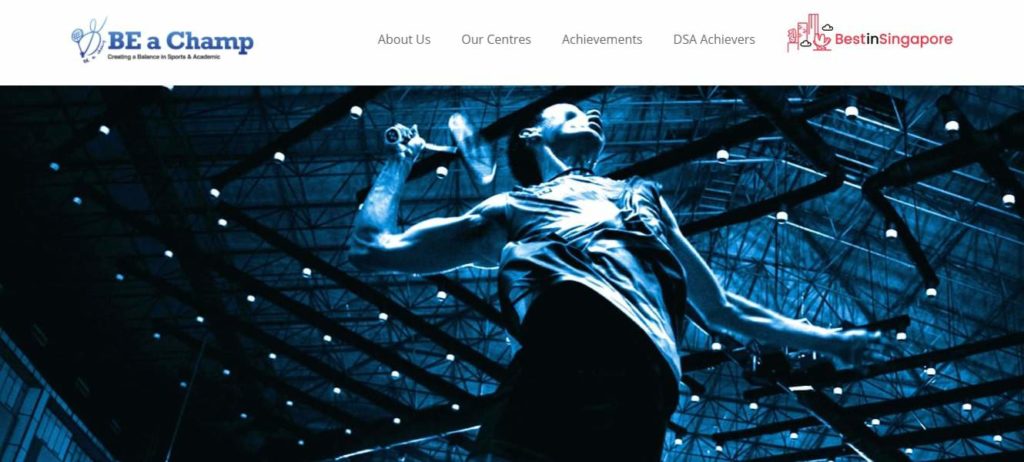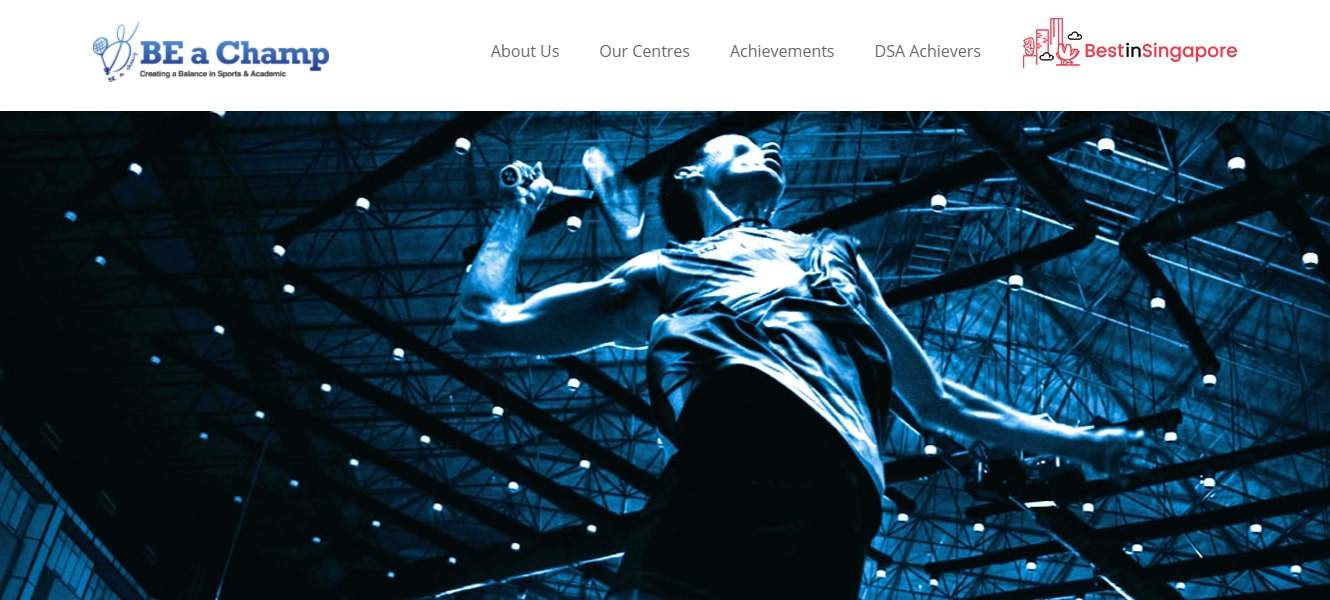 BE a Champ is another top-rated badminton academy that offers superb badminton lessons to beginners, intermediate, and competent players. It houses a large team of professional badminton coaches who tailor each programme to the ability and skill set of every student.
If you haven't picked up a badminton racket in your life, BE a Champ will teach you everything you need to know about the sport, from proper stance to effective techniques.
For those who want to improve on their badminton skills, its pro coaches will do in-depth analysis to improve your multi-dimensional physical fitness and prepare your body for competitions.
Speaking of coaches, BE a Champ boasts a roster of full-time badminton coaches with excellent track records and certifications. It's no surprise it ended up on our list of the schools with the best badminton classes in Singapore.
Highlights
Experienced coaches
Classes for beginners and competent players
Detailed and effective training programmes
Customer Review
Take a look at some comments shared by its current and previous students:
"Coach Daniel and his team of coaches are very passionate in their coaching. I have never come across a coach that goes in details to make sure his students understand what he wants them to achieve. I would recommend parents to bring their kids or adults to try the sessions themselves to believe."
"Shann started playing badminton in March 2017. In the beginning, she missed almost all her shots. With Coach Daniel and Coach Eric s' patience and encouragement, Shann started hitting her shots with confidence and was shortly selected to be one of the school team players. Thanks to her dedicated coaches for instilling her badminton's interest and bringing out her 'talent'."
5.  Wavefuzion LLP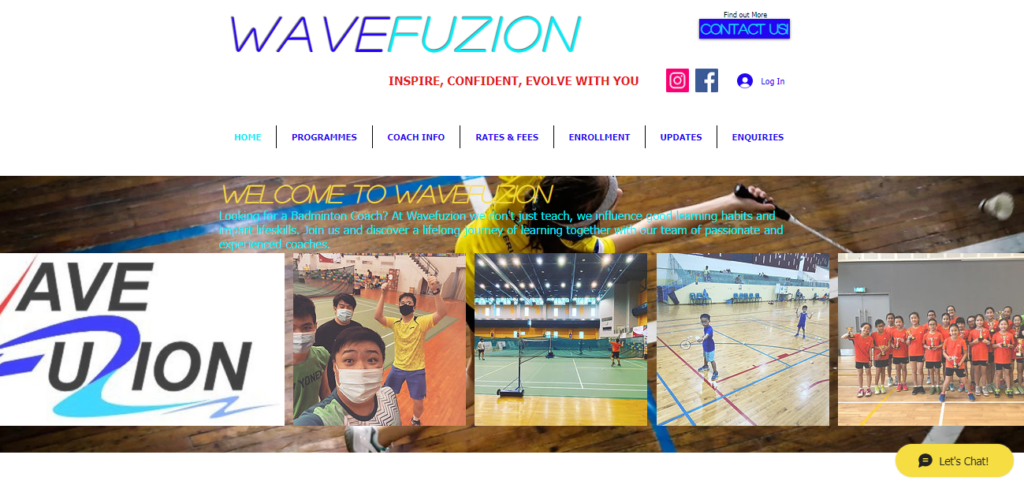 | | |
| --- | --- |
| BEST FOR | Affordable and holistic learning |
| SERVICES | Badminton lessons, swimming lessons |
| WEBSITE | https://www.wavefuzion.com/ |
| ADDRESS | Blk 432 Bukit Panjang Ring Road, #03-615, Singapore 670432 |
| CONTACT DETAILS | +65 8282 9564 |
| OPERATING HOURS | Monday – Sunday: 8AM – 9PM |

Since 2018, Wavefuzion LLP has been offering affordable and holistic badminton lessons for all levels. They aim to provide high-quality classes for sports enthusiasts and communities who don't have access to private institutions.
Wavefuzion LLP's classes range from beginner to expert to cater to any type of player. They also have group and private lessons to ensure every student has the best learning experience.
Not only do they provide kids with sufficient sports skills, but it also instills useful abilities such as first aid and life-saving.
Highlights
Affordable lessons
Private lessons for schedule and venue flexibility
Registered and first aid-trained coaches
Customer Reviews
Learn more about Wavezlink LLP's classes through these customer reviews:
"Very good trainers with very positive attitude. They also take good care of children."—Baddrinath Manickavasagam
"Good trainer & support team."—Murali Deenadayalan
6. ShuttleAce Badminton Academy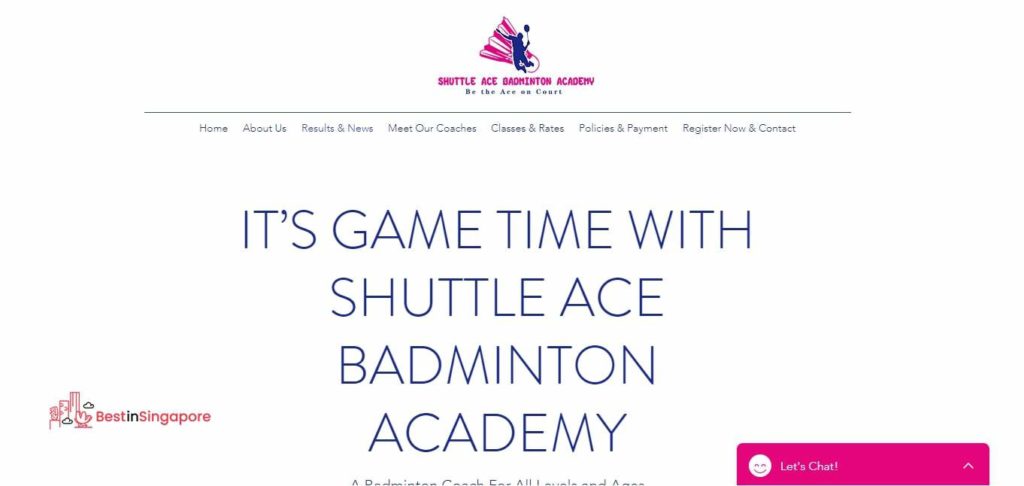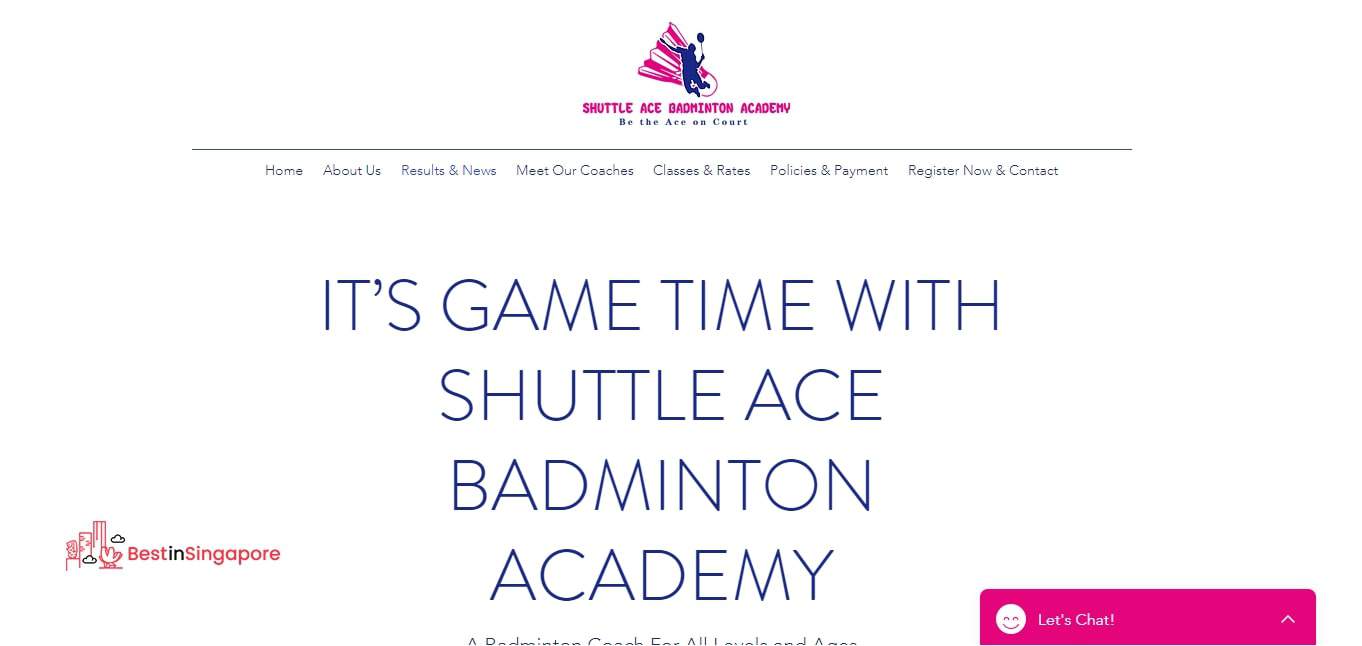 BEST FOR
Badminton classes for all ages
SERVICES
Kids badminton classes, adult badminton classes, and private classes
WEBSITE
https://www.shuttleacebadmintonacademy.com/
ADDRESS
11 Woodlands Close #09-43 Singapore 737854
CONTACT DETAILS
+65 9868 0650

[email protected]

OPERATING HOURS
Monday – Sunday: 7:00 AM – 10:00 PM
If you're a parent with a kid who wants to become a pro badminton player in the future, then we strongly recommend enrolling them in ShuttleAce Badminton Academy. It's only been around for over 2 years now, but it's managed to earn the trust of a lot of parents.
ShuttleAce Badminton Academy is based in Singapore and Malaysia, providing superb badminton classes to children and young adults who aspire to become professional badminton players.
The school offers badminton classes that accommodate students of all ages. At the core of it, their teachings aim to coach students on the sports to athletic skills all while imparting the idea of sportsmanship, teamwork and loyalty.
ShuttleAce Badminton Academy offers three distinct training types: Private training classes, Adult group classes, and Kids/teens classes.
Training sessions are flexible in terms of schedule and location and are headed by experienced and professional coaches with excellent track records to assist athletes in developing their full potential.
It's also worth noting that these coaches work to customise training based on players' badminton experience, taking note of current skills, endurance, and footwork.
The great care that goes into planning and conducting these training sessions makes ShuttleAce Badminton Academy an excellent choice for badminton lessons in Singapore.
Highlights
Flexible timing and training location
Transparent and standard pricing (individual & group classes)
Experienced coaches both in court and guiding our players
7. Arrows Badminton Academy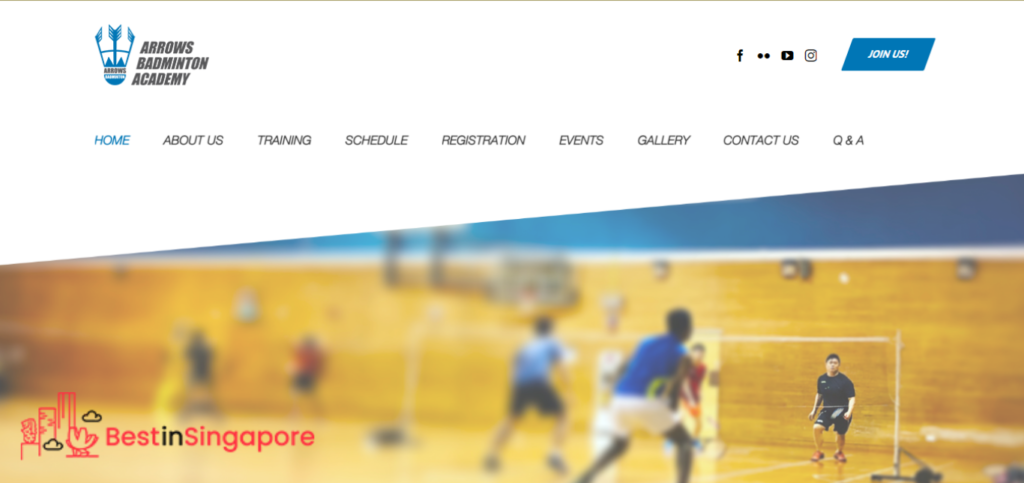 Arrows Badminton Academy offers small coach-to-student classes. So, you or your child can receive maximum attention and guidance while learning and playing badminton.
It accepts all types of players, from beginners who just want to play for fun to professionals who play for competitions. You can choose among the beginner, immediate, and expert levels of classes.
Its owner, Mr. Huang Zhongsen, Jason also has extensive experience and an impressive track record. Thus, you can trust that they will give you high-quality knowledge and practice.
The school has private and group classes. Arrows Badminton Academy also has group training sessions every day, and you can quickly check for these schedules on its website.
Highlights
Beginner, immediate, and expert classes
Small group classes and private lessons
Free training jersey
Customer Reviews
Here are just some of the positive feedback from Arrows Badminton Academy's customers:
"My daughter learned her basics in this academy. Coach gives individual attention to each student and focus on strengths and weaknesses. Because of them I see good improvement in my daughters badminton skills. Highly recommendation!!"
"My son enjoyed the lesson very much. Coach Jason is nice and patience to teach my son which is purely beginner."
And with that, we conclude our list of the schools that offer the best badminton lessons in Singapore. If you've already picked one, share it with us in the comment section.
Oh, and if you want a gym bag that can hold all your badminton essentials, then you wouldn't regret getting your hands on the best gym bags in Singapore. Luckily for you, we have a list of those as well!