The 6 Best Kick Scooters in Singapore for Adults
Are you searching for a cost-efficient alternative to riding the bus or MRT every day going to work or school? You might want to consider getting your hands on the best kick scooters in Singapore that can save you from the cost and stress of commuting every day.
Riding the best kick scooters in Singapore to work is also perfect for people who want some form of physical exercise in the morning — just don't go too hard unless you want to arrive at the office covered in sweat.
Anyway, if you came here without any knowledge about the best kick scooters in Singapore, worry no more because we have you covered! We made a list out of the recommendations from people who have been using the best kick scooters in Singapore for your convenience.
Before that though, we're going to share a few important tips that will help anyone find the right kick scooter that matches their needs.
How to Pick the Best Kick Scooters in Singapore
More and more people are getting the best kick scooters in Singapore to significantly reduce their time spent in traffic. However, kick scooters can be used beyond as a form of transportation.
If you're lucky enough to get a hold of one of the best kick scooters in Singapore, you will be able to use it as a weekend leisure companion. You have to keep in a mind a few factors though in order to find the kick scooter that fits your daily needs.
Here are some of the considerations when looking for the best kick scooters in Singapore:
1. Wheel size
One of the most distinguishing features of a kick scooter is the size of its wheels. Choosing the wrong size will make it hard for the user to balance and control the kick scooter, so take care in identifying the size that complements your height and weight.
The wheels of the best kick scooters in Singapore usually come in two sizes: medium and large. Small wheels have diameters ranging from 100 to 145mm, while large wheels have diameters ranging from 180 to 230mm.
If you're a tall person, we recommend going for larger wheels for faster performance and fewer vibrations. They have better shock absorption and longer glide distance per push as well.
On the other hand, a kick scooter with small wheels is perfect for convenience because it's compact and easy to carry.
2. Deck features
Another critical feature is the deck because it's the place where you place your legs while scooting.
When looking for the best kick scooters in Singapore, make sure that the deck is large enough to accommodate both of your feet. That way, you'd be more comfortable as you can shift weight or change foot position easily.
It's important to consider the sturdiness of the deck too, as it holds a significant amount of your weight. Riding for longer hours and distances wouldn't be that difficult with a strong and sturdy deck.
3. Frame structure
If you manage to get your hands on a kick scooter with a durable frame structure, you've definitely hit the jackpot. A kick scooter's frame plays an important role in improving the overall experience as it allows users to make more kicks without exerting a lot of effort.
An ergonomic frame adds to the stability of the kick scooter as well, reducing the chances of slipping or falling out of balance while riding it.
4. Folding mechanism
If you're going to use a kick scooter for your everyday commute, it's important to get one that's easy to carry and quick to fold. It's such a huge inconvenience to carry a bulky and heavy kick scooter when you're not using it, isn't it?
Anyway, we suggest going for the best kick scooters in Singapore that come with a hinge between the deck and the steering column that makes it possible for it to be folded. It's also the most recommended folding mechanism by the people we talked to!
The Best Kick Scooters in Singapore
It's time to see which brands and models we deem are worth checking out! We've listed some of the best kick scooters in Singapore below so you can easily find the right one that would fit your daily needs.
1. QX Town Adult Kick Scooter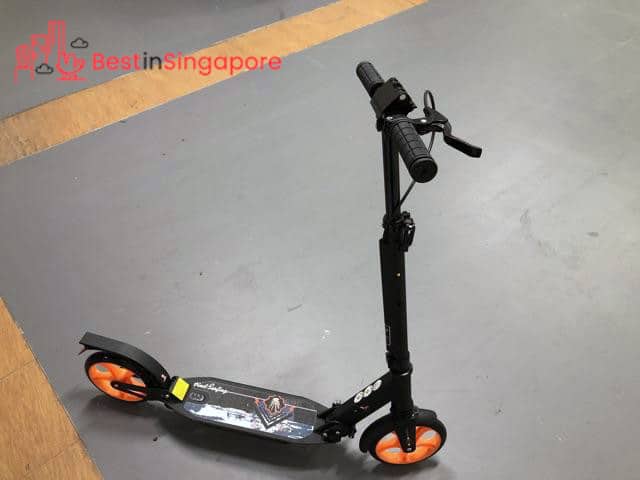 Price: S$119.00
You don't have to go beyond the budget just to get your hands on one of the best kick scooters in Singapore. The QX Town Adult Kick Scooter is among the most affordable options available here in Singapore, costing only S$119.
It may be cheaper than the rest of our picks, but the QX Town Adult Kick Scooter does the job just as well. For one, its height can be adjusted up to 3 levels, allowing users of different heights to use it comfortably without experiencing back pains.
If there's one thing that it can promise to its users, it'd have to be the consistently smooth commute to work. It's designed with dual suspension that reduces vibrations during your entire ride.
On top of that, the QX Town Adult Kick Scooter comes with a 200mm wheel, so it has better shock absorption on uneven surfaces. Users don't need to exert much effort while pushing because it has a longer glide distance per push.
There's a handlebar clamp as well that makes sure that handlebar is always tight, preventing any shakiness from the handle. It helps users to have a safer riding experience.
Pros
Made with quality materials
Dual suspension
200mm wheels
Adjustable height
Cons
Limited warranty
For adults only
2. GlideCo CRUISER200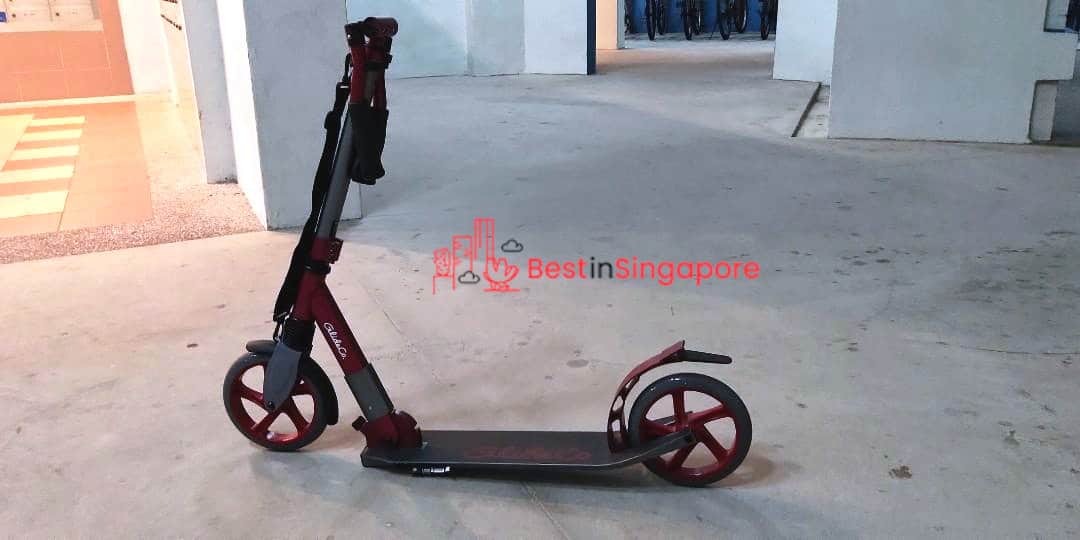 Price: S$149.00
The GlideCo CRUISER200 is a high-quality and trusted kick scooter sold in Singapore, Europe, Russia and South Korea. It's built to provide commuters with a stress-free and quick journey to work or school every day.
One of the features that make it stand out from other kicks scooters is its commuter-friendly and small built. It weighs only 4.9 kg and can be folded into a compact shape and carried over the shoulder with a strap.
We found that the GlideCo CRUISER200 is one of the most lightweight kick scooters with 200mm wheels and suspension on the island. This is why we call it one of the best kick scooters in Singapore.
It comes with a front internal suspension that softens vibrations when on rough or uneven surfaces, providing users with comfortable rides day in and day out.
Lastly, in terms of specs, the GlideCo CRUISER200 doesn't fall short as well. It has a maximum rider weight of 100 kg, a deck size of 120mm wide, and is made of high-rebound Polyurethane material.
Pros
Scratch-resistant finish
Lightweight and compact
Commute-friendly
Cons
Single suspension
Durability is questionable
3. Globber NL 500-205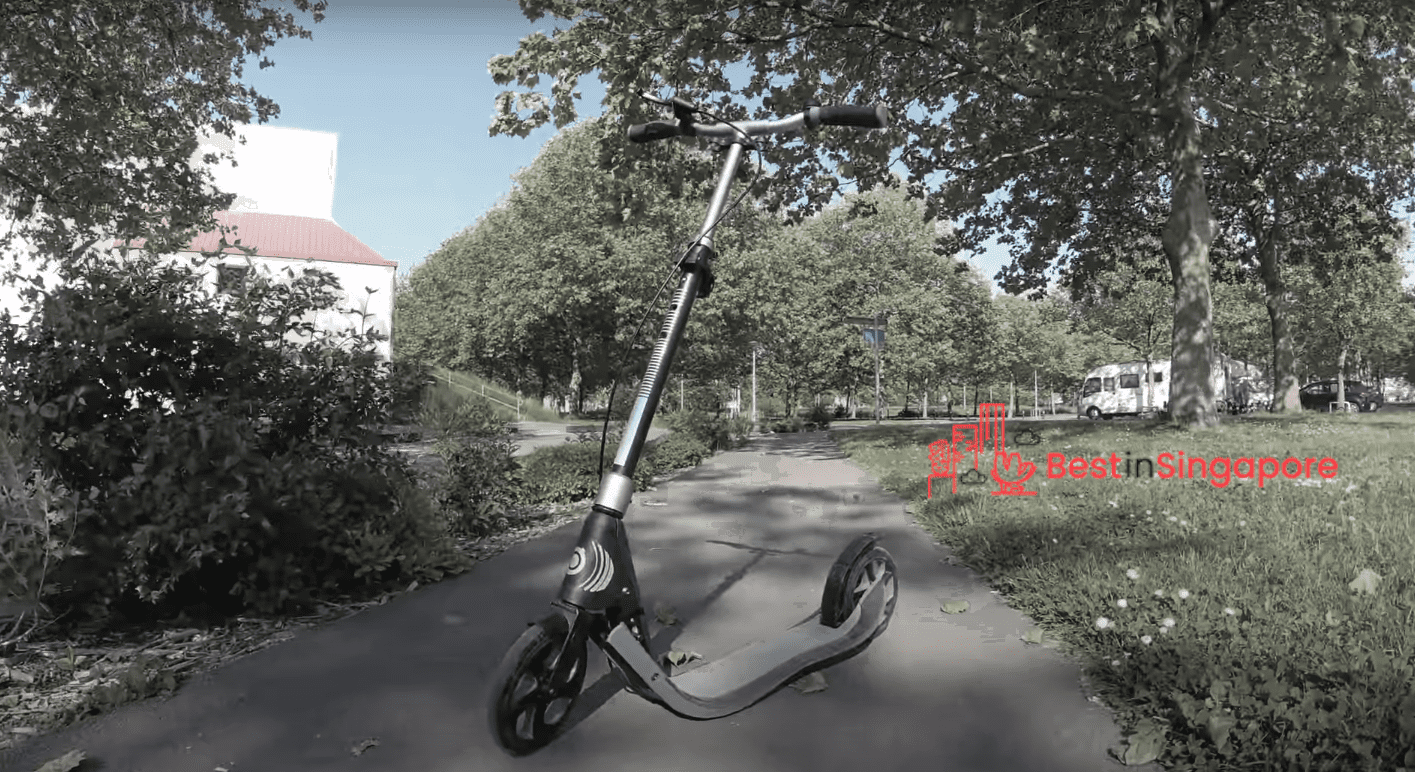 Price: S$135.00
The Globber NL 500-205 wouldn't be considered one of the best kick scooters in Singapore for nothing. It comes with outstanding features such as sturdy wheels, foldable comfort grip handlebars, and non-slip and extra-wide deck—all without the expensive price tag.
If you're after a compact and lightweight scooter, then you'll definitely love this one! It's known for its one-second folding system that allows it to be folded easily and stored even in the most cramped places.
Another thing we like about the Globber NL 500-205 is its adjustable t-bar, so people of all heights will be able to use it comfortably. It's quite durable as well, with a body and deck made with anodized aluminium.
Most of its buyers have praised its comfortable hand grips and durable wheels which are quite uncommon for a budget kick scooter like this one. It just proves that you don't need to spend a lot of money just to have a reliable commute companion.
Pros
Adjustable height
Durable wheels
Made with anodized aluminium
Can be used by kids
Cons
Comes in limited colours
Limited warranty coverage
4. Micro BMW City Adult Scooter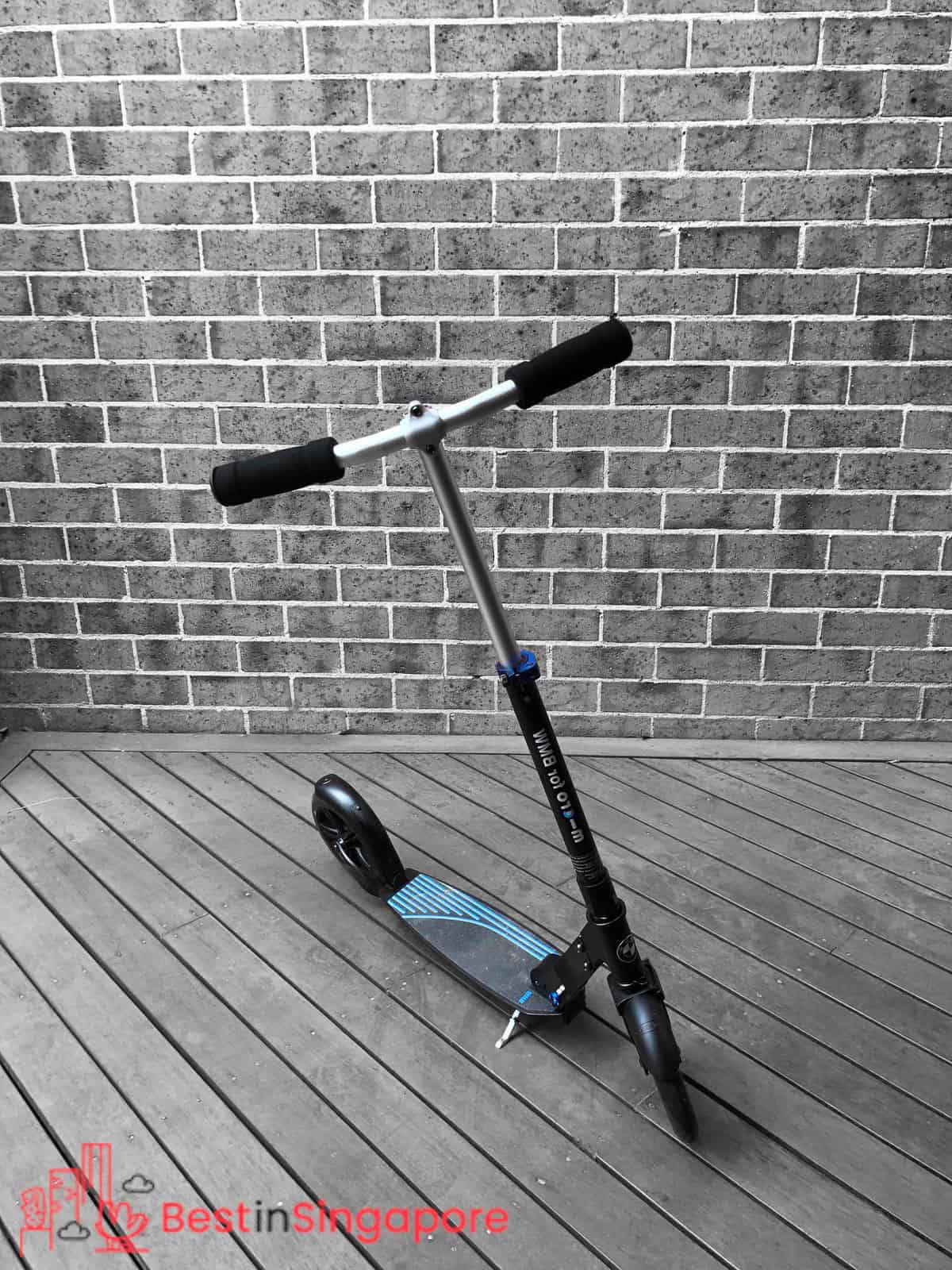 Price: S$355.00
If you're willing to go beyond the budget for a high-end kick scooter, then we recommend taking a look at the Micro BMW City Adult Scooter. It's made by one of the most trusted names in engineering, so you're sure you're getting your money's worth.
The Micro BMW City Adult Scooter is made with features that ensure the safety of its users. It comes with large 200mm wheels that can cover the most uneven pavements quickly and evenly, reducing the chances of any accidents.
Another thing that its 200mm wheels can do is lessen the effort needed when pushing the kick scooter. You will now be able to reach your destination faster without using a lot of energy trying to move the kick scooter.
More than that, it has an adjustable handlebar that can be controlled with ease, so navigating the road will no longer be a challenge. It's no surprise it ended up on our list of the best kick scooters in Singapore.
When it comes to build and design, the Micro BMW City Adult Scooter doesn't fall short. Its Swiss origins prove that it's going to be your commute companion for the years to come, even when used almost every day.
Pros
Swiss design and engineering
Durable and portable build
200m wheels
Cons
Not suitable for kids
Expensive
5. XOOTR Mg Kick Scooter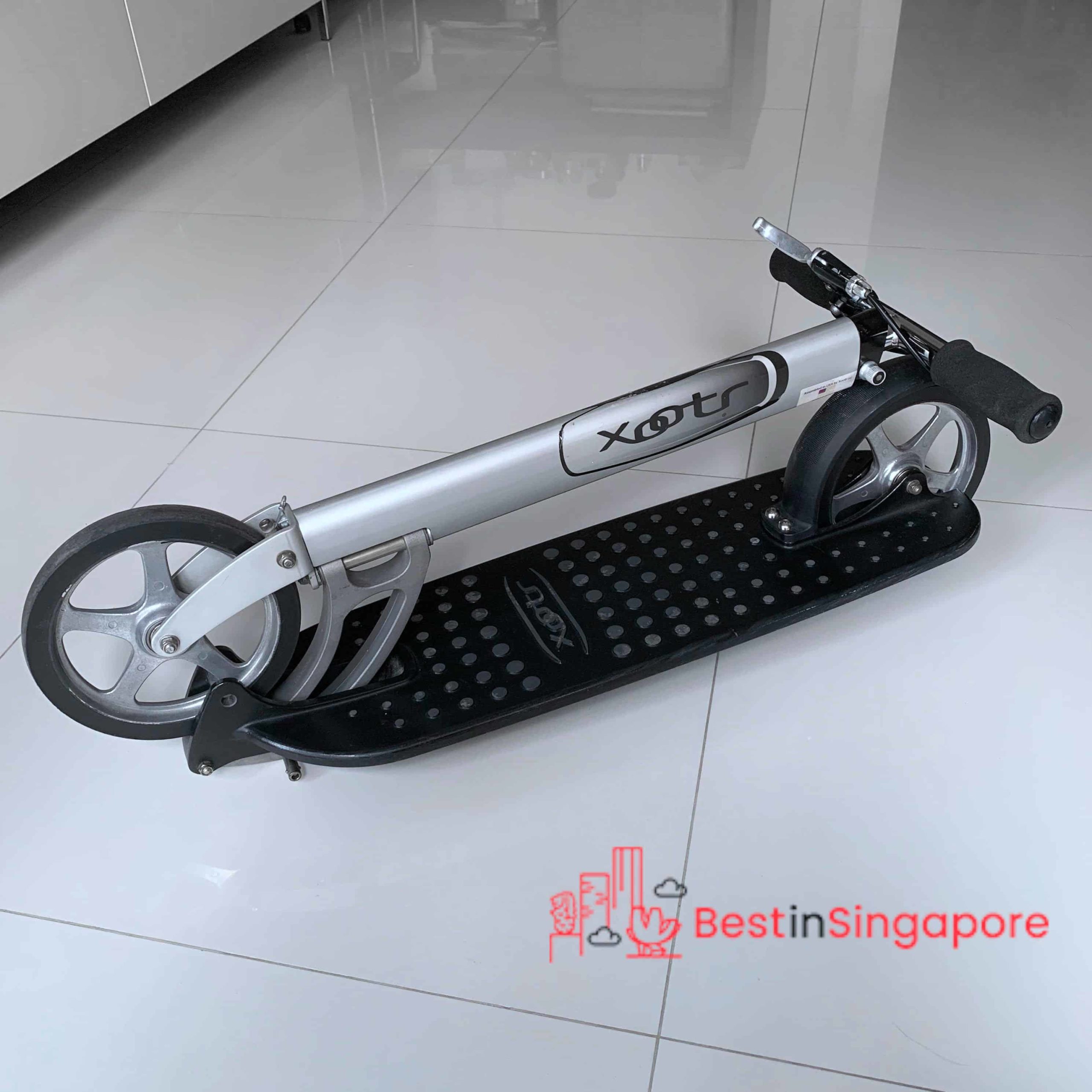 Price: S$419.92
In terms of durability, we have to say that the XOOTR Mg Kick Scooter remains unbeatable. It's one of the few kick scooters on the island with a 2200-pound weight limit, made possible by the premium aluminium it's made of.
If you're a heavier person looking for a kick scooter than can accommodate your weight, then look no further than the XOOTR Mg Kick Scooter. It may be the most expensive option in our list, but users will definitely get more out of it.
Its adjustable handlebar can accommodate adults with heights up to 6′ 7″, so no worries about being too tall to use a kick scooter. It comes with a realistically wide and long platform that can provide enough space for both feet to fit side by side.
Another feature that we love about the XOOTR Mg Kick Scooter is the quick latch folding system that makes it possible to be folded in less than 2 seconds! You won't have trouble bringing a kick scooter on the bus, train, or in the cab anymore.
Pros
Durable build and design
Large deck
2200-pound weight limit
Quick folding mechanism
Can be used by kids
Cons
Expensive
A bit heavy for a compact model
Customer Reviews
Take a look at some of the reviews posted by buyers on Amazon:
"This scooter is well built, folds easily, and rides smoothly. Brakes seem to work adequately for casual use around the neighborhood. I don't have much scooter experience, so I can't compare to others, but it is clearly well built, easy to fold and unfold, and the fact that it hasn't collapsed after I've ridden it around the neighborhood, with my 3 y.o. son hopping on with me occasionally, should say about everything that needs to be said."
"This scooter is everything it's advertised to be. It's well-designed, very sturdy, rides smooth, and looks great. Holds my 235 lb self with ease."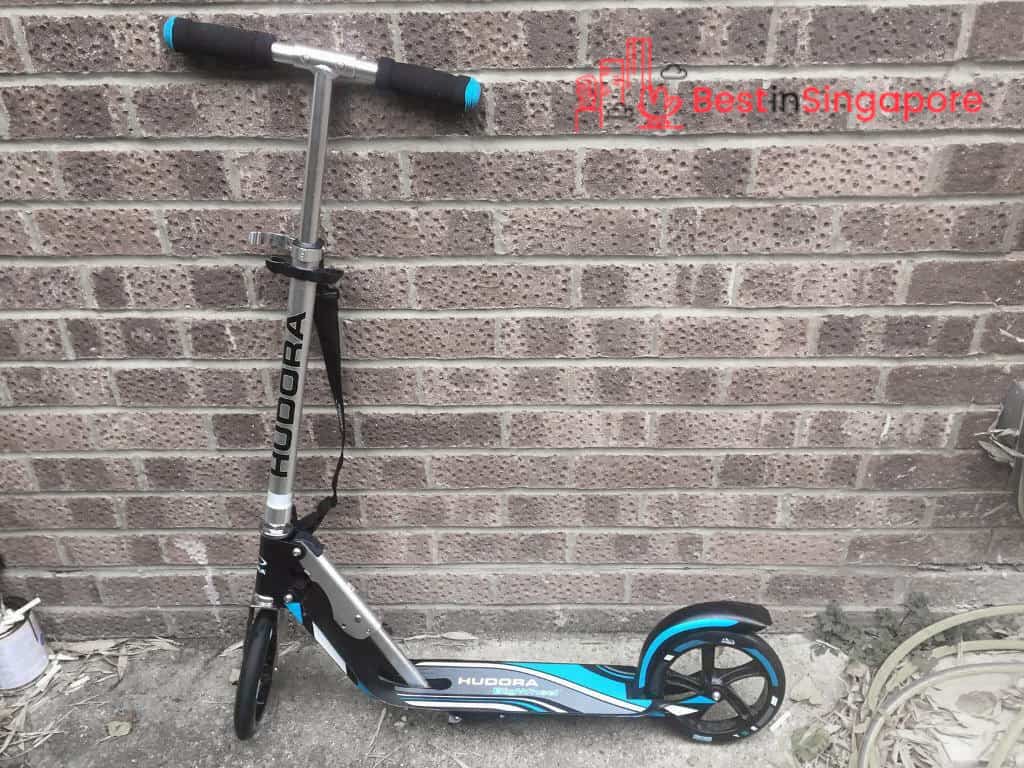 Price: $220.00
From its name alone, one can understand that The Hudora Big Wheel 205 is made for relatively tall and large people. While it's designed for big people, this kick scooter still has a handlebar that adjusts within 79 cm to 104 cm in height.
It was designed with a multi-hinge body with a single-action lever, so its riders can easily fold it when switching to other modes of transportation. And to make it convenient to carry, The Hudora Big Wheel is also pretty lightweight, weighing only 4 kg.
But with aluminium frames, this lightweight kick scooter is durable and strong enough to carry up to 100kgs of load. To further seal the deal with its durability, the kick scooter also comes with a 2-year manufacturing warranty.
The Hudora BigWheel even comes in four different colours. So, you can choose a kick scooter with either black, orange, magenta, or red accents to match your overall style.
Pros
Lightweight but durable and heavy-duty
Multi-hinge build with single-action lever for easy folding
Tall yet adjustable handlebar
Available in four colours
Cons
Expensive
Some colours are unavailable
And that's it for our list of the best kick scooters in Singapore. If you've decided which kick scooter to purchase, share your choice with us in the comments section!
If you're also considering getting your hands on an electric scooter, you might want to take a look at our list of the best e-scooters in Singapore. Like this article, we featured only those trusted by a lot of e-scooter users!