The 7 Best Freezers in Singapore
Buying food in bulk is much more convenient than buying in small amounts if you prefer to cook at home instead of going out. But it also requires you to have a pretty big fridge. If you don't have that yet, we're here to help you find the best freezer in Singapore!
Most refrigerators don't have sufficient freezer space where you can put loads of meat and other preserved food items. This leads to only a week or less of food stock, which is why a standalone freezer is a great addition to your household/business.
With the right size and type of freezer, you can easily keep a bunch of frozen foods for several months! But how can you know which among the thousands of models is the perfect one for your needs?
Well, let's go find out as we guide you through selecting the best freezer in Singapore!
How to Choose the Right Freezer
Whether it's your first time to buy one or you're looking for a new unit to replace or upgrade your old freezer, there's a lot of things that you must consider. Some freezers might be too big or small and some can be too energy-consuming.
Before you visit a store or while you shop online, take a look at these features first:
1. Type
Freezers come with two different types: chest and upright. While both are good options, they highly differ in functions and style.
Upright Freezers – For those who have limited space at home, an upright freezer can be a suitable choice. Upright freezers have smaller structures than the chest types but they still provide open space for heavy and bulky foods.
Unlike chest freezers, they feature shelves and door storage — making it easier to arrange and take out the items as well as see which ones are still in stock.
Chest Freezers – This type is usually designed with a horizontal style and large capacity — taking up more space at your place. However, they're more energy-efficient compared to upright freezers.
They have better insulation, which means that they can maintain cold temperatures with less energy. This way, food items can also experience less freezer burn.
2. Capacity
After figuring out which type you prefer to have, you now need to determine the number of items you're planning to store every week or month. This is so you know the right freezer capacity you need.
Upright freezers mostly range from 5 to 6 cubic meters. If you have a small to medium-sized family, then an upright freezer would do.
Meanwhile, chest freezers offer over 20 cubic feet of storage space. These huge units are excellent for large families and those who live in landed property.
To be sure, it's advisable to give an allowance of 10% to 20% when considering the freezer capacity. Once you've finalised the exact capacity you need, it'll be easier for you to pick the best one.
3. Size
Take note of the floor space you have at home and see if the one you're considering can fit in the available space. Measure the area and make sure that the doorways and other passages are wide enough so you can bring in the freezer without any hassles.
It'd also be wise to leave a three-inch space on the back and the sides. This is to ensure proper air circulation for the unit.
Since chest freezers have hinged tops, you need to have a decent space above the freezer to fully open the door.
Finally, larger units cost more than the smaller models. If you know the size that's suitable for you, then you can balance out your budget.
4. Energy Efficiency
As mentioned earlier, some models consume high energy — resulting in high utility costs. To prevent this, you may compare the energy costs of freezer units.
Check the energy guide label displayed on the appliance so you can see the estimated cost to run the freezer. 
Fortunately, since not much cold air escapes when you open chest freezers, they typically use less energy than upright units. Moreover, chest freezers feature manual defrosting which requires minimal electricity.
However, keep in mind that a layer of ice will affect the energy efficiency of the unit — so it can be a bit demanding to keep up the maintenance of a manual defrost model.
5. Additional Features
Aside from all the features stated above, there are also other functions that you need to take note of. This includes safety locks to prevent energy waste and a quick-freeze feature to ensure efficiency.
You also need to check if the controls are user-friendly, especially for first-time users. There must be interior light and a power-on light as well so you can know if the unit is working even without opening the door.
To avoid possible risk, there must be a high-temperature alarm included in the unit. With this function, you can receive immediate alerts if the temperature begins to rise.
Last but not least, having an easy-to-reach drain is important when it comes to manual defrost units. Make sure to consider all of these features before buying any type of freezer unit.
Best Freezers in Singapore
As we said, we've selected some of the best freezers in Singapore! Read about them below:
1.   Farfalla Upright Freezer FUF-EP120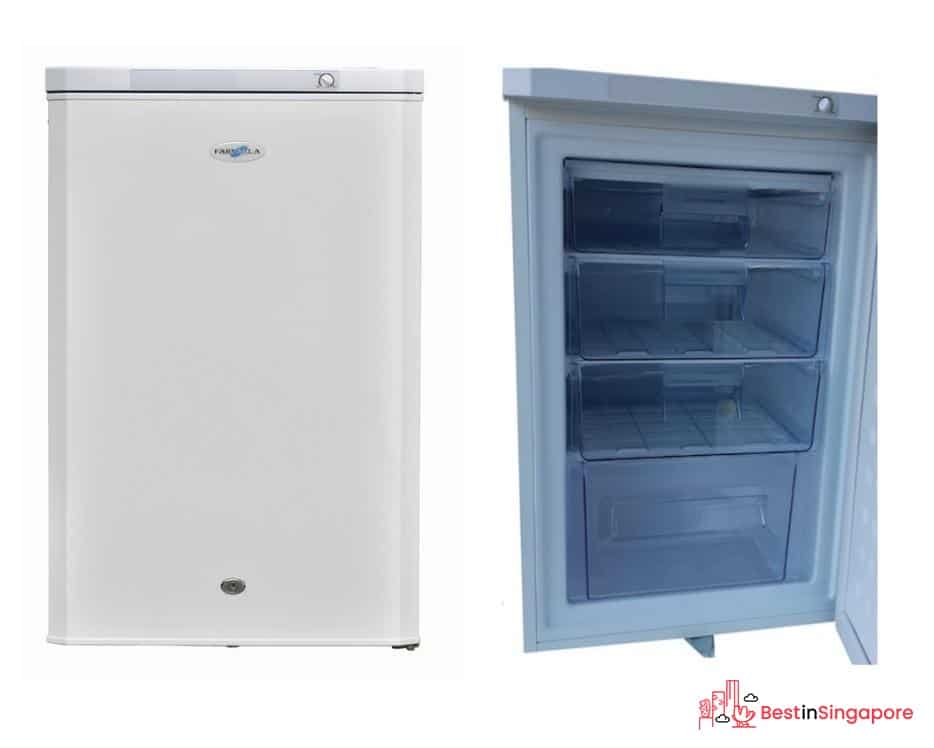 Price: $305.00
For those who have small to medium-sized families or are currently living alone, the Farfalla Upright Freezer FUF-EP120 can be a great choice! It has a total volume of 120L and comes with multiple transparent drawers — providing a lot of space for all of your goods!
This best freezer in Singapore has mechanical temperature control and an inside condenser to produce efficient cooling. It's also designed with an electric shock-resistant surface, which lessens the risk of damage, especially when surrounded by potential electric hazards.
Pros
120L capacity
Quiet operation
Accessible and durable shelves
Easy to use  
Cons
Short cord
Frost builds up quite fast
Customer Reviews
Customers gave positive remarks on the durable and transparent shelves as well as the quiet operation of the Farfalla Upright Freezer FUF-EP120. They also mentioned that it fits well in small spaces due to its small structure yet functional design. 
However, some said that the freezer quickly accumulates ice. So, it needs regular thawing to optimise energy efficiency.
A customer wrote this feedback:
"We bought this as an addition to our fridge/freezer combination. Fits well in our storeroom. Quite large, with five drawers. hardly makes any noise. Happy with fast delivery as well"
2.   Midea Chest Freezer MDRC152FZG01-SG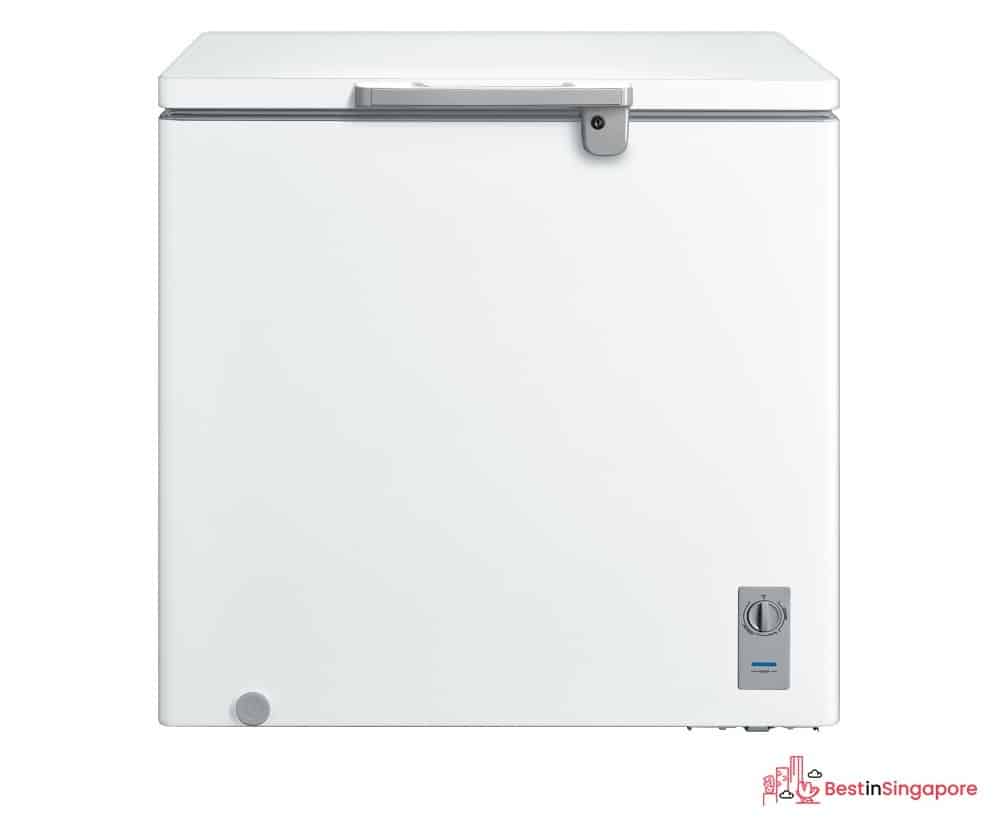 Price: $379.00
If you need a bigger size and capacity than the previous option, then you might love the Midea Chest Freezer MDRC152FZG01-SG! This one can hold 198L with stronger insulation — keeping the temperature stable despite the huge amount of food stored inside.
It features advanced functions like multiple temperature control, which is perfect for storing different kinds of goods like fruits, vegetables, fish, meat, and more. It's also designed with refrigerant at the bottom — offering fast freezing, thus preserving the flavours more effectively.
Its body is made up of a single shaped metal sheet with no joints — making the freezer more durable. You'll also love its simple and elegant look that'll certainly compliment any home environment!
Pros
198L capacity
Sturdy design
Built-in hinges
Multiple temperature control
Fast and efficient cooling
Cons
Might not fit in small and narrow spaces
3.   Tecno Upright Frost Free Freezer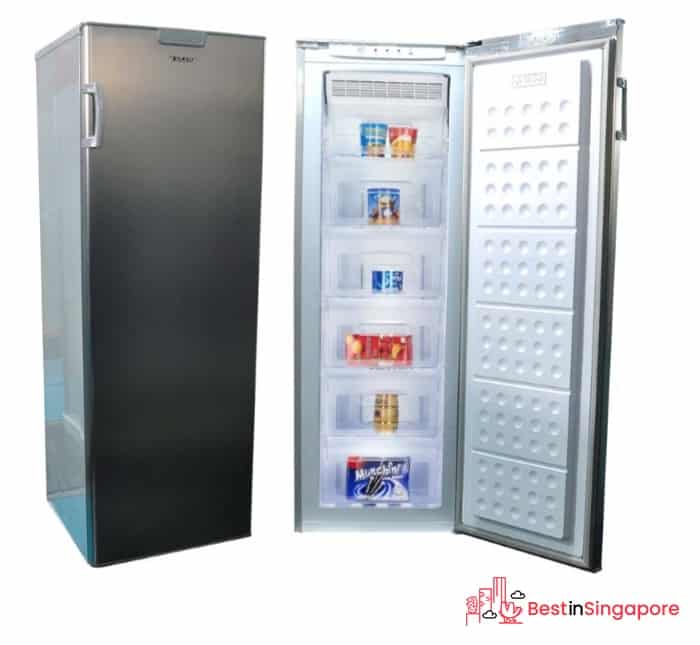 Price: $735.00
The Tecno Upright Frost Free Freezer TFF 238 is a great choice for new and expecting mothers.
Since it has a frost-free system that can go to the lowest temperature possible, -25 degrees Celsius, you can be sure that the breast milk will be kept in optimum condition. This way, the nutrients will be maintained — ensuring healthy breastmilk feeding.
Aside from this, it also has an impressive capacity of 150L where you can store a variety of foods, helping you prepare assorted meals any time of the day.
It features a fast freeze setting, which is ideal for freezing your fresh produce in a shorter time compared to the traditional freeze time duration.
It also has a stainless steel design, adding a classic and refined look to the kitchen area. These are the reasons many claim it to be one of the best freezers in Singapore.
Despite having powerful features, it operates with low energy consumption. It may come with a premium price but it's all worth it, especially if the quality is the most important factor that you're looking for in a freezer.
Pros
150L capacity
Frost-free system
Transparent drawers
5 drawer compartments
Reversible door opening
Adjustable legs
Super and quick freeze feature
Quiet operation
Energy-saving design
Cons
4.   Farfalla Chest Freezer FCF-SD210FG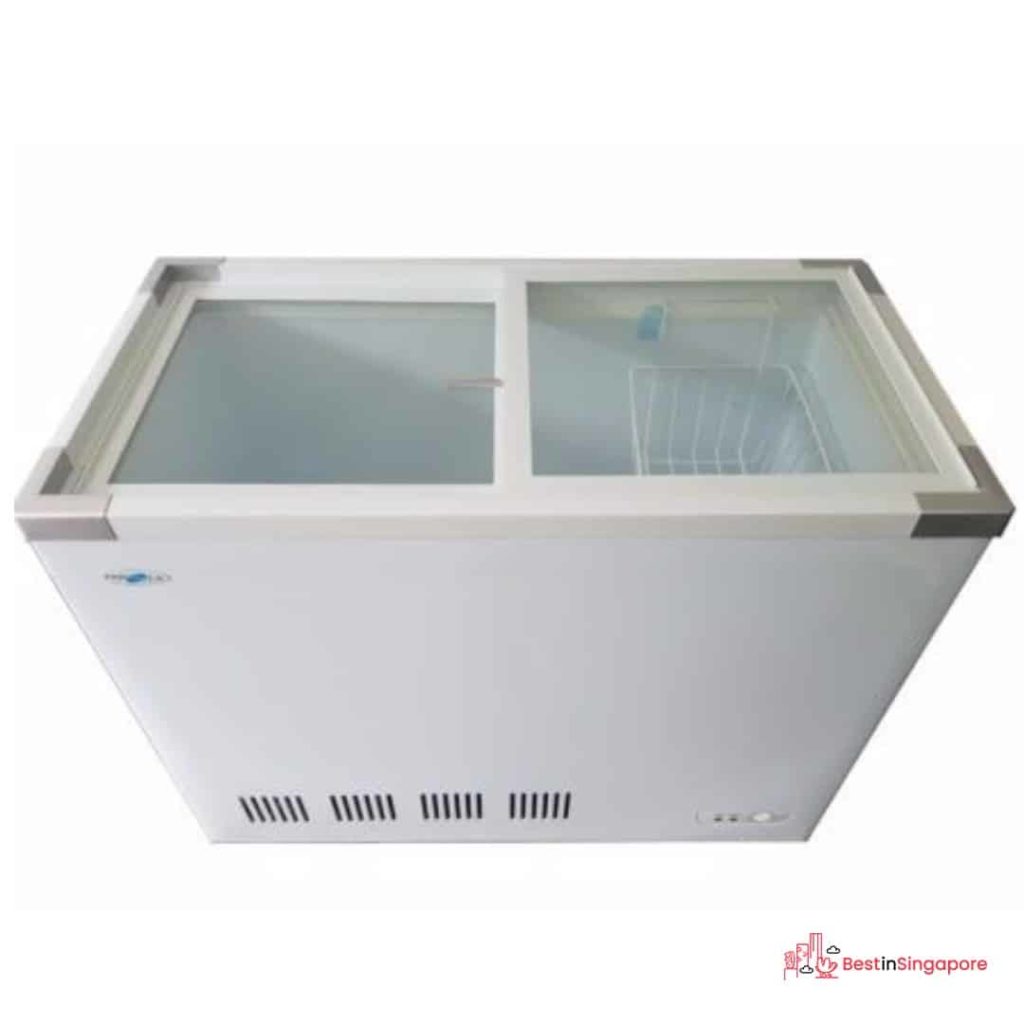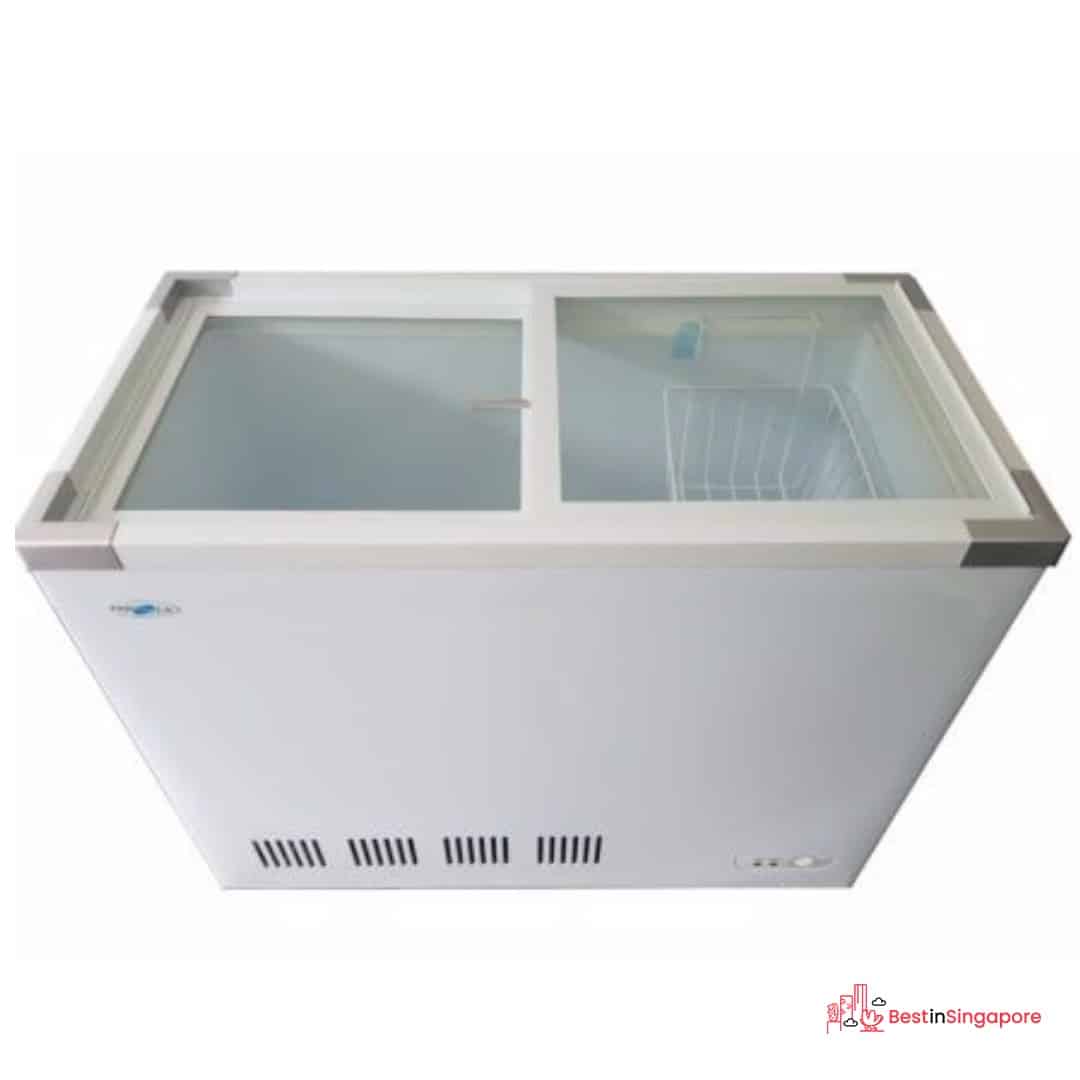 Price: $599.00
Business owners, like those who are running a restaurant, will love the Farfalla Chest Freezer FCF-SD210FG! It can carry 210L of food/drink items — offering the largest volume out of all listed options.
This best freezer in Singapore also features a 2-door design to provide easy access that can come in handy when preparing for multiple orders.
You can choose between freezing and refrigeration options: both are accompanied by mechanical temperature control — this is perfect for storing different kinds of foods. You may simply change the temp with its analogue adjustable thermostat.
Pros
210L capacity
Freezing and refrigeration selection
Easy and quick to use adjustable thermostat
Heat reflection and tempered flat glass door
Key lock and drain hole
Cons
Needs a large and wide space to fit
5.   PowerPac Upright Mini Bar Freezer PPFZ60!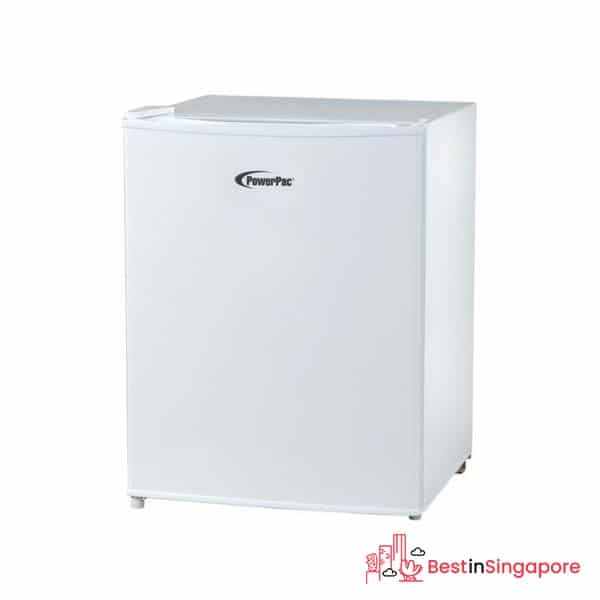 Price: $269.00
If you're looking for a separate freezer in which to place additional frozen items like ice cream, baby food, or some drinks, then you might want to see the PowerPac Upright Mini Bar Freezer PPFZ60!
It's a small freezer with three spacious shelves where you can fit in several bottles, food containers, and more!
This freezer uses a thick frozen foam design for high-efficiency freezing. So, there's no need to worry about adjusting the freezing point to the lowest possible temperature.
It's also an energy-saving and ozone-friendly unit that you can easily place in a small corner at your place.
Pros
60L capacity
Compact and tabletop design
Anti-bacterial and activated carbon filter interior
Adjustable temperature control
Cons
No auto-defrost mechanism
Frost builds up quickly
And that's our list of the best freezers in Singapore! Have you already decided which one you'd like to buy? Let us know!
And if you'd prefer to have chest freezers instead of upright units, see these best chest freezers in Singapore!