The 7 Options for the Best Auto Gate Repair in Singapore
When was the last time you had your automatic gate checked or repaired? If you can no longer remember, maybe now's the right time to have it checked by technicians that offer the best auto gate repair in Singapore.
Unlike the traditional gates that most houses on the island have, automatic gates are a lot more complicated because there's technology involved. In case there's a technical problem, it's best to leave it at the hands of repair companies with the best auto gate repair in Singapore.
In this article, we're taking a look at handyman companies that provide the best auto gate repair in Singapore. Check out our picks below to know how to get in touch with these companies.
1. National Home Helper


Save yourself from the hassle of searching and comparing home helpers. Wherever you are in the world, National Home Helper can help you find skilled providers for aircon servicing as well as many other kinds of repair work in the home.
With their contact list of various service providers around the world, they guarantee that they have the best provider for aircon servicing in Singapore.
Each of their providers is thoroughly screened by their dedicated team so they are sure that they only recommend home helpers who are experienced at their job.
Highlights
2. San Automation Gate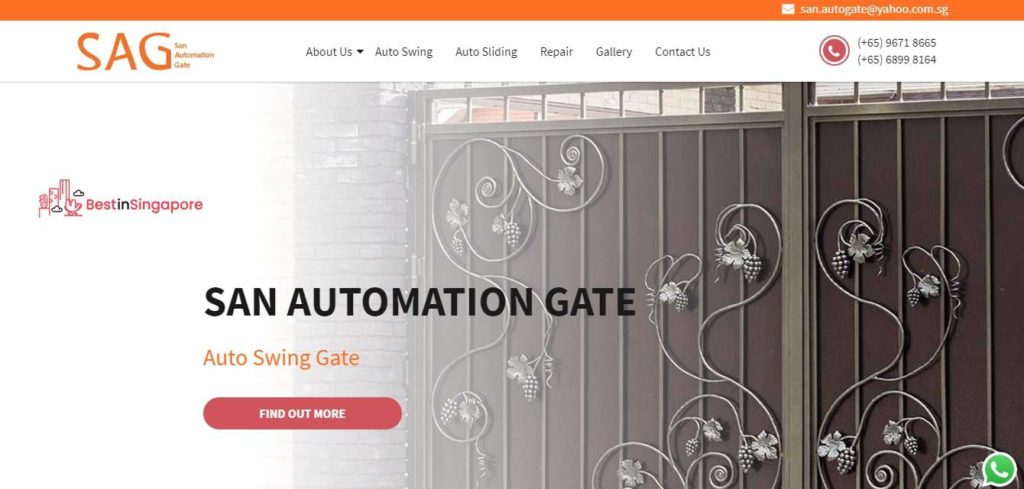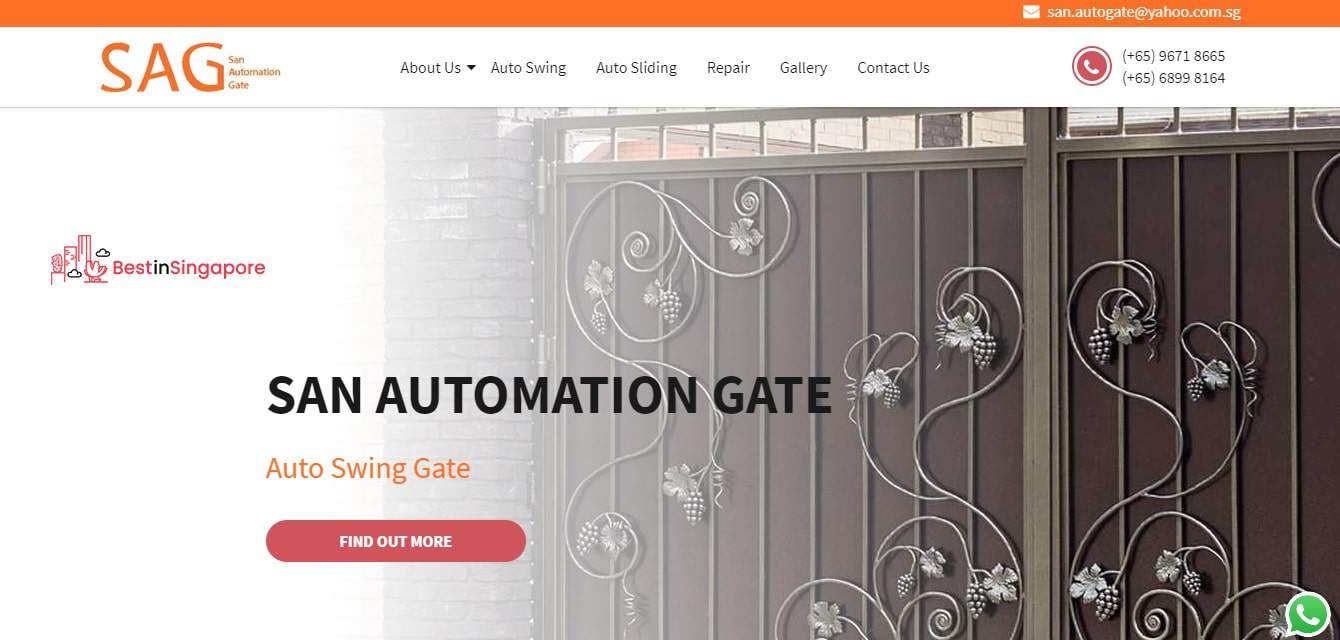 | | |
| --- | --- |
| BEST FOR | Residential and commercial gateways |
| SERVICES | Automatic and sliding gate repair and installation |
| WEBSITE | https://www.sanautogate.com.sg/ |
| ADDRESS | 140 Upper Bukit Timah Rd, Singapore 588176 |
| CONTACT DETAILS | +65 9671 8665 [email protected] |
| OPERATING HOURS | Monday – Sunday: 9:00 AM – 6:00 PM |
Established 15 years ago, San Automation Gate has grown into one of Singapore's leading automatic gate installation and repair service providers. It's a company trusted by both residential and business owners on the island.
San Automation Gate is known for its diverse portfolio in repairing and installing all types of driveway gates on the island. It's made up of a large team of technicians and contractors who have years of experience dealing with driveway gates.
Whether your driveway gate is having control issues or isn't opening properly, San Automation Gate will know what to do with it. Its repair services include troubleshooting, replacement, maintenance and in some cases, installation of a new one.
Highlights
15 years of experience
Works with trusted names in driveway gates
Residential and commercial services
3. Autogate William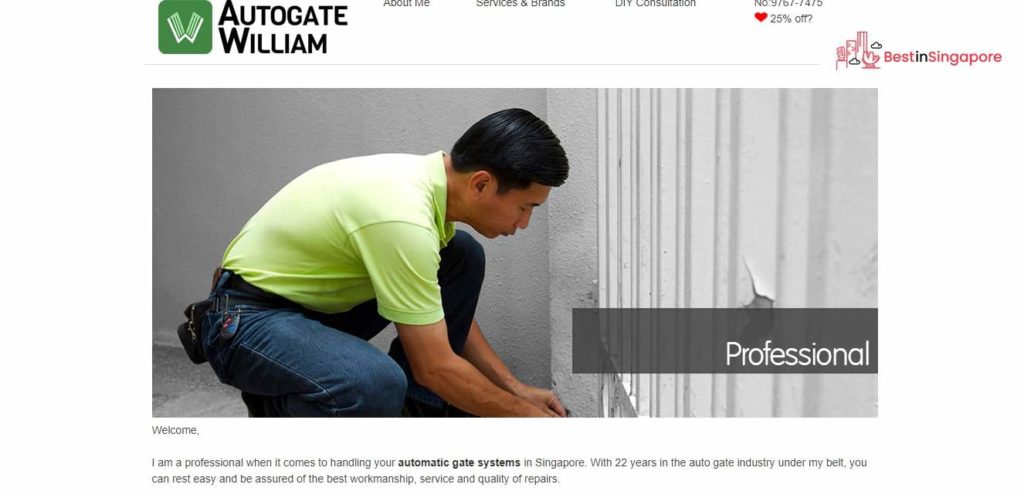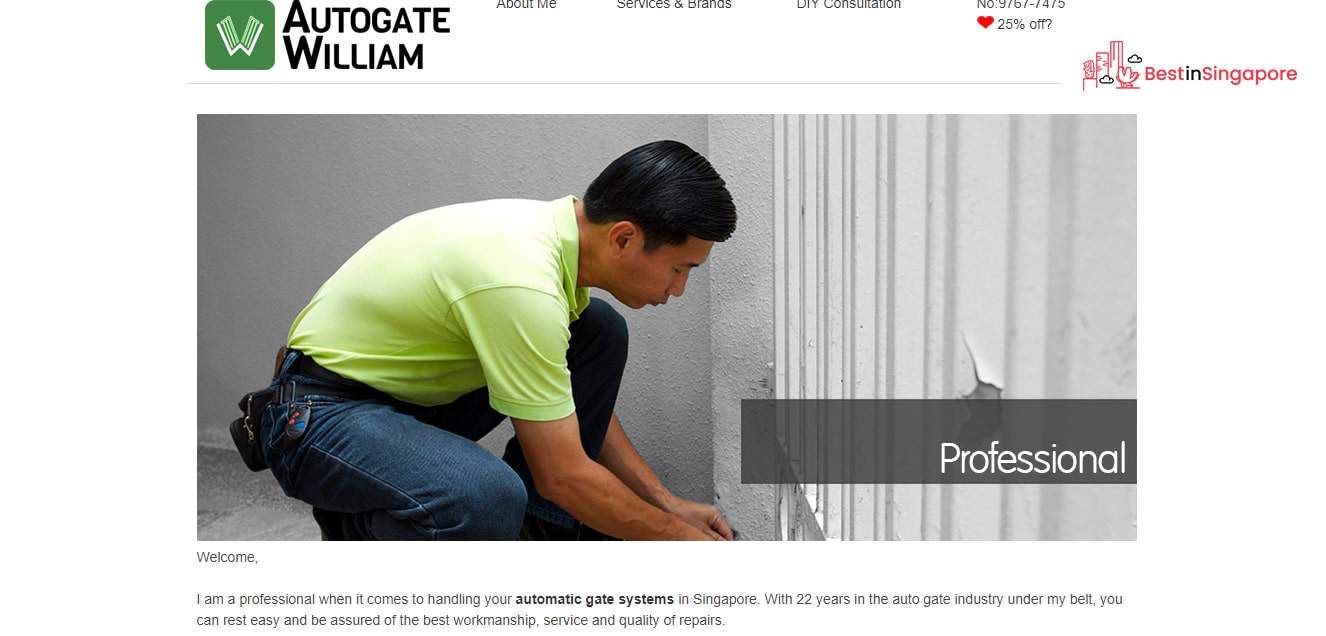 Autogate William is headed by its namesake, William, a technician with more than 22 years of experience in the auto gate industry. If you're looking for a trusted name to repair your driveway gate, then there's no better option than him!
One reason we consider him one of the top options for the best auto gate repair in Singapore is the fact that he can work with any type of model, even the oldest ones. William knows how to repair swing and sliding gates as well.
Some of the brands that William works with are Besteam, Comex, Celmer, Dormer, Herostar, and Ranger, among others.
Highlights
22 years of experience
Free consultation
4. VETautogate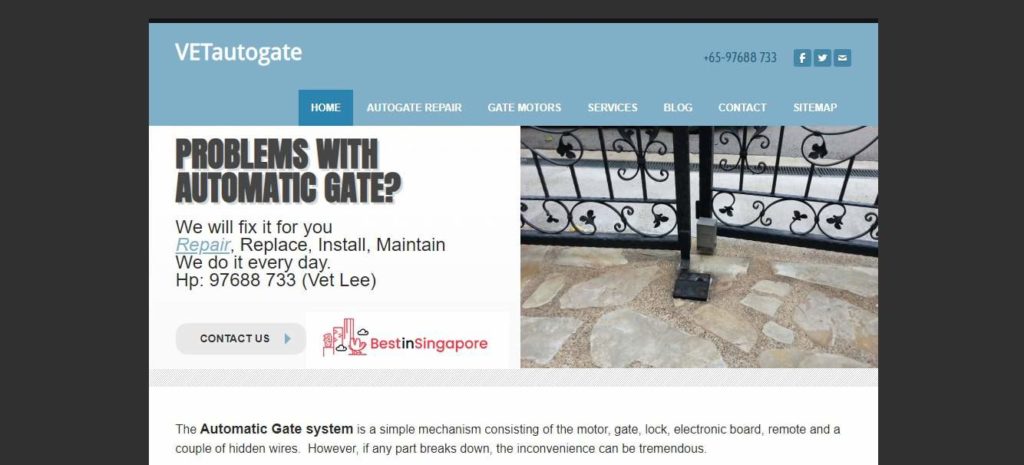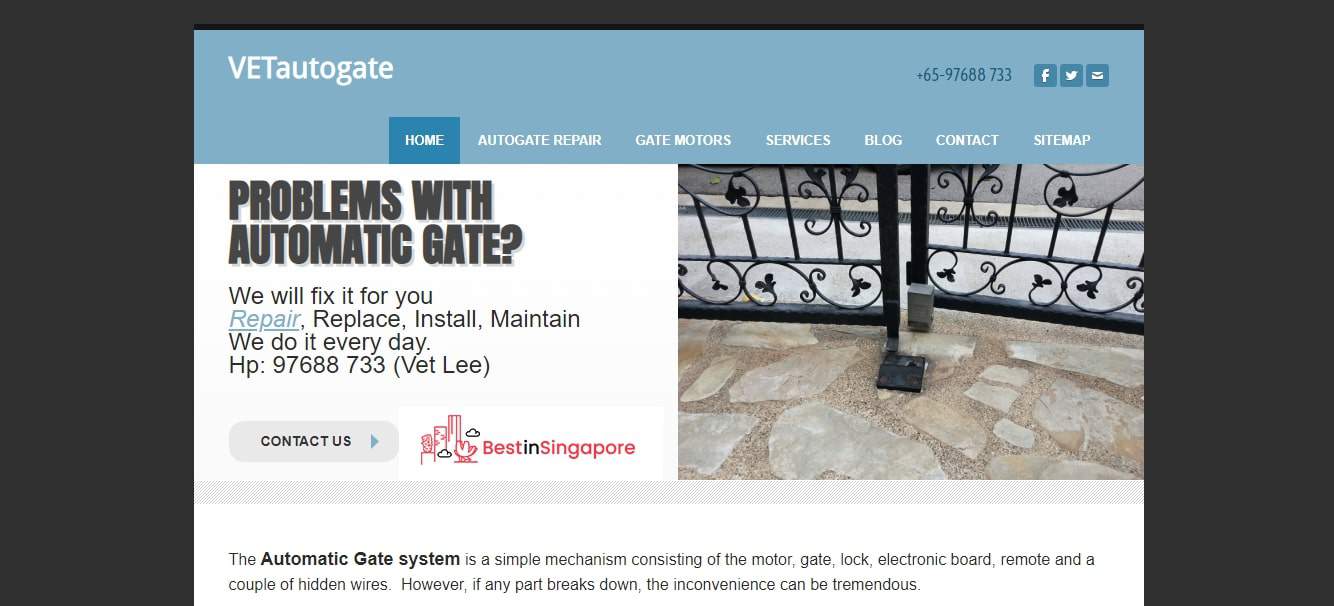 | | |
| --- | --- |
| BEST FOR | Competitive rates |
| SERVICES | Full system installation, auto gate repair, replacement, and maintenance |
| WEBSITE | http://www.vetautogate.com.sg/ |
| ADDRESS | 6 Ubi Road 1, #04-06 Wintech Centre Singapore 408726 |
| CONTACT DETAILS | +65 9768 8733 |
| OPERATING HOURS | Monday – Sunday: 9:00 AM – 5:00 PM |
If your gate isn't opening or closing fully, we recommend having it checked by the technicians of VETautogate. Its technicians specialise in all sorts of auto gate issues, including control jams, motor problems, dead gate systems and others.
Aside from the best auto gate repair in Singapore, VETautogate provides installation and maintenance services as well. Clients may even schedule regular maintenance where the gate's system will be oiled and checked comprehensively.
VETautogate will inspect the problem with your automatic gate before giving any estimates. You won't have to worry about going beyond the budget because it promises reasonable and transparent rates to every customer.
Highlights
Reasonable rates
Experienced technicians
Replacement of gears and parts
5. Autogate Singapore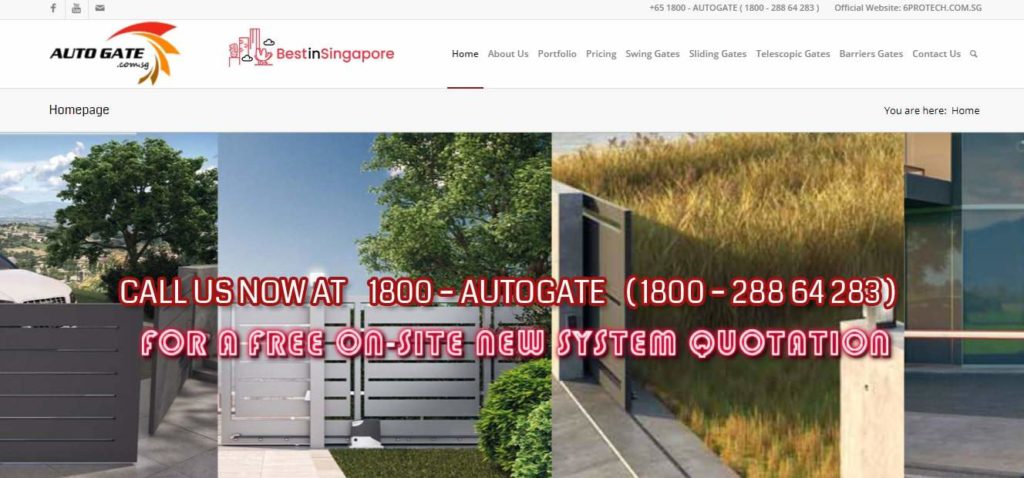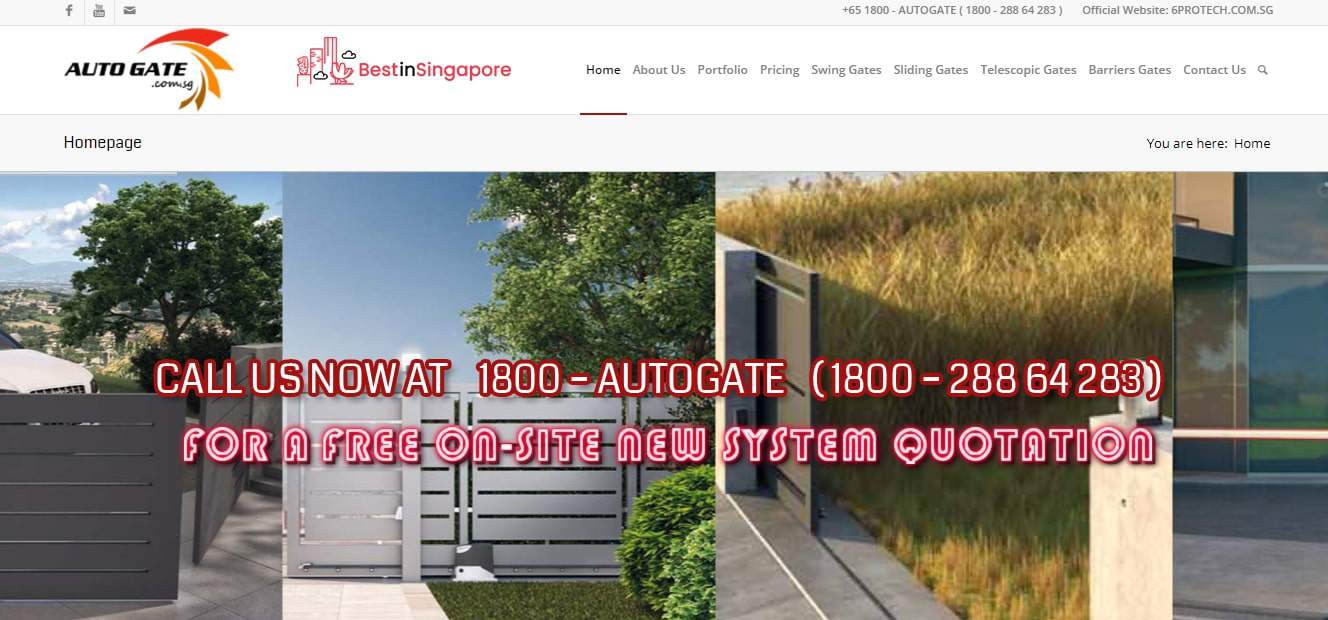 BEST FOR
High-tech auto gate repair equipment
SERVICES
Gate repair, system installation, checking and troubleshooting, general servicing, and maintenance
WEBSITE
https://www.autogate.com.sg/
ADDRESS
Suntec Tower One
7 Temasek Boulevard #12-07
Singapore 038987
CONTACT DETAILS
Tel : 6AUTOGATE
Tel : 628864283
OPERATING HOURS
Mondays To Fridays 9.00 AM To 5.30 PM
(Excluding Holidays & CNY Season)
If you're looking for a gate repair company that can fix all types of gates, then you might want to take a look at Auto Gate Singapore. It can deal with automatic gates and other gates like sliding, swing and telescopic models.
Auto Gate Singapore is known for providing customised repair services that are tailored to the client's needs. They create solutions that properly address the problem with your gates, offered at reasonable rates, of course.
One thing we like about Auto Gate Singapore is that it constantly enriches its technical capabilities to ensure that even the most complicated problems will be addressed and fixed.
If you're interested in trying out the services of Auto Gate Singapore, don't hesitate to give their hotline a call. You will be greeted by its customer service rep who will be more than willing to answer your queries.
Highlights
25 years of experience
Experienced technicians
Reliable customer service
Uses advanced and high-tech equipment
Customer Reviews
Here are some comments shared by Auto Gate Singapore's clients:
"I needed an urgent repair to my old Autogate system and am blessed to have found positive reviews of Mr Edmund Teo while googling. Edmund indeed lived up to the public reviews of him. He came punctually and patiently explained and fixed the problem on the spot. He is a professional, committed, very detailed and awesome chap. Would not hesitate to refer him to any one who needs a pleasant and reliable contractor to fix his Autogate system. Certainly will use his services again when need arises. Good job Edmund!"
"I'm so happy to have engaged Edmund to fix my auto-gate. He came on short notice and was able to recommend a few possible solutions for my choosing; no hard selling. Edmund is clearly very knowledgeable with auto gates and his workmanship is great."
6. LTM Automation Enterprise
Since 1989, LTM Automation Enterprise has worked hard to be the best solution for your communication and security needs as they are one of Singapore's leading and pioneering companies in the automatic gate system industry.
This company started with a simple goal in mind: to provide high-quality products and services to all of its clients while also listening to their needs. To go a step further, they ensure that your property is protected during rectification, installation, or servicing.
Over the years they have developed and provided a wide range of services for the communication and security industries, including distribution, installation, and maintenance.
Being in the industry for many decades already, LTM Automation Enterprise has grown to be a provider of automatic gate systems (auto gate), communication, and security services to commercial, industrial, statutory, and residential properties throughout the island.
They have expanded our services to include Video/Audio Intercom Systems, Telephone Entry, Closed Circuit Television Surveillance (CCTV), Door & Card Access, Electronic Parking System (EPS), and Metal Gate Fabrication due to the continuous advancement and improvement of technology.
LTM Automation Enterprise's vast knowledge and years of experience have been critical in allowing them to solve complex problems for their clients by devising effective solutions in the most unusual of circumstances.
Because they are dependable and trustworthy, they have been chosen by a number of reputable companies and schools, including SMRT Trains Pte Ltd, Meridian Junior College, and real estate firms such as Iland Property Pte Ltd.
Highlights
Been in the industry since 1989
Experienced technicians
Reliable customer service
Uses advanced and high-tech equipment
Chosen by reputable companies and schools
Customer Reviews
Here are some comments shared by LTM Automation Enterprise's clients:
"LTM has provided exceptional quality service to our estate in helping to provide a new auto gate and additional speed hump for the entrance. The staff are responsive and understanding to our needs as well. I recommend their services to other MCSTs and/or businesses." – The Village Management
"Joel is friendly and transparent with his pricing. Overall, pleasant experience and good value as compared to other installers" – Lim Shawn
7. Astrol Security Engineering Pte Ltd.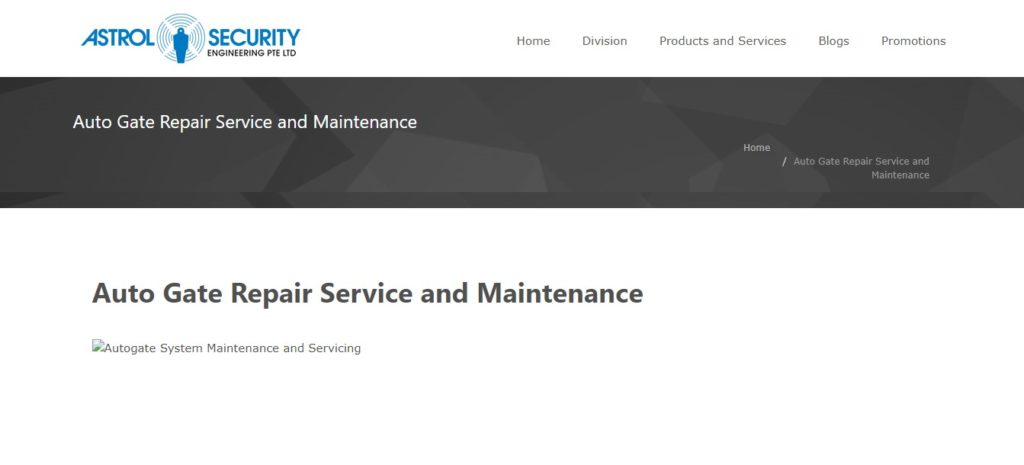 If you are experiencing some issues with your automatic gate, we believe that Astrol Security Engineering Pte Ltd. can be your go-to company for solutions.
In comparison to other companies, they are always ready 24/7. No matter what time of the day it is, they can handle repairs.
Apart from this, they are one of the few companies that offer numerous services. They do not only repair gates, they also check and test remote receiver or transmitter, do gear rack alignment, photobeam safety device, and so much more.
If you are not sure of what type of service you need, you may simply let them know about your situation and they will assist you with all they can.
With Astrol Security Engineering Pte Ltd., a residential auto gate system annual maintenance package starts at $450.00. You may say that this is expensive, but we are sure that this is worth it as automatic gates can give you peace of mind knowing that you and your family is protected.
Highlights
With 40 years of experience
Experienced in repair, installing, maintaining, and handling all auto gate needs
Caters to both residential and commercial properties
Customer Reviews
Here are testimonials from their previous clients:
"The services are excellent. Really appreciate the team for their fast response and services. Communications/ Explanations were very clear when enquiring about any issues faced at site. I do hope that we can work on more sites moving forward." – MR MOHD FIRDAUS
"Good follow-up to always schedule Maintenance appointments. Service staff (hotline) & technical staff are always friendly and helpful." – MS GRACE LIM
And with that, we conclude our list of companies that offer the best auto gate repair in Singapore. If you've consulted with any of these companies in the past, share with us your experience with them in the comments.
If there are other issues in your household that need to be repaired, we recommend taking a look at our list of options for the best home repair services in Singapore. These companies can fix literally anything, from broken ceilings down to plumbing problems.