The 5 Best Options for Best Window Grill in Singapore
Aside from installing home security devices, placing window grills is also a must to keep your family and properties safe from unwanted access. To help you search for reliable contractors who can help you with the overall selection and installation, we've found you these shops that offer the best window grills in Singapore!
Whether it's for home or office space, they can assist you in choosing the highest quality and durable window solution. See our list below to find out more about their offered services and rates!
1. Max Window Grill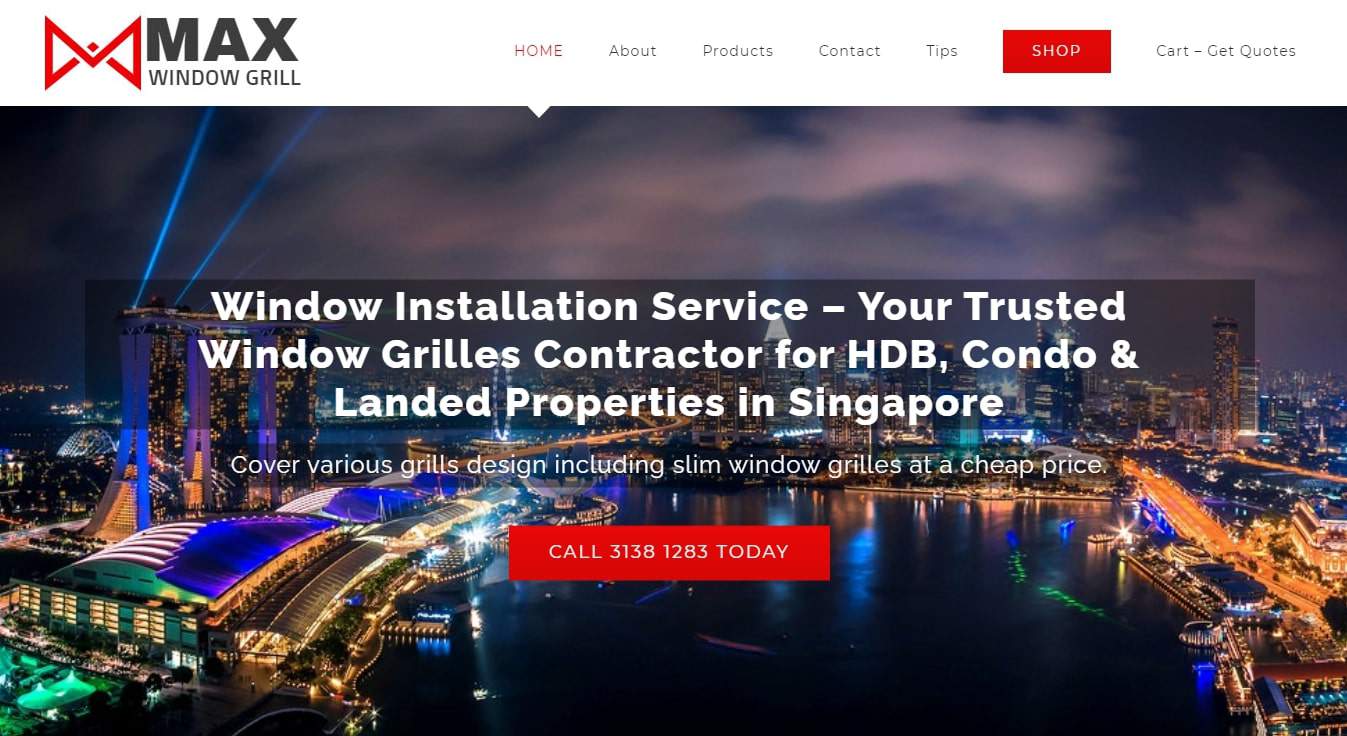 | | |
| --- | --- |
| BEST FOR | Customised window grills |
| WEBSITE | maxwindowgrill.com |
| ADDRESS | 3013 Bedok Industrial Park E, Singapore 489979 |
| CONTACT DETAILS | +65 3138 1283 |
| OPERATING HOURS | Open 24 Hours |
Max Window Grill is a trusted contractor for homes or commercial buildings and they feature varied grills designs at a cheaper price! So if you need to install high-quality window grills on your home or office, they've got great collections!
They don't only focus on strong security but they also enhance the aesthetic in every window grill design — adding a decorative piece at your home/office interior. On their catalogue, you can find metal, aluminium, and wrought-iron grills.
If you prefer an old school design, you may opt for a metal grill and if you want a flexible and customizable style, you might be interested in aluminium grills. And for those who want to have a beautiful addition at home, you'll love their wrought-iron grills!
Aside from being a certified supplier and installer of premium window grills, they also provide alteration services for certain parts of the property. If your place doesn't have any strict requirements for window grills, then they can help you achieve your ideal window grill design and installation.
With their best window grills in Singapore, you can get both protection and beauty at your place.
Highlights
On-site installation service
Accredited supplier and contractor of the window and door grilles
Free quotation
2. Pang Giap Enterprise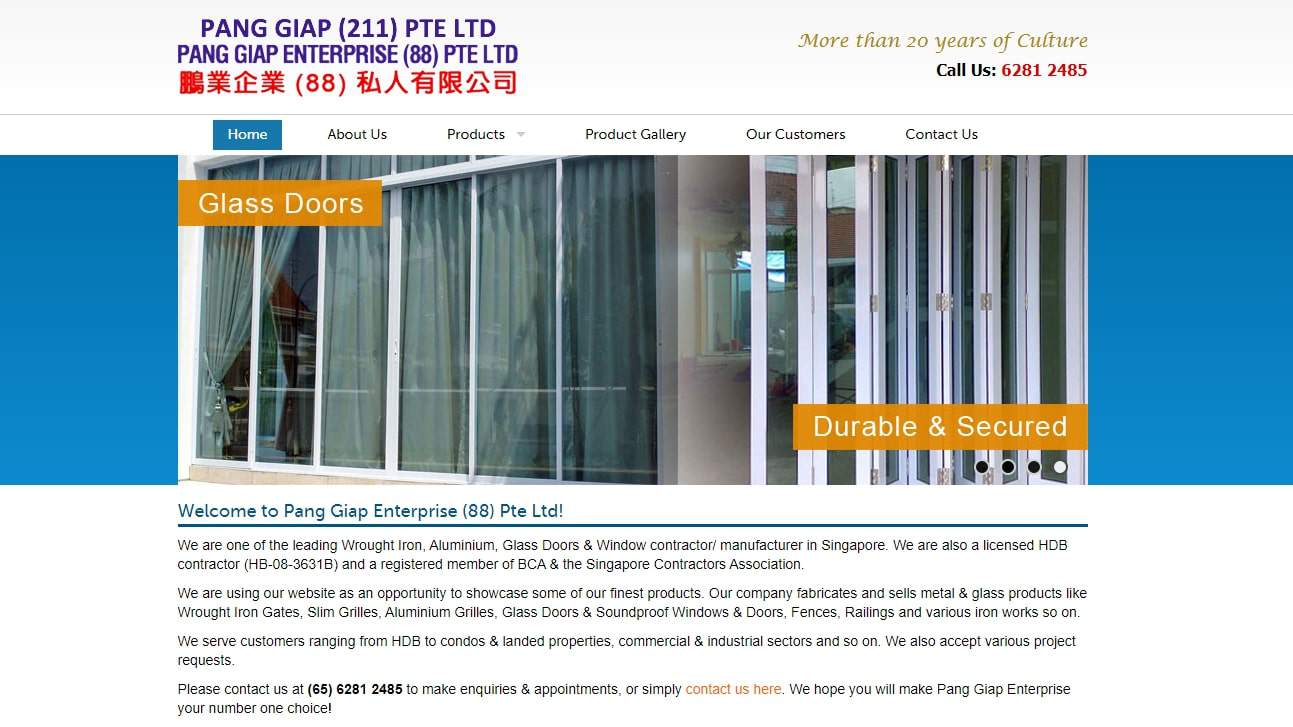 | | |
| --- | --- |
| BEST FOR | Artistic, modern, and antique designs, Slim grills |
| WEBSITE | http://www.panggiap88.com.sg/ |
| ADDRESS | No.9 Defu Lane 3 #01-10L Singapore 539441 |
| CONTACT DETAILS | 6281 2485 |
| OPERATING HOURS | (Appointments Only) |
Pang Giap Enterprise provides aluminium and wrought-iron window grills which are mostly designed with slim yet strong structures — showcasing a sophisticated style.
Unlike most shops, they have their own factory for quality production and control so rest assured that all products are made with sturdy and reliable builds.
The biggest advantage of their slim grills is that they're easy to maintain. They also allow more natural light into the room and offer a scenic view of the outside.
They have a team of trained and skilled technicians and installers who've provided excellent workmanship to thousands of homeowners. This is why many recognised them as the best HDB window grill contractor in Singapore.
They've also worked under commercial and industrial sectors so if you're looking for window grill specialists who are well-versed in major projects, they can assist you in every process.
Highlights
Innovative slim window grill
Full Solid mild steel material
Customer Reviews
Most customers were impressed with the overall services of Pang Giap Enterprise. They said that the slim grills were easy to clean and safe for the toddlers as well — which is why the shop is known for having the best window grills in Singapore.
They also mentioned the kind and friendly staff who've assisted throughout the entire installation process. A customer posted this feedback:
"Pang Giap has an experience team with good knowledge which give sincere advices. The team is very careful and detailed throughout the process installing the windows and grilles. Reasonable price. Appreciate your hardwork. Thank you."
3. GrillesNGlass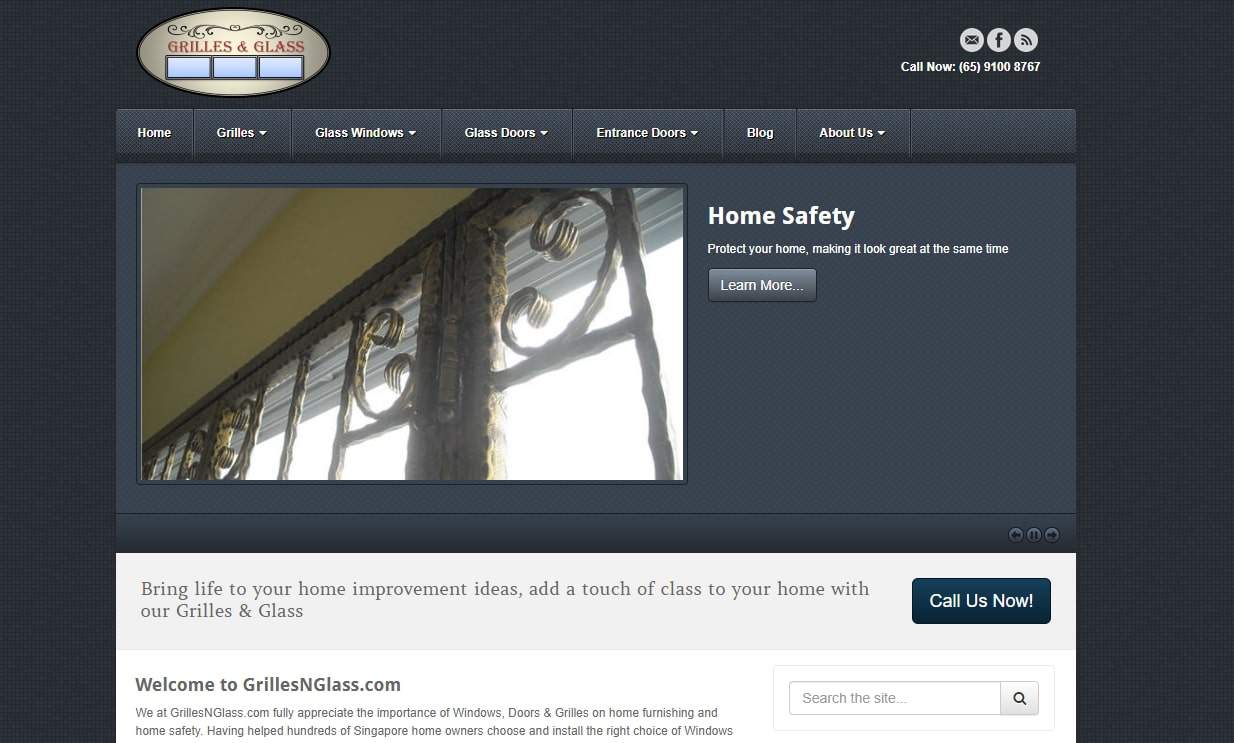 BEST FOR
Window grills with in-built lock and key mechanism
WEBSITE
grillesnglass.com
ADDRESS
Woodlands Industrial Xchange, 71 Woodlands Avenue 10, #07-14, Singapore 737743.
CONTACT DETAILS
(65) 9100 8767
OPERATING HOURS
Weekdays: 9am–6:30pm

Saturday: 9am–5pm
GrillesNGlass is an HDB-licensed contractor that's known for offering quality grills, windows, and doors. When it comes to their window grills, they have extensive selections of aluminium and wrought-iron grill types.
Most of their grill designs feature coloured/white powder-coated styles and sliding/casement kinds. Moreover, all of their products are factory-direct, making their collections available at affordable prices.
If you live in a condominium where there are window grill restrictions, there's no need to worry because they're knowledgeable in complying with the management and they'll make sure that the installation will be consistent with the stated guidelines.
For improved security, their best aluminium window grills in Singapore come with a convenient in-built lock and key mechanism so you don't have to buy a specific set of locks.
Meanwhile, their wrought-iron grills feature stunning designs like curvaceous shapes, geometrical, and abstract patterns such as moons, stars, flowers, leaves, etc. They can even customise a unique design for you!
Aside from this, all of their window grills are also made with rugged structure and corrosion-resistant finish for enhanced durability.
Highlights
On-time delivery and thorough installation process
Free quotation
Customer Reviews
Customers said that they were highly satisfied with their experience with GrillesNGlass. They shared that the technicians were able to accommodate their personal requests and provide on-time installation services.
A customer left this feedback:
"I have engaged Alex&Vincent to install window grills in my previous home and current home. They remain always professional, willing to listen and meet our requests including offering alternatives. Their prices are very reasonable too. The installations done on time, and end result always very satisfactory."
4. Victorious Windows & Yong Ka Aluminium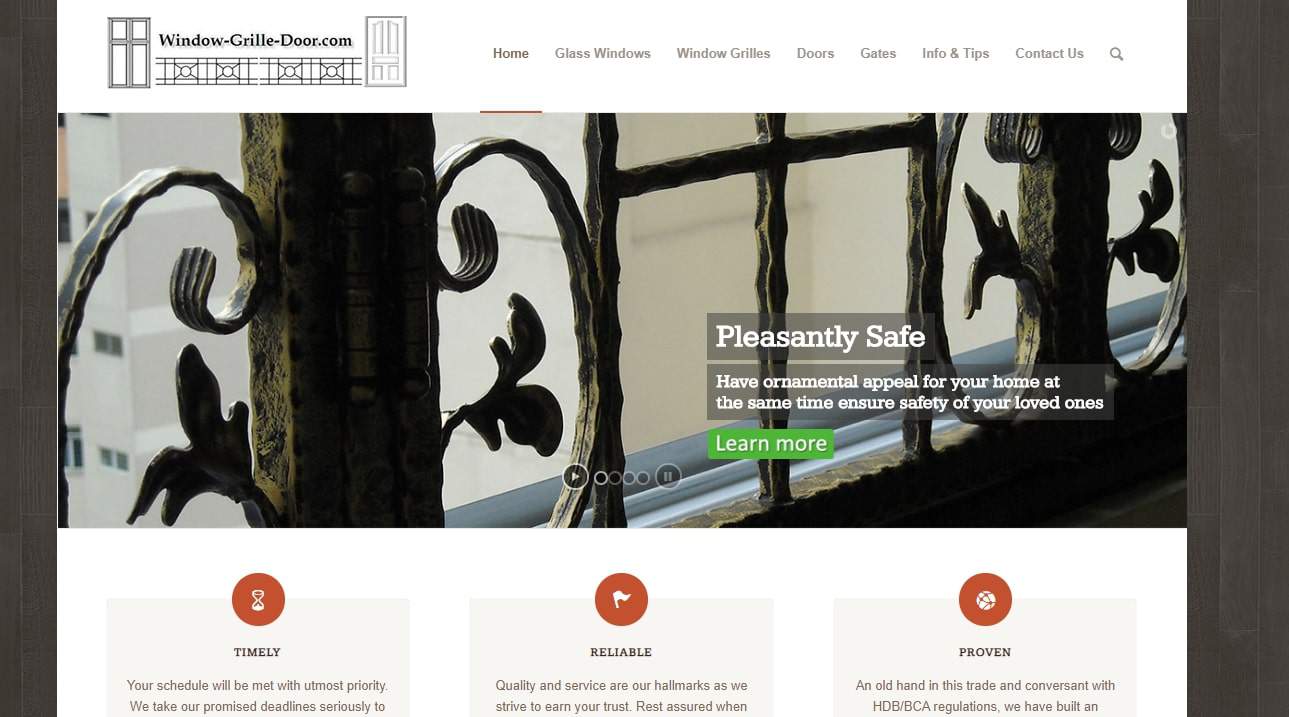 BEST FOR
Iron strength security
WEBSITE
http://window-grille-door.com/
ADDRESS
20 Ang Mo Kio Industrial Park 2A #06-30 AMK Techlink Singapore 449408
CONTACT DETAILS
Monday to Friday: 9 am to 6 pm

Saturday: 9 am to 3 pm

OPERATING HOURS
Site visit by Appointment Only
Victorious Windows & Yong Ka Aluminium is one of the best HDB window grill contractors in Singapore that introduce stunning window grill designs with iron strength security — perfect for every home and office space!
Their selections are made with different materials including aluminium, iron, and wrought-iron. These products also come with various designs and colours, along with a locking mechanism tailored for your window measurements.
For elegant, economical, and lightweight yet durable window grills, you may opt for the aluminium types. Their grill panel designs include horizontal or vertical bars and most styles come with a white powder-coated finish.
For a classic and antique look, you'll love their wrought-iron grill selections that can also be moulded into thematic shapes. They have exclusive designs like stars and moon, marine life, majestic, and so much more!
Highlights
Lock mechanism
Horizontal and vertical bar designs
5. Wee Ping Aluminium Contractor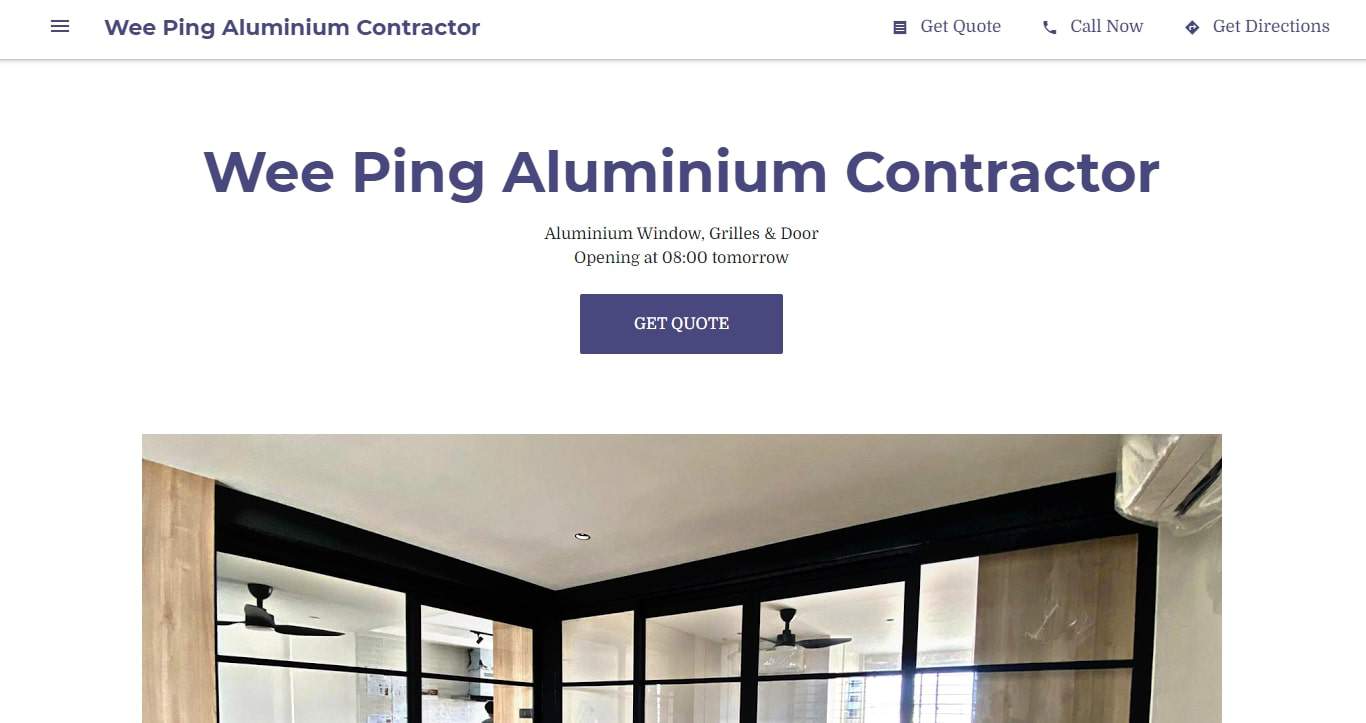 Wee Ping Aluminium Contractor specialises in providing the best aluminium window grills in Singapore — suitable for both residential and commercial properties. They've installed window grills on HDB flats, BTO flats, condominiums, and more landed properties.
They also conduct free on-site quotations where they present different grill colour sample designs to choose from. In part with this, they'll take measurements to make sure that the grill will fit into your window space.
Most of their grills are designed with horizontal bars for a simple yet elegant look that'll complement any home interior.
Highlights
Residential and commercial services
Free on-site quotations
Whether you want a minimalist or decorative design for your window grills, these shops can offer you a wide range of styles to choose from!
For more options, see these best window contractors in Singapore!