The 7 Best TV Bracket Installation Services in Singapore
Have you recently bought a new television set but you can't seem to install it in your room? No need to worry as we've gathered some of the most recommended service centres that provide the best TV bracket installation service in Singapore!
Installing a wall-mounted TV is not an easy DIY job that everyone can do. If you do it wrong, it'll surely cause you damages and maybe even expensive repairs.
So to save yourself from all the hassles and unnecessary costs, here are the most reliable companies known for providing the best TV mounting service in Singapore.
1.  Obedience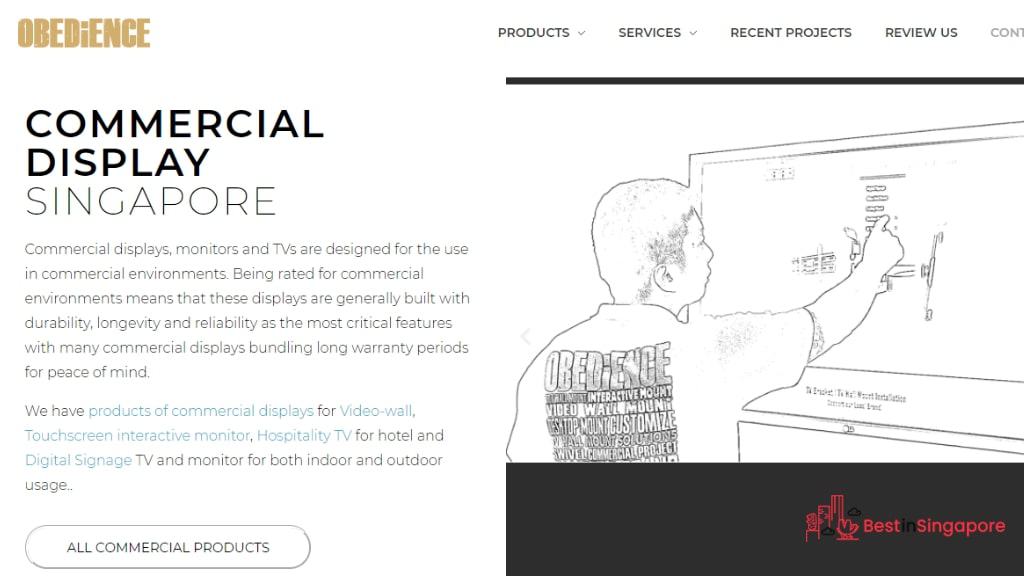 | | |
| --- | --- |
| BEST FOR    | Installation services for all types of flat panel displays |
| WEBSITE | https://obedience.sg/ |
| ADDRESS | 3014 Ubi road 1 #04-280 Singapore 407802 |
| CONTACT DETAILS | +65 8811 0011 |
| OPERATING HOURS | Monday – Friday: 9:00 AM – 5:00 PM Saturday: 9:00 AM – 3:00 PM |
Obedience offers different kinds of TV mounting systems for all kinds of flat panel displays. This includes full motion, ceiling, digital signage, video wall and display trolley mounts.
They're fully equipped with the latest technology and engineering designs, so you can be sure that the whole setup will be safely and properly done.
If you're going to move your TV, they also provide relocation services which involve dismantling, transport, and installation. They will also provide drywall wood reinforcement to hang your large, heavy, and expensive TVs.
Furthermore, all of their technicians are trained and certified to work on installation projects.
Highlights
Relocation services
Drywall wood reinforcement service
House brand TV brackets
Residential and commercial services 
3 years of on-site warranty
Customer Reviews
Customers gave positive reviews for the overall services of Obedience. They mentioned the on-time arrival of the technicians as well as the clean and safe installation process.
This is why many of them claim that Obedience has indeed the best TV bracket installation service in Singapore. A customer wrote this review:
"Very responsive and flexible in terms of contacting them and the date I need for the installation. Mr Meng who did the fixing for me are very friendly, he's very pro and helpful. Most importantly, all their brackets are in reasonable price. Will engage their services again when I change my TV and will introduce Obedience TV to all my friends. Thank you Obedience TV. "
2.  Tiger Mount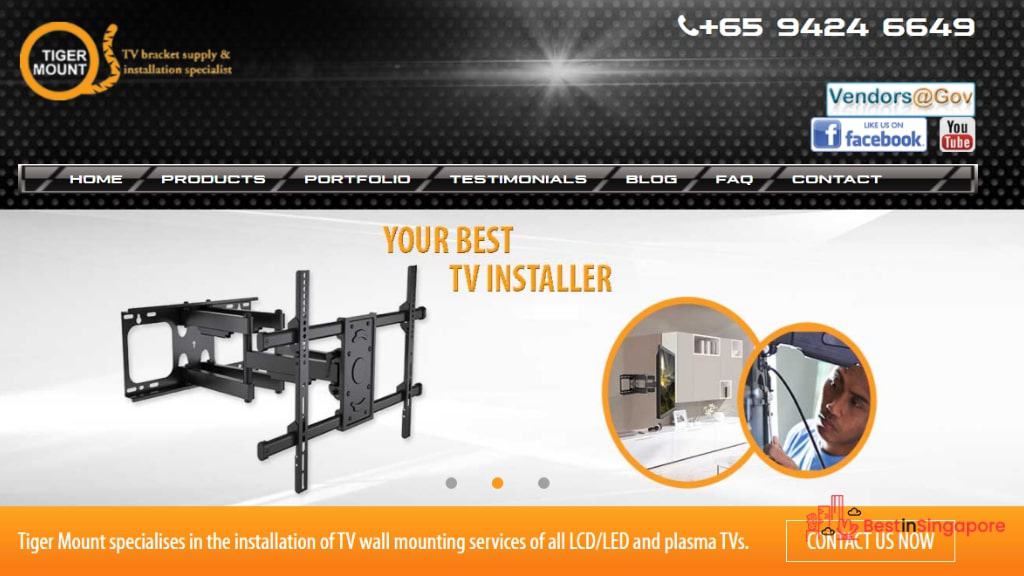 | | |
| --- | --- |
| BEST FOR    | TV bracket supply and installation services |
| WEBSITE | https://tigermount.com.sg/ |
| ADDRESS | 11 Woodlands Cl, Singapore 737853 |
| CONTACT DETAILS | +65 9424 6649 |
| OPERATING HOURS | Monday – Saturday: 8:30am–5:30pm |
Aside from producing up-to-date TV brackets and TV wall mounts, Tiger Mount also specialises in providing fitting solutions and installation services for all LCD/LED and plasma TVs.
They offer one of the best TV bracket installation services in Singapore for fixed, tilting, single-arm, double-arm, and ceiling mounts.
They've also served both residential and commercial property owners — offering a one-stop-solution for TV bracket installations for every client!
Highlights
Wide selection of premium quality TV wall mounts
Free consultation
Customer Reviews
Clients were highly impressed with Tiger Mount's fast and precise installation works. Take a look what this satisfied customer has to say about his experience with their services:
"Arranged with them to install a fixed mount for my bedroom TV. They were very punctual for the appointment. Very professional as well. Adviced me that if I used the fixed mount, I may have difficulty accessing my electrical outlet. The articulated arm typed of wall mount was chosen at additional $20. Installation was fast and hassle free. The guys were really friendly and helpful with their advice. Highly recommended and will return to them for future installation."
3.  Speed S Mount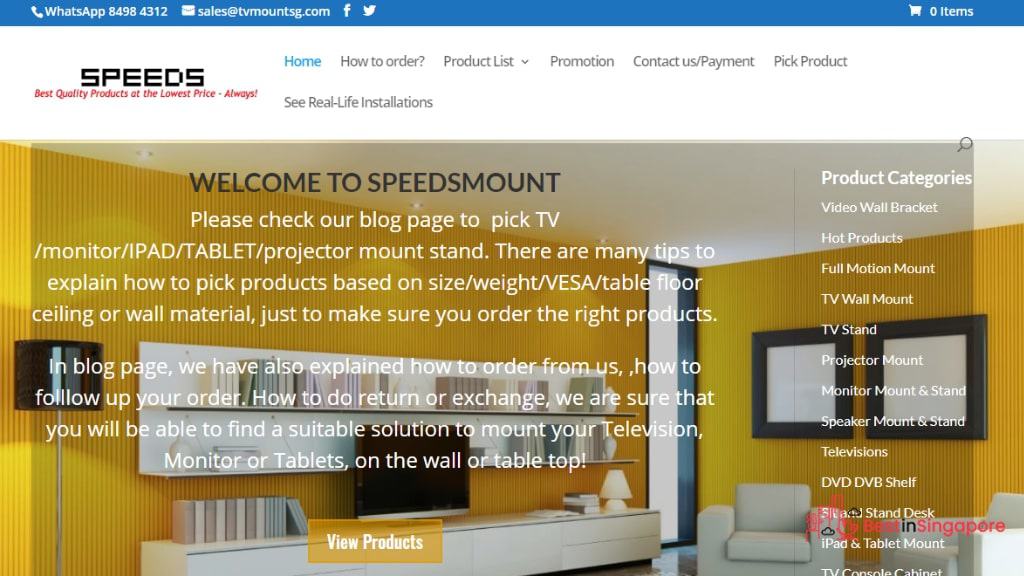 | | |
| --- | --- |
| BEST FOR    | Affordable installation services |
| WEBSITE | https://tvmountsg.com/ |
| CONTACT DETAILS | 8498 4312 |
| OPERATING HOURS | Monday – Saturday: 2:00 PM – 5:00 PM   For other days, contact the company in advance. |
Similar to the previous option, Speed S Mount also provides their own brand of TV bracket products. However, they have a larger range featuring all kinds of wall mounting solutions for projector, monitor, and tablet mounts.
As a provider of the best TV mounting services in Singapore, they have skilled and experienced technicians who'll make sure that your TV display will be installed safely.
Once you've purchased your chosen TV bracket, they'll deliver it at your place along with the installation services.
Highlights
Great range of TV mounting products
Prompt installation process
4.  Tivi Solutions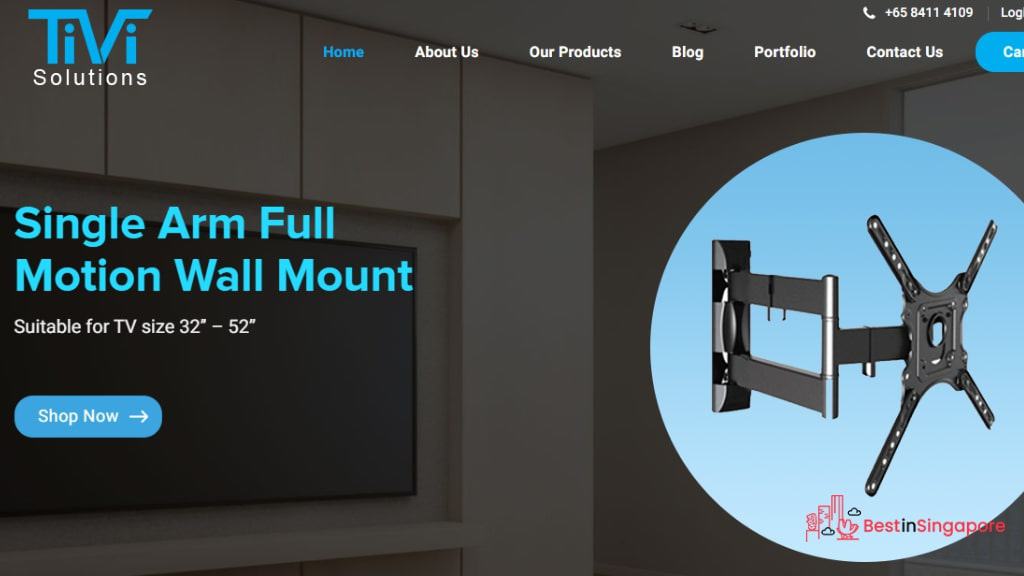 | | |
| --- | --- |
| BEST FOR    | Installations services on all kinds of walls/surfaces |
| WEBSITE | https://tivi.com.sg/ |
| ADDRESS | 3026 Ubi Road 1, #03-156, Singapore 408719 |
| CONTACT DETAILS | +65 8411 4109 |
| OPERATING HOURS | Monday – Friday: 8:00 AM – 5:00 PM |
Tivi Solutions houses a team of professional and dedicated technicians who have years of experience in renovation services. So if you're planning to mount your TV on a wall — whether it be a concrete, partition, marble or wooden wall — they will offer you the best TV bracket installation service in Singapore!
If you're having concerns about your home getting dusty after the installation, don't worry because they will do a complete cleanup using a vacuum drill to remove the dust and other particles to keep your place clean.
Their installation workmanship also comes with a warranty, ensuring full support even after the work is done.
Highlights
TV bracket and TV mount products
Residential and commercial services
Workmanship warranty
Customer Reviews
Customers were impressed by how Tivi Solutions provides comprehensive mounting solutions based on their specific requirements. A customer left this feedback:
"Thank you Tivi Solutions for the amazing swivel mount. Professional workmanship and installation took less than 30 minutes. Product is perfect. Thanks again and stay safe!"
5.  Yi Leng Service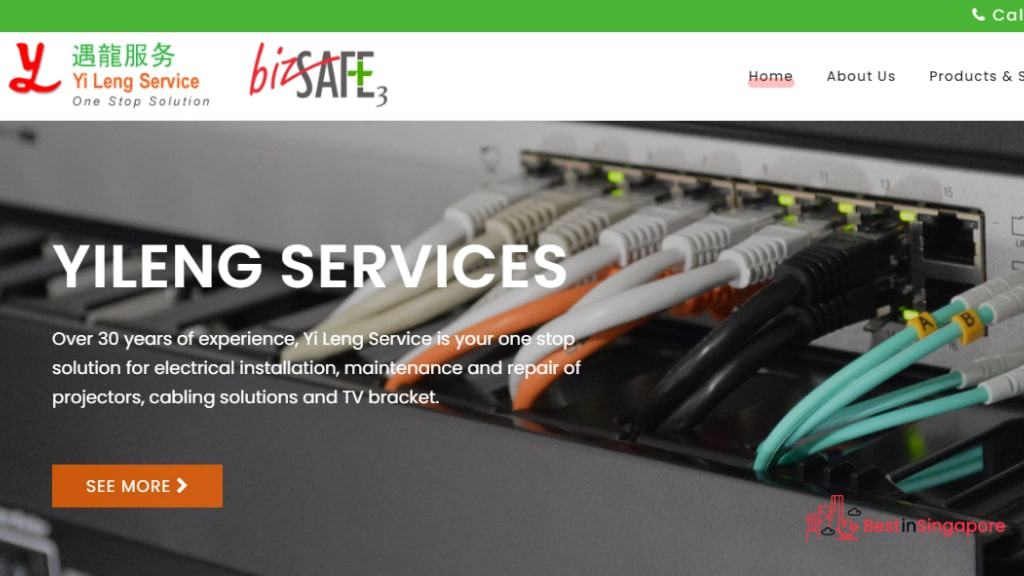 | | |
| --- | --- |
| BEST FOR    | Industrial and government sectors, Custom-made TV brackets |
| WEBSITE | https://yileng.com.sg/ |
| ADDRESS | 32 Defu Lane 10 #03, 24 Singapore 539213 |
| CONTACT DETAILS | +65 9459 2886 |
| OPERATING HOURS | Monday: 8:00 AM – 9:00 PM |
Yi Leng Service specialises in TV installation, maintenance, and repair works. When it comes to the installation process, their products and services fit perfectly into any type of setting or industry.
Whether it's for home, office, or industrial works, their versatile and skilled team will surely provide high-quality workmanship. They can help you with choosing the right TV bracket, cord installation and TV wiring.
They also offer a huge variety of wall brackets for all kinds of TVs. They even have custom-made adjustable brackets if you can't find any product that fits your TV display.
Moreover, electrical works and cable solutions are also part of their services.
Highlights
Home installation
Commercial maintenance
Industrial repairs
Customer Reviews
Due to the versatile services of Yi Leng Service, many customers consider them to have the best TV mounting services in Singapore. A customer shared this experience:
"Very good experience with Yi Leng electronics. Help to set up two classroom projectors and installed to the ceiling at a really competitive price. Highly recommended."
6. TV Bracket SG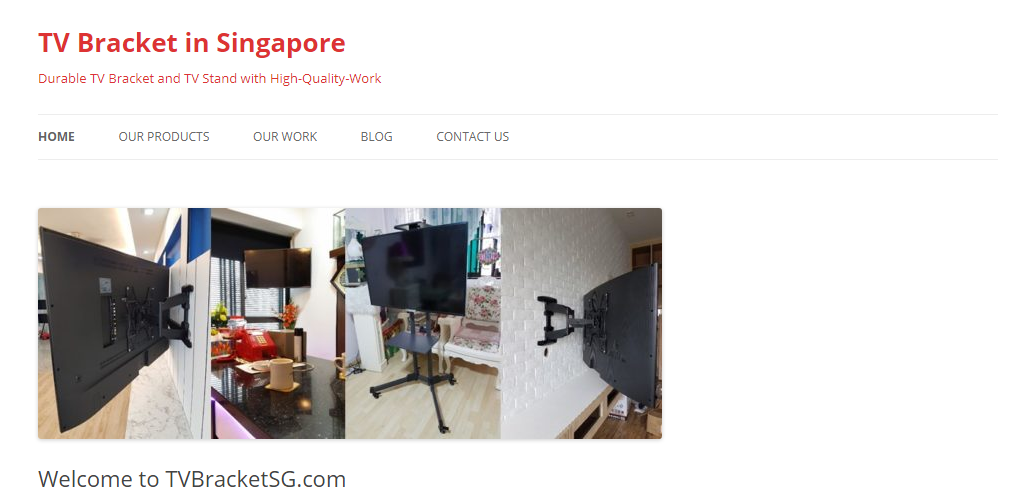 | | |
| --- | --- |
| BEST FOR | Bracket installation for various sized TVs |
| WEBSITE | https://www.tvbracketsg.com/ |
| ADDRESS | 07-07 Gambas Cres, Blk 2 Nordcom II, Singapore 757044 |
| CONTACT DETAILS | 65 91837250/[email protected] |
| OPERATING HOURS | 9:00 AM – 5:00 PM |
This Company established since year 2012 and continuously supply universal and multisized and range of TV Brackets and stands in Singapore. They do offer installation and assembly services for all LED, LCD, OLED, Plasma, Curved and Commercial Display TV.
Their team of installers are well-equipped with more than 5 years relevant experience in this industry. They also provide professional advices to clients.
Since established, they always recommend our clients on selecting the most suitable TV bracket to cater for individual needs. They do understand every client's requirement and expectation are different.
Highlights
Affordable services
Fast response from staff
Polite team of installers
Customer Reviews
Here are some verified feedback from previous clients:
"Very fast and efficient team who came down to fix two tv mounting for my house. Even helped to clear up aft fixing. Hassle free and prompt service. Team was also very polite and responsive."

"Very fast and efficient! I love how they work things together and gave me the best advise even before putting the bracket up. Workmanship is good and everything looks clean! Everything is worth! Thank you so much, guys!"

"Very impressed with the service by the duo! Highly recommended and they Did a clean job I don't even need to vacuum my floor after the work! Nice."
7. HMezsofa

HMezsofa are professionals in dealing with furnitures of all materials for all of your needs. They are Singaporeans and their professional business offices are in Singapore.
They specialise in TV Feature Wall, Storage bed frames, electroplating material, marble designs of more than 1000+, genuine leather sofas. They are also looking for partnerships from business owners, interior designers and also customers.
They offer fast-paced yet quality services. HMezsofa will never let their clients down when it comes to providing the best installation needs in the area.
Highlights
Quick response
Professional workmanship
Excellent value for money
Customer Reviews
Here are some verified feedback from previous clients:
"Excellent customer service. Highly recommended. We love our living room's new look."

"Recommended! The workmanship is very good and pretty fast. Their service is good and will answer your questions very fast and understand what you need. They also have many designs can let you to choose for your sweet home. Like it so much."

"Value for money and good service provided by both the seller Hwee and installer Muru. They are exceptionally patience and professional! Thank you!"
And that's our list of places with the best TV bracket installation service in Singapore! If you'd like to recommend more service centres, you may also share them with us in the comments!
Need to have more repairs down around your home or office? Make sure to hire the best handyman in Singapore for all your repair needs!