The 6 Best Microwave Ovens in Singapore
Not everyone has the time to cook their own meals before going to work or school. If you're one of these busy people, getting one of the best microwave ovens in Singapore would be the wisest solution, as it offers quick-cook options.
Whether you're in the mood for pizza rolls or to finish last night's dinner, the best microwave ovens in Singapore have you covered. This appliance is a staple that should be on every kitchen countertop.
If you're clueless about the best microwave ovens in Singapore, however, worry no more because we're here to help out. We asked for recommendations from locals, tested them ourselves, and included the worthy ones in our list.
We'll review each of them here, along with their pros and cons, their best qualities, and what users think of them. We'll explain some of the factors you have to consider when looking for the best microwave ovens in Singapore as well, in case you want a primer on those.
How to Buy the Best Microwave Ovens in Singapore
Looking for the best microwave ovens in Singapore isn't going to be easy as there are thousands of options. How would you know which one is worth spending money on?
Well, there are some factors that you should take note of when purchasing a microwave oven. The goal is to make sure that it caters to your needs in the kitchen, as you'll see below.
1. Type
There are 3 common types of microwave oven: countertop, over-the-range, and built-in. All of these share the same function, but differ in terms of size, features, and price.
If you're not looking for anything fancy, then go for a countertop microwave, which is the most common of all 3. It generally costs less compared to the other types and is known for its easy and convenient installation.
All you have to worry about with a countertop microwave is having a countertop that can accommodate its size and an outlet for the plug. Unfortunately, it doesn't come with a lot of special features, but hey, it gets the job done.
On the other hand, over-the-range can be installed above your range, which saves some counter space. It's a bit more expensive compared to countertop microwaves but it's the perfect option for those who have limited kitchen space.
If you're willing to spend a lot for a microwave oven, then we recommend going for a built-in microwave. It can be installed inside your cabinet, under the cabinet, or even above your range.
Build-in microwave ovens are usually used by pastry chefs when making cookies, cupcakes, and bread. If you want an oven that does more than just heat food, then this one's the best option for you.
2. Size
Once you've identified the type of microwave that would work best for you, it's time to consider how it's going to fit inside your kitchen.
It's important to know the right size of a microwave oven: it should match the remaining space in your kitchen and your food intake.
We recommend measuring the countertop or the space where you're planning to place your microwave before anything else.
If you have limited kitchen space, then it's best to settle on small models to prevent cramming the space with huge appliances. The common dimensions of compact microwave ovens are 17 x 10 x 14 inches.
Aside from dimensions, you have to consider internal capacity as well. Smaller microwaves are usually under 1 cubic foot, while larger models range from 1 to 2 cubic feet.
3. Wattage
Generally, the higher the wattage, the faster your food will be cooked. If you're always in a rush, then going for a microwave with higher wattage seems like your best option.
Some of the best microwave ovens in Singapore sit somewhere between 600 watts to 1,200 watts. If you're looking for something higher than that, there are larger and more expensive models that tend to have wattage higher than 1,200.
4. Features
Apart from their heating abilities, the best microwave ovens in Singapore have additional features and options.
Some of the common features found in microwave ovens are auto-reheat, auto-defrost, auto-cook, and shortcut keys. We recommend going for a model that has all or at least 3 of these features.
If you want advanced features, then you're going to need to prepare your wallet because the more features a microwave oven has, the more expensive it gets.
Some expensive models come with smart technology, Bluetooth, removable racks, sensor functions, child-lock protection, quick keys, and convection cooking.
The Best Microwave Ovens in Singapore
As you browse our list of the best microwave ovens in Singapore, don't forget the factors we've just mentioned! Keeping these in mind will make it easier for you to find the right model that fits your needs.
Let's now see which microwave ovens we deem worthy!
1. EuropAce Microwave Oven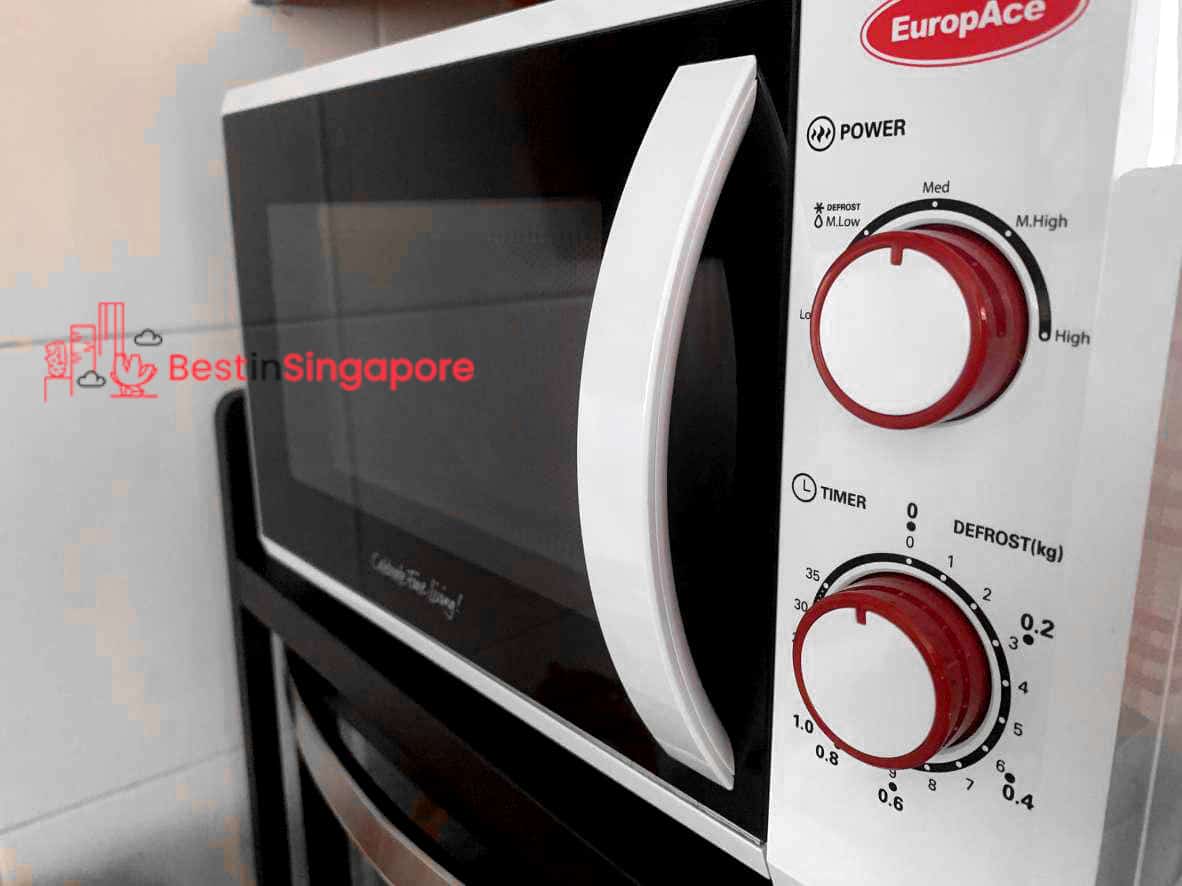 Price: $69.90
For cheapskates out there, we recommend taking a look at the EuropAce Microwave Oven which is the cheapest option in our list. It's originally priced at $129.00, but you can get it for almost half the price on Shopee.
It may not be as advanced as other microwave ovens, but it does the job just as well, if not better than the expensive models. According to some buyers, the EuropAce Microwave Oven also has a durable build that doesn't seem to break easily.
Some of its features include a 35-minute timer, defrost setting, pull-open door, multiple power levels, diameter turntable, and easy control buttons. You won't have to struggle using it because it doesn't come with complicated controls.
Another feature we like about the EuropAce Microwave Oven is the high wattage, which is a bit uncommon for its price. It has a total wattage of 1050, so reheating and cooking will be a lot faster and easier.
In terms of its size, the EuropAce Microwave Oven has a dimension of 440 x 259 x 343mm and a total weight of 11. 2It'. Its internal capacity, on the other hand, is 20 litres.
Pros
Competitively priced
Discounted price
Durable build
Easy to control
Cons
Limited internal capacity
No special features
2. Samsung Microwave Oven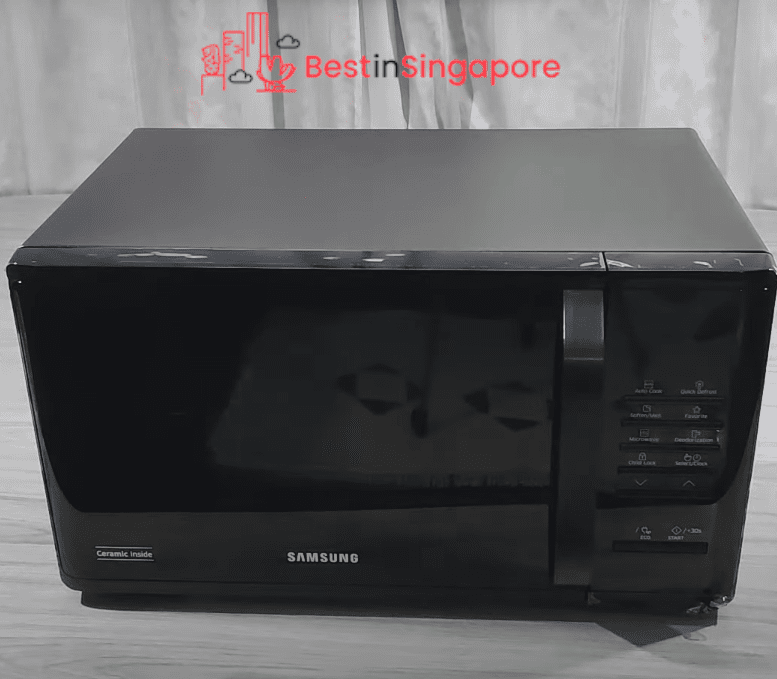 Price: $159.00
As it's one of the most trusted brands in home appliances, we believe that Samsung carries one of the best microwave ovens in Singapore as well. Here's the Samsung Microwave Oven, and we believe that it's a must-have for every home here in Singapore.
For one, it has a quick-defrost function that defrost food evenly and instantly, faster than other models. It can defrost meat, fish, veggies, bread, poultry in less than 3 minutes.
The Samsung Microwave Oven also makes it possible to heat food properly and evenly without overcooking. There's no need to monitor your food while it's inside the oven, allowing users to focus on other things.
Another reason we call it one of the best microwave ovens in Singapore is its durable exterior build and ceramic interior. Its ceramic surface makes it easier to clean the inside without scrubbing too hard.
What's more, its ceramic interior is highly rust- and scratch-resistant, so it will definitely last longer. Who wouldn't love a microwave oven with a durable exterior and interior, right?
One of its special features is the ECO Mode, which significantly reduces energy consumption, helping users save money on electricity bills.
Pros
Durable build
Ceramic, scratch-resistant interior
Quick defrost function
ECO mode
Easy to clean
Cons
More expensive than the first option
Limited internal capacity
Heavier than usual models
Customer Reviews
Here are some comments from customers who got it from Amazon:
"From opening the package I could tell straight away this was a good quality product. It is very sleek and stylish looking. It has plenty of functionality and is very speedy and cooks evenly throughout. The ceramic coating enables it to be cleaned very easily and the deodorization function swiftly removes any lingering odours."
"This has everything I could ever need in a microwave. The manual explains how it has auto sensors so can cook many dishes automatically with no timer needed. It knows when the food is ready from the smells released from the food once it's cooked. I love the simple features too like the quick start button which then adds 30 seconds with each press and the dial that adds 10 seconds while turning. I never thought I would use the deodorising feature but it came up after reheating Chinese food!"
3. LG Solo Neochef Smart Inverter Microwave Oven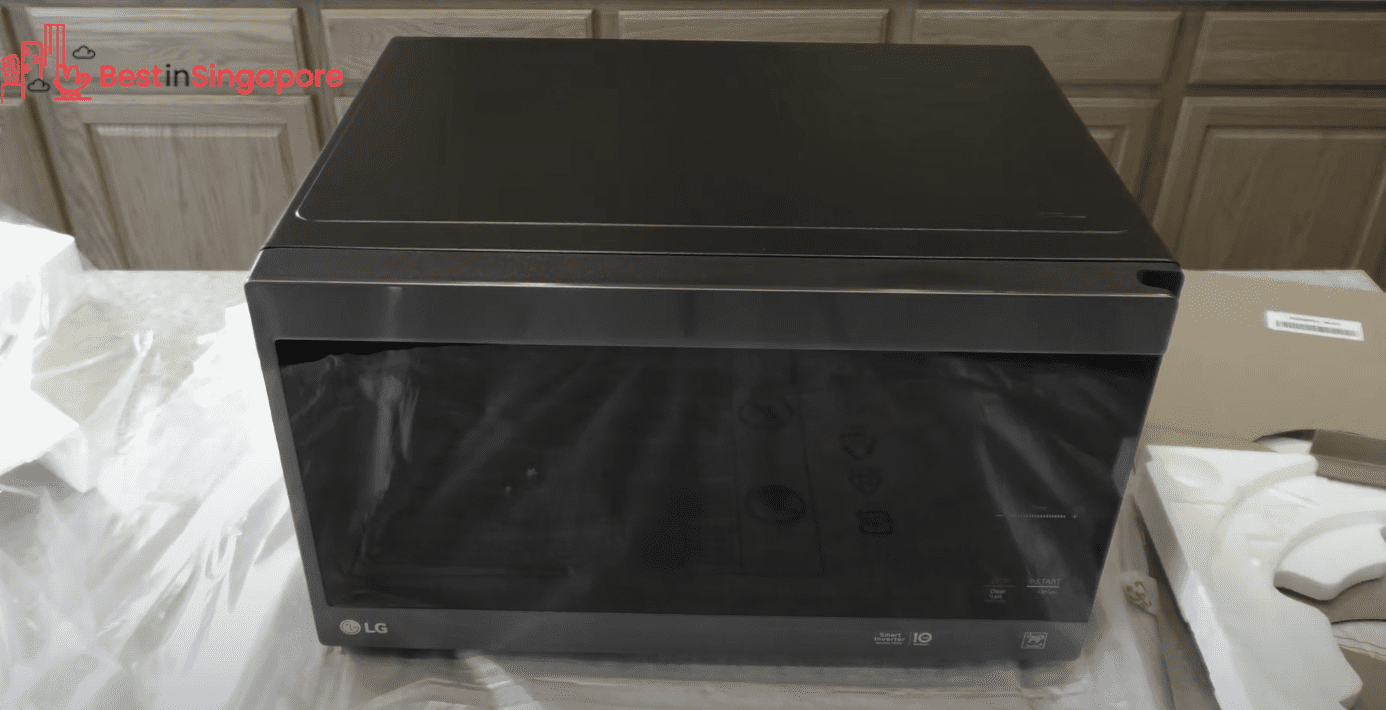 Price: $189.00
Another trusted brand in home appliances is LG, so we couldn't help but include one of its products after testing it ourselves. LG is famous for its Smart Inverter Technology that makes it faster to reheat and defrost a wide range of foods.
As one of the few microwave ovens with Smart Inverter Technology, the LG Solo Neochef Microwave Oven can reheat and defrost any food in less than 3 minutes. Its precise heating power provides even heating and defrosting.
Speaking of heating capacity, the LG Solo Neochef Microwave Oven has 1200 wattage, making it one of the most powerful microwave ovens out there. It can heat milk in less than 45 seconds and cook popcorn in less than 2 minutes.
In terms of size, the LG Solo Neochef Microwave Oven is smaller and more compact than its predecessors, but it comes with higher interior capacity. Its compact size makes it a perfect option for those with limited kitchen space.
Other features that come with the LG Solo Neochef Microwave Oven are the anti-bacterial interior, LED lamp, and stable ring.
Pros
Compact size
Perfect for small kitchens
Anti-bacterial interior
1200 wattage
With brighter LED lamp
Cons
Expensive
Complicated controls
4. Panasonic NN-GD37HBYPQ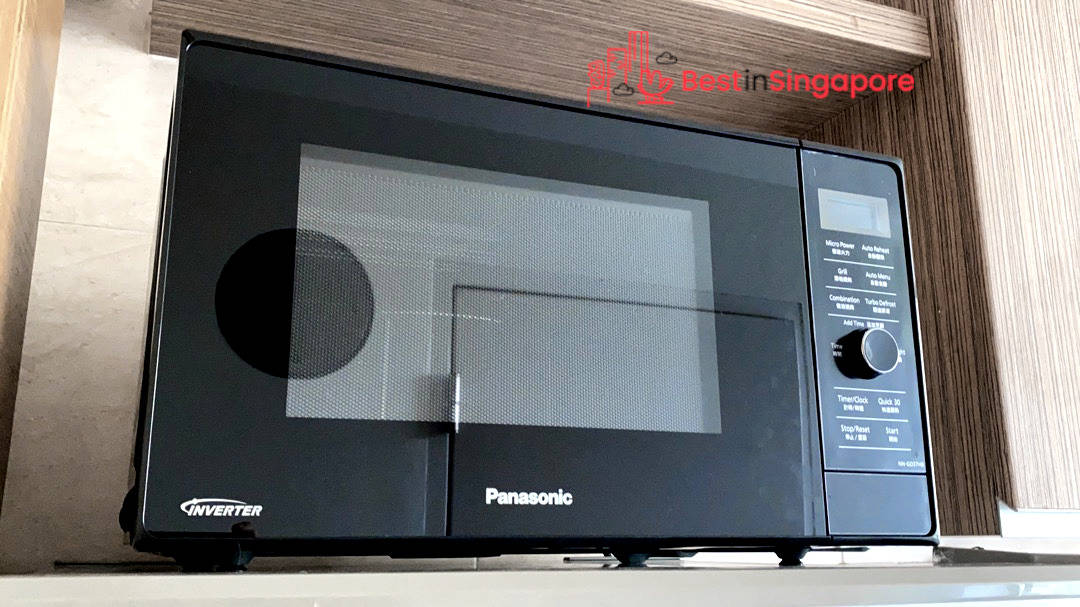 Price: $219.00
If you're looking for a microwave oven that's designed to last for a long time, then look no further than Panasonic NN-GD37HBYPQ. We call it one of the most durable microwave ovens in Singapore — many users certainly agree.
Apart from its durable build, the Panasonic NN-GD37HBYPQ has a heating power unlike any other. Its inverter technology gives way for its dual-cooking feature that heats and grills food simultaneously, resulting in faster and more even cooking.
Another feature that we like about the Panasonic NN-GD37HBYPQ is that it has shortcut keys. One of these keys is the 1000 W Quick 30 that enables users to reheat food for 30 seconds without additional settings.
It comes with an eco-friendly and bright lamp that makes it possible to see what's happening inside clearer and easier.
All these reasons convinced us to include it in our list of the best microwave ovens in Singapore. It may be more expensive than the standard microwave oven, but it will definitely make your time in the kitchen a whole lot easier.
Pros
Dual-cooking
Grilling function
Eco-friendly lamp
Made from premium materials
23 litres internal capacity
Cons
Larger build
Not for small kitchens
5. Toshiba 4-IN-1 Microwave Oven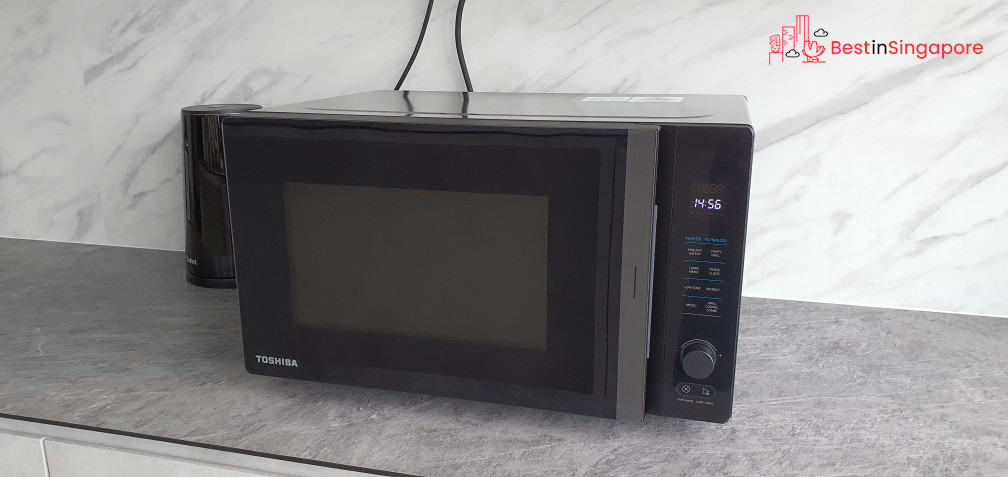 Price: $379.00
If you're willing to go beyond the usual budget on a microwave oven that does more than just heating, then we suggest taking a look at the Toshiba 4-IN-1 Microwave Oven. It functions as an oven, griller, air fryer, and convection cooker.
It costs almost $400, making it the most expensive option in our list, so we can't really recommend it to everyone. However, if you don't have any of the appliances we just mentioned, then spending on this one will be worth it.
The Toshiba 4-IN-1 Microwave Oven defies the limits of a microwave as a cooking appliance. It's engineered with an Inverter Tech 4.0 that cuts the cooking and defrosting time of a wide variety of foods by more than half.
Aside from reheating meals, the Toshiba 4-IN-1 Microwave Oven makes it possible to cook fried foods without using lots of oil. It combines the grill with the hot air circulation inside the oven to cook all sorts of food such as nuggets, calamari, spring rolls, and french fries, among others.
If you like preparing food for a group of people, then you're going to like that the Toshiba 4-IN-1 Microwave Oven has an interior capacity of 26 litres, one of the largest ever. You will be able to cook, fry, and grill different food quicker and easier.
Pros
Multifunctional
26 litres of interior capacity
Inverter Tech 4.0
Cuts cooking time in half
Cons
Expensive
Large build
Heavier than most models
6. EF Microwave Oven with Grill EFMO 8925 M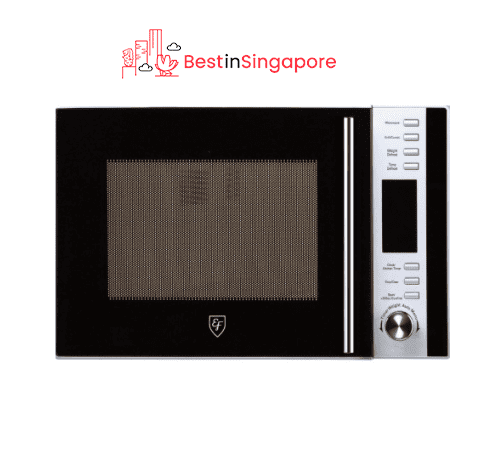 Price: $259.00
The EFMO 8925 M is the perfect companion for modern kitchens. It has a variety of uses, some of which include heating leftovers and cooking various dishes.
This sleek black microwave oven comes with a wide range of functions. Besides the usual microwave features, it also has a microwave grill, full grill, and defrost option.
Not only that, but its 5 microwave power levels gives you a finer and more accurate control over whatever you're making. Finally, its 8 auto cooking menus makes cooking easier overall, even for those inexperienced in the kitchen.
Pros
Sleek, modern design

8 auto cooking menus
2 combi functions
5 microwave power levels
Cons
Not suited for small kitchens
And with that, we conclude our list of the best microwave ovens in Singapore. If you've used any of these ovens in the past, share with us how it helped in your cooking!
Also, if you know other microwave ovens that should've been in our list, tell us their names and we'll see we can include them in our list.
Finally, in case there's a technical issue with your oven, calling the technicians that offer the best microwave repair in Singapore would be the best option. Our list features some of the most trusted oven technicians on the island.