8 Best Taoist Funeral Options in Singapore for 2021
Taoist culture is greatly different from others. The rituals and customs involved require detailed management — therefore, it'd be better to hire a professional who has years of experience when it comes to handling the best Taoist funeral in Singapore.
Every single detail and procedure in a Taoist funeral in Singapore has its own meaning. And it's important that the funeral organiser understands all of these and follows the respective traditions.
Don't worry, though, because we've found you some of the top funeral services that offer the best Taoist funeral in Singapore. From the casket services up to the post-funeral arrangement, they provide everything you need so the whole family won't have to stress out about the preparations.
1. Nirvana Memorial Garden
BEST FOR

Professional Taoist Funeral Services

SERVICES

WEBSITE

ADDRESS

950 Old Choa Chu Kang Rd, Singapore 699816

CONTACT DETAILS

Contact: 9660 3015

Email: [email protected]

OPERATING HOURS

Open 24 hours
Nirvana Memorial Garden offers personalized Taoist Funeral Services, including casket, funeral hearse, coordination of memorial ceremonies, cremation urn, and ashes collection at the crematorium. Nirvana Memorial Garden was the award winner for the title of "Largest Bereavement Company in Singapore" by Singapore Books of Record (SBOR) in 2018. 
Nirvana Memorial Garden has a team of professionally trained female embalmers. They are dedicated to providing sanitization, presentation, and preservation for the deceased body. 
Nirvana Memorial Garden promotes the funeral pre-planning and offers the monthly instalment at no interest rate. The price is transparent, and the checklist is followed and tracked from the beginning till the completion of funeral services. They help minimize the stress of logistical matters the family has to go through during the funeral wake.
Nirvana Memorial Garden provides fully equipped facilities and exemplary service from the heart. They have the best Taoist design columbarium niches for urn placement. Their columbarium niches are elegant and well-maintained, highly recognized as the Final Resting Place for the departed loved ones.
Service Highlights
Taoist funeral services

Taoist columbarium niches

Lady embalmers

No hidden charges

Post funeral services
Customer Reviews
Nirvana Memorial Garden is the award winner for the title of "Largest Bereavement Company in Singapore" by Singapore Books of Record (SBOR) in 2018. 
The customers sent the following messages after the services: 
"Thank you for your professionalism just now and just wanted to let you know my parents really appreciate it. Thanks a lot. "  
"Thank you for your professionalism. We are grateful for your service."
2. Empathy Funeral Services

Headed by Eugene Tan, Empathy Funeral Services works to lessen the pain of death by helping families with Taoist funeral packages for their lost loved one.
Every funeral planned by Empathy Funeral Services is prepared with quality in mind. By ensuring that everything is in order, Empathy Funeral Services gives the client the opportunity to focus on grieving and honouring those who have passed.
Highlights
Affordable, quality services
Competitive pricing
Inclusive funeral packages
3. City Funeral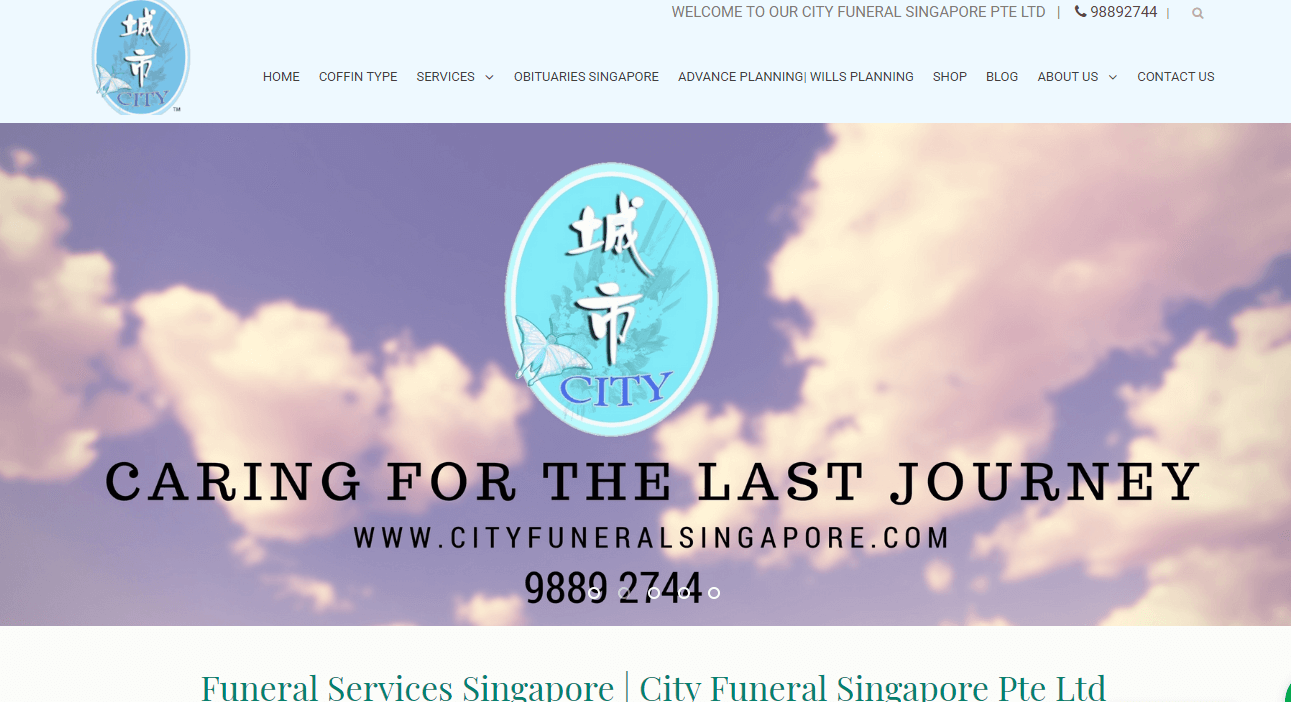 If you're looking for a Taoist funeral package in Singapore that's tailor made for your specific dialect and culture, this is for you.
Preparations for Taoist funerals differ from dialect to dialect. This includes arrangements, practices, and customs — that's why City Funeral offers comprehensive guidance and advice to ensure that there'll be a well-organised funeral for the deceased.
They have a team of professional funeral consultants who are familiar with Taoist funeral rites in Singapore and every necessary activity such as chanting sessions, paper house and paper products, etc. So rest assured that everything will be in a proper arrangement
They offer two kinds of Taoist funeral services including basic and VIP packages. Both packages feature casket selection, pall-bearers for transport and labour, Taoist lantern, a hearse, tentages, and many more.
Highlights
Also does pro-bono funeral
Chanting sessions
PA system on final night
Photo enlargement and flower arrangement services
4.  Entrust Funeral Services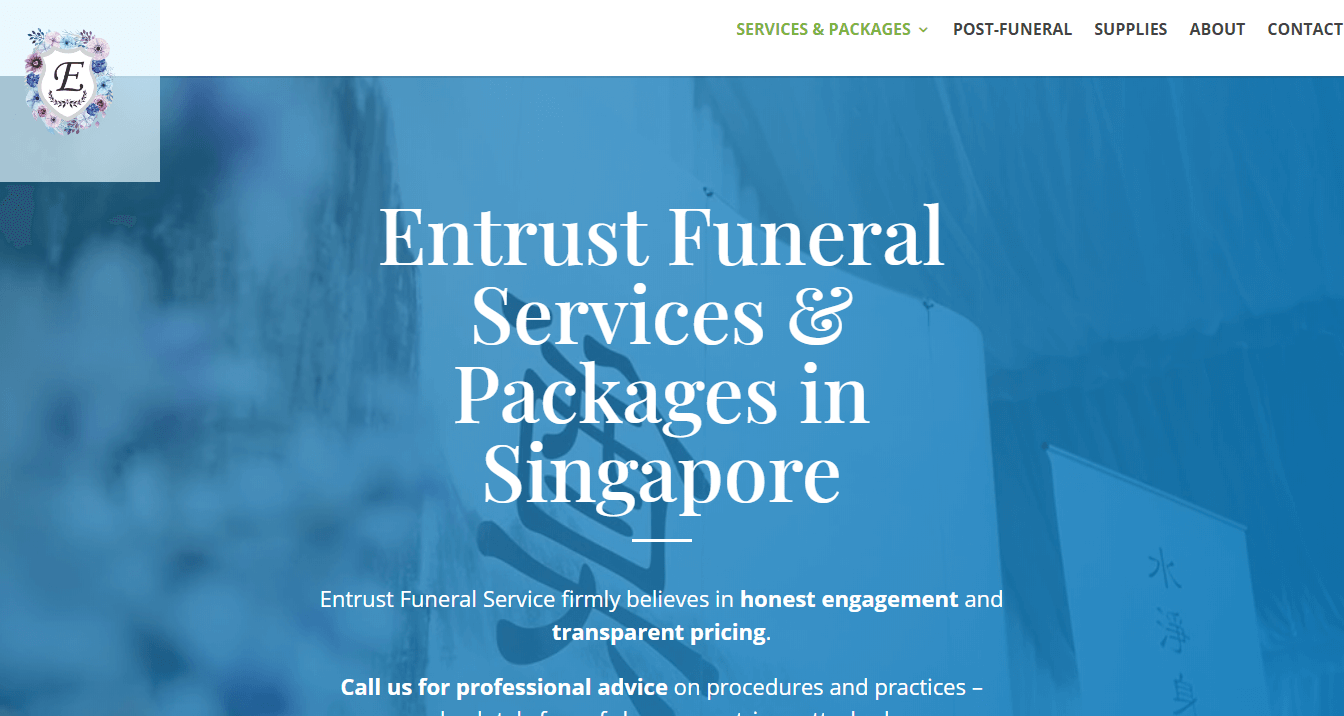 Entrust Funeral Services consists of experienced funeral directors who can assist you in all the rites and rituals of your family's dialect group. There's no need to worry about the supplies because they have every essential item — such as joss paper, incense and refreshments, food offerings, and more.
They offer basic and classic Taoist funeral packages in Singapore and each features embalming, dressing,  casketing, and tentage setup. With their offered paper replicas, you can even opt for a 6 or 8-foot paper house.
Their Taoist enlightenment ceremony includes encoffining ceremonies and prayer sessions. You can also opt for catering services, a live band, a limousine hearse, etc.
Highlights
Enlightenment ceremony
Decorated memorial station setup
Tentage setup
Photography and videography on the funeral day
Post funeral services
5.  Harmony Funeral Care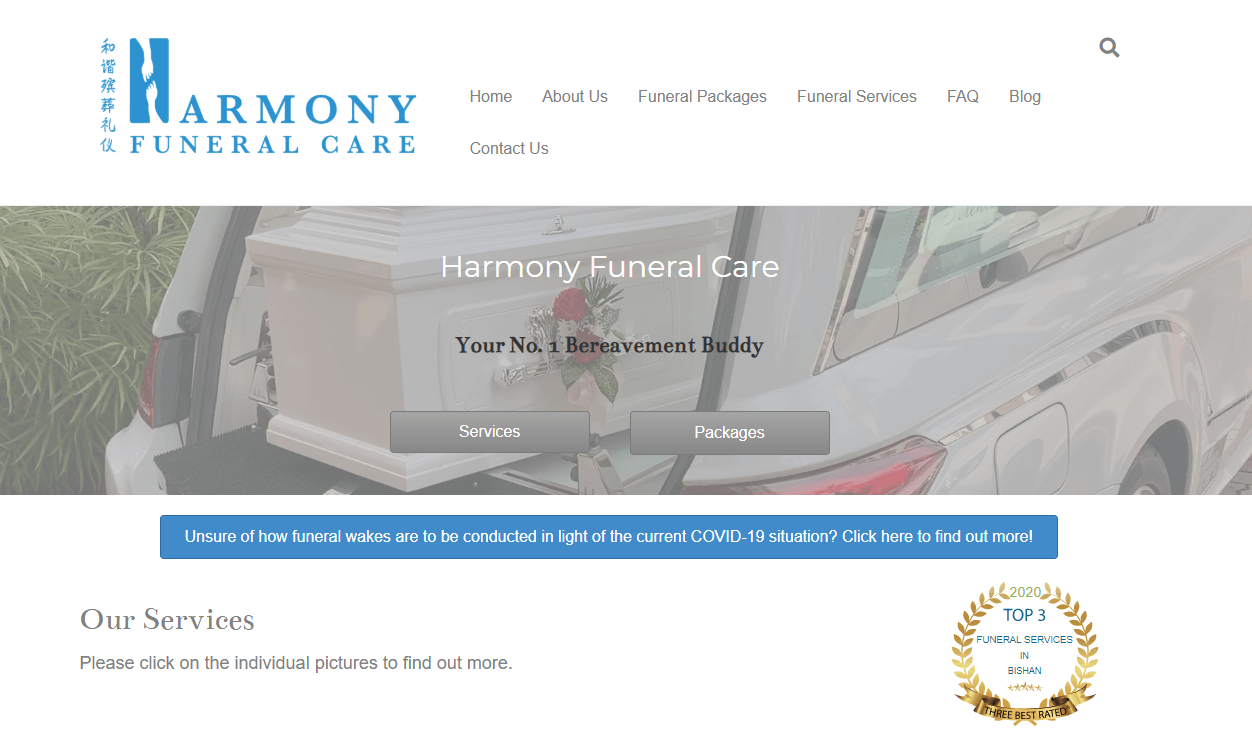 | | |
| --- | --- |
| BEST FOR  | Accommodating Alternative Wake Venues |
| WEBSITE | https://www.singaporefuneralservices.sg/ |
| ADDRESS | 38 Sin Ming Drive #01-523 Sin Ming Industrial Estate Singapore 575712 |
| CONTACT DETAILS | +65 9489 2424 |
| OPERATING HOURS | Open 24 hours |
Harmony Funeral Care provides a whole Taoist funeral package including embalming, application of necessary permits, transportation, and more. They also offer chanting services on the first, final, and funeral day.
When it comes to their paper products, they can create 6ft handmade paper houses and other paper replicas for certain rituals. They can also create Taoist-style decor and tentage.
Post-funeral services such as ash collection services, application of death claims or funeral reimbursement claims are also part of their services.
Highlights
Publication of newspaper obituary
Food catering option
Post-funeral services
Customer Reviews
Harmony Funeral Care has gained the trust of many locals because of their personalised assistance, great planning, and reasonable prices. This is why clients claim they have the best Taoist funerals in Singapore.
A client shared this experience:
"Harmony Funeral Care looks after our dearly departed with dignity and respect. Harmony also takes initiative to explain to us all delicate details before the whole process. This makes us feel secured and less worried. Trust is built with her as she is honest and gives us the sense of serenity. She shows professionalism in handling matters smoothly during our difficult time.
We appreciate Harmony Funeral Care and recommend it to anyone who needs it. God bless."
6.  Embrace Funeral Services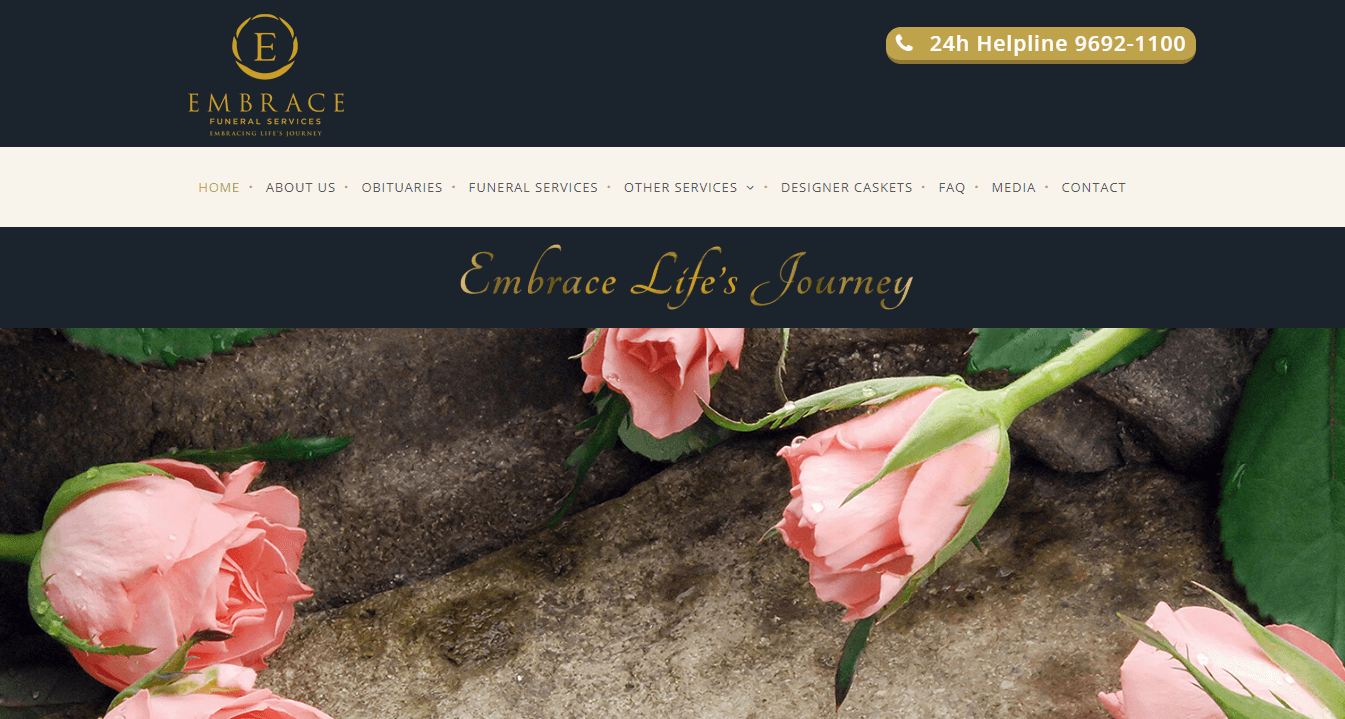 Embrace Funeral Services provides arrangements for rituals for different dialect groups. Throughout the years, they've become experts in organizing detailed Taoist funerals that last for up to 7 days.
They have pre-funeral services where you can get guidance on funeral matters and be in full control of the arrangements as well. You can also set aside the funeral expenses and just focus on the preparations.
They also offer a fair set of caskets available at reasonable prices. For their post-funeral services, you can choose to have a sea burial, grave exhumation, and more options.
Highlights
Grave exhumation
Designer caskets
Also does pro bono funeral services
Customer Reviews
Most clients said that the team of Embrace Funeral Services was able to keep everything in place all throughout the process, delivering the best Taoist funeral in Singapore.
A client wrote this review:
"I would like to thank Jeffrey and team for the fantastic service for my late-beloved dad. They are able to meet our needs immediately which my family members are grateful for. The team was filled with experienced people which makes the process to flow through smoothly. During the funeral, Jeffrey and team will keep ensuring that things went on smoothly and most importantly he will check on family members' condition as well. The entire team let us be filled with warmth which makes us sail through the dark moments."
7. Holyland Casket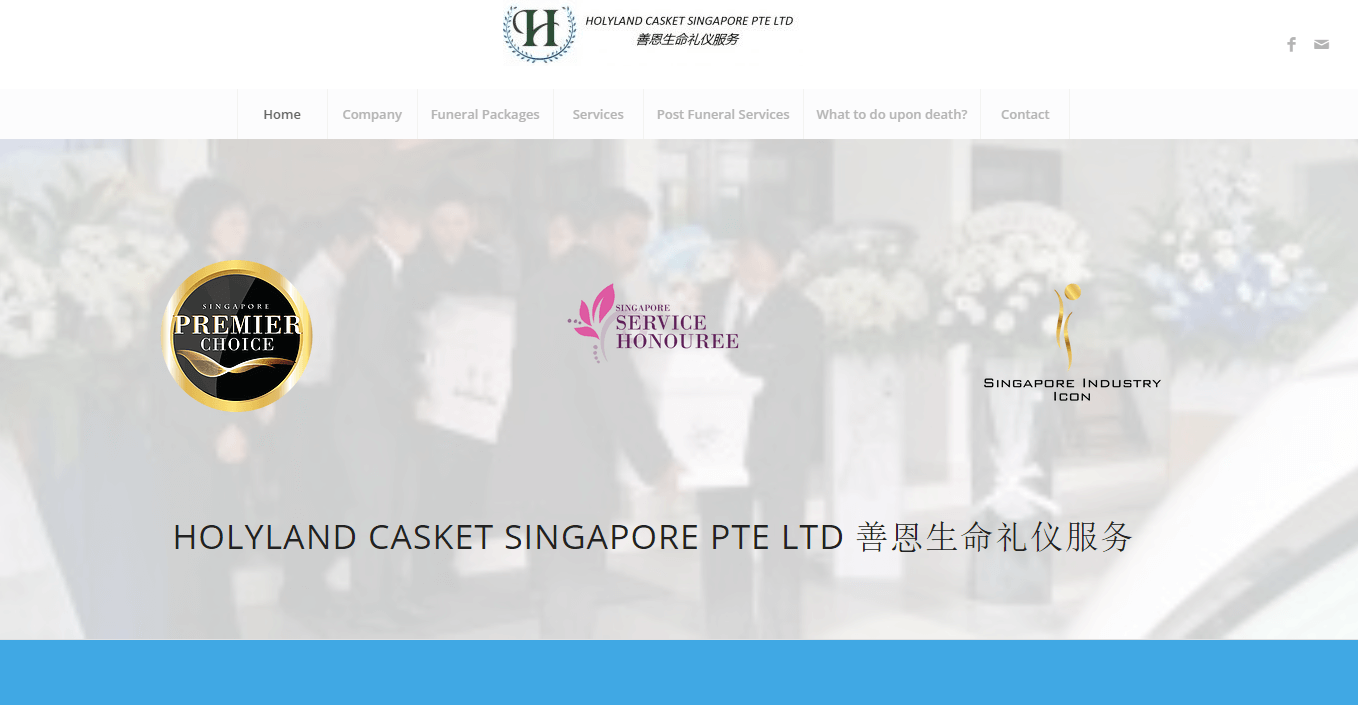 | | |
| --- | --- |
| BEST FOR  | Chanting Services |
| WEBSITE | http://holylandcasket.com/ |
| ADDRESS | No.24 Sin Ming Lane, Midview City, #07-104 , Singapore 573970 |
| CONTACT DETAILS | +65 81275655 (24 Hours Funeral Service Line) |
| OPERATING HOURS | Open 24 hours |
With several years of experience in the funeral industry, Holyland Casket has become one of the most trusted service providers on the island. They're known for having one-stop funeral services because they can accommodate all religions… and this includes Taoist funerals.
Their team includes well-trained funeral consultants who can arrange rituals and ceremonies necessary for the wake. Items needed for chanting sessions like vegetarian food offering, Joss praying items, and more are included in their packages too.
They're equipped with air-conditioned parlours as well as tentage that can be set up at void decks or private homes. Commemoration, life story photobook, life video, and memorial gifts are also part of their services.
Highlights
Paper servants
Ash collection
Taoist backdrop with altar setups
Joss praying items
Customer Reviews
Many clients were satisfied with the responsive, professional, and respectful team of Holyland Casket. They said that they were able to experience the best Taoist funeral in Singapore thanks to the company's services.
A client gave this feedback:
"Angie , Justin and Jeremy were very understanding and helpful throughout the entire wake and service nights. They were very professional and humble throughout the entire journey. My family is very touched and grateful for their professional service."
8.

Singapore Funeral Sanctuary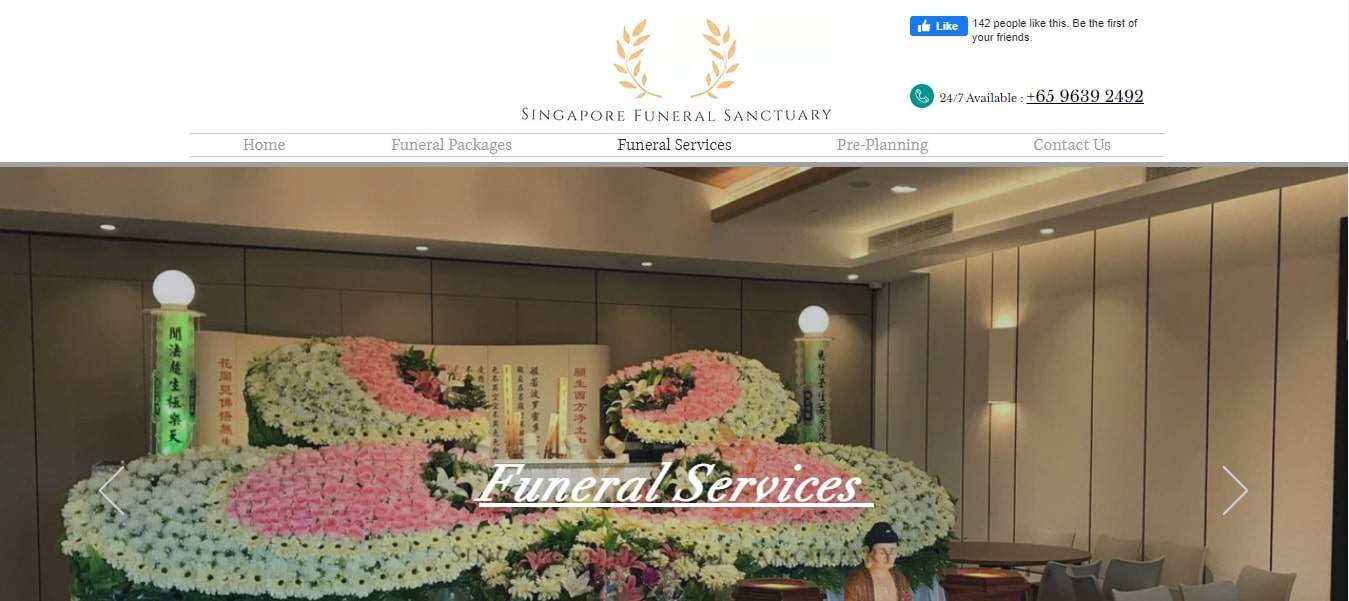 BEST FOR
Different religions' funeral services
SERVICES
Post-Funeral Matters
Casket Services
Funeral Package
Flower Arrangements
Live Band
Repatriation Service
Food Catering
Funeral Hearse
WEBSITE
http://www.funeralsanctuary.sg/
ADDRESS
Singapore
CONTACT DETAILS
Phone : +65 3129 2430
Email : [email protected]
OPERATING HOURS
Open 24 hours
Singapore Funeral Sanctuary is the best company to acquire funeral services in Singapore as they cater to almost every religion there is and even have services available for those who do not have any religion. They're flexible when it comes to offered assistance, and proven to be cheaper in rates.
The quality of service is assured to be the best as they hire skilled individuals and continuously train them to make sure that their knowledge is always up-to-date.
With experience of over 20 years, you're sure to experience the best and most hassle-free set-up for a taoist funeral in Singapore with them.
Highlights
Religious and Non-religious services
Funeral packages
Sea burial and space burial is available
Buddhist 49/100 days
And that's it for our list of places for the best Taoist funeral in Singapore. Have you already acquired a funeral package from one of our selected service providers? If you have, then you may also share your experience with us.
And if you're looking for a certain flower arrangement, specially curated for the deceased, you may see these best funeral flower shops in Singapore. They create fresh and meaningful arrangements to show deep appreciation and gratitude to the deceased.