The 5 Best Steam Cleaners in Singapore Reviewed
The best steam cleaners in Singapore can help you clean just about any surface. In fact, these steam cleaners can help sanitize your furniture, the floor, the curtains, and even upholstery!
To put together today's list, we rated steam cleaners based on their efficiency, cost, build, and popularity within Singaporean households. At the end of the day, we came up with these top options.
And as a good primer, we also cobbled up a guide to help you look for an ideal steam cleaner from our selection based on your needs. So let's get started and look at the pointers, shall we?
Steam Cleaners: Where to Begin?
Investing in a steam cleaner or a steam mop in Singapore requires a bit of thought, since you'll want something that will last long and effectively help you with cleaning. But where do you start?
Well, don't fear, this guide can help you make an informed decision when buying a great steam cleaner! Let's start with figuring out what type of steam cleaner you need.
Kinds of Steam Cleaners
There are different kinds of steam cleaners in the market: steam mops, cylinder steam cylinders, and two-in-one steamers.
Steam mops in Singapore are more compact and lightweight, easy to put away and set up. This type is ideal for those who frequently need to clean up spills quickly.
Your average steam mop has a small water tank on the handle that heats up quickly. However, since it has a smaller-capacity tank, it needs frequent refills.
They're great at cleaning floors and even carpets, though.
Cylinder steam cleaners are heavy-duty and need to be wheeled around. They have more power and tank capacity, and they have the advantage of having many attachments for better cleaning versatility.
However, not all cylinder steam cleaners are good for upholstery.
Two-in-one steam cleaners are like steam mops, but they have detachable handheld units. They're perfect for cleaning a variety of washable surfaces.
They have the versatility of cylinder steam cleaners, but with lower power and smaller tanks.
What Should You Look For In A Steam Cleaner?
There are features that we should look for in a steam cleaner, as mentioned earlier:
1. Water Tank Capacity
When trying to look for the best steam cleaners in Singapore, take a look at the size of the water tank. The bigger the tank, the more time it needs to heat up; however, it will also take fewer refills for a big job.
It's also wise to see if the tank is detachable and easy to fill.
2. Tank Heating Time
How long does it take to heat the tank and get steam?
One must take this into consideration if they need to work quickly or need more time to prepare when it comes to clean ups. It can be as quick as 20 seconds to as long as 2 minutes.
3. Steam Power
You should also see how much steam the cleaner churns out, and if it has a setting to produce more or lessen steam output. Some steamers have one setting, which is ideal for quick and easy cleaning.
The Best Steam Cleaners in Singapore
With all those in mind, let's now look at these great steam cleaners in Singapore. We've gathered many cleaners with a wide range of costs, types, and sizes for this list!
1. BISSELL PowerFresh Steam Mop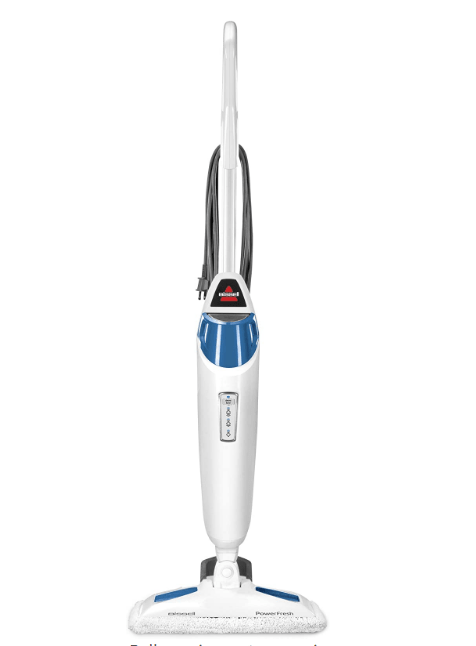 Price: $276.92
Limited Stocks At Amazon, Buy Now
The Bissell PowerFresh Mop is a great buy that cleans floors quickly. If you want a deeper clean of your floors, this provides a lightweight and powerful solution.
The handle is designed to have a swivelling mechanism to help you with those hard-to-reach nooks and crannies at home, such as behind furniture and the tight spaces between appliances. The steam switch can help you control the amount of steam you need.
Its versatility on all types of floors, from hardwood to ceramic, makes it one of the best steam cleaners in Singapore.
Highlights
Versatility
Quick heating time
Can be used in tight spaces
Customer Reviews
Here are some reviews from Amazon about the BISSELL PowerFresh Steam Mop:
Absolutely amazing. I read another review about 10 year old grout needing cleaning, and I was sold from the photos. I just redid my kitchen and used dark grout, because nothing could clean my other tile floors. Had I known about this before, I would've gone with light grout. I tried it out in my bathroom first. It restored the grout and floor to like new condition! It did take some scrubbing during steaming, but it was worth it. It has also cleaned up scuff marks, creosote stains, and continues to brighten grout every time I use it. I've told everyone I know about this product and highly recommend it! Seeing the results first hand now, I would've paid more. Worth every penny.
-Amanda
I am so in love with this steam mop! My father-in-law has one and we borrowed his before purchasing ours because my husband and I were afraid of investing in yet another cleaning mop only to find it to be a bust. We have a traditional mop, the swifter & a shark duo scrubber. I was finding that the only thing that would clean my 30 year old vinyl floors was getting on my hands and knees and scrubbing with bleach and water. The swifter pads would just fill with dirt and I felt my floors were never clean. I found the shark duo scrubber to be a really expensive, glorified swifter. And I have two babies under two and operate a home daycare, I don't have time to scrub the floors on my hands and knees. This steam mop takes ONLY water and has washable pads. We had to buy one. My floors are the cleanest they have ever been with 5-10 minutes of mopping. I kid you not, I would lick these 30 year old vinyl floors.
-Lindsey Dalla
2. McCulloch MC1275 Heavy-Duty Steam Cleaner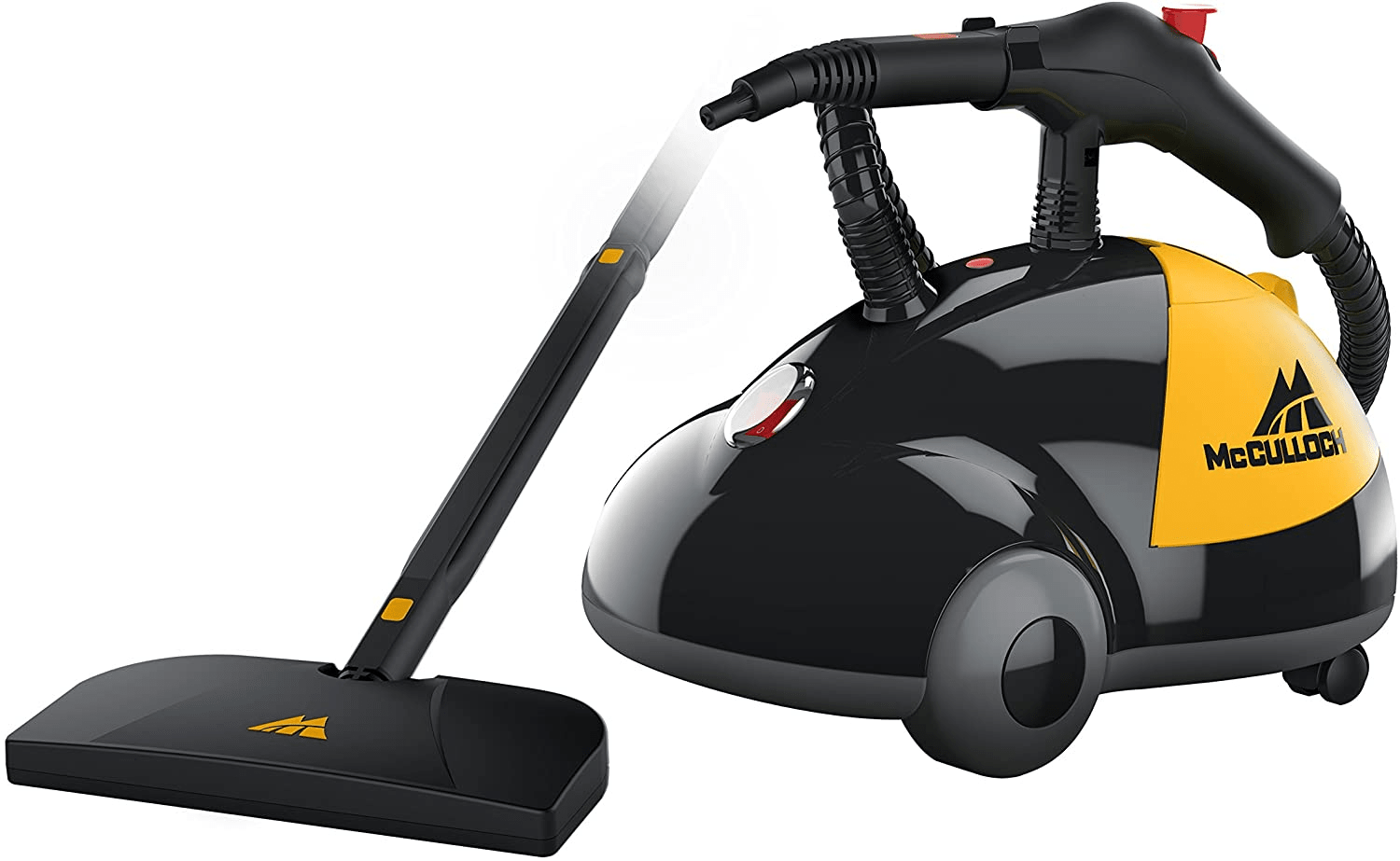 Price: $435.21
Limited Stocks At Amazon, Buy Now
The McCulloch Heavy Duty Steam Cleaner is one of the more powerful steam cleaning devices on this list. It's perfect for carpeting of all kinds from velvet to shag, as well as for cleaning floors and furniture.
It can carry around 48 ounces of water, and it has around 18 attachments that can help you steam clean all kinds of material. It has an extra-long 15.7-foot power cord and an over 9-foot steam hose for good reach.
We think this is the best steam cleaner in Singapore for house and office use.
Highlights
2-year warranty
Long cord and hose
18 attachments
Customer Reviews
Here are some reviews from Amazon about the McCulloch MC1275 Heavy-Duty Steam Cleaner:
My wife and I have a steamer but it just was out dated. I saw a vid with this steamer and it's ability to stop bed bugs. It's awesome! It takes 5 seconds of steam to kill a bed bug (yes, we counted). This thing can go just under 40 minutes full blast nonstop. After two weeks, we've cut our bed bugs down 90%. Possibly 100%. The steam can literally reach across our king size bed. It's powerful! Bugs evacuated their hidding spots just to get blasted in the open. It says to wait at least eight minutes for the steamer to heat up, but if you wait about 30 you will get a firehose.
It comes with several attachments. My wife and I fight over it because she loves to use it on the floors, rugs, ex. I love getting the bugs around carpets, dressers, and beds. Use the skinny attachment for bugs and big attachments for floors.
Excellent buy if you need a power steamer for bugs! Highly recommended from my family.
Happy hunting!
-Benjamin David Scott 
For anyone experiencing the hell that is bedbugs here is your sanity!!! I found out I had bedbugs Monday. Couldn't sleep became obsessed and researched for hours…found out I needed a steamer, this one gets up to 200 and I think bedbugs die around 120. At first I was skeptical… and then I started to steam. 
They hid. They ran. They died! Vengeance is mine. I steam cleaned every inch of my apartment, every item of clothing, every sock purse towel, anything non electronic was steamed. It's so high pressure I got the baseboards, the cracks where they were hiding…
I can breathe again. I will be using this on a monthly basis to steam and there is a bigger component for the floors and couches and stuff of that sort.
If you are on a budget and fighting bedbugs try this. I would say it lasts about 30 minutes at a time. It took about 9 hours for me to get my 2 bedroom (1300sq ft) done. If you have a larger house or some help get two of things and get the job done.
-Amazon Customer
3.   Karcher SC5 Steam Cleaner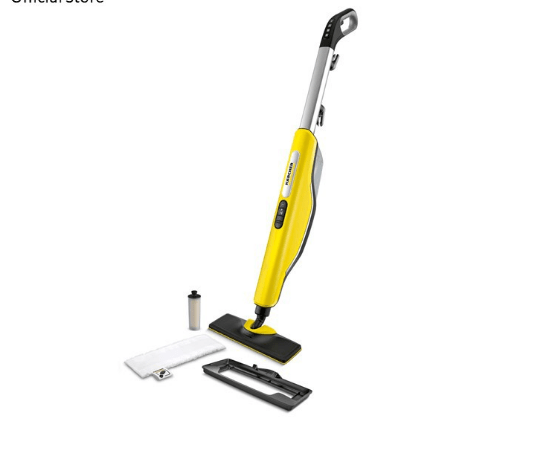 Price: $279.00
Limited Stocks At Shopee, Buy Now
Karcher has a line of different types of steam cleaners, but we decided to pick Karcher SC3 for its preset three-step steam flow control as well as its easy-to-store design. The tank is removable for easier refills as well.
It's short heat-up time can also assist in quick clean-ups of the floor and furniture. It has different attachments for flexible cleaning changes and carpet cleaning.
If you want something light, portable and easy to use, this could very well be the best steam cleaner in Singapore for you. 
Highlights
Three-step steam flow
Removable tanks
Easy to set up
4. Shark Kik N Flip Steam Corded Mop

Price: $403.00
Limited Stocks At DesertCart, Buy Now
Shark Kik n' Flip is one of the most sought-out brands in steam cleaning. Their Steam Corded Mop makes cleaning floors easier with their Steam Blaster Mode, where it blasts a lot of steam without awful wait times.
It also eliminates 99.9% of common household bacteria, which is ideal for allergy sufferers. It also has direct steam to avoid constant streaking.
These features make it one of the best steam cleaners in Singapore.
Highlights
For allergy sufferers
No streaking
Quick drying time
5. Vax Steam Fresh Combi Classic Multifunction Steam Mop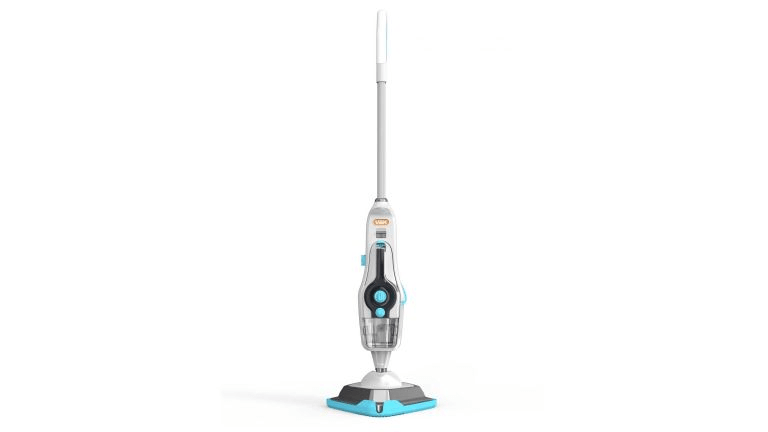 Price: $644.00
Limited Stocks In Desertcart, Buy Now
Vax Steam Fresh Combi Classic Multifunction Steam Mop has around 15 functions, so you can use it for any cleanup at home or any other place. It has a detachable handheld cleaner as well as a 10-piece tool kit for different types of usage.
This steam mop also has multiple steam settings, and it works well in sealed hard floors. The compact scrub brush can help even further with removing grout from the tiles.
If you want something that can clean nooks and crannies and compact spaces, this could be the best steam cleaner in Singapore for you.
Highlights
15 functions
Detachable units
Compact scrub brush
And that ends our list of the best steam cleaners in Singapore. These can help you give your home a well-deserved deep-clean!
Did we miss something on our list, though? Tell us its name and what makes it great in the comments below!
By the way, if you're searching for a handheld vacuum cleaner to clean up your rug instead, head on to the list of the best handheld vacuum cleaners in Singapore and check out our picks for those.
Need an air purifier instead to ensure the very air you breathe at home is clean? We have a list for that too! Just check out the best air purifiers in Singapore.