The 5 Shops for Best Soundproof Windows in Singapore
By Michaela Koh
As we all know, noise pollution is considered bad for our health — it causes anxiety and stress, thus preventing us from getting enough sleep. And the smartest way to instantly block all the noise coming in from outside is to install the best soundproof windows in Singapore.
Aside from eliminating noise pollution, soundproof windows can also help improve energy efficiency and insulation at home. They're also much easier to install and clean as well as more secure than traditional windows.
So, if you're now finally convinced to buy and install this type of window, let us help you find the stores that sell the best soundproof windows in Singapore!
We've selected the top places that are known for providing durable quality and varied styles and designs — suitable for any interior themes! Take a look at our list below to see where you can contact and visit them!
1.  Fortuna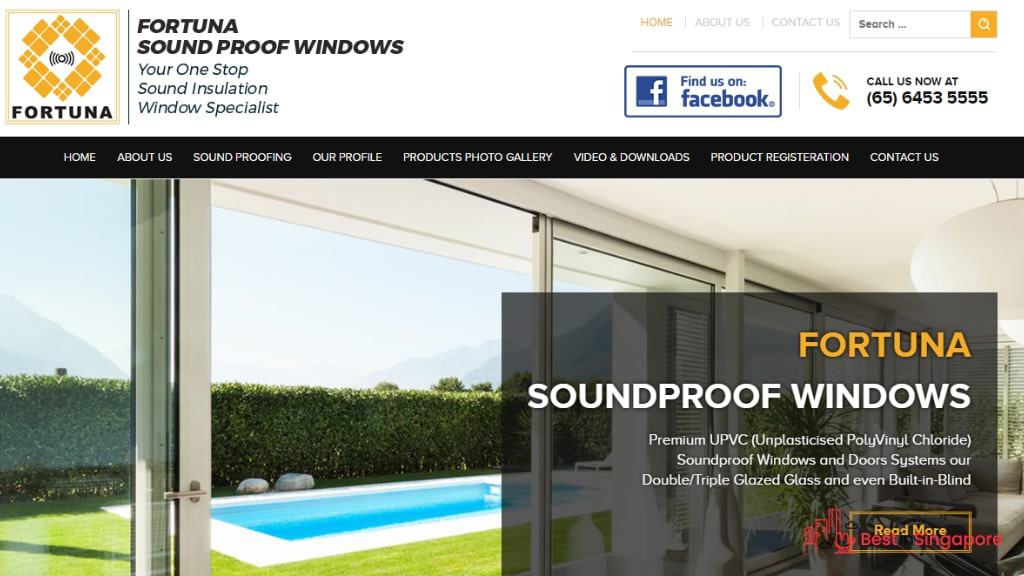 | | |
| --- | --- |
| BEST FOR  | Double- and triple-glazed windows, Customisation options |
| WEBSITE | https://www.fortunawindow.com/ |
| ADDRESS | 10 Kaki Bukit Road 1, #03-22 KB Industrial Building Singapore 416175  (Showroom Visit by Appointment Only) |
| CONTACT DETAILS | (65) 6453 5555 |
| OPERATING HOURS | Weekdays: (65) 6453 5555 |
Fortuna offers great selections of quality soundproof windows that are made with additional heat insulation properties. They have basic double and advanced triple glazed windows, both of which come with built-in blinds — a worthy purchase for everyone!
Unlike other stores, they use uPVC, which is superior and more durable compared to traditional materials. You can also ask for a custom-made glass glazing if you have particular specifications in mind.
Highlights
Built-in blind customisation
Durable materials
Soundproof doors
Residential and commercial services
Customer Reviews
Most clients mentioned the skilled and detail-oriented staff of Fortuna. Due to the quality products and excellent staff, they also claimed that the shop has the best soundproof windows in Singapore.
A customer gave this review:
"Recommended place to go if you need to soundproof your windows. It really helps in cancelling noise compare to normal windows. Overall experience is great. Workmanship is good too. Their staffs are polite and generous to answer my questions. You have to try to believe it."
2.  Noise Plaster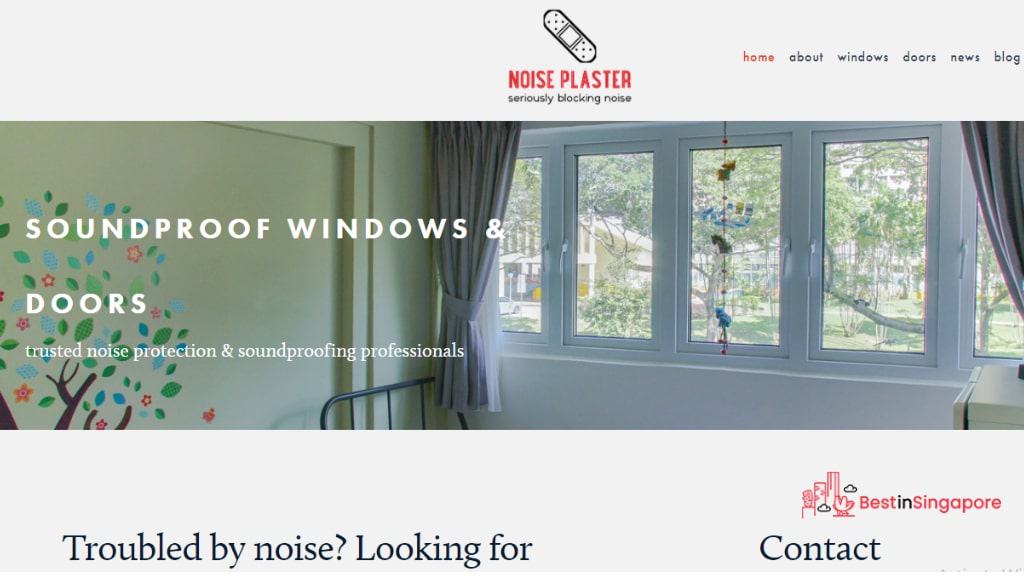 | | |
| --- | --- |
| BEST FOR  | Weather-resistant soundproof windows |
| WEBSITE | https://noiseplaster.com/ |
| ADDRESS | 10 Admiralty Street #05-86 Singapore 757695 |
| CONTACT DETAILS | (65) 8666 8734 |
| OPERATING HOURS | 9am to 6pm on Weekday and 9am to 1pm on Saturday |
Noise Plaster provides quality soundproofing solutions with varied features such as acoustic isolation, solar heat rejection, and weatherproofing.
Their skilled engineers and technicians will help you with the overall process — from selecting the right soundproof windows up to installing and maintaining performance.
Their best soundproof windows in Singapore are built with versatile configurations and can totally block the most common noise sources. Aside from their windows series, they also have soundproof doors.
In addition, Noise Plaster's windows and balcony doors are made of Aluk profile and hardware designed and manufactured in Europe. The Aluk window system is made of high quality heavy industrial grade aluminium featuring its own patented groove, providing the best long lasting soundproofing effect.
Their windows are made of up to 33.76mm double glazed laminated glass, which is one of the thickest in the industry. Their double glazed laminated glass is made of 3 piece of glass to ensure toughness, safety (will not shatter when broken) and the best acoustic property.
Highlights
Flexible configurations
Convenient online ordering
Soundproof doors
Customer Reviews
Clients were impressed with the quality workmanship as well as the exclusive selections here. A customer wrote this feedback:
"Just to update you on the windows: I think it's life-changing. Finally I get to sleep past 6am on a school day, and I can finally get down to business with minimal noise intrusions. The noise from the school alarms, the traffic lights, the passerby screaming and chattering downstairs, to the vehicles jam braking at the parking lot gantry next to my room are all eradicated."
3.  Pang Giap Enterprise (88)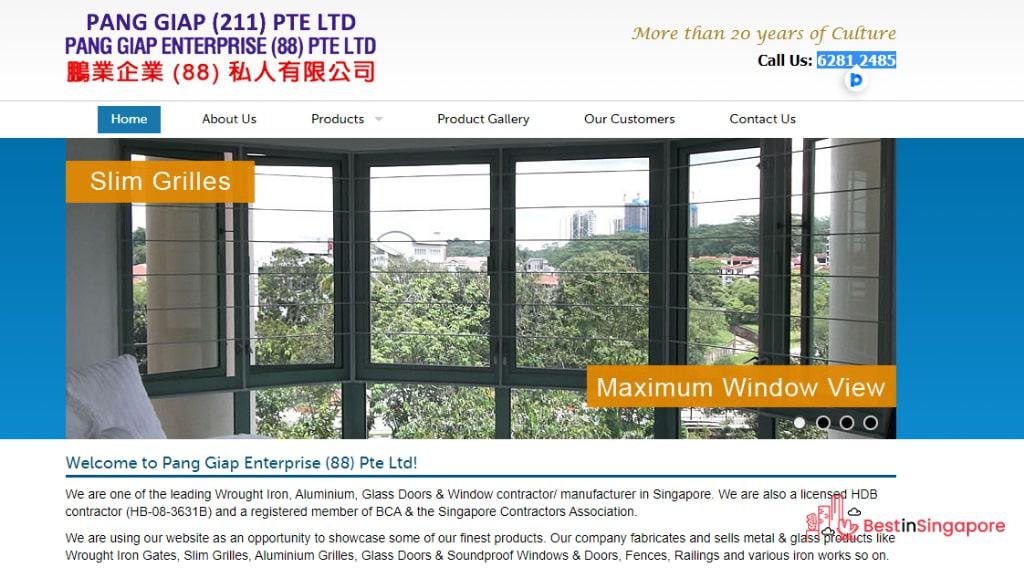 | | |
| --- | --- |
| BEST FOR  | Thick double-glazed glass soundproof windows |
| WEBSITE | http://www.panggiap88.com.sg/ |
| ADDRESS | No.9 Defu Lane 3 #01-10L Singapore 539441 (Appointments Only) |
| CONTACT DETAILS | 6281 2485 |
Pang Giap Enterprise (88) is one of the largest suppliers and manufacturers of doors, windows, fences, railings, and more.
When it comes to their soundproof windows, they have thick double-glazed glass types made with a special sound-absorbing chamber that reduces the transfer of sound coming from the outside.
Their soundproof windows are also designed with a heavy-duty aluminium frame that acts as an additional sound barrier.
Since they have their own factory, you can be sure that they'll maintain quality and production control of all products.
Their clients come from residential, commercial, and even industrial sectors — proving that they truly have the best soundproof windows in Singapore.
Highlights
Residential, commercial, and industrial services
Specialised window system
Heavy-duty frames
Installation services
Customer Reviews
Customers shared that the soundproof windows of Pang Giap Enterprise (88) are carefully constructed with top-notch workmanship.
Due to the durable and double-layered soundproof windows, they also said that they were able to concentrate better on work and studies as well as improve the safety and security of their place. A customer left this feedback:
"This is our second time engaging Pang Giap for their service. Their soundproof windows installed are excellent, they managed to cut off most of the loud construction noise."
4.  Sapphire Windows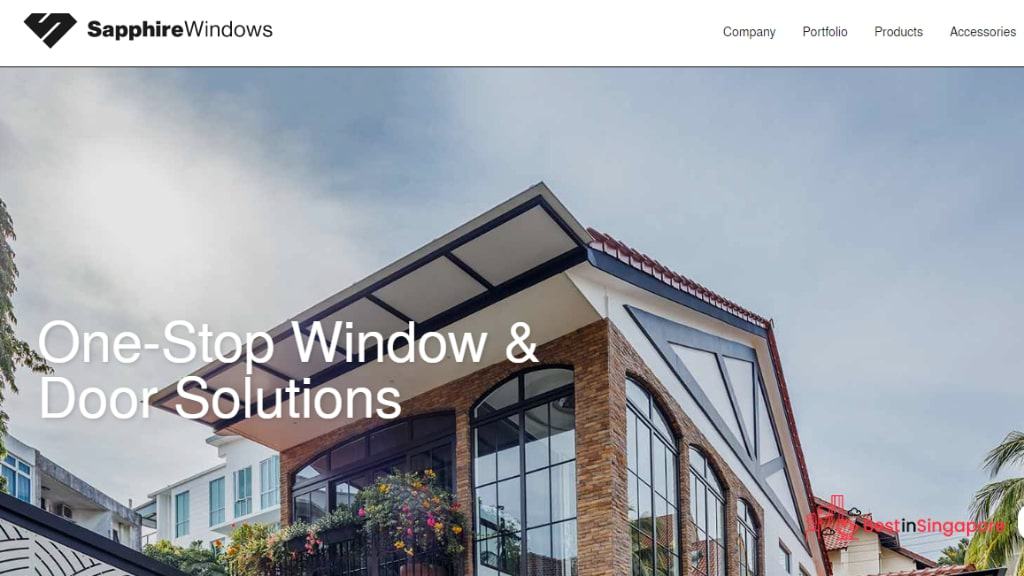 | | |
| --- | --- |
| BEST FOR  | Soundproof windows with a reinforced seal, Casement/top-hung/fixed glass styles |
| WEBSITE | https://sapphire.com.sg/ |
| ADDRESS | Headquarters & Showroom 2 Loyang Drive, Singapore 508935 |
| CONTACT DETAILS | +65 6542 6616 |
| OPERATING HOURS | Weekdays: 08:00am – 05:30pm |
Sapphire Windows provides innovative and long-lasting soundproofing solutions with their well-crafted window systems. Their best soundproof windows in Singapore feature absolute sound and heat insulation and security as well.
Their soundproof windows seal air gaps from top to bottom to fully eliminate noise pollution. The seal also keeps water, dust, insects, and intruders from entering your place.
The windows come with either casement, top-hung, or fixed-glass styles. Aside from these, their windows are also watertight and maintenance-free — saving you from long hours of cleaning and excessive costs.
Being a top-rated and reviewed brand, they've become a leading company that's trusted by architects and contractors. They're also one of the window specialists certified by relevant authorities, organisations, and government agencies.
So, if you're in the middle of renovating or building your home/office, they've got great selections that are suitable for your needs!
Highlights
Heavy sound insulation
Anti-shattering safety features
Longest warranty in the market
Certified by government agencies
Customer Reviews
Many customers said that Sapphire windows exceeded their expectations because of the high quality, workmanship, and even customer service. A customer gave this review:
"I would definitely recommend Sapphire Windows to anyone who's in the midst of the renovation or changing any windows. Actually, I'm glad that we used them as we got exactly what we wanted and saved at least 15 percent compared to others outside. With the quality of service, Sapphire Windows should be charging more. Don't waste your time going to anywhere else, trust me, these guys are professional and really up to standards."
5.  Grilles N Glass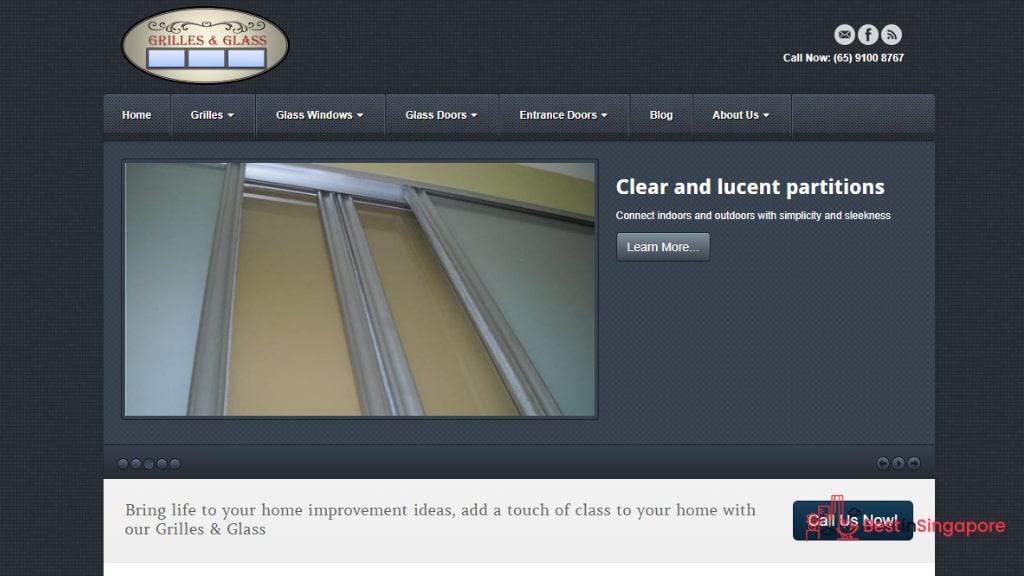 BEST FOR 
Soundproof windows for casement window types
WEBSITE
grillesnglass.com
ADDRESS
71 Woodlands Avenue 10, #07-14, Singapore 737743
CONTACT DETAILS
+65 9100 8767
OPERATING HOURS
Weekdays: 9am–6:30pm

Saturdays: 9am–5pm
Grilles N Glass also offers double-glazed glass soundproof window types — producing up to 80% noise reduction. However, their soundproof windows can only be installed for casement window styles.
Their best soundproof windows in Singapore also keep your place cool during the summer season, which can help lessen AC usage and electricity bills. Due to the extra thickness, their products also promote safety and security.
Highlights
Temperature control
Additional noise insulation
Residential and commercial services
When choosing the right soundproof windows for your place, there are lots of things to consider like size, design, and cost as well. So, be sure to pick the one that's suitable to your preferences.
For more options, you may see these best window contractors in Singapore. They also offer different kinds of soundproof windows suitable for both residential and commercial needs.