6 Picks for the Best Roadside Assistance in Singapore
Stuck on the road because of a flat tyre or a broken car? If so, then you'd need to contact the nearest car shop that offers the best roadside assistance in Singapore.
Don't worry, because we've already listed some of the most recommended car centres with accessible and best roadside assistance in Singapore! To know more about their offered services and locations, see our list below!
1.  AA Singapore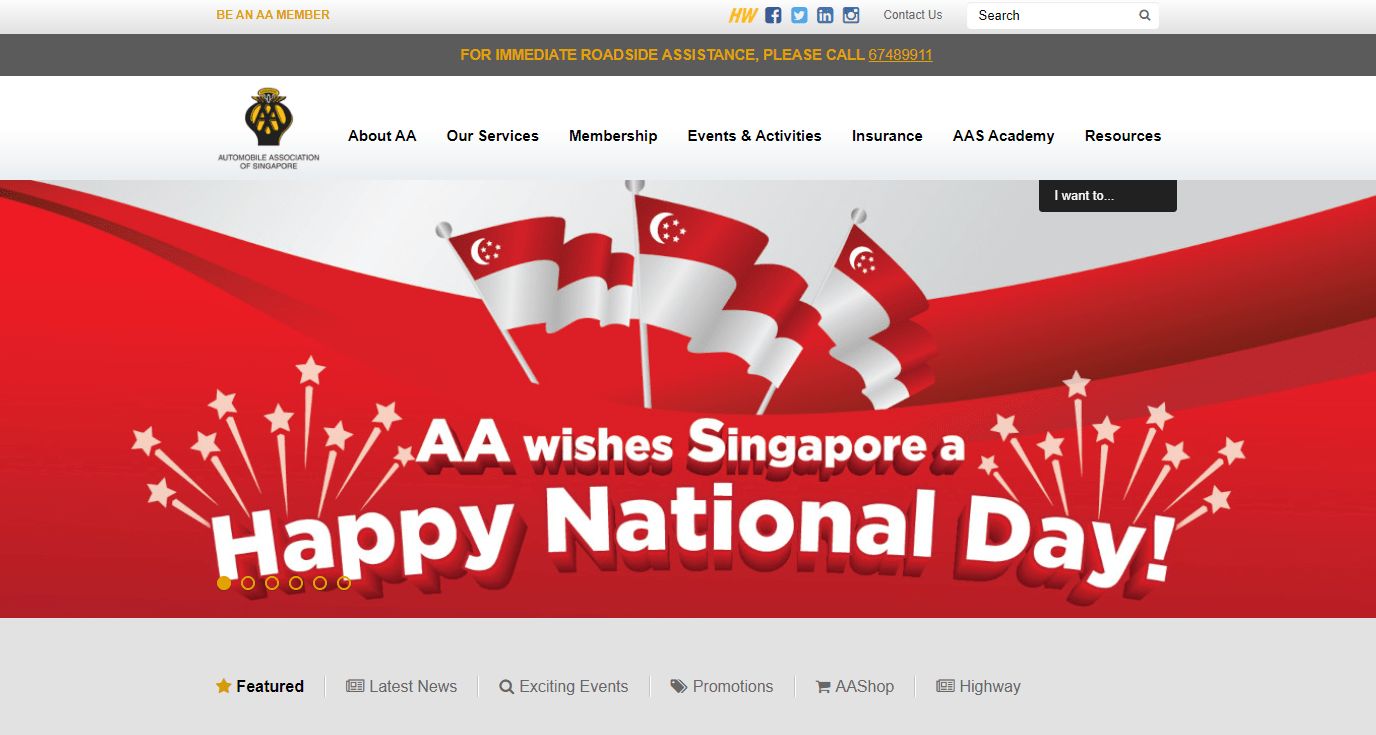 AA Singapore is a leading provider of roadside assistance with thousands of members gained throughout the years. They offer 24/7 services where you can choose whether to get your car towed to either of their workshops or your preferred car centre.
You can simply install their mobile app on your smartphone, then immediately call for emergency response. On their app, you can see a variety of services such as vehicle jumpstart/restart, flat-tyre change, towing, battery replacement, and petrol delivery.
No matter how major or minor the problem is, they can help you fix your car and get it to start again. They can accommodate all types of vehicles, including bikes.
Aside from their best roadside assistance in Singapore, they also offer car evaluation, pre-trip car inspection, scrap car service, and more. Their knowledgeable staff also provides technical advice and even overseas safe driving tips.
Once you've become a member, you can receive numerous benefits like enhanced insurance coverage, privileges both local and overseas, great motor savings, and more!
Highlights
24-hour roadside assistance services
Car evaluation
Scrap car service
Enhanced coverage
Exclusive promotion deals
Customer Reviews
Customers were highly satisfied with the overall services of AA Singapore. They said that the technicians offered them a wide range of services, performed thorough car inspection and made sure that all problems were resolved.
A customer posted this feedback:
"FAST! Good and reasonably priced! Never disappoints! My car couldn't start earlier this week, a quick call was responded by friendly lady to assist me in sending a yellow van down.The gentlemen tested my battery and confirms its dead and I had one replaced on the spot! Super convenient!!!"
2.  AJ Towing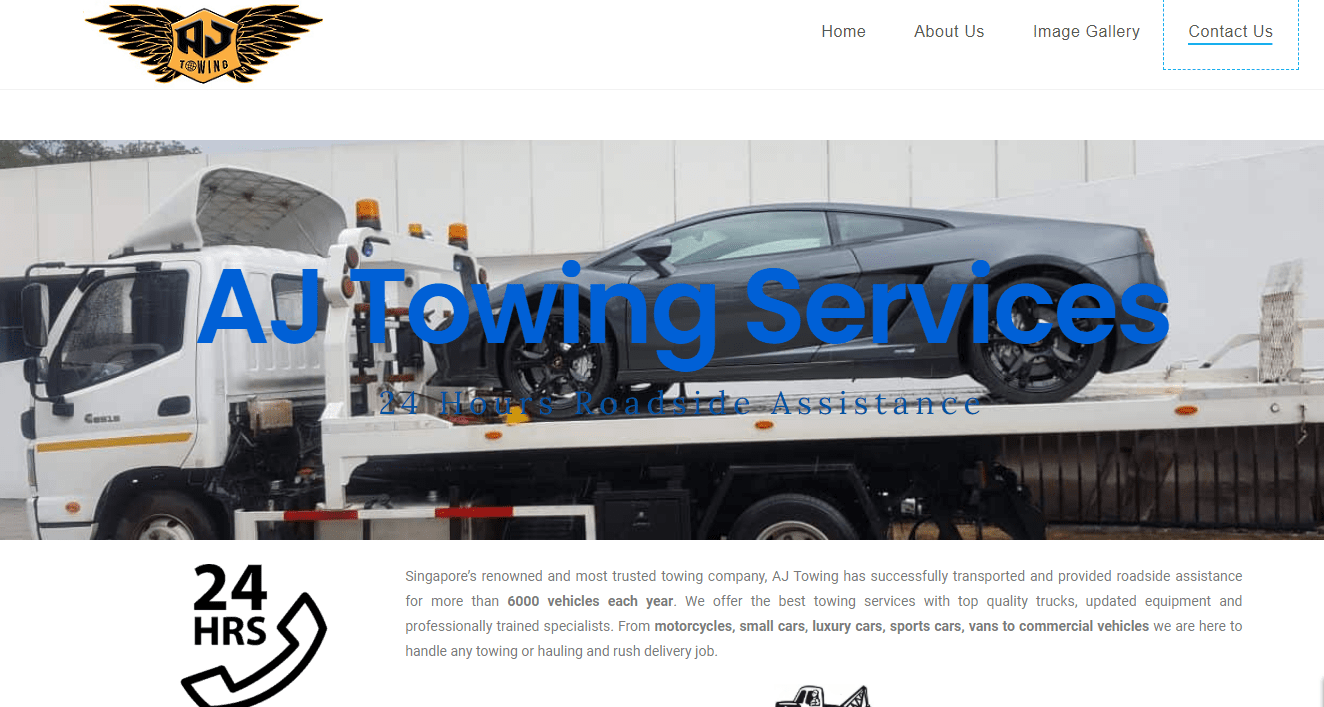 | | |
| --- | --- |
| BEST FOR  | Bulk car transportation, Multi-storey/basement car park towing |
| WEBSITE | https://ajtowing.sg/ |
| ADDRESS | 19 Senoko Loop, #04-00, Singapore 758169 |
| CONTACT DETAILS | +65 86006229 |
| OPERATING HOURS | Open 24 hours |
With their capability to transport and provide roadside assistance for thousands of vehicles every year, AJ Towing has become one of the renowned and most recommended towing companies in Singapore. They're fully equipped with top-quality trucks, up-to-date equipment, and trained specialists.
They can assist any type of vehicle, such as small cars, luxury cars, sports cars, vans, motorcycles, and commercial vehicles. Whether you need towing, hauling, or a rush delivery job, they have everything you need.
With their heavy-duty equipment, they also provide services from multi-storey car parks or basements, ensuring efficiency and safety. In case of a road accident, they also offer accident removal service and take you and your vehicle to your required destination immediately.
For those who are planning for a launch event or roadshow, they can make it easy for you to run the show by towing your required vehicles anytime and anywhere.
Be it a light, medium, or heavy vehicle, they can quickly and safely transport it with assured damage prevention and affordable transportation services.
Highlights
Local cargo delivery
24-hour towing service
Events and roadshow towing service,
Battery replacement service
Logistics management
3.  BH Auto
BEST FOR 
Islandwide service
WEBSITE
http://bhauto.com.sg/
ADDRESS
Blk 1 Sin Ming Ind Est Sector C #01-111 to 117 Singapore 575636
CONTACT DETAILS
+65 6559 8944
OPERATING HOURS
Mon-Sat: 09:00 – 23:00

 

Sun: 10:00 – 16:00
For over a decade, BH Auto has been serving one-stop automotive solutions with their extensive range of services. This includes their best roadside assistance in Singapore where they offer a free towing service with car servicing.
They will be at your service even during public holidays and at hard-to-reach areas. Their experienced technicians will help you with battery recovery, tyre patching, and any required solution for your vehicle.
Moreover, they can also take care of your car appearance with their spray painting, panel beating, and car polishing services.
Highlights
A/C maintenance
Wheel alignment
Tyre patching
Battery recovery
24/7 service
Customer Reviews
Clients shared that BH Auto has a team of automotive experts that provides long-lasting solutions for any car complications. A client gave this feedback:
"My car broke down on me in the middle of the car, at peak hours. Was Super stressful, but I got Eric's number & called him. Immediately, he said he will come down save me. Within a short period, he arrived & packed up my car in a professional & experienced manner. We then proceeded to his workshop at Sin Ming, and his engineers attended to my car in a prompt manner. I wish there are more honest & holistic car workshop like this in Singapore!"
4.  Spark Car Care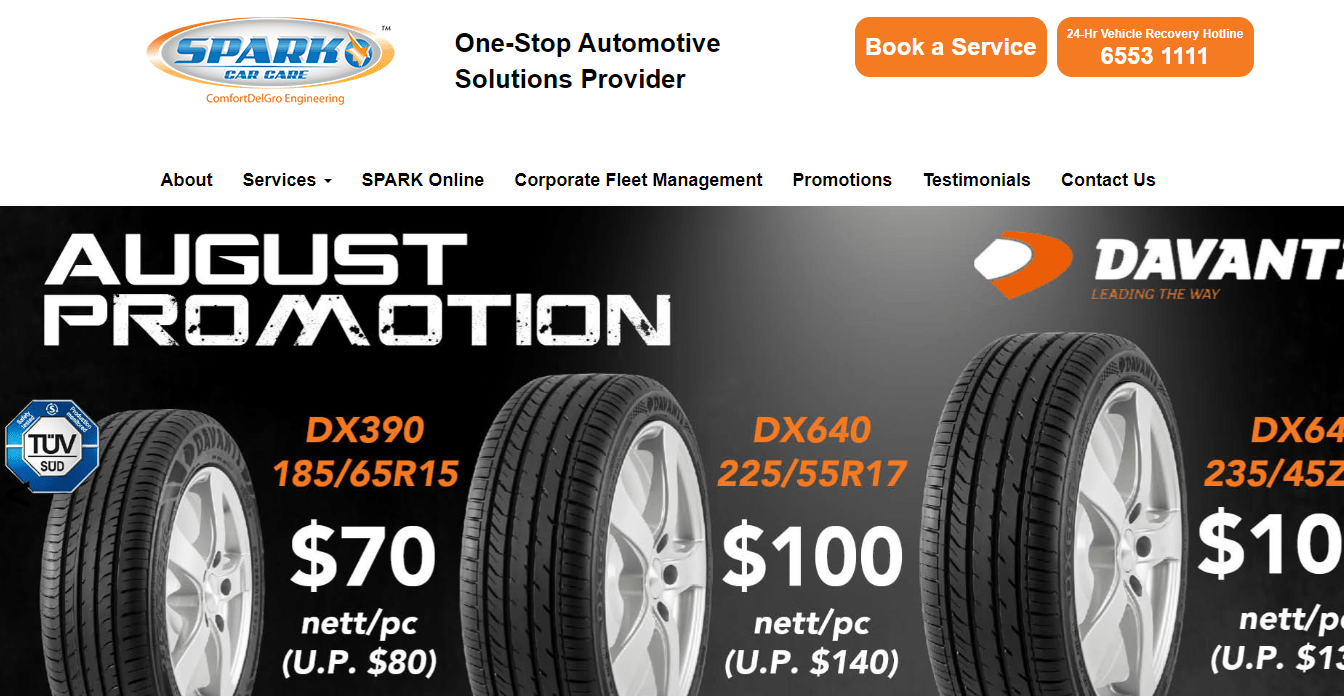 Spark Car Care provides a wide range of recovery services such as jump-start/restart of vehicle, flat tyre change, flat battery change, and towing services. These services are offered to both passenger car drivers and commercial fleet owners.
They've been in the industry for several decades, proving that they truly provide the best roadside assistance Singapore. You can easily find their car centres with their accessible locations nationwide.
Their trained engineers and technicians are well-versed in all car models, so you can be sure that they'll implement the most suitable automotive solution for your car.
They're an authorised workshop for numerous insurance providers.
Highlights
24-hour breakdown and towing services
Maintenance and repair jobs
Service bays
Special promotions
5.  ARS (Automotive Recovery Singapore)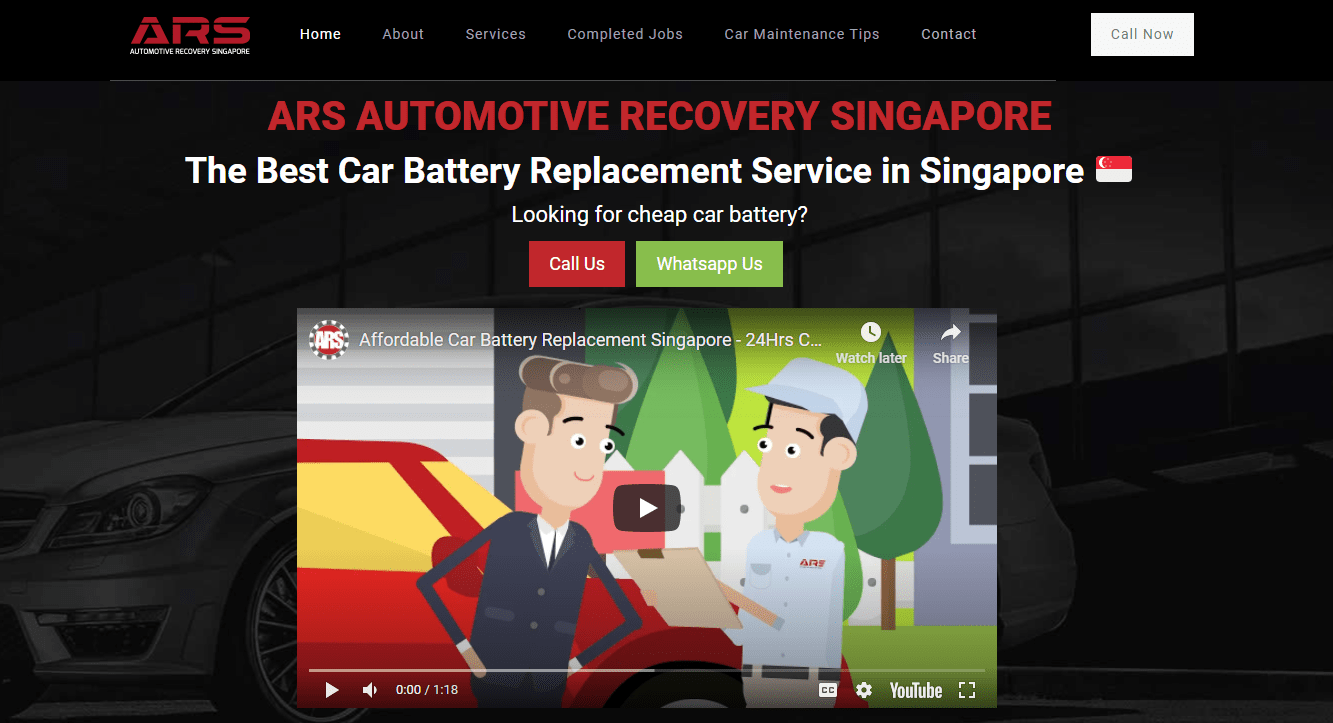 | | |
| --- | --- |
| BEST FOR  | 24-hour on-site emergency service |
| WEBSITE | https://www.arsrecovery.sg/ |
| ADDRESS | +65 8618 9000 |
| CONTACT DETAILS | 177 Kaki Bukit Ave 1, shun li industrial, Singapore 416023 |
| OPERATING HOURS | Open 24 hours |
At ARS (Automotive Recovery Singapore), you can rely on their competent automotive services, ranging from basic to advanced solutions. They offer car battery replacement, car tyre repair and patching, jumpstart service, and car towing.
When it comes to their battery replacement, they're known for providing quality brands such as Amaron, Globatt, Drive, and Hoppecke — one of the many reasons why they've become the go-to shop for many locals.
No matter where you are, their mechanics will arrive at your destination within 30 minutes and perform an accurate inspection to repair your car in a short time. With their full range of services, there's no need to worry about missing an important meeting or social gathering!
Highlights
Premium car battery brands
24-Hour Roadside Recovery
Fast response, islandwide service
Customer Reviews
ARS (Automotive Recovery Singapore) has received positive responses from clients due to their extensive technical knowledge and durable products, making them the leading provider of best roadside assistance in Singapore. A client gave this review:
"Googled to find them, and they delivered as promised. Within 45 minutes, timely service was rendered to replace car battery. Smooth and responsive communications made it better. Charges were definitely reasonable too, greatly recommended!"
6.  The Doctor Battery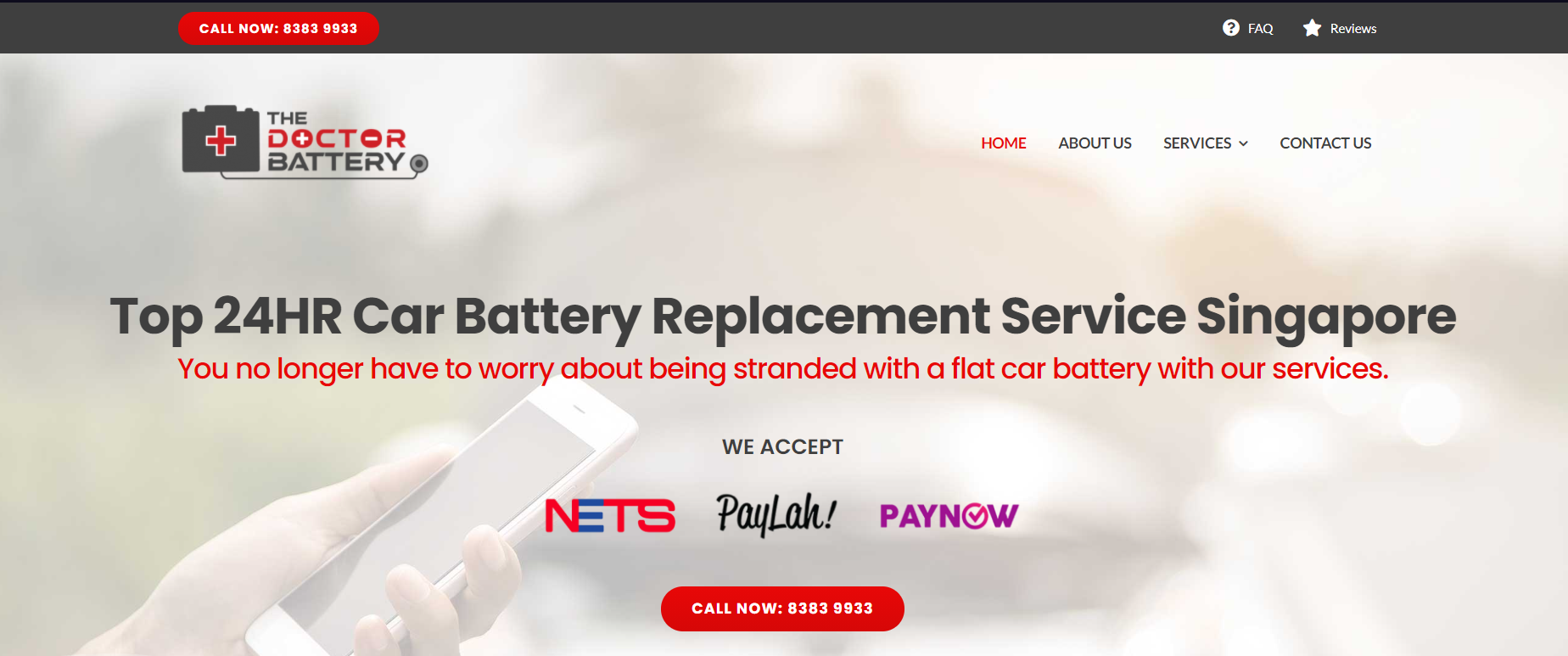 The Doctor Battery aims to provide professional roadside services to their clients. They strive to uphold only the highest standards when it comes to their work.
Their expert team of technicians are composed of individuals skilled in various areas of roadside service. You can count on them to actually solve whatever problem you may have.
Most importantly, they're upfront and honest when it comes to pricing. There's no need to worry about any hidden fees or sudden surcharges.
Highlights
24/7 Emergency Roadside Assistance
Affordable & Transparent Pricing
Professional services
Fast Delivery
And that's the end of our list of shops with the best roadside assistance in Singapore! Have you already experienced the services of one of the listed shops? If you have, then you may also tell us all about it!
And for more options, take a look at these best tow truck services in Singapore!