7 Sites for the Best Resume Writers in Singapore
Have you been sitting in front of your desk for hours and yet you're still not sure what to include in your resume? If so, then searching for the best resume writer in Singapore would truly be a great help!
However, with the countless options you have online, finding the right one can be a bit overwhelming. To make it easy for you, we've rounded up the top sites with the best resume writers in Singapore!
1. Successful Resumes Singapore
In the highly competitive marketplace of Singapore, Successful Resumes Singapore strives to create and develop well-written and appealing resumes.
Throughout their decades of experience, they have established offices across the globe, proving that they offer world-class services as professional writing consultants.
Their strategic resumes mostly highlight your achievements, expertise, skills, and talents constructed in a reader-friendly and concise format. They perform a collaborative effort to fully present your value as an employee and capture the attention of recruiters.
Their best resume writers in Singapore have worked with various clients, ranging from fresh graduates to executives of global companies. No matter what job you want, they make sure that your resume will leave a positive impression.
If you already have a written resume, they can also check it and do some editing so you can improve your current one. Aside from the documented resume, they also take care of your social media presence by optimising your LinkedIn profile.
Highlights
Interview coaching
Optimizing LinkedIn profile
Review and editing resume
Customer Reviews
Many clients said that after getting some help from Successful Resumes Singapore, they were able to encounter great job opportunities and work with top companies.
They said that they truly provide a well-crafted and employer-centric resume. A client wrote this feedback:
"My resume you crafted for me -looks great! Now I know why some people feel embarrassed by their resumes. My achievements are so well highlighted and translated into hard hitting resume content. My strengths and talents are superbly showcased. Thanks to you and your Successful Resumes Singapore Team for doing such an awesome job."
2. Resume Writers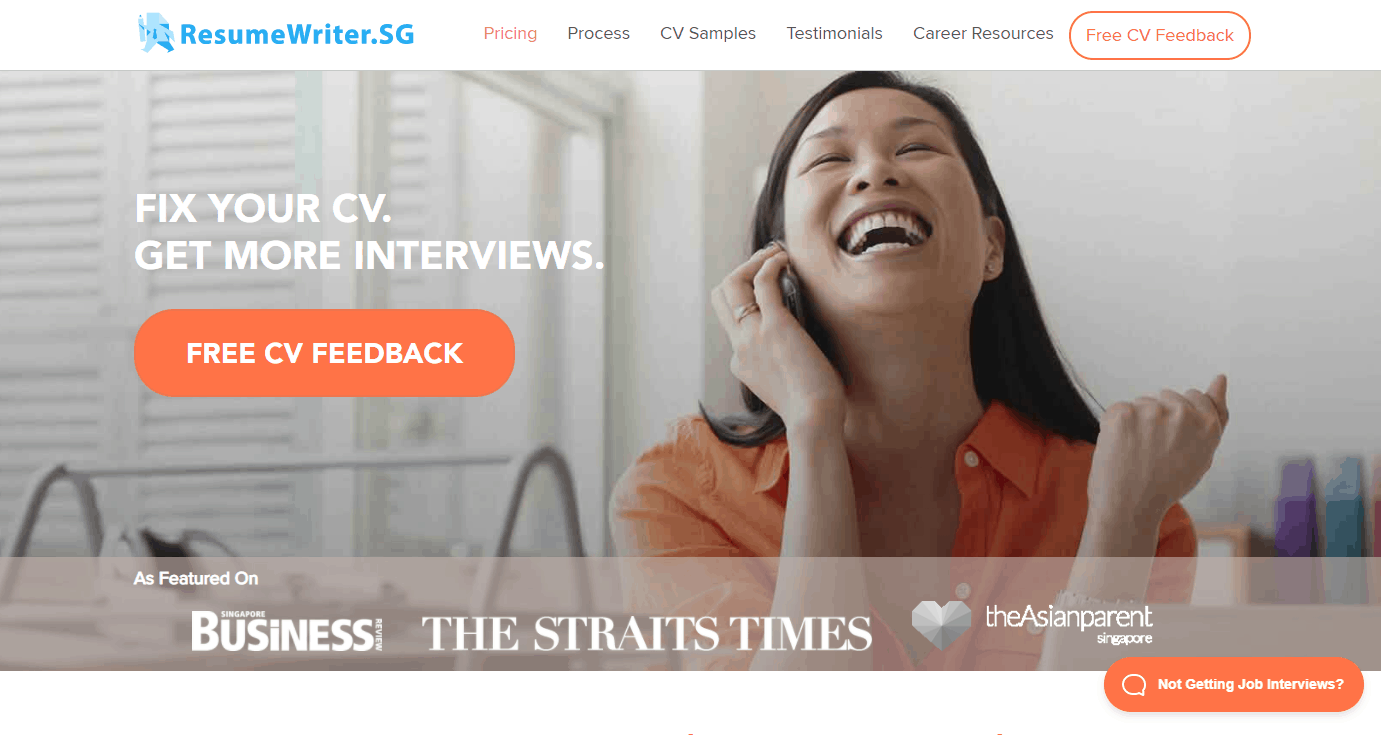 | | |
| --- | --- |
| BEST FOR | Resume writing service packages |
| WEBSITE | https://www.resumewriter.sg/ |
| ADDRESS | 160 Robinson Rd, Singapore 068914 |
| CONTACT DETAILS | +65 6631 8958 |
| OPERATING HOURS | Weekdays: 9am–6pm |
When job hunting is the main topic of a conversation, Singaporeans always mention Resume Writers because of the comprehensive and flexible resume writing services that they offer.
Their process starts with phone consultations with their specialist writer, then continuous email interaction including unlimited revisions to make sure that you'll have a polished resume.
Their services come with selective packages, suitable for those who are establishing a career, switching professions, and seniors who are finding it hard to apply due to their age.
There's no need to worry because they have the best resume writers in Singapore who have deep knowledge about your chosen industry. So rest assured that they'll know which key strengths to emphasize and other strategic approaches to use.
They also offer additional services like cover letter write-ups, LinkedIn profile updates, and email scripts. You can also opt to have reliable sources about job search strategies, interview prep questions, and even a directory of headhunters.
They've been featured on several media publications such as Singapore Business Review, The Straits Times, and The Asian Parent Singapore.
The clients whom they helped have landed jobs in renowned companies like DBS, Google, Singtel, Amazon, and more — proving that they indeed have the best resume writers in Singapore.
Highlights
Resume writing for seniors
Unlimited revisions
Email scripts
LinkedIn profile updates
Interview prep questions
Customer Reviews
Some clients shared that the specialist writers know the requirements for every industry, making their resume stand out among the rest.
A client gave this review:
"I had the pleasure of working with Amy from from ResumeWriter. She took the time to understand my professional experience and skills in creating a resume of high quality. I was very pleased with her patience that Amy demonstrated during the revision process. All queries were promptly responded to in extensive detail. Thank you Amy and team! you have a great insights to resume writing."
3. Excellence Resumes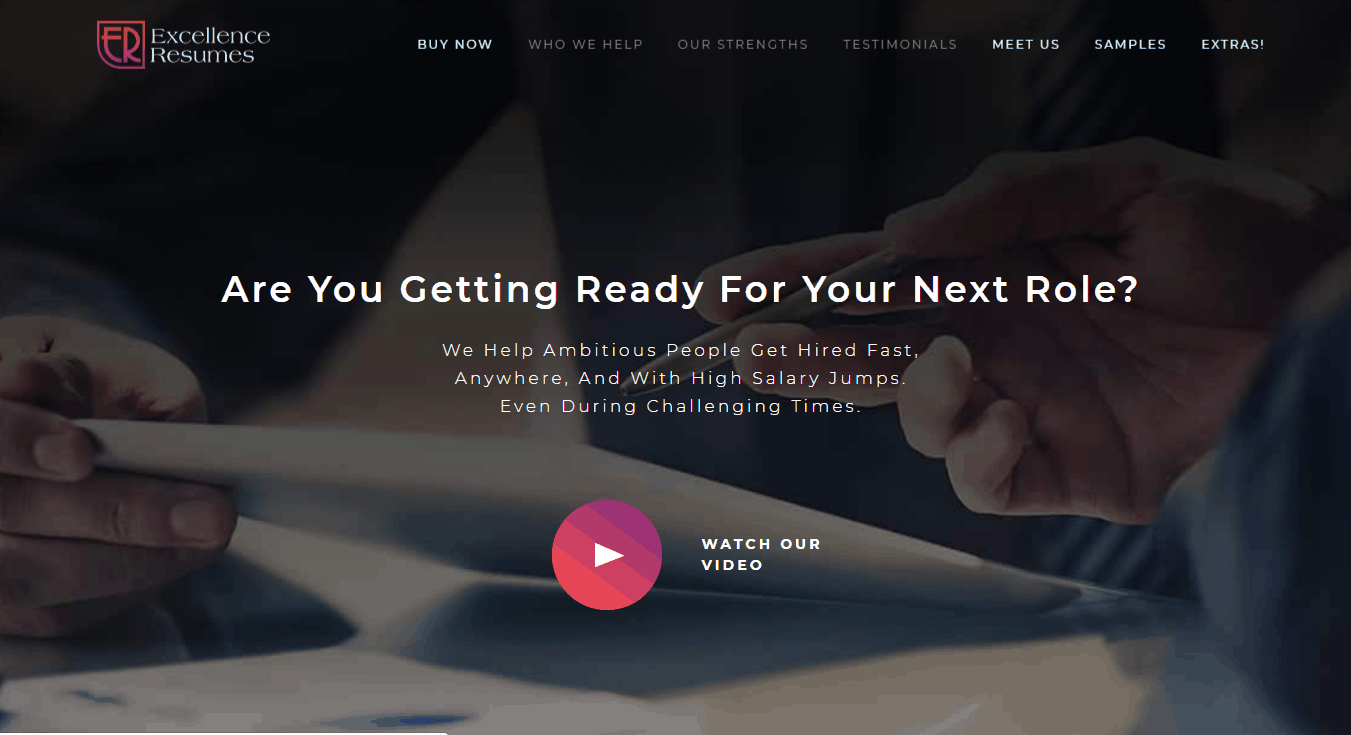 | | |
| --- | --- |
| BEST FOR | Resume writing for executive officials |
| WEBSITE | https://www.excellenceresumes.com/ |
| ADDRESS | 1 Scotts Road #24-10, Shaw Centre 228208 Singapore |
| CONTACT DETAILS | +65 8595 2824 |
| OPERATING HOURS | Weekdays: 8am–6pm |
Excellence Resumes go beyond traditional resume writing. They offer personalised profile optimizations without any generic templates, introduce you to top recruiters, provide LinkedIn training, and so much more.
Consulting with them doesn't only include writing a resume, as they also teach new techniques to enhance your profile and increase online visibility. This way, you can secure the best positions available in the industry.
Their best resume writers in Singapore specialise in helping executives take on different positions and manage greater responsibilities in their chosen industry.
They've assisted thousands of clients from industries such as banking and finance, media communication, IT and telecom, engineering, real estate, health care, education, logisintings, and more.
Due to their resumes, their clients were able to land jobs in prestigious companies like Google, Facebook, Microsoft, Apple, etc. They also provide a free digital guide to know the methods that successful professionals use to get their dream jobs.
Highlights
Job interview and salary negotiation coaching
Updating LinkedIn profile
Free career advice
Customer Reviews
Many clients gave positive responses to ExcellenceResumes because of quality resumes and effective training. A client left this feedback:
"Hi Everyone. My name is Kalyan Krishna and I used ExcellenceResumes. It worked very well. Great service and extremely comprehensive support from Fabien team at Excellence Resumes have done an amazing job transforming my tired resume into something that pops! They are a very professional and experienced team who are extremely committed to going above and beyond to produce quality and give their clients incredible value!"
4. DGG Resume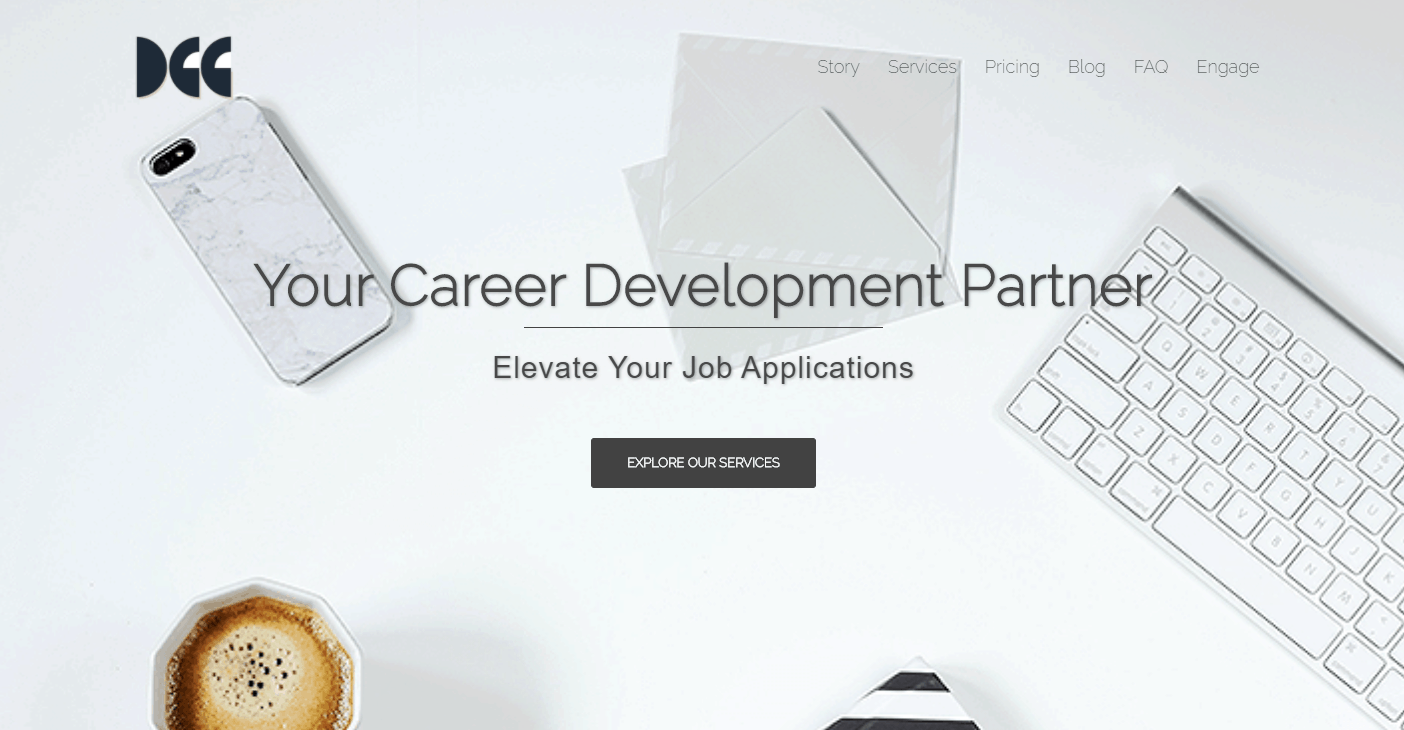 To help you achieve your career goals, DGG Resume can develop and optimise your resume and help you have more confidence when talking to the interviewer.
Whether you're applying for the first time, transferring to a new profession, or searching for a cover letter sample, their best resume writers in Singapore can help you with everything.
They create or edit your resume and feature your achievements and skills to capture the attention of potential employers. Their resume designs are suitable for any industry so you'll surely find the assistance that you've been looking for.
Apart from resume writing, they also provide other services like cover letter writing, LinkedIn profile development, and professional resume photography too. With their complete set of services, your resume will definitely have a positive impact on your career.
Highlights
Job application guides
Care development content
Cover letter wiring
LinkedIn profile development
Customer Reviews
DGG Resume was complimented by many locals, saying that they're truly a one-stop service provider. A client left this review:
"I'd like to compliment Daryl for the excellent service he provided. Daryl's professionalism and ability to get to the bottom of the situation quickly exceeded my expectations. Within a short period of time, he is able to conclude and start the process of having my resume well corrected. Lastly, he is very patient and understanding. Worth the penny too!"
5. Find My Profession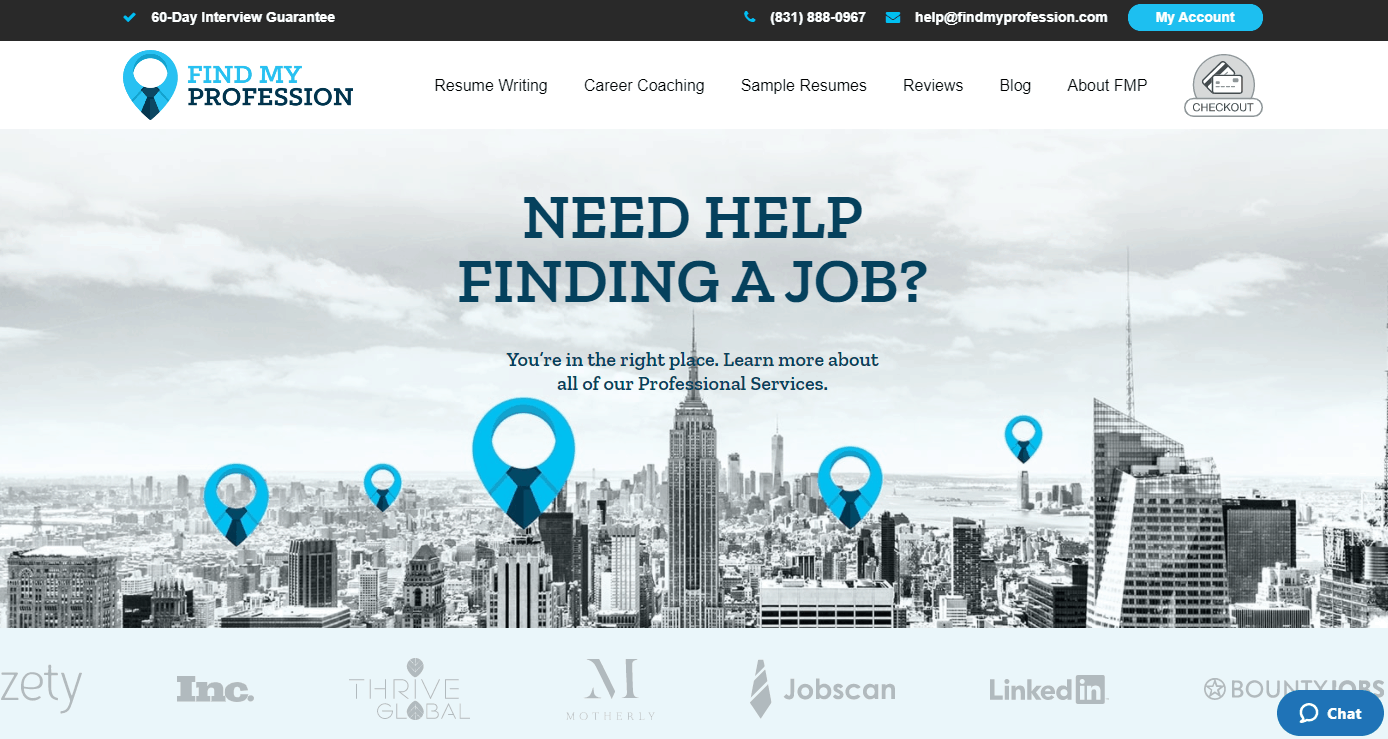 Find My Profession is fully equipped with elite writers who have years of experience in various careers. So, you can be sure that you'll be able to work with the one that best matches your chosen job position.
Their resume writing services are suitable for job seekers of all kinds, from those with no experience to senior professionals. They even have services for aspiring C-level executives and government employees.
Apart from these, they also help you build a wide network on LinkedIn to gain more new opportunities. Once you've gotten in for an interview, you can rely on their hands-on interview training to improve your communication and negotiation skills.
Highlights
Career coaching
Free resume revision
LinkedIn networking
Cover letter writing
6. CareerSocius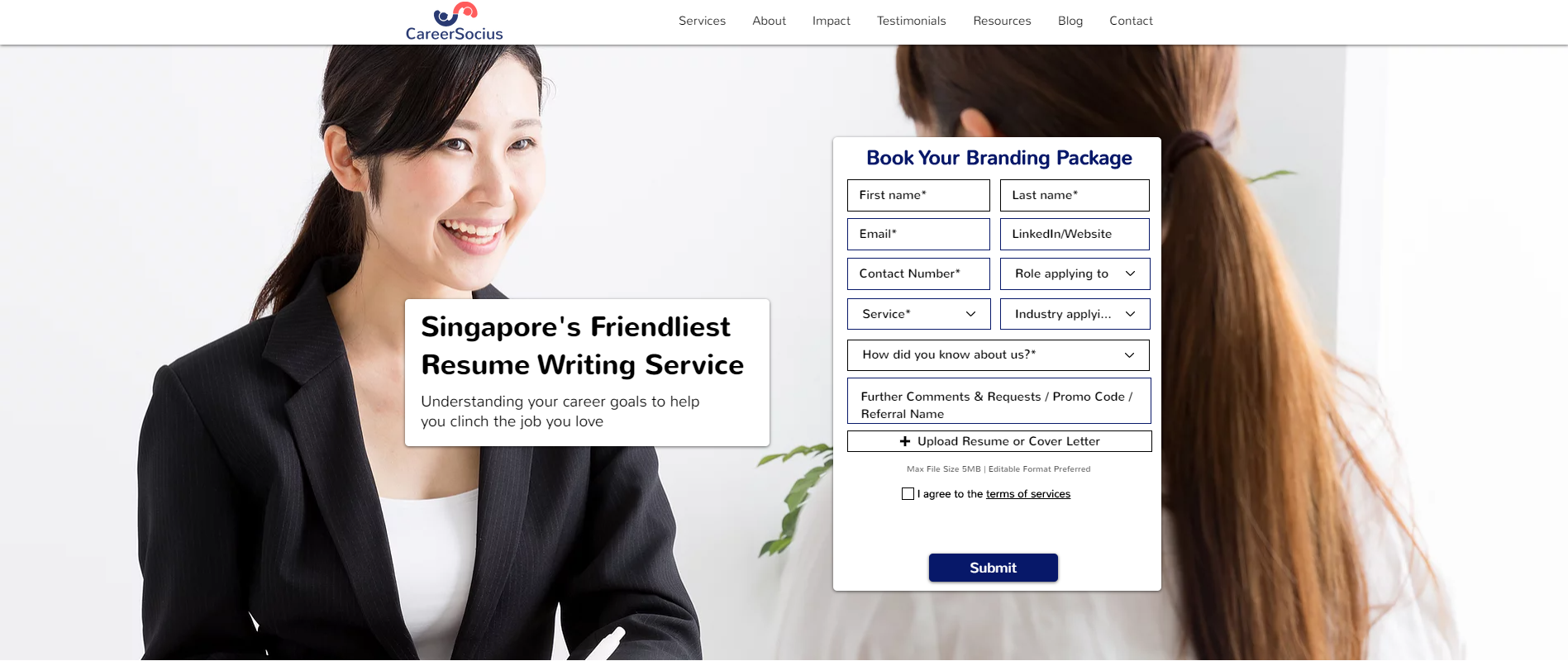 CareerSocius understands the difficulty of job searching process. They aim to minimise this difficulty by providing assistance in creating your personal brand.
Their various packages allow you to avail of their quality services– even on a tight budget. With CareerSocius, you'll be able to better showcase your strengths and increase your chances of getting hired.
Highlights
Packages available for personal branding
Offers online resources
7. Hans Toh

Hans Toh will help you stand out from other applicants and get yourself noticed. They offer resume writing, cover letter writing, and LinkedIn profile optimisation services.
Their expert writers are experts in writing for various industries. With their help, you're sure to get immediate results and land a job faster.
Highlights
Professional certified writers
Cross-industry expertise
And that's our list of the best resume writers in Singapore! Have you already decided which one you'd like to get some help from? Let us know!
Oh, and to know more about finding the right job and dealing with career changes, you might want to consult with the best career coaches in Singapore as well!