By Lindsey Tan
For those who are searching for the clinic that offers the best ptosis surgery in Singapore, you should first know that it's more of a medical condition than a cosmetic concern. Thus, it might be good to be aware of its causes first and if there are alternative solutions.
Ageing, excessive skin, weakened eyelid muscle, & failed muscle functions are the usual reasons for this condition. It can only be treated with a surgical procedure (ptosis surgery), and it's advisable for those who really need it for functionality or aesthetic improvement.
To know more about your options when it comes to the techniques, treatments, and costs, see this inclusive list of the top clinics that perform the best ptosis surgery in Singapore.
We've narrowed down your options until we ended up with only the most well-loved clinics on the island. These are the ones that offer the best droopy eyelid surgery in Singapore (another name for ptosis surgery).
(Note: This list is in no particular order.)
1. Dr. Terence Goh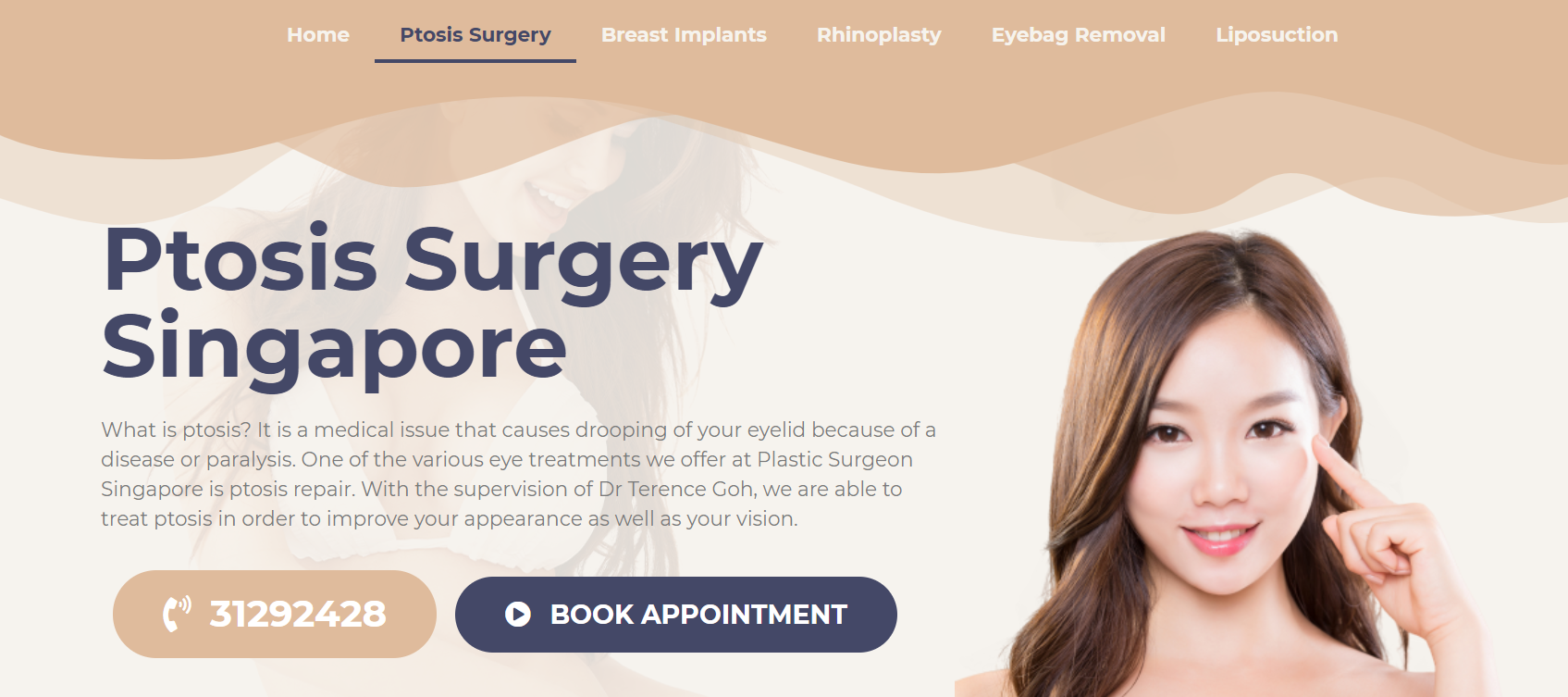 BEST FOR
Body contouring services
WEBSITE
https://www.plasticsurgeonsingapore.com/rhinoplasty/
ADDRESS
38 Irrawaddy Road #06-48 Mount Elizabeth Novena Specialist Centre Singapore 329563
CONTACT DETAILS
31292428
OPERATING HOURS
Mon – Fri: 9am – 6:30pm
Sat: 9am – 1pm
Plastic Surgeon Singapore is an excellent clinic to visit if one is looking to undergo plastic surgery. There are a number of reasons why, one of which is the team that the clinic is comprised of.
Expert plastic surgeons make up the team at Plastic Surgeon Singapore, all of whom are trained and guided by Dr. Terence Go in performing both reconstructive and aesthetic procedures. So, you can rest assured that you'll be safe in their hands regardless of the procedure you choose.
Another noteworthy fact about this clinic is their selection size. The surgical procedures that Plastic Surgeon Singapore can provides include facial aesthetics, eye treatments, body contouring, breast surgery, hair transplants, liposuction, and more. Reconstructive surgery is also one of the clinic's specialties.
That said, this list is about the best droopy eyelid surgery in Singapore… and you can definitely trust the doctors here to deliver that.
Highlights
Expert plastic surgeon
Wide variety of treatment services
2.  Allure Plastic Surgery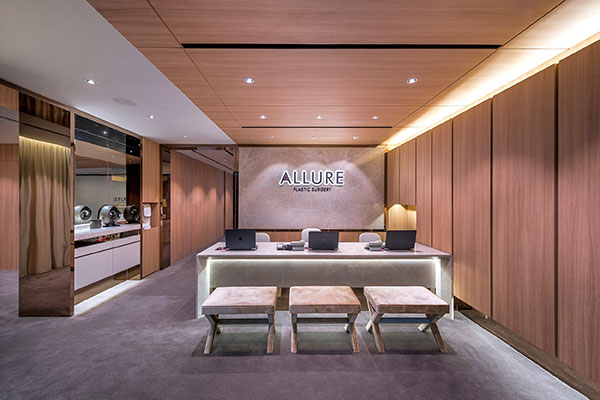 Unlike other clinics, Allure Plastic Surgery offers its signature ptosis correction surgery where they treat all levels of severity by performing a certain type of surgery for each condition.
The most impressive feature of their services is their scarless suture technique that'll leave no marks behind after the surgery.
They also use other innovative and modified techniques for plastic surgery — that's why they're considered to have the best ptosis surgery in Singapore.
Highlights
Full range of facial, body, and skin treatments
Signature services
3.  Sweng Plastic Aesthetic and Reconstructive Surgery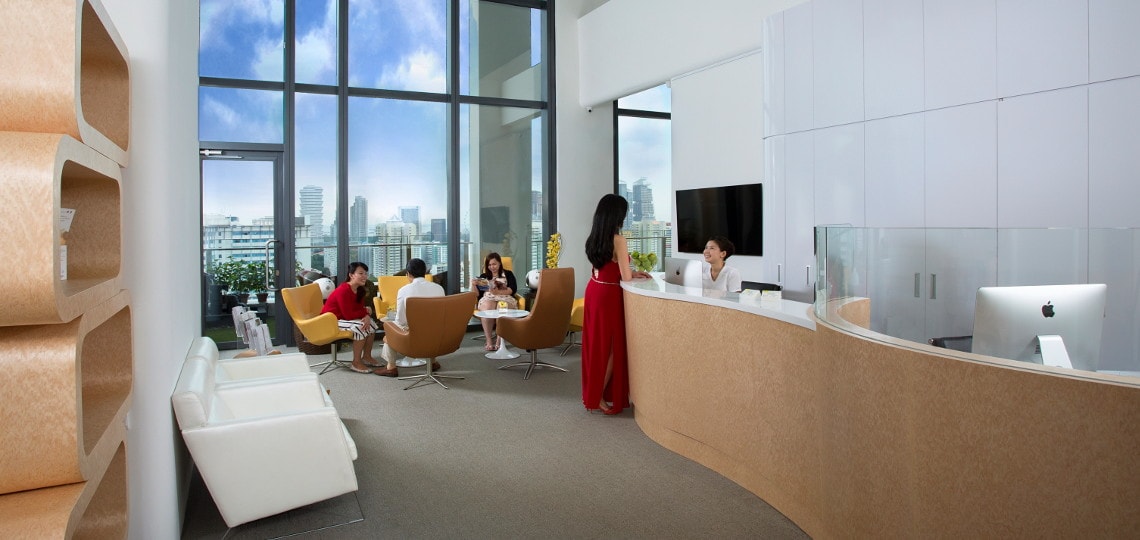 BEST FOR 
 Combination of eye surgeries
WEBSITE
https://www.sweng.sg/
ADDRESS
1 Farrer Park Station Rd, #16-08 to 10 Connexion, Singapore 217562
CONTACT DETAILS
+65 6600 6868
OPERATING HOURS
Weekdays: 8:30am–5:30pm
Saturday: 8:30am–1pm
Sweng Plastic Aesthetic and Reconstructive Surgery provides a broad range of eye enhancement and medical procedures. One of them is the best ptosis surgery in Singapore, in which they correct the condition for all ages.
They also combine the surgery with other procedures for an improved result. You can opt for general anaesthesia as a special request.
Note that if you need the best droopy eyelid surgery in Singapore but aren't sure how to make it fit into your budget, they can help you out with some financial counselling too, by the way.
Highlights
Financial counselling
Facial and body treatments
Customer Reviews
Most customers shared that they were delighted with the detailed consultation, successful surgery, and smooth recovery that they experienced with Sweng Plastic Aesthetic and Reconstructive Surgery.
For example, a customer complimented the specialists and the staff in this post from Google Reviews:
"Dr Ng is an excellent doctor.  He is very detailed and meticulous. He explained very clearly the procedures and various options before i decide on the surgery.  He was extremely gentle while performing the surgery. My recovery process was smooth sailing, no pain and side effects. I am very pleased with the result. Follow up checkups just as pleasant. Appreciate the nurses attention and care before, during and after the surgery."

4.  Colin Tham Plastic Surgery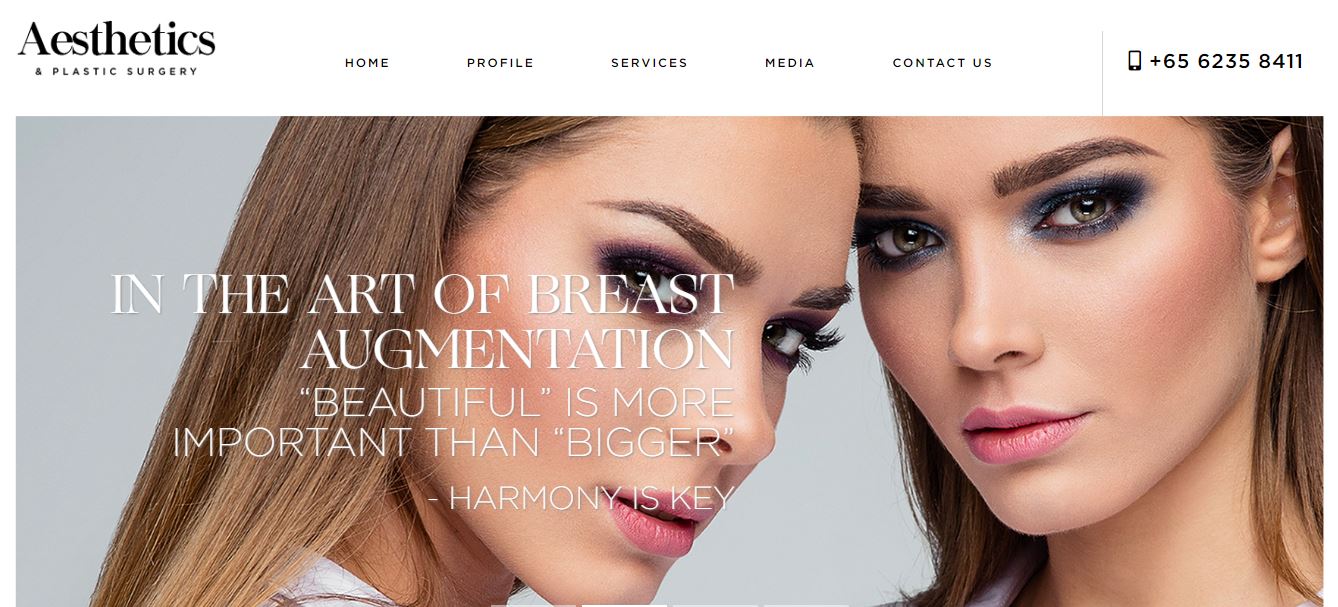 | | |
| --- | --- |
| BEST FOR  |  Personalised treatments and techniques |
| WEBSITE | https://www.colinthamplasticsurgery.sg/ |
| ADDRESS | 304 Orchard Road, Lucky Plaza #05-06, Singapore 238863 |
| CONTACT DETAILS | (65) 6235 8411 |
| OPERATING HOURS | Weekdays and Saturday: 9:30am–6:30pm |
Colin Tham Plastic Surgery specialises in aesthetic, plastic, and reconstructive procedures so you can surely find the eyelid treatment that you've been looking for.
When it comes to their best ptosis surgery in Singapore, they guarantee you full vision by tightening the muscle and removing the excess fat that has affected the eyelids.
They can even operate on both eyelids at the same time, saving you from more surgical procedures. They also prescribe medications to minimise swelling and bruising.
Overall, they deliver some of the most professional and carefully managed ptosis treatment in the country, which is probably why many pointed to them when we asked for clinics doing the best droopy eyelid surgery in Singapore.
Highlights
Facial and body treatments
Non-surgical rejuvenation
Customer Reviews
From the consultation and surgery up to the treatments and recovery, Colin Tham Plastic Surgery has surpassed the expectations of many customers. They say that they were treated with professionalism and enhanced results.
A customer shared this story on Google Reviews:
"Dr Tham is a great medical professional, receptive and candid, and listened closely my goals and concerns. As it was my first time going for surgery, Dr Tham took the time to reassure me by describing clearly what to expect during and after. I received great care from the whole team and the results turned out like everything I hoped too!"
5. Woffles Wu Aesthetic Surgery & Laser Centre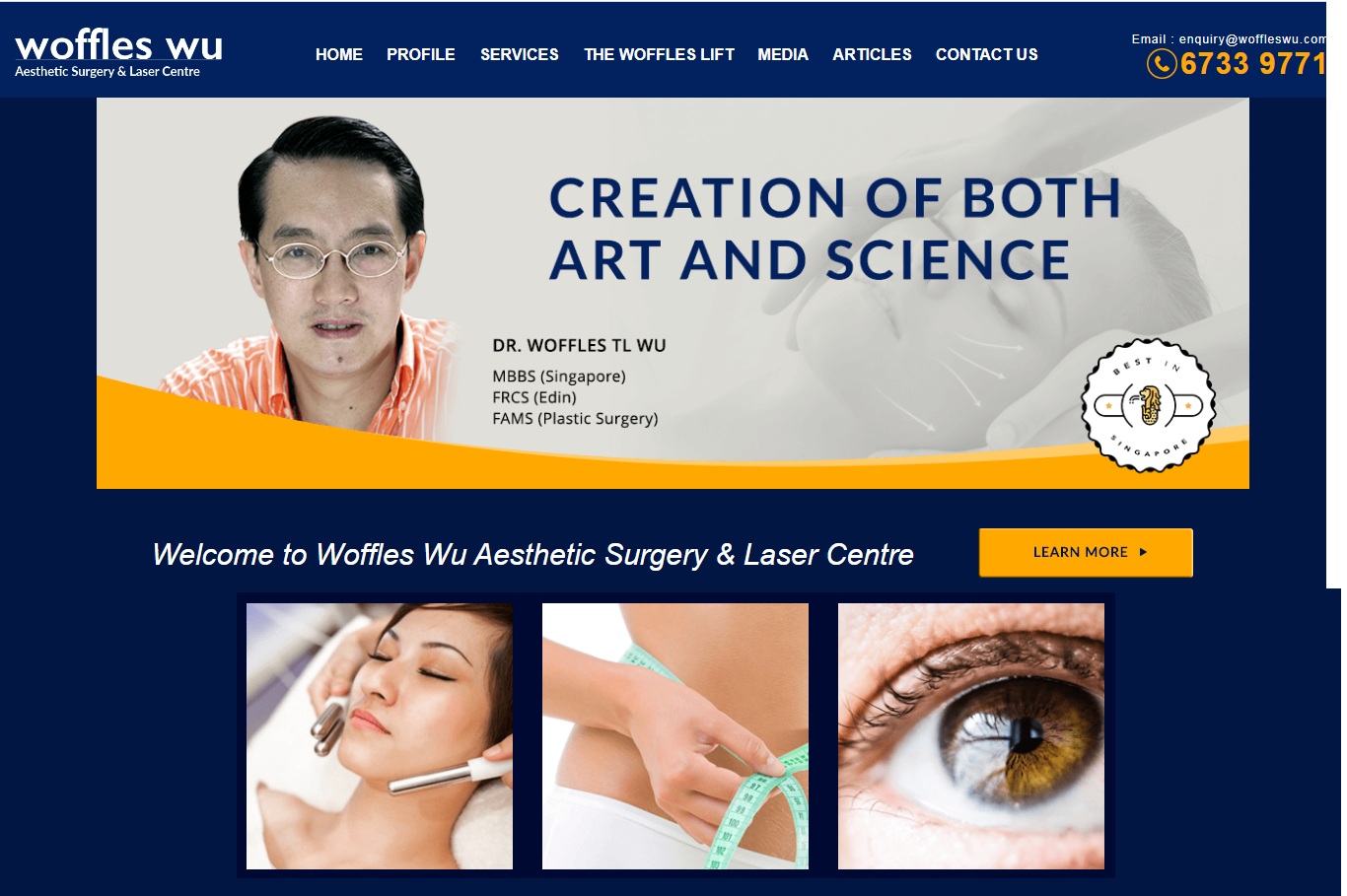 BEST FOR

Woffles Lift

WEBSITE

http://woffleswu.com/

 

ADDRESS

Camden Medical Centre, 1 Orchard Boulevard, Suite #09-02, Singapore 249615

CONTACT DETAILS

+65 6733 9771 / +65 6733 2820 |

[email protected]
While Woffles Wu Aesthetic Surgery & Laser Centre is best known for their plastic surgery services, they also offer other related procedures that address aesthetic concerns such as ptosis. 
The clinic makes sure to use only the clinically proven and effective cosmetic procedures for all of their clients to secure their safety and comfort. They have both non-surgical and surgical procedures that leave no scars or marks on your face.
If you choose to have Woffles Wu Aesthetic Surgery & Laser Centre handle your ptosis concerns, they promise that you are in good and credible hands. You can certainly rest easy if you go to them for the best droopy eyelid surgery in Singapore.
Highlights
State-of-the-art facilities

Well-experienced specialists

Safe and secured procedures
6. TES Clinic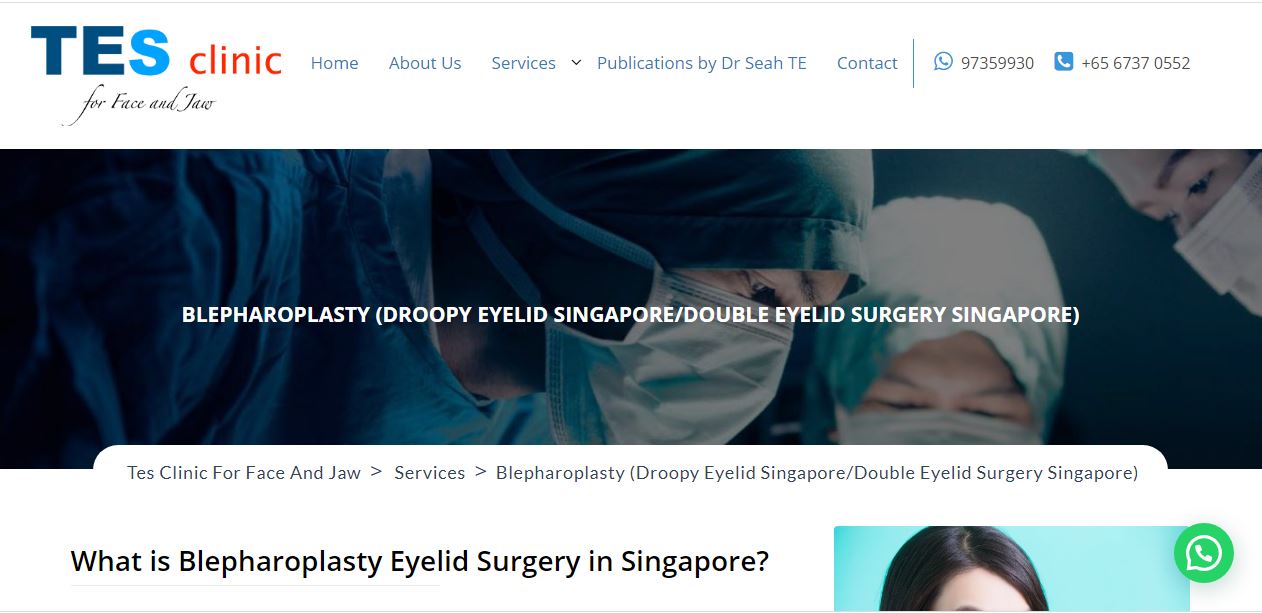 TES stands for The Esthetic Solution which means that the clinic will help you in resolving the issues you have regarding your skin or facial structure. 
One of the concerns that the clinic gives treatments for is Ptosis. The clinic conducts two types of double eyelid surgery, the first one is incisional method and the other is non-incisional or stitch method. Nonetheless, both are guaranteed to be safe and effective.
Their services do not stop from soft tissues of your skin but it goes beyond the structure of your face. Thus, they can really rectify if there's imbalance in your facial construction. 
Highlights
Science-based procedure

Well-trained specialists and staff
Customer Reviews
"I love the ambiance and nice décor of the clinic. Very classy. The doctor that attended to me was very professional and made lots of effort to make me feel comfortable throughout my double eyelid surgery. Results of the surgery was definitely an improvement to my overall look and I would say it was a very positive experience overall."
7.  Shens Clinic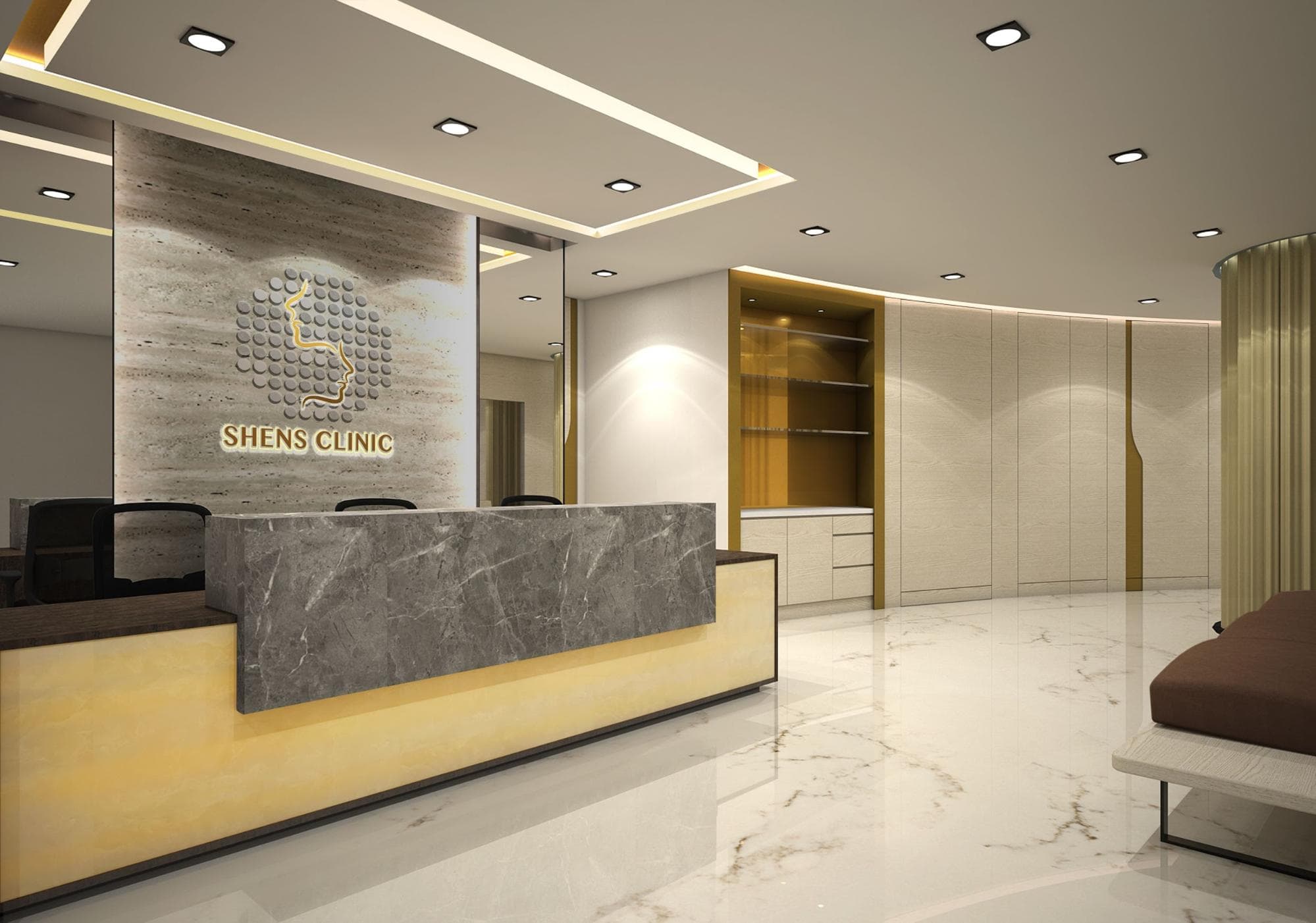 BEST FOR 
Wide range of eye aesthetic treatments
WEBSITE
https://www.shensclinic.com/
ADDRESS
Winsland House 1, #09-08, 3 Killiney Road, Singapore, Singapore 239519
CONTACT DETAILS
+65 6904 4488
OPERATING HOURS
Weekdays: 9:30am–6:30pm
Saturday: 9:30am–2:30pm
With over a decade of experience, Shens Clinic has become one of the leading aesthetic clinics on the island. The main specialist is a Korean-trained surgeon, so he's very knowledgeable about the different techniques for plastic surgery.
For their ptosis correction, they'll treat the uneven eye shape with a painless procedure, providing local anaesthesia or sedation. They assure you that the results will be visible for over a month, giving you one of the best ptosis surgery in Singapore.
Highlights
Signature products
Facial, body, and reconstruction treatments
8.  Wong's Plastic Surgery Centre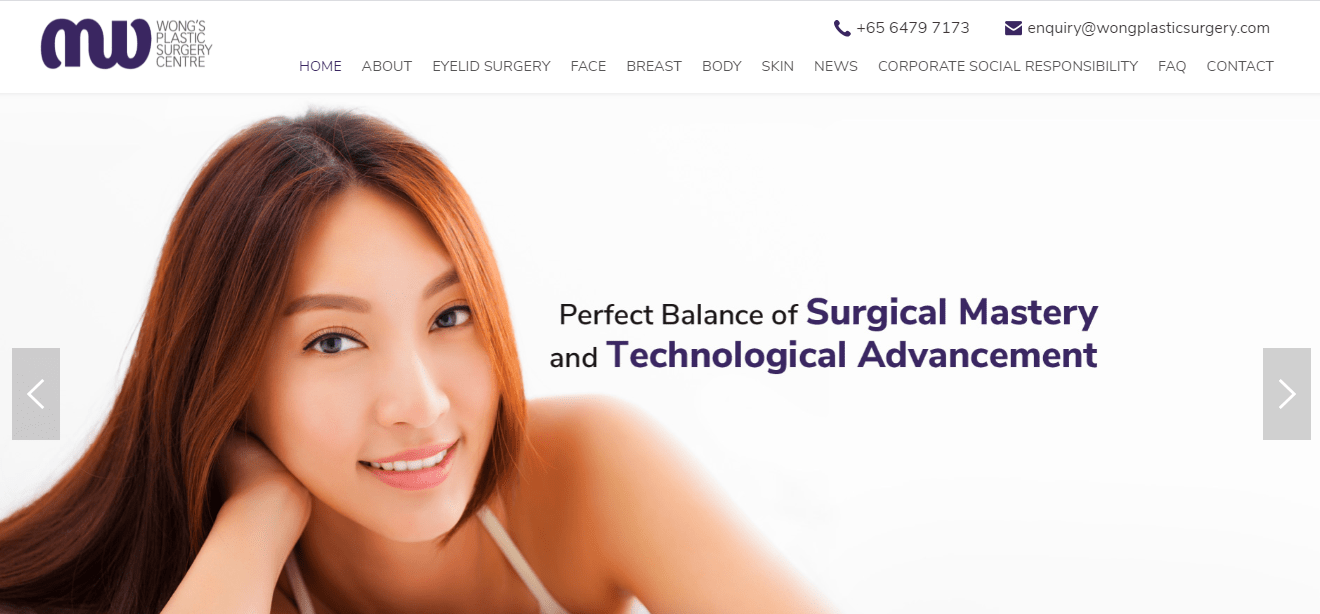 BEST FOR 
Eye Surgeries
SERVICES
Ptosis Surgery, Brow Lift, Eye bag Removal, Breast Augmentation, Liposuction, Chin Augmentation, Cheek Implant, and Acne Scar Treatment
WEBSITE
https://www.wongplasticsurgery.com/
ADDRESS
6 Napier Road, #07-13, Singapore 258499
CONTACT DETAILS
+65 6479 7173

[email protected]

OPERATING HOURS
Monday – Saturday, 9:00 AM to 5:30 PM
With more than 60 years of experience, Wong's Plastic Surgery Centre has treated thousands of eye-related conditions, including droopy eyelids, eye bags, and the like.
It offers an extensive range of aesthetic procedures, but it's more famous for being the home of the best ptosis surgery in Singapore.
Some of the other services offered by Wong's Plastic Surgery Centre are chin augmentation, breast augmentation, brow lift, face lift, neck lift, liposuction, tummy tuck, and even acne scar treatment.
Highlights
60 years of experience
Advanced medical equipment
9.  Jerry Tan Eye Surgery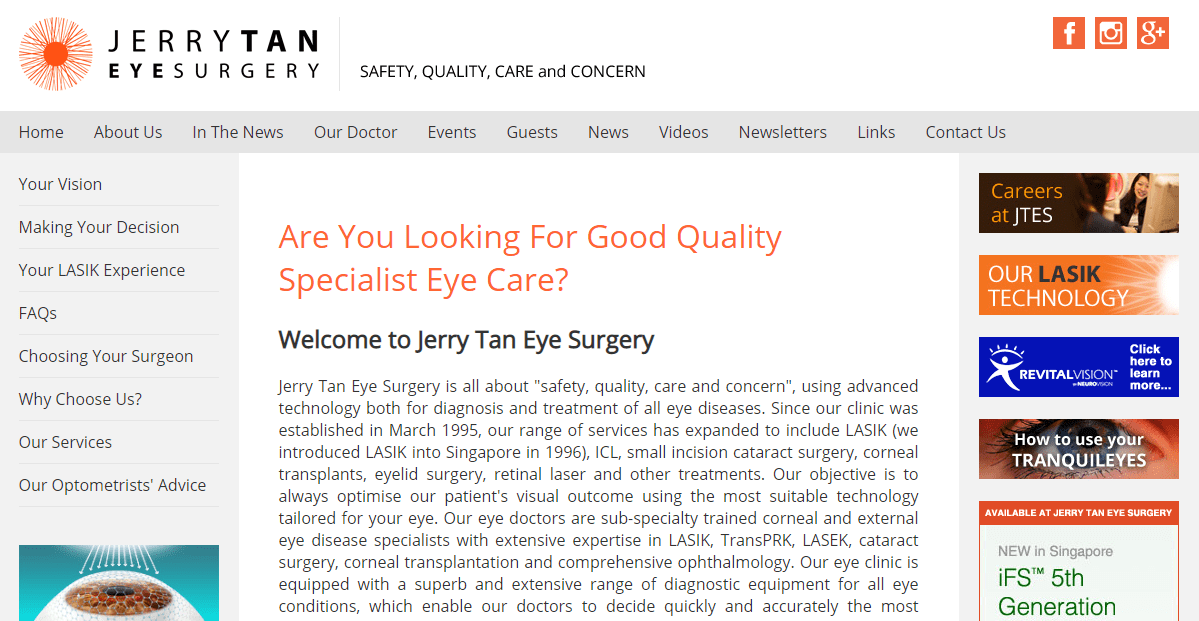 | | |
| --- | --- |
| BEST FOR  | Eye Surgeries |
| SERVICES | Ptosis Surgery, LASIK, Cataract Surgery, Corneal Transplantation |
| WEBSITE | http://www.jerrytaneyesurgery.com/ |
| ADDRESS | 1 Scotts Rd, #21-03 Shaw Centre, Singapore 228208 |
| CONTACT DETAILS | +65 6738 8122 |
| OPERATING HOURS | Monday – Saturday, 9:00 AM to 5:30 PM |
For eye-related surgeries, the majority of the locals we talked to suggested consulting with Jerry Tan Eye Surgery, one of the most in-demand eye clinics on the island.
It's headed by its namesake, Dr. Jerry Tan, an eye specialist who has years of experience under his belt.
Dr. Tan specialises in correcting droopy eyelids for medical purposes, rather than for aesthetics. He also conducts LASIK surgeries, corneal transplants, cataract surgeries, retinal lasers, and other eye-related treatments.
Jerry Tan Eye Surgery is also a clinic equipped with the latest and most effective medical technology, so rest assured that every patient will be in safe hands — which is why we consider it among the top options for the best ptosis surgery in Singapore.
Highlights
More than 20 years of experience
Safe and modern medical technology
Customer Reviews
As one of the most trusted eye clinics in Singapore, Dr. Tan's clinic has received mostly praise. Take a look at some of the feedback of his patients:
"Simply the best eye doctor I've ever found. Dr. Tan doesn't mind spending time to carefully explain about patients' condition and he finds the best up-to-date treatments. Very different from all other doctors in Singapore where consultation takes 5 to 10 min max. The first consultation can take up to 2 hours among waiting time and all exams. It's pricey but if you have a serious eye problem, definitely Dr Tan is the one I recommend."
"Dr Jerry Tan has been our most trusted eye surgeon for more than a decade. When I had to have my cataract surgery done last year, he was the obvious go-to surgeon of choice. With all his experience, knowledge, passion, skills-set, and patience, absolutely no reason for us to take any risk with another practitioner."
10.  Asia Retina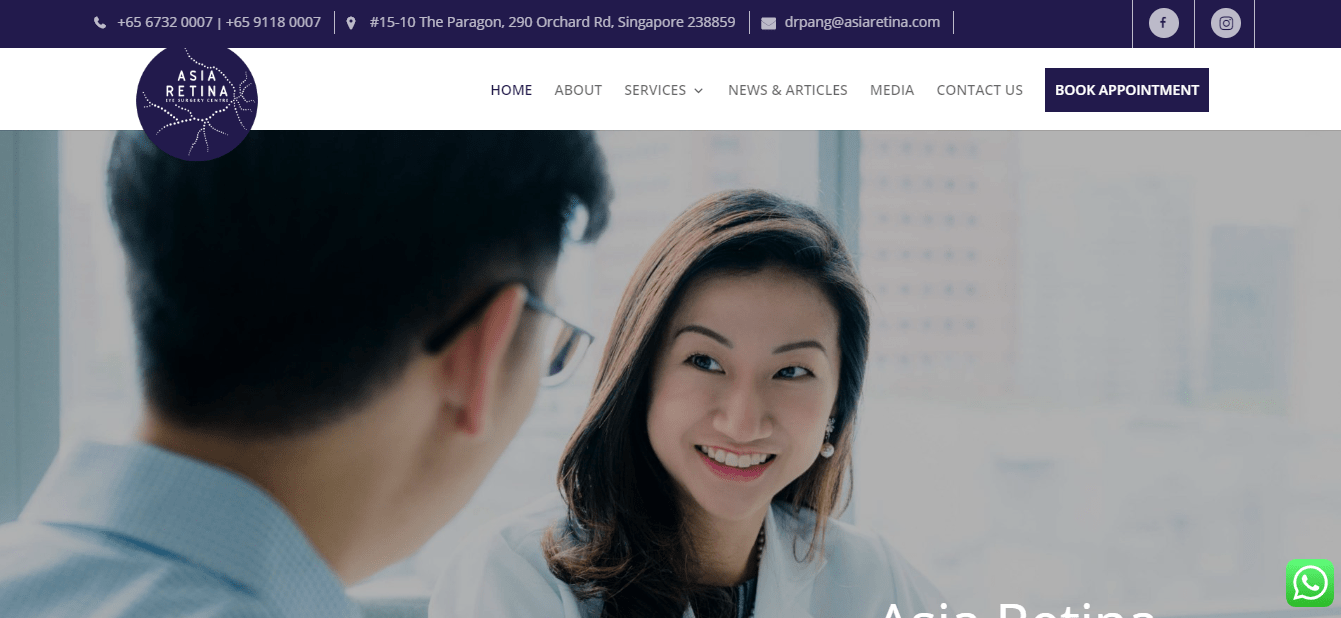 | | |
| --- | --- |
| BEST FOR  | Customised Eye Treatments |
| SERVICES | Ptosis Surgery, Retinal Degeneration Treatment, Glaucoma Prevention, and Cataract Surgery |
| WEBSITE | https://asiaretina.com/ |
| ADDRESS | #15-10 The Paragon, 290 Orchard Rd, Singapore 238859 |
| CONTACT DETAILS | +65 6732 0007 |
| OPERATING HOURS | Monday – Saturday, 9:00 AM to 5:00 PM |
Over its 15 years of operation, Asia Retina has treated more than 20 thousand patients. They offer a wide range of eye-related services, including the best ptosis surgery in Singapore.
So, if you're searching for a clinic that specialises in eye wellness, then look no further than Asia Retina. It's made up of a team of competent specialists and surgeons, all of whom come with an impressive medical background.
Asia Retina is also known for offering customised eye treatments to ensure that the condition of each patient will be properly addressed based on the patient's needs and the condition's severity.
Highlights
15 years of experience
Wide range of services
Dedicated surgeons, specialists, and nurses
And that's it for our list of the best ptosis surgery in Singapore! If you've already settled on one of these or have tried one of them already, let us know all about it!
To know more options, you may want to see these best eye clinics in Singapore too, as some of them also treat ptosis and provide other eye treatments.