The 9 Best Printers in Singapore
Struggling to meet your deadlines because you can't find good computer/printing shops near your place? If that's so, then maybe you should get the best printer in Singapore so you can instantly print your documents at home.
And as we all know, good printers are mostly expensive, though. That means you must invest in an excellent printer that can benefit you in the long run, not something that'll break in just a month or two.
To help you with that, we've listed some features to take note of before purchasing a printer. This way, you can pick one that will serve you well for a long time.
So before we go on to our list of the best printers in Singapore, let's see first which qualities make a good printer.
How to Pick the Right Printer
Most modern printers don't only come with document printing features. They also have other great functions like scanning, copying, and even fax.
Some may assume that as long as a printer has all of these features, then it'll be a fine choice. However, you must know that they vary in printing quality, operation speed, and durability as well.
And, so to prevent you from choosing the wrong one, here are some of the factors that you must consider while choosing a good printer.
1. Type of Printer
There are 2 types of printers: inkjet printers and laser printers. The main difference between the two is the ink.
Inkjet models use cartridges of ink that are applied wet to paper and dry rapidly.
On the other hand, laser printers use toner, a type of ink dust that bonds to the paper for fast results.
To know more about their differences, see the list below.
Inkjet Printers – They're considered all-in-one printers, for they can print anything, be it black and white documentation or coloured photos. They're also often faster than laser printers.
The latest inkjet printers are now offering 10,000 printed pages from a monochrome ink cartridge and 7,000 pages or more from a colour cartridge.
With these models, you don't have to do frequent cartridge changes, making them a cost-effective option.
Laser Printers – These models are perfect for office settings where the needed prints are mostly monochrome. They feature good print speed and come at affordable prices as well.
There are also colour laser printers, but they're not usually recommended because they cost more than a laser and inkjet printer combined.
2. Ink Cartridges
This factor will depend on how you're going to use the printer. For text documents with a few colours, a two-ink cartridge printer consisting of a black one and an all-in-one colour cartridge would be a great choice.
Other models have 4 ink cartridges containing a black cartridge and 3 separate cartridges for cyan, magenta, and yellow, or the so-called CMYK colour model.
There are also inkwell printers where instead of cartridges, the printer draws ink from large and refillable wells — both of these models are best for regular users.
For those who need professional-grade colour printouts, you may opt for a colour laser printer. As mentioned earlier, it uses toner, and it can produce sharp and crisp images — perfect for design companies or other corporates.
3. Print Quality
If you're going to use it at home, an inkjet printer would be enough. But print quality varies among models.
The main feature to watch out for is the DPI or the dots per inch. It indicates how accurately the printer can replicate the pixels of an image.
The standard DPI for a good inkjet printer is between 600 x 600 DPI to 4,800 x 4,800 DPI.
When it comes to colour laser printers, you can be sure that they offer the best quality. But they're also more expensive and are high-maintenance as well — that's why it's typically recommended for corporate use.
4. Print Speed
For users who often need to print dozens of pages in a day, print speed must also be among your top priorities. The printer's speed is measured in PPM or pages per minute.
PPM differs for text and images. Most models only include one PPM rating on the label — it refers to the number of pages (with black text only) that the printer can produce per minute
The standard PPM rating is anything from 5PPM to 25PPM. So make sure to check if your chosen printer has a PPM rating that falls within this range.
5. Wireless Connectivity
If you prefer to have a clean workspace without any additional cables laying on the ground or around your table, you should opt for a model with wireless connectivity.
There are lots of modern printers that offer Wi-Fi and Bluetooth connectivity through which you can connect your PC or mobile device instantly. Some models also support Google Cloud Print and Apple AirPrint.
Bluetooth connectivity is highly convenient to use when you're printing from a mobile device. Wi-Fi connectivity and cloud support allow you to print documents remotely, even when you're not at home.
6. Paper Format
You should also know that not all printers accept legal-sized papers. Therefore, make sure to check the paper formats compatible with the printer.
Some printers may also have a scanner bed that's too small for legal documents. So it's wise to look for a model that has a separate scanner feeding tray on the top.
This will let you scan large documents and stack many papers so you can scan them all into one PDF file.
The Best Printers in Singapore
Knowing the most important features is not enough. You can still be overwhelmed by the thousands of brands/models available on the market today.
That's why we've also narrowed down your options and selected only the best printers in Singapore!
Whether you need one for casual printing or work purposes, we've found you the top models that offer multifunctionality and high durability!
1.  HP Smart Tank 615 Wireless All-in-One Color Inkjet Printer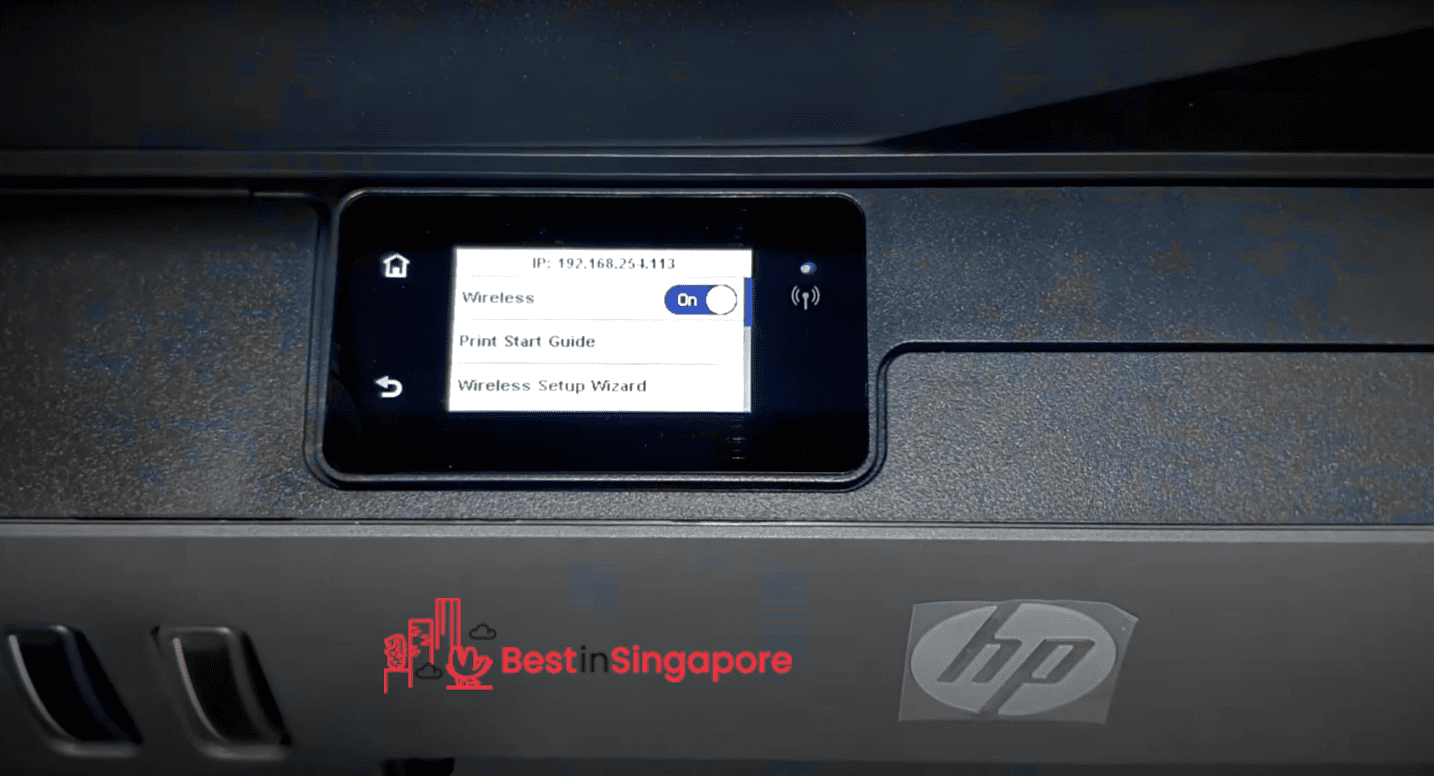 Price: $399.00
First on our list is the HP Smart Tank 615 Wireless All-in-One Color Inkjet Printer. We will give you more than enough reason why you should consider buying this instead of the other ones on this list.
First of all, from the name itself, it has a ink tank system, This means that you can easily refill  your ink tanks with their spill-free and resealable bottles.
This feature can save you a lot of money because we all know that catridges are a bit pricy.
Next, if you need a feature where you will copy and scan documents, this is for you. This model has a 35-page ADF which means that it can quickly copy and scan with its 35-page automatic doocument feeder.
If you print in high volumes, here is a reason why you should add this to your cart and checkout. This printer can print up to 8.00 colored paged and up to 6000 black pages!
As an inkjet, wireless, and has a stunning print quality printer for $399.00, we can definitely say that this model has everything you need.
Pros
HP Smart App
Black print speed can be up to 11ppm
Colored print speed can be up to 5 ppm
Can print borderless
Cons
Some complaints about how it is a hustle when fitting the inner cartridge
Customer Reviews
Here are some reviews from their Lazada Page:
"Delivery was fast.Printer was easy to setup."
"Ordered on 9th April, it states that I will receive it between 14th and 20th April. However, it only arrive on 23rd April. Printer does not make very loud sound when printing. Not bad."
2.   HP OfficeJet Pro 9020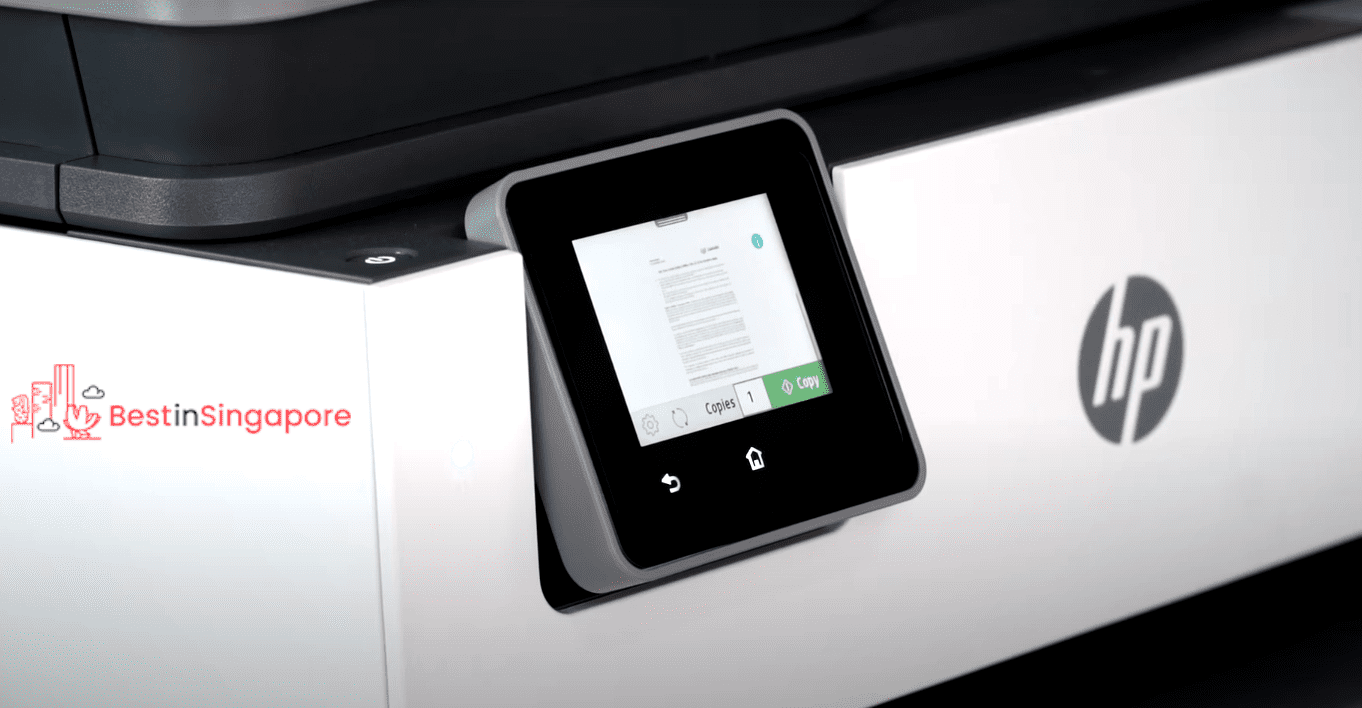 Price: $459.00
The HP OfficeJet Pro 9020 is an all-in-one inkjet printer, mainly designed for work use. It's compact and lightweight yet highly functional, offering enhanced speed and connectivity.
It features up to 18 PPM for coloured prints and up to 22 PPM for monochrome prints, letting you print dozens of paperwork in a short time. It also has an automatic two-sided scan and copy feature so you can immediately save backups or digital copies of your work.
You can also connect this printer to a Wi-Fi connection, then install the HP Smart app so you can print, scan, and copy anywhere and anytime!
There's no need to worry about an interrupted connection either, for it has a self-healing Wi-Fi feature where it'll detect and resolve network issues to keep you connected.
Aside from this, you can also print and scan directly from the USB, saving you some time from opening your PC or waiting for the Internet connection to work.
With the touchscreen control panel and Smart Tasks feature, you can easily choose which document to print and manage the paper format settings.
The USB connection is also fully secured and protected from viruses, malware, and unwanted access. This best printer in Singapore contains 4 ink cartridges, allowing you to print any text or graphic documents with high quality.
Pros
Four ink cartridges
Wi-Fi connectivity
Connect directly to USB
Easy to set up and use
Sustainable design
Cons
A bit noisy when printing
Customer Reviews
Many customers posted good feedback about the HP OfficeJet Pro 9020. They said that they can effortlessly set it up on their desk because of its compact build.
They also said that it's highly efficient too because it can scan and copy documents. A customer wrote this review:
"Setup was easy and quick. The duplex function works perfectly for copying and scanning. Scanning directly to the computer rather than messing with a flash drive is great. Very pleased."
3.   Brother MFC-L2750DW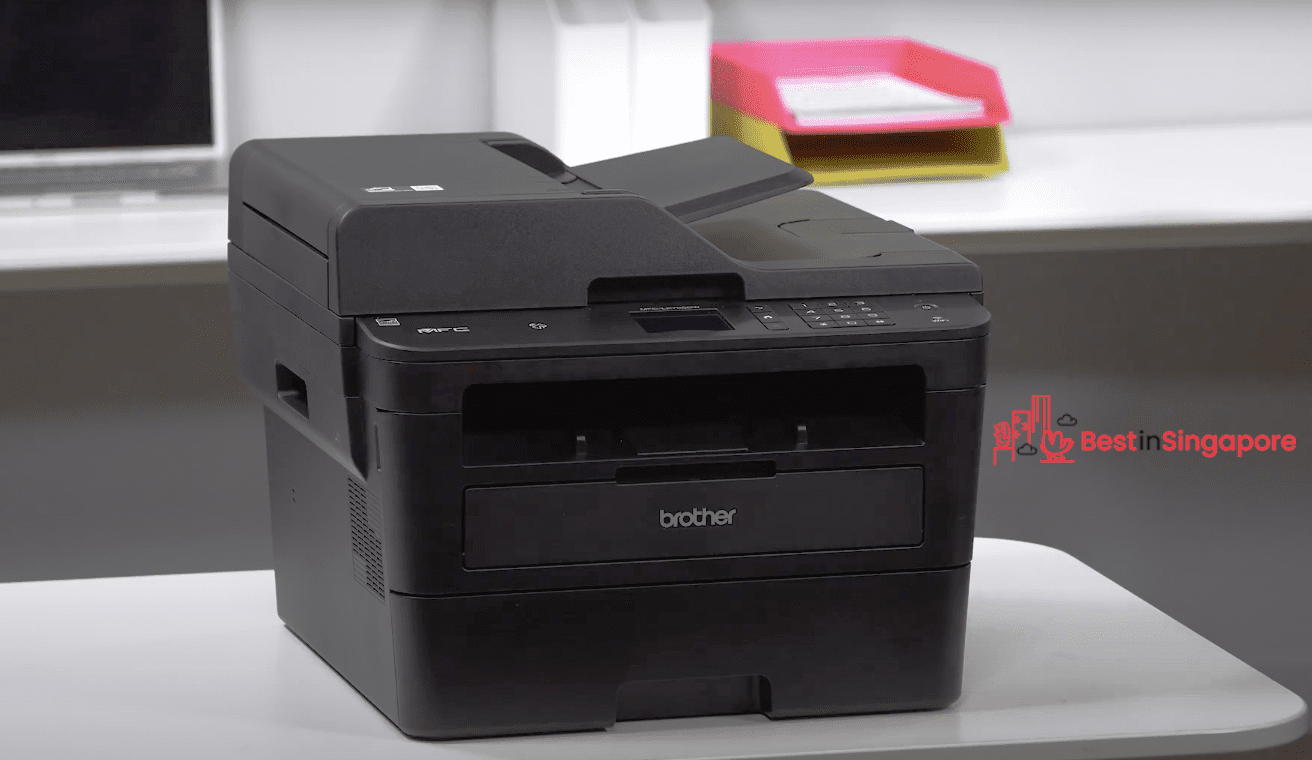 Price: $358.00
If you're looking for a laser printer, then the Brother MFC-L2750DW is the best choice for you. With this printer, you can get a business-class print with sharper and clearer text/graphics in just a few seconds!
Compared to the previous option, it has higher print speed, providing up to 34 PPM. This printer also comes with a default paper tray and automatic document feeder so that you can place hundreds of sheets for continuous printing.
It offers both wireless and mobile printing so you can print and scan directly from any device. Unlike most printers, it has Wi-Fi direct enabled, allowing you to print documents without connecting to a network or entering any login credentials.
It may cost more than inkjet printers, but it comes with affordable toner supplies. So after the purchase, it won't be high-maintenance to run, as the replacement toners are available at low prices.
You can also send and receive faxes through this printer. With this range of functions, it's truly one of the best printers in Singapore!
Pros
Outstanding print speed
High-quality scanning features
Automatic 2-sided features
Energy-saving machine
Low cost per page
Mobile and cloud printing
Cons
Can't print coloured text or graphics
Customer Reviews
Most customers shared that the Brother MFC-L2750DW has superb black/white printing and scanning and high-yield toners that let them keep expenses down. They also said that wireless connectivity is also convenient when printing while on the go.
"The Brother MFC-L2750DW is a great printer for small or home offices. It's an excellent printer for printing black-only documents, as it's able to print a high number of pages at a low cost, thanks to its cartridge's exceptionally high yield. Although it takes a bit more time to print the first page of a document, it picks up speed significantly for subsequent pages. The scanner is equipped with an automatic document that can perform duplex scanning, which is a huge time-saver when you need to scan long double-sided documents. Unfortunately, it can't print in colour."
4.   Canon PIXMA TS8270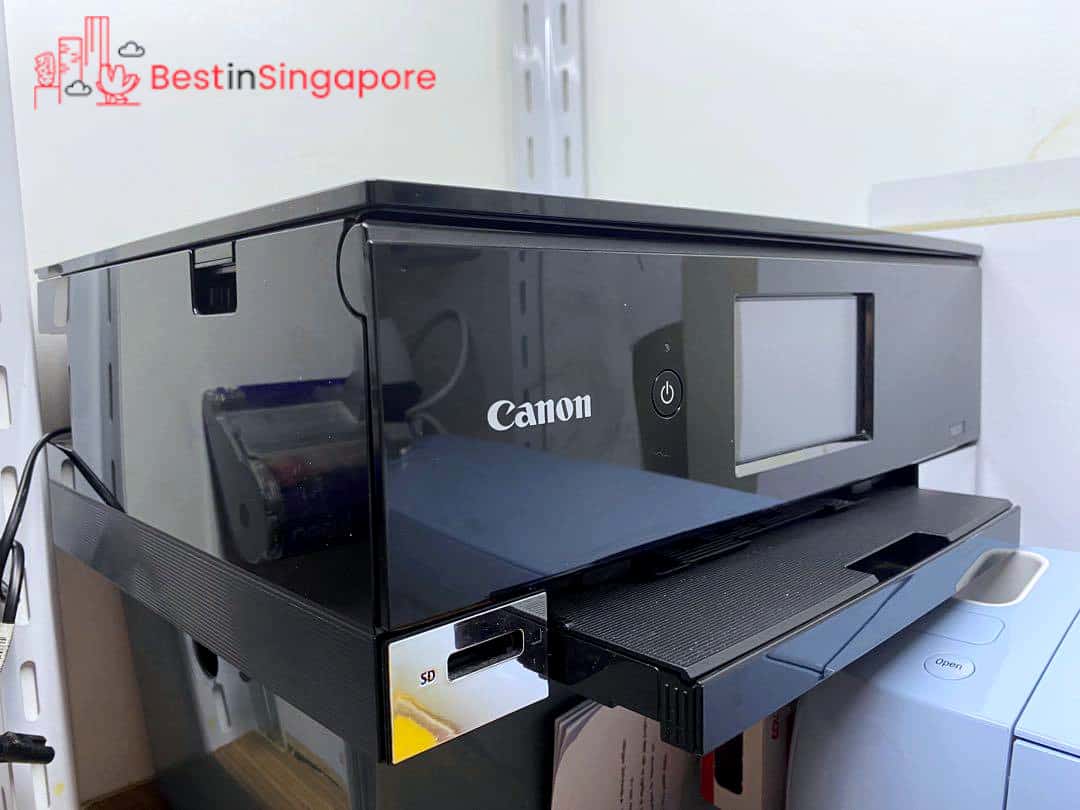 Price: $299.00
For those who prefer physical copies of photos or students who have a lot of graphics to print, the Canon PIXMA TS8270 can be the best printer in Singapore for you! This advanced wireless printer features a wide range of photo printing options!
With this printer, you don't need to adjust the photo's format manually because it can automatically print a square photo paper, even borderless!
You can also print nail stickers so you can achieve a whole new OOTD look with your lovely nail art!
What makes this printer different is that it has a built-in pattern paper and you can choose from various templates. It ranges from simple to fancy styles, perfect for gift wrapping, scrapbooking, and even book covers.
It also has a 2-way paper feeding feature where it can accept different paper sizes/types. You can even print on both sides of the paper with its auto-duplex printing function
It's also a good choice for those who have smaller desk spaces because it's designed with a seamless and compact form.
Pros
Mobile and cloud printing
Compact design
Built-in pattern paper
Compatible with many paper sizes and types
Can print on both sides of the paper
Cons
Some issues with paper feeding
Customer Reviews
The Canon PIXMA TS8270 has received positive reviews from many users, saying that the printer is user-friendly and provides accurate results. They also noted that the printouts look brilliant and clear on photo matte paper.
A customer left this feedback:
"Overall, the Canon PIXMA TS8270 is still a good and fuss-free printer to work with despite the two minor issues that I had raised earlier on. I am still very much in love with its compact and minimalistic design which fits the overall aesthetic of my minimalist home interior. It generates high-quality prints fast and is generally quite quiet."
5.   Epson EcoTank L6190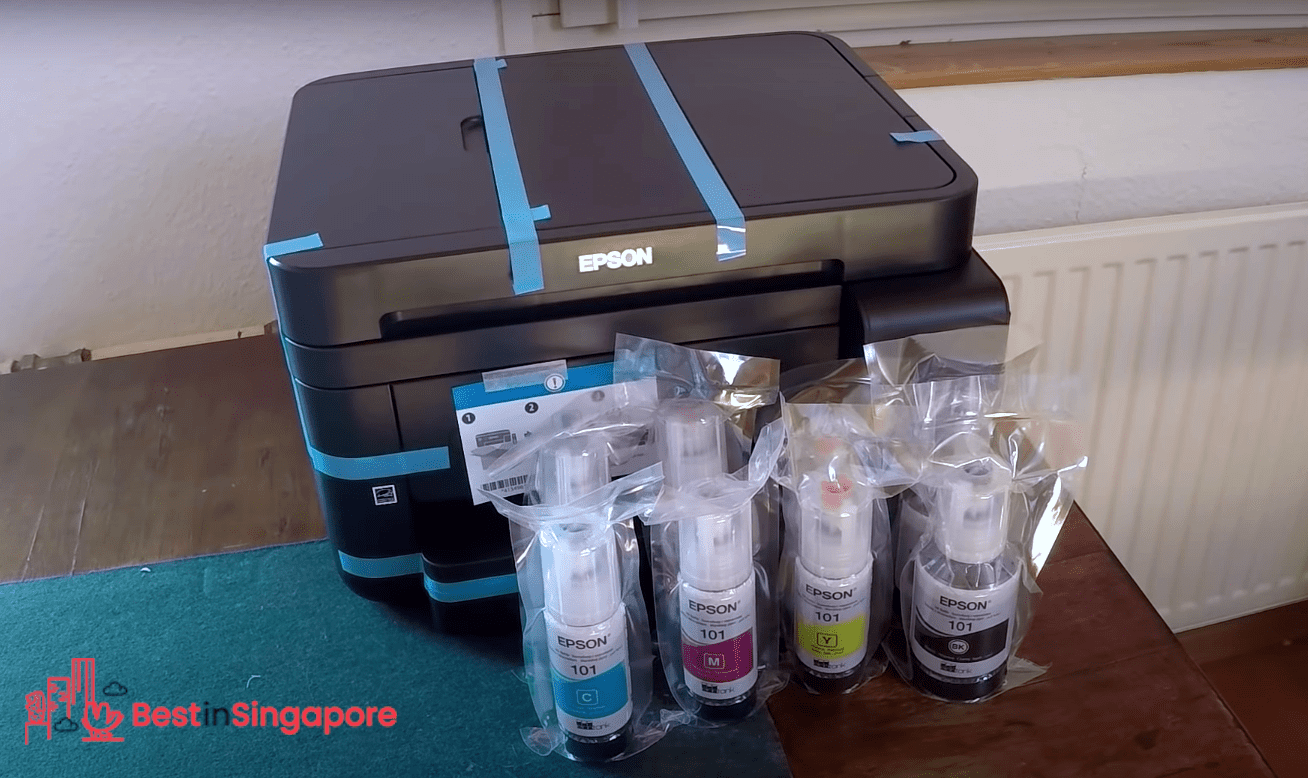 Price: $480.00
With the Epson EcoTank L6190, you can cut your printing costs pretty heavily. That's because it's packaged with three years' worth of ink, thanks to its high-capacity ink tank.
And if you compare it to most models on the market, it can print a higher number of pages in both black and coloured print types — amounting to 14,000 pages in black and 11,200 in coloured!
It also has an improved ink filling system that reduces the risk of spills and ensures that each tank is filled with the corresponding colour.
The refill bottles are also available at the lowest possible price so you can print more between refills. When it comes to connectivity, it provides multiple options such as Wi-Fi, Wi-Fi Direct, Ethernet, and a free mobile printing app.
Due to its long-lasting features and hassle-free refilling system, it has become one of the best printers in Singapore!
Pros
High-capacity ink tank
Affordable refill bottles
Ultra-low-cost per page Enabled ink filling system
Ethernet connection
Double-sided printing
Doesn't consume lots of power
Cons
Slow print speed for coloured prints
Customer Reviews
Many customers were impressed with the superb quality and functionality of the Epson EcoTank L6190 despite its low price. They also said that it's suitable for basic printing needs.
A customer gave this feedback:
"Overall, the Epson L6190 InkTank printer ticks almost all the boxes you look for in an ideal printer. With the InkTank concept, Epson has opened new doors for cheap printing and ditch the expensive cartridges. The printer offers several features that are worth putting your money on. For basic printing needs, we must say that the Epson L6190 is a good bargain for anyone who wants hassle-free printing with less-fuss. Its ability to print photos and documents wirelessly makes it even more useful and handy. The L6160 printer is designed for office use but is well suited to home use as well. In our opinion, the L6190 is a worthy competitor with pro-level features under its belt. If you are someone looking for a new printer that requires less maintenance and offers cheap prints, then this is what you buy."
6.   Canon Pixma MG3670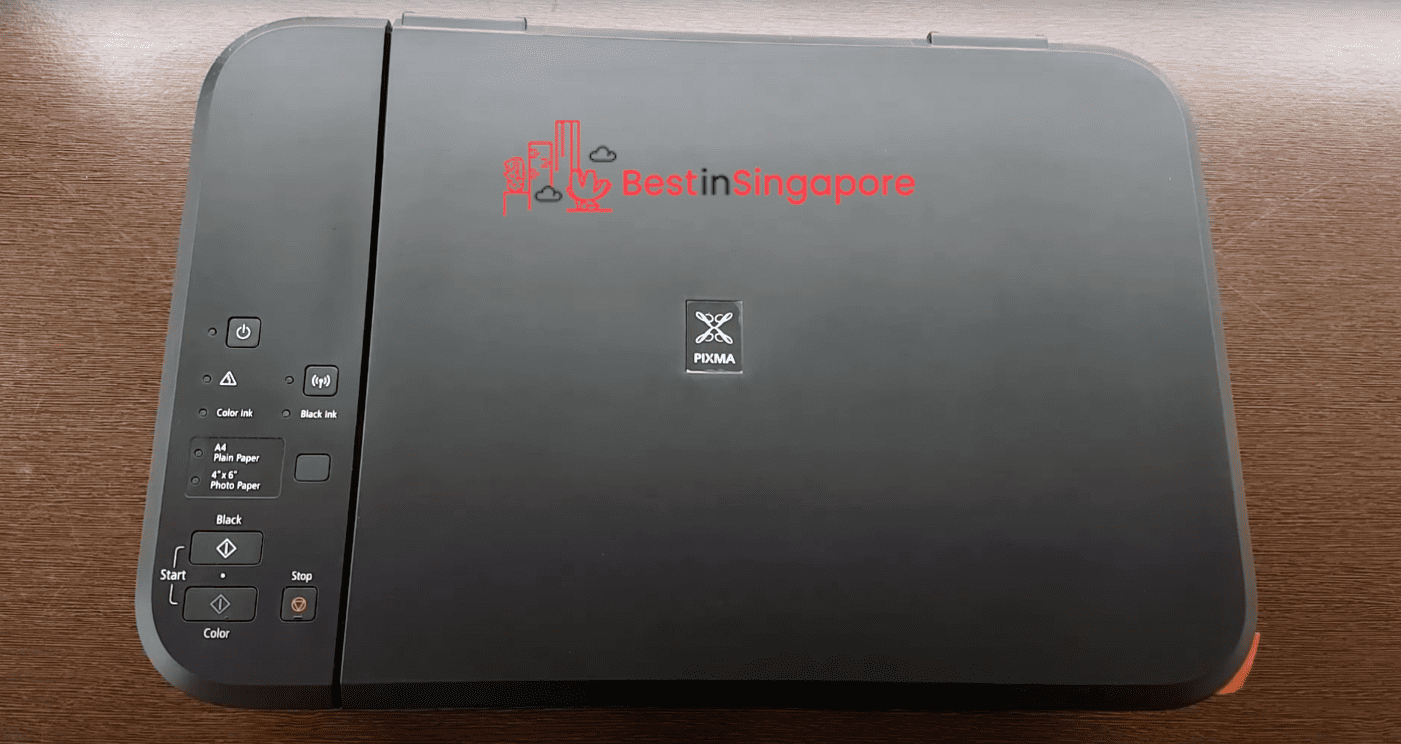 Price: $149.00
If you need a printer for casual use like printing resumes, project requirements, or work-related documents, then you must consider buying the Canon MG3670!
It offers a standard print speed with up to 9.9 PPM, and it also has scanning and copying features. You can print a total of 100 pages per month, which is ideal if you don't often need to print dozens of pages.
You can also use it remotely with your smartphone and print from Google/Facebook cloud services. It's compatible with both Android and iOS mobile devices so you can connect any device to the printer.
Pros
Mobile and cloud printing
Auto duplex printing
Coloured printing
Cons
Cartridges are slightly expensive
7.  Brother TN-261 TN-265 Compatible Toner Cartridge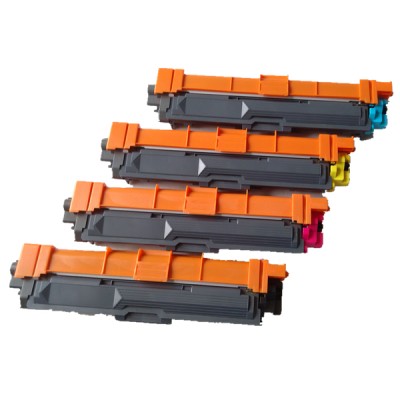 Price: S$32.00
The Brother TN-261 TN-265 is a toner cartridge suited for many Brother printers. It comes in four colors, yellow, magenta, cyan, and black.
The wider color scheme allows you to print richer quality images. Get it from The Ink Supply now.
Pros
Large page yield
Compatible with many Brother printer models
Cons
Compatible with Brother printers only
8.  Epson EcoTank L15150


Price: $1,399.00
Shop Now on CPC Solution's Shopee Store
Quality, quantity, and efficiency– that's all you can expect from the Epson EcoTank L15150. This heavy duty printer comes with a wide range of features that will serve you and your business well.
Equipped with the latest Epson Heat-Free Technology and EcoTank pigment ink, it's no surprise that high speed, high quantity printing is what it's good at. Quality won't be compromised either thanks to its use of DURABrite ET Ink, which deliver sharp, water-resistant prints.
It can print on paper sizes up to A3+ for simplex printing. It also comes with automatic duplex printing– perfect for print jobs that need use of both sides of the paper. 
The Epson EcoTank L15150 is admittedly pricier than most printers on this list, but its numerous functions and top-notch performance makes it well-worth the cost. It's unbeatable when it comes to high quality bulk printing.
Pros
High speed printing
Ultra-high page yield
Sharp, clear, and water resistant prints
Lower power consumption
Cons
Pricier compared to other printers
9. OKI Pro9541dn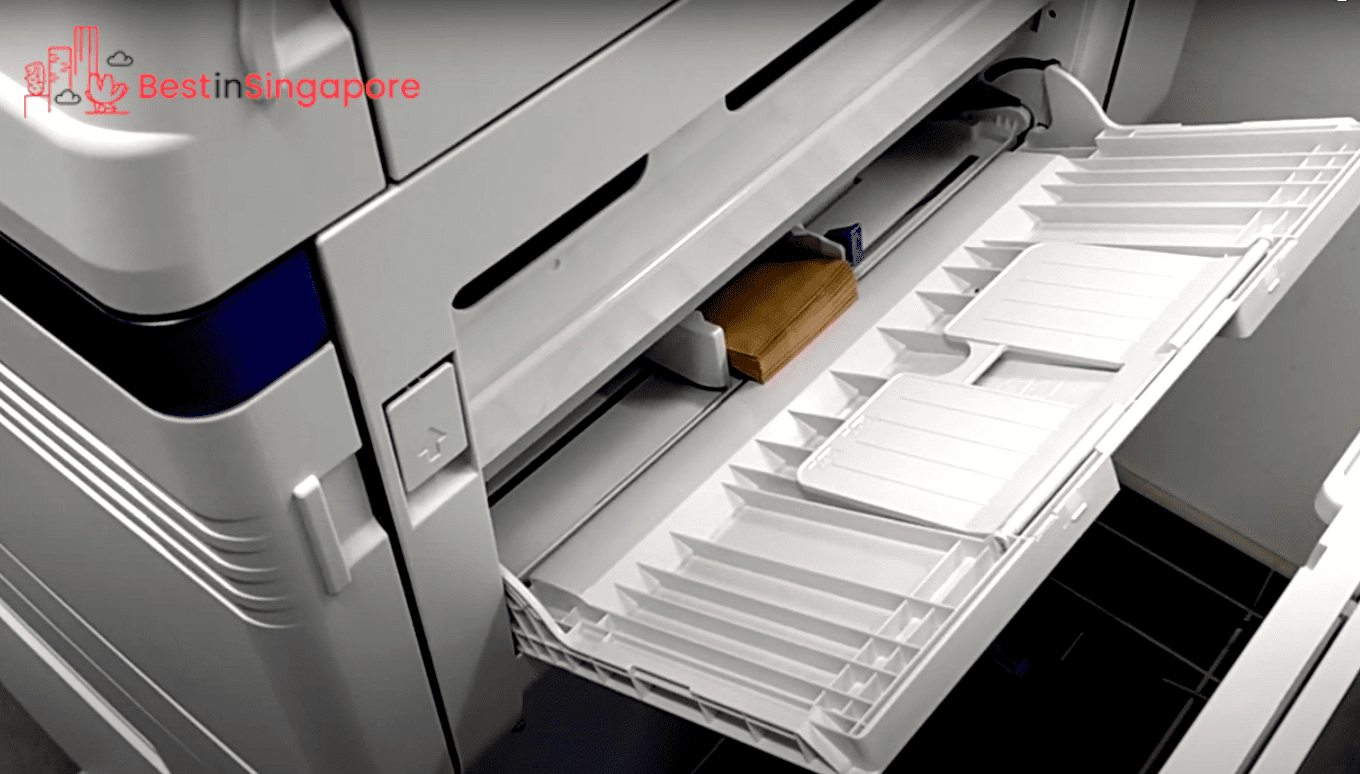 Price: Inquire for more information
Another printer that deserves its spot on the list is OKI's Pro9541dn. It's a new release from their very own PRO9000 Series, which boasts the ability to print in white.
Yes, you read it right! This printer offers an additional fifth color asside from the usual CYMK, which definitely makes it a considerable option.
What's more, is that it can definitely be used for businesses as the Pro9541dn caters to high-speed printing, But even with its speed, the standard of printing it produces never falters. Expect vibrant colors and premium quality outputs with this printer.
Lastly, the Pro9541dn, even with its top-notch specifications, can still be bought by the masses as it comes at an affordable price. It brings true meaning of finding quality products without having to hole up your pocket.
You can check out more about the Pro9541dn on Oki's website, and if you're interested in purchasing, they can find the nearest store for you.
Pros
Clear Spot Kit included
Microfine High-Definition toner
LED technology
Widescale printing is possible
Cons
Can be quite noisy when printing
And that's our list of the best printers in Singapore! Do you already know which one you'd like to buy? Let us know all about it!
And if you're in need of more advanced printing services — to be precise, 3D ones — you might want to see these shops that offer the best 3D printing in Singapore!