Our 10 Favourite Optical Shops in Singapore
Whether you're looking for a new pair of eyeglasses to replace your old ones or just want to buy some stylish sunnies, we've got you all covered here as we give you the best optical shops in Singapore.
We've gone around the island to find out which shops offer high-quality, trendy, and affordable glasses. We asked locals, checked shop inventories, and prices.
At the end of it, we limited our list to just the absolute best options. Take a look at our list below!
1.  Mimeo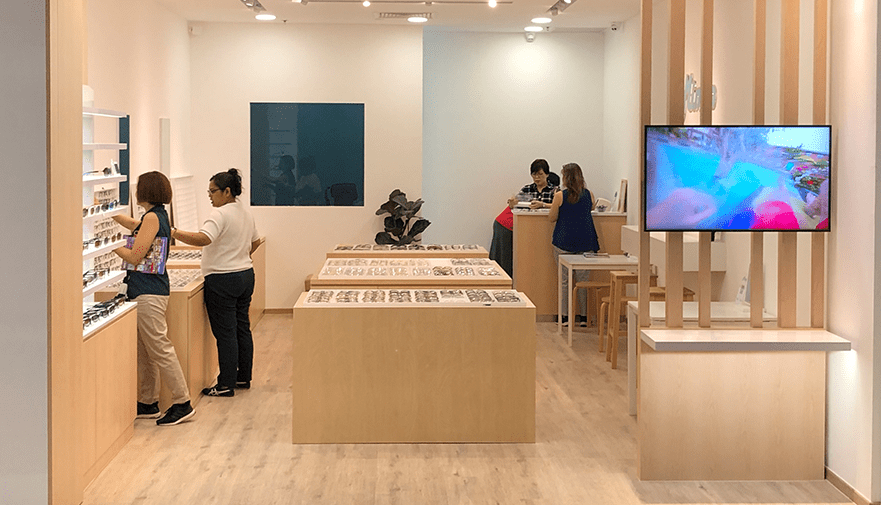 | | |
| --- | --- |
| BEST FOR  |  Variation of lenses |
| PRICING | Shop |
| WEBSITE | https://mimeo.sg/ |
| ADDRESS | Marina Square 6 Raffles Boulevard #02-338 Singapore 039594 (Atrium Level) |
| CONTACT DETAILS | +65 8100 9998 (call / sms / whatsapp) |
| OPERATING HOURS | Daily, 10.30am – 9pm |
If you're very particular about the type of lens for your eyewear, Mimeo can be the best optical shop in Singapore for you! They feature a broad collection of single vision and progressive lenses designed for different objectives.
They also have a variety of stylish frames — from smart classics up to trendy and fun styles, they have it all! If you can't find a certain style that you'd like to have, then you can buy your own frame and bring it to the shop so they can fit and place your lenses onto it.
Highlights
Lens packages
Customized frames
2.  Visio Optical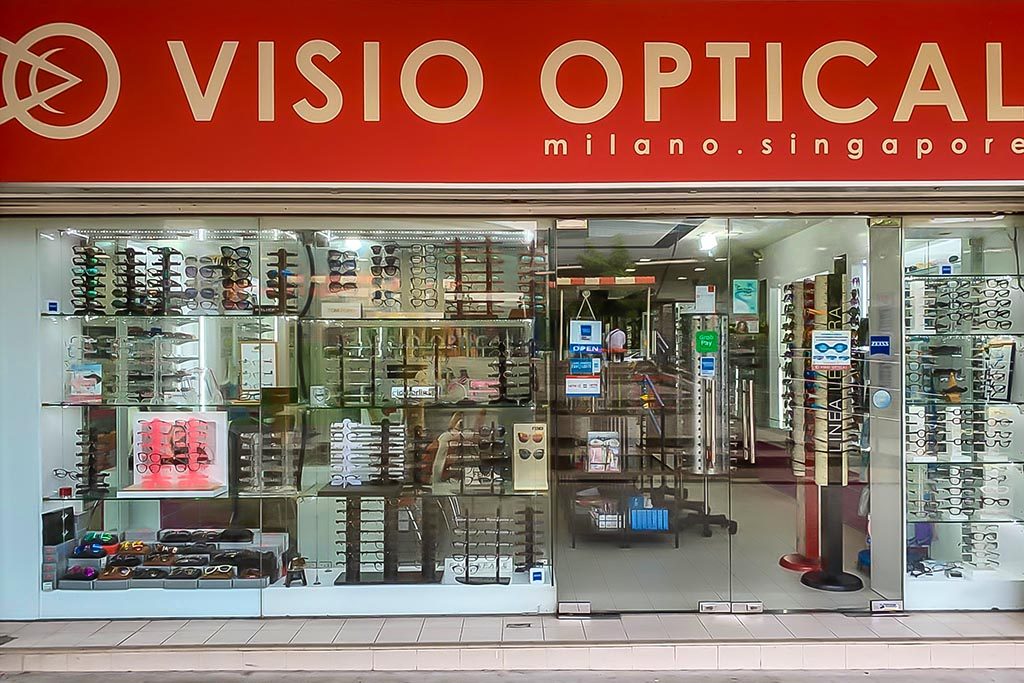 BEST FOR 
Complete range of optical services
PRICING
Shop
WEBSITE
https://visiooptical.com/
ADDRESS
43 Holland Drive 01-67 Singapore, 270043 Singapore
CONTACT DETAILS
(+65) 6776 0052
OPERATING HOURS
Monday – Saturday: 9:30-20:00

 

Sunday & Public Holiday: 10:00-18:00
Visio Optical is an award-winning optical shop that provides a full range of eyewear services. They offer lenses, contact lenses, frames, sunglasses, and even accessories!
Their team of well-experienced eye specialists will give you a diagnosis of your current eye condition and find the most suitable eyewear for your needs.
Moreover, they have a whole lot of other services such as spectacles repaint, lens replacement, frames adjustments, and many more!
Highlights
Repair services
Unique frames
Express service
Regular eye test
3.  Owndays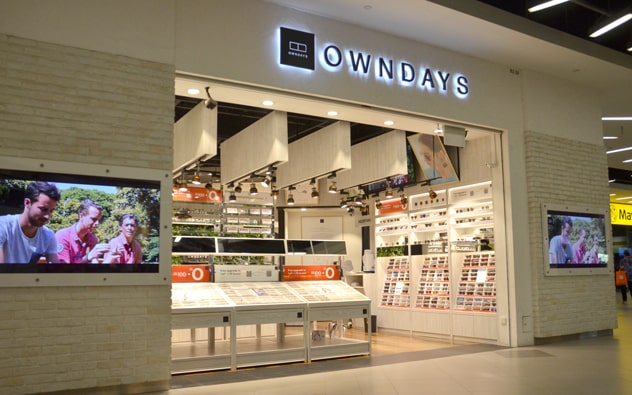 Originally from Japan, Owndays is known for their in-house brand lines that are well-designed, offering great style and functionality. They also offer high-quality lenses made with UV protection and dust-resistant coating for long-lasting use.
Their contact lenses also come with cost-effective prices. Being one of the leading eyewear brands on the island, they've truly proven that they're the best optical shop in Singapore.
Highlights
Fast process
Lens replacement
4.  Visual Mass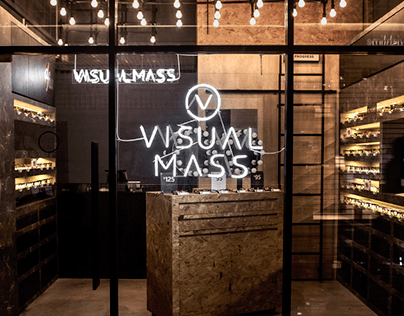 | | |
| --- | --- |
| BEST FOR  | Trendy eyeglasses |
| PRICING | Shop |
| WEBSITE | https://visualmass.co/ |
| CONTACT DETAILS | (+65) 6702-3480 |
| OPERATING HOURS | Hotline: Monday – Sunday, 1PM – 8PM |
With the fashionable eyewear collection of Visual Mass, you can have clear eye vision without going out of style! Their collections feature fun colours and dynamic shapes, so you'll absolutely find the one that you've been looking for.
You can also find big and fabulous sunglasses, perfect for the summer season. To protect your eyes from UV exposure, they have UV blue light lenses that you can use in your chosen frame or even without a prescription.
Highlights
Lenses with blue light protection
Special promotions
5.  Foptics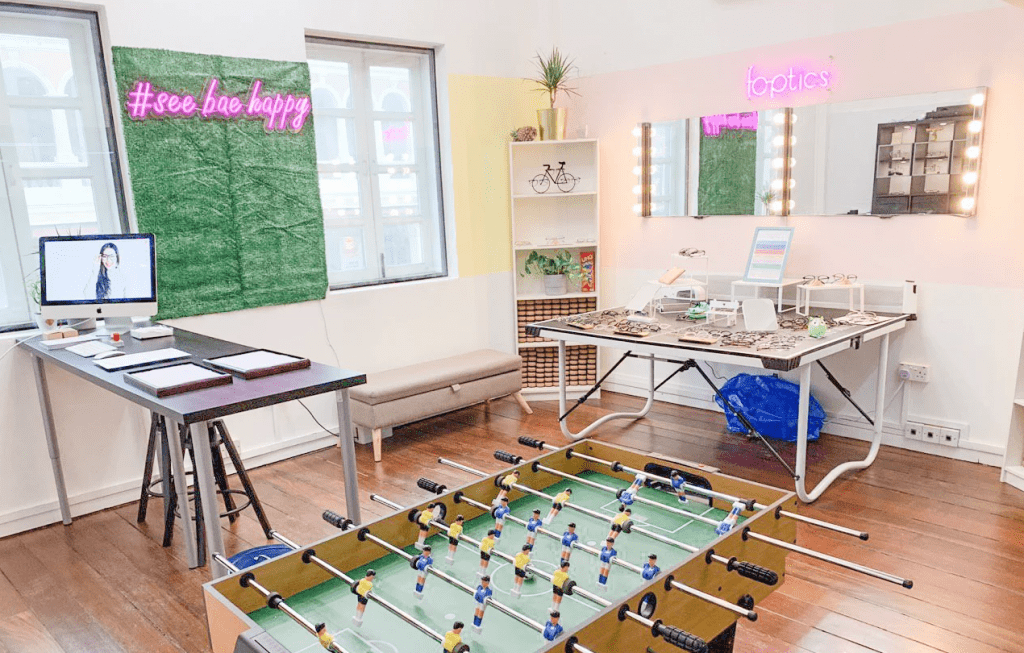 BEST FOR 
Premium eyeglasses, Wear-at-home programme
PRICING
Shop
WEBSITE
https://www.foptics.club/
ADDRESS
58B Pagoda Street #03-01 Singapore 059217 (Chinatown Exit A, 2 stores after Guardian)
CONTACT DETAILS
+65 8892 7146 , +65 8755 6870
OPERATING HOURS
Weekdays: 5pm-9pm

 

Weekends: 2pm-7pm
Unlike other optical shops, Foptics offers a  wear-at-home package where you choose up to 3 frames and try them at home for 7 days so you can know which one suits you the most, even before buying them.
They have different kinds of glasses such as progressive glasses, prescription glasses, PC glasses, and more! They also have high-quality contact lenses available with various colours and affordable prices!
Highlights
Monthly subscription for contact lenses
Kids frames
6. Kwong Shin Optical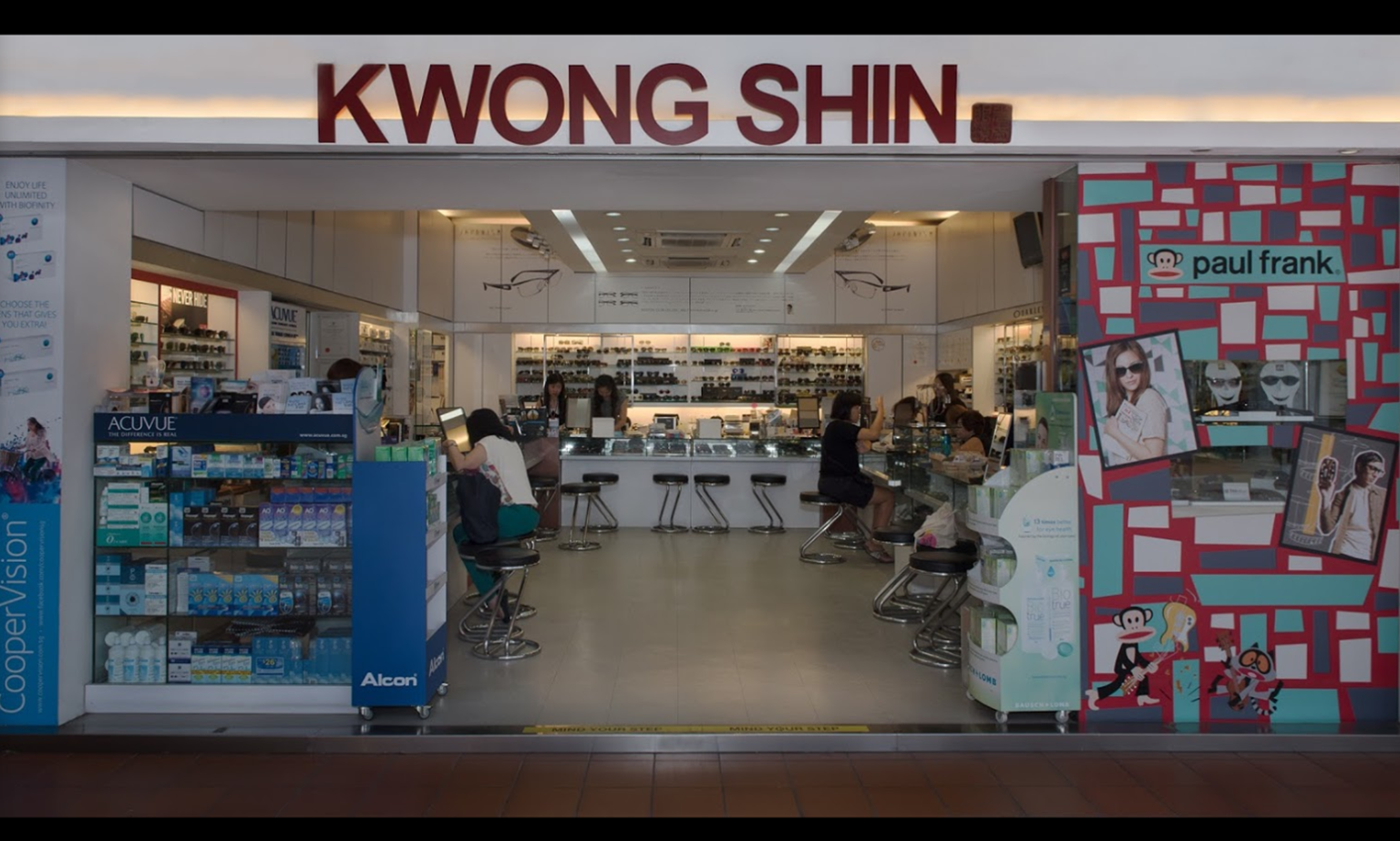 BEST FOR 
Customised lenses
PRICING
Shop
WEBSITE
http://www.kwongshinoptical.com/
ADDRESS
231, Bain Street, #01-43
Bras Basah Complex
Singapore 180231
CONTACT DETAILS
Tel. : 63386766, 63390478
Fax. : 63342904
Email : [email protected]
OPERATING HOURS
Monday – Friday: 10:30 am – 7:00 pm
As an optical eyewear provider for almost 40 years, Kwong Shin Optical has come a long way from their humble beginnings. What started as a small store with only a display case full of frames has now become a staple shop for locals' optical needs.
Their services include eye examination, frame selection and customisation, lens fitting, as well as repairs and replacements. They make sure to provide only the highest quality products. Get your eyes checked by one of the best optometrists in the country– choose Kwong Shin Optical.
Highlights
Premium quality frames
Affordable prices
Expert personnel
7. Eyecon Optical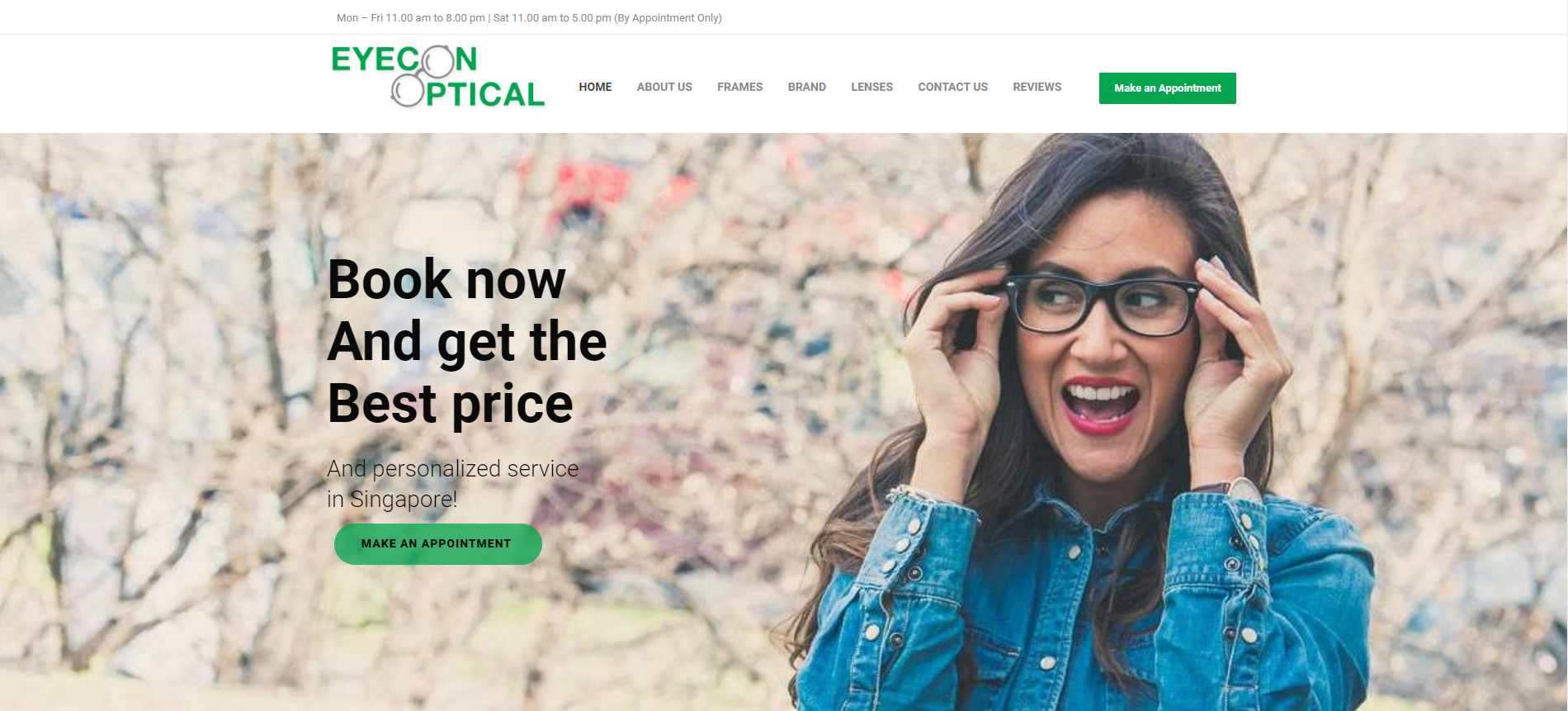 | | |
| --- | --- |
| BEST FOR  | Optical Care |
| PRICING | Depends on the Product |
| WEBSITE | https://www.eyeconoptical.com/ |
| ADDRESS | 200 Jalan Sultan, #08-04 Textile Centre 199018, Singapore, Singapore |
| CONTACT DETAILS | (+65)96688027| [email protected] |
| OPERATING HOURS | Monday – Friday 11.00 am to 8.00 pm | Sat 11.00 am to 5.00 pm |
If you're looking for fashionable yet affordable eyewear pieces, then you've come to the right place– Eyecon Optical is here to provide all that for you! They offer a wide range of eyewear, both prescriptive and non-prescriptive, in different styles for all age groups and tastes.
They ensure that what you decide on will help improve your lifestyle and have you serve amazing looks at the same time! They're simply one of the best, with their outstanding service partnered with high quality products that are consistent in all forms.
Make sure to check them out because with Eyecon Optical, you'll surely find what you need.
Highlights
High Quality Sunglasses and Eyewear
Skilled Optician
Sturdy frames
8. Oblique Eyewear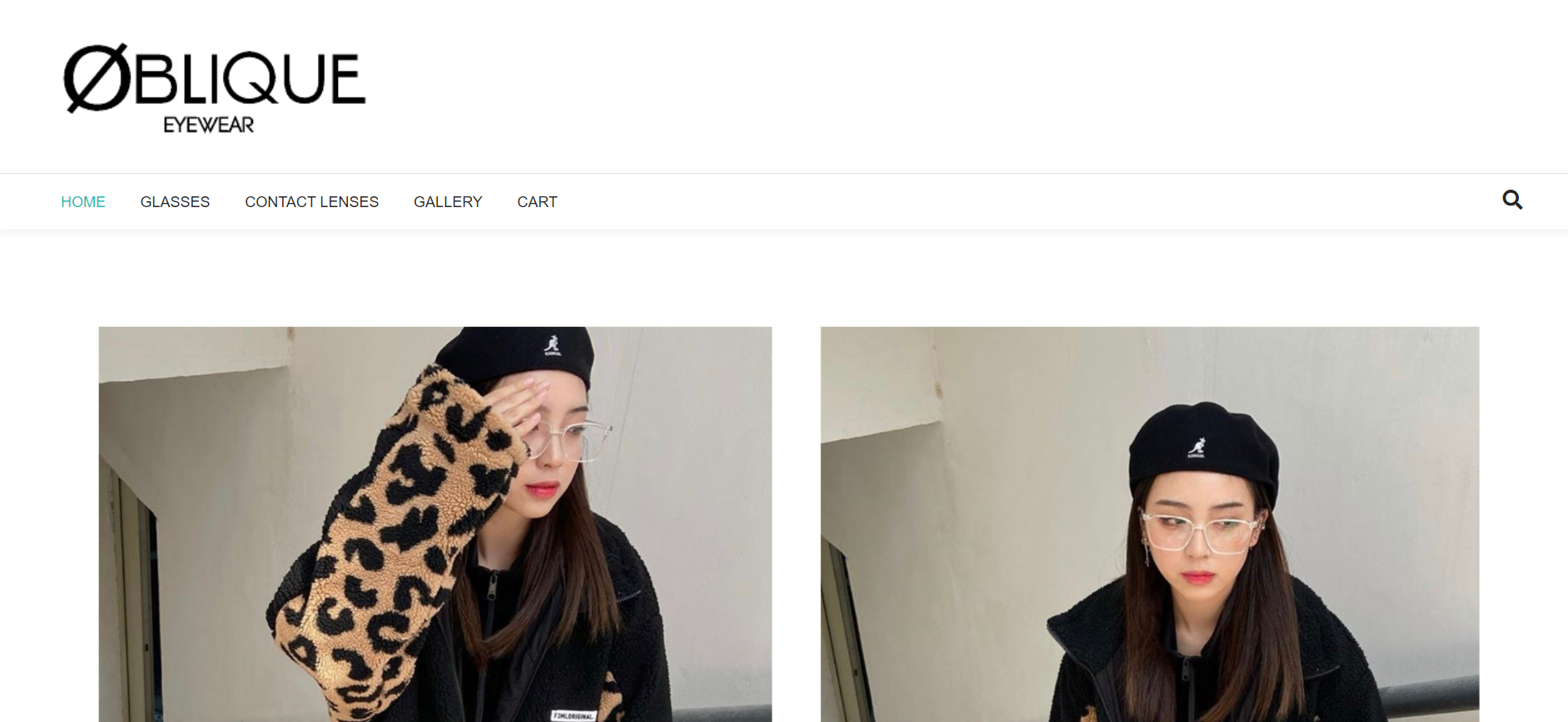 | | |
| --- | --- |
| BEST FOR | Hybrid glasses |
| PRICING | |
| WEBSITE | http://www.oblique.sg/ |
| ADDRESS | 2 Handy Rd, Former Cathay Building, Singapore 229233 |
| CONTACT DETAILS | |
| OPERATING HOURS | Daily: 12:30–9pm |
Oblique Eyewear offers the most amazing selection of trendy glasses at the best price. Expect nothing but beautiful designs to be offered when you decide to have them assist you in looking for suitable specs.
Check out their pieces on the website and contact them for more inquiries!
Highlights
Fast and efficient eyewear processing
Great customer service
Affordable eyewear
9. Chew's Optics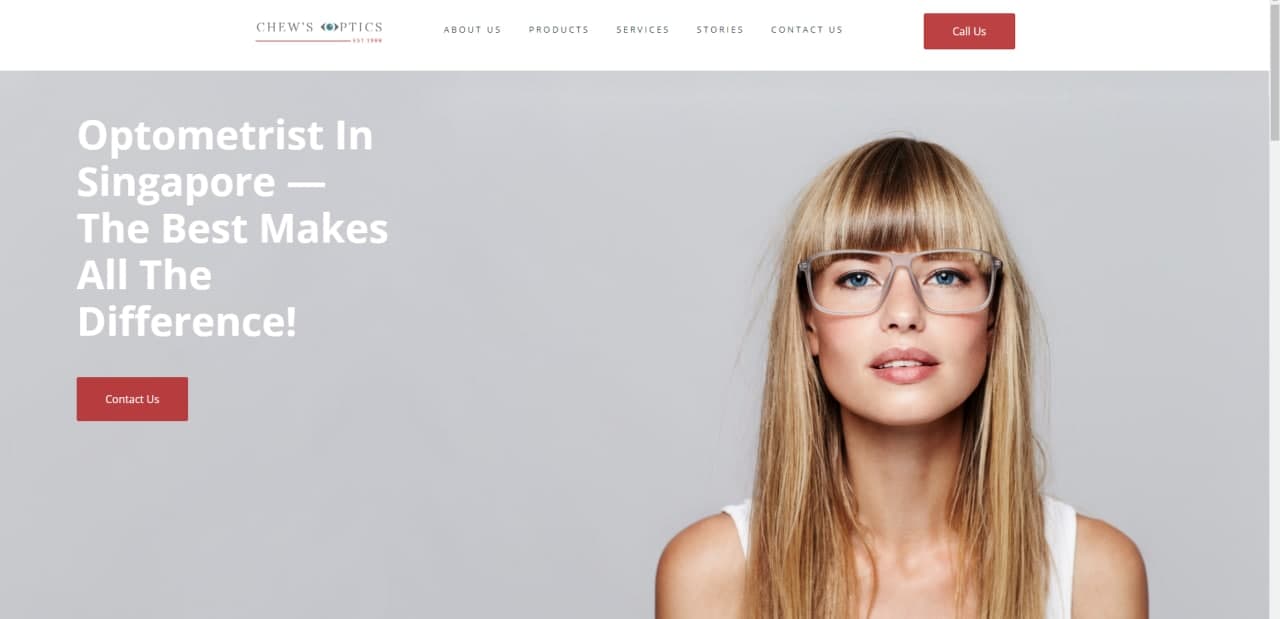 BEST FOR
Contact Lens Consultation
WEBSITE
http://chewoptics.sg/
ADDRESS
144 Teck Whye Lane, #01-211
Singapore 680144
CONTACT DETAILS
[email protected]/65 6760 1895
65 8314 7093
OPERATING HOURS
Tue – Sat: 9.30am – 8pm
Sun: 9.30am – 7.30pm
Public Holidays: 9.30am – 2.30pm
Chew's Optics is a qualified optometrist in Singapore. They carry a wide range of spectacle frames and contact lens brands.
They are located near to several popular malls such as Bukit Panjang Plaza, Hillion Mall and Lot 1 Shopping Centre. Chew's Optics is now a humble spectacle shop in Teck Whye.
Chew's Optics is more than your friendly neighbourhood optometrist in Singapore with optometrists are fully armed with knowledge. They also get global updates on eyewear and eyecare from memberships in the United Kingdom.
Highlights
Wide-range products
Knowledgeable optometrists
Professional eye check up services
10. EMME Visioncare
At Emme Visioncare, they believe that personalized eye care should be accessible to everyone, hence their offering of a wide range of eye care and treatment services. They provide comprehensive vision and eye health consultation for all ages and their in-house specialist has an interest in myopia control and orthokeratology.
Cataracts, glaucoma, macular degeneration and dry eye are some of the eye conditions that Emme Visioncare provides treatments to.
They also offer an extensive range of eyewear that come in various styles so you can freely choose which one is most appropriate for you and they even have an express service where you can instantly get your customized glasses in just 30 minutes. 
Highlights
Wide scope of eye care services
High quality glasses and lenses
Accurate eye examinations
And that's it for our list of the best optical shops in Singapore! If you want to recommend more shops, feel free to share them with us!
Also, if you'd like to have a more detailed consultation with an eye specialist, you may want to visit one of these best eye clinics in Singapore so you receive the proper treatment that you need.