The 8 Options for the Best Hypnotherapy in Singapore
If you've ever thought about undergoing the best hypnotherapy in Singapore to overcome sleeping disorders, you're not alone. It's a type of treatment used mainly for managing insomnia, depression, stress, and post-trauma anxiety.
Opting for the best hypnotherapy in Singapore as a treatment might be unconventional, but it's been seen multiple times that it can be effective. Even some medical doctors have sworn by the benefits of the best hypnotherapy in Singapore.
If you're curious to know the places or clinics that offer the best hypnotherapy in Singapore, continue reading below because we compiled the ones worth checking out for you!
(Note: This list is in no particular order.)
1.  Insightful Counselling 

Headed by Specialist Counsellor Ms Reena Goenka, Insightful Counselling endeavours to provide fairly priced hypnotherapy services for those who wish to relieve themselves of stress and other burdens.
Clients who come into these hypnotherapy sessions with Insightful Counselling can overcome their issues such as anxiety, phobias, sexual dysfunction, insomnia, and bad habits; and work on self-empowerment.
The fee for hypnotherapy is dependent on the counsellor, with Specialist Counsellors priced at $200, Regular Counsellors at $150, and Intern Counsellors at $30. Clients have the option to book sessions from 9 in the morning to 7 in the evening during weekdays, and 9 in the morning to 12 noon on Saturdays.
Insightful Counselling also offers virtual sessions and home visits for patients who can't leave their home. Those who are in crises or emergency are also catered to depending on availability.
Highlights
Online virtual sessions and home visits available
Therapy in various languages (Counsellor-dependent)
Free consultation
2. Petra Hypnosis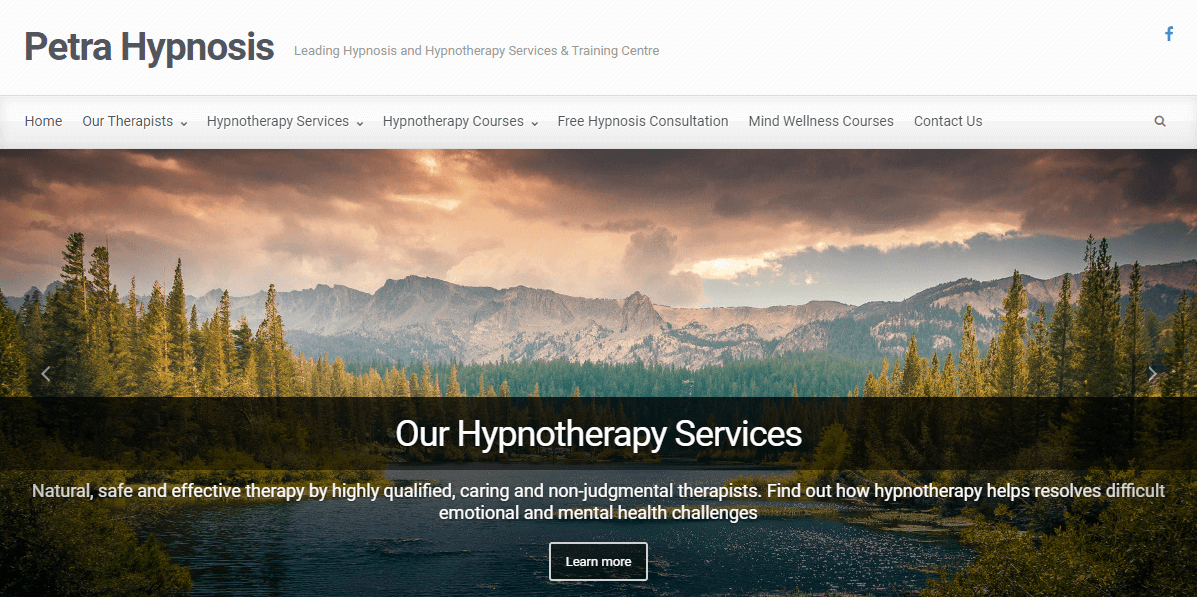 | | |
| --- | --- |
| BEST FOR  | Convenient Location |
| SERVICES | Hypnotherapy and Mind Wellness Activities |
| WEBSITE | https://petrahypnosis.com/ |
| ADDRESS | 19 Tanglin Rd, #06-43/44 Tanglin Shopping Centre, Singapore 247909 |
| CONTACT DETAILS | +65 6734 5581 |
| OPERATING HOURS | Monday – Saturday, 9:00 AM – 6:00 PM |
If you're looking for a non-intrusive, alternative way to dealing with stress, then you might want to consider what Petra Hypnosis has to offer. It's a hypnotherapy clinic helmed by Dr Fauziah Shah, one of the most well-known hypnotherapists on the island.
What's more, Petra Hypnosis offers one of the most affordable hypnotherapy sessions on the island, as its team believes that everyone should have access to quality and safe alternative medical services.
Another thing we love about it is the fact that all of its hypnotherapists can speak more than a single language. Sessions can be done in English, Mandarin, Malay, or even Tamil! This is why we call it one of the top clinics for the best hypnotherapy in Singapore.
Highlights
Experienced hypnotherapists
Affordable rates
Therapy work in the local languages
3. The Pathlight Centre
| | |
| --- | --- |
| BEST FOR  | Professional Hypnotherapists |
| SERVICES | Hypnotherapy and Hypnotherapy Classes |
| WEBSITE | https://the-pathlight-centre.business.site/ |
| ADDRESS | Ang Mo Kio Ave 4, Singapore 560174 |
| CONTACT DETAILS | +65 9186 8062 |
| OPERATING HOURS | Monday – Saturday, 8:00 AM – 5:00 PM |
The Pathlight Centre doesn't function only as a source of the best hypnotherapy in Singapore, it's a training centre for aspiring hypnotherapists as well!
It's a clinic committed to providing patients only with effective and safe medical treatments.
In terms of its staff, The Pathlight Centre employs some of the best and most trusted hypnotherapists on the island. Its hypnotherapists are known for being friendly and accommodating towards all patients.
Highlights
Competitive rates
Friendly staff
Hypnotherapy classes
Customer Reviews
Here's what previous patients had say about their experience with The Pathlight Centre:
"Great experience. The hypnotherapist was very professional and easy to talk to. I was surprised during the first meet up I was able to open up quite a lot. Didn't expect to be so easy to open up and talk with the person I just met not long. Hypnosis has helped me in many ways, and made some great changes in my life. Highly recommend Hypnotherapy as an alternative therapy to manage stress and cope with anxiety." 
"Positive experience with the centre. They are professional and genuine in understanding my needs, my best investment made to attend their program. The learnings gained, is meaningful for me to understand myself better and I am able to use the skills learnt to help others"
4.  Lee McKing Hypnotherapy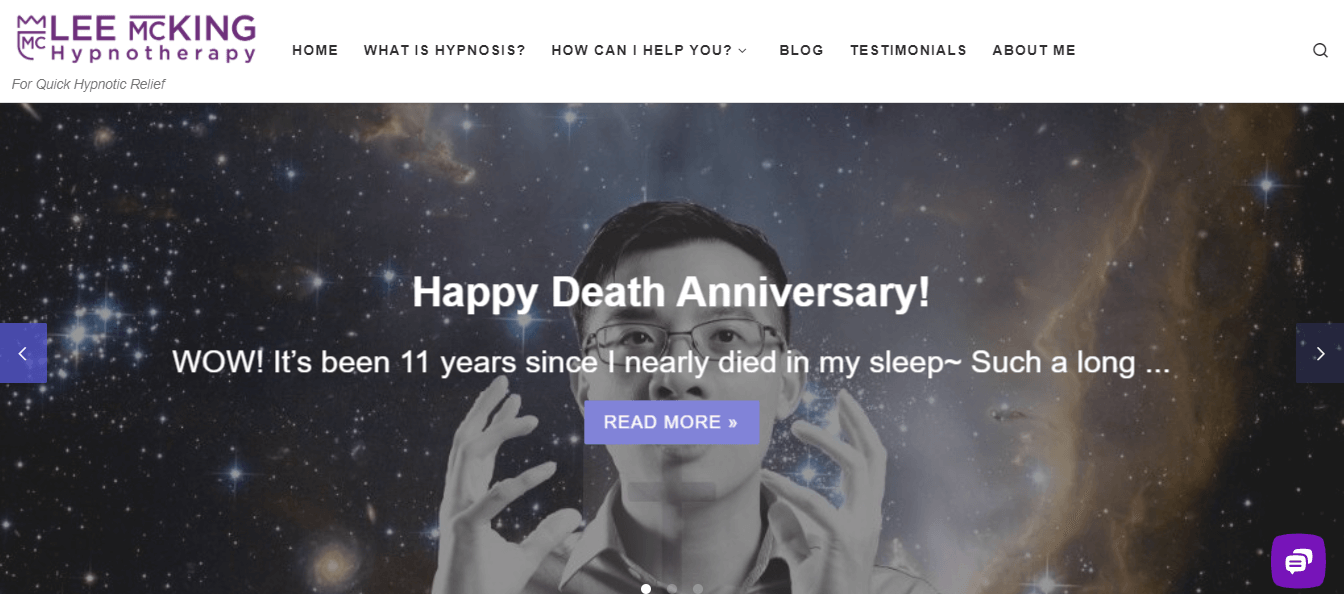 | | |
| --- | --- |
| BEST FOR  | Emotional Issues |
| SERVICES | Hypnotherapy |
| WEBSITE | https://leemcking.sg/ |
| ADDRESS | 410 North Bridge Rd, Singapore 188726 |
| CONTACT DETAILS | +65 9781 7443 |
| OPERATING HOURS | Monday – Saturday, 8:00 AM – 5:00 PM |
If you're looking for the best hypnotherapy in Singapore that can address multiple problems all at once, then look no further than Lee McKing Hypnotherapy.
Lee McKing is one of the most famous hypnotherapists on the island. He deals with people struggling with emotional issues, in particular.
Some of the emotional issues Lee McKing knows how to handle are anxiety, low self-esteem, anger management, stress, fears, and break ups, among others. If you're feeling any of these, don't hesitate to drop by his clinic!
Another reason his clinic comes highly recommended is the fact that he's personally experienced most of what his patients are currently going through. It's better to consult with someone who has first-hand experience of what you're feeling, right?
Highlights
Experienced hypnotherapist
Competitive rates
Customer Reviews
Take a look at what a client had to say about his session with Lee McKing:
"I was always curious about hypnotists and their various skill sets. Learned a lot from McKing and his understanding of how our conscious and subconscious minds manage our fears, expectations and lives. From our interaction I learn more on our subconscious and how we can use it to expel our fears and improve our interactions with others."
5.  Trans4mational Therapy Centre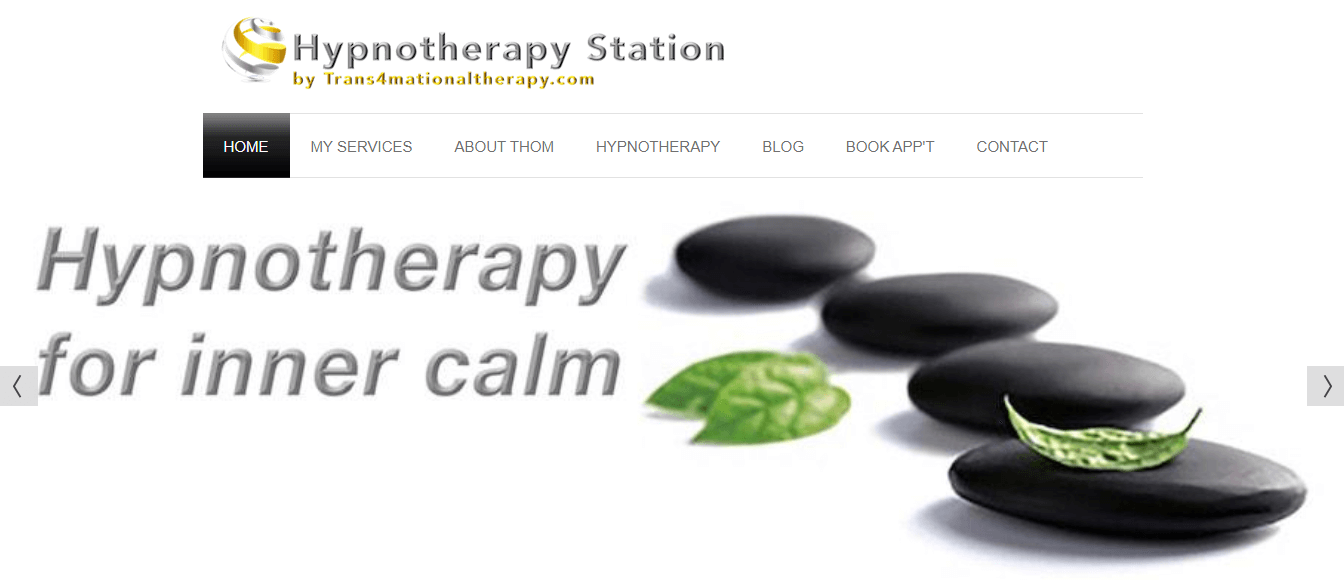 | | |
| --- | --- |
| BEST FOR  | Easy Appointment |
| SERVICES | Hypnotherapy |
| WEBSITE | http://www.trans4mationaltherapy.com/ |
| ADDRESS | #03-17 Suite 7 Sultan Plaza, 100 Jln Sultan, Singapore 199001 |
| CONTACT DETAILS | +65 9186 3575 |
| OPERATING HOURS | Monday – Saturday, 10:00 AM – 9:00 PM |
For those who want to achieve inner peace through the best hypnotherapy in Singapore, the services of Trans4mational Therapy Centre come highly recommended. More than its efficacy, its services are known to be priced reasonably — sessions are cheaper than what other clinics are offering.
Some of the issues that Trans4mational Therapy Centre can help with are depression, anxiety, anger management, low self-esteem, and quitting toxic habits.
Trans4mational Therapy Centre is also headed by Thom Bush, a UK-born hypnotherapist with experience spanning more than 20 years, so rest assured that every patient is going to be in safe hands.
Highlights
Affordable rates
Experienced hypnotherapist
Comfortable and cozy clinic
6. True Chiropractic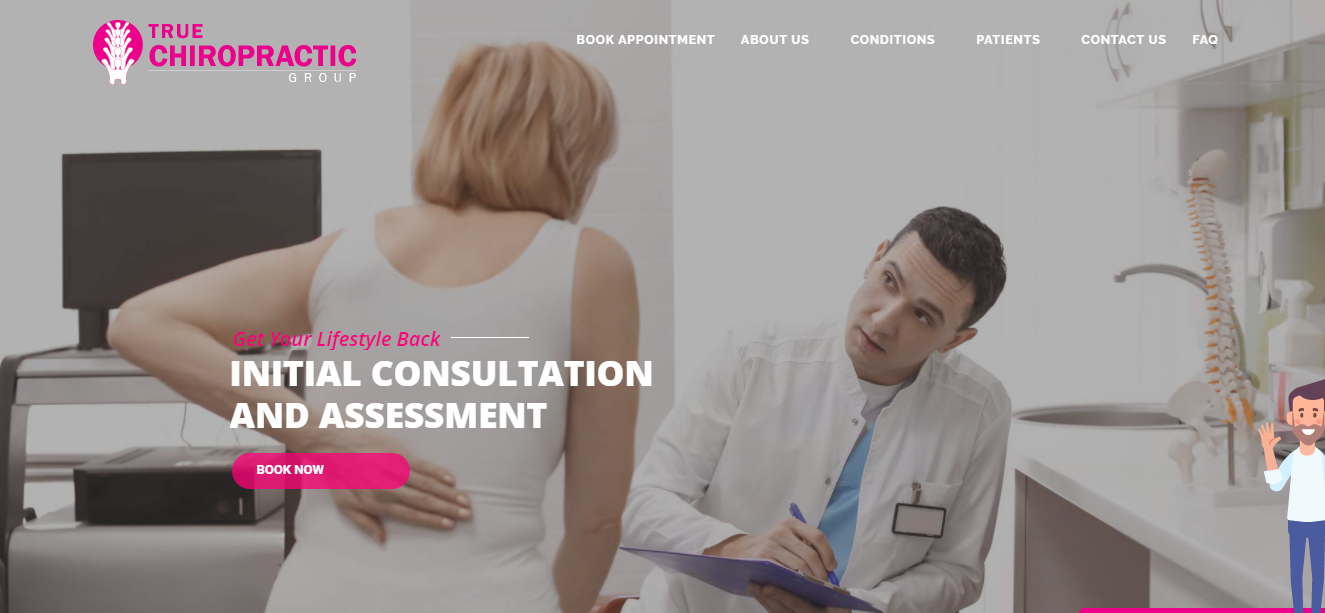 | | |
| --- | --- |
| BEST FOR | Chiropractic medicine |
| WEBSITE | http://truechiropractic.com.sg/ |
| ADDRESS | 1 Fifth Avenue, Guthrie House, #04-07 Singapore 268802 |
| CONTACT DETAILS | 6816 8881/[email protected] |
| OPERATING HOURS | Mon & Fri: 9am – 1pm , 3pm-6pm, Tue – Thur: 8:30am – 1pm , 3pm-8pm, Sat: 8:30am – 1pm , 2pm-6pm, Sun: Closed |
True Chiropractic clinics are experts in providing the best care possible to all our patients. Not only that, the team is keen on creating awareness and educating as many people as possible on health care via science and Chiropractic.
True Chiropractic offers Spinal Decompression Therapy, a non-surgical therapy to relieve back pain and other problems associated with spinal issues. Not only that, but they also give Osteopathy (Osteo), a form of drug-free non-invasive manual medicine that focuses on total body health by treating and strengthening.
Chiropractic is an alternative medical health care option. The Chiropractic approach to healing is concerned with the diagnosis of every patient.
Highlights
Limited offers, promos, and discounts
Online appointment booking service
Friendly professional staff
Customer Reviews
"Cant say enough good things about True Chiropractic and Dr Priscilla. She is detailed and really explains what she is about to do. No hard sell, and really quick and effective relief. The best part is that they teach a more holistic approach so there is even rehab along with the adjustment to not only relieve the pain, but also prevent it from coming back."

"This was my first experience with a chiropractic clinic and after just a couple of visits I feel so much better. Dr Annika was thorough and I liked the plan he set out to help me improve my overall health. The staff ladies have been awesome. I am excited to have pain relief and overall well being."
7. Mindease Hypnotherapy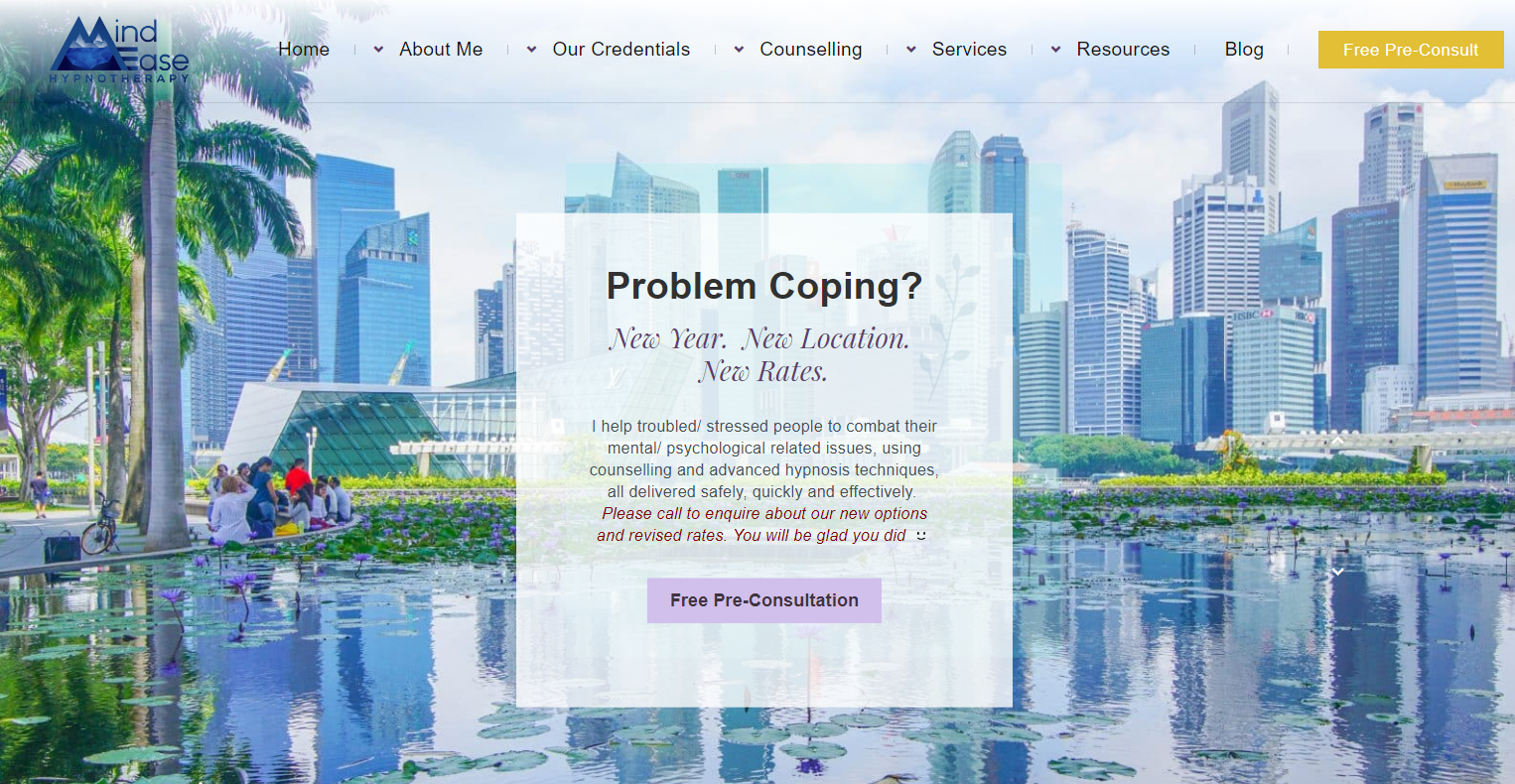 BEST FOR
Self-actualization and mind improvement
SERVICES
Hypnotherapy
WEBSITE
http://www.mindease.sg/
ADDRESS

StoreFriendly Centre, #06-01 (W6032), 107 Eunos Ave 3, Singapore 409837

CONTACT DETAILS
98183525
OPERATING HOURS

10am – 9:30pm (Mon to Fri)

9am – 7pm (Sat)
Mindease Hypnotherapy totally understands how it feels to be seated in the recliner chair. It is therefore their team's mission to make the whole process as transparent, efficient and seamless as possible.
This is so to serve all clients and society at large better. They are a dedicated team in advocating the power of the subconscious mind and how to harness it to humanity's benefit.
Effectively bilingual, each client's issue and its underlying unfulfilled desire is different, thus the approach to resolving it will be very different. In Mindease, the process of each and every client is different and specifically customized to their needs.
Highlights
Competitive Rates
Special online therapy
Free consultation (online/ onsite)
Customer Reviews
Here are some examples of the feedback posted by customers on Google Reviews:
"Only just 1 session, Patrick was able to bring me back to the past and peel off layer by layer to find out my core belief system to understand better on my current situation. The session was effective, straight to the point and the feeling is indescribable. I couldn't wait to have the 2nd session to unleash more potential within me."
"Just one Access Bars session, to help release the self imposed limitation (constant worry of the detrimental effect of sleeping pill) and help discharge the negativity about body and towards life."
8. The Hypnosis Clinic

| | |
| --- | --- |
| BEST FOR | Affordable and hypnotherapy |
| SERVICES | Hypnotherapy, Life Coaching  |
| WEBSITE | http://www.hypnosisclinic.sg/index.html |
| ADDRESS | 9 Sin Ming Road, #B1-03/04, Thomson V One, Singapore 575630 |
| CONTACT DETAILS | +65 6492 8697 | [email protected] |
| OPERATING HOURS | Contact for more information |
The Hypnosis Clinic is one of the best hypnotherapy clinics in all of Singapore. It's recognised by the Accounting and Corporate Regulatory Authority of Singapore (ACRA) and has served numerous patients since the time of its establishment.
The Principal Clinical Hypnotherapist, Aloysius Tay, is a certified Psychotherapist and Counsellor that understands that each patient is unique, which requires tailored treatments for each patient. 
Those who are suffering from depression, anxiety, or anger management can find help in The Hypnosis Clinic. in the form of counselling and emotional therapy. Life Coaching is also available for patients looking to find a clearer path in life. 
Highlights
Tele-help available
Affordable rates
Professional panel of experts
And with that, we conclude our list of clinics with the best hypnotherapy in Singapore. You won't have to carry your emotional burdens much longer with the help of these trusted hypnotherapy clinics.
For more options, try checking out our list of the best psychotherapy in Singapore. These psychotherapists can definitely help you deal with whatever you're struggling with right now, so don't hesitate to drop by their clinic.