The Top 7 Clinics for the Best Knee Replacement Surgery in Singapore
By Michaela Koh
If you have knee arthritis and non-surgical treatments are no longer effective, you should consult with a specialist who provides the best knee replacement surgery in Singapore. This procedure will remove the damaged joint and replace it with a plastic and metal implant, eliminating the extreme pain that you've been enduring.
Severe conditions such as inability to walk, chronic knee pains, swelling, fever, and redness are some of the symptoms that you should look out for. If you're experiencing these signs, then it's definitely the time to book an appointment with a medical specialist.
To ease your hassles of looking for the right professional to consult with, we've searched around until we end up with only the leading health centres that offer the best knee replacement surgery in Singapore.
(Note: This list is in no particular order.)
1.  Dr. Sean Ng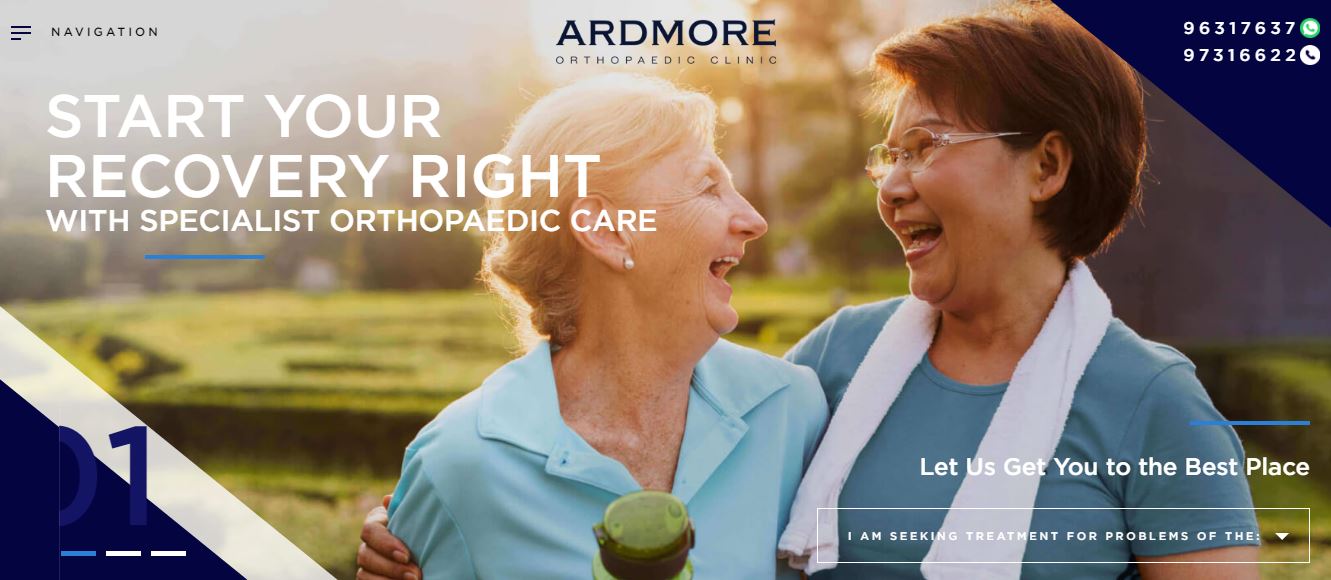 BEST FOR 
Broad range of knee surgeries
WEBSITE
https://www.orthopaedicclinicsingapore.com/
ADDRESS
3 Mount Elizabeth #14-13, Mount Elizabeth Medical Centre, Singapore 228510
CONTACT DETAILS
31292750 
OPERATING HOURS
Weekdays: 09:00am to 1:00pm & 02:00pm to 5:00pm

Saturday: 9:00am to 1:00pm

Closed on Sundays and Public Holidays
Ardmore Orthopaedic Clinic doesn't only focus on the surgical treatments, they also prioritise the value of long-term recovery maintenance because the success of the operation will be based on the progress of rehabilitation.
That's why they offer excellent pain management and physiotherapy to maintain the joints' functions and keep them strong.
When it comes to their best knee replacement surgery in Singapore, they'll replace the damaged joint with new parts that are made from plastic and metal, ensuring a high-quality artificial joint.
Highlights
Specialised orthopaedic surgery
Comprehensive recovery treatment
Customer Reviews
Former patients of Ardmore Orthopaedic Clinic have cited the success of the recovery, saying that their condition is completely back to normal and this is because of the clinic's effective treatments.
A former client shared this experience on Google Reviews:
"Few months post-surgery, and I am almost fully back into my previous lifestyle. I also stick to the exercises Dr Ng gave to improve muscle strength and balance, and the gradual progress is evident. Good follow-up from this clinic."
2. Dr Kevin Koo
BEST FOR
Full body range of services
SERVICES

Foot & Ankle, Knee, Sports & Dance Injury, Spine & Hip, Shoulder & Elbow, Hand & Wrist

WEBSITE
https://www.bjc.sg/
ADDRESS
Mount Elizabeth Medical Centre,
3 Mount Elizabeth, #14-15,
Singapore 228510
CONTACT DETAILS
 9898 7781
OPERATING HOURS
Monday: 8am–9pm
Tuesday: 8am–9pm
Wednesday: 8am–9pm
Thursday: 8am–9pm
Friday: 8am–9pm
Saturday: 9am–7pm
Sunday: 9am–3pm
One of the best specialists for knee replacement surgery to consider is Dr Kevin Koo of The Bone & Joint Centre. He is an award-winning and internationally acclaimed surgeon who has been in the field for over 15 years. His expertise is, without a doubt, unmatched.
Dr Koo's speciality involves foot and ankle surgery, joint replacements, sports and minimally invasive surgery; but he can also do other various orthopaedic services if need be.
Check out their long and comprehensive list of services you can acquire on the site. You may also give them a call for check-in with Dr Kevin Koo himself.
Highlights
Skilful diagnosis and treatment
Minimally invasive surgeries
Competitive rates
Customer Reviews
Dr Kevin Koo has received nothing but good reviews on The Bone & Joint Centre's google search. Here's what one had to say:
"I'm a long-distance runner and a cyclist as well, and this guy is putting my abused body back together. Thank you! Fantastic explanation on what is wrong with my body and how to manage my injuries."
3. Dr. Ambrose – Singapore Sports and Orthopaedic Clinic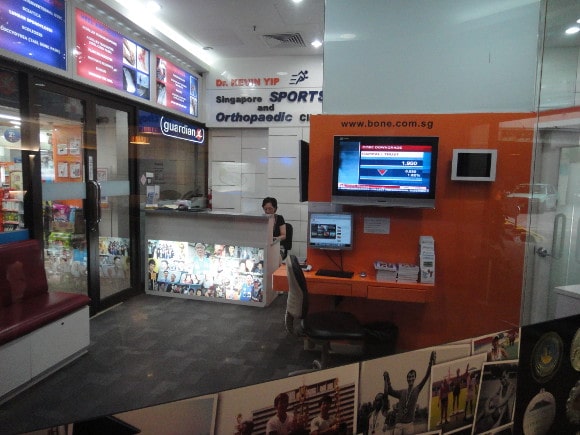 Singapore Sports and Orthopaedic Clinic provides a comprehensive range of treatments to treat chronic pains of the knee, shoulder, spine, and more.
This includes the best knee replacement surgery in Singapore that'll completely remove the damaged bone surface and have it replaced with the most suitable artificial knee implant.
They also perform other orthopaedic surgeries such as total hip replacement, spine surgery, laceration treatment, wound treatment, lump removal, etc.
Non-invasive treatments are also part of their services and this involves medication, physiotherapy, and shockwave therapy.
Highlights
Treatments for orthopaedic problems and sport injuries
Accessible location
Customer Reviews
Most clients complimented the excellence and skills of the specialists at Singapore Sports and Orthopaedic Clinic. They said that they were able to see the immediate improvements and felt relieved during the process.
A customer gave this review on Google Reviews:
"Dr Ambrose Yung did partial knee replacement for my right knee. Dr Kevin Yip treated my left knee. Both doctors are very good doctors."
4.  HC Orthopaedic Surgery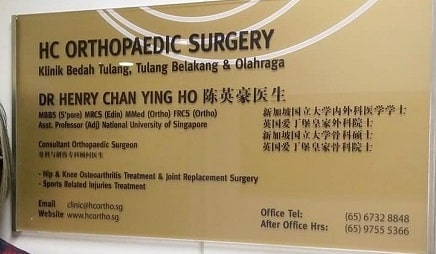 BEST FOR 
Modern and advanced medical technology
WEBSITE
https://hcortho.sg/
ADDRESS
3 Mount Elizabeth #15-14 Mount Elizabeth Medical Centre, Singapore 228510
CONTACT DETAILS
+65 6732 8848
OPERATING HOURS
Weekdays: 9am–6pm

Saturday: 9am–1pm
HC Orthopaedic Surgery is known for its advanced solutions that help treat knee pain, back pain, fractures, arthritis, sports injury, and more conditions.
For their best knee replacement in Singapore, they use modern medical technology that involves 3D printing and a robotic arm for a faster and accurate diagnosis.
This technology implies an innovative technique for both partial and total knee replacement procedures. Following the surgery, they'll help you with the recovery process by creating exercise plans.
Highlights
Personalised recovery plans
Health insurance
Inclusive screening packages
5.  International Orthopaedic Clinic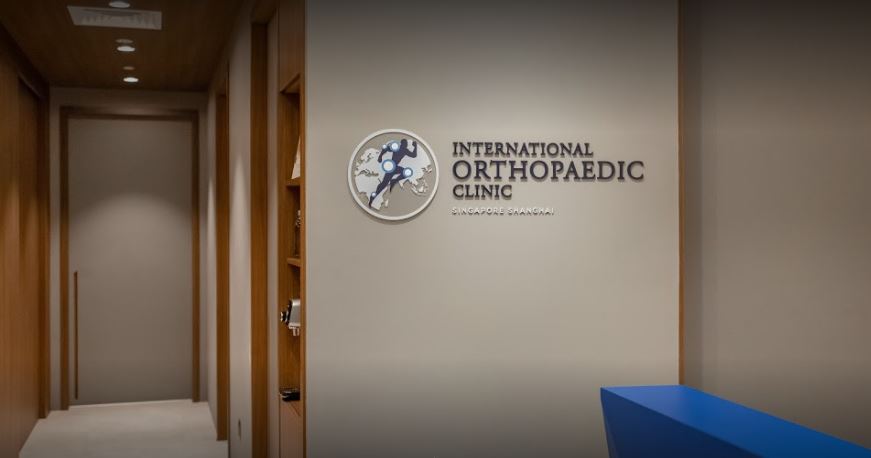 BEST FOR 
Robotic surgery
WEBSITE
https://www.ioc-ortho.com/
ADDRESS
#05-24 Mount Elizabeth Novena Specialist Centre 38 Irrawaddy Road, Singapore 329563
CONTACT DETAILS
(+65) 6253 7111
OPERATING HOURS
Monday to Friday – 9.00 AM – 5.00 PM

Saturday – 9.00 AM – 1.00 PM
International Orthopaedic Clinic is considered to be a one-stop medical centre for orthopaedic surgeries, offering personalised and practical solutions for each condition. This includes sports injuries and adult reconstruction in which they perform robotic surgery for total and partial knee replacement.
The procedure is minimally invasive and they use different kinds of advanced equipment to ensure a successful joint reconstruction. With their improved technology and skilled specialists, they're known to offer some of the best knee replacement surgery in Singapore.
Highlights
Robotic surgery
Adult and paediatric trauma management
Customer Reviews
Countless clients have recommended the orthopaedic procedures of International Orthopaedic Clinic because of their knowledgeable surgeons, a clear diagnosis, and overall accessibility.
A client posted this feedback on Google Reviews:
"Dr Alan Cheung came highly recommended by my Physiotherapist when my right knee became painful and was not improving with just physiotherapy treatment. I have had a number of joint surgeries and therefore worked with several Orthopaedic Surgeons over the last 30 years. I liked Dr Cheung from the very first consultation. He is knowledgeable, skilled, and delivered his diagnosis clearly. He was patient with the many questions, and happy to share what he was thinking, and then his recommended next steps. I especially appreciated his accessibility and availability, both in person and by text.  The surgery went as expected and I was surprised and absolutely delighted to be walking without crutches from day one. My recovery with a unilateral knee replacement has been swift.  We also managed to find a number of common interests and I looked forward to our consultations, as some were most entertaining!"
6.  Pinnacle Orthopaedic Group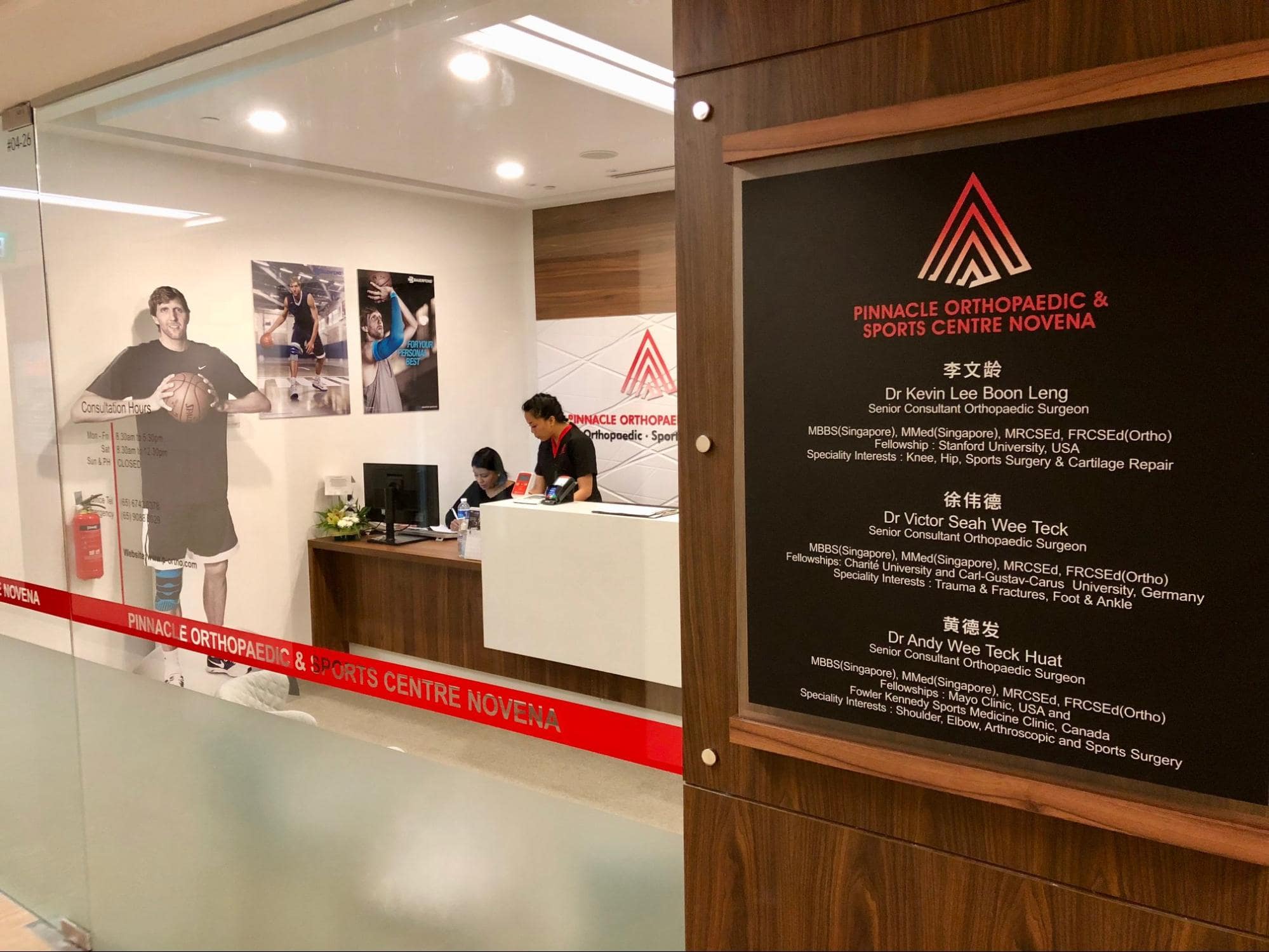 The main specialist at Pinnacle Orthopaedic Group uses a certain technique for higher accuracy and shorter surgical time. They also provide custom-fitted guides to make sure that the replacement will fit perfectly.
Since implants have become gender-specific, women have their own personally designed knees here. That's why they're known to perform some of the best knee replacement surgery in Singapore.
Highlights
Custom-fitted replacements
Full range of orthopaedic services
Customer Reviews
Pinnacle Orthopaedic Group has gained the trust of many clients because of their strategies and approaches that can treat the most complex and even rare cases. A client from Google Reviews wrote:
"I was referred to see Dr Kevin by a friend who is a medical doctor to treat a rare knee condition. Dr Kevin is decisive and positive throughout the whole treatment with me. Truly appreciate what he did, minimally invasive surgery which expedite my post-surgery recovery. I'm fully recovered and back to normal exercise in less than 3 weeks post-surgery ! A big thank you to Dr Kevin and his friendly staffs."
7. Thomson Surgical Centre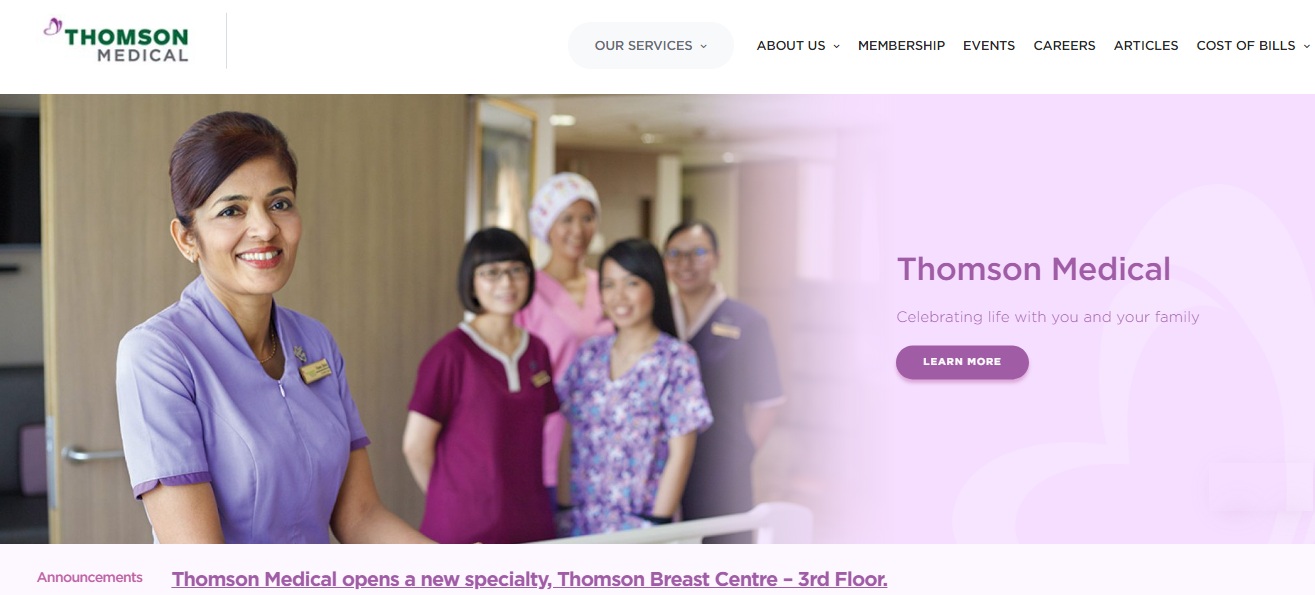 BEST FOR

Specialist management of orthopaedic conditions such as: 

Sports Injuries

Knee Pain

Anterior Cruciate Ligament (ACL) Reconstruction

Cartilage Repair

Carpal Tunnel Syndrome

Paediatric Trauma / Injuries

WEBSITE
https://www.thomsonmedical.com/service/thomson-surgical-centre/
ADDRESS

Thomson Medical Centre

339 Thomson Road #03-01, Singapore 307677

CONTACT DETAILS
Phone : 6-THOMSON (6-8466766)
WhatsApp: 8666 1646
Email: [email protected]
OPERATING HOURS

Open 24 hours
Over the years, Thomson Medical Centre has prided itself in offering quality care to mothers and babies for many generations. We have expanded our services to care for women beyond maternity as well as to families with our newest addition – Thomson Surgical Centre (TSC), located within Thomson Medical Centre.
Thomson Surgical Centre is a one-stop facility offering a comprehensive suite of surgical specialities, covering most major women conditions. At Thomson Surgical Centre, we are sensitive to our patients' needs with a highly personalised healthcare experience in a warm and friendly environment. Backed by our dedicated team of experienced specialists and nurses, we adopt a compassionate and patient-focused approach in our diagnosis, treatment and postoperative care for a smooth and comfortable recovery.
Female specialists are also available to provide diagnosis and treatment, providing patients with the privacy and ease-of-mind they need.
Highlights
Listed on the Mainboard of Singapore Exchange

One of the Asia's Largest Healthcare Provider

Top Medical Centre in Singapore
Customer Reviews
Given the success of the hospital, they have gained the trust of their patients. One of the satisfied clients wrote this:
I would like to compliment Ms Anuja from the Patient Service Centre for her 5* helpfulness, attentiveness, patience and service. As a first time patient due for hospitalisation for a surgery, it was stressful to think about the procedure I was about to undergo and even more so on billing and payment matters. Knowing that I had concerns about the admission procedure and payment, she initiated to speak with her team in order to smoothen the process for me. Furthermore despite not working on the day of my admission, she also completed the pre-admission paperwork prior to be handed over to her colleague. Upon discharge, she followed up and provided me the contact whom I can reach out to with pertaining to the status of my claim. Throughout our correspondences, Anuja was clear in her advice and detailed in her follow-up which I appreciated as I dislike uncertainty. Anuja has certainly eased my stress on payment and administration matters so I can focus on recovering well. Thank you Anuja! – Isabelle Tang
If you are experiencing acute or chronic orthopaedic conditions that requires diagnosis and treatment, please consult a specialist for a professional opinion. 
Bear in mind that the success of the operation depends on the rehabilitation, so make sure to consistently follow the routines and you'll be fully recovered in no time. If you've already gone through this kind of surgery, you may also tell us about your experience.
If you'd like to know more clinics that provide diagnosis for chronic pains, look at these best chiropractors in Singapore. They're health specialists who provide therapies and treatments to manage pains of this type.