The 5 Options for the Best Iron in Singapore
If you're on the lookout for a replacement clothes iron, then you've come to the right place! Today, we're listing down the best irons in Singapore that every household owner in Singapore should check out.
There is a wide range of clothes iron out in the market today, ranging from lightweight ones for travellers down to heavy-duty ones for laundromats. In this article, we're going to help you find the right one that matches your needs.
Anyway, before we introduce our picks for the best iron in Singapore, we're going to share a few tips on what to consider when looking for a decent working clothes iron.
Let's start!
How to Find the Best Iron in Singapore
Almost every one of us has to iron clothes every day, whether it's for work or a casual day out to park with friends. Wouldn't you love to get your hands on the best iron in Singapore that makes the task a little bit easier?
If so, you're going to need to take note of some things like the type, design and build, wattage, and soleplate.
There are thousands of options out in the market, and looking for these features will help you find the best iron in Singapore that complements your needs and lifestyle.
Anyway, allow us to elaborate on these points below.
1. Type
There are three common types of clothes iron: dry, steam, and portable. Since all of them have the same level of functionality, your choice may ultimately boil down to your preference.
You've probably used a dry iron in the past because it's the most common and also the least expensive option. It's easy to use and lightweight, but it's not the most portable option out there.
Dry irons don't carry much in terms of features, but the controls are easy to understand and get the hang of.
On the other hand, steam irons are a tad bit expensive compared to dry irons because of better build and more features. Steam irons allow smoother pressing and help remove wrinkles on linen and cotton garments.
If you're a frequent traveller, then the portable iron is the perfect option for you. It's compact, lightweight, and easy to store inside the bag, so you won't have to worry about not looking presentable for a business trip.
2. Design
Clothes irons are usually made from metal and hard plastic. Rarely do they come in any other material.
When looking for the best iron in Singapore, it's important to choose the design you're most comfortable with. You need to consider the size of the handle because it determines how comfortable you are while using the iron.
If a handle is too big for your hands, it can get a little uncomfortable, especially if you're going to spend more than half an hour ironing a pile of clothes.
3. Wattage
It's also equally important to consider the wattage of a clothes iron: The rule is: the higher the wattage, the better the performance.
Clothing irons with high power will heat up quickly and will be effective in removing creases and wrinkles on garments.
However, most irons that have higher wattage also have higher prices, so you might want to prepare yourself for that.
4. Soleplates
Soleplates are materials that conduct heat to the bottom of a clothes iron. We recommend going for one with a larger soleplate because it makes the task quicker and faster, covering more area over the fabric.
It's also equally important to consider what the soleplate is made out of. There are 4 common types of soleplates: aluminium, ceramic, non-stick, and stainless steel.
Aluminium is the most susceptible to scratches and wear, especially after being used for quite some time. It gets sticky easily even after just an hour of ironing clothes, and it's also extremely hard to clean.
In terms of durability, you might want to consider ceramic or non-stick soleplates. Both are easy to maintain and help distribute heat evenly.
If you have extra budget, go for a stainless steel soleplate. It's easy to clean, durable, corrosion-free, and scratch-resistant.
The Best Iron in Singapore
There you go! Now that you know which factors to consider when looking for the best iron in Singapore, it's time to go over our picks.
1.   Cornell Heavyweight Classic Dry Iron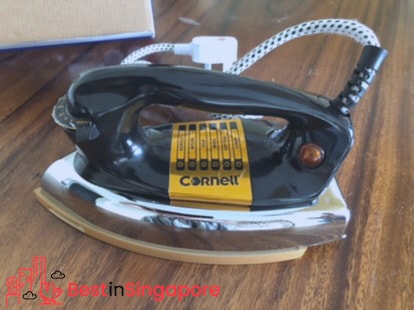 Price: S$39.90
If you're looking for an affordable option, then you might want to pay attention to Cornell Heavyweight Classic Dry Iron. It's priced at only S$39.90, making it one of the cheapest models available in Singapore.
It may be cheaper than most irons on the island, but it does the job just as well–if not better. It comes with an adjustable temperature controller with 6 settings, making it easier for you to choose the appropriate temperature.
Another thing we like about the Cornell Heavyweight Classic Dry Iron is its simple and classic design. It sports a black and gold-coloured body and a ceramic coating soleplate with a 1.6-meter-long power cord.
Its large ceramic-coated soleplate allows users to evenly iron out their garments and get rid of wrinkles and creases. You won't have to worry about walking around with a shirt that tends to wrinkle up easily!
The Cornell Heavyweight Classic Dry Iron comes with a 1-year warranty in case there are any defects. Customers don't need to spend a single cent to have it fixed.
These are just some of the reasons why it made it in our list of the best irons in Singapore that everyone should check out.
Pros
Affordable
Retro design
Ceramic soleplate
1-year warranty
Cons
Durability is questionable
Not suitable for laundromat use
2.   Philips Powerlife Steam Iron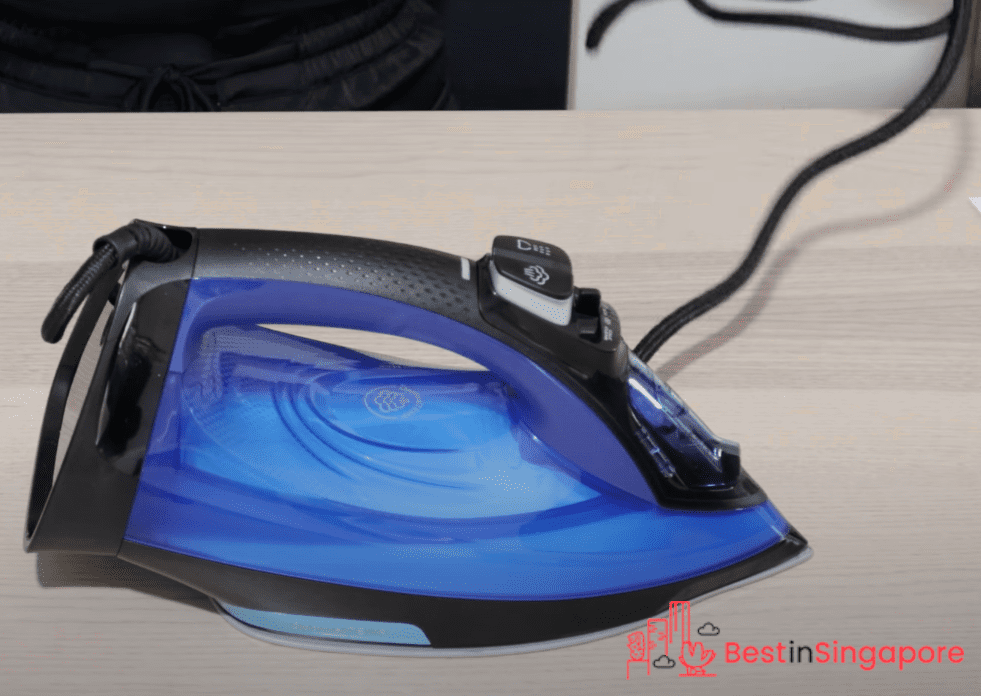 Price: S$62.10
If you're after a clothes iron that can provide consistent results, look no further than the Philips Powerlife Steam Iron. It's a steam iron made by Philips, one of the most trusted brands of home appliances.
In terms of durability, we believe that Philips Powerlife Steam Iron takes the top spot. It's made from high-quality hard plastic and a SteamGlide soleplate that evenly distributes heat throughout the plate, making it faster to remove wrinkles and creases.
Its SteamGlide soleplate not only provides smooth gliding, but it's scratch-proof as well. It's also extremely easy to clean and non-stick.
The Philips Powerlife Steam Iron has a power output of 2400 W and heats up quickly. If you get easily impatient waiting for the clothes iron to heat up, then you're going to like this one!
Another feature that we like about Philips Powerlife Steam Iron is its vertical steaming, allowing users to steam hanging garments. It's the perfect option for those who don't have an ironing board lying around the house.
It also helps prevent accidents through its automatic shut off feature. If it's left unattended for more than 8 minutes, it will shut down on its own.
Because of its quick-heating capabilities and safety features, we consider it as one of the best irons in Singapore.
Pros
Semi-affordable
Textured handle
Offers comfortable grip
Automatic shut off feature
Cons
Heavy, not that portable
Limited warranty
Customer Reviews
Check out these positive customer reviews for the Philips PowerLife Steam Iron:
"Quite happy with my new iron. Having read the reviews I was a bit cautious when I received it and almost had it sent back as it was leaking on first use. Luckily, I did think of checking the settings and it turned out its been set on self clean which was the reason for the leak.
Once properly set the iron has been great. Yes, it is a little heavy but I take it as a bonus as less pressing is required. Iron has a very long cord this is a massive plus for me.
Considering the discounted price I got it at, I am happy with my purchase and would recommend it."
"This is a great iron. Simple to use, reaches temperature quickly, holds a reasonable amount of water and has a sensibly long electric cord. There's a useful groove just above the plate so you can get around buttons easily and I'm very pleased with the overall results."
3.   Panasonic NI-WL30VSH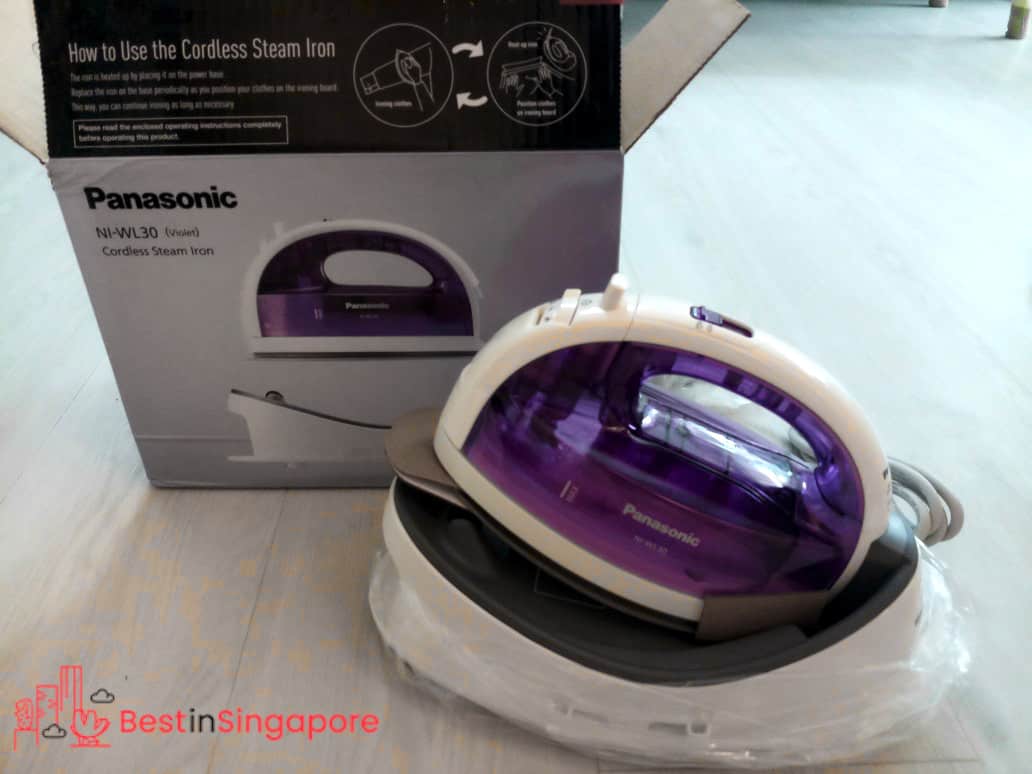 Price: S$99.00
If you're not a fan of wires that get in the way while ironing, then we recommend taking a look at Panasonic NI-WL30VSH. It's a cordless iron that will take your ironing sessions to a whole 'other level.
One thing to remember about the Panasonic NI-WL30VSH is that it will make your ironing smooth, easy, hassle-free, and quick through its special features. It's one of the more expensive irons, but users are sure to get more out of it.
It comes with a multi-directional soleplate that can be glided across different directions because it's tapered at both ends and symmetrically formed.  You won't have to struggle about ironing the button and sleeves areas anymore!
Another reason we included it in our list of the best irons in Singapore is the fact that it's designed for stability and safety. It's one of the few ones that have multiple safety features such as auto turn-off and a stable power base.
These features reduce the chances of burning your fingers and falling off the power base, compared to the build of wired clothes irons.
Other features of the Panasonic NI-WL30VSH are vertical and power shot, a detachable water tank, an anti-drip system, a symmetrical design, and a comfortable grip, among others.
Pros
Designed for safety
Multi-directional soleplate
Comfortable grip
Anti-drip system
Cons
Expensive
Small form factor
Customer Reviews
A lot of customers find the Panasonic NI-WL30VSH's features to be convenient and easy-to-use. Check out these reviews:
"Good quality iron. Very easy to use because it's smooth and light. Water capacity is surprisingly enough for a few clothes without having to keep refilling."
"This is what I've been looking for, easy, light and makes ironing faster than wired or steam iron. Love it. very fast delivery and packed nicely. item same as advertised and quality is really good. thank you very much."
4.   Electrolux EasyLine Iron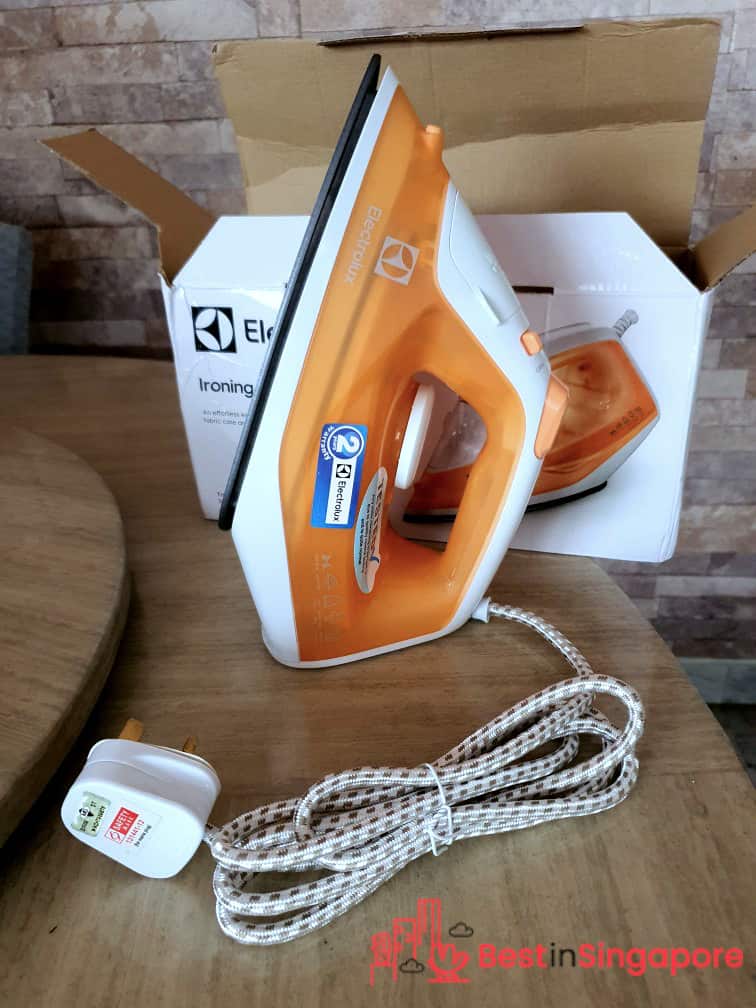 Price: S$45.00
Another affordable clothes iron is the Electrolux EasyLine Iron. It doesn't have much in terms of features but it does the job well, proving that you don't always need to go for the most expensive ones to get your money's worth
For one, it comes with a non-stick soleplate that provides easy and smooth ironing. It's also one of the few models that have a convenient anti-drip system to prevent leaks when you steam at lower settings.
The Electrolux EasyLine Iron isn't designed to be a portable travel clothes iron, but it wouldn't be that hard to bring it to your travels because it's lightweight and small. Why purchase other clothes irons when this one can be used anywhere?
It may not be as many features as other high-end, expensive irons, but it would be a great match for those who are just looking for a plain model with no complicated features.
Pros
Affordable
Lightweight
Non-stick soleplate
Cons
No special features
Not that durable
Customer Reviews
Take a look at some comments shared by people who have been using the Electrolux EasyLine Iron:
"The Electrolux iron performs perfectly, tons of steam, I love the pointed tip. Having used a higher end iron before, I think that the weight of the iron is a good thing. I love that it is a solid iron. We had a Rowenta iron for years that finally died on us. I know that this Electolux iron will last us for a very long time. I have no complaints! Love it!"
"This iron is a pleasure to use, as it glides across linen, cotton, rayon, and polyester with ease. While I was using it, I had plenty of steam coming through to get that linen shirt nice and crisp. When my husband used it, he commented that it "felt expensive" while using it. It's quite solid in your hand. The water does NOT leak. Once it goes into the reservoir, it stays put."
5.   Philips Perfectcare Elite Plus Steam Iron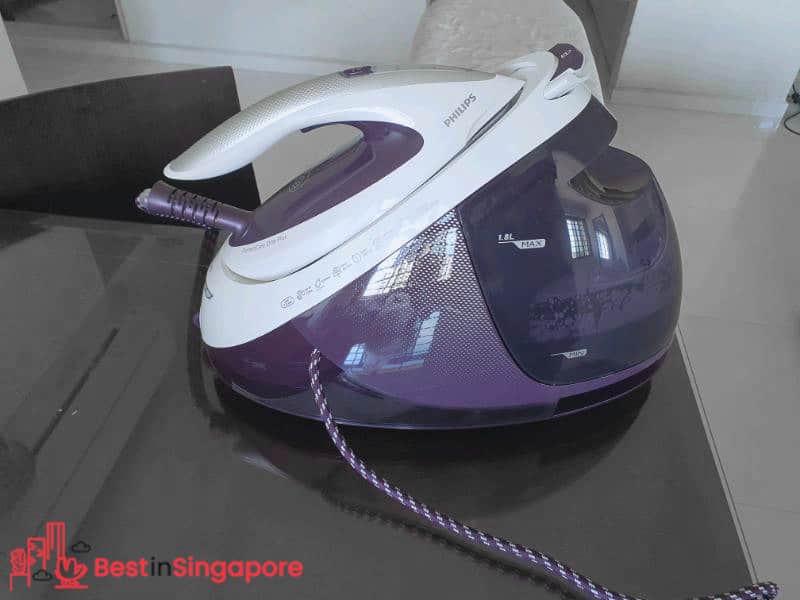 Price: S$567.90
If you're willing to spend extra on a high-end clothes iron, then there's no better match for you than the Philips Perfectcare Elite Plus Steam Iron. It's an iron designed to give users hassle-free and convenient ironing sessions.
It's priced at more than S$500, making it the most expensive option on our list. Even so, the features it packs are very convenient and will help make the ironing process quick and hassle-free for you.
It's considered one of the world's smartest and fastest clothes iron, engineered with its own smart and automatic system. It uses technology that guarantees no burns or injuries to the users.
On top of that, the Philips Perfectcare Elite Plus Steam Iron is extremely lightweight, so it's a great option for those who do a lot of business travelling. It comes with only one heating system that works for all types of garments, from cotton to denim.
Above all, the Philips Perfectcare Elite Plus Steam Iron is capable of generating the most powerful steam as the iron moves. It also stops heating when it's put in a standing position, so no worries about getting burned.
With all these features, we're confident in saying that it's one of the best irons in Singapore. If you're willing to spend more than $500 on an iron, then we strongly recommend Philips Perfectcare Elite Plus Steam Iron!
Pros
Smartest and fastest iron
Lightweight
Scratch-resistant
Anti-leak system
Designed for safety
Cons
Expensive
More suited for business use
Customer Reviews
Here are some feedback posted by customers on Amazon:
"Best iron we have ever had, we have had 3 steam generator irons from Bosch over the years and they have been poor, running out of steam and leaking water. This iron is a different class, auto steam is a dream when you move the iron out comes the steam, stops and it stops! The iron itself is light and small and ironing is so much easier it glides over the material and doesn't bunch it up and recreate it like Bosch does."
"This is a great iron! The main unit is quite heavy but I move mine around as I can't leave my ironing board out (cats use it to sit on and look out of the window). Once the unit is in place though the iron itself is not too heavy. The features of this make it so useful like the one setting for all fabric types, quick heat up and of course the intelligent steam function which I love. The large water storage means I need to fill up less often and that means I get less distracted when I have a large pile of ironing to do."
And with that, we conclude our list of the best irons in Singapore. If you've used any of these clothes irons in the past, share with us your experience in the comments!
If you know other clothes irons that should've been included in our list, let us know in the comments as well.
Anyway, if you're also looking for a durable and stable ironing board to go with your newly bought iron, we recommend taking a peek at our list of the best ironing boards in Singapore. Our list features some of the most in-demand ironing boards on the island.