8 Best Intellectual Property IP Firms in Singapore
Protecting the products of your hard work is one of the smartest things you can do as an artist or an inventor. Since there are a lot of people who steal the work of others, it's better to be sure by seeking help from the best intellectual property lawyers in Singapore.
As a way of making your life easier, we did the work ourselves and searched for the best IP firms in Singapore so you won't have to. We found the top law firms that house some of the best and sharpest lawyers on the island, so better check them out one by one!
1. Seiter IP Consultants

Seiter IP Consultants is a boutique Intellectual Property consulting firm that provides an array of IP services in Singapore including the protection of trademarks, designs, copyright and patents, licensing services, franchising services, developing IP strategies as well as IP portfolio management services in countries such as Singapore, Malaysia, Brunei, Thailand, Indonesia, Philippines, Vietnam, Cambodia and Laos
Whilst they may be a small firm, clients come to them because they are frustrated in dealing with multiple agents in Southeast Asia and prefer working with one firm, one contact, without the hassle of dealing with inconsistent reporting styles, language barriers, and incomplete legal advice. Seiter IP Consultants offers an intimate understanding of the Southeast Asian market, varying business cultures, and challenges businesses face in the protection of intellectual property.
Never backing down from a challenge, and offering unconventional solutions to complex IP issues, you can think of them as your very own in-house counsel on the outside.
If you prefer having a regular contact person and if you have businesses all over Southeast Asia, this could be the best IP firm in Singapore for you.
Highlights
Over 30 years of experience
Women-Led
Fixed Fees
2. Tan Lee & Partners

| | |
| --- | --- |
| EXPERTISE | Intellectual Property, Conveyancing, Corporate, Family Law, Litigation and Arbitration, and Probate |
| WEBSITE | http://www.tanleepartners.com.sg/ |
| ADDRESS | 10 Anson Road, #12-06, International Plaza, Singapore 079903 |
| CONTACT DETAILS | (65) 62215766 |
| OPERATING HOURS | Monday – Friday, 9:00 AM – 6:00 PM |
Considered one of the IP firms in Singapore, Tan Lee & Partners offers a wide variety of legal services. Some of these services include intellectual property, divorce, probate, criminal, conveyancing, and many more.
Tan Lee & Partners also practices intellectual property law on a handful of categories such as copyright, trade mark, patents, trade secrets, information technology, infringement, and franchising and merchandising.
Its legal team for IP law is headed by Mr. Lee Chow Soon and Ms. Lim Fay Sang, two of the best intellectual property lawyers in Singapore.
Highlights
Competent lawyers
Customised services
Competitive rates
3. Rajah & Tann Singapore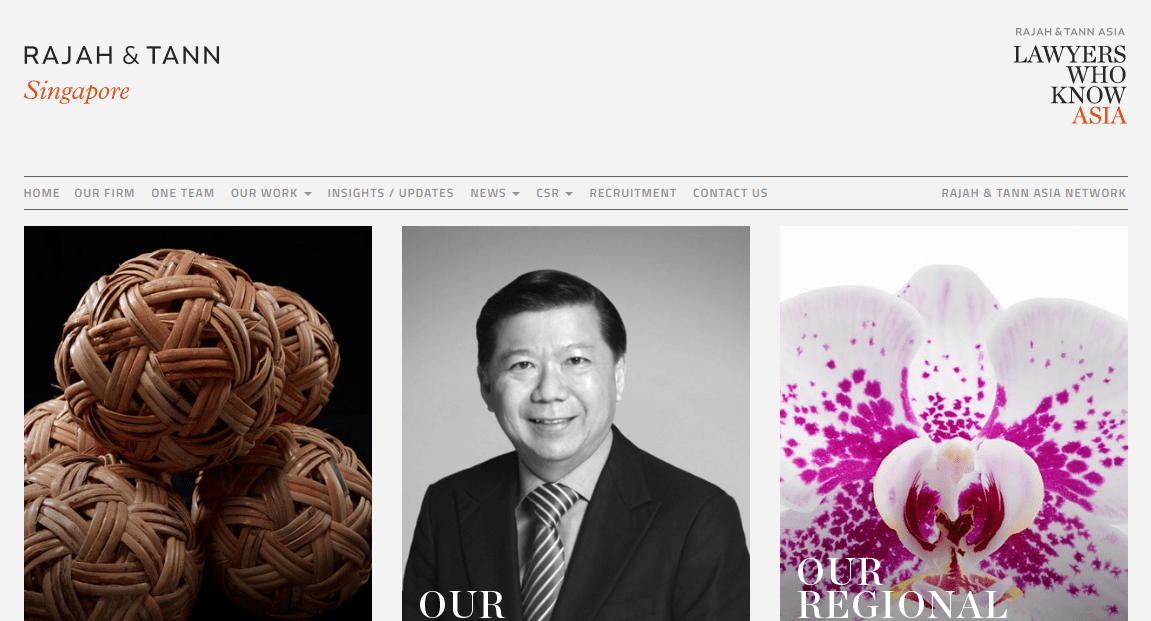 | | |
| --- | --- |
| EXPERTISE | Intellectual Property, Banking and Finance, Family, Divorce, Medical, Corporate, Commercial, and Employment & Benefits |
| WEBSITE | https://sg.rajahtannasia.com/ |
| ADDRESS | 9 Straits View #06-07 Marina One West Tower, Singapore 018937 |
| CONTACT DETAILS | +65 6535 3600 |
| OPERATING HOURS | Monday – Friday, 9:00 AM – 6:00 PM |
Rajah and Tann is considered one of the largest and best IP firms in Singapore, with over 360 lawyers, most of whom are hailed as the top ones in their own areas of expertise. Some of the legal services it offers are commercial law, criminal law, corporate law, asset recovery, and of course, intellectual property law.
More than this, it's also the most in-demand law firm for its expertise in intellectual law. It's achieved such status with the help of its high-ranking lawyers that focus on the media industry, and that's why we call it the top option for the best intellectual property lawyers in Singapore.
Lastly, it has also extended its services to neighbouring countries such as Malaysia, Laos, China, Thailand, Japan, Indonesia, Cambodia, and many more, proving that its IP law services in Singapore and Southeast asia are really to be trusted.
Highlights
More than 360 lawyers
International network
High-ranking lawyers
4. Mirandah Law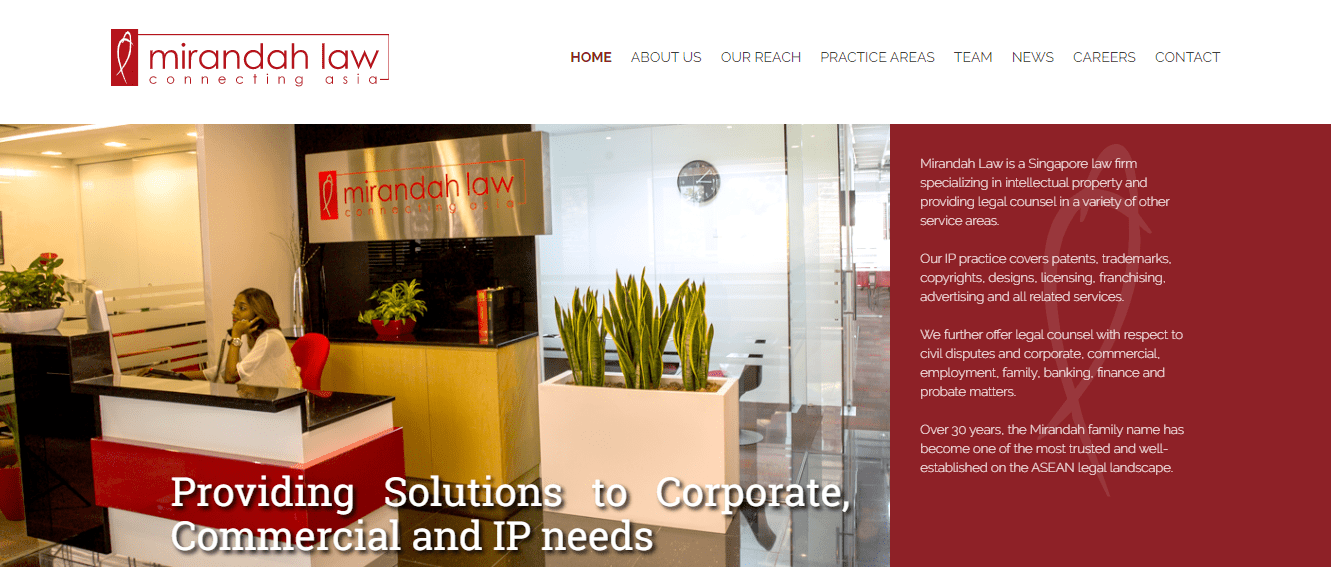 | | |
| --- | --- |
| EXPERTISE | Intellectual Property Law |
| WEBSITE | https://www.mirandahlaw.com/ |
| ADDRESS | 1 Coleman Street #07-09 The Adelphi Singapore 179803 |
| CONTACT DETAILS | +65 6336 4679 |
| OPERATING HOURS | Monday – Friday, 8:30 AM – 5:30 PM |
Mirandah Law is among the few law firms that specialise in intellectual property in Singapore, which is why it's part of our list of the best intellectual property lawyers in Singapore. Some of its practice areas include trademarks, patents, designs, copyright, investigative work, media, distribution, licensing, and franchising.
Despite being a small law firm, it's managed to garner a huge pool of clients who can attest to how dependable its legal services are, especially in the area of intellectual property.
Mirandah Law also has a team of professional and competent trademark lawyers in Singapore who have spent years practising intellectual property law, so rest assured that all clients are in great hands.
Highlights
30 years of experience
Reputable and competent lawyers
5. Drew & Napier

EXPERTISE
Intellectual Property Law, Public Law, Criminal Law, Conveyancing, Family & Divorce Law, Corporate Law, Commercial Law, Probate Law, and Data & Protection Privacy Law
WEBSITE
https://www.drewnapier.com/
ADDRESS
10 Collyer Quay, 10th Floor Ocean Financial Centre, Singapore 049315
CONTACT DETAILS
(65) 6535 0733 |

[email protected]

OPERATING HOURS
Monday – Friday, 9:00 AM – 5:30 PM
Established in 1989, Drew & Napier has been building its reputation as one of the most trusted IP firms in Singapore. It aims to serve clients by offering them with a wide range of services that would guide them throughout their legal predicament.
Among its areas of specialisation are IP law, family law, divorce law, criminal law, commercial law, probe law, property law, and a whole lot more. It's also considered the largest leading intellectual property law on the island, given its huge team of lawyers and overseas connections.
What's more, we call them the best IP firm in Singapore because they can also deal with a handful of IP areas such as the media, sports, chemistry, engineering, healthcare, and even telecommunications.
Drew & Napier also has a string of famous corporate clients such as Apple, Facebook, Medicorp, Pfizer, Singtel, and Toyota.
Highlights
Large network
Wide area of expertise
Experienced lawyers
With corporate clients
6. Schweiger & Partners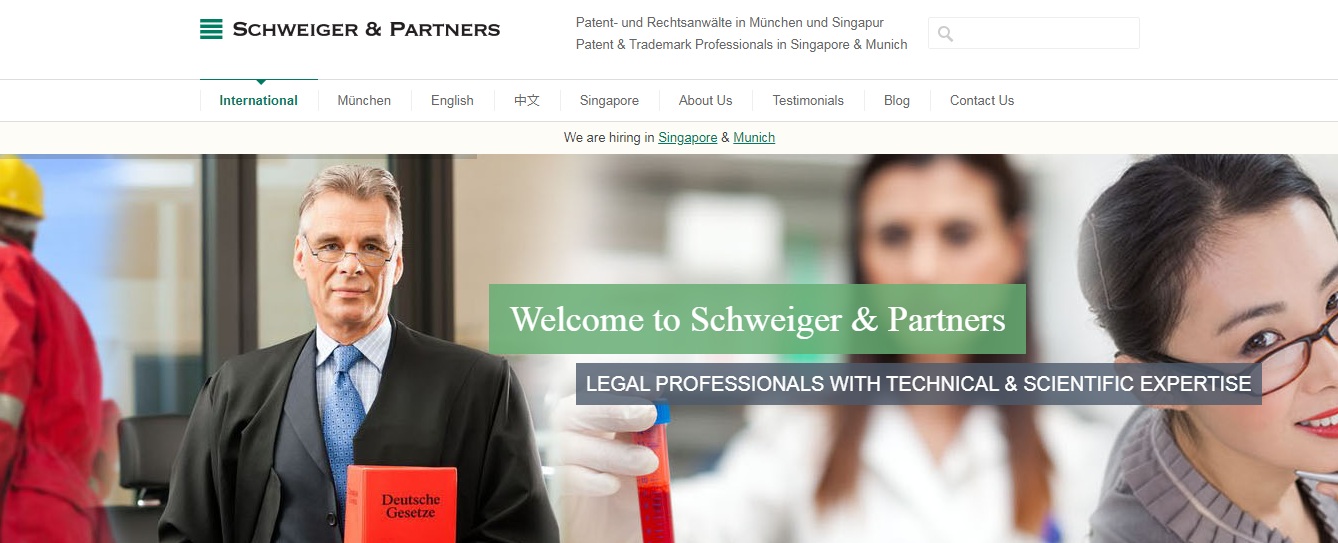 Intellectual Property Rights is a very serious case that should be immediately dealt with. However, it being too complex will require you to consult with a team of professionals such as Schweiger & Partners.
This firm is composed of highly-qualified patent attorneys specializing in Patent & Trademark and are extremely committed in helping out their clients with their intellectual property cases.
The firm handles patent, trademark and design model infringement, passing-off and copyright matters. So if you're looking for the best trademark lawyers in Singapore, they could very well be here.
Highlights
Handles local and international cases

High-ranking patent attorneys
Intellectual property consultants are business professionals who provide legal and advisory services related to intellectual property. They can help you protect your ideas, invention, or work by ensuring that you legally protect your idea or image.
However, it's worth noting that not every intellectual property consultant is a lawyer. Instead, they work closely with lawyers as independent professionals who perform intellectual property related tasks such as determining ownership and ownership rights, negotiating settlements, and drafting agreements.
Below are some examples of such. 
1. AAA IPRIGHT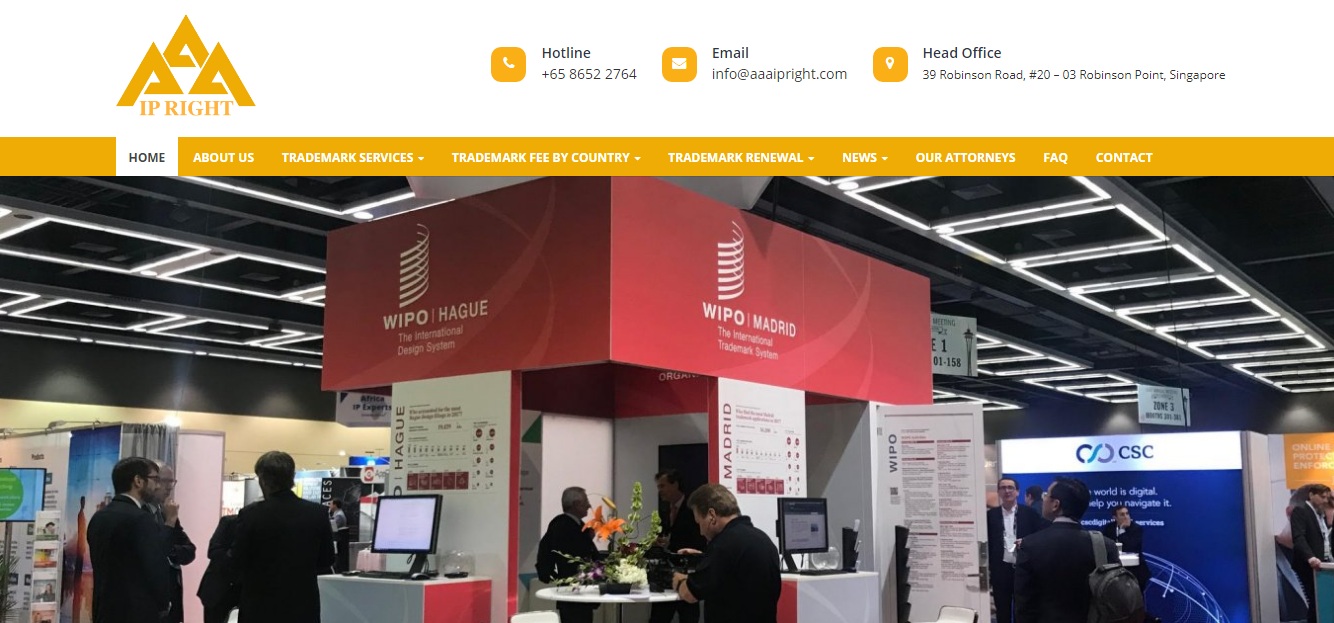 If you want to register your trademark in Singapore, then you can rely on AAA IPRIGHT. This Singaporean-based law firm offers its services to other countries such as Southeast Asian countries, Japan, and Europe. The fees vary depending on your location. Nonetheless, you can check out their website for the full list of service from their trademark lawyers in Singapore.
AAA IPRIGHT specializes in global trademark registration. They advocate paperless transactions which is not only good for the environment but also makes the trademark case faster and easier to manage. Further, their clients will have access to their account to follow up with their registration and be notified about necessary documents to be submitted. 
So how do they work? First, they will conduct a trademark search—searching for availability of trademark. This is done before the firm officially files the application. It is a must so as to secure that your mark will not infringe on the rights of others. After that, they will apply your registration request in the proper office. Once it has been granted, the firm will deliver the trademark certificate and the registration number to its client. 
Highlights
Transparent fees

Paperless

Easier, safer, and faster way to register trademark

One common gate in Asian countries for trademark registration
Customer Reviews
AAA IPRIGHT has a wide following of clients all over the world. Here's how they provide services to their customers:
We hired AAA IPRIGHT to file trademark in ASEAN. They advised us promptly and charged us very competitive rate. – R. Martin
2. Marks & Clerk Singapore LLP


Marks & Clerk Singapore is a reputable attorney firm for registered patents and trade marks. After serving Singapore for many years, they've grown to be one of the leading companies that handle the intellectual property matters of businesses of all types and sizes.
Their team of expert attorneys are capable of working in various areas of intellectual property such as technology, engineering, chemicals, and more. Moreover, they are well-versed in the various technical and practical aspects of IP Law in Singapore, which allows them to meet each and every one of their client's legal needs reliably.
They're an award-winning firm that has garnered numerous accolades throughout their many years of working in Singapore. Many organisations and publications recognise them for their quality work, as well as their dedicated attention to their clients' individual cases.
Given their top-notch services and skilled team, Marks & Clerk Singapore is a firm you shouldn't fail to consider when you're in need of an intellectual property lawyer's assistance. With their help, you'll be able to protect and maximise the value of your intellectual property.
Highlights
Wide range of specialties
Many years of experience
Seasoned team of experts
Award-winning firm
And with that, we put an end to our list of the best IP lawyers in Singapore. If you've got more options in mind, don't hesitate to share them with us and we might just add them to our own roster!
By the way, if you also need legal help in settling with a property on the island, we highly recommend that you ask legal advice from the best conveyancing lawyers in Singapore. No need to worry about not getting the best deal out of your dream property with help from these reputable and tested lawyers!