The 8 Best Fire Extinguishers in Singapore
Every residential and commercial building must have safety equipment so the household members or employees will always be ready in case of an emergency. For fire-related emergencies in particular, you should have the best fire extinguisher in Singapore.
Fire safety equipment is necessary to protect the lives of the people inside a building and maintain a safe environment. Most importantly, having fire protection systems is required by law in all public establishments.
That's why you need to make sure that you've chosen the right extinguisher. In doing so, you need to carefully consider some key features before buying one.
We'll take you through a guide to buying fire extinguishers here. But if you're impatient for the shopping, go directly to our list below of the best fire extinguishers in Singapore.
How to Pick a Fire Extinguisher in Singapore
Using poorly made fire extinguishers can lead to higher health risks and worse incidents. Therefore, you must know how to pick a good one.
Here are some things that you need to keep in mind when buying a fire extinguisher.
1. Type
First, you must be aware that there are different types of fire extinguishers and each is designed to eliminate a certain fire hazard.
To identify which one is right for your needs, check the following classification labels.
Class A – Extinguishers with this type of classification are for ordinary combustible materials like paper, wood, and cloth.
Class B – This indicates that the unit is meant for flammable liquids including oil, gasoline, and grease.
Class C – This type is for electrical equipment such as computer appliances.
Class D- This extinguisher can be used on flammable metals.
Class K – This can be used to eliminate fires from cooking oils like vegetable oils and animal fat.
For home/office use, it's recommended to choose an extinguisher with either class A, B, or C. Determine which type of fire is most likely in the establishment and choose accordingly.
2. Size
Aside from varied classifications, they also come in different sizes. When selecting a size, consider the overall size of the room.
For large warehouses, buildings, and garages, you may opt for a 10-pound extinguisher. For offices and other household spaces, a 5-pound extinguisher will be fine.
Choose which size is most practical and effective based on the designated area and how quickly the fire would spread out to other sections of the building.
3. UL Rating
The UL or Underwriters Laboratory rating indicates the amount of fire that an extinguisher can put out. You can see the rating right beside the classification label where it's written as 5A.
It usually ranges from 1 to 40.  A UL rating of 1 is equal to 11/4 gallons of water.
So if an extinguisher has 4 UL rating, it means that it can extinguish fire just as effectively as 5 gallons of water.
Best Fire Extinguishers in Singapore
Now that you know which features to take note of, have a look at these best fire extinguishers in Singapore. They're made for different kinds of fire hazards and suitable for both residential and commercial spaces.
1.  MiniBombero
Price: $50 for 1, $80 for 2
Check Out at National City Corporation or Order through WhatsApp
First on our list is the MiniBombero, known for the punch it packs within a handy can containing 250ml of fire fighting aerosol directly imported from Spain.
It has a high cooling capacity and creates a stable foam through its high-quality aluminium casing containing the patented BoldFoam F-40 as the extinguishing agent and liquefied gas R 143 A as the propellant, the combination of which avoids re-ignition upon using the MiniBombero and can extinguish all classes of fire. 
Another interesting feature is that it has a long shelf life. Users need not worry about the MiniBombero growing useless as time goes on. Plus, it's also easy to clean up after as its foam leaves no residue behind. 
Pros
Non toxic and bio-degradable
User friendly and no instructions needed
Expands 30 times its size
Small size and easy to store
Anyone can use it
Absolutely no maintenance required
Revolutionary foam designed to eliminate all domestic fires
2. Falcon ABC Dry Powder Fire Extinguisher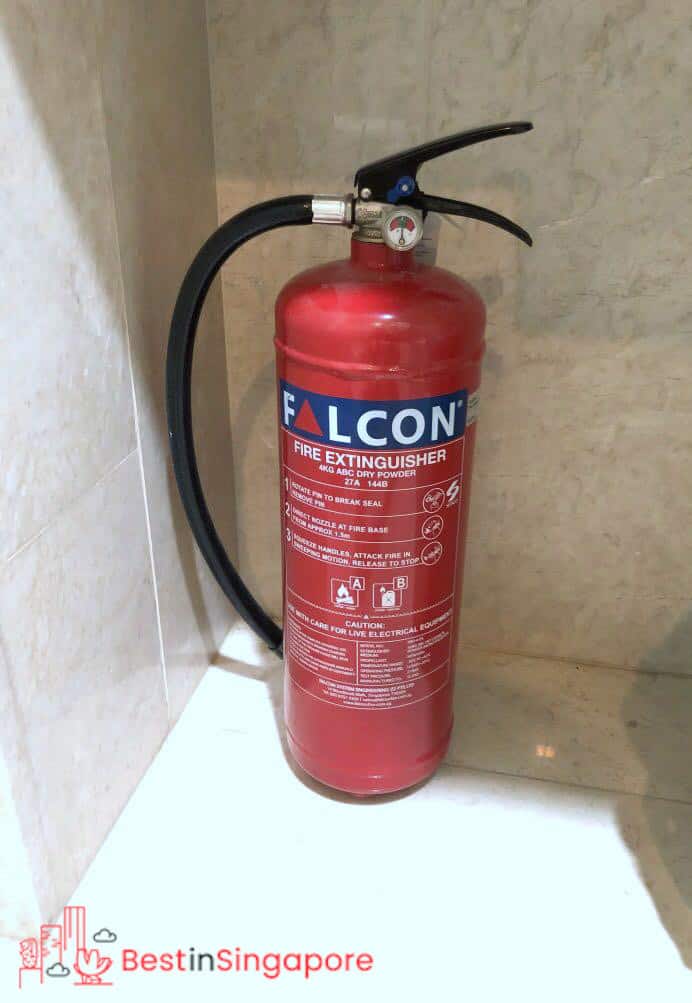 Price: $38.00
The Falcon ABC Dry Powder Fire Extinguisher is suitable for classes A, B, and C fires, capable of extinguishing ordinary combustible materials, flammable liquids, and electronic equipment.
It's composed of dry powder that extinguishes the fire by forming a barrier to snuff out oxygen from the source fire, preventing re-ignition. It can also act as a heat shield and provides fast effects.
This best fire extinguisher in Singapore can be used in commercial areas, industrial plants, workshops, cars, and homes.
Pros
Dry powder material
Corrosion-resistant
Setsco Singapore approved
1-year warranty
Customer Reviews
Most homeowners were satisfied with their experience using the Falcon ABC Dry Powder Fire Extinguisher. They said that they were able to prevent a fire at their homes, thanks to the excellent effectiveness of the product.
Here's a review posted by one of the customers:
"When I first moved into my new home, I knew that protection is more important than anything else. I heard raving reviews about FALCON and decided to get one. I'm impressed with the product quality, fast delivery and service. I was cooking one day and accidentally left a cloth just beside a lighted stove. It ignited a fire which soon became out of control and overwhelming! I was home alone and didn't know what to do. Fortunately I had FALCON and it saved our home… It's definitely the best investment for your new homes and a perfect housewarming gift for your loved ones. FALCON has given me assurance in my home and confidence in managing the kitchen again!"
3.   XFLAME Fire Extinguisher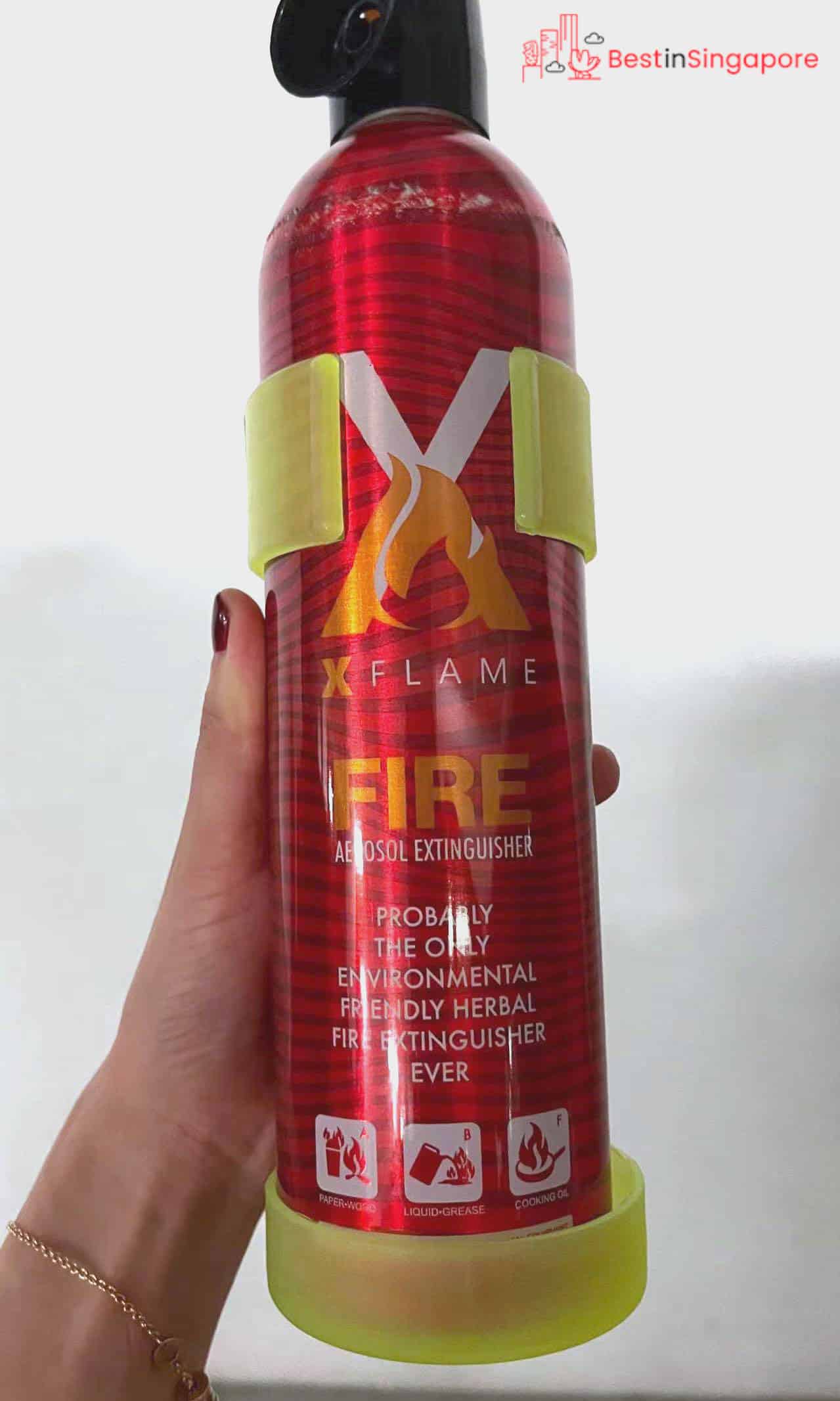 Price: $29.64
The XFLAME Fire Extinguisher uses a natural and non-toxic formula to prevent flame and put off the fire. It's also easier to use compared to conventional fire extinguishers.
With its advanced temperature reduction technology, it can extinguish the fire within seconds, helping you manage fire hazards immediately. Since the ingredients are herbal, it has zero risk of explosion and it's also safe to store in your home or car.
It's suitable for class A, B and C fire types and a single one can last for 2 years, making it an efficient piece of safety equipment for the long run.
Pros
Easy to use
Lightweight and portable
Safe to be placed in a vehicle
Non-toxic ingredients
4.   Fireline Fire Extinguisher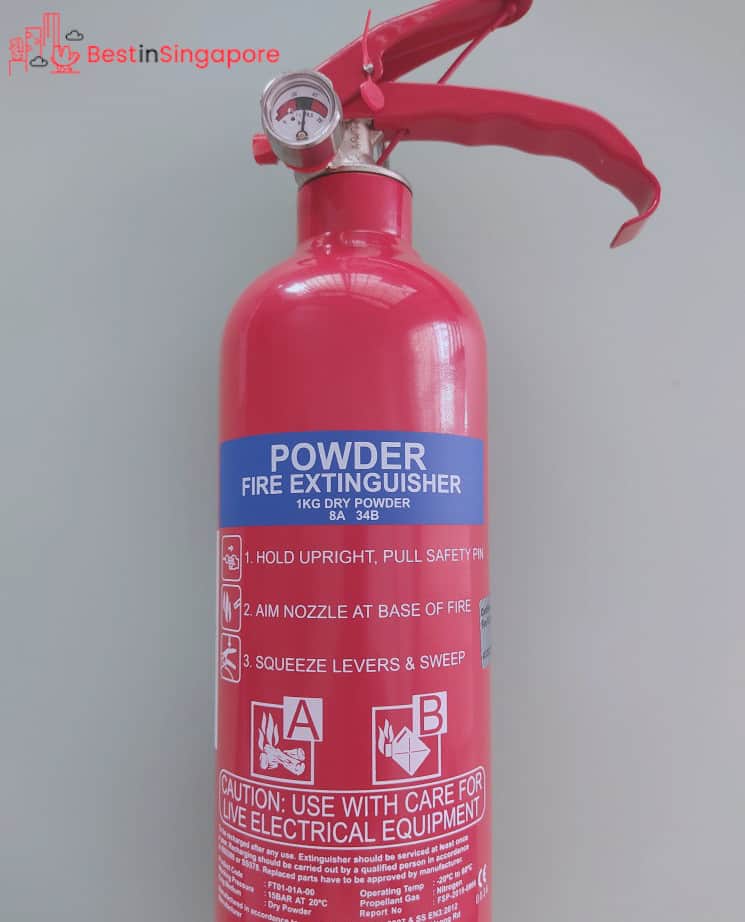 Price: $25.00
Coming from a brand that's known for being a leading supplier of portable fire extinguishers, the Fireline Fire Extinguisher is an example of multipurpose safety equipment, composed of high-quality dry chemicals.
It's made for Class A, B, and C fire hazards so it can be used at home and in the office as well. It also contains non-toxic and non-residue forming elements that act as clean streaming agents.
This lightweight fire extinguisher is designed with an ergonomic handle too so any household member, even seniors, can easily use it.
Aside from this product, Fireline also offers a supply of fire extinguishers & all types of fire fighting equipment, fire extinguisher inspection & refiling, fire hose reel inspection & installation, and fire alarm service, installation, hydrant testing & sprinkler testing.
Pros
Setsco-approved
5 years of shelf life from production date
Lightweight design
Easy to operate
5.   Hercules Fire Extinguisher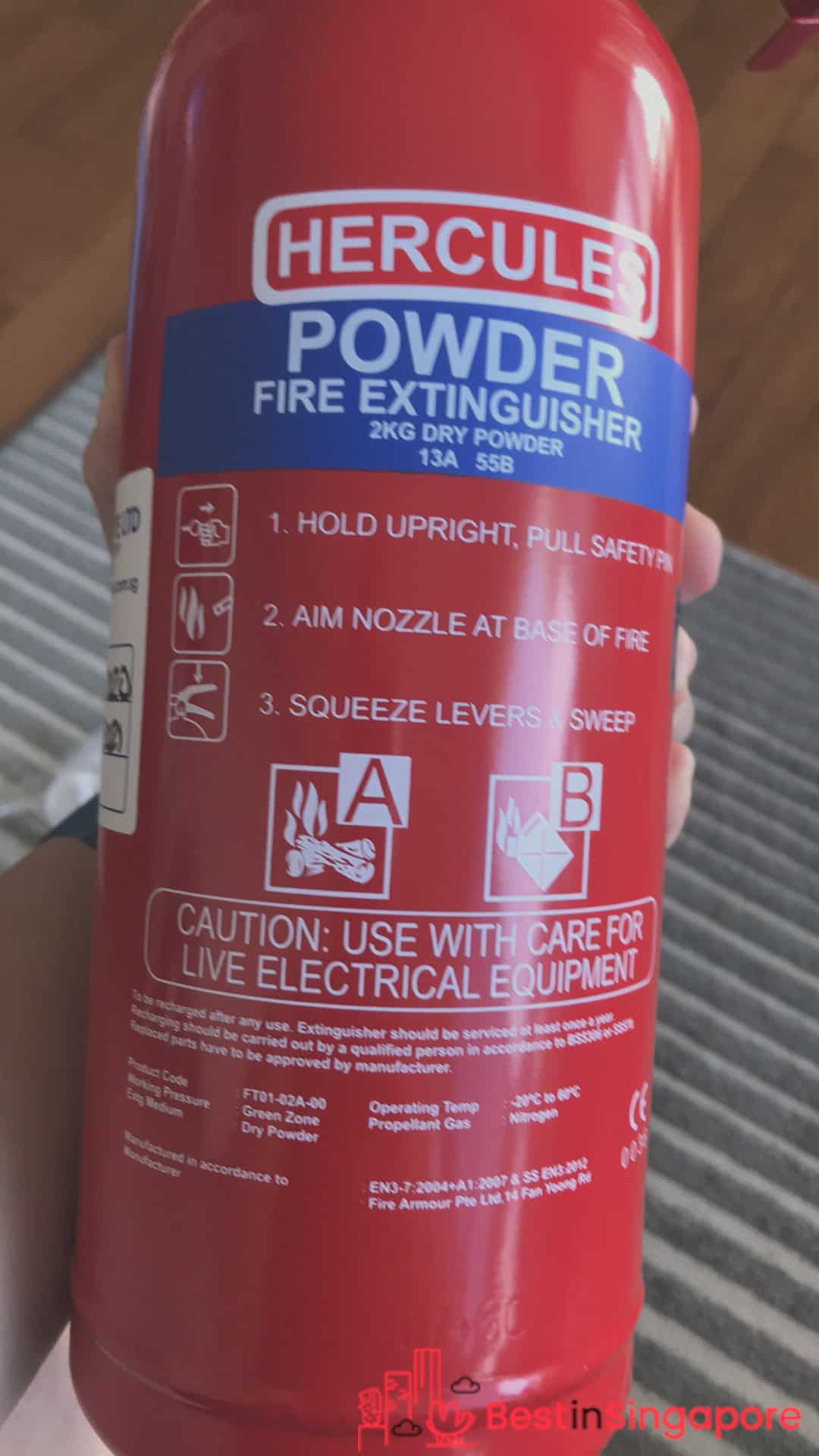 Price: $40.00
The Hercules Fire extinguisher is mainly made for vehicles like forklifts, pleasure craft, and passenger vehicles. It's a piece of near-weightless and ergonomic equipment that produces fast and powerful performance.
This best fire extinguisher in Singapore has a capped fire hose, reducing the risks of insects building up their nests in the hoses.
Moreover, this product comes with a fire blanket so in case there's not enough time to reach out for a fire extinguisher, you can throw a fire blanket over the area to put out the fire.
Pros
Suitable for vehicle use
Lightweight and ergonomic
Capped fire hose
Comes with a fire blanket
6.   Combat Fire Extinguisher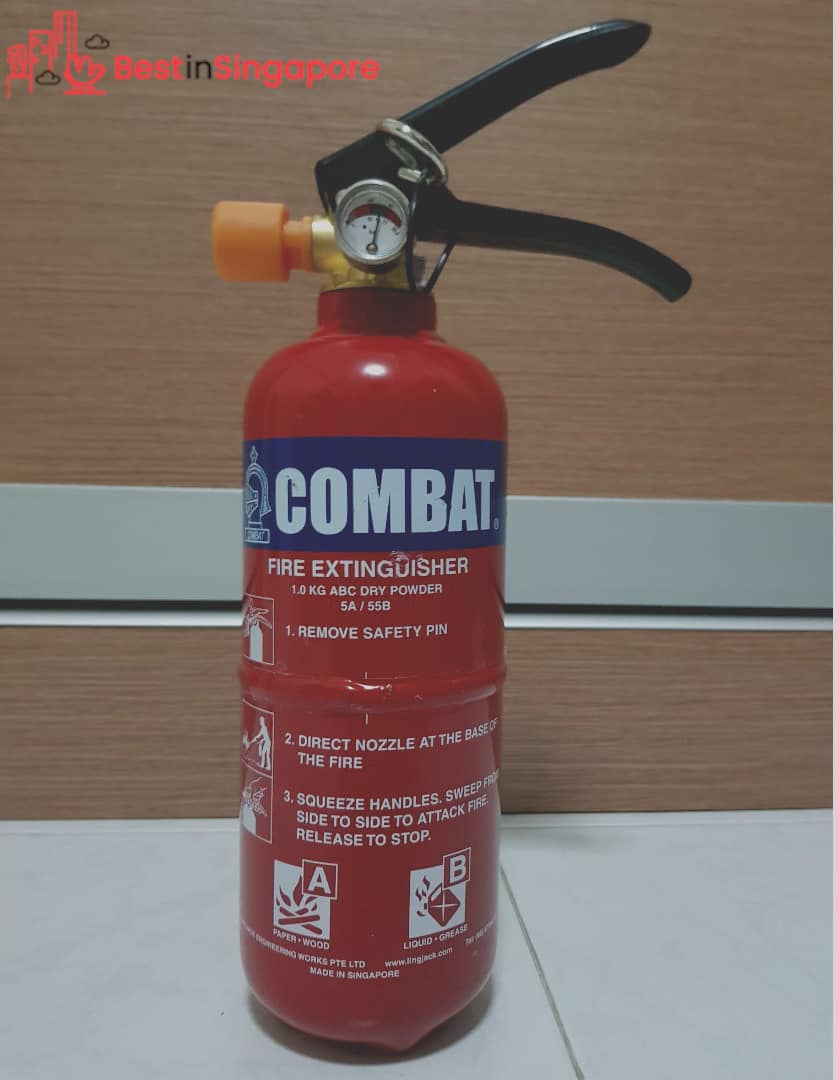 Price: $51.00
The Combat Fire Extinguisher is a certified safety tool suitable for class A, B, and C fires. It's made with dry chemical powder that can cover 3-meter distance.
In just a few seconds, it can put off the fire quickly, preventing a sudden outbreak of flames. It's also designed with a UV-resistant surface so you can place it outdoors, making it easy to reach when there's a flaming area in the garage or terrace.
Pros
UV-resistant
Suitable for class A, B, and C fires
For outdoor use
Certified fire extinguisher
7. 
Price: $92.00
Shop Now on Fire Extinguisher Singapore
A carbon dioxide fire extinguisher is a great alternative to foam extinguishers due to their residueless way of putting out a fire. However, you should remember that it can't be used on solid fuel burning fires.
If you're stocking up on emergency supplies, make sure to purchase both a CO2 and foam fire extinguisher. Buy them both from Fire Extinguisher Singapore.
Pros
Leaves no residue
Best for Class B fires
8.   BONPET Automatic Fire Extinguisher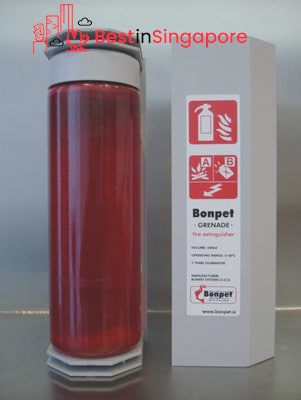 Price: Enquire for more information
The BONPET Automatic Fire Extinguisher is the ideal fire extinguisher for indoor areas. It's able to extinguish fire breakouts even without human intervention.
Keep your property safe with the BONPET Automatic Fire Extinguisher. Buy it now from Firetronics.
Pros
Automatically deploys
Perfect for indoor areas
We hope that you've found the right one from our list of the best fire extinguishers in Singapore.
And for additional protection, it's also advisable to install a smoke detector at home or office so you'll immediately know if there's a fire flaming inside the building. See these best smoke detectors in Singapore to further protect your home or office.