17 Best Balloon Delivery Services in Singapore for 2021
Birthday and anniversary celebrations, wedding events, and just a simple small gathering with friends would be a lot more fun and memorable if it is decorated with balloons and other party decorations. This will surely lighten up the mood and make it more exciting. To help you find a supplier, take a look at this list of best balloon delivery services in Singapore and start organizing your desired theme now!
1. Misty Daydream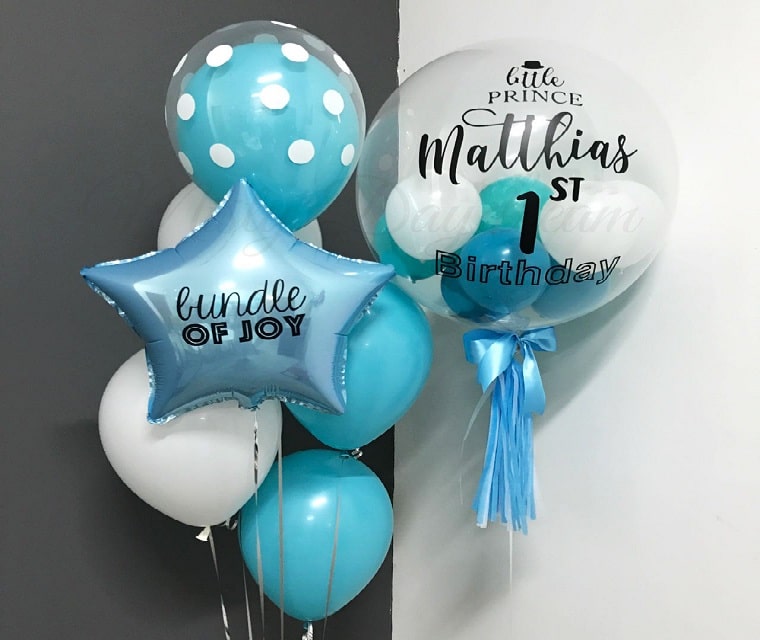 BEST FOR 
Durable Quality, Diverse Themes, Additional Decorations
PRICING
Rates
WEBSITE
https://mistydaydream.com/
ADDRESS
3 Ang Mo Kio Street 62, [email protected], #08-25 S569139
CONTACT DETAILS
(+65) 8222 7491
OPERATING HOURS
Monday to Friday – 10am–6:30pm

 

Saturday & Sunday – 10am–4pm
If you need your balloon delivery in Singapore to specialise in themes and motiffs, you should absolutely consider Misty Daydream. 
Misty Daydream has a variety of balloon types that will absolutely suit every occasion. This includes character themed, combo set, latex, helium inflated, and letter or number foil. Their high-quality balloons can last up to several hours which is a perfect choice for the events that will go on for almost the whole day or night. All of their pieces are already arranged and pre-inflated before it will be delivered. Just make sure to place your order a day or two before the event. Apart from this, they also have balloon accessories, backdrops, banners, and other party decorations and props.
Service Highlights
Customized balloons and gifts
Uninflated value pack
Balloon accessories
Customer Reviews
More than just delivering helium balloons in Singapore, Misty Daydream offers the complete whole package for their customers and clients, accompanied with a lookbook for those who still don't have an ideal concept in mind. Their commendable customer service has gained them loyal and countless customers. A reviewer had nothing but compliments for their services and wrote this feedback on Google Reviews:
"Everything was perfect. Love how your team got back to me with a few designs so I can pick my preferred custom design. Delivery was smooth, and balloons were good with lots of confetti! Great experience. Keep this level of service up. Definitely would order again"
2. Give Fun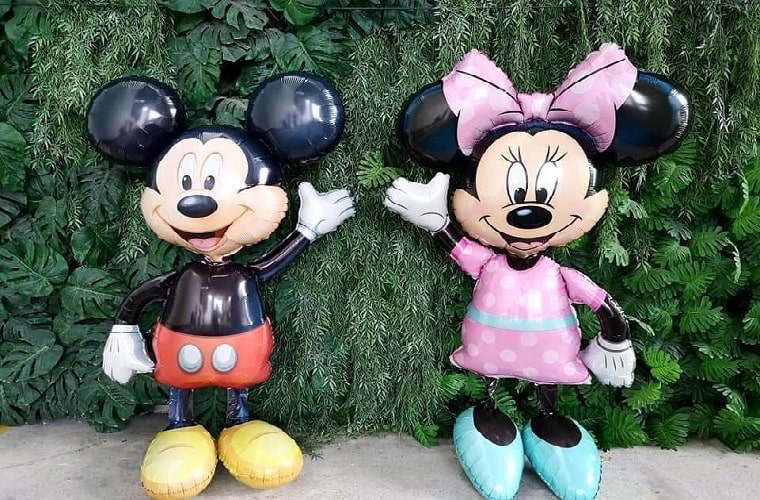 BEST FOR 
Rainbow-Coloured and Occasional-Themed Balloon Packages
PRICING
Rates
WEBSITE
https://www.givefun.com.sg/
ADDRESS
Give Fun Pte. Ltd. (Company Reg No: 201726536Z) Oxley Bizhub 2 62 Ubi Road 1, #08-23 Singapore 408734
CONTACT DETAILS
+6569092327
OPERATING HOURS
Monday to Saturday – 8:30am–5pm

 

Sunday – 8:30am–4:30pm
If you're planning for your child's birthday party and need a supplier for birthday balloons in Singapore, have a look at Give Fun. 
As their brand name says, Give Fun truly provides delightful celebrations with their extensive selections of balloons types. Unlike other party decors providers, their services and products are mostly creative and stylish balloon designs. Their products are categorized into personalized, occasional themed, character themed, and balloon garlands. Other ornaments include banners, buntings, pool floats, hats, glasses, and many more party props.
Service Highlights
Balloon packages
Monthly new releases
Gift certificates
Customer Reviews
For every kind of event, Give Fun delivers balloons in Singapore and has a lot of ideal options for you and some of them come in packages so you don't have to worry about the overall theme. Samantha will definitely be coming back to acquire their services as she wrote this review on Google Reviews:
"Thank you for providing such service with reasonable price. Collected my balloons and items is as shown in the website. Will order again from them :))"
3. Balloon Blasters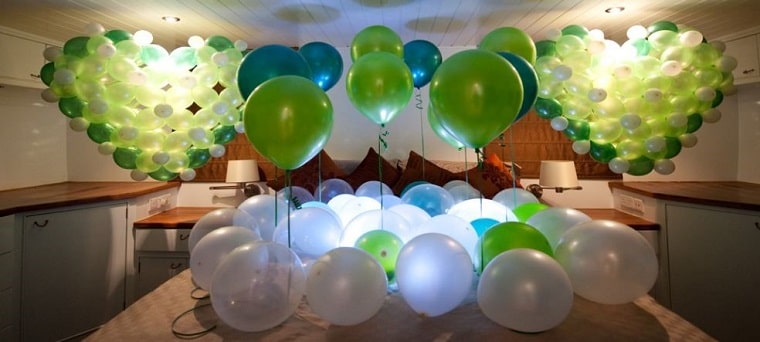 BEST FOR 
One-stop Event Decorations Shop
PRICING
Rates
WEBSITE
https://balloonblasters.com.sg
ADDRESS
30 Defu Lane 10 Singapore 539211
CONTACT DETAILS
(65) 6466 1268
OPERATING HOURS
Daily, 10am-7pm

 

24/7 Delivery
If you're looking for a supplier that provides more than just balloons delivery in Singapore but like a one-stop shop for all your party needs, Balloon Blasters should be on your list.
Balloon Blasters offers every single service for balloons such as decorations, dresses, goodie bags, special effects as well as deliveries and wholesale. In part with this are the types and additional features including oil, latex, decorations, sculptures, printing, effects, and even customizations. The best thing about this shop is that they have rentals for the party essentials like tables, chairs, invitation cards, play area, games, arts and crafts, plant terrarium. etc. Apart from being amazed by balloon Singapore decorations, guests will also enjoy the other activities that they can explore throughout the event.
Service Highlights
24/7 delivery
Balloon sculpting workshop
Balloon packages
Customer Reviews
With Balloon Blasters' 24 hour balloon delivery in Singapore, they are able to commit to last-minute orders which is quite convenient and efficient. A reviewer was very impressed with their creative team and left this feedback on the official Facebook account:
"Thank you so much for the amazingly gorgeous bouquet of balloons that my family absolutely adores. The young ones were so thrilled and were clamouring to take photos alongside with the extra special bouquet, bringing so much laughter to us. Will certainly order from your excellent team again!!!" 
4. THAT BALLOONS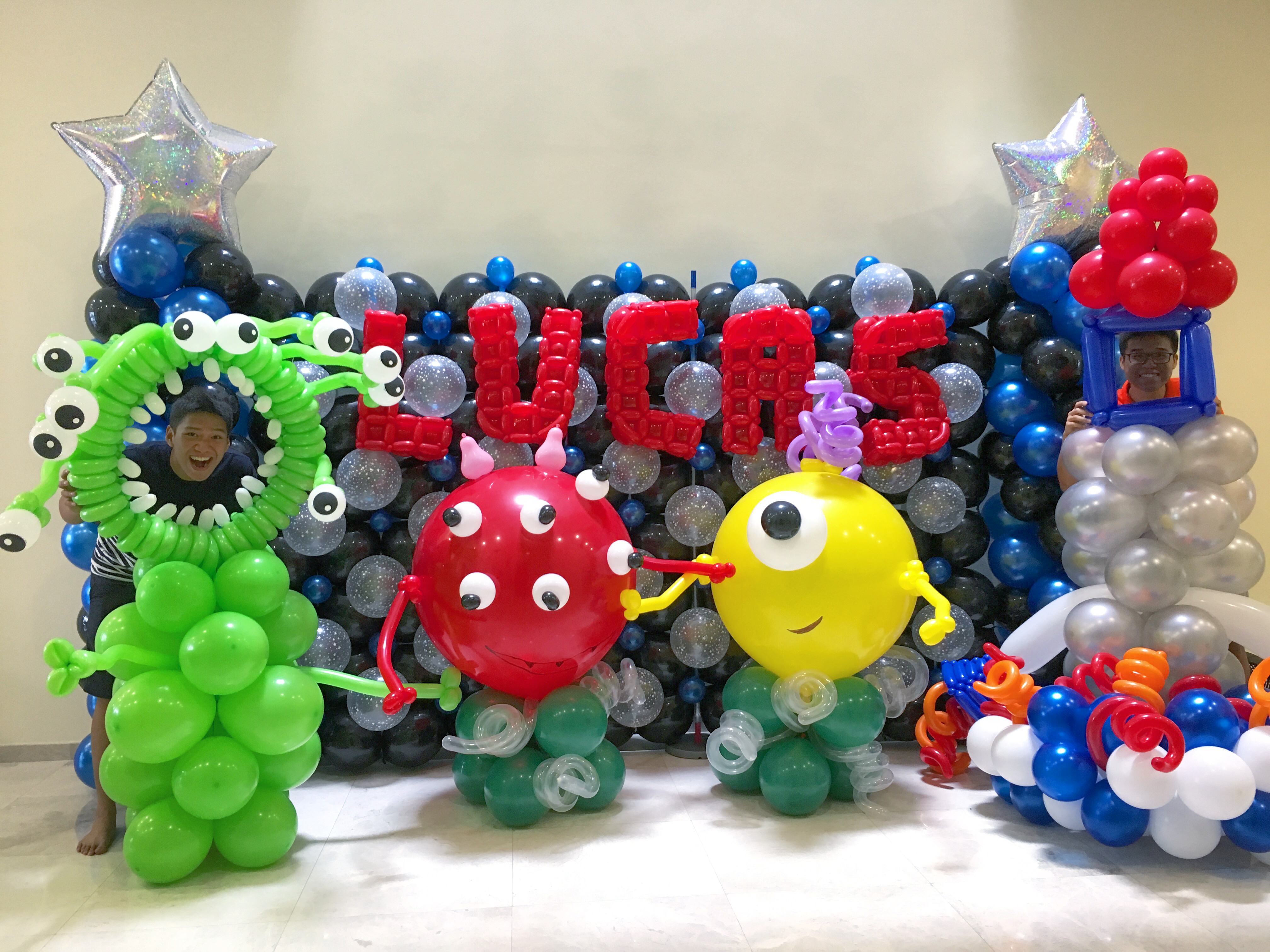 THAT Balloons makes use of high quality balloons to make sure that your event will look amazing from start to end. You will surely be able to find a style that will fit your vision for they offer various balloon styles.
THAT Balloons is more than your average party balloons Singapore supplier. Aside from balloons, THAT Balloons also offer various event services such as photobooth rental and event management so that you will not have to contact multiple shops and companies to ensure that your event is a success.
Highlights
Leading Balloon Decorations Company in Singapore
Create special effects with balloons
Cheap balloon printing and delivery
Direct Helium Tank Supplier
Customised Lighted Giant Advertising Balloon
Customer Reviews
Here are some reviews left by satisfied customers of THAT Balloons:
"Great job with the balloon animals! The birthday girls were especially very happy with their Olaf and Elsa balloons! Thank you for making all the kids happy!" – Vanita Kaneson
"Professional and excellent service,highly recommended.I will definately be recommending that balloons to all our friends,thank you for making the children so happy during the celebration:)" – Sylvia Wu
"Truly appreciative and thumbs up for such a team who sincerely goes all out for their clients! 100% highly recommended for anyone considering to engage their services! :)" – Jolene Yan 
5. Gift Blooms

| | |
| --- | --- |
| BEST FOR  | Special Gift Collections |
| PRICING | Rates |
| WEBSITE | https://www.giftblooms.com/ |
| CONTACT DETAILS | https://www.giftblooms.com/index.php?route=simple_support/new_contact |
The products and services of Gift Blooms are divided into three categories which include balloons, cakes, and flowers. These three are the most common yet special gifts you can ever give to your loved ones. When it comes to their balloon selections, they have various types such as smiley face, latex, heart-shaped, and mylar kinds. They also have it in different colors to match your desired theme. You can have it delivered to selected countries if you are in long-distance communication. The decorative balloons of Gift Blooms can also be partnered with other kinds of gifts such as cakes, flowers, chocolates, and gift baskets. 
If you need your balloon shop in Singapore to deliver cakes and flowers as well, Gift Blooms is one of your best options!
Service Highlights
International balloon delivery
Gift vouchers and coupons
Low delivery fees
6. Party Day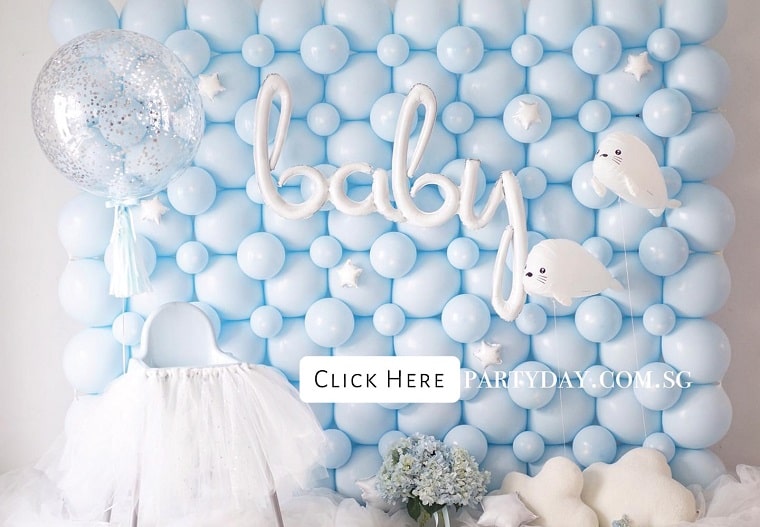 | | |
| --- | --- |
| BEST FOR  | Premium Party Packages |
| PRICING | Rates |
| WEBSITE | https://www.partyday.com.sg/ |
| ADDRESS | #06-26, Collection Point, 18 New Industrial Rd, Singapore 536205 |
| CONTACT DETAILS | +65 6610 7761 |
| OPERATING HOURS | Daily, 10am–6pm |
If you need a supplier for balloon decoration in Singapore, Party Day would be your go-to. 
Party Day provides several sets of celebration packages for baby shower, birthdays, proposals, weddings, and even elderly longevity. They have numerous theme options for kids' parties which features their favorite characters. Their offered balloons come in different shapes, sizes, forms, colors, and designs so take your time in selecting the perfect one for your children, family, friend, or loved one. They also offer party event setups that include distinct styles and settings.
Conact them now to order balloons in Singapore.
Service Highlights
Organic balloons
Party event setup options
Customization services
Customer Service
For their personalization services, Party Day also lets you decorate your own backdrop, buntings, milestone board, and surprise box. This kind of service has captured the hearts of many customers. A reviewer from Google Reviews gave these compliments:
"Collected my online ordered stuff. Very smooth & fast collection, just call make appt n print out the email for exchange of items. I will order again for my niece birthday soon thks!"
Party decorations will always brighten up any kind of celebrations so make sure to choose the right supplier and create your ideal event!
7. Bearloons Singapore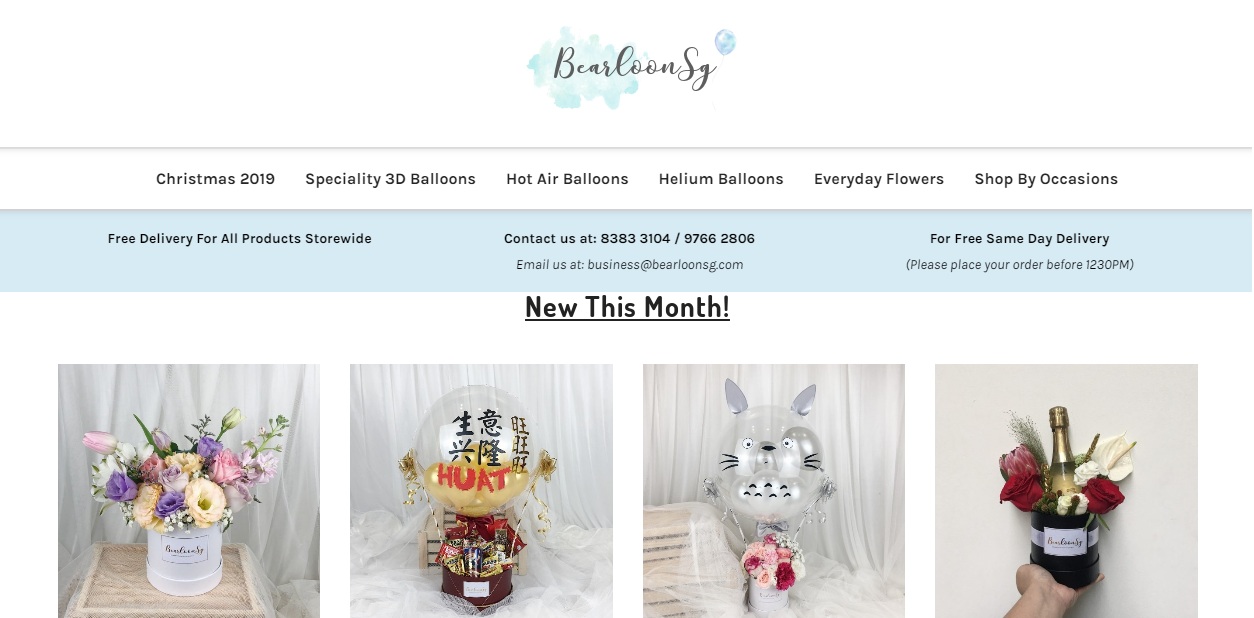 BEST FOR

Specialty 3D Balloons 

PRODUCTS

Creative Balloons and Everyday Flowers

WEBSITE

https://bearloonsg.com/

 

ADDRESS

183 Jalan Pelikat, The Promenade @ Pelikat

CONTACT DETAILS
[email protected] | 83833104 / 97662806
OPERATING HOURS

From 11 AM onwards, from Monday to Sunday
Adorable long-lasting balloon bouquets in Singapore that will make anyone go "aww" are what you'll find in Bearloons Singapore. This balloon delivery company has a number of creatively designed balloons that are far from your generic ones.
We especially like their 3D Balloons that can be paired with snacks or flowers that are also available in their store. You should also check out their Hot Air Balloon collection. Plain adorable! 
Service Highlights
Signature 3D Balloons 

Personalized Balloons 

Great Customer Service
Customer Reviews
Bearloon SG is fairly popular online as people's go-to for birthday balloon delivery in Singapore. Their cute creations are a big part of why that is but reading the reviews tells us what else customers are raving about. Like prompt and helpful response from the staff and flawless on-time delivery. 
"Quick and prompt response always for communications. Very artistic in the design of the balloon. Delivery was secure and well controlled. Very pleasant transaction overall for me"
"Great, friendly and prompt service! Estella was very helpful in designing and arranging my order. Have ordered more than once and definitely be ordering more!"
8. Bobochacha Balloon


BEST FOR
 Customised Helium Balloons
PRODUCTS

Customised Balloons, Balloon Bouquets, Party Balloons, and Customised Cake Toppers

WEBSITE

https://www.bobochachaballoon.com/

ADDRESS

10 Ubi Crescent #05-60A Ubi Techpark Singapore 408564 (LOBBY D)

CONTACT DETAILS
+65 90171105 (Whatsapp Only) | [email protected]
OPERATING HOURS

Weekday: 9am to 7pm

Weekends & PH: 8am to 10pm
If you're setting up an event and are planning on surprising someone, then make sure you have some Bobochacha Balloons tied up at the place.
These stunning yet simple balloon decors will tie up the place, we promise you. The numbered ones especially is a simple add on that will elevate the place. It'll make it more festive and will act as a good backdrop for the occasion. 
You also won't need to worry about late deliveries, Bobochacha Balloon prides themselves with their reliable service and prompt delivery (24 hours delivery is available too!)
Because of their record for prompt and reliable delivery, many people consider them to be the best balloon delivery in Singapore. 
Service Highlights
Prompt Delivery

Long-lasting Balloons
Creative Designs
Customer Reviews
Expert party planners and casual party hosts both love Bobo Chacha Balloon's consistent quality service and topnotch balloons.
Read some of the reviews customers left online below:
"Service was superb!. Dealing was fast and smooth. Balloons was in good quality. Highly recommended. Will definitely buy from them again."
"Irene was a great help and quality of balloons and service exceeded my expectations. After one week, balloons are still flying
9. Andy Balloons Pte Ltd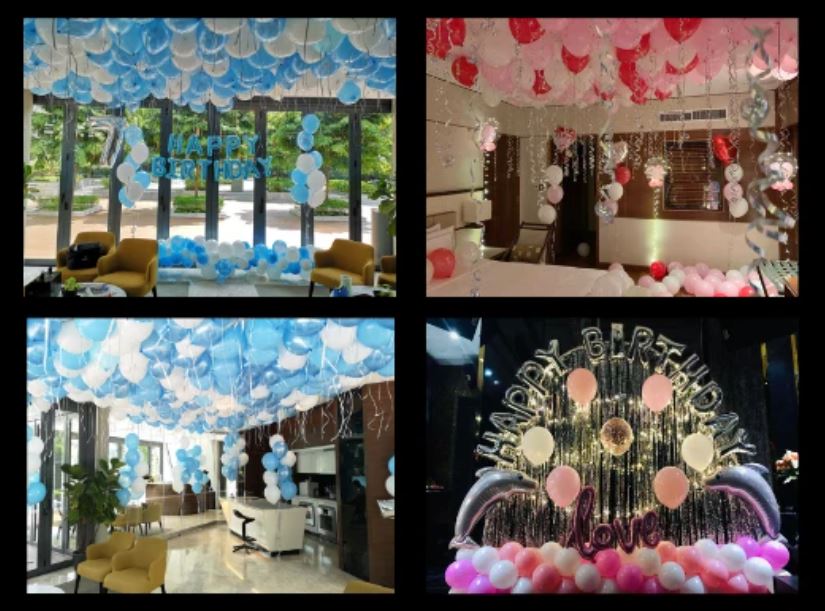 BEST FOR

Big Balloon Decors

PRODUCTS

Balloons (Letter, Number, Walker, Arches, Animal, Customizable)

WEBSITE
https://andyballoons.sg/
ADDRESS

Enterprise One, 1 Kaki Bukit Road 1, #04-47, Singapore 415934

CONTACT DETAILS
+65 6908 4485
OPERATING HOURS

Mon – Fri, 9am – 6pm
Sat, 9am – 1pm
Public Holiday & Sunday, Closed
Planning a party is undoubtedly exhausting. There are so many things to do. So why not tick off one of your to-do lists by ordering a Party Package from Andy Balloons? With their free consultation, you'll have a banging event place in no time!
And if you want something more personal, you can always ask for a customized design that will make your event truly yours. 
Be sure to regularly check their promotions for cheap balloons in Singapore.
Service Highlights
Party Packages

Customization Design 

Free Consultation
Customer Reviews
Reasonable pricing, friendly staff, and long-lasting helium balloons Singapore delivery. These are what customers are saying about Andy Balloons. But if you need to see these rave reviews word-per-word then read the reviews down below:
"Friendly staff and very helpful. Staff were very knowledgeable about their products and gave great advice on the balloon decoration of my event venue. Would recommend others to shop with them!"
"The staff is very efficient, the product quality is good and the price is reasonable. Have recommended this company to my friends"
10. FNP

BEST FOR

Balloon Sets and Colorful LED Helium Balloons

PRODUCTS

Balloons, Flowers, Plants, Cakes & Gifts

WEBSITE

https://www.fnp.sg/

 

ADDRESS
444 Tagore Industrial Avenue Singapore 787817
CONTACT DETAILS

+65 97279363

OPERATING HOURS

Daily, 8 am – 10 pm
Yes. FNP isn't all flowers. When it comes to surprises and general celebration they also have a good collection of balloons you can send your loved ones. 
Like their flower collection, their balloons are of the same standard. Long-lasting and beautiful. 
If you're planning an event, we suggest opting for the Balloon Sets. They're a package of balloons specifically themed for an occasion so you won't have to bother with picking out individual ones. 
Service Highlights
Dedicated Customer Support Team

Balloon Sets for Occasions 

Midnight Delivery Available



Customer Reviews
FNP is a popular brand. And when you're well known, you have a capable image to uphold. And this company succeeds in doing that through their consistently excellent service:
"I would like to applaud Ferns N Petals for their wonderful service. I had ordered a customized cushion along with a bouquet for my friend. The cushion had a clear image printed of the photo that I had provided them with and they were on time with their delievery even though I made many fickle last minute changes with the delivery timings. Thank you to your wonderful service! "
"Amazing service. Super fast response and delivery. 5 stars "
11. FUN @ BALLOONS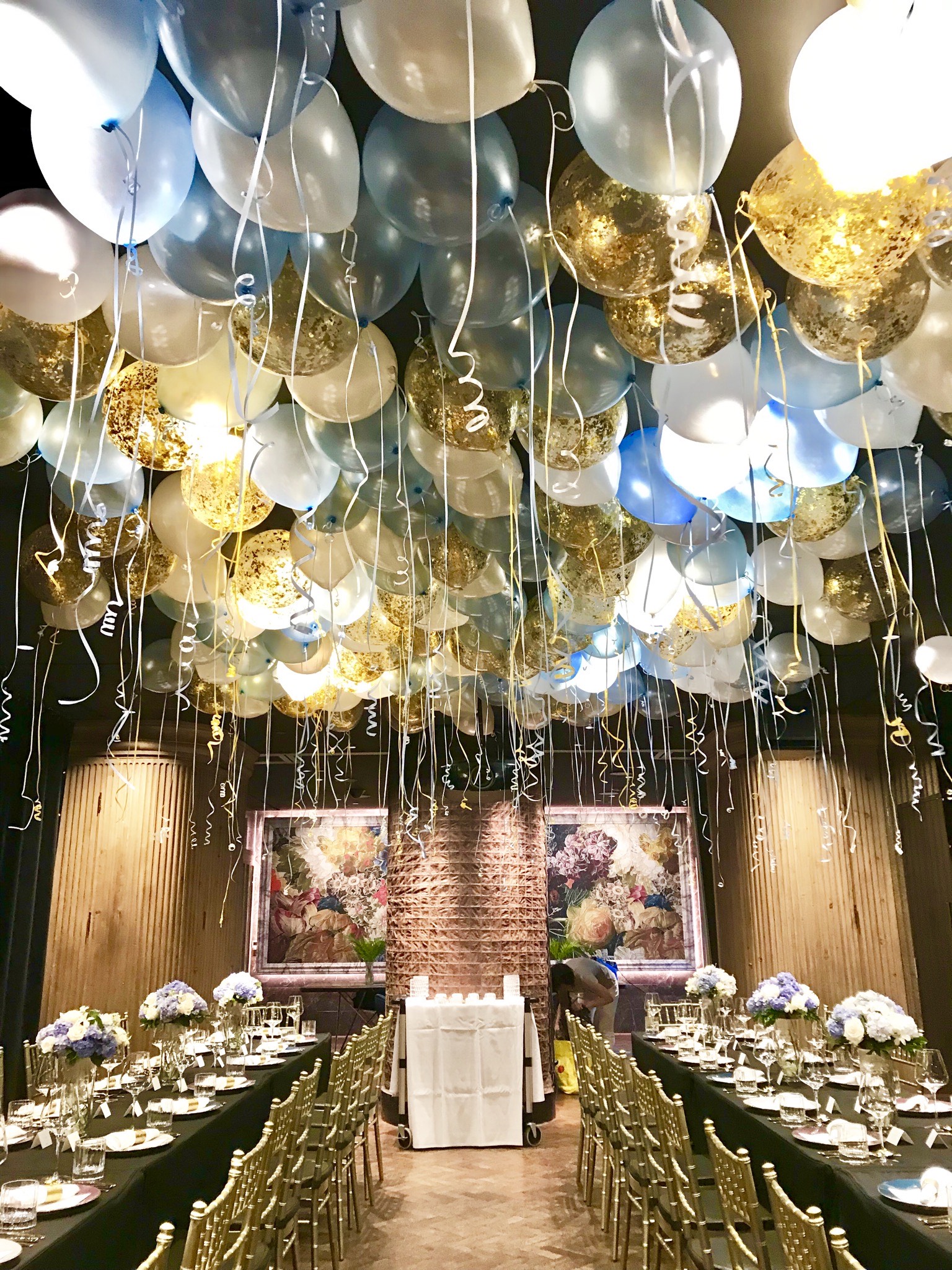 | | |
| --- | --- |
| BEST FOR | Customize Balloon Decoration |
| PRODUCTS | Balloon Backdrop, Balloon Garland, Customize Balloons, Helium Balloon, Party Supplies etc |
| WEBSITE | https://www.funatballoons.com.sg/ |
| ADDRESS |  Blk 57 Geylang Bahru Singapore 330057 (By Appointment only) |
| CONTACT DETAILS | +65 97276472 │ [email protected] |
| OPERATING HOURS | Daily, 9am – 6.30pm |
[email protected] started because of the owners passion for party planning especially kids party. They try to bring out this passion by creating a party needs shop.
The owners also provide ideas to their clients in terms of planning and decorating or designing the venue. You can also find other single items like balloons in their shop. Just visit the website to view their collections.
Service Highlights
Party Decoration and Balloon Delivery Service
Party supplies
Wide range of balloon types
12. Party Wholesale Centre

BEST FOR 
Affordable Party Packages
PRICING
Rates
WEBSITE
https://www.partywholesale.com.sg/
ADDRESS
81 Frankel Ave Singapore 458209
CONTACT DETAILS
6445 0508
OPERATING HOURS
Monday to Saturday – 10:30am–4:30pm

 

Sunday – 9am–1pm
At Party Wholesale Centre, you can have a lot of options to choose from such as confetti glitter balloons, color inspiration, arch, columns, foil, latex, printing, accessories, and LED fairy lights. They also sell inflation equipment including electric pumps and helium tanks. They can also stand as an event supplier for they have a full set of party supplies, party themes, and ideas. With all the hassles that come with organizing an event, it would more convenient to have all your needs in one place. 
Service Highlights
Clearance sale and bulk discounts
Princess entertainers
Party rental and services
Customer Reviews
Many customers loved the premium quality despite the low pricing of Party Wholesale Centre's balloon services. A reviewer had a wonderful experience and shared it on Google Reviews:
"BIG THANKS for accepting my last min order on Tues 25th Feb my daughter 3rd birthday party. The Pink Hello kitty Balloon package and scene setters really set the mood for my Party. Kids were super psych! Thank you so much for your FANTASTIC service!"
13. Funlah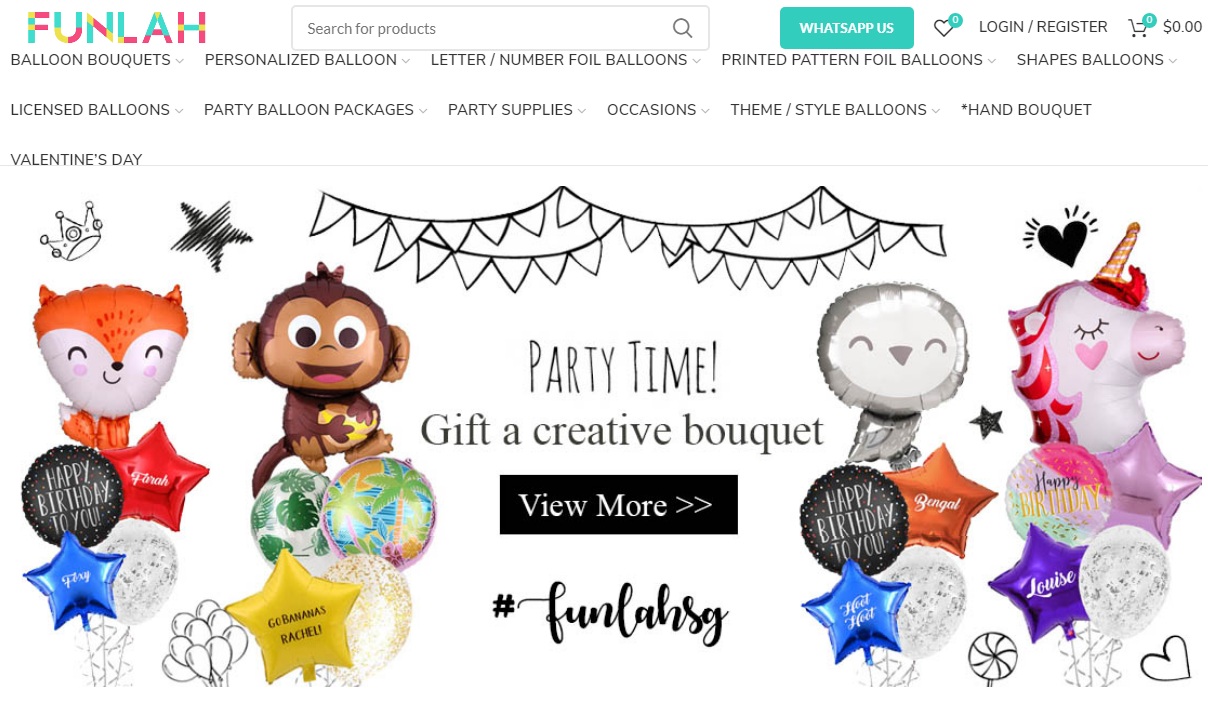 Funlah is an all you can find shop when it comes to balloons and its varieties. Their shop is filled with traditional and modern styled balloons perfect as decorations to all kinds of occasions. 
If you wish to have your orders customized or your company logo printed on each of the balloons, Funlah will happily personalized them for you.
Their balloons also come in different shapes, sizes, and arrangements. They have round balloons, number balloons, and balloon bouquets, all guaranteed of high quality and aesthetics.
Service Highlights
Wide range of balloons designs and arrangements

Affordable prices

Local delivery and custom event styling
14. Wow Let's Party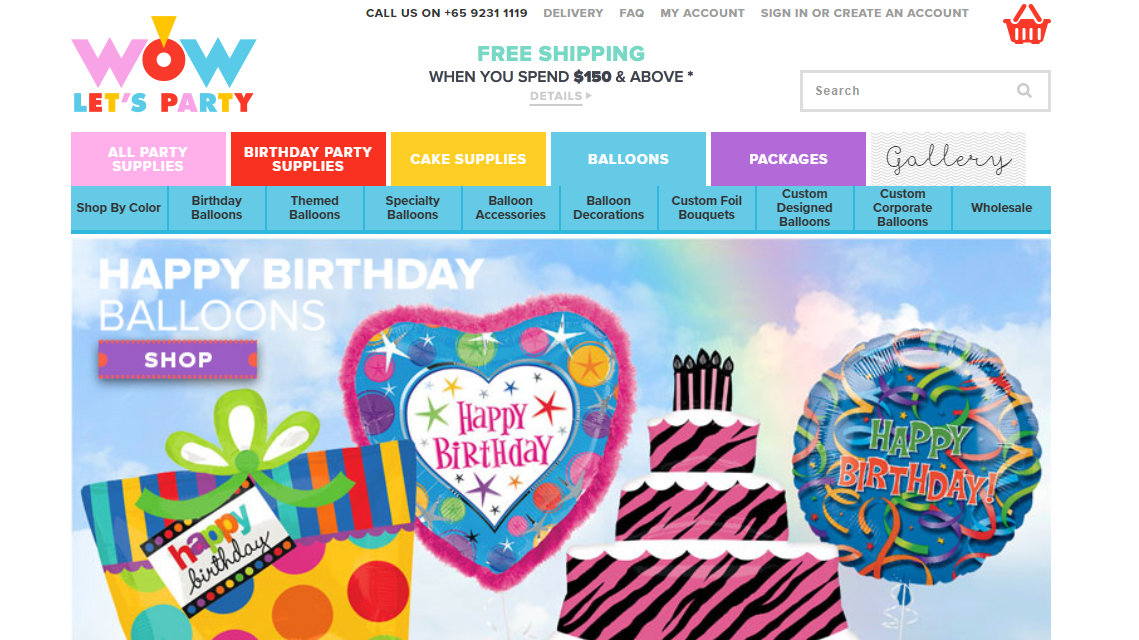 BEST FOR
Themed Party Balloons
PRODUCTS
Birthday party, Cake supplies, Balloons, and Packages
WEBSITE
http://www.wowletsparty.com/balloons
ADDRESS

Wow! Let's Party @ Moulmein
69 Moulmein Road #01-81
Moulmein View | Singapore 300069

Wow! Let's Party @ Jelita
293 Holland Road #02-05
Jelita Shopping Centre
Singapore 278628

Wow! Let's Party @ Kensington
11A Kensington Park Road
Serangoon Gardens
Singapore 557263

Wow! Let's Party @ East Coast
214A East Coast Road
East Coast Estate
Singapore 428913

CONTACT DETAILS

65 9231 1119 / 65 6957 5119 / [email protected]
Moulmein: +65 6352 8559 | +65 6680 2744
Jelita: +65 6909 8111
Kensington: +65 6980 0585
East Coast: +65 6980 6220

OPERATING HOURS

Moulmein:
Weekday: 10am – 7pm | Weekend: 10am – 6pm

Jelita:
Mon – Sat: 11am – 7pm | Sun: 11am – 6pm

Kensington:
Mon – Sat 10.30am – 7pm | Sun: 10.30am – 6pm

East Coast:
Tue – Sat: 10.30am – 7pm | Sun: 10.30am – 6pm
Closed on Mondays
If you are organizing a party or an event, Wow Let's Party's balloons are sure to make it more exciting.
They offer numerous themes, colors, shapes, and sizes of balloons. You can also customize your own design for an affordable price.
Contact them now and avail high-quality and long-lasting balloons!
Service Highlights
Free shipping when you spend $150 and above
Customised Balloons
Affordable balloons
15. Singapore Florist

Singapore Florist Balloons offers you balloons specially designed for kids. They are available in different shapes, sizes, and colors.
Unlike other party decor shops, their products are on-hand and never run out of stock.
Visit Singapore Florist Balloons now– they will bring the best quality of balloons that you truly deserve!
Service Highlights
Low-cost Balloons
Has add-ons
Free delivery
Customer Reviews
Jason Chin, a satisfied customer, left a review on Singapore Florist's official Facebook page:
"Ordered a bouquet of roses for my wife to commemorate our wedding anniversary, and she really loves it. The bouquet definitely looks beautiful and elegant. Strongly recommended!"
Images are taken from each company's official websites/social media.
16. Toki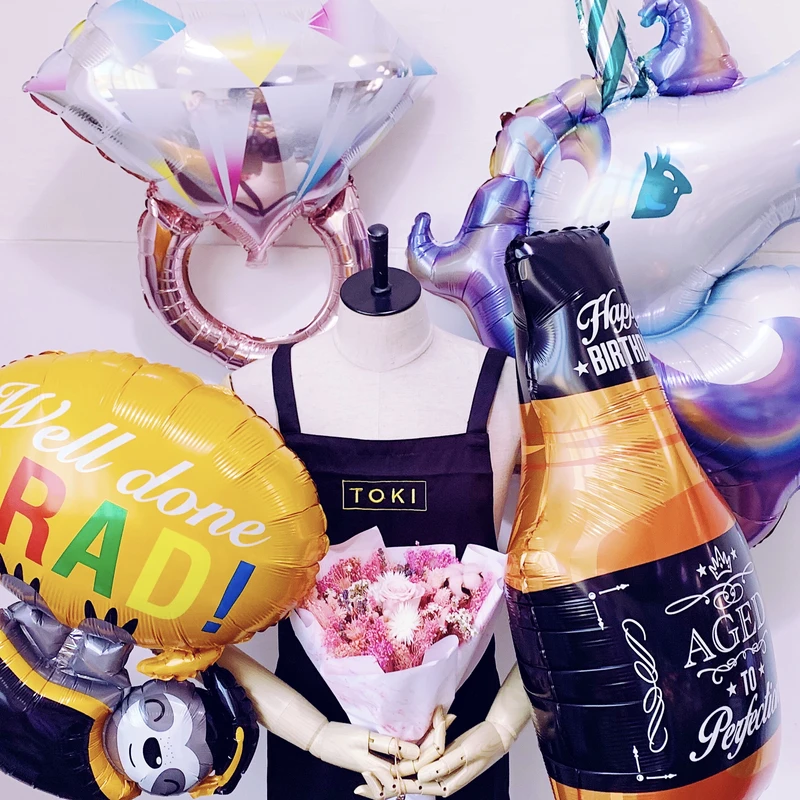 Toki started as a casual hobby of creating bouquets and gifts for loved ones. Over the years, Toki has grown thanks to the combination of techniques and designs from various cultures, thus resulting in a fusion of high-quality items.
The creative space allows designers and florists in the company to produce and share their fantastic ideas for other people to enjoy while enhancing their skills in their perspective fields. They're known to have unique designs, especially for ballons. You can get something for graduation, a birthday, or even a proposal.
All in all, you can definitely rely on Toki, because whatever the event may be, they're sure they have something in store for you! Offering a wide range of gifts: from flowers to plush toys and balloons, you can never go wrong with these timeless options.
Service Highlights
Plush Toy Bouquet
Same Day Delivery
Customised gifts and trinkets
17. Harvest Well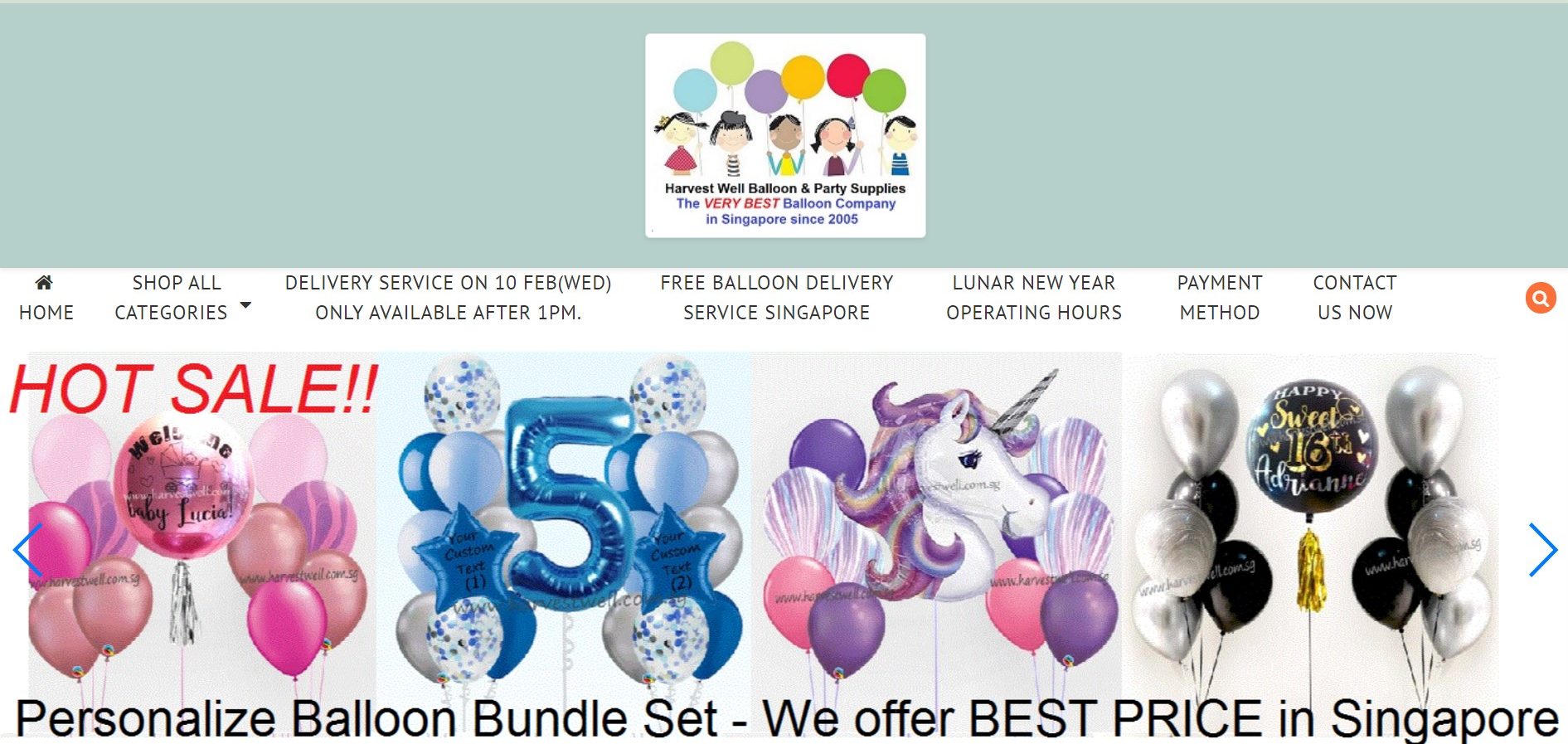 If you're looking for high-quality balloons at the best price, then look no further as Harvest Well has got you covered! They offer a wide range of designs for every occasion, and even has customization if needed.
What's more is that they also offer same day delivery in case of emergency needs or last-minute run-out of equipment.
Check out more of what Harvest Well can offer on their website, and purchase your balloons there!
Service Highlights
Free delivery on oprders over $100
16 years of service in the industry
Offers helium tanks
Lower pricing for balloons
Customer Reviews
With a high rating on Google Review, Harvest Well is definitely a recommended company for purchasing balloons. Check out some of the feedbacks below:
"staff was very helpful towards me and very kind to clear my doubts. Highly recommended for their cheap prices and excellent service!"
"Always get my customized balloons from them! They have other options too for balloons decorations! It's convenient to use their website and delivery is a flat fee!"