The 5 Best Aloe Vera Gels in Singapore
By: Lance Teo
If you're on the lookout for an alternative to moisturisers without the greasy and sticky feel, then maybe now's the right time to get your hands on the best aloe vera gels in Singapore. We tried hundreds of aloe vera gels sold on the island ourselves and made a list of the ones we think are worth splurging money on.
We'll be the first to admit it: searching for the best aloe vera gels in Singapore took a while because there were so many options! However, we made things easier for you in several ways here.
First, we explained what you can do with the best aloe vera gels in Singapore. That's if you don't know much about them, aside from their moisturising properties. This way, you have an idea of what a quality gel can actually do.
Next, we reviewed all of the gels we deemed to be the best aloe vera gels in Singapore. You'll learn about their pros and cons, what others think of them, what they're good for, etc.
Ready for all of that? Good — so are we!
What the Best Aloe Vera Gels in Singapore Can Do
There's a reason that the best aloe vera gels in Singapore have become popular recently. More people now know that these gels have the following abilities:
To fight bacteria
To moisturise deeply parched skin
To reduce inflammation and irritation
And a whole lot more! Even dermatologists agree that aloe vera's properties are promising, especially when applied topically on the skin.
You do have to pick quality products to enjoy such benefits, however. As far as that goes, the rule in picking out the best aloe vera gels in Singapore is that the higher the percentage of aloe vera, the better.
Basically, make sure to aim for those with 100% aloe vera without alcohol, fragrances, and additional colouring. It's the aloe vera content that makes the product, not those add-ons.
Once you've found the right aloe vera gel, you will be able to use it for a wide range of things, including the ones below.
1.   Soothe a sunburn
If you've been to the beach recently or were exposed to too much sun, aloe vera gels may help with your sunburns. The aloe vera plant is known for having anti-inflammatory and pain-relieving properties.
Aloe vera plants also have sugars that are vital in collagen synthesis, making wounds heal faster. These sugars bind moisture to the skin as well, treating skin dryness in the process.
2.   Remove makeup
Aloe vera gel can be a great product for removing your makeup before going to bed too!
Dermatologists recommend to do this by squeezing a generous amount onto a cotton ball and gently swiping the makeup away from your face. Take your time because you don't want to be rough while rubbing the cotton ball on your face.
3.   Fight acne
If you've been struggling with acne for years now, using the best aloe vera gels in Singapore might make it easier for you to get rid of them. Acne often worsens because of the strong ingredients found in most of the skincare products we use, but consider aloe vera gels different.
Apart from being a natural ingredient, aloe vera contains antifungal and antibacterial compounds and salicylic acid, both of which are often effective against acne.
4.   Shaving companion
Due to their slippery texture and moisturising properties, the best aloe vera gels in Singapore can be used as alternatives to shaving cream. Shaving creams are often expensive, so it'd be nice to have a cheaper alternative that does the same job, right?
You may even concoct your own shaving recipe to make it even more nourishing on the skin. We found that some people mix it with nourishing ingredients like vitamin E, eucalyptus oil, and almond oil.
5.   Rinsing the hair
Beyond its countless benefits to our skin, the best aloe vera gels in Singapore can be used to improve the condition of your hair. You can use them as a nourishing hair mask during a shower or create a greasy hair solution with them.
All you have to do is mix the gel with a tablespoon of lemon juice and a cup of water. Use the solution to rinse your hair after the shampoo, leave it for a few minutes, and then rinse with cold water.
The Best Aloe Vera Gels in Singapore
Now that you know some of the other benefits of the best aloe vera gels in Singapore, it's time to introduce you to our picks! Make sure to read our list until the end to know which one really suits your needs.
So, without further ado, here's our list of the best aloe vera gels in Singapore.
1.   SkinLabs Moisturising Aloe Vera Gel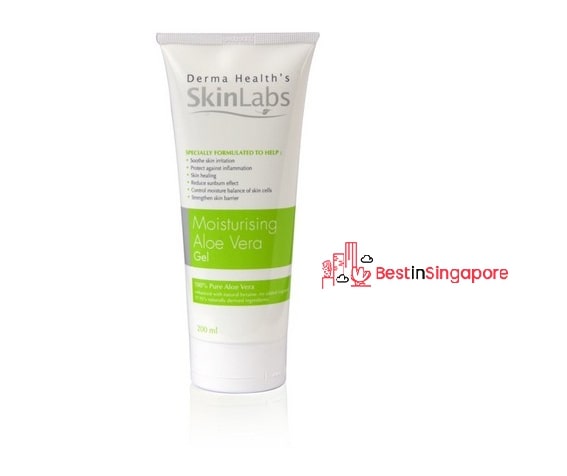 Price: $9.90
If you don't want to invest in an expensive aloe vera gel just yet, then we recommend the SkinLabs Moisturising Aloe Vera Gel. It's an affordable aloe vera gel that costs less than $10, one of the cheapest ones here on the island.
The SkinLabs Moisturising Aloe Vera Gel is made with 100% pure and concentrated aloe vera, without alcohol and other chemical additives that would be considered impurities. Aside from its skin moisturising properties, it's known for its ability to soothe sensitive and irritated skin and reduce skin inflammation.
It may be cheaper than most aloe vera gels in Singapore, but it does the job just as well as pricier variants. In fact, the SkinLabs Moisturising Aloe Vera Gel is even enriched with Natural Betaine — which is a natural ingredient with strong moisturising properties.
If you have sun-damaged skin, then the SkinLabs Moisturising Aloe Vera Gel is definitely what you need. It can improve the overall condition of the skin and prevent harmful substances from entering the skin.
It's perfect for most skin types as well, so whether you have dry or sensitive skin, SkinLabs Moisturising Aloe Vera Gel can still work its magic on your skin. This is why we call it one of the best aloe vera gels in Singapore.
Pros
Affordable
100% aloe vera
Made with natural ingredients
For all skin types
Odourless
Cons
Comes in small packaging
Perfect only for day use
Customer Reviews
Here are some reviews of customers who have used it:
"I tried it on my hand at first, It really absorbs fast & your skin will become moisture. And then I tried on my leg, the dry skin area became more shiny and it really moisture. I like the cool feel after applying this moisturizing gel."
"Currently using my second tube of this product, and the acne scar really goes away in just a few weeks. It absorbs quickly into skin but if I'm using it during day time, my skin easily gets oily."
2.   Biofinest Aloe Vera Gel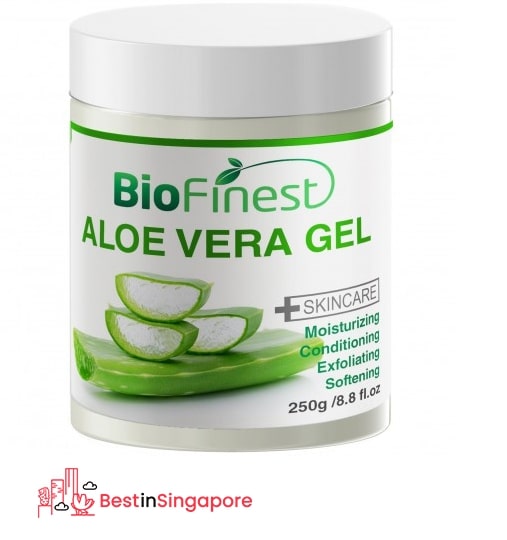 Price: $14.95
Biofinest is a company committed to providing high-quality skincare products through organic, natural, and sustainable products. If you're looking for an aloe vera gel without chemicals, additives, and synthetics, then you might want to take a look at Biofinest Aloe Vera Gel.
Unlike other moisturisers and aloe vera gels, it doesn't leave a sticky and greasy feel, so it's perfect to be used during daytime, even when the sun is scorching outside. You won't have to worry about feeling oily after being under the sun for only 10 minutes.
It works well with almost all skin types, but it works wonders on dry and sensitive skin in particular, due to its organic ingredients. You may even use it to soothe insect bites.
According to users, it can moisturise even the most damaged and chapped skin in no time — which is why we call it one of the best aloe vera gels in Singapore.
Even if it's always sunny in Singapore, the Biofinest Aloe Vera Gel is excellent for cold seasons. If you're planning to travel to a cold country next year, then make sure to have this one!
Pros
Affordable
For daytime and nighttime
Excellent for cold seasons
No greasy and sticky feeling
Cons
Small but bulky packaging
Always out of stock
3.   Nature Republic Aloe Vera Gel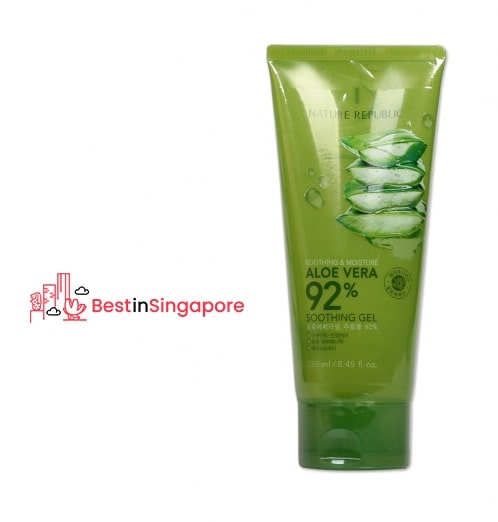 Price: $17.80
There's no doubt that Nature Republic is one of the most trusted names in skincare, so we couldn't help but try one of its aloe vera gels. What we discovered is that it's one of the most soothing and moisturising aloe vera gels out there.
It may be made with only 92% of aloe vera leaf extract, but it can moisturise soothe, and nourish any type of skin just as well. It comes with vegan certification as well, so rest assured that it's truly organic and natural.
Another reason we deem it one of the best aloe vera gels in Singapore is the fact that it can help sebum control by balancing the skin's pH levels, moisturising even the most irritated and sensitive skin.
It's not that expensive too, considering that Nature Republic is a famous name in skincare. For only $17.80, you will be able to get 3 aloe vera tubes already!
Above all, the Nature Republic Aloe Vera Gel has a broad range of uses, including as a nighttime moisturising mask, makeup removal, hair treatment, eye moisturiser, and even as an aftershave gel.
Pros
Wide range of uses
3 packs for $17.80
Natural and organic ingredients
Can balance the skin's pH levels
Pros
Only 92% of aloe vera extracts
Bulky packaging
Customer Reviews 
Here are some comments shared by people who bought it from Amazon: 
"5-6 months ago I had a really bad breakout and lots of acne scars and the aloe vera really helped diminishing the scars!! My skin type is devastatingly oily. My skin care included benzoyl peroxide, clindamycin, and aloe vera. I use the aloe vera every time I am done washing my face. During day time, I put moisturizer with SPF after the aloe vera. During my night routine, just aloe vera after washing my face. I usually buy two of the one pack because it is the cheaper option."
"I really like this gel. The container is decently sized but I can already tell it's going to last me for a VERY long time. A little goes a long way. I use this cream for my face, sunburns, and sometimes hair as a leave-in treatment since I don't have the actual plant growing anywhere at home. If you use it on your face, use it on a clean surface. Remove all makeup and use a toner prior to applying. It'll leave your skin feeling so fresh and clean and it helps in soothing cuts and burns or any other skin irritations."
4.   Florame Organic Aloe Vera Gel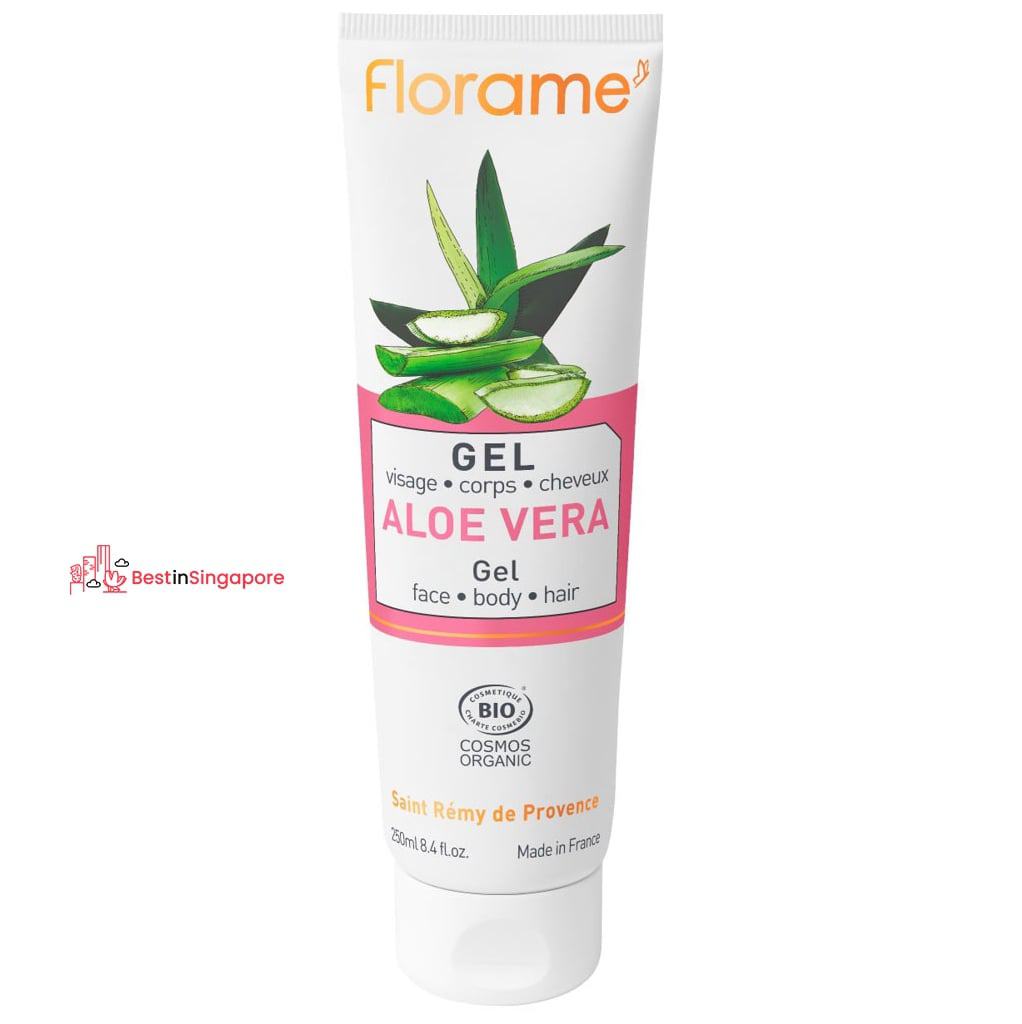 Price: $26.00
If you're looking for an aloe vera gel that can be used on the face, body, and hair, then look no further than Florame Organic Aloe Vera Gel. It's a French-made aloe vera gel, so it's a bit expensive compared to the locally made ones.
It's made with a 100% natural and organic formula with 95% organic and native aloe vera extracts, making it a great option for those with ultra-sensitive skin.
It's capable of providing enough nourishment to the skin without leaving it drained and dry after a couple of days, which is something a few of the cheaper gels will do.
Aside from its moisturising properties, the Florame Organic Aloe Vera Gel can nourish the hair, reduce skin inflammation, fight acne and eczema, brighten the skin, and even lighten pimple marks. It can also be used as an alternative to baby lotion for toddlers and children.
If you're a bit sensitive to scents, you won't have to worry about  the Florame Organic Aloe Vera Gel because it's odourless. It's even safe and recommended to be used by pregnant mothers.
Pros
Pregnancy safe
Can be used on babies
Natural and organic formula
Doesn't leave the skin drained
Cons
Expensive
Small packaging
5.   Seven Minerals Aloe Gel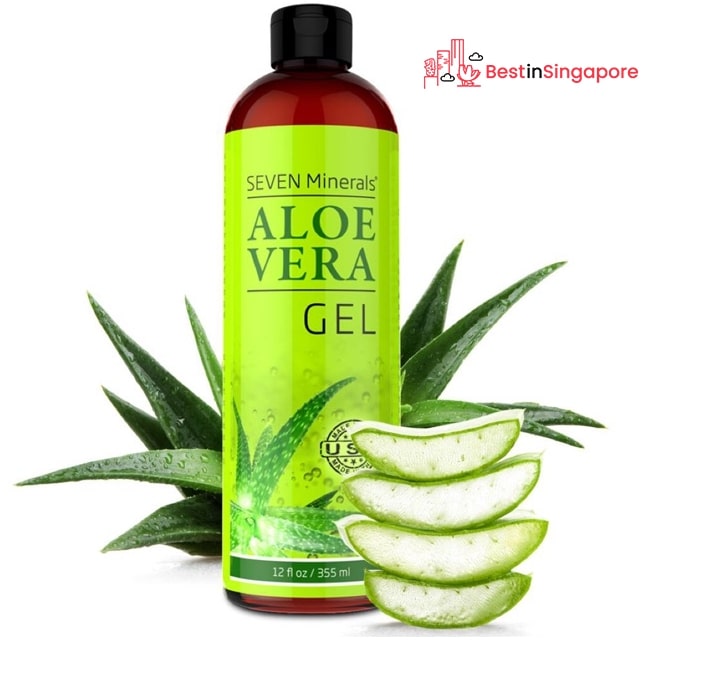 Price: $34.19
If you're willing to spend extra bucks on a high-end aloe vera gel, then you might want to take a look at Seven Minerals Aloe Gel. It costs almost $35, so we can't recommend it to everyone, but we think it's worth it.
Seven Minerals Aloe Gel comes all the way from America, with its ingredients grown and harvested in a farm in Texas. It's even considered one of the stronger and purest aloe vera gels in the market.
It's so pure and fresh that some customers even described it as aloe vera extracts squeezed directly into a bottle, with the lumps and fibres. This is due to its unique cold-pressed formula that makes it thicker, non-sticky, watery, and easy to apply.
One of the best things about the Seven Minerals Aloe Gel is that it's packed with 200 active compounds that benefit the user in a lot of ways. It can moisturise the skin, repair cracked skin, improve wrinkles, relieve burns, improve the quality of nails, reduce frizz and dandruff, and promote quick hair growth.
Every purchase of the Seven Minerals Aloe Gel even comes with a free e-book of aloe vera beauty tips and recipes. This e-book aims to help customers be more creative in using their aloe vera gels.
Pros
100% aloe vera extract
Natural and fresh ingredients
200 active compounds
Easy to apply
Non-sticky and watery
Cons
Expensive
Huge, bulky packaging
Customer Reviews 
As one of the best aloe vera gels in Singapore, it's received countless positive reviews from its buyers. Take a look at some of them:
"I searched everywhere for pure aloe vera gel organic and I found this product to have great reviews. I am definitely happy I purchased it and will continue to do so. It goes on so smoothly and dries quickly and has helped my skin tremendously over the past few weeks. I have sensitive skin and have had no issues at all with this product."
"I love that this product isn't full of a bunch of nasty chemicals. It's so hard to find good quality ingredients. I bought this for my daughter. She was getting really dry chapped skin and it was starting to cause damage. I had tried all kind of lotions but they all burned her sensitive skin. One day use of this gel and her skin was back to almost 100%. I can't believe how well this worked. I wish i would have snapped photos but in all honesty I didn't expect it to work so quickly."
And with that, we conclude our list of the best aloe vera gels in Singapore. If you've decided which one to go with it, share your pick with us!
If you know other aloe vera gels on the island worth checking out, tell us their names and we'll see if we should include them in our list.
And if you're also looking for the best facial cleansers in Singapore, we have a list of those as well! Check out our picks to know which ones are worth spending money on.