By Colin Ng
Do you ever feel like your skin is no longer in its best condition and is in need of a rejuvenation? With the best aesthetic clinics in Singapore, your self-confidence will be restored through services that target your skin, face, body — everything!
If you want to feel more confident about your appearance, we highly recommend that you seek out the services of the best aesthetic clinics on the island. We're here to provide you with a list of the best aesthetic clinics in Singapore if you don't know where to start looking for them.
There's no need to worry about your safety because every option on our list is proven to be safe and hires only licensed medical professionals. Anyway, here's our list of the best aesthetic clinics in Singapore.
(Note: This list is in no particular order.)
1. The Clifford Clinic
| | |
| --- | --- |
| BEST FOR  | Non-surgical Treatments |
| SERVICES | Acne Treatment, Skin Rejuvenation, Face Lift, Dermal Fillers, Nose Fillers, Thread Lift, Double Chin Reduction, Laser Tattoo Removal, and Stretch Marks Removal |
| WEBSITE | https://www.singaporeaestheticpractice.com/ |
| ADDRESS | 24 Raffles Place, #01-03 Clifford Centre, Singapore 048621 |
| CONTACT DETAILS | (65) 3129 2550 |
| OPERATING HOURS | Monday – Friday, 10:00 AM – 8:00 PM |
With over 18 years of experience, The Clifford Clinic has become one of the go-to clinics in terms of face, body, and skin treatments. It has a team of competent and experienced doctors who know the right treatment for your problems.
What's more, it also aims to be a one-stop aesthetic clinic for all your concerns. That's why it offers a wide variety of treatments including acne treatment, derma filler, thread lift, tattoo removal, nose fillers, and a whole lot more.
The Clifford Clinic focuses on non-surgical and non-invasive treatments, so there's no need to worry if you're afraid of going under the knife. Everyone on its team is licensed, professional, and has a lot of experience in aesthetic medicine.
Highlights
Non-invasive treatments
Uses state-of-the-art equipment
Professional doctors and staff
Customer Reviews
 Here are some reviews left by satisfied customers:
"Excellent service, staff there are all sincere, approachable and very meticulous when doing pre and post treatment care and has always been helpful with my requests. Dr Ee was especially professional and friendly and he always made sure that my acne skin is well taken care of. I did their agnes acne treatment + q switch lasers and I've witnessed visible improvement. Can I also say that the ambiance and their mini snack corner is amazing too!"
"Went to Clifford to get my dose of aesthetic procedures done! This included lip fillers, nose thread lifts and even jaw botox – all of which were administered in absolute comfort thanks to Dr Gerard Ee. The accessibility of this clinic is an added bonus as well. Thank you Clifford for the superb service and I'll definitely recommend this clinic!"
2. Covette Aesthetics
BEST FOR

World-class treatment

SERVICES

Aesthetics Treatments & Plastic Surgery

WEBSITE

https://covetteaesthetics.com/

ADDRESS

2 Orchard Turn, #03-24A ION Orchard, Singapore 238801

CONTACT DETAILS

[email protected]

;

(+65) 6634 1516

OPERATING HOURS
Monday to Friday:

11:00 am – 8:00 pm

Saturday – Sunday; Public Holiday: 10:00 am – 5:00 pm
If you're looking for a place which caters all parts of your body, then The Covette Clinic is a good place to go. They provide services for your face, eyes, nose, breast and other body parts which needs restructuring. 
The clinic takes pride on their quality aesthetics and their world-class plastic surgery treatments. So, if you want to get an experience of being serve professionally, you may visit their clinic. 
Highlights
World-class treatment

Care for your well-being

Professional and licensed practitioner
Customer Reviews
Finding a good aesthetic clinic can be difficult as there are many this to consider. So, if you haven't find one, here's a review from their customers about the edge of the clinic:
"I went for Nose threadlift at Covette and loved the results! There was a noticeable difference and my nose looks much sharper now. I was very nervous but Dr Lennard and Michelle were very reassuring and the whole process was very comfortable. prices were very reasonable as well for a well located place and a beautiful environment. thumbs up!!"
3. The Belle Clinic
BEST FOR

Personalized aesthetic enhancements 

SERVICES

Face, Body, and Skin procedures

WEBSITE

https://www.thebelleclinic.com/

ADDRESS

SBF Medical Center, #03-02 160 Robinson Road ​Singapore 068914

CONTACT DETAILS
+65-64448108 | [email protected]
OPERATING HOURS

M-F: 10.00am -7.00pm

​Sat: 9.00am – 2.00pm
The Belle Clinic is all about recognizing the uniqueness in each of their clients and them needing personalized treatments that will perfectly suit their physical attributes and preferences. 
They offer various procedures from skin rejuvenation, acne treatments, and fillers, to weight management and body contouring. 
If you want a more accurate detail on which treatment is suited best for your needs, you can also set a consultation with their in-house professional and they will gladly accommodate your concerns.
Highlights
Custom-tailored treatments

Post-pregnancy programmes

Latest medical equipment
Customer Reviews
The clients of The Belle Clinic had shown their utmost satisfaction with the team's service as shown in their reviews. Here's one:
"Although I didn't think it was possible, your personalised program delivered the results I wanted. Thank you Dr Tan for your kindness, encouragement and skill! You helped me achieve my dream body and glowing skin on my special day."
4. Edwin Lim Medical Aesthetic Clinic
BEST FOR

Injectable and Laser procedures

SERVICES

Injectables, Laser, Medi-facials & Fat Freeze, HIFU & Other treatments

WEBSITE

https://edwinlimclinic.sg/

ADDRESS

#02-12/13 Changi City Point, 5 Changi Business Park Central 1,

Singapore 486038

(By Appointment Only)

#05-51, Lucky Plaza, 304 Orchard Road Singapore 238863

CONTACT DETAILS

+65 69042218/+65 96372218 (whatsapp message only)

OPERATING HOURS

Mon to Friday – 11am to 8pm

Saturday and Sunday – 11am to 6pm
Edwin Lim Medical Aesthetic Clinic offers customized solutions for a wide range of skin and aesthetic conditions. Some of the conditions they offer treatments with are acne, pigmentation, wrinkles, dull skin, scars and marks, and sagging skin.
The in-house expert, Dr. Edwin Lim is well-experienced in conducting both Aesthetic injectable and Medical Aesthetic Laser procedures so you are well guaranteed that you are in good hands. His expertise is also backed with the clinic's use of advanced medical technologies to ensure the overall high quality of the procedure.
The clinic has two operational outlets, one in Changi Business Park Central and the other in Lucky Plaza. The latter, however, is strictly by appointment only.
Highlights
Expert and licensed doctor

State-of-the-art medical facilities

Premium quality products and services
Customer Reviews
Edwin Lim Medical Aesthetic Clinic has a perfect 5.0-rating on Google which simply reflects the clinic's utmost credibility when it comes to aesthetic procedures. The in-house expert, Dr. Edwin Lim is praised for his meticulousness and professionalism.
"Dr Lim is very professional, nice & patient.
I did laser for pigmentation & filler on my face, he is gentle & always check if there is any discomfort. His skill is great & I don't experience pain while he is doing laser or filler."
5. Dr Cindy's Medical Aesthetics
BEST FOR

Wide range of aesthetic treatments

SERVICES

Acne

Scars/Uneven texture

Pigmentation/Dull skin

Fine lines/Wrinkles

Saggy skin/Volume loss

Tired eyes

Flat, round nose

Double chin/Saggy neck

Square jawline

Stubborn fats

Moles/Skin tags/Milia/Warts

Tattoo

Laser Tattoo removal

Unwanted hair

Loose vagina/Leaky bladder

WEBSITE
https://drcindy.com.sg/news-articles/face-definition-chin-fillers-in-singapore/
ADDRESS

360 Orchard Road #05-06, International Building Singapore 238869

10 Tampines Central 1 #05-12 Tampines One Singapore 529536

1 Jurong West Central 2 #03-05 Jurong Point (Jurong Point 1) Singapore 648886

CONTACT DETAILS

67334433/67864433/65334433

OPERATING HOURS

Orchard Outlet

Mon, Tue, Thu:10am to 7pm

Wed, Fri:10am to 8pm

Saturdays:10am to 3pm

Closed on Sundays and Public Holidays

Jurong Point Outlet

Weekdays:11am to 9pm

Saturdays:10am to 8pm

Sundays:10am to 7pm

Public Holidays:10am to 6pm

Tampines Outlet

Weekdays:11am to 9pm

Saturdays:10am to 8pm

Sundays:10am to 7pm

Public Holidays:10am to 6pm

Sundays and Public Holidays by Appointment Only
Dr. Cindy's Medical Aesthetics offers premium quality treatments that address multiple aesthetic concerns, from acne scar treatments to non-surgical face lifts and customized medical facial treatments.
The clinic makes sure to maintain a state-of-the-art facility for their clients so they'd be in their most comfortable and hygienic place while getting treatments.
Currently, the clinic has three operation outlets all over the country. All are guaranteed to be equipped with the latest technologies for best results.
Highlights
Extensive range of treatments and catered concerns

Reliable and well-experienced doctors

100% customer satisfaction guaranteed
6.  ASTIQUE
BEST FOR 
Face and Body Treatment
SERVICES
Anti Aging, Pigmentation, Acne Scar Removal, Wrinkle Removal, Nose Filler, Laser Tattoo Removal, and Hair Loss Treatment
WEBSITE
https://www.astiqueclinic.com.sg/
ADDRESS
350, #08-00 Orchard Rd, Shaw House, Singapore 238868
CONTACT DETAILS
+65 6732 3801

+65 9857 7892

OPERATING HOURS
Monday – Friday, 10:00 AM – 8:00 PM
 Astique offers a wide variety of face and body treatments, including wrinkle reduction, face lifting, acne scar removal, stretch marks removal, laser tattoo removal, and many more.
It's a boutique medical clinic that aims to address the concerns of its customers through safe and FDA-approved treatments.
One of its goals as a company is to restore the confidence of all their clients by providing them with safe and effective treatments. Astique will make sure that every customer will leave their clinic with no worries and with more self-confidence.
Moreover, Astique also values the privacy of all its clients, so it promises that whatever goes on inside the clinic will remain inside.
Highlights
FDA-approved treatments
Experienced doctors and staff
Patient confidentiality 
Customer Reviews
"Been with Astique for almost 2 years. Visited them due to adult acne/hormonal. I started with dual yellow and was introduced to radiance ex for rejuvenating/brightening effect. Never regretted their suggestion. My skin is cleared from acne and has brighter looking skin! Price is reasonable for regular laser patients. Worth a try."
"I Have been a client of Astique clinic for at least 2 years already. I am very happy with the service provided by Doctor Celine Leong and the staff at the clinic. They are very friendly and professional. Never regretted the Radiance EX package that Dr Celine recommended! I used to have dull coloured skin but my skin tone has improved significantly over time! Thank you, Astique!"
7. Aesthetic & Dental Surgery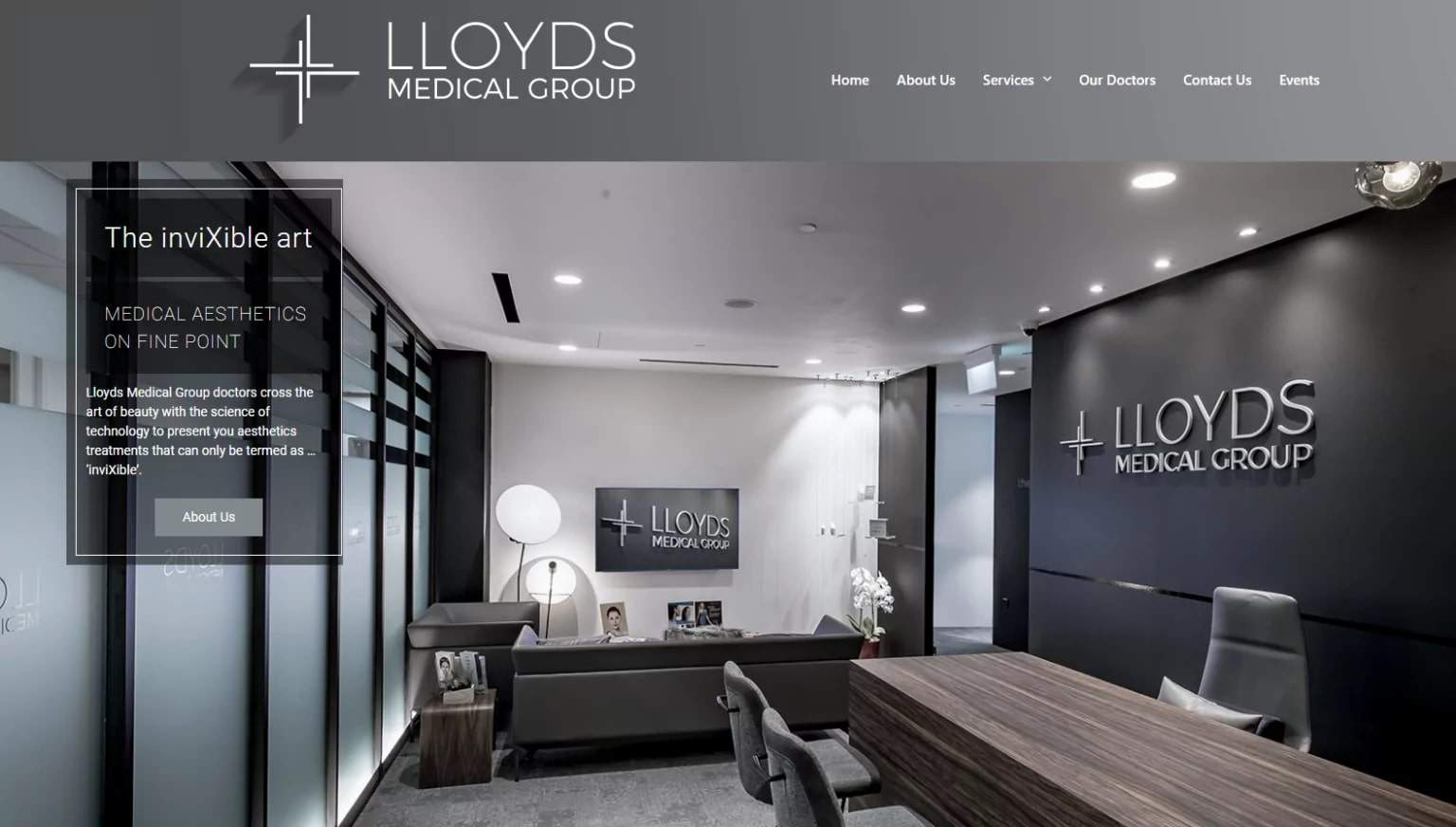 BEST FOR

Aesthetics/ Cosmetic Surgery

SERVICES

CoolSculpting® By Zeltiq

Thread Lift

AGNES® Eyebag Removal

Rejuran® Healer

AGNES® Double Chin Removal

Dental Braces

Invisalign, Clear Aligners

Immediate Teeth Replacement

Whiter, Brighter, Sexier Teeth

Cheek Fat Removal

Chin Enhancement

Nose Enhancement

Exilis® Skin Tightening

Remove Facial Wrinkles

Fillers

Double Chin Removal

Soprano® Laser Hair Removal

Fractional Laser Resurfacing

Laser Mole Removal

Intense Pulsed Light Photofacials

Glycolic Peel

Medi-Facials

Skincare

Viviscal Professional Hair Supplement

Laser Hair Rejuvenation

Teeth Whitening

WEBSITE

https://aesthetic-and-dental-surgery.dudaone.com/

ADDRESS

6 Raffles Boulevard, S039594

Next To Esplanade MRT Exit B

CONTACT DETAILS
63363128 | [email protected]
OPERATING HOURS

Weekdays 11am To 9pm

Weekends 11am To 5pm
Aesthetic & Dental Surgery is a specialist center offering a full range of non-surgical & surgical aesthetic & dental procedures. The team is highly committed in delivering the safest, most effective procedures that are customized according to their clients' medical condition and aesthetic needs.
Before proceeding with the actual surgery, their highly-qualified team of doctors conduct a full-range assessment with their client to ensure that they meet the standard operations as well as the clients' expectations and preferences.
Aesthetic & Dental Surgery is fully accredited with CPF Medisave, Pioneer Generation (PG), Merdeka Generation (MG), Community Health Assist Scheme (CHAS), Baby Bonus / Child Development Account (CDA), and Cigna so you are guaranteed that you are in the hands of trusted experts.
Highlights
Personalized procedures

Expert and licensed professional

Fully accredited specialist center

Non-surgical treatments 
8. Sozo Aesthetic Clinic
| | |
| --- | --- |
| BEST FOR  | Cost-effective Medical Treatments |
| SERVICES | Anti Aging, Pigmentation, Acne Scar Removal, Wrinkle Removal, Nose Filler, Laser Tattoo Removal, and Hair Loss Treatment |
| WEBSITE | https://sozoclinic.sg/ |
| ADDRESS | 1 Raffles Place, #05-12/13, Singapore 048616 |
| CONTACT DETAILS | +65 6935 1811 |
| OPERATING HOURS | Monday – Friday, 10:00 AM – 8:00 PM |
 Say goodbye to ugly skin and flabs with Sozo Aesthetic Clinics, one of the most trusted beauty clinics in Singapore.
It's famous for having non-surgical and non-invasive treatments with minimal downtime and quick recovery, allowing customers to get back to their daily routine as soon as possible.
Sozo Aesthetic Clinics is headed by Dr. Justin Bozo, one of the first doctors in Singapore to use FDA-approved equipment. So, if you want an aesthetic clinic that's a pioneer in using top-of-the-line beauty technologies, then you'll definitely like this one.
It prides itself on being an aesthetic clinic that prioritises the needs and safety of customers, and never profit. That's why it continues to offer beauty treatments that are at a significantly lower price compared to its competitors.
Highlights
Affordable treatments
FDA-approved technology
Non-surgical treatments
Customer Reviews
Read some of the reviews Sozo Aesthetic Clinic has received:
"Been with Dr Justin and his team for a year now on various treatments. And I have to say they have been one of the most attentive and dedicated people I have worked with on the journey to great skin. No nonsense and pushy approach, Dr Justin will only advise and recommend accordingly with the precise tailored treatment option as he deem fit for every individual"
 "Had a pleasant journey to great skin with Dr Justin Boey and his team. I vividly recall my first visit to Sozo in mid 2018. I was keen to find out more about Pico laser to treat my pigmentation and at the same time apprehensive about such treatments. During my first consultation, Dr Justin was very patient in addressing my skin concerns and his explanation and sharing on the subject matter was very professional and comprehensive. Since then I have been going to Sozo for other treatments as well and my skin conditions have improved significantly. I always walked out of the clinic feeling happy and confident after every visit."
9. Cove Aesthetic Clinic
| | |
| --- | --- |
| BEST FOR  | Beauty treatments and products |
| SERVICES | Botox, Fillers, Microdermabrasion, Ultherapy, Scar Removal, Chemical Peel, and Body Slimming |
| WEBSITE | https://coveaestheticclinic.com.sg/ |
| ADDRESS | 501 Orchard Rd, #04-07, Singapore 238880 |
| CONTACT DETAILS | +65 6734 6531 |
| OPERATING HOURS | Monday – Friday, 10:30 AM – 8:30 PM |
Considered one of the most in-demand aesthetic clinics in Singapore, Cove Aesthetic Clinic offers a wide range of services that target every point of the body — from the face down to the toes. It's headed by Dr. Rachel Lim, who has years of experience in non-surgical medical aesthetics.
According to previous customers, Cove Aesthetic Clinic is the best option for botox, fillers, V-face laser, and chemical peels. We think it's one of the best aesthetic clinics in Singapore because it uses the most updated, FDA-approved Korean beauty technologies.
It also offers personalised, tailored services to ensure that your needs will be properly accommodated with the right machine and products.
Above all, Cove Aesthetic Clinic has significantly lower rates compared to other clinics. So, if you want to feel good about yourself without draining your wallet, this one's the right clinic for you.
Highlights
Reasonable rates
Non-surgical treatment
Personalised treatment
Customer Reviews
Most customers really adore the services of Cove Aesthetic Clinics. Here's what they have to say about it:
"Always love going to Cove for my treatments with Dr Rachel who is always so caring and nice. I trust her alot as all the treatments that she has recommended for my face and body all these years have shown me very good results! Very good service plus the wheelock clinic now is so pretty!"
Dr Rachel is very experienced and friendly. She takes time to explain what she feels is best for me and never pressures me to go through any procedure. She always listens to my concern and my needs. Very patient and gentle to me. I did my deep pore laser , baby booster and fat freeze treatment there ,very happy with the results. I'm so grateful to Dr Rachel and her team!"
10. AESTEEM AESTHETIC CLINIC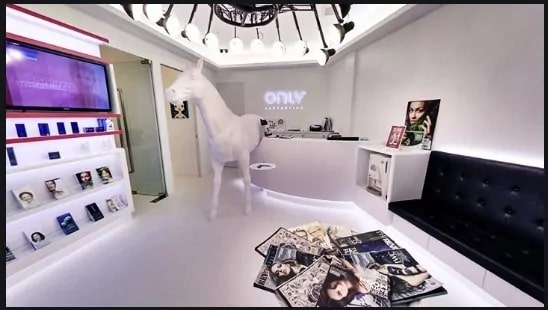 | | |
| --- | --- |
| BEST FOR | Acne Scar Removal |
| SERVICES | Eye bag removal, Non Surgical Face Lift, Fine Lines & Wrinkles, Pigmentation |
| WEBSITE | https://aesteemclinic.sg/ |
| ADDRESS | 10 Sinaran Dr, # 11-23 Novena Medical Center, Singapore |
| CONTACT DETAILS | +6568505050 |
| OPERATING HOURS | Monday to Friday: 10:00 am – 8:00 pm |
Aesteem Clinic offers a wide range of skin treatments that are clinically tested to be effective and safe. Their primary goal is to provide treatment that is not painful and that offers quick results. 
They cater to all parts of the face and skin problems. They provide treatment to manage your eyebags. They also perform non-surgical face lift to tighten and slim your face. Other than these, they also offer threadlift, pigmentation, injectables, acne scar treatment, and many more. 
Start your journey to beautiful skin by visiting their clinic. Book a consultation now to know which treatment would be suitable for your skin. 
SERVICE HIGHLIGHTS
Acne Scar Removal

Non-Surgical Face Lift

Pigmentation Removal

Eye Bag Removal
11. DAVID LOH SURGERY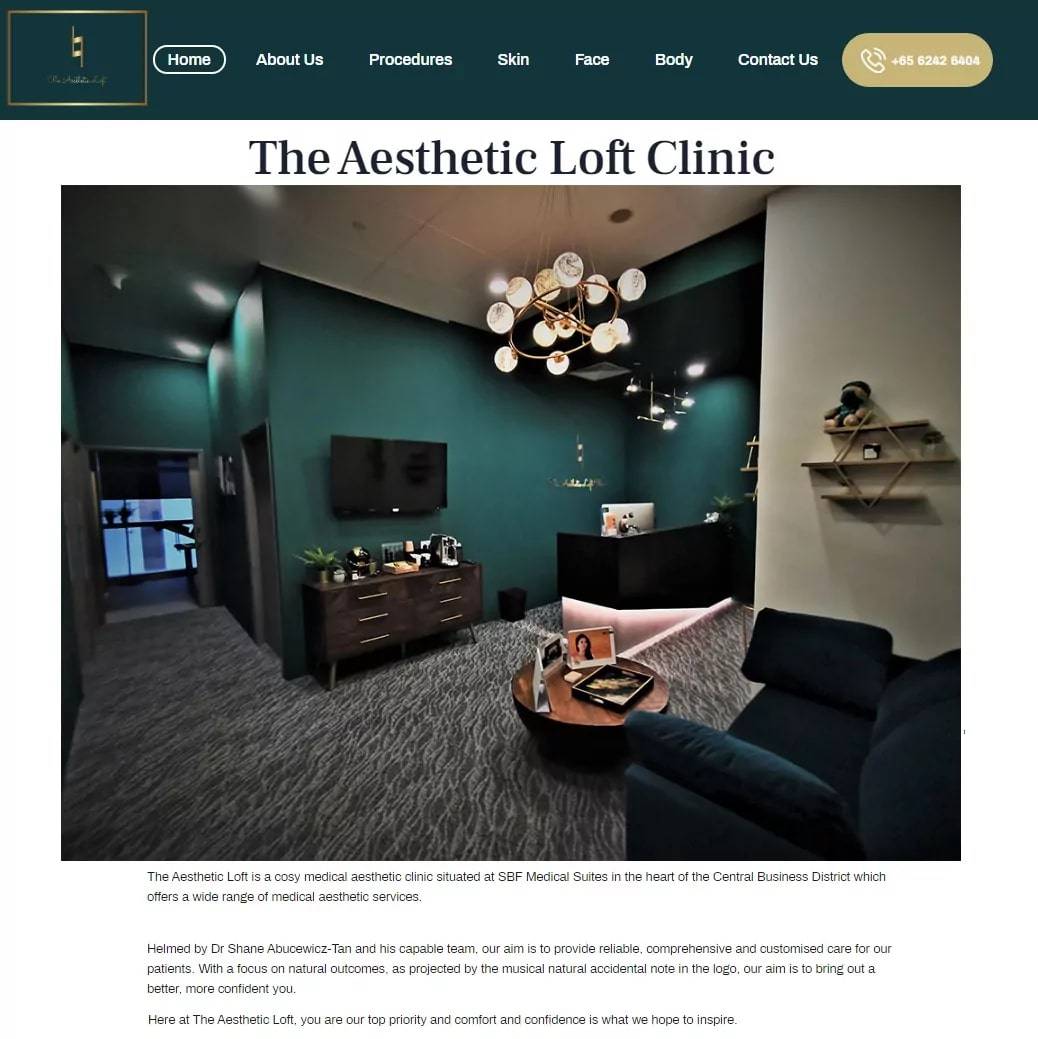 David Loh surgery has an experienced and skilled team that would help you achieve your facial aesthetic needs. They offer a wide range of services that could fit any of your skin concerns or facial feature issues. 
Aside from the facial treatments, they also offer hair and body treatments for their customers. They wanted to help in  achieving their customer's full potential through enhancing their appearance. 
You could now schedule an appointment with them online. Try some of their best services like botox, fillers, and liposuction. 
SERVICE HIGHLIGHTS
Online booking

Various botox treatments

Competent doctors and friendly staff

Personalized care
12. LIM CLINIC & SURGERY MEDICAL AESTHETICS
BEST FOR
Face, Hair & Body Treatment
SERVICES

Procedures & Treatments

WEBSITE

https://www.limclinicandsurgery.com/

ADDRESS
Blk 109 Lorong 1 Toa Payoh #01-312
Singapore 310109
CONTACT DETAILS

+65 6252 7473

OPERATING HOURS

Monday – Tuesday: 8:00 am – 9:00 pm

Wednesday: 8:00 am – 4:30 pm

Thursday – Friday: 8:00 am – 9:00 pm

Saturday: 8:30 am – 4:00 pm
Lim Clinic & Surgery Medical Aesthetics has a wide offering of procedures for your hair, face, and body. They are a one stop shop to create a wider array of services to give your face the treatment that it needs. 
They believe that each patient has a different requirement from one another, so their treatments are customized per person. To ensure that you get the proper treatment, they run some tests to thoroughly study the needs of your skin. 
They would help you achieve your beauty goals through their personalized service and effective treatments. Whether you want hair regrowth, acne removal, and others, you could definitely rely on Lim Clinic and Surgery. 
SERVICE HIGHLIGHTS
Wide Range of Treatment for hair, face & body

Customized Treatment

Treating scars, wrinkles, and acne scars

Procedure in augmentation of nose, cheeks, and lips
CUSTOMER REVIEWS
Lim Clinic and Surgery customers were impressed at the professionalism and knowledge of its staff. They loved how the doctors explained their condition and the best way to treat it. 
"I consulted Dr Lim for my skin pigmentation. He was very professional and explained clearly about the various treatments available. He treated me with lasers and skin care products."
"Doctor was great and explained in detail. Good service and result :)"
13. ISABELLA AESTHETICS
BEST FOR
FACIALS AND SKIN CARE TREATMENTS
SERVICES

Service offerings

WEBSITE

https://isabellaaesthetics.com.sg/

ADDRESS

Scotts Square Orchard 

6 Scotts Road, Scotts Square, #B1-24, Singapore 228209

Jurong Point

63 Jurong West Central 3, Jurong Point #B1-43 S648331

CONTACT DETAILS

Scotts Square Orchard 

91880153  / 66948880

Jurong Point

82989291 /68151172

OPERATING HOURS
Sat and Sunday – 10am to 7pm / mon to fri 1030am to 9pm
Isabella Aesthetics is a well known skin clinic in Singapore. They offer affordable and easy skin treatments and procedures at the best quality. 
They offer skin care treatments that are popular today like glass skin glow, korean v shape face, eyelash extension, and many more. These are also some of the top services that they currently perform to their customers. 
They perform skin analysis first to know more about your skin conditions. With that, they will then recommend skin treatments to help with your conditions.
SERVICE HIGHLIGHTS
Needleless procedure

Eyelash extension

Professional staff

Korean skin boost
CUSTOMER REVIEWS
Customers feel warmth whenever they visit Isabella Aesthetics. They loved the accommodating and friendly staff that always give them a smile and warm welcome. 
"Their staff was really friendly …and they first did a skin analysis before starting. scan my skin.. my skin has got a lot of acne and i was pretty amazed with what the analyzer could detect.The treatment was good. I slept. i love the massage. just dozed off unknowingly."
"Isabella Aesthetics staff always welcome me with a warm pleasant smile, and display professionalism . "
14.  Cutis Medical Laser Clinics
| | |
| --- | --- |
| BEST FOR  | Face and Body Treatments |
| SERVICES | Botox, Chemical Peels, Dermal Fillers, Thread Lift, Laser Vein Removal, Body Sculpting, Liposuction, and Fat Freezing |
| WEBSITE | https://www.cutislaserclinics.com/ |
| ADDRESS | 9 Scotts Road Pacific Plaza Scotts Medical Center #08-07, Singapore 228210 |
| CONTACT DETAILS | +65 6801 4000 |
| OPERATING HOURS | Monday – Friday, 10:00 AM – 8:00 PM |
If you want an aesthetic clinic that focuses on facial and body treatments, then you will definitely love Cutis Medical Clinics. It's headed by Dr. Sylvia Ramirez, a licensed physician with more than 20 years of experience in aesthetic medicine.
Among the services offered by Cutis Medical Clinics are facial, fillers, chemical peels, botox, eye bag removal, liposuction, fat freezing, and many more. We consider it one of the best aesthetic clinics in Singapore because of the range of its services.
In addition, it's received multiple awards, attesting to its excellence as a clinic. Some of the awards it's received are the Reader's Choice Awards and Customer Service Awards.
If you want more tips on skincare and bodycare, you can just go to its website and read some of the blog posts. In case you don't find what you're looking for, maybe it's time to drop by its office!
Highlights
Licensed and experienced head physician
Wide variety of services
Multi-awarded
Customer Reviews
 As one of the best aesthetic clinics in Singapore, Cutis Medical Clinics has mostly received praise from customers. Here are some of them:
"I would highly recommend Cutis Clinic for any skincare need.  The staff were extremely helpful and attentive and Dr Sylvia was extremely informative, friendly and knowledgeable.  Most importantly she made me feel comfortable and confident with any procedures I might have, because of her professionalism and expertise. Highly recommend this clinic." 
"This is the most professional and friendly clinic I have personally experienced in both Singapore and worldwide. I suggest going for a consultation and you will see the knowledge and the technology they have will reassure you that this is the place to trust with anything from facials, botox or more. I cannot recommend it more highly." 
"I cannot speak highly enough about Dr Sylvia Ramirez and her team. They are warm, highly trained and genuinely committed to providing a first class service, ensuring you will feel great about the results of any treatments you choose to have. An easy 5-Star rating from me!"
15. The Aesthetic Loft Clinic

BEST FOR

Wide range medical aesthetic services

SERVICES

Rejuvenation, Acne, Acne Scars, Hypertrophic scars / Keloid , Pigmentation, Skin Brightening, Hair Removal, Tattoo Removal

Redness, Vessel Reduction, Facial Sculpting, Body Sculpting, Cellulite, Skin Tightening, Stretch Marks and Sweat Reduction

WEBSITE

https://aestheticloftclinic.com/

 

ADDRESS

160 Robinson Rd, #03-13 SBF Center, Singapore 068914

CONTACT DETAILS

+65 6242 6404 |

[email protected]

 

Operating Hours 

Monday

10am–8pm

Tuesday 10am–8pm

Wednesday 10am–8pm

Thursday 10am–8pm

Friday             10am–8pm

Saturday 9am–6pm

Sunday Closed
Aesthetic Loft Clinic focuses on bringing out the best in you with the help of their treatment procedures. They aim to provide you with reliable, comprehensive and customised care.
They offer various treatments and procedures that you need for your self transformation at the same time can be of help to boost your confidence.
Dr Shane Alexander Abucewicz Tan is the medical director of this clinic, he graduated from the National University Of Singapore with a Bachelors in Medicine in Surgery and later attained his postgraduate surgical membership at the Royal College of Surgeons of Edinburgh.

Highlights
Professional Doctors

Wide range medical aesthetic services

Extensive range of treatments and procedures
Customer Reviews
Atlas Pacific Medical's doctors are really approachable, they really listen to their patients and give them accurate and expert advice that could really help them a lot.

"I have visited this clinic for vaccinations and consultations. All my visits have been pleasant so far.  The receptionist was very helpful and the doctors were very attentive to whatever health concerns I had during my visits. Definitely would go back but not too soon hopefully "

16. Bio Aesthetic Medispa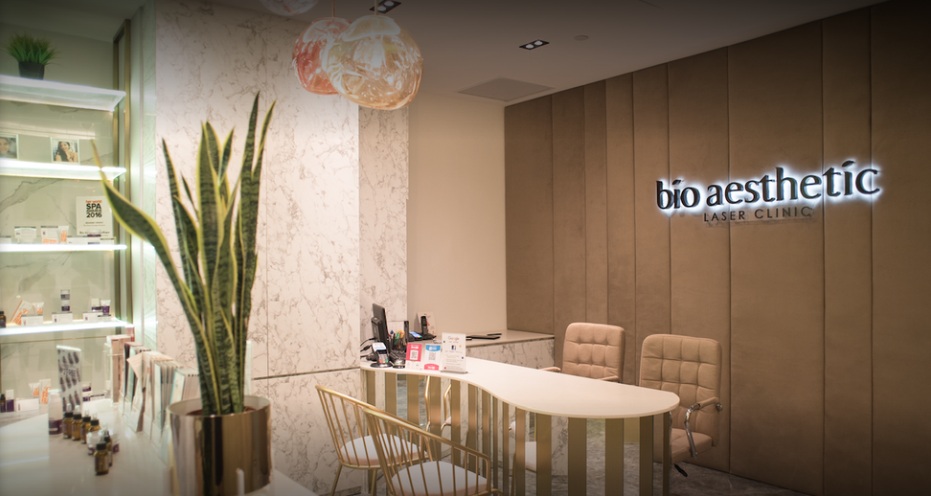 BEST FOR

Multi-awarded spa

SERVICES

Lip Fillers, Hydrating Booster for Intense Hydration, Chemical Peel Express, Fractional RF Skin Tightening, PhytoPeeling Hulk Acne Therapy, Opsis EyeLift Antitox, Thavma Wrinkle Control Therapy, 

Fat Freezing

WEBSITE

https://bioaesthetic.com.sg/

 

ADDRESS

Palais Renaissance, 390 Orchard Road #03-01 Singapore 238871

CONTACT DETAILS

+65 6333 4566

OPERATING HOURS

Mon- Fri 11am to 8.30pm

Sat: 10am to 6pm

Sun & Public Holidays Closed
Bio Aesthetic Medispa is a multi-awarded clinic offering an extensive range of aesthetic treatments that redefine and achieve beauty goals of all shapes and colors. They provide numerous procedures from the face down to the body.
Their clinic is completely equipped with the latest technology to ensure the quality of their work as well as the safety and comfort of their clients. They also feature some of today's most sought after beauty brands.
Highlights
Wide spectrum of aesthetic services

Medically Designed Treatments

Experienced Aestheticians
Customer Reviews
Here's one of the reviews as posted on Google Reviews.
"Had an amazing experience at this clinic. Dr fin, Jennifer, Rachel and xiao man were really friendly and helpful in explain the details to me. Nice ambience and atmosphere was great. Felt really relaxed throughout the whole procedure. Highly recommend and will totally visit again!"
17. S Aesthetics Clinic

BEST FOR
Face fillers
SERVICES
Popular Treatments, Face Treatments, Skin Treatments, Eye Area Treatments, Hair Aesthetics Treatments, Body Treatments
WEBSITE
https://saestheticsclinic.com/
ADDRESS
9 Scotts Road #07-07
Scotts Medical Centre (Pacific Plaza)
Singapore 228210
CONTACT DETAILS
Email: [email protected]
Telephone: +65 6235 0338
WhatsApp: +65 90207234
OPERATING HOURS
Mon-Fri: 10am – 8pm
Sat: 10am – 6pm
Sun & Public Holidays: Closed
S Aesthetics Clinic is considered one of the best aesthetic service providers in Singapore, due to their pain-free, high quality aesthetic treatments. They offer various services involving both the face and body.
Their two main doctors, Dr. Sii Sik Liong and Dr. Kwan Yuan Dong, can be counted on to deliver only the best aesthetic treatments. With their aesthetic skills and dedicated customer service, you can rest assured that they will deliver the results you desire.
Highlights
Expert aestheticians
Great customer service
High quality equipment and materials
Customer Reviews
Check out some reviews left by S Aesthetics Clinic on Google review:
"Hands-down the best doctors I have ever seen.
Dr. Sii and Dr. Kwan really took the time and listened to my situation with patience to really understand what is best for solving the issue. I was having some allergic reactions from a lip filler, which I got from a different clinic a couple months ago. My lips were very swollen when I walked into S Aesthetics. I was in a middle of a business trip, so you can imagine, I was under great pressure and stress with the situation.
They explained to me in a logical and calm manner each step of the way, so I had little fear during the dissolving process.
I am so appreciative of their work and my situations have immediately gotten better.
Please keep up the wonderful things you are doing because the world needs doctors like you.
Thank you."
18. Dr. D Aesthetics Medical Clinic
BEST FOR
Full body treatments and services
SERVICES
Face
Botulinum Toxin Injection
Facial Contour Filler Injection
Fotona 4D Face Lift
Thread-Lifting
Non-Surgical Nose Enhancement
3rd Generation HIFU
Anti-Ageing Injections
V-Shape Face Contour
Dysport V-Lift
Eyes
Anti-Wrinkle Injection
Tear Trough Filler Injection
Rejuran "I" Injection
Fotona Smooth EYE Laser
Upper Eyelid Lifting
Legacy Fine Lines Reduction
Green Vein Laser Reduction
Body
Armpit Sweat Reduction
Cellulite Reduction
Freezesculpt Fat Freeze
Body Venus Legacy Fat Reduction
Stretch Marks Reduction
Scar Remodelling
Long-Pulsed Laser Hair Removal
Laser Tattoo Removal
FOTONA TightSculpting
Skin
HA Skinboosters
Rejuran Healer
Acne Scar Laser
Acne Treatment
Laser Pigment Reduction
Skin Magic Enzyme Glow
Growth Factor Infusion
HydraPeelFacial
Omega Light Therapy
Smooth Skin Rejuran Skinboosters
Spider Veins Laser Removal
Neck
Skinboosters Rejuvenation
Venus Viva Neck Lines Reduction
Venus Legacy Neck Firm
Fotona Tight Laser
Rejuran Neck Rejuvenation
General
General Health Screening
HPV Vaccine
Blood Test
STD Diagnosis & Treatment
Medical Consultation
Minor Surgery
WEBSITE
https://drdaesthetics.com/
ADDRESS

Liat Towers, 541 Orchard Road #20-01, Singapore 238881

CONTACT DETAILS
Email
[email protected] & Whatsapp
t: +65 63334401 | m: +65 98629916
OPERATING HOURS

Mon-Fri 10am – 9pm | Sat 10am – 7pm | Sun closed
Dr D Aesthetics was established to help people enhance their beauty without too many invasive treatments. Their main goal is to provide a more natural type of procedure at a fraction of the usual price.
The clinic opts for a holistic approach to aesthetics, allowing improvement on materials and equipment that are clinically approved. Advanced technology is used to fasten the procedure without compromising the quality of work. It also helps that with the discoveries used in the clinic, downtime is shortened and the results, long-term.
Knowing that you deserve only the best, the team in Dr D Aesthetics is ready to accompany you to your journey in finding the right treatments for your beauty needs. Head out for an appointment for consultation soon!
Highlights
Amazing skin products
High-tech procedures
Minimal downtime
Customer Reviews
Here's what satisfied clients had to say when they reviewed Dr D Aesthetics' amazing services:
"I have been with Dr D Aesthetics for the last 4 years till now. They will understand you needs and provide their recommendation at your best interest yet without pressuring you to sign up package. After taking up their treatment and skin booster, i have seen my eczema skin improve tremendously and even my friends notice the huge difference. I decided to bring my mum for pigment removal treatment and she is pleased with the result as well. Highly Recommended."

"I have a very comfortable experience with them.
I think a lot of girls will feel excited and at the same time feeling anxious about the procedure. We will worry it's that any pain, any side effects, this and that…
In my visit, Dr. David gave me a very professional explanation and the nurse here we're super friendly, they provide a very relaxing environment for me.
And the most important thing is the skill of Dr. David! I have an under eyes filling treatment. And the result makes me very satisfied! Compare to a few other clinics I have been checked, the price is really good too!!!
Dr. David only suggests you do what you need to and never push you to get something you don't need! This makes me very surprised and happy with it!! Strongly recommended!!"
19. Dream Aesthetics & Plastic Surgery
BEST FOR
KRUM Anchor Mesh Lift
SERVICES
Various aesthetic treatments and surgeries for the face and body
WEBSITE
https://www.dreamplasticsurgery.com/
ADDRESS
290 Orchard Road, #17-03/04 Paragon Singapore 238859
CONTACT DETAILS
Tel: 65 6871 8888
Email: [email protected]
OPERATING HOURS
Mondays – Fridays: 10am – 5pm
Saturdays and Sundays: Closed
Closed on Public Holidays
Dream Aesthetics & Plastic Surgery is a clinic that provides numerous aesthetic treatments in Singapore. To bring out the beauty in each individual, they offer many customised and non-invasive aesthetic treatments for you to choose from. They make sure that these services are not only of the highest quality, but are also safe for everybody.
These aesthetic treatments aim to enhance both their client's physical appearance and lifestyle. With their calibrated approach, they deliver only positive and natural results.
No matter the aesthetic need, Dream Aesthetics & Plastic Surgery will offer the appropriate solution. Contact them now!
Highlights
Wide variety of aesthetic treatments
Also offers cosmeceutical products
20. DermClear Aesthetic and Laser Clinic
BEST FOR
Bespoke Beauty Solutions
SERVICES
Face, Body, and Skin Treatments
WEBSITE
https://www.dermclear.com.sg/
ADDRESS
1 Grange Road, Orchard Building #10-03
(above the H&M Orchard flagship store)
Singapore 239693
CONTACT DETAILS
Tel: +65 6356 5005
Email: [email protected]
OPERATING HOURS
10.30am – 7pm (Mon-Fri)
10.30am – 3pm (Sat)
Closed on Sun & Public Holidays
Receive the beauty you want to achieve with DermClear Aesthetic and Laser Clinic's help. For years on end, the clinic has provided the people of Singapore state-of-the-art facilities and services at a more competitive price.
Rest assured that the quality will never be compromised as they only conduct scientifically-proven aesthetic treatments, and uses FDA-approved and CE mark medical equipment.
With their experience and expertise, you're sure to be satisfied with the results. Take a look at the services DermClear Aesthetic and Laser Clinic offers on their website and book your appointment.
Highlights
Professional and time-honed efficiency
Delivers superior results
Beauty pick-me-up at lunchtime or after office hours
That's it for our list of the best aesthetic clinics in Singapore. We hope you were able to pick out which one you think can fix all your problems.
Do you know another superb aesthetic clinic in Singapore that wasn't part of our list? If you do, tell us about it and we'll check if we can add it to our roster.
After visiting the beauty clinic, don't you think dropping by a hair salon would complete your beauty treatment? If you believe so, make sure to check our list of the best hair salons in Singapore.