The 5 Best Posture Correctors in Singapore
If you've been experiencing frequent back pains and neck strains, there's a huge chance that they're caused by poor posture. We strongly recommend getting your hands on the best posture correctors in Singapore to prevent those simple body aches from escalating.
Luckily, we did the work ourselves and scouted the entire island in search of high-quality and cost-efficient posture correctors. We even asked recommendations from people who have found comfort in wearing the best posture correctors in Singapore.
It's worth noting that not all posture correctors can be used by everyone. You have to keep in mind certain factors to know which posture corrector can provide what your body needs.
Worry not though because we're here to share some of the things you need to consider before adding that posture corrector to your cart.
How to Buy the Best Posture Correctors in Singapore
If you can't help but hunch your shoulders and disengage your core muscles, there's nothing to worry about because you're not alone. There are more people who struggle to keep a straight posture that you can imagine.
Anyway, the most effective and affordable way to remind yourself to sit and stand right is to purchase the best posture correctors in Singapore. Hiring physical therapists is effective too, but that's going to cost a lot of money.
In this article, we're going to tell you everything you need to consider when looking for the best posture correctors in Singapore. Knowing these will make it easier for you to choose from our picks later.
1. Type of posture corrector
The most common types of posture correctors are back braces, posture belts, and posture shirts. All of these do the job well, so your choice will ultimately boil down to personal preference.
Back brace is the most common out of all these. It usually fits over the shoulders and pushes into the spine's middle region to straighten the upper spine and neck, forcing the shoulders to retract.
It can work with most people with posture problems, even those with injuries. Some people we talked to mentioned that it took a while for them to get used to back braces, but that's not really a deal-breaker for them.
Posture belts, on the other hand, help correct posture from the base of the spine. They're highly recommended for people who sit in front of a computer for hours on end.
Posture shirts typically come in an elasticated material and are considered the standard form of posture correctors. They can be used by everyone because they press on the main muscle groups.
2. Comfort
More than type, we believe that comfort should be the top priority when looking for the best posture correctors in Singapore. If it's too uncomfortable, it doesn't matter how effective it is because you'll struggle wearing it.
If possible, try to wear the posture corrector yourself to see if wearing it the entire day is comfortable. There's no other way to know a posture corrector's comfort level than wearing and testing it yourself.
3. Material
The best posture correctors in Singapore come in a variety of materials: cotton, spandex, latex, lycra, and rubber.
If you're looking for something durable and easy to maintain, then go for a latex, spandex, or lycra model. You need to be extra careful with posture correctors made with latex because some users experienced skin irritation after using them for an extended period.
Meanwhile, posture correctors made out of cotton are considered to be the most comfortable ones to wear for hours on end. They're machine-friendly too, so cleaning and maintaining them won't be a huge trouble.
Lastly, rubber models are usually the cheapest ones, but only a few people choose them because of durability concerns.
4. Adjustability
Adjustability isn't a priority when looking for posture correctors, but it can make a huge difference to your experience wearing it. If you can't find a posture corrector that's tailored fit to your body, then going for one size larger would suffice, as long as it comes with adjustable straps.
The Best Posture Correctors in Singapore
Now that you know which features to take note of when shopping for the best posture correctors in Singapore, it's time to browse our list to see which one fits your needs.
We've listed the options for the best posture correctors in Singapore that cater to the varying needs of people of all ages. Check them out below!
1. YOMYM Shoulder Straightener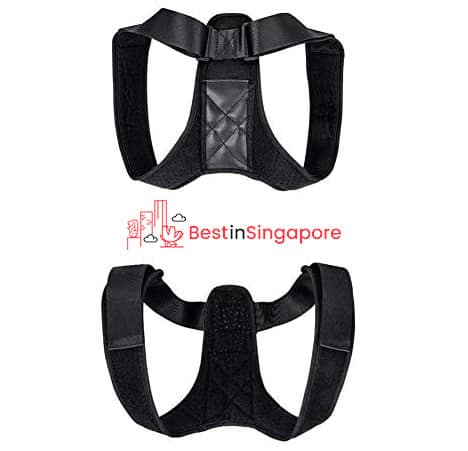 Price: S$8.59
Let's start our list with the cheapest option we could find: YOMYM Shoulder Straightener. It's a budget-friendly shoulder straightener that provides pain relief, supports the upper body, relieves muscle tension, and improves general posture.
What we like about it is how high-quality its materials are despite being a cheap posture corrector. It's made from breathable material that doesn't feel too hot even if you're wearing it the entire day in a place as hot as Singapore.
Another reason we consider it one of the best posture correctors in Singapore is the fact that it can be used by both men and women. It comes with adjustable straps because men naturally have bigger build and wider shoulders.
You don't have to worry about feeling restrained while using the YOMYM Shoulder Straightener because it's extremely lightweight. In fact, some people even use it while doing minimal physical activities such as cardio and core exercises.
Pros
Affordable
With adjustable straps
Invisible design under clothing
Made from durable and lightweight materials
Cons
Not suitable for kids
Shipping might take a while
2. VOKKA Posture Corrector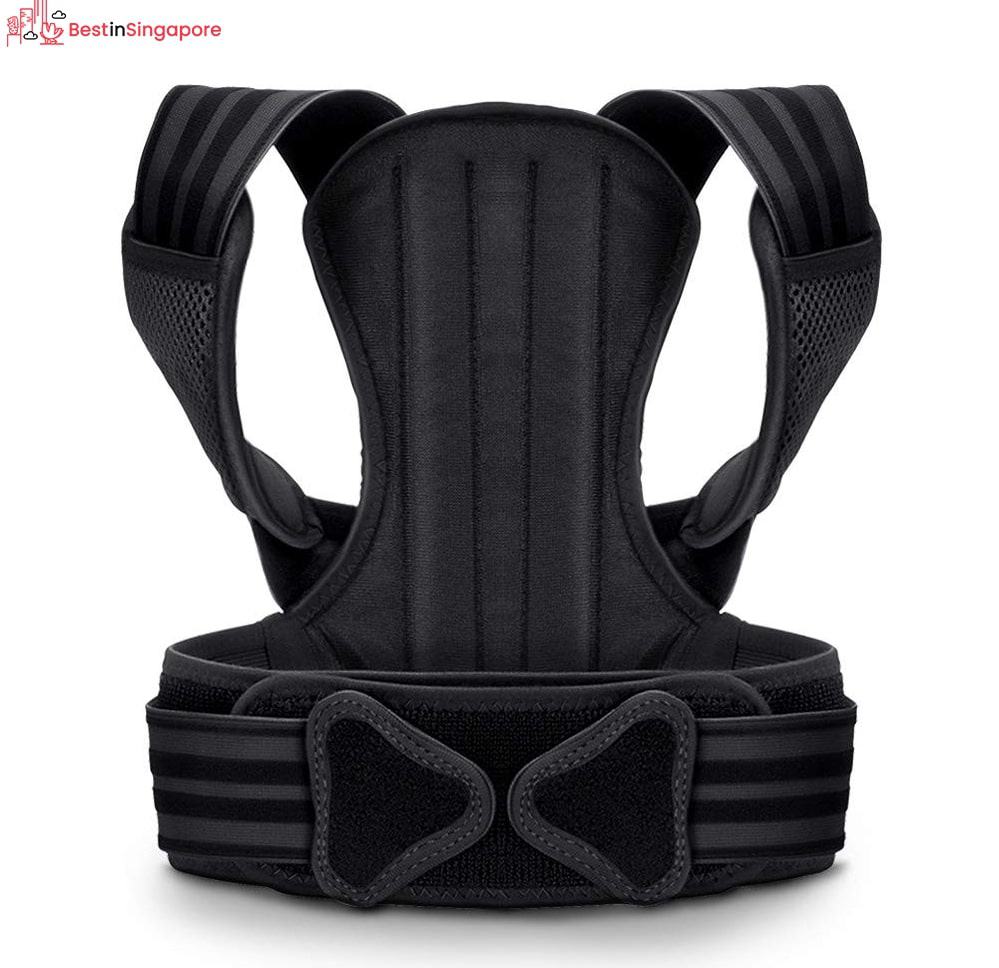 Price: S$14.40
Another budget-friendly option is the VOKKA Posture Corrector, costing no more than S$15. It's designed to provide long-term relief and posture support to people who spend most of their day sitting in front of a desk.
The VOKKA Posture Corrector reduces the chances of developing neck strains, back pains, underarm pains, and shoulder discomfort due to its double X design. It features ultra-soft cotton paddings that evenly distributes the pressure over the shoulders and chests, providing all-day comfort to the user.
Compared to other posture correctors, it comes with 2 back braces plates that don't restrict movements in any way and provide better back support as the fit is adjusted. Some people wear them to the office or while doing household chores at home.
You won't have to worry about it breaking down after only a few months as it's made from high-quality and breathable fabric, made better by the tough stitching and elastic design.
Pros
Reasonably priced
Double X design
Durable and breathable materials
Lifetime warranty
Cons
Not suitable for kids
Come in limited sizes
Customer Reviews
Here's what customers who got it off Amazon had to say about it:
" Iuse this brace while I'm on my computer and it does what it's supposed to do…..pull you into position and keep you there. The information that comes with the brace tells you not to wear it more than 20 minutes until you get used to it. I suspect that a lot of the people who thought that they had bought the wrong size because it was so tight probably had worse posture issues than they realized. Stretching, yoga and pilates will also help, so be patient."
"So I've only worn this item for 3 days so far. However, I can say that I'm walking straighter and that my back muscles feel more engaged in keeping my posture correct. I wouldn't say there is soreness per say but you can tell that those muscles have been engaged. Progress slowly with this tool and you'll be standing straighter in no time."
3. SPORTSCO Back Posture Corrector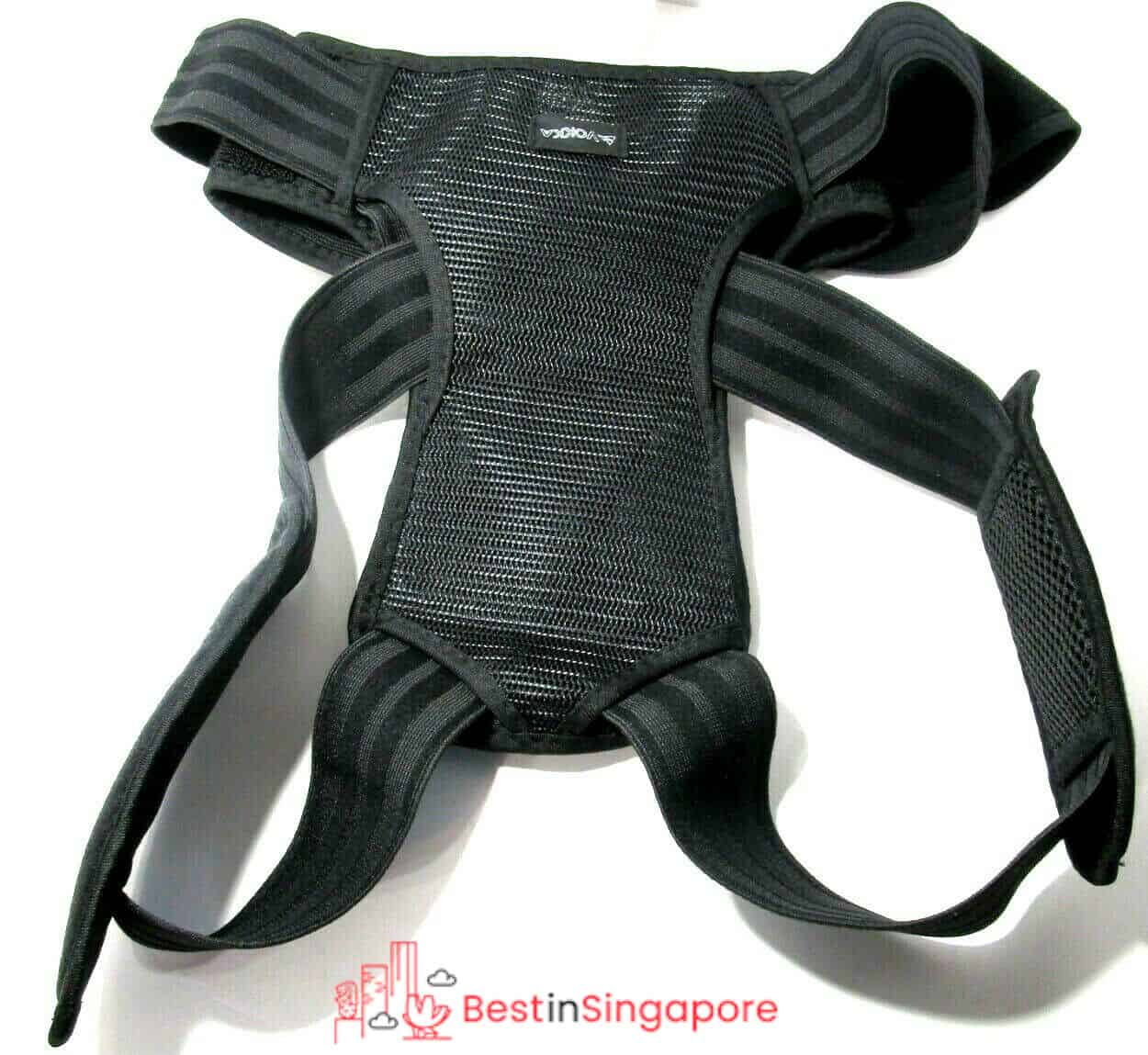 Price: $19.90
The SPORTSCO Back Posture Corrector is another high-quality posture corrector that can be used by both men and women. Most of the people we talked to use it while working out because it's lightweight and doesn't restrict any movements.
It mainly supports the upper back area to prevent the user from hunching, slouching, or worse, developing a "computer posture." It pushes the shoulders back and aligns the spine, eliminating the chances of developing back and shoulder pains after sitting in front of the day for the entire day.
In terms of materials, we like that it's made from premium and breathable fabric that doesn't cause skin irritation even when used for the entire day. It can also be easily adjusted for a more snug and comfortable fit, especially for small and thin women.
The SPORTSCO Back Posture Corrector can be used by anyone, even children and teenagers. You can now help your child develop a straight posture by having them wear this excellent posture correct.
Pros
Can be used by kids
Competitively priced
Breathable materials
Cons
Durability is questionable
No warranty
4. MEDPRO Back Support Belt/Posture Brace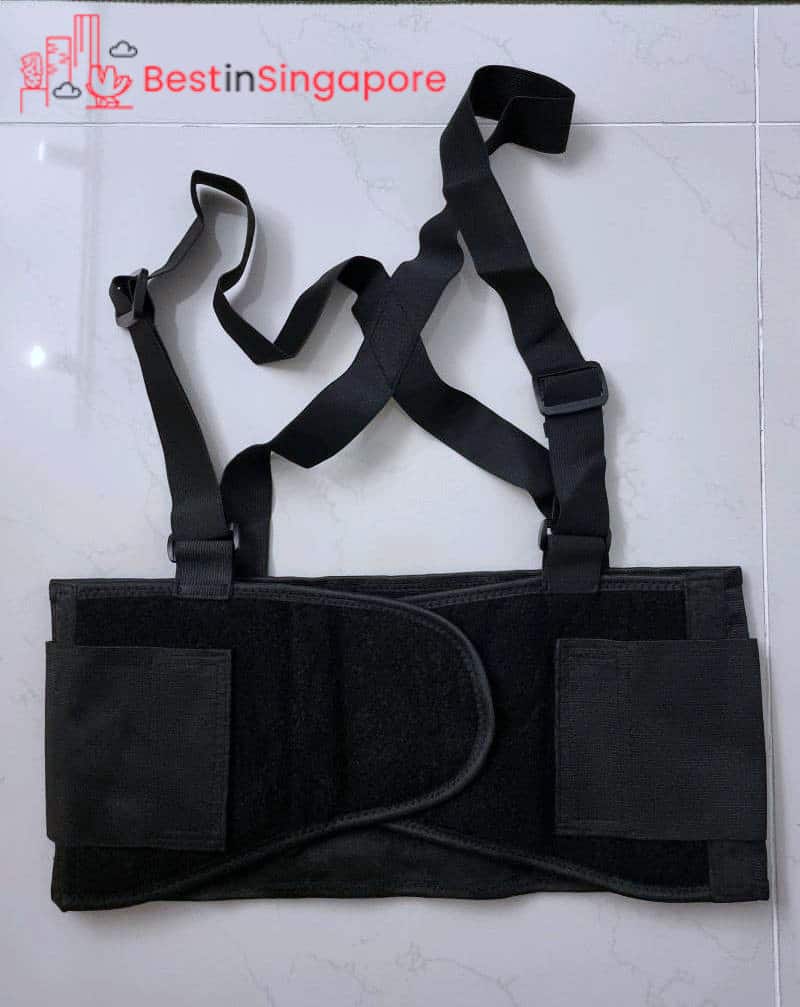 Price: S$44.00
MEDPRO stands as one of the most trusted names in medical supplies, so we're not surprised to discover that it sells one of the best posture correctors in Singapore as well.
The MEDPRO Back Support Belt aims to remove the body aches and fatigue that come with repetitive bending, continuous standing, and heavy lifting. It's a posture corrector that gives extra stability when doing tasks that could be harmful to spinal health.
It's one of the reasons why a lot of people use the MEDPRO Back Support Belt while working out. It can reduce the chances of injuries, on top of eliminating the chances of body pains by the end of the day.
The MEDPRO Back Support Belt is made from high-quality and breathable elastic fabric, so rest assured that it's going to accompany you to the gym for many years to come.
Pros
Made from premium elastic fabric
Perfect for heavy lifting and extreme workouts
Eliminates body fatigue and lumbar body strains
Cons
Expensive
Perfect mainly for heavy lifters
5. Youpin Hi+ Intelligent Posture Belt
Price: $59.89
The Youpin Hi+ Intelligent Posture is unlike any other posture corrector in a way that it reminds that user every time he starts slouching. It comes with a technology that vibrates if it detects that you're not standing and sitting straight.
We have to admit that it's not the most comfortable posture corrector because it doesn't come with padded straps. Although it can definitely train the user to be conscious about his how he's standing and sitting at all times.
The Youpin Hi+ Intelligent Posture is designed for long-term wearing to develop muscle memory. That said, we strongly recommend it those who are determined to improve their posture at all costs.
Those who have used it have found the first 3 days to be unbearable. After regularly using the Youpin Hi+ Intelligent Posture for 3 weeks, they have found that their posture has significantly improved.
Pros
Vibrates when the user's posture isn't straight
Lightweight and breathable straps
Easy to use
Cons
Expensive
Build is a bit flimsy
And with that, we conclude our list of the best posture correctors in Singapore. If you've decided which one to go with, share your pick with us!
In case you want to consult with a specialist before purchasing a posture corrector, we suggest taking a look at our list of the best back pain doctors in Singapore. You can consult with them regarding the type of posture corrector that can best address your problem.