The 5 Best Laptop Cooling Pads in Singapore Reviewed
A laptop cooling pad is a good investment to prevent your laptop from overheating while working or gaming. That's why the best laptop cooling pads in Singapore can help extend the life of your laptop.
We've gathered the best ones out there and put them in a nifty list so you can easily choose one to suit your situation. But before that, we've set up a quick guide that can help you figure out what kind of laptop cooling pad is ideal for your needs.
In any case, let's start!
Laptop Cooling Pads: Where Do I Begin?
There are plenty of great options for laptop cooling pads, but there are 4 factors that you should look out for when assessing them: adaptability, quality, portability, and price.
Keeping these in mind, you'll be able to find a good cooling pad. In any case, let's take each one up in more detail so you understand just how to use them as guidelines for your search.
1. Adaptability
The cooling pad you choose needs to be adaptable. It should be ergonomic enough that the laptop doesn't slip off the pad (a common problem) and it has to sit comfortably within it.
It should support the laptop's size, and can be raised or used in different angles, allowing for maximum usage. That way, it can be raised to effectively cool the laptop in any position.
Pick the ones with additional ports, since plugging in a cooler means sacrificing a port, and having multiple ports means it can double as a dock as well. Another plus is looking for one with a micro USB port for tinier cables.
2. Quality
A cooling pad's quality is based on how efficient it is, or how fast it can cool down the laptop. Many popular cooling pads have a good number of fans in them, with diameters up to 90-110 mm, or fan speeds reaching up to 1000 RPM or so.
Getting something with a fan speed of 1000RPM or higher is essential, since the faster the speed, the faster it cools. The increased airflow helps balance out the temperature.
If you need something really high-powered, then getting something with 5 high RPM fans is ideal. Still, more fans isn't always better.
You see, air pushed out by fans is usually measured by cubic feet per minute — larger fans move more air than smaller ones, so it's a good thing to pick ones that have large fans because those have higher CFM.
The typical CFM varies from 20-70 CFM: the faster the air circulation (the higher the CFM), the more the device remains cool.
Pads with a higher CFM can beat those with multiple, smaller fans, as a result.
3. Portability
It should be a no-brainer that the laptop cooling pad should be lightweight enough to carry around. You need to consider this when buying one.
Another rule of the thumb is that it should be lighter than the laptop, especially if you're the type who puts their laptop on your thighs or a constant traveller who brings their work with them.
Remember, the laptop's weight will add more to the weight of the cooling pad. Never exceed the weight you can carry for long periods of time: comfort is the key here.
The maximum weight should be less than 3 pounds, and minimum would be around 700g. It depends on your carrying capacity, though.
But it's not just about carrying it around. There's also the issue of placing it on leaning laptop desks, and if both the laptop and cooler pad are heavy, the desk balance might get affected.
However, if you're the type who uses laptops as desktops, then portability doesn't matter at all.
4. Price
Many brands sell great cooling pads for an affordable price; just get one that's within your budget. Cooling pads often come for as low as $19.00 to as high as $100+.
The lower-end ones usually have one or two fans, and have constant, unchanging fan speeds: they're often switchless, as well as being flatbeds. The higher the price, the more features the pad will have.
The Best Laptop Cooling Pad in Singapore
Now that we know the tips and tricks to picking quality laptop cooling pads, let's go to the list of the best laptop cooling pads in Singapore.
These picks vary in size and cost, but they sure do a great job of keeping your laptop airy and ventilated.
1.   Cooler Master NotePal X-Slim Ultra-Slim Laptop Cooling Pad with 160mm Fan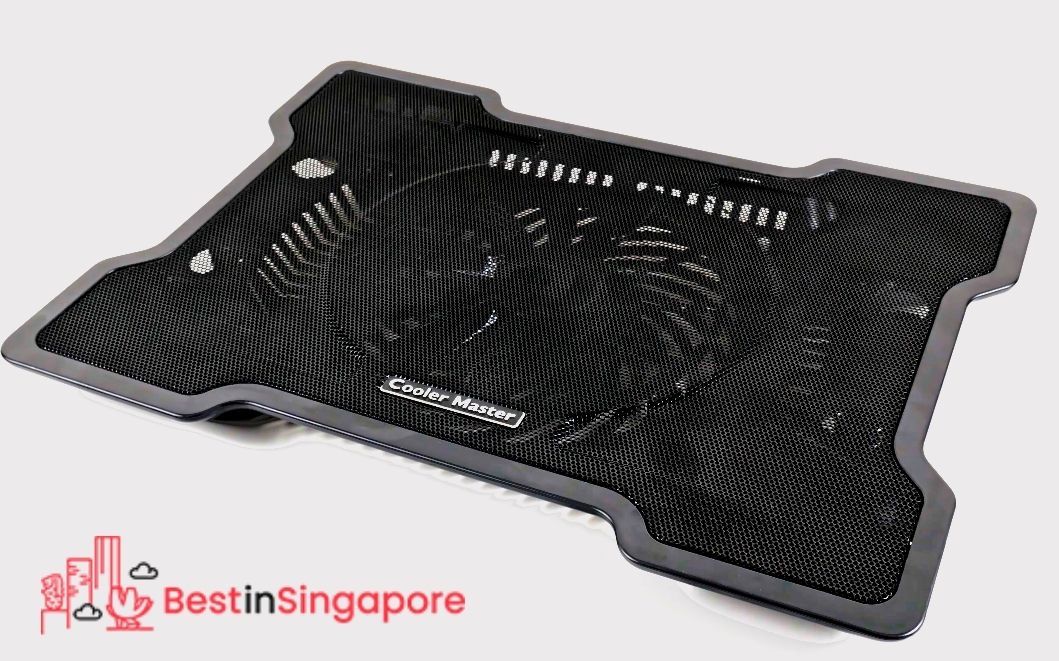 Price:$39.00
Limited Stocks At Shopee, Buy Now
Cooler Master's NotePal X-Slim II is one of the most affordable choices for a cooling pad in Singapore. It's lightweight, yet heavy-duty, and it can withstand heavier laptops without sustaining damage.
Its 200mm fan can give optimal ventilation with its unique profile, and the best part is that the fan has speeds of 1500 RPM. The mix of plastic and metal mesh gives breathability, keeping the laptop cooled.
The fan is noticeably silent, ideal for those who don't like noisy cooling pads, as well as an adjustable height setting where you can tilt it from 0 to 5 degrees.
These features make it deserving of its spot as one of the best laptop cooling pads in Singapore.
Pros
Slim design
No lighting
Compatible with different laptops
Cons
Fan speed cannot be changed
Cables easily damaged
Customer Reviews
Here are some reviews from Amazon about this amazing product:
I don't know why there aren't more laptop coolers that allow you the freedom of modding it to your liking because it would sell amazingly well. I bought the U3 Plus with the intention of doing just that after seeing a review on Youtube that gave me an idea of clearance and space for fan sizes. Unfortunately this was the only real option I came across for being able to mod it.
I came from a crappy Technet Cooling Pad with slow fans that made ticking noises and hardly pushed any air. Temps never changed on idle or load from what I could tell and with a gaming laptop like the Sager NP8652 it heats up pretty quickly. I've played a lot of PUBG and Grim Dawn lately and it's normal for CPU & GPU temps to hit 80c. Are those temps safe? Of course they are, but heat kills electronics and the cooler the laptop runs in the long term the longer it will live.
So I spent a little more than any laptop cooler costs and got what I paid for, cooler temps. Average of 10c drop on load temps for both CPU and GPU. Yes, it is a little louder than a regular laptop cooler because you have more fans pushing air faster thanks to the higher voltage output of the setup, but personally it doesn't bother me. I'm used to the hum of fans and usually have headphones on or the volume up anyways.
This is what I bought to make it all work:
– Noctua NF-A12x15 – https://www.amazon.com/gp/product/B071W6HJP6/
– SilverStone PWM Fan Hub System Cables, Black (CPF04) – https://www.amazon.com/gp/product/B00VNW556I/
– Coolerguys 100-240v AC to 12 & 5v DC 4pin Molex 2A Power Adapter – https://www.amazon.com/gp/product/B000MGG6SC/
– NSIcable 15-pin SATA Power Female to 4-pin Molex Male Power Cable Adapter – https://www.amazon.com/gp/product/B003WSY8J6/
Layout is specific for my laptop based on the location of the vents on the bottom. If setup right, you can fit six 120mm fans on this cooler. I started out with 3 and it works great for my laptop, but actually just bought a fourth
-Fossil
I'm writing a review on this because mine just conked out a couple months ago. Let me reiterate that I purchased this in "2011" that was FIVE YEARS ago. I think that's pretty darned good, for continuous use through two laptops. If I could rate this a SIX, I would. It kept the laptops COOL, which is it's purpose, it LASTED an extremely LONG TIME (compared to most other brands) & it LOOKS extremely COOL. When your laptop lays flat on it, it doesn't slide around (used it on 15.6″ Toshiba Satellite & Sony laptops)
This has an adjustable air speed control (they don't all have that). I do LIKE that it only has ONE FAN, because I've found that multiple fans have a higher tendency to break down & get out of sync. This has a HARD MESH screen. Not like most of the flimsy ones on the market. This thing is built REALLY WELL (I know, mine was DROPPED a few times while hurriedly getting my laptop out the door-Not a Scratch). Of course the Eerie Blue Light is Cool, but that comes on a lot of Cooling Pads. Don't be fooled, they are NOT from the same company. Cooler Master, as far as the model I've used so far, makes a SUPERIER PRODUCT. I would RECCOMENT it to anyone. And Yes, I Do Test & Review Products, but this is one that I purchased Five Years ago & I just want the Amazon buying public to know, it's a GOOD Product.
-Deedeep
2.   Tree New Bee Cooling Pad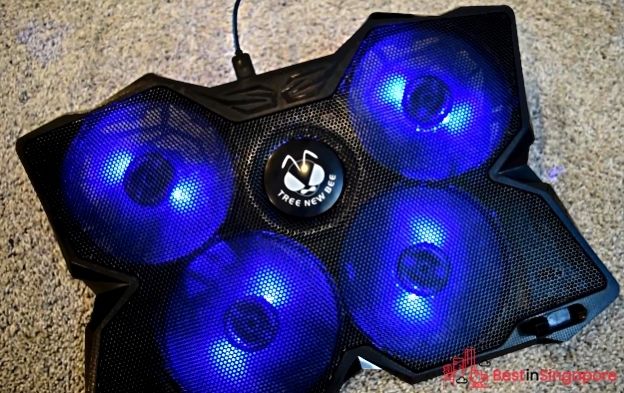 Price: $103.13
Limited Stocks in Lazada, Buy Now
Tree New Bee Cooling Pad's aerodynamic design is as functional as it is stylish. Running with four 110 mm fans, it keeps your laptop cooled with a fan speed of 1200 RPM.
Its non-skid legs prevent the laptop from slipping on its surface and the mesh design made of both plastic and metal is made for optimal cooling. Its adjustable fan speed is also a boon for those who want the settings to be higher or lower.
It can adjust its height and angle too. However, heavier gaming laptops are kind of a weakness for this lightweight little buddy, since it's a bit too steep.
Its gorgeous design as well as amazing features makes it worthy of being on this list of the best laptop cooling pads in Singapore.
Pros
Adjustable fan speeds
Dual built-in USB hubs
Stylish design
Cons
Steep angle
Not for heavier laptops
Customer Reviews
Here are some reviews from Amazon about this amazing product:
My trusty old laptop cooling pad finally quit working last week, so I needed a new one. (I refuse to use a laptop without a cooling pad.) After some careful online research, I decided on the Tree New Bee Cooling Pad TNB-K0025-2.
I chose it mainly because of the overwhelmingly positive reviews at Amazon.com and other online sites, and also because of its low price and its… shall we say… somewhat offbeat looks. It turns out I made an outstanding choice. My new Tree New Bee Cooling Pad TNB-K0025-2 performs brilliantly in every way.
My cooling pad has four fans set up in two banks. I can turn either bank on, or both. I can control each bank's fan variable speed with a rotary switch on the back of the cooling pad. I was quite surprised at the volume of air the fans pushed, even at lower speeds. I was even more surprised at how quiet the Tree New Bee Cooling Pad TNB-K0025-2 is with both banks running at full speed.
All that voluminous air flow and quietude wouldn't matter much if the Tree New Bee Cooling Pad TNB-K0025-2 didn't do what it's supposed to do… namely keep my laptop cool. I'm pleased to report is does its job very well. I saw immediate drops of about 3° Celsius at the main processor, graphics controller, and hard drive temperature sensors. With the Tree New Bee Cooling Pad TNB-K0025-2 running at full speed, my laptop operates in a nice comfortable 39° – 42° Celsius range. (Bearing in mind that, although I'm not a hard-core gamer, I do run a lot of graphics-intensive programs.)
One of my favorite features of my new Tree New Bee Cooling Pad TNB-K0025-2 is the pair of flip-up anti-skid arms located along the front edge of the cooling pad. They do a great job of keeping my laptop from sliding forward when I have the rear legs extended. Also noteworthy are the extra USB port on the back of the cooling pad, and the sturdy USB cable and immense microfiber cleaning cloth that come with the Tree New Bee Cooling Pad TNB-K0025-2.
I am very pleased with my new Tree New Bee Cooling Pad TNB-K0025-2. It does its job very effectively and quietly. I'm sure I will see many years of excellent service from it. Most highly recommended.
-Mike Powers
My use for this thing isn't for a laptop; for what I wanted, it's perfect. I keep my cable modem and my wireless router in my entertainment center since I have a single point of entry for cable. Routers tend to throw off heat, and my surfboard cable modem gets quite hot. To extend the life of these components, I got one of these.
My router and modem fit perfectly side by side on the cooling pad, and the little feet at the bottom keep them from moving around. The fan is silent, and low speed but its wide diameter means it does move air. It's more than enough to keep these items cool. My router has an unused USB port, which powers the fan. It's really the perfect solution for me.
Before I received it, I was concerned about the light being obnoxious, but it is dimmer than the lights on the modem and router themselves, so there's no issue.
-Ryan
3.   Kootek Laptop Cooling Pad
Price:$113.88
Limited Stocks At Lazada, Buy Now
Kootek is definitely a great pick for a cooling pad due to its lightweight, yet durable design. The mesh is made out of metal, and the fanspeeds of this pad is around 2000 RPM, faster than most cooling pads.
It can fit laptops around 12 to 17 inches, and has 5 fans to make sure your laptop gets the most cooling. The pad can be adjusted to six different angles, making it easier for your wrists to operate.
This cooling pad for laptops also has a built-in dual USB hub and controllable fan settings. This pad is worth every penny spent on it, making it one of the best laptop cooling pads in Singapore.
Pros
6 ergonomic positions
Lightweight
Fanspeeds around 2000 RPM
Cons
USB cord is easily breakable
Expensive
Customer Reviews
Here are some reviews from Amazon about this amazing product:
Nifty cooler. It adjusts as the picture shows and has little stoppers to prevent the laptop from slipping off. The fans are quiet and there are two switches in the back that control the fans, so you don't have to have all five going. Great value for the price. The last cooler I had finally died after having it for 5 years and I'm hoping I get the same life out of this one.
-Ell Rae
I have a pretty big laptop– 17.5″ which is bigger than the average 12-15″ size. Finding any type of accessory for this laptop is a bit of a task, and I was skeptical about ordering this cooling pad because I haven't had too many good experiences with cooling pads and laptops in the past. However, I definitely needed one for my new laptop and someone else said this fit their large laptop comfortably, and another one said that their daughter uses it just fine in the comfort of her bed (which is what I also do, so I needed something that wouldn't be awful on my legs or on the rumbled blankets) and honestly, I'm very impressed!
The lights aren't bright at all, or distracting. There are TWO sets of fans you can use- the big middle one, or the four mini ones. You can use one, or the other, or both at the same time, or neither if you so choose. There's no way to deactivate the lights apart from the fans but thankfully none of that bothers me. It's not horribly loud either, and the angle is adjustable and it has two little catchers on the front that aren't invasive or annoying at all!
This is honestly one of the best products I've received from Amazon. I highly recommend this for larger laptops.
-Wynter DeGrote
4.   TopMate C5 12-15.6 inch Gaming Laptop Cooler Cooling Pad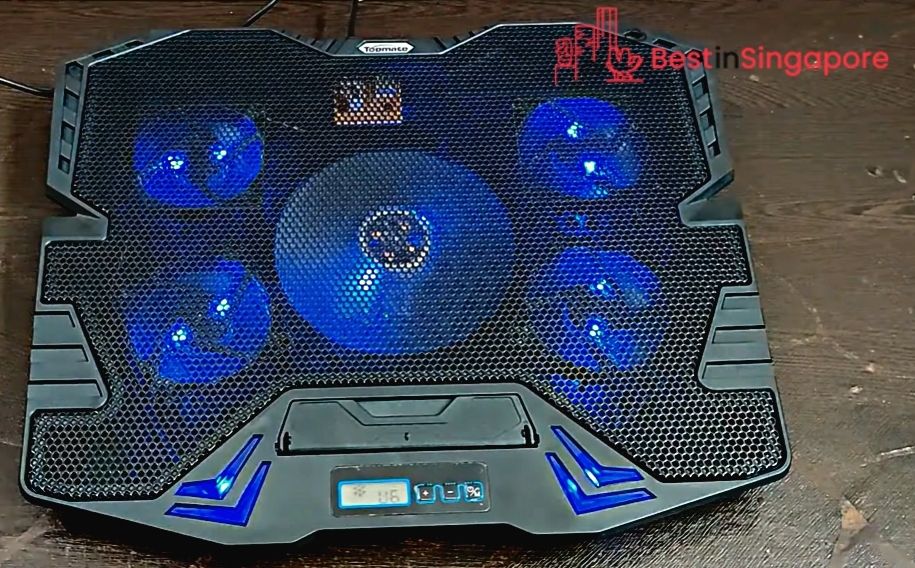 Price: $112.91
Limited Stocks At Lazada, Buy Now
TopMate has five fans for maximum cooling, and looks quite stylish as well. It has six speeds that you can control, as well as3 fan operation modes. It also has a neat LCD display that makes it easy for you to adjust settings.
Another plus is that it has non-skid feet to prevent it from slipping, as well as a hinged flap that you can flip up to keep the laptop from sliding down towards you. It's also adjustable in four angles to help your wrist.
The small fan speed is up to 2400RPM, while the large one is around 1200RPM. The only downside to this amazing laptop cooler is that it can't fit anything bigger than 15 inches within the pad.
All in all, this product truly deserves a spot in the list of the best laptop cooling pads in Singapore.
Pros
6 fan speeds
2400-1200 RPM fan speed
6 tilting positions
Cons
Can't fit anything bigger than 15 inches
Customer Reviews
Here are some reviews from Amazon about this amazing product:
Picked this up and have been using for 1 week now. A good value, and it is keeping my laptop really cool. I have a fairly large (16″ screen) Toshiba I-7 with a 2GB video card. Checked my internal fans , they seem to be ok and cleaned out but my laptop has been overheating. At work I do keep it on the table and there is very little room underneath to breath. It was getting hot to the touch and performance was noticeably suffering. This pad is keeping it so much cooler and it is running like a champ. This pad allows you to lay it flat or tilt up at 4 additional positions for a total of 5 positions. You can control how many fans run and how fast. I just keep them all going at the highest setting, I guess it would be an issue if you are running on battery power, but I almost always have mine plugged in. The measurements seem a little off, so I have included the actual measurements. Note: this pad is not exactly rectangular it has some upper points that actually flair out and that makes the widest width measurement 14.5″ and the highest top to bottom measurement 11.75″. It was a big deal to me because I wanted to fit this cooling pad in my laptop case, in one of the auxiliary compartments so I wouldn't have to carry it around separate. Luckily it just fit.
-F. Miscione
I have tested the product over several days. I have been using an Alienware A15R3 and overclocked it maximum. I have a GTX 1080 video card and have connected a GTX Titan X externally. Otherwise I have all the best options in the laptop. The product managed to keep the
laptop cool very a longer period of time. I had it on for a full day and it was still cool. The Cpu had the cores at about 35 to 37 degree C. The internal CPU fan was also running. I had the product with all the fans on and max. The product was quiet. Much quieter than when the laptop used internal fans
-Bjorn
5.   havit HV-F2056 15.6″-17″ Laptop Cooler Cooling Pad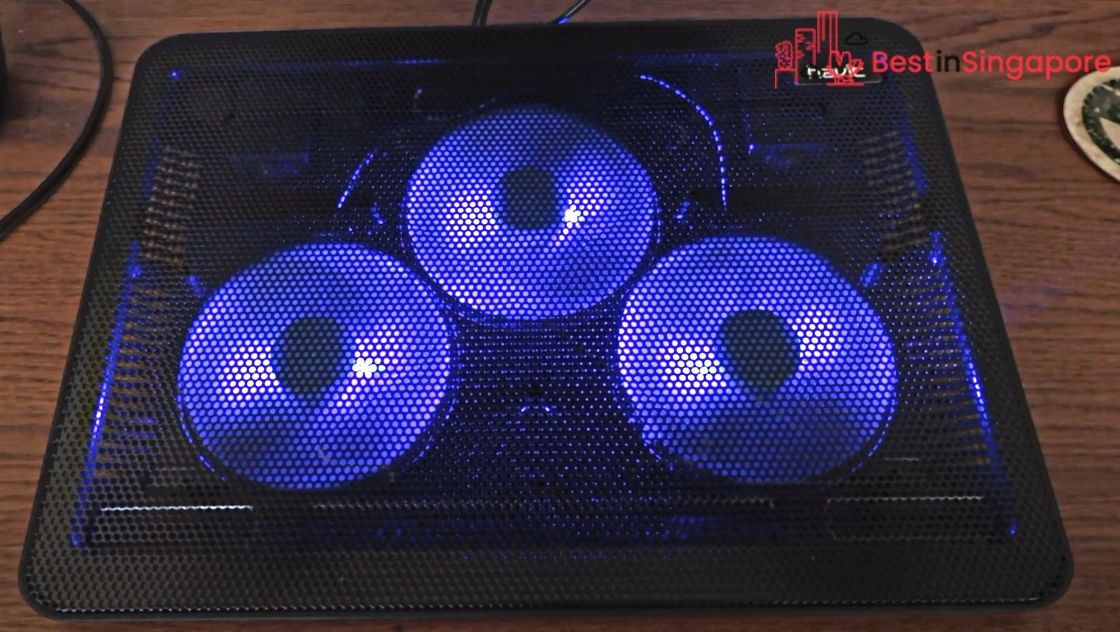 Price: $87.89
Limited Stocks In Shopee, Buy Now
With its slim design, this ultra-portable cooling pad has three fans that has fanspeeds reaching up to 1100 +/- 200RPM — not bad for an affordable cooling pad. Another noteworthy feature is the fact that the metal mesh is wear-resistant, as well as multi-directional.
It's nearly weightless, and can be brought anywhere, yet reinforced so well that it's durable. The LED lights indicate whether the fans are working properly, which is a bonus.
However, do note that this fan is only used on flat surfaces, but it can fit laptops up to 17 inches. It also comes with an extra USB port.
These features have put it squarely on the list of the best laptop cooling pads in Singapore.
Pros
Lightweight
Wear-resistant
Durable
Cons
No tilting
Only used for flat surfaces
Customer Reviews
Here are some reviews from Amazon about this amazing product:
I use this cooling pad every day with my MSI GS65 gaming laptop. It's powered over USB and has 3 giant fans which keep the laptop as cool as possible while gaming. The blue LED lights are a nice touch that let you know that the mat is on and gives it an overall nice aesthetic.
There are 2 USB passthroughs on the back located near the power switch which is nice because it does take up one of the USBs on your laptop. (One of the USBs is used to connect the pad to the laptop, leaving 1 for an additional device.) Pretty sure the USBs are USB 2.0.
There are kickstand legs that come out to raise it at various angles depending on your working surface. They're very strong and not flimsy at all.
It doesn't have the nicest build quality in the world as it is made of plastic and is pretty lightweight. However it keeps it lightweight and since it's not metal, it won't get extremely hot either.
If I had one complaint, it'd be that if you hold the cooling pad firm enough while it is on, the fans will rub up against the chassis causing a loud grinding noise. If you're careful with how you hold it and don't clamp down on it, you won't run into this issue very often. This doesn't affect the performance of the cooling pad at all, but if it was built a little stronger, this most likely wouldn't be an issue.
The fans are decently quiet (a lot quieter than my laptop). I can hear sound coming from my computer speakers with no issue, although if you're going to game, I'd still recommend headphones anyways.
Overall I'd recommend this cooling pad to anyone looking for a budget-friendly option. It's not the best out there, but it does its job and I can't complain.
-Tech Infusion
I bought this product along with its number 1 competitor, the Tree New Bee, because I have a computer that has a fan that seems like it runs on high when the computer is over 50 degrees celcius. Overall, I am very impressed with both!! The Havit and the Tree New Bee both dropped the temperature of the laptop by 10 degree Celsius during idle temp and dropped 4 degree Celsius during a 10 minute benchmark test. The only thing that made this one better was that it is whisper quiet (I could not hear it running at all). After testing, I prefer the havit because it is quieter and it drops the temperature of my laptop by 10 degrees so the fan doesn't go into the high-speed mode unless I am doing something to require high CPU or GPU utilization.
Picture 1 – without cooler on a flat desk
Picture 2 – Havit – model F2056
Picture 3 – Tree New Bee – model K0025
Tests performed on a 15.6″ laptop with a 4700MQ processor
-KT
And our list of the best laptop cooling pads in Singapore comes to a close. We hope this list helped with your search for a cooling pad.
Did we miss a great option, though? Tell us its name and what makes it great in the comments below!
Do you also need to look for great gaming laptops to replace your old one? Then head over to the list of the best gaming laptops in Singapore and check out our picks for those.
We can also help if you prefer mini PCs instead, so go check out our list of the best mini PCs in Singapore for that!