The 12 Best Clothes Racks in Singapore for Bedrooms
Owning the best clothes racks in Singapore is among the ideal ways of organising your room, especially when there's not much space to move around. A good clothes rack is a great space saver and helps to make your room look more organised.
On top of that, the best clothes racks in Singapore can also be used to dry out your garments after laundry. They're basically multifunctional tools!
If you're looking for the best clothes racks in Singapore, then today's your lucky day! We made a list of the best clothes racks in Singapore that can be placed in every corner of your room.
But before we move on to our list, we'll share a few tips on how to pick out the right clothes rack for your room. These will definitely help you pick the perfect item on our list.
Things to Consider When Buying Clothes Racks
Clothing racks are mainly used to organise clothing items, from formal shirts down to casual wear. Still, some clothes racks are built to carry a heavy load, while others can only handle a few shirts and shorts.
So, one of the first things you should consider before getting a clothes rack is the number of clothes you own. On top of that, the type of clothes rack, room size, and rack material are also worth considering.
Let's discuss each of these points below.
1. Amount of Clothes
If you own a wide selection of garments, then make sure to pick out a clothes rack with a wider and taller frame. That way, there would be enough space for your shirts, polos, trousers, shorts, and other clothing.
However, it's worth noting that clothes racks aren't supposed to carry every single clothing item you own. They're mainly ideal for carrying all your essential garments or those that get worn on a regular basis.
If you have a huge pile of essential clothing, then make sure to choose a clothes rack that's sturdy and stable enough to carry a huge weight.
2. Room Size
Clothes racks can help make your room look more organised, but they can also take up a huge amount of space.
If you have a small room, you might want to reconsider getting a wide clothes rack as it would just make your room look crammed (even though wide racks are the most recommended ones).
3. Type
There are three types of clothes racks: the horizontal bars, spiral ones, and the wall-mounted clothes racks. All of these can be used regardless of how large or small your room is.
What's more, all these clothes racks vary in width and height. And we believe that's a good thing because you can choose which type you prefer and settle on a size that can fit the spare space in your room.
4. Material
Finally, the sturdiness and durability of a clothes rack can boil down to the material used. Most of the commonly used materials are wood, metal, and plastic.
In terms of sturdiness, we'd have to choose metal as the most sturdy material. Clothes racks made from metal are often stable and don't break down easily.
In terms of durability, clothes racks made with either plastic or metal are proven to last for a long time. They're also capable of carrying a huge volume of clothes, making them the perfect option for those with lots of essential garments
The Best Clothes Racks in Singapore for Bedrooms
And that's it for our tips on how to pick out the best clothes racks in Singapore. Make sure to remember all these while checking out the items we included below.
Ready to see our picks? Check them out!
1.   Leifheit Pegasus Clothes Rack and Dryer
1. Best for Indoor and Outdoor Use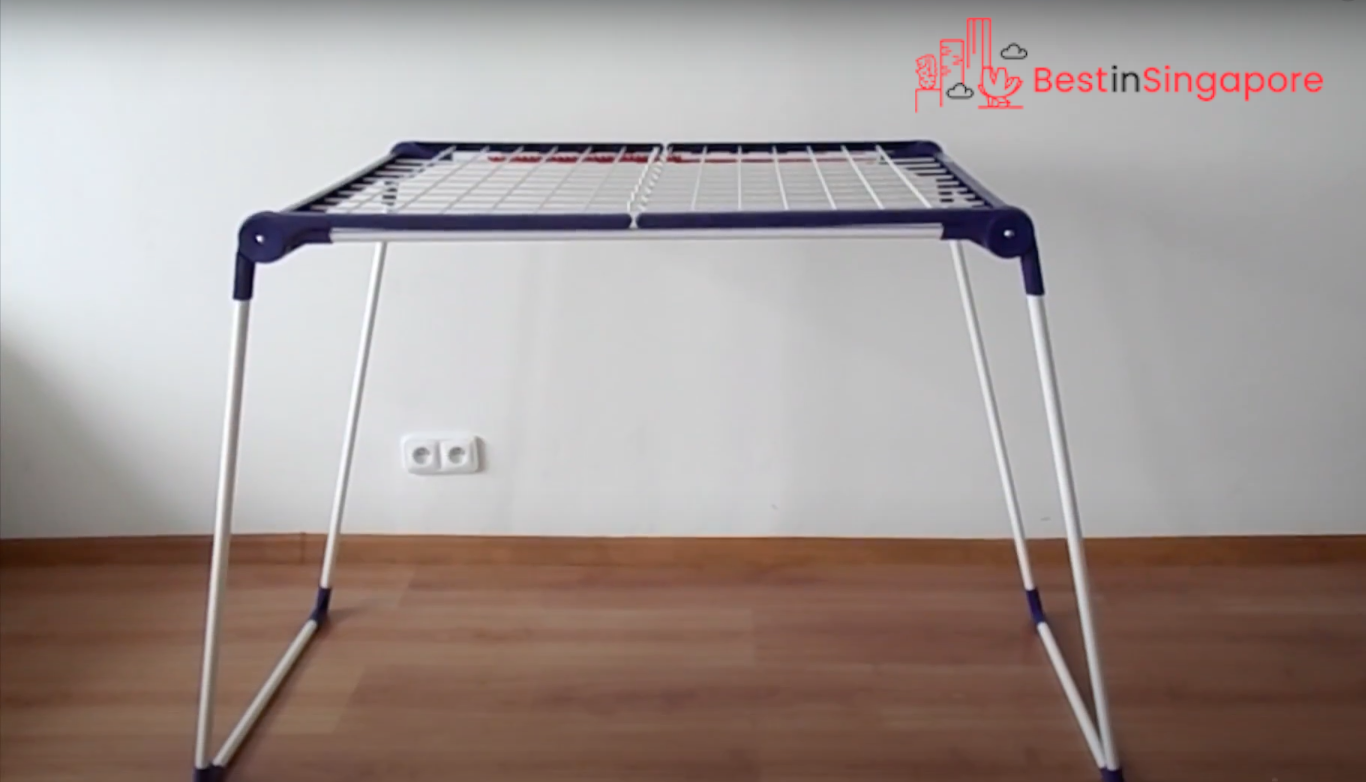 Price: $168.00
There's no clothes rack better for drying clothes other than the Leifheit Pegasus Clothes Rack and Dryer. It can be used not only indoors but outdoors as well — which is why we've named it one of the best clothes racks in Singapore.
The Leifheit Pegasus Clothes Rack and Dryer is also known for being durable and sturdy because of its high-quality metal frame. It's made of stainless steel too, so no need to worry about it getting rusty.
It also comes with a wide, adjustable top rack where shirts and trousers can be hung out to dry.
It might take up a lot of space when stored indoors, but given its wide rack, more garments can be hung and dried.
Above all, Leifheit is among the most trusted home appliance brands on the island, so rest assured that you will get your money's worth with any of its products.
Highlights
Adjustable wings
Rust-proof frame
Large drying space
1-year warranty
Customer Reviews
It has an average rating of 4.9 on Lazada, making it one of the best-reviewed clothes racks on the website.
Customers who purchased the Leifheit Clothes Dryer and Rack have commended its sturdy build and durable design. Most even commented that it can carry more clothes than anticipated, which according to them, is the best feature.
2.   Amark Stainless Steel Clothes Rack 
Best for Portability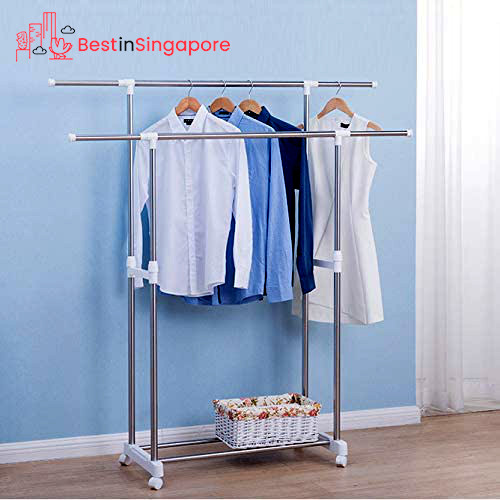 Price: $32.55
If you want a clothes rack that can be wheeled in and out of your room, then Amark's Stainless Steel Clothes Rack would be perfect for you! It can be used either for drying out clothes after laundry or as storage for ironed clothes.
One of the reasons we've named it one of the best clothes racks in Singapore is its possession of smooth caster wheels. You won't have a problem dragging it in and out of the bedroom.
More than that, it has an adjustable height to accommodate longer garments, extending from 80cm to 150cm. It also features two horizontal bars, allowing more clothes to be hung and stored.
There's also a bottom rack where folded garments can be stored. It's indeed the perfect clothes rack if you own a huge pile of clothes.
Highlights
Stainless steel
Easy to assemble
Adjustable height
Locking clips
3.   Sturdy Bedroom Clothes Rack
Best for Affordability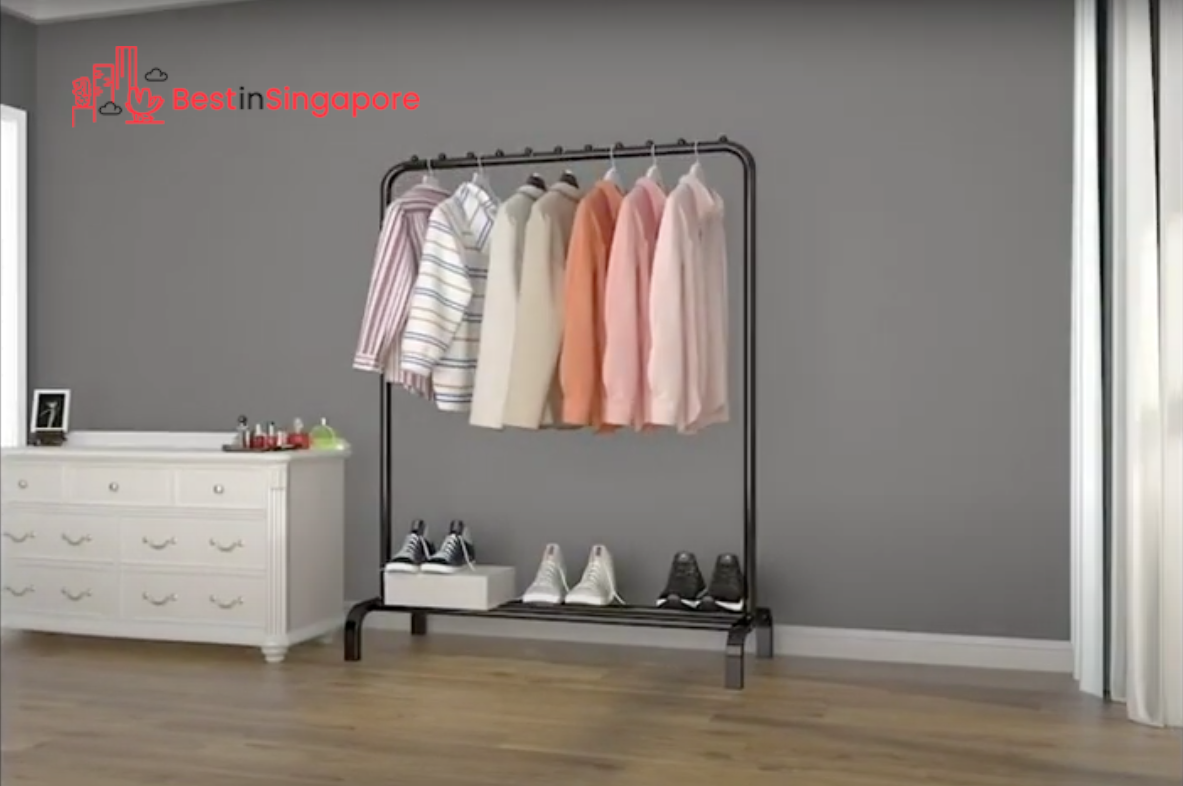 Price: $19.90
If you don't want to shell out lots of money for a clothes rack, the Sturdy Bedroom Clothes Rack might interest you. It might not come from a famous brand, but customers can attest that it does the job quite well.
It's the cheapest option on our list, priced at only $25.90 — significantly cheaper compared to other clothes racks. It boasts a height of 150cm and width of 110cm, perfect for hanging a huge load of garments.
What's more, it comes with double poles where more clothes can be hung and dried out. There's also a bottom rack where shoes, boxes, and other accessories can be stored.
In terms of durability, it doesn't disappoint. It features an anti-slip durable protection pad that allows it to carry a huge volume of clothes.
Highlights
Double poles
Competitive price
Made from durable metal
4.  Korean Clothes Rack
Best for Saving Space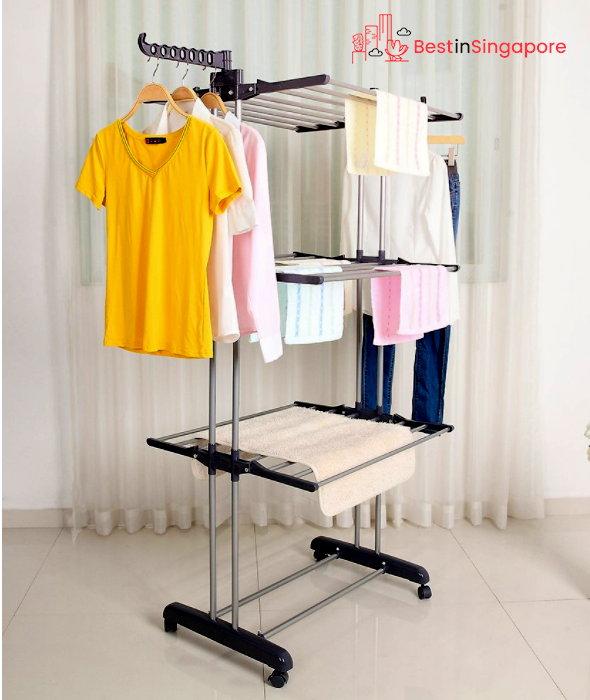 Price: $39.90
Nothing can beat the Korean Clothes Rack when it comes to saving space. Not only is it very portable, but it can also carry multiple garments at the same time.
It's ideal for both hanging and drying out clothes because its 8 caster wheels allow it to be dragged in and out of the room. Its unique caster wheels also prevent it from being knocked down by heavy winds, especially when used outdoors.
What makes it one of the best clothes racks in Singapore is the four-tiered rack where clothes can either be stored or hung. It also comes with an adjustable hanger, perfect for drying out clothes after laundry.
Highlights
Adjustable height
Easy to set up
8 caster wheels
Durable frame
5.   3 Tier Laundry and Clothes Rack
Best for Durability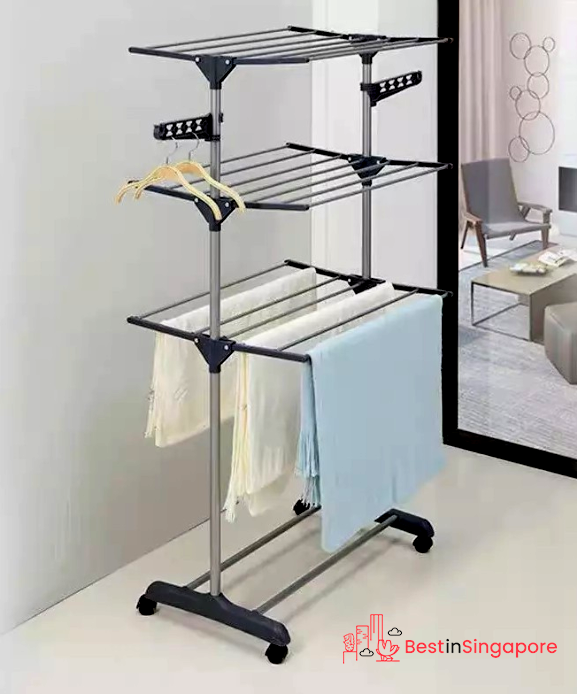 Price: $29.90
If you want a quality clothes rack for an affordable price, then look no further than the 3 Tier Laundry and Clothes Rack. It boasts a sturdy metal frame made of premium materials, making it one of the most durable options on our list.
On top of that, it has a 3-tier rack where clothes can either be hung or folded. There are also two adjustable wings on both sides where clothes can be hung out to dry.
One of its best qualities would have to be its foldable feature. You can easily fold it when not in use, allowing you more space inside the room.
Highlights
Sturdy frame
Easy set up
Can be folded
6.   OH-SP20H Aluminium Single Swing Pole Hanger
Best for Swing Hangers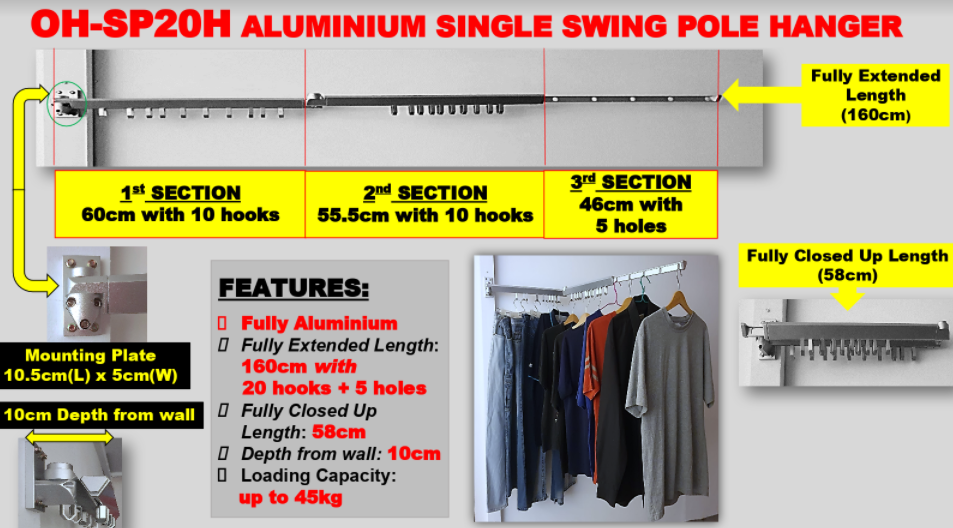 Retail Price $158
If your home doesn't have much room for a hanger rack, you'll have to get creative with using your space. Fortunately, One Hangers has a product that will fit the bill.
Their OH-SP20H model is a single swing pole hanger, an adjustable hanger that can carry a sizable weight. This item expands or retracts as needed, accommodating both your laundry and space-saving needs. In addition, it isn't flushed against the wall, so your laundry will be able to dry easily.
When it comes to sturdy, reliable hangers, turn to One Hangers. Their products are guaranteed to serve you for a long time.
Highlights
Fully Aluminium
Large Loading Capacity
7.   OH-MA150 Aluminium Free Standing Non-Foldable Mobile Hanger
Best for Mobile Hangers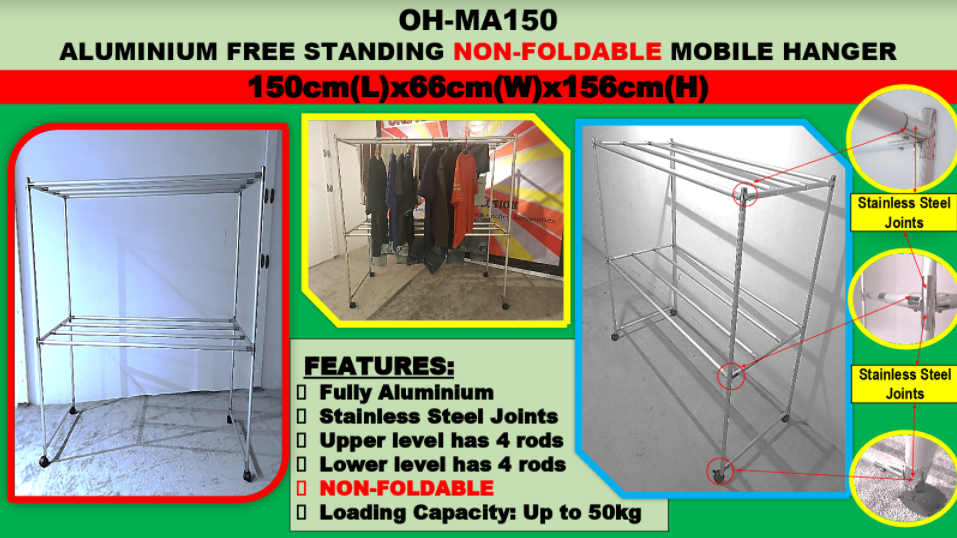 Retail Price $220
Mobile hangers are useful for transporting dried laundry. If you're planning on getting one, why not purchase it from One Hangers?
Their OH-MA150 Free Standing Non-Foldable hanger is recommended, especially if you have a lot of space in your home. It has an upper and lower level, each containing four rods. Its wheels are connected to stainless steel joints, so you won't have to worry about rust issues.
When it comes to good quality hangers, choose One Hangers. With their wide variety of hangers, you're sure to find something that will suit your home.
Highlights
Fully Aluminium
High Loading Capacity
8.   SG Shelving – Additional Clothes Rack
Best for Multi-functionality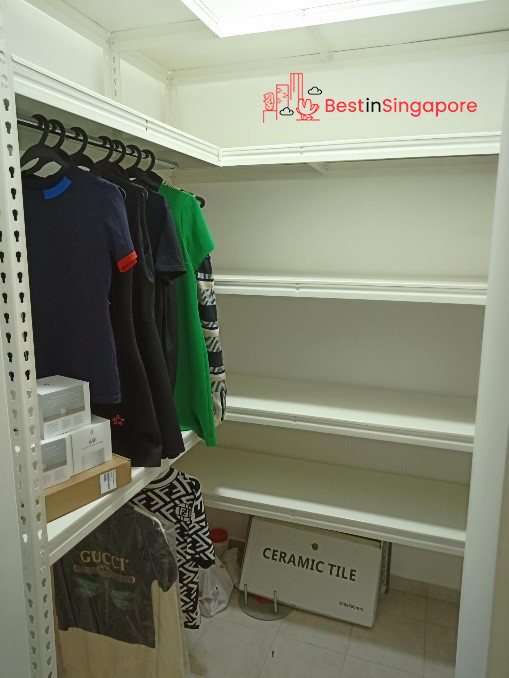 Price: ~$180
SG Shelving offers a wide range of shelving for your compartment needs. From L-shaped and U-shaped racks, to single, boltless ones, they make sure to have something in store that will fit your space!
But what makes them extra special is that you can add on to the basic racks with their accessories, one of which, is an actual clothes rack. Underneath a shelf panel, you can place a clothing rod for a more accessible way to choose your outfit of the day. It will help you browse better, and prevent clothes from wrinkling.
Aside from the clothes rack, you can also use pull-out drawers as an additional accessory. Maximize your space and use all these affordable add-ons to make your life easier and more accessible.
Highlights
Timeless styles
Sturdy Fixtures
Competitive rates
9.   Retailers Market
Best for Minimalism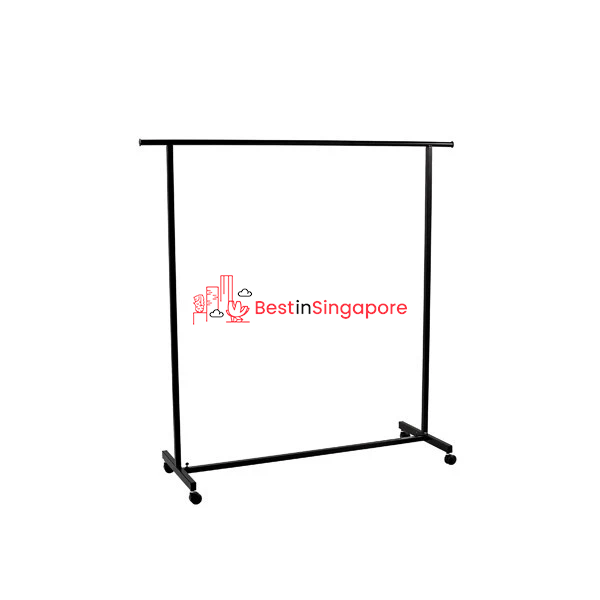 Price: $150
If you're looking for a clothing rack for the clothes you're selling and you don't want it to look unappealing to customers, then we have the perfect item for you.
Retailers Market offers a Classic Black Clothes Rack on their site which looks extremely sleek yet won't overpower the style of your clothes. It's made of black powder-coated steel, and is a popular alternative to normal utility racks. It's also sturdy, something that will definitely last you a long time.
In terms of portability, the clothing rack has average-sized wheels that are also black in color. It glides smoothly on any flooring and is not easy to break. The Classic Black Clothes Rack is versatile and can be for any use, thanks to its minimalistic look. It's definitely the perfect rack, even if you're not using it for retail.
Highlights
Portable
Classic Styles
Sleek Designs
10.   Creation Closet Design
Best for Stylish Personalisation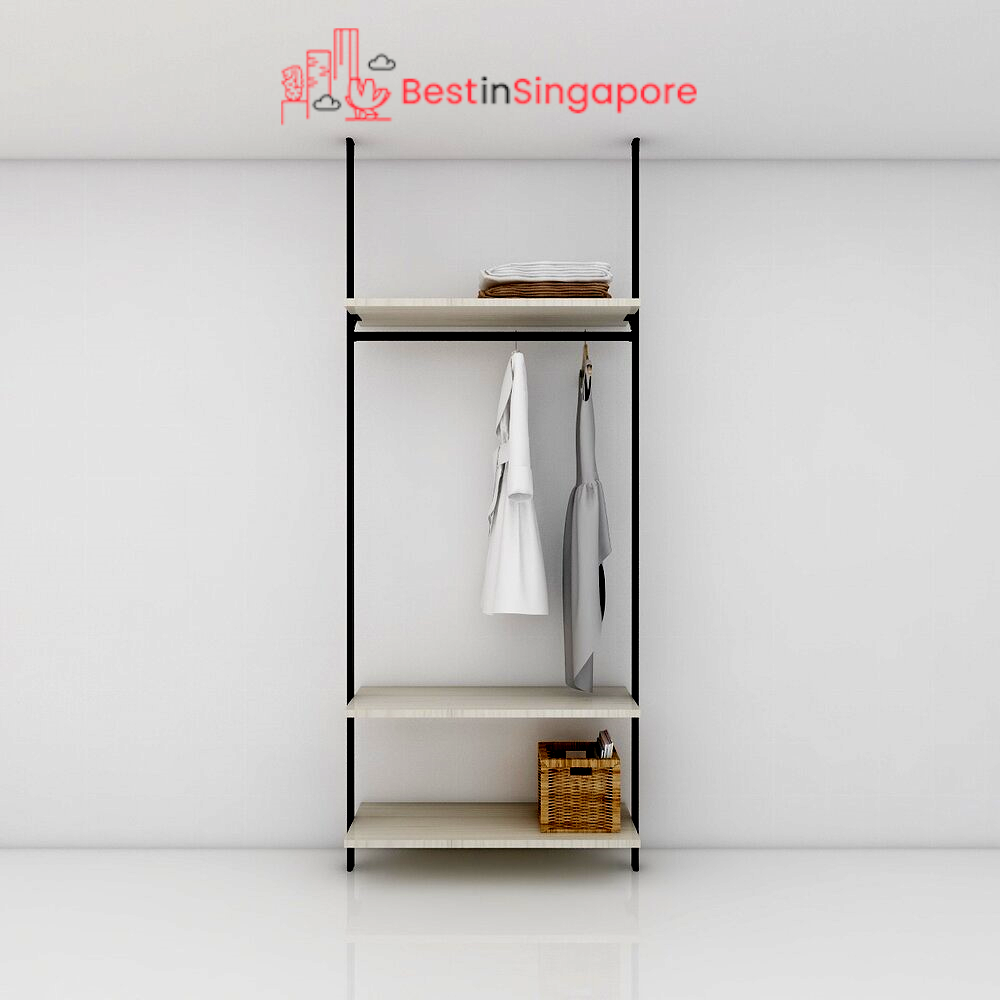 Price: $480
Creation Closet Design has adapted the Pole System that allows full customisation of the closet space, while maximizing its area. Their series, called Creation Modular Pole System, features adjustable height shelves and clothing hangers that's mounted in a floor-to-ceiling design. This is perfect for customers who wants their closet to look fashionable yet useful at the same time.
Pole System Premium 2, costing at about $480, is a part of their Creation Modular Pole System Series. It's a bit pricier than the first design, which costs $380, but it definitely makes up for the space used. You have more shelving and sturdier structure.
It doesn't matter if you feel like having a longer space for the clothing rack, or a bigger one for your shelves, everything can be controlled by your very own hands, whenever you wish! As they've said, Pole System Premium 2 is easy to install, easy to configure, and very much easy to dismantle and be made into whatever structure you want.
Highlights
Stylish Designs
Fully personalised
Elegant looking racks
11.   YU HOME
Best for Automated Laundry System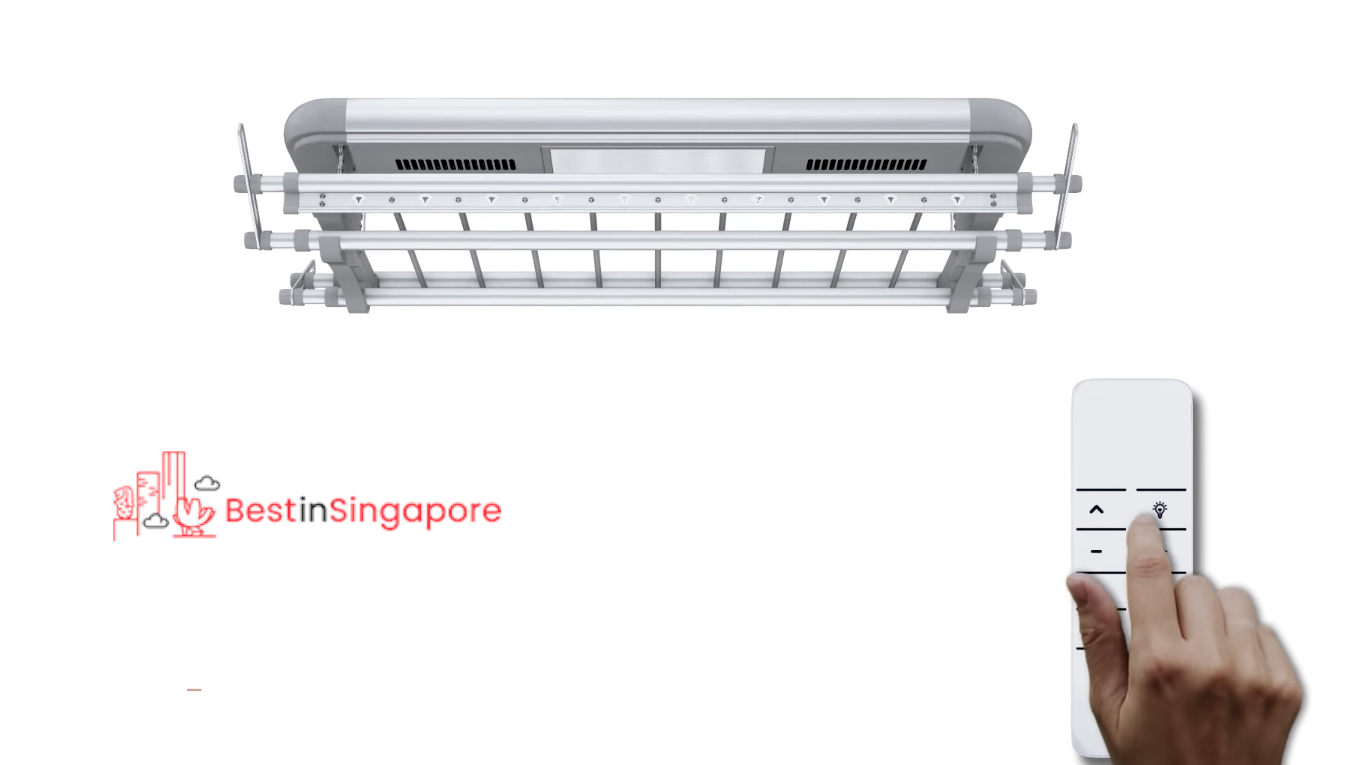 Price: $599 / $899
Get The Basic Model Here
Get The Comprehensive Model Here
YU HOME offers 2 models only which will suit the majority of residential housing in Singapore with their 5 stars services rating. They are the first and only company able to bring the LIVE and real product demo to your doorstep to experience and understand it with no fee involved and has no obligation.
Their automated clothing racks (also known as automated laundry system) are user friendly and suitable for your needs. Unlike other clothing racks, the durability of their automated clothing racks is something you can count on, with its detector-stop safety mechanism making it safe for people of all ages.
The laundry racks that they offer differ between the Basic Model 365B and Comprehensive Model 366H – both are 140cm in length, 50cm in width and 240cm extendable. Their Comprehensive Model 366H, however, can help you save time with its solar heat-air drying feature which makes the sunny and rainy days out of your concern. Furthermore, these are energy-friendly.
They self-managed multiple sale channels where you will find them easily and fast response directly. They even provide complimentary after-sales services to ensure their clients has a pleasant experience with their products and services.
Highlights
FREE product demo at your doorstep
No hard-selling technique and transparency
High-quality services
Friendly price with premium quality
B2C business model, no intermedia cost
Multiple sale channels, easy to reach
12.   Orlant Singapore
Best for Adjustable Drying Rack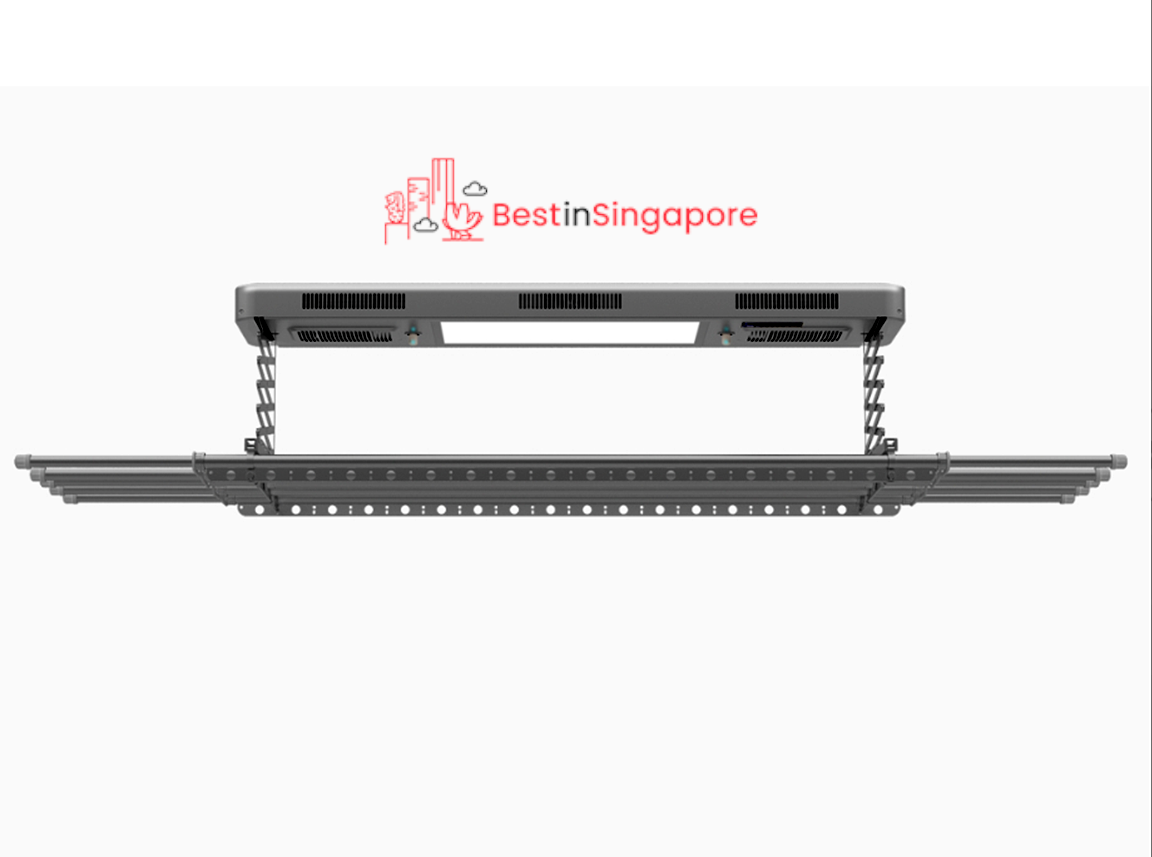 Price: Enquire for A Quote
Orlant Singapore has been a leading global brand for smart laundry systems since they first started in 2005. They pioneered and integrated what we know now as the electric drying rack. Through the dedicated efforts of their team, they have created over one hundred different models of smart laundry systems, developed and built to suit any of your laundry needs.
They're known for various products, but one that actually hits the mark is the MI-SUNRAY. It is a highly modernized drying rack that is fit for both small and large-szied families. Its racks can be extended longer if necessary, and has a fan that exudes hot air to dry clothes faster. In this way not only can you dry clothes indoors, but you can also ensure that they are cleaned thoroughly through the use of MI-SUNRAY's UV Lights that can remove any remaining bacteria and dirt from your clothes.
If you'd like to know more about MI-SUNRAY, and other high-tech drying racks that they offer, then make sure to check them out on Orlant Singapore's website. Avail their products today and they promised to bring you the most innovative, optimized and effective drying solution for clothes at your own convenience!
Highlights
Durable Frame
Large Drying Space
Stainless Steels
UV Lights
And with that, we end our list of the best clothes racks in Singapore. If you've purchased any of these clothes racks before, share with us what you think about it!
By the way, if you're also in need of storage for your dirty clothes, you might want to check out our list of the best laundry baskets in Singapore. Laundry days will be more convenient when you have these baskets!