Where to Find the Best Annual Travel Insurance in Singapore
Getting your hands on reliable travel insurance is among the mandatory steps travellers must take before starting their journey. However, there's nothing better than having the best annual travel insurance that renews itself every year!
Annual travel insurance is ideal for people who go out of the country for leisure on a regular basis. Instead of having to purchase travel insurance every time they're travelling overseas, signing up for the best annual travel insurance in Singapore allows them to save more money that they can use while travelling.
If you're clueless as to where to find the best annual travel insurance in Singapore, then worry no more because we have a list of what you're looking for.
Without further ado, here are the ones we found worth investing in.
1. Allianz Travel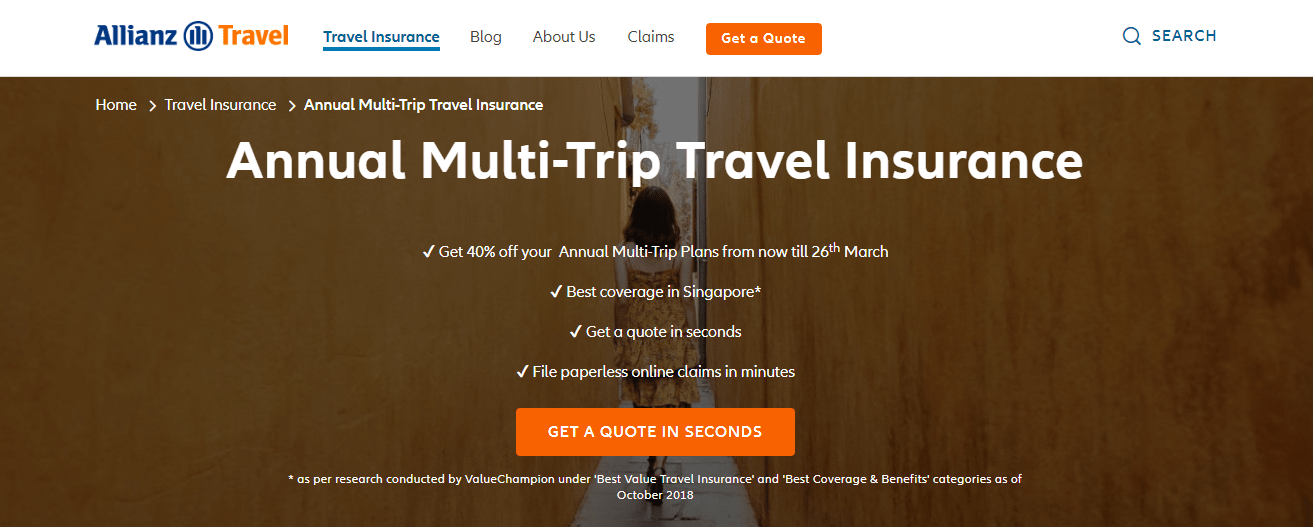 If you travel frequently and want to save money as much as possible, then look no further than Allianz Travel's annual travel insurance! It covers all your travels within a 12-month period and will cover all your trips that don't go beyond 90 days.
Among its key inclusions are global 24/7 emergency services, medical emergency response, accidental death, and travel inconvenience cover — which is why we consider it one of the best annual travel insurance in Singapore.
Almost all countries are accommodated by it, so rest assured that you'll be protected anywhere.
You may also choose between its Gold and Silver plans, both of which include necessary coverage that ensures your vacation will go smoothly and hassle-free. If you're travelling with family, you can also include them in your insurance plan.
Highlights
90-day trips
24/7 emergency assistance
Customer Reviews
Take a look at some of these comments on Google Reviews:
"I got my luggage delayed during my trip in Thailand in 2018, Allianz Travel insurance has been helpful when I inquired before buying the insurance, during the luggage delay happen, and afterwards to claim. Responses have been very fast and accurate. Claim is also very fast. I would give 5 stars plus plus plus if possible."
"Allianz is so customer centric! I incurred expenses for 3 months claiming the period is over so I called up Allianz and explained my situation to them and provided reasons why it was not included in claim form previously. Allianz accepted my explanation and processed my claim once more! Kudos to Allianz for providing a great customer experience! Will continue to support Allianz Global Travel packages."
2. DirectAsia Insurance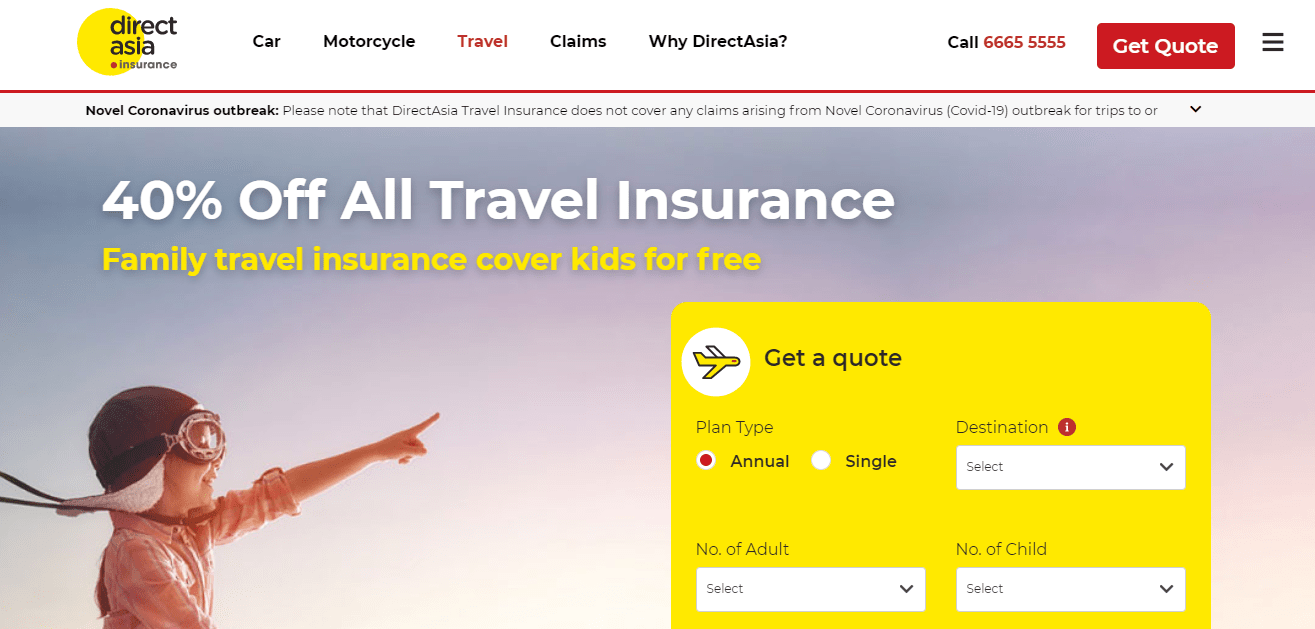 | | |
| --- | --- |
| BEST FOR | Individual and Groups |
| SERVICES | Travel Insurance, Car Insurance, and Motorcycle Insurance |
| WEBSITE | https://www.directasia.com/travel-insurance/ |
| ADDRESS | 20 Anson Rd, #08-01, Singapore 079912 |
| CONTACT DETAILS | 66655555 |
| OPERATING HOURS | Monday – Friday, 8:00 AM – 8:00 PM |
With DirectAsia's annual travel insurance plan, you can travel as much as you want every year and remain protected wherever you are in the world. It covers 90 days of each trip and includes medical expenses, travel inconvenience, loss and damage to belongings, trip cancellation, and baggage delays.
You may also personalise the travel package if you plan on doing sports and extreme activities while overseas. It will cover the expenses if you get injured while doing these activities, or your sports equipment gets stolen or damaged.
Another reason we call it among the best annual travel insurance in Singapore is that it covers almost every country except those deemed dangerous, especially for tourists.
Highlights
Coverage for extreme activities
Comprehensive medical coverage
Customer Reviews
DirectAsia has previously been praised for their honesty towards their clients. They will provide what is advertised on their insurance plans, and that's what most customers love about their services.
Here's a review posted on Google Reviews:
"I've been purchasing my travel policies with Direct Asia for quite some time now, but never needed to claim. During my last trip however, i had to make some medical claims. Having had previous bad experience with large insurers, i was worried and skeptical that the claim won't go through. Lo & Behold, was I wrong! Besides some slight delay in getting back to me (because its peak period), they processed the claim so quickly and without giving me much hassle. Which is very unlike my previous experiences with other insurers where they simply try to make it so difficult for you to make a claim. Kudos to Direct Asia for being an honest, and reliable insurer!"
3. Budget Direct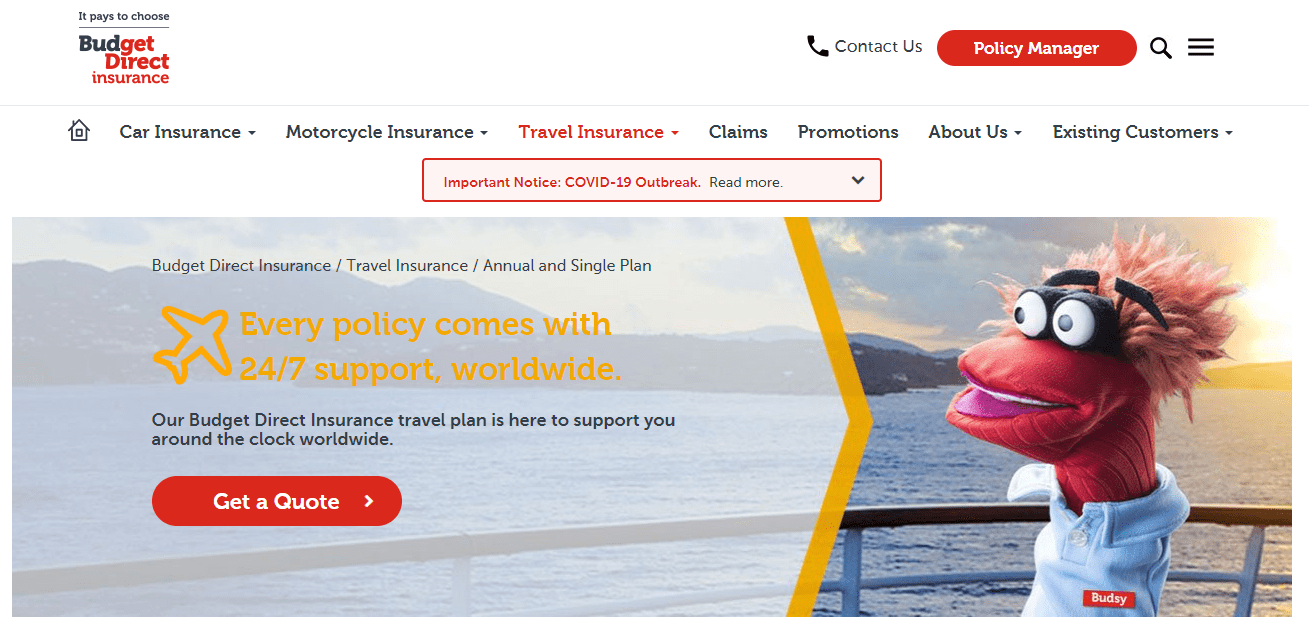 | | |
| --- | --- |
| BEST FOR | Affordable Insurance Plans |
| SERVICES | Travel Insurance, Motorcycle Insurance, and Car Insurance |
| WEBSITE | https://www.budgetdirect.com.sg/travel-insurance |
| ADDRESS | 190 Clemenceau Ave, #03-01 Singapore Shopping Centre, Singapore 239924 |
| CONTACT DETAILS | 66655555 |
| OPERATING HOURS | Monday – Friday, 9:00 AM – 6:00 PM |
Considered one of the cheapest insurance providers in Singapore, Budget Direct has been making the lives of travellers more convenient with its annual travel insurance.
Despite being cheaper compared to other packages, it still includes the most vital coverage and benefits while travelling overseas.
Budget Direct encourages travelers to go on as many trips as they want without worrying about their safety and expenses. Availing of its annual travel insurance also means that you get to save money that you can use while overseas.
While other travel insurance usually covers only air travel, Budget Direct's annual travel insurance also includes car, bus, train, cruise ship, and even ferry.
Lastly, if you plan on travelling with loved ones, you may also include them in your plan to ensure that they're protected as well. And that's just few of the reasons we consider it one of the best annual travel insurance in Singapore.
Highlights
Affordable premiums
All forms of transportation
Family coverage
4. APAC Relocation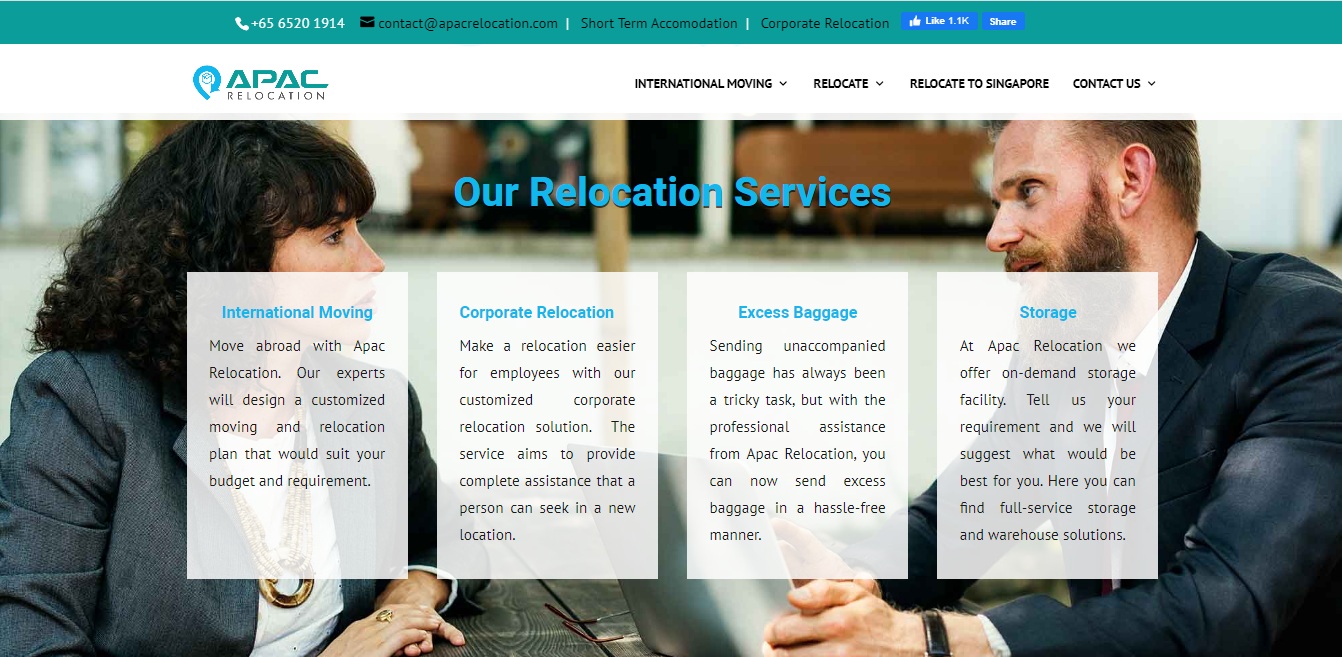 | | |
| --- | --- |
| BEST FOR | Cheap travel insurance |
| SERVICES | Relocation service, Travel insurance |
| WEBSITE | https://www.apacrelocation.com/ |
| ADDRESS | 2, Ang Mo Kio Street 64, #02-03A, Econ Building, Singapore 569084 |
| CONTACT DETAILS | +65 6520 1914 | [email protected] |
APAC Relocation is actually a company which is involved in helping individuals relocate their business and home. However, as they are involved in moving things, they also provide contact with travel insurance from around the country. They recognize that finding the perfect insurance is difficult as prices are high. Thus, they connect their clients with various insurance providers.
Within their website, you will find a list of agencies which may provide guarantee to your property. These are arranged according to prices or unique features. So, you will not have a hard time choosing the proper insurance for your needs.
Highlights
Multiple choices of travel insurance

Online quotation is available
5. Money Kinetics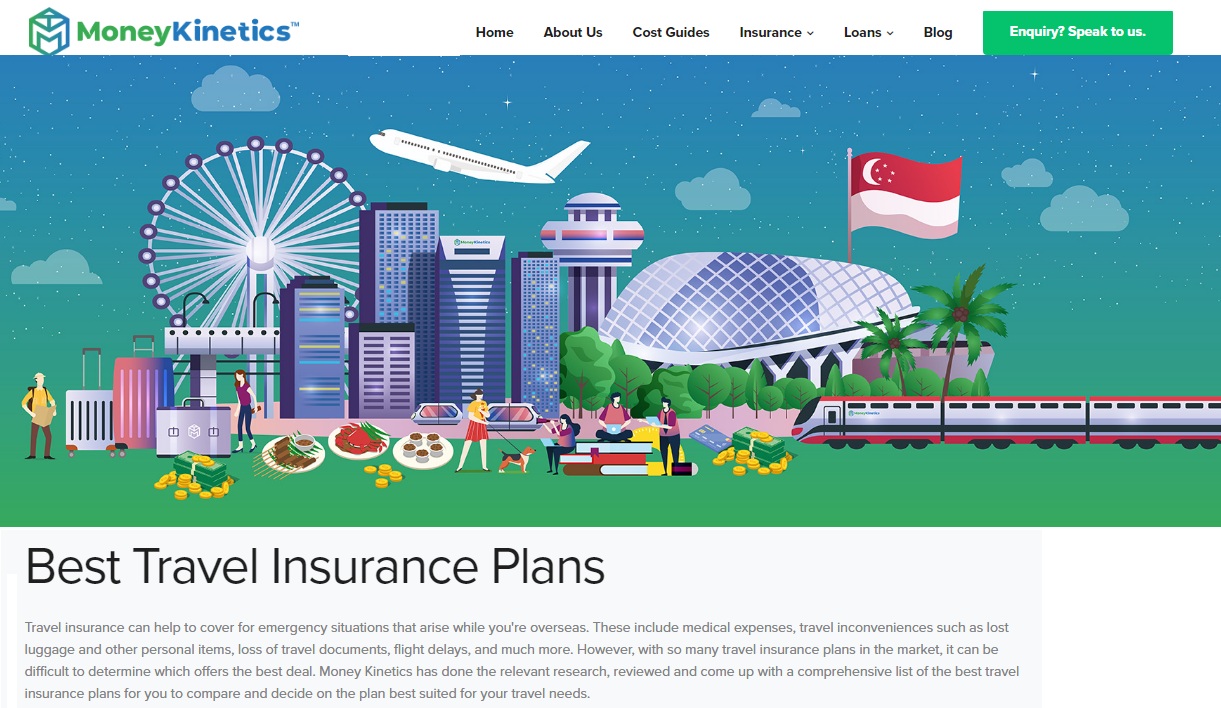 Money Kinetics helps people be financially literate by offering them a series of comprehensive explanations using terms that you are familiar with to make sure that you spend your money smartly.
Their services range from personal loans and debt consolidation plants to a wide array of travel insurance plans that best match needs, requirements, and budget. They conduct a relevant market research to determine which travel insurance plans work best and cost-efficiently for their clients.
These vary in coverage and rates but basically include medical expenses, trip cancellation or delay, loss or damage of luggage, death and TPD, etc.
Highlights
Affordable premium

Extensive range of insurance plans

Individual, group, and family travel
6. The Wise Traveller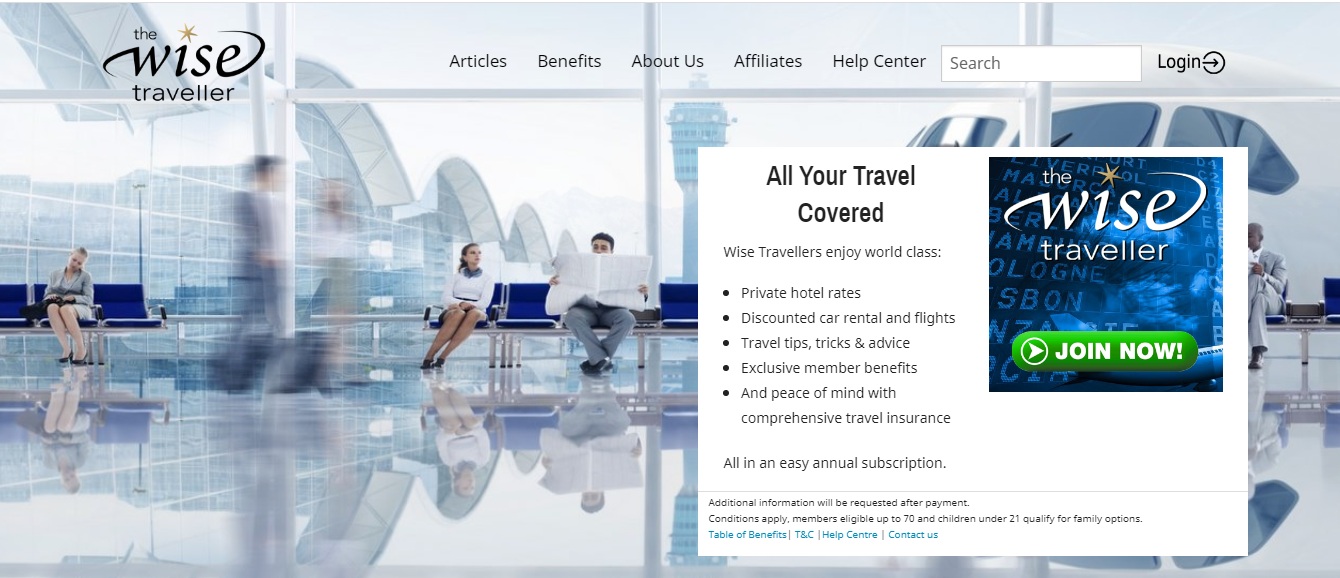 At The Wise Traveller, they make sure to provide their members with a travel insurance that gives the best value for money. Their membership perk offers annual multi trip and global cover with higher benefits and at a better value than most alternative options.
Aside from travel insurance, they also provide discounts on many other travel related services including airport lounge access, hotels, villas, resorts and car rentals.
Being globally focused, there's no need for you to worry even if you're thinking of relocating because The Wise Traveller will always be available anywhere you are across the globe.
Highlights
Member only discounts

Growing range of travel related products and services.

Travel tips, tricks and advice
And with that, we end our list of the best annual travel insurance in Singapore. Any of these options can not only make your trips more secure but allow you to save more money as well.
If you know other insurance companies that offer great annual travel insurance, let us know about them and what makes them a worthwhile company.
By the way, if you know someone who only needs one-time travel insurance, then tell them to read our list of the best travel insurance in Singapore! If they're not a frequent traveller but want to be protected while in another country, this list is perfect for them!