Our 15 Picks for Clinics with the Best Skinboosters in Singapore
By Lance Teo
Does your face constantly look tired and dull due to stress? If so, you can still bring back the glory days of your skin with the aesthetic clinics that offer the best skinboosters in Singapore!
It's no secret that our confidence gets boosted whenever we see our skin looking brighter and softer. Good thing that there are aesthetic clinics out there that provide all types of skin treatments that can restore the beauty of our skin.
Looking for aesthetic clinics with the best skinboosters in Singapore can get difficult. But we're here to help you out with our list of aesthetic clinics worth checking out.
So, without further ado, here are the top aesthetic clinics with the best skinboosters in Singapore.
(Note: This list is in no particular order.)
1.

The Clifford Clinic
The Clifford Clinic is an excellent choice for skin booster treatments. The treatment that the clinic offers can help restore the plumpness of skin, resulting in a more radiant look.
Dr. Gerard Ee, their head dermatologist, works with his team of expert aesthetic doctors in delivering the best services. With his interest in minimally invasive surgery and aesthetic medicine, you can rest assured that any treatment you undergo in Singapore Aesthetic Practice will go well.
Highlights
Minimal Downtime
Minimal Scarring
Safe Procedure
Accurate Treatment
2. APAX Medical & Aesthetic Clinic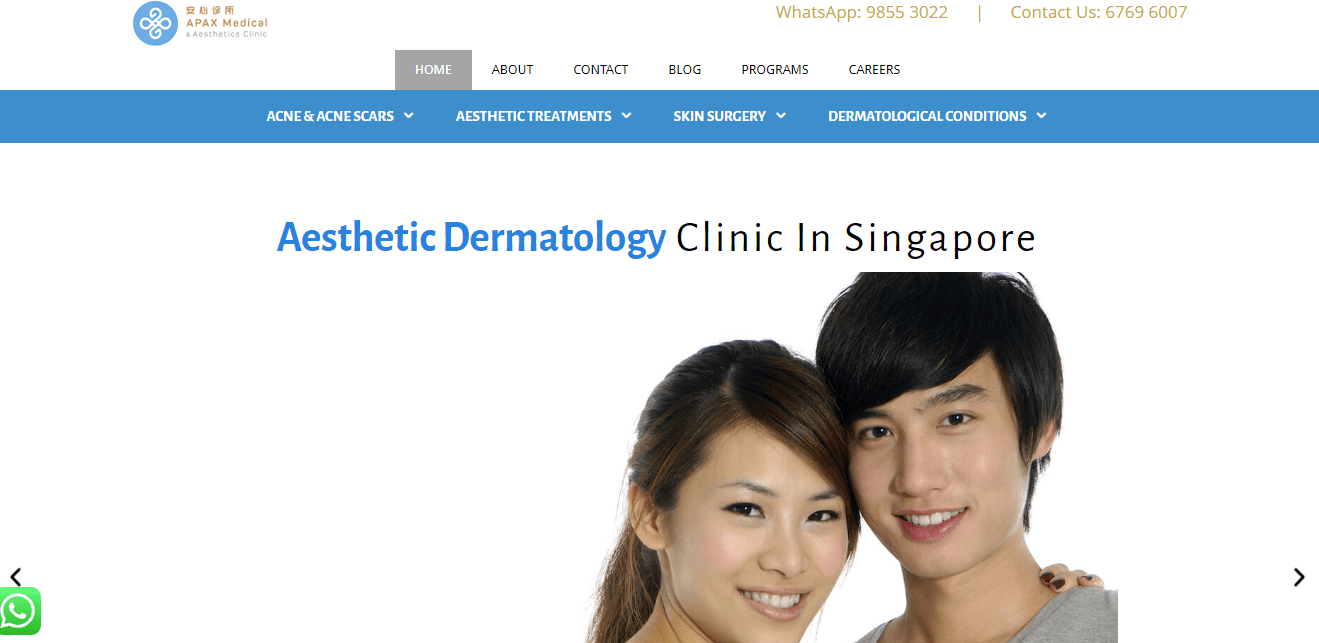 BEST FOR 
Acne and Acne Scar Treatment
SERVICES
Skinboosters, Face Thread Lift, Rejuran Healers, Nose Thread Lift, Skin Surgery, Laser Acne Treatment, and Dark Eye Circles
WEBSITE
https://apaxmedical.com
ADDRESS
212 Hougang Street 21, #01-331, Singapore 530212
CONTACT DETAILS
9855 3022

6769 6007

OPERATING HOURS
Monday – Friday, 10:00 AM – 5:30 PM
Considered one of the top aesthetic clinics in Singapore, APAX Medical and Aesthetic Clinic offers full-range services that can resolve all your skin problems. It specialises in a lot of treatments but its skin surgery and cosmetic dermatology treatments are worth noting.
What's more, it's also deemed the top option for the best skinboosters in Singapore. It has a team of professional dermatologists who can keep your skin nourished and hydrated for the next 12 months.
With its skinboosters, your skin will be rejuvenated inside and out, making it look fresher and brighter than before. It will only take 45-60 minutes, so it won't eat up much of your time.
Highlights
Affordable skin treatments
Professional and experienced staff
Quality medical devices
Customer Reviews
As one of the best aesthetic clinics in Singapore, APAX Medical & Aesthetic Clinic has an average rating of 4.6 on Google Reviews. Here are some comments left by previous clients:
"Dr. Moses is very friendly and approachable, greeting me with a big smile every time I go for a consultation. He is professional and skilled, and willing to answer all my  queries. The staff are polite, helpful and friendly too. I'm visiting this clinic for my acne scars. Having been to many other clinics in Singapore, I prefer Apax as the prices are more affordable and the environment feels more welcoming."
"Dr Moses is a really kind, patient and good natured dermatologist with a huge amount of knowledge that he imparts in a non biased and helpful manner. I am really grateful for his knowledge and expertise in helping me with my skin. The nurses in his surgery are also incredibly kind and helpful. I would recommend this clinic to anyone seeking dermatological treatment."
3.  Edwin Lim Medical Aesthetic Clinic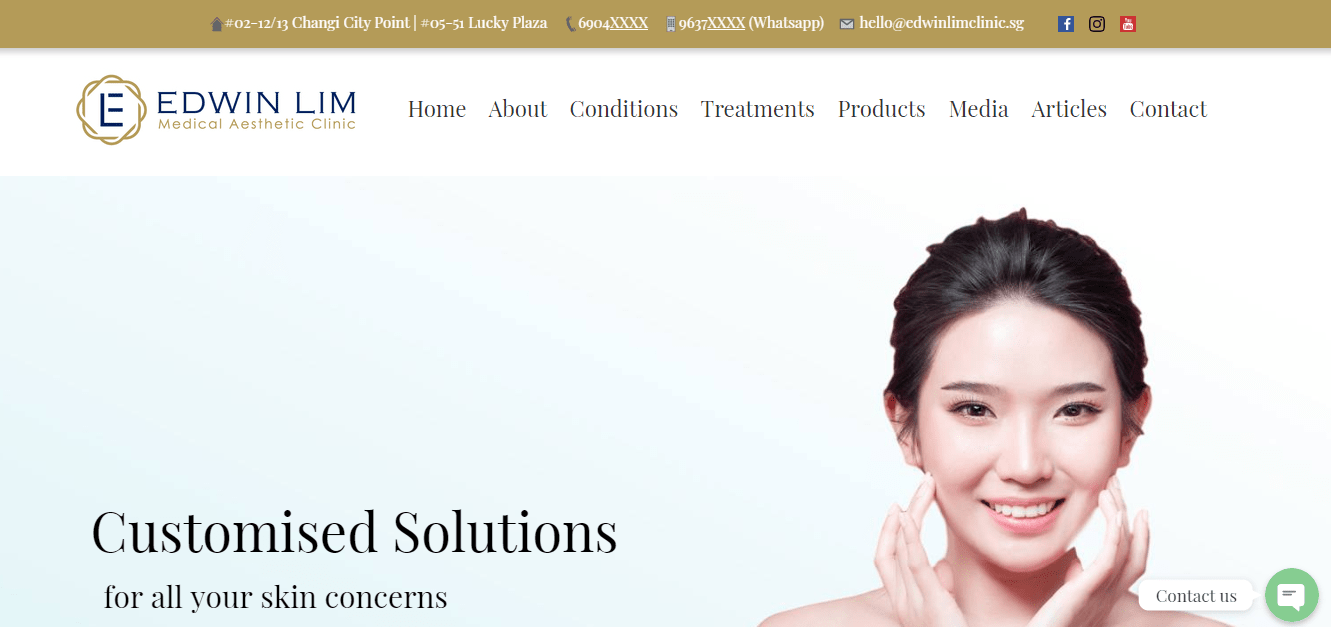 BEST FOR 
Personalised Skin Treatments
SERVICES
Skinboosters, Wrinkle Treatment, Nose Fillers, Rejuran Fillers, Acne Laser Treatment, PICO Laser, Hair Removal Laser, Fat Freezing, and Chemical Peels
WEBSITE
https://edwinlimclinic.sg/
ADDRESS
#05-51, Lucky Plaza, 304 Orchard Road Singapore 238863

02-12/13 Changi City Point 5 Changi Business Park Central 1, Singapore 486038

CONTACT DETAILS
+65 69042218
OPERATING HOURS
Monday – Friday, 11:00 AM – 8:00 PM
Edward Lim Medical Aesthetic Clinic has two branches on the island — one in Changi and another in Lucky Plaza, so accessing its treatments should be very easy. It offers a wide range of skin treatments that target not only the face but the entire body as well.
It's headed by its namesake, Dr. Edward Lim, who has years of experience studying and practising dermatology. As a customer, you get to be confident that the person touching your skin is among the most qualified persons to do the task.
In terms of skinboosters, past clients who have availed of it can attest to its effectiveness and safety. Before the procedure, Dr. Lim will apply painkillers for 30 minutes to minimise discomfort.
During the treatment, Dr. Lim will be as gentle and careful as possible to ensure that customers will not feel any pain and discomfort. So, if you're looking forward to painless skinboosters, make sure to check out this aesthetic clinic!
Highlights
Experienced doctors and nurses
Minimal discomfort during treatments
Effective skin products and equipment
Customer Reviews
Here are a few comments proving that Edward Lim Medical Aesthetic Clinic offers the best skinboosters in Singapore:
"No hard selling, Doctor Edwin is patient and meticulous, he goes all the way to help each and every patient. They even have a whatsapp line where you can address your concerns after the first consultation. The place is very cozy and clean too. Definitely worth a visit. I am currently treating my acne at Dr Edwin's clinic."
"Dr Edwin Lim came highly recommended through a good friend. I am not disappointed at all. Initially, I was concerned about finding the way to the clinic but it turned out to be a breeze. There is an underground link from the EXPO station all the way to Changi City Point Mall; that keeps me sheltered from the weather. He is thorough in his explanation, professional in clinical care, exercise dexterity in surgical skills, has gentle touch and has a friendly persona."
4.  The Aesthetic Centre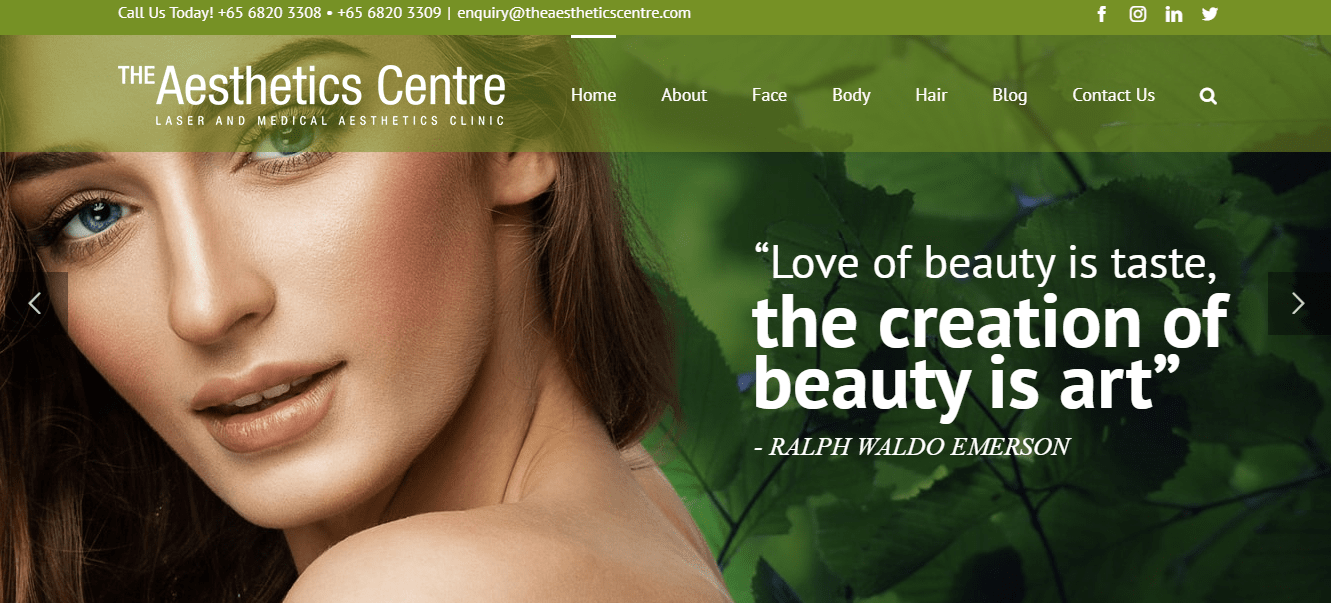 BEST FOR 
Anti-Aging and Skin Rejuvenation
SERVICES
Skinboosters, Dermal Fillers, Thread Lifts, Photofacial IPL Treatment, Body Contouring, Shockwave Therapy, Hair Restoration, and Laser Tattoo Removal
WEBSITE
https://theaestheticscentre.com/
ADDRESS
#01-137 Great World City (Office Tower, 1 Kim Seng Promenade, Singapore 237994
CONTACT DETAILS
+65 6820 3308

+65 6820 3309

OPERATING HOURS
Monday – Friday, 11:00 AM – 8:00 PM
Established in 2007, The Aesthetic Centre has grown into one of the trusted names in skincare. It has also amassed a huge following of customers from different walks of life who can attest to its quality skin and body treatments.
In terms of services, The Aesthetic Centre doesn't fall short. Its scope of treatments covers the face, skin, body, and even hair, making it one of the few aesthetic clinics with such a wide range of services.
If you're afraid of going under the knife, drop those fears now, because The Aesthetic Clinic only does non-surgical treatments, including its skinboosters.
Its skinboosters treatment has been proven to be capable of reducing plumpness, evening skin texture, restoring skin elasticity, and many more.
Highlights
Non-surgical treatments
Safe and effective services
Certified medical professionals
5.  Mizu Aesthetic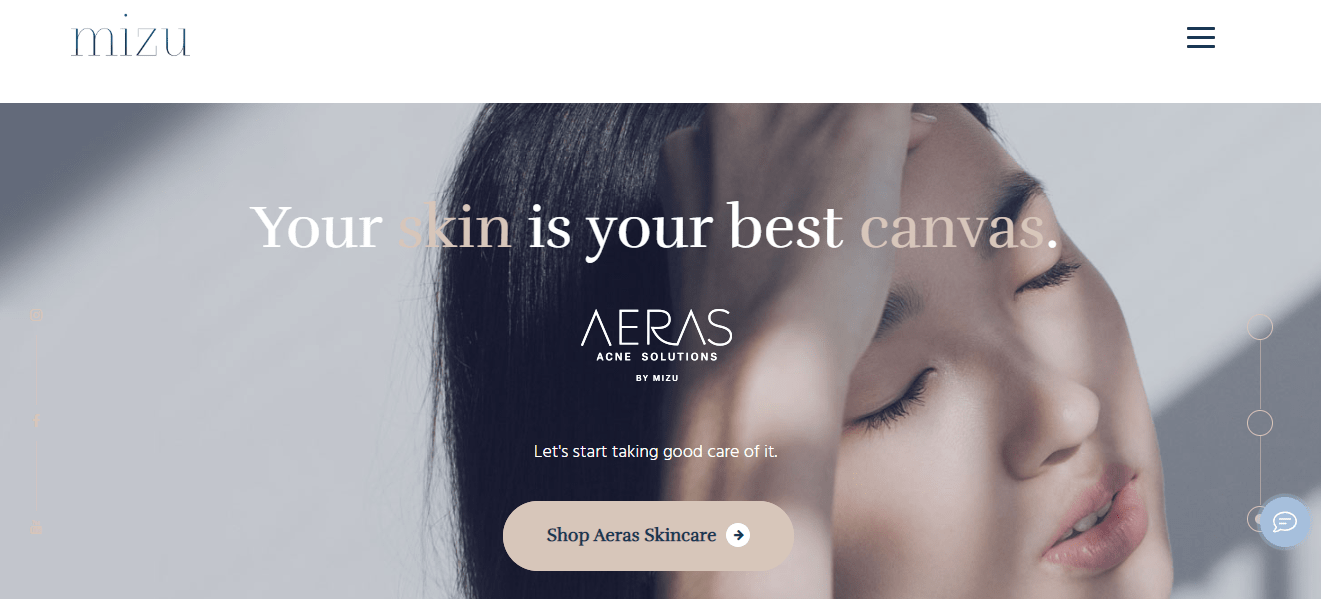 BEST FOR 
Face Treatments
SERVICES
Skinboosters, Pico Laser, Rejuran Healers, Laser Peel, Chemical Peel, Fillers, Nose Thread Lift, Face Thread Lift, Eye Bags Treatment, Body Acne Treatments
WEBSITE
https://www.mizuaesthetic.com/
ADDRESS
8A Marina Blvd, #B2-12 Marina Bay Link Mall, Singapore 018984
CONTACT DETAILS
+65 66344033

+65 9384 8915

OPERATING HOURS
Monday – Friday, 11:00 AM – 8:00 PM
Mizu Aesthetic is one of the most recent aesthetic clinics on the island, operating since 2015. Despite being new to the business, it has garnered attention from the public through its safe and effective beauty treatments
Some of its popular treatments are eye treatments, nose fillers and threads, pigmentation lasers, and skinboosters. Every treatment is facilitated by a professional doctor who has years of experience in conducting all types of beauty treatments.
Mizu Aesthetic knows that skinboosters can be a bit intimidating, that's why its doctors will first explain the basics of the procedures and how they improve the overall appearance of your skin. You will also learn through this consultation the type of skinboosters that matches your skin type.
Highlights
Experienced doctors
Comfortable and cosy clinic
Minimal pain and discomfort
Customer Reviews 
Mizu Aesthetic has been praised multiple times for its painless and quick skinboosters treatment. Here's a comment left by a client on Google Reviews:
"The experience was seamless, from the moment I contacted the clinic to book my appointment right down to receiving the treatment at the clinic. Doctor was patient in his explanation which was helpful for a first time customer like me. I was also quite impressed by how the treatments were administered (painlessly). I immediately secured a credit package with this assurance that my future sessions would be in good hands. Thanks Mizu!"
6.  Lux Medical Aesthetic Clinic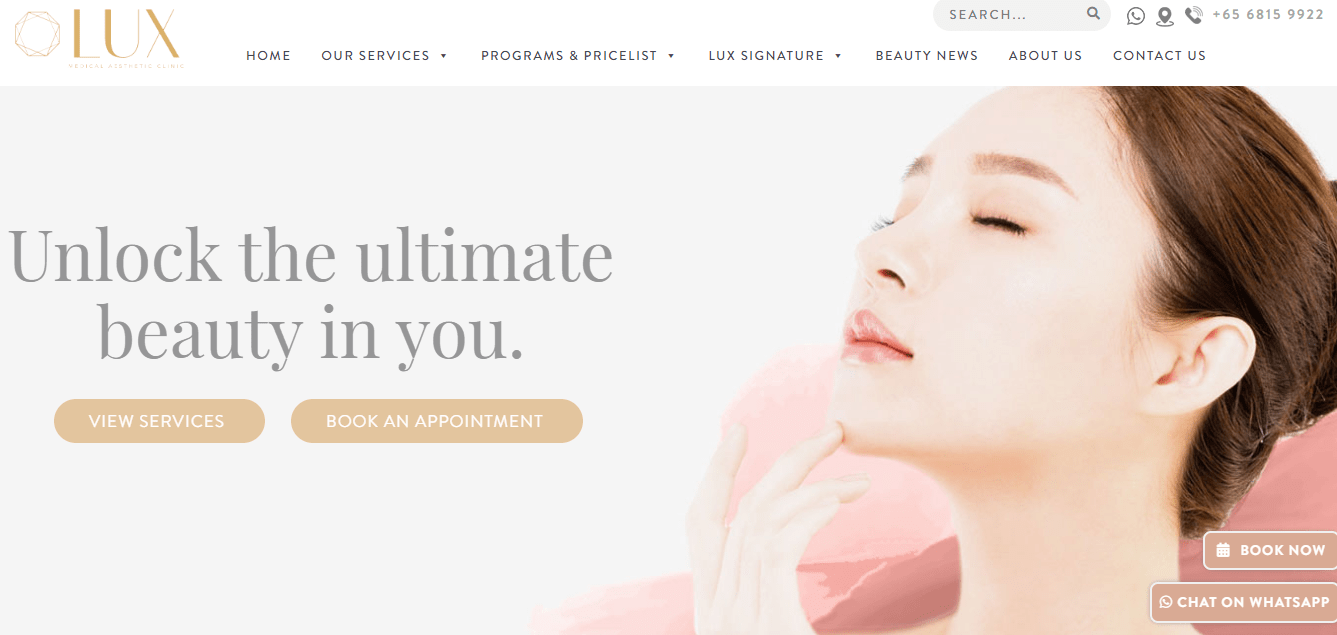 | | |
| --- | --- |
| BEST FOR  | Online Booking |
| SERVICES | Face Contouring, Skin Treatments, Body Contouring, Face Lift, Hair Treatments, and Eye Treatments |
| WEBSITE | https://luxaestheticclinic.com/ |
| ADDRESS | 2 Handy Rd, #02-09 The Cathay, Singapore 229233 |
| CONTACT DETAILS | +65 6815 9922 |
| OPERATING HOURS | Monday – Friday, 10:30 AM – 8:00 PM |
If you're looking for an aesthetic clinic that's willing to adjust to provide you with the right treatment, then Lux Medical Aesthetic Clinic is the right one for you. All its treatments are customised to fit the varying skin types and needs of customers.
What's more, its treatments are also backed up by research and data to ensure that they will be effective, and above all, safe. Every treatment is also facilitated by licensed & experienced dermatologists.
Lastly, what makes us consider it an aesthetic clinic with the best skinboosters in Singapore is its competitive pricing. Despite having cheaper rates compared to other clinics, it doesn't sacrifice the quality of this treatment.
Highlights
Trained dermatologist
Personalised treatment
Customer Reviews
Take a look at some positive comments left by satisfied customers of Lux Medical Aesthetic Clinic:
"I was recommended by a family member to seek treatment at Lux Medical Aesthetic Clinic for facial pigmentation issues. As I live abroad and was back for only 2 weeks, I was unsure if it was worth it. Dr Kellyn explained to me what to expect in terms of results, given that I was only able to go for 1 laser session. All I can say is I am very satisfied with the results and have no regrets whatsoever! Will definitely see Dr Kellyn again for further treatment in the future."
"My first hydrafacial experience going to Lux Aesthetic was so relaxing and refreshing. The clinic was like a 'haven' from the hustle & bustle. Dr Kellyn & her team are friendly & professional. The therapist was so good that I almost dozed off during the treatment. It made my face feel so good & clean. I think our face needs this every now & then especially with the air pollution these days! I recommend this treatment for anyone who wants your skin to breath & maintain your youthful complexion. I shall certainly be back!"
7. Face Shower Bar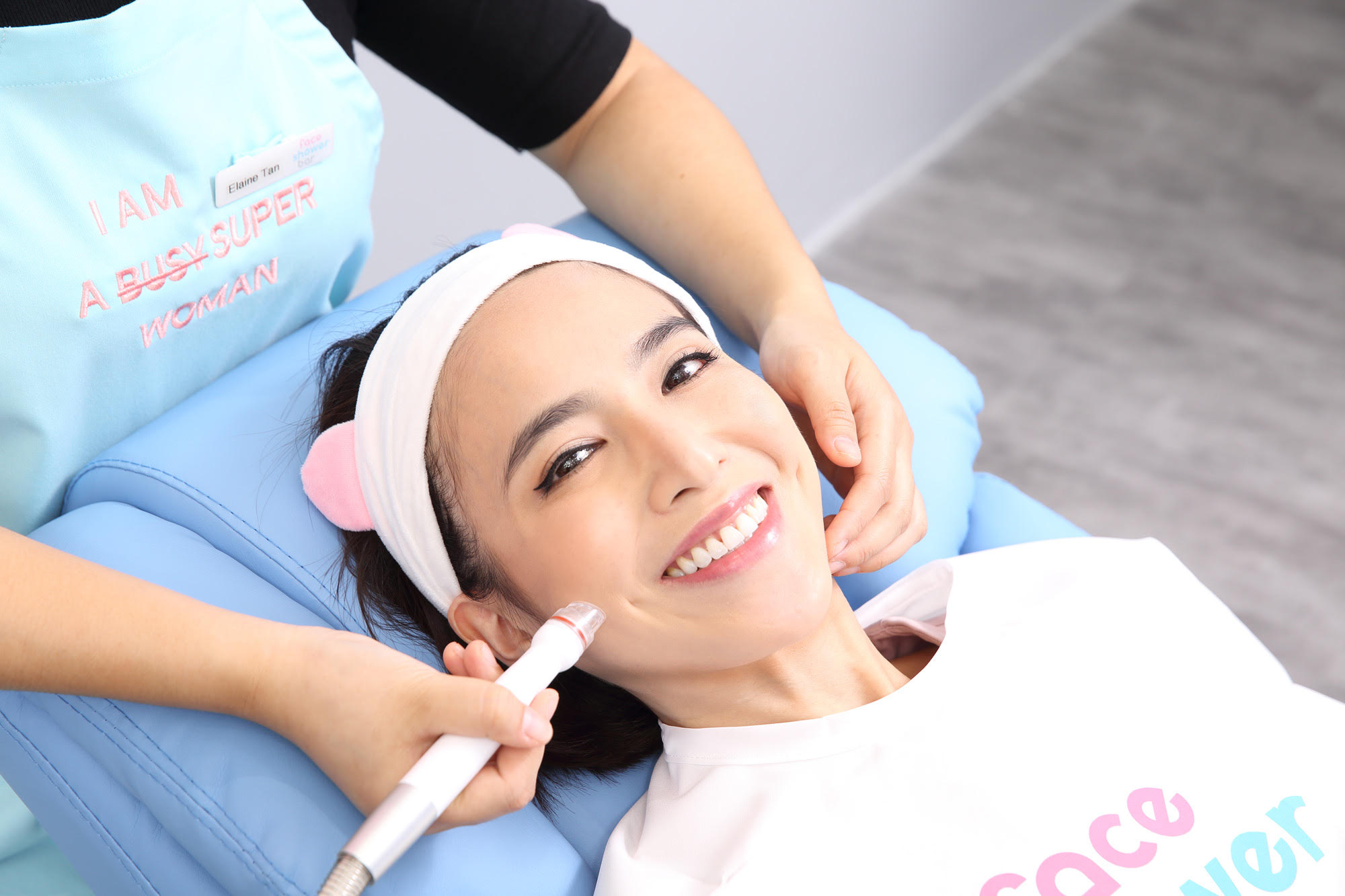 BEST FOR

Personalised skincare products

SERVICES
Hydra Facial, Skin Renewal Facial, Brightening Facial, Acne Buster Facial, Facial Boosters
WEBSITE

https://faceshowerbar.com/

ADDRESS

One Raffles Link #B1-17A

Citylink Mall (Near Marina Square Exit)

Singapore 039393

CONTACT DETAILS

+65 6222 8080 |

[email protected]

Operating Hours 

Monday

11am–9:30pm

Tuesday 11am–9:30pm

Wednesday 11am–9:30pm

Thursday 11am–9:30pm

Friday     11am–9:30pm

Saturday 11am–9:30pm

Sunday 11am–9:30pm
Face Shower Bar established their own R&D laboratory to make various facial treatments and unique skin care products with the help of collaboration with A*STAR. 
They are very fastidious in choosing their experts and skin instructors, they undergo intensive training at their internationally accredited Japanese beauty school before they can perform a service to a customer.
They also make maintenance easier for their clients are they openly share with them which products are best suited for their skin type and condition including the specific ingredients so they can DIY it at home.
Highlights
Qualified Skin Instructors

Unique Skin Care Products

Scientifically-Clean Japanese Skincare
Customer Reviews
Face Shower Bar really proved that their skin instructors were professionals and they have a very effective service based on the reviews of their customers.
"I tried a 30min express facial and I am very impressed by the visible results of the facial. My face was instantly glowing and my pores were very clean. The staffs there are very professional and friendly, no hardselling involved. I also bought some serums to try and they work great on my skin, no breakouts and absorbs very well! Thumbs up!!"

8. Trinity Medical Centre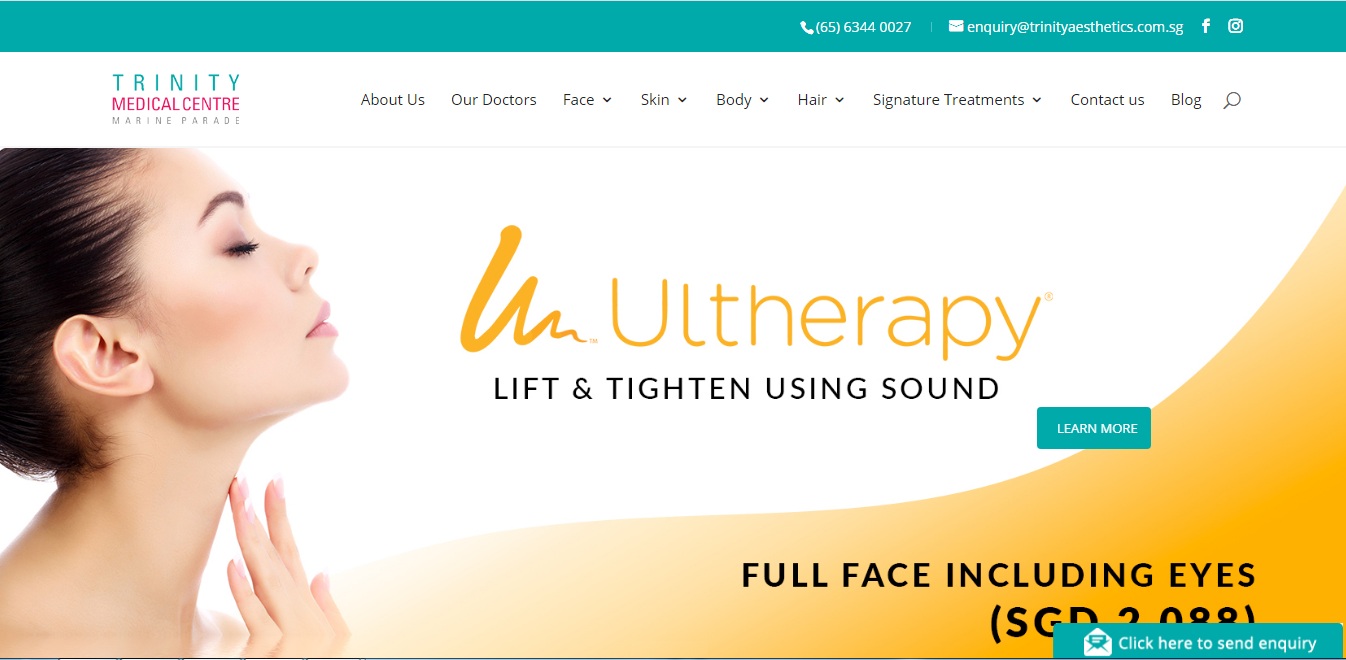 BEST FOR

Dr Tommy Ng Signature Acne & Acne Scar Removal

SERVICES

Acne & Acne Scar Treatment, Rejuvenation, Laser Peel, Aqua Facial Therapy, Tattoo Removal, CO2 Laser, Chemical Peel

WEBSITE

http://sgtrinityaesthetics.com/

ADDRESS

87, Marine Parade Central, #01-503, Singapore 440087

CONTACT DETAILS
(+65) 6344 0027 /[email protected]
OPERATING HOURS
Monday – Friday

: 10:00 am to 8:00 pm

Saturday: 9:00 am to 3:00 pm
If you're searching for a well-established clinic, then Trinity Medical Centre should be your choice. They take pride in their various FDA-approved medical equipment which are used in treating their patients. Further, all their surgical procedures are performed by competent and professional doctors. 
Their head doctor, Dr. Tommy Ng, has been in the medical field for over a decade. And throughout the years, he honed his skills and perfected his aesthetic skills. In fact, one of their popular treatments is Dr Tommy Ng Signature Acne & Acne Scar Removal. Most of their patients refer to them to get this procedure. 
The clinic assures its patients that all their treatments are safe. Moreover, their downtime is minimal as well as the maintenance after the procedure. 
Highlights
FDA-Approved technology

Tailor-made prescriptions

Professional and expert doctors
Customer Reviews
You can now say goodbye to your rough skin at Trinity Medical Centre. Their excellent practitioners and staff are commendable in terms of providing service to the general public. Here's what their client has to say regarding their treatment: 
I have with Trinity Medical for 2 years. Approach Dr Tommy regard on my face LPL / chemical peel treatment. Really see result in a week & very happy with doctor professional. Senior staff Catherine was nice & patient. She explain clearly on rejuran procedures on my dark ring eyes. My skin was glow &smooth after d treatment.The Dr & team was great. – Lionel Saw
9. Radium Medical Aesthetics

BEST FOR

Non-invasive medical aesthetic treatment

WEBSITE

https://radium-aesthetics.com/

ADDRESS

3 Temasek Boulevard #03-325/326 Suntec City Mall, Singapore 038983

CONTACT DETAILS

+65 6837-0507/ +65 9630-3022

OPERATING HOURS
Monday to Saturday:

10:30am to 8:00pm (Last appointment at 7pm) 

Sunday: 10:30am to 3:00 pm (Last appointment at 2pm)
Radium Medical Aesthetics always make sure to use modern and latest technology when it comes to treating their clients. They offer different treatments which are designed to enhance and rejuvenate your skin. One of which is their Skinboosters treatment. 
The clinic is renowned for its non-invasive procedures Thus, you will only suffer minimal pain during the process. Their end goal is to make their clients look and feel better about themselves. 
Headed by Dr Siew Tuck Wah, the medical staff of the clinic provides excellent performance and efficient service. This is how the clinic established their reputation and integrity in the industry. 
Highlights
Non-invasive treatment

Customized skincare procedure 

Minimum discomfort and pain
Customer Reviews
Radium Medical Aesthetic has garnered positive feedbacks and reviews from their customers. Here are some of those: 
Just wanted to thank Doc. Siew for saving my skin. It was so bad just a few days ago as it was peeling and throbbing red and I thought I really had to go under some medication or something.
Doc. Siew then told me to think what I had use differently and told me not to worry and perhaps try a treatment first and if am not in a rush just use his products first. I took all his suggestions for the light treatment plus products and it's softer now even. 
I started to see Doc Siew since my poly days and I must certainly say he has nv once tried to product push, in fact i feel that he always tells me to go for the most economic way. In fact sometimes if theres no need to, he would tell me to leave it, Which i really appreciate. All his treatments are very value for money and products are certainly lasting cos i only need a drop/2 . ?? – salsayaya85
Very satisfied with the results & services in Radium, 5-Star experience with reasonable prices. My first visit to consult with Dr Siew. He addressed my concerns and only recommended the treatment with very natural contour to enhance the face features. I took the Under Eye Filler,  reducing early wrinkles and hollow spaces under my eyes. He is very attentive and skillful in what he does. Highly recommended! – Sary Ann
10. S Aesthetics Clinic

BEST FOR
Face fillers
SERVICES
Popular Treatments, Face Treatments, Skin Treatments, Eye Area Treatments, Hair Aesthetics Treatments, Body Treatments
WEBSITE
https://saestheticsclinic.com/
ADDRESS
9 Scotts Road #07-07
Scotts Medical Centre (Pacific Plaza)
Singapore 228210
CONTACT DETAILS
Email: [email protected]
Telephone: +65 6235 0338
WhatsApp: +65 90207234
OPERATING HOURS
Mon-Fri: 10am – 8pm
Sat: 10am – 6pm
Sun & Public Holidays: Closed
S Aesthetics Clinic is praised for their aesthetic services, particularly due to their high quality and pain-free experience. They have a diverse set of treatments for both the face and body.
Their skin booster services are one of the best, where they ensure that the patient is as comfortable as possible. Besides using numbing cream, their skin booster formula also contains anaesthesia. Under their capable hands, you're sure to achieve the aesthetic results that you want.
Highlights
Expert aestheticians
Great customer service
High quality equipment and materials
Customer Reviews
Check out some reviews left by S Aesthetics Clinic on Google review:
"Hands-down the best doctors I have ever seen.
Dr. Sii and Dr. Kwan really took the time and listened to my situation with patience to really understand what is best for solving the issue. I was having some allergic reactions from a lip filler, which I got from a different clinic a couple months ago. My lips were very swollen when I walked into S Aesthetics. I was in a middle of a business trip, so you can imagine, I was under great pressure and stress with the situation.
They explained to me in a logical and calm manner each step of the way, so I had little fear during the dissolving process.
I am so appreciative of their work and my situations have immediately gotten better.
Please keep up the wonderful things you are doing because the world needs doctors like you.
Thank you."
11. 8 Medical Aesthetic Clinic
BEST FOR
Complete Aesthetic Treatments
SERVICES
Skin Treatments, Face Treatments, Body Treatments
WEBSITE
https://www.8medicalaesthetic.com/
ADDRESS
SOMERSET BRANCH
51 CUPPAGE ROAD, #06-22, SINGAPORE 229469DHOBY GHAUT BRANCH
2 HANDY ROAD, #04-19/20 THE CATHAY, SINGAPORE – 229233CLEMENTI BRANCH
41 SUNSET WAY, #01-05, CLEMENTI ARCADE, SINGAPORE 597071TAMPINES BRANCH
TAMPINES PLAZA, 5 TAMPINES CENTRAL 1 #03-01 S529541
CONTACT DETAILS
Tel: +65 3157 5947

SMS/WHATSAPP : +65 9151 9017
8 Medical Aesthetic offers a diverse set of medical aesthetic procedures. They primarily offer non-surgical treatments.
They have high standards of quality, from their doctors to their equipment. 8 Medical Aesthetic is a clinic you can count on to fulfil any of your aesthetic needs.
Highlights
Excellent attention to detail
FDA approved technology
12. 8 Medi Aesthetics Group
BEST FOR
Non-invasive and non-surgical procedures
SERVICES
Skin/Face Treatment, Body Treatment
WEBSITE
https://8medigroup.sg/
ADDRESS
SOMERSET BRANCH
51 CUPPAGE ROAD, #06-22, SINGAPORE 229469DHOBY GHAUT BRANCH
2 HANDY ROAD, #04-19/20 THE CATHAY, SINGAPORE – 229233CLEMENTI BRANCH
41 SUNSET WAY, #01-05, CLEMENTI ARCADE, SINGAPORE 597071TAMPINES BRANCH
TAMPINES PLAZA, 5 TAMPINES CENTRAL 1 #03-01 S529541
CONTACT DETAILS
Tel: +65 3157 5947

SMS/WHATSAPP : +65 9151 9017
The 8 Medi-Aesthetics Group provides quality aesthetic treatments for their clients. They are equipped with the latest skincare and aesthetic services in the industry.
Their team of medi-aestheticians are more than qualified, with each specialising in certain treatments. You can rest assured that they will provide the right solution for any of your aesthetic concerns.
Highlights
Team of qualified medi-aesthetician experts
Clinically proven
13. DermClear Aesthetic and Laser Clinic
BEST FOR
Individualized minimal downtime skin rejuvenation procedures

Signature anti-ageing topical formulations

SERVICES
Ulthera & HIFU
Threadlift (Korean and European absorbable threads)
Pigments
nose threads
acne and acne scars
Dermal Fillers
Botulinum A toxin or Botox/Dysport
SkinBoosters (HA & Rejuran Healer)
Cord Stemcells infusion
Eye rejuvenation (non surgical)
Body treatments
WEBSITE
https://www.dermclear.com.sg/face/skin-booster/
ADDRESS
1 Grange Road, Orchard Building #10-03
(above the H&M Orchard flagship store)
Singapore 239693
CONTACT DETAILS
Tel: +65 6356 5005
Email: [email protected]
OPERATING HOURS
10.30am – 7pm (Mon-Fri)
10.30am – 3pm (Sat)
Closed on Sun & Public Holidays
DermClear Aesthetic and Laser Clinic is able to expertly combine minimally and non-invasive scientifically proven procedures with bespoke topical formulations to achieve superior outcomes. The clinic has a steadfast reputation of offering highly effective and safe procedures that are performed by senior doctors who are established pioneers in the medical aesthetics field.
Highlights
Latest FDA approved products with additional bio-stimulatory benefits
Value maximization with minimal risks
Complementary therapies to achieve maximum rejuvenation outcomes
Customer Reviews
"Dr Chin is one of the rare gems in the business! I love that he is honest in his recommendations and doesn't push unnecessary procedures unlike others. The prices are very fair, considering the doctor's skill and quality of the equipment and products. Most importantly, I see results. I highly recommend the vitamin C serum which easily trumps other brand-name ones in the market. Can't live without it! The location is also very convenient for me. I couldn't recommend Dr Chin and his team highly enough!"

"Friendly and professional service….. always on time . Been going to Dermclear Clinic for a few years and I am very happy with their procedures and results. Very knowledgeable and happy to discuss needs….. definitely would recommend!"

14. Lee Na Young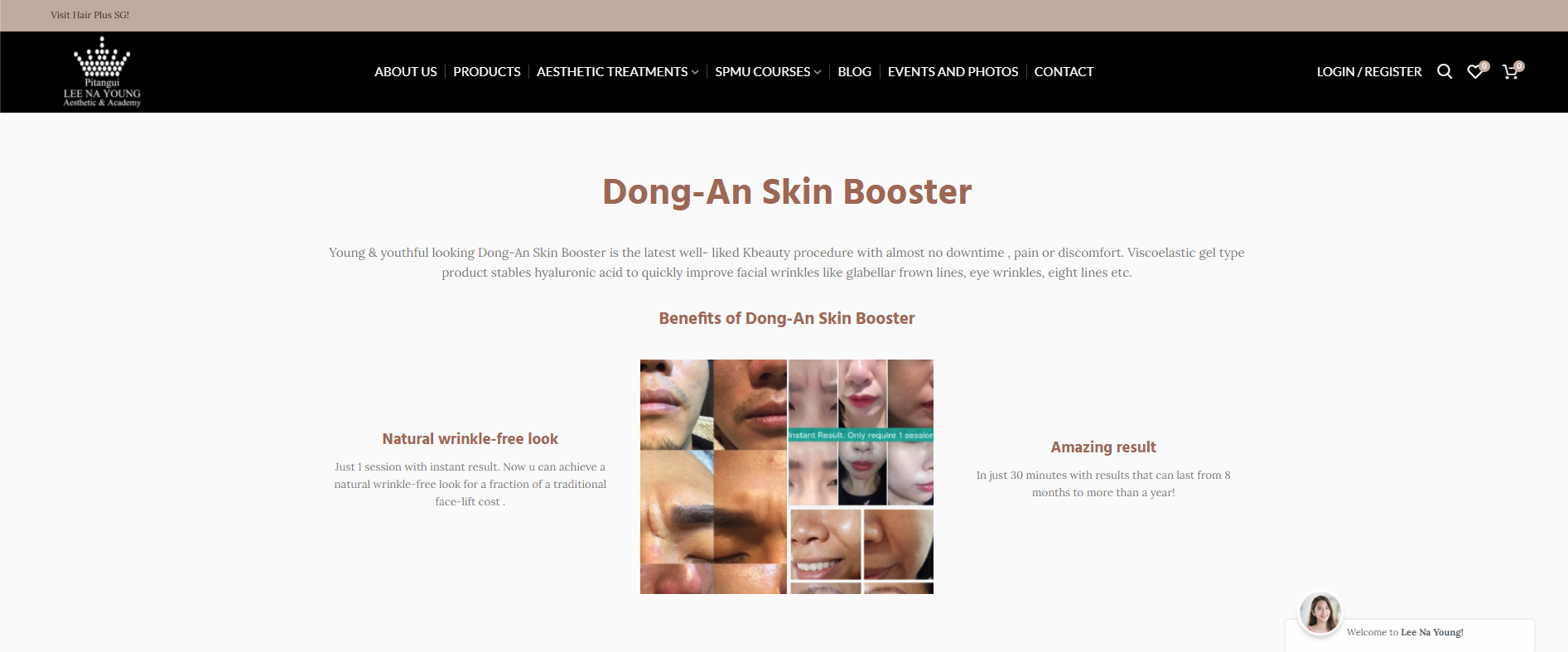 Lee Na Young is one of the first clinics in Singapore that offer both beautician and beauty consultation. Their Dong-An Skin Booster is certainly something to consider.
Their skin booster treatment is a procedure with almost no downtime, pain, or discomfort– perfect for those looking for painless treatments. You can also expect instant results after just one session.
If you're interested, make sure to check out their website and book a treatment now!
Highlights
Treatment finished after just 30 minutes
Instant results after 1 session
15. Tiffiny Yang Skin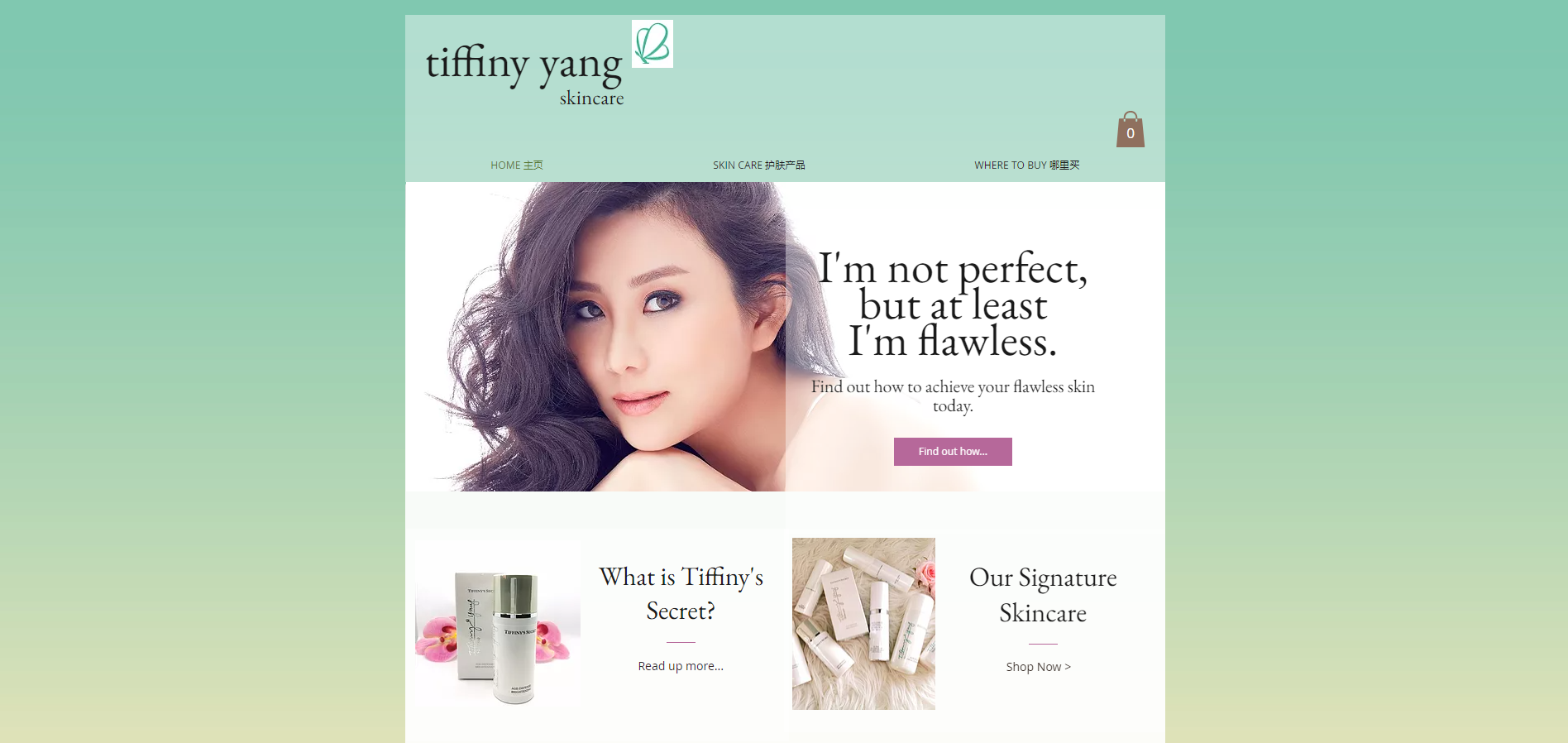 BEST FOR
Effective Skincare
SERVICES
Cosmetic treatments for various parts of the body
WEBSITE
https://www.tiffinyyangskin.com/
ADDRESS
Orchard Building #12-02, 1 Grange Road
Singapore 239693
CONTACT DETAILS
+65 9186 0805 (Whatsapp) / +65 6338 9448
[email protected]
Tiffiny Yang Skincare is a shop of Tiffiny Yang Aesthetics, a well-known cosmetic treatment provider in Singapore. They offer a wide variety of skincare products, such as sunblock, cleansers, and whitening creams.
They use only the best quality ingredients to create effective products. If you're looking for an effective skinbooster, then you should check out their website.
Highlights
Top-quality ingredients
Effective products
And that's it for our list of the aesthetic clinics that offer the best skinboosters in Singapore. Any of these aesthetic clinics can restore the beauty of your skin and boost your confidence significantly.
If you know another aesthetic clinic that has the same service, don't hesitate to share its name us and we'll check if we can add it to our roster.
For more options, you'd want to read our list of the best aesthetic clinics in Singapore. With the right aesthetic clinic, you're one step closer to getting the skin and body that you've always wanted!