The Top 5 Shops for the Best Wigs in Singapore
Getting ready for a costume-themed party? Or do you simply want to have a new hairstyle without cutting or damaging your hair? Whether it's for styling, hair protection, or health reasons, getting the best wigs in Singapore can help you achieve a new natural look!
Finding the right wig can be a bit challenging, though, as there are different types and thousands of wig collections available on the market today.
But no worries! We've already done the research and narrowed down your options with our list of shops that feature the best wigs in Singapore!
See our list below to explore various wig selections, available at affordable prices!
1. Fortune Wigs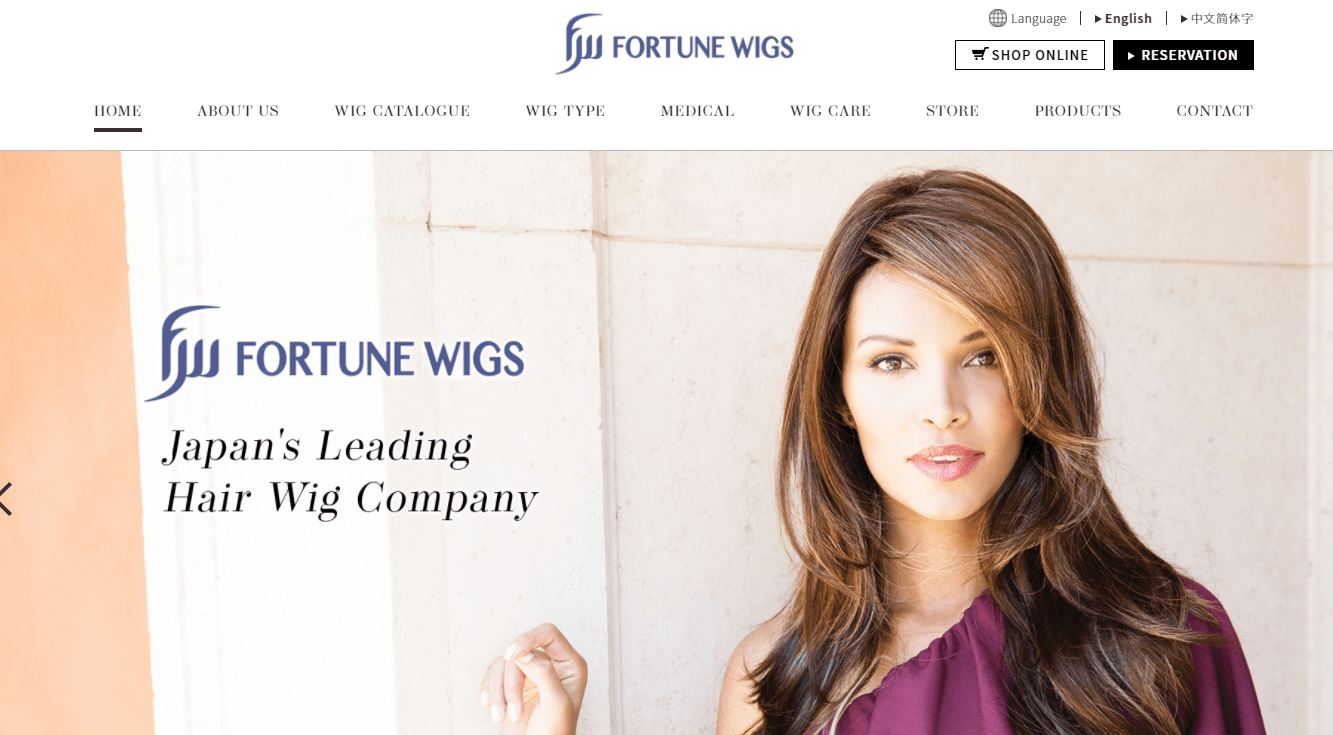 Known to be one of the well-established wig boutiques on the island, Fortune Wigs offers a wide range of total hair solutions, varying in types and styles. At their shop, you can find top pieces, half wigs, and full wigs, all with different designs.
With their wide assortment of styles, you can either have a classic or modern look. For the hair length, they have short, medium, and long options.
When it comes to their medical wigs, they offer breathable wigs that are gentle on the skin, made from mild elements, and that have gone through anti-bacterial treatment. These are also available in multiple hair lengths and colours, giving you natural texture.
Most people may experience discomfort while wearing a wig. However, this shop provides lightweight wigs with superior air circulation so everyone will feel cool and comfortable even after long hours of wig-wearing.
Their high-quality products are produced in Thailand where experienced and skilled technicians use advanced technology to craft precise and well-designed wigs.
They also have wig selections for men! Moreover, you can also easily find them in mall department stores where you can try custom-made or ready-made wigs for free!
Highlights
Unique and fashionable wigs
Well-made medical wigs
Wigs for men
Special promotions for wigs and top pieces
Free trial
Custom made wigs
Accessible locations
Customer Reviews
Customers said that their wigs are not only fashionable but also appropriate for many occasions.
This is why they've been praised for having the best wigs in Singapore. A customer shared this experience:
"This place is a big help to my mother who has an alopecia. We were able to choose the best wig which suits her preference. They also provide tips on how to take care of her wig and recommended some products that will keep her wig shinny and healthy looking."
2. Beautiq Wigs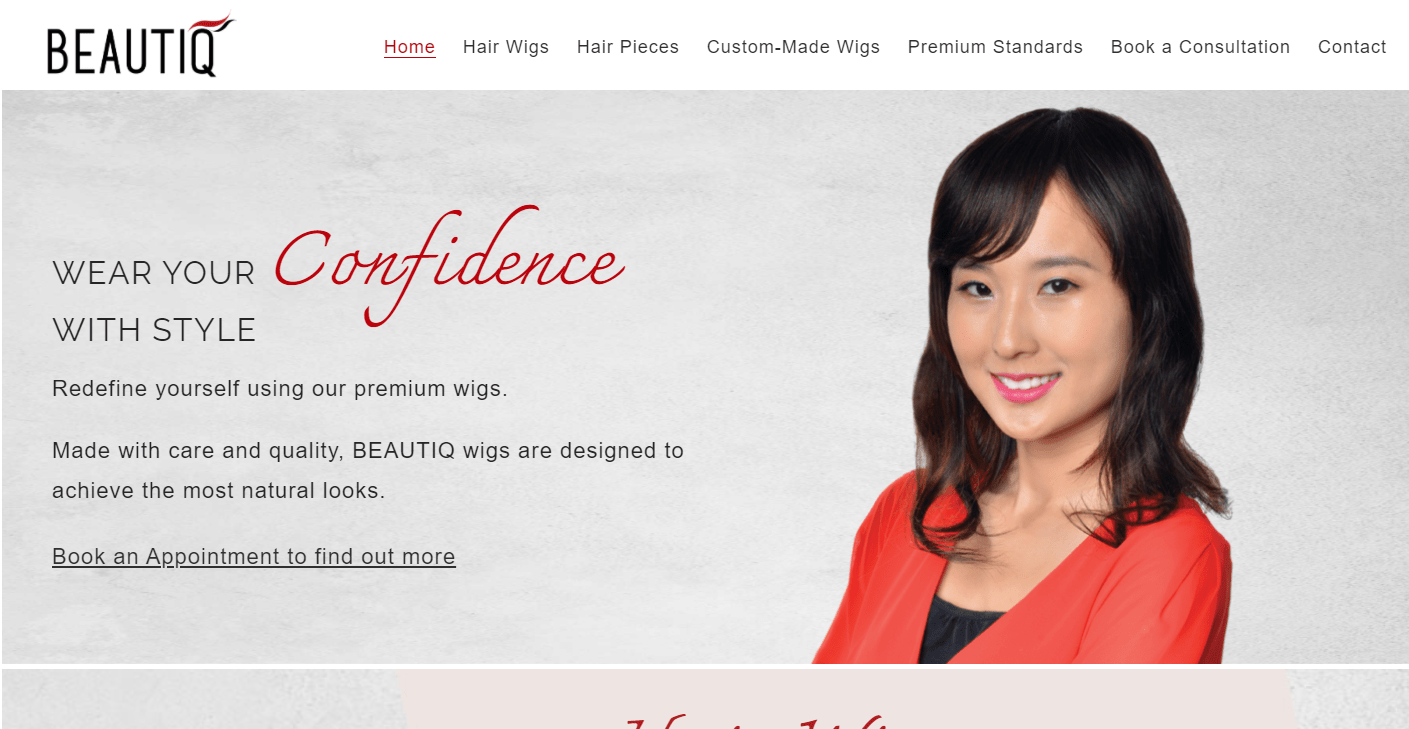 Beautiq Wigs is a leading boutique in Singapore that provides premium hair wigs and hair accessories as well. They have dynamic styles like short bob, long and straight, or curly hair looks.
Each of their wig designs can be worn as an everyday style or during special occasions. With their best hair wigs in Singapore, you can add volume to your actual hair to achieve a vibrant look or cover up white hair, preventing you from using harmful hair treatments just to stay youthful-looking.
Aside from hair wigs, you can also opt for hair extensions for extra length and volume or for trying out new colours and highlights. And if you'd like to try other styles that are not included on their catalogue, you can request a customised wig, giving you the perfect fit and style.
Their handmade wigs and hairpieces are sewn by their team of experienced artisans, so you can be sure that each piece is of high value.
To help you maintain your hair wigs properly, they also offer trimming, washing, and cleaning services.
Highlights
Hair extensions
Customised wigs
Wigs for men and women
Free consultation
Wig maintenance and add-on services
Customer Reviews
Most customers loved the overall structure of Beautiq's wigs and the extensive range of styles, colours, lengths, and textures. They also mentioned that the wigs are indeed natural, lightweight, and heat-resistant as well.
A customer posted this feedback:
"Fantastic collection! Best place to shop for wigs and other hair accessories. Price varies and I think they can give discount if you will buy in bulk. The staff are more than willing to answer your question and suggestions.'
3. Aderans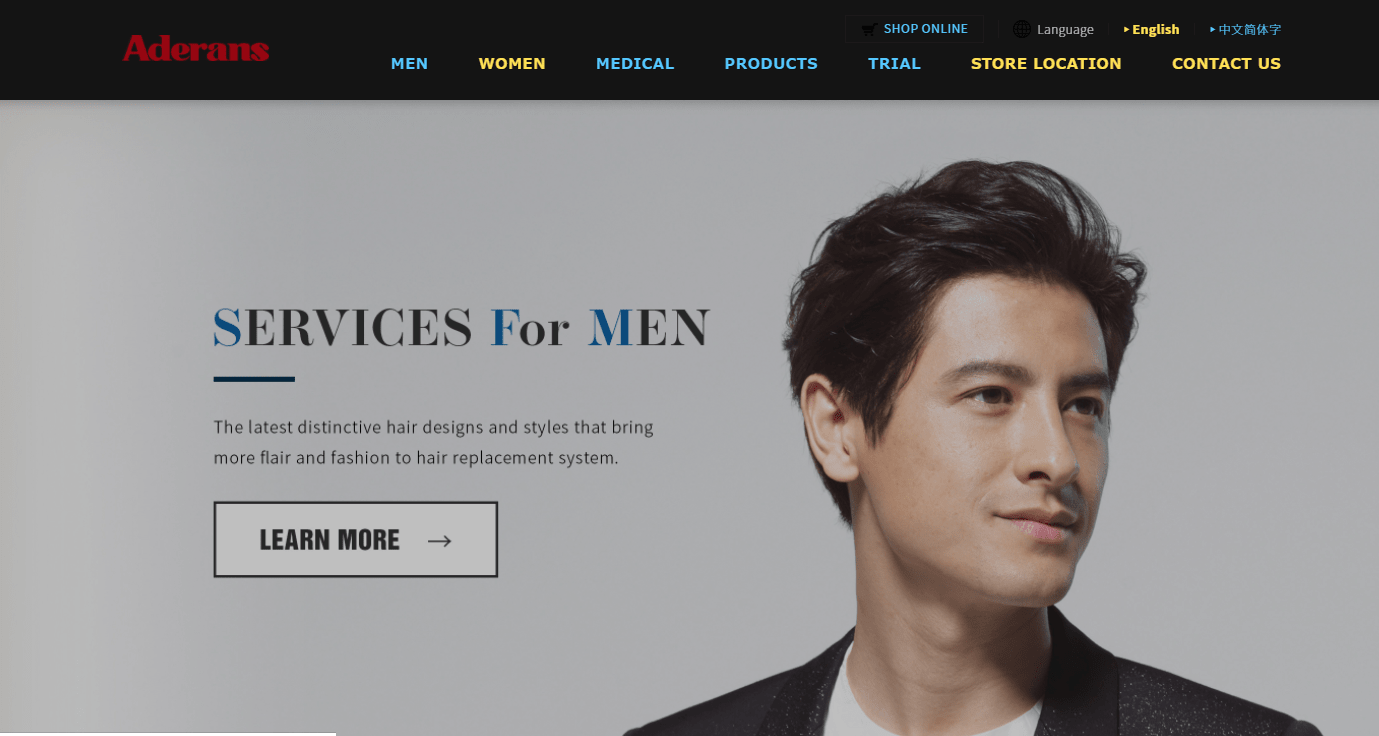 BEST FOR
Advance hair solution technology
PRICING
Shop
WEBSITE
https://www.aderans.com.sg/
ADDRESS
360 Orchard Road #02-03/04 International Building
CONTACT DETAILS
6735 9696
OPERATING HOURS
Mon – Sun 10:30 am – 7:30 pm

Closed on every Tuesday & Public Holiday
Aderans has been consistently producing excellent hair-replacement products for both men and women for years.
For women, they conduct free scalp analysis to determine which hair option is the most suitable. Whatever the client selects, each wig comes with a base that's made of silk protein, making it softer and gentler to sensitive scalps.
For men, they produce lightweight, natural, and long-lasting wigs that can help solve ultra-thin hairlines and other hair issues.
Their best wigs in Singapore have been recognised in the global fashion scene, proving that they truly offer world-class quality. Through their achievements, they have even been able to establish subsidiaries in different parts of the world.
Besides wigs, they also provide hair growth treatments and therapeutic remedies.
Highlights
Custom-made and ready-made wigs
Medical wigs
Free scalp analysis
Free trial
Maintenance services
One-on-one counselling
Customer Reviews
Customers have complimented Aderans because of their complete hair care services, including wig maintenance and follow-up counselling. A customer wrote this review:
"What makes me most happy is that no one can tell I'm wearing a wig! The staff at Aderans was very friendly. They were able to answer my questions before I decided to purchase my wig. They also trimmed my wig to perfection. After sales service was satisfying."
4. Sinma Jewellery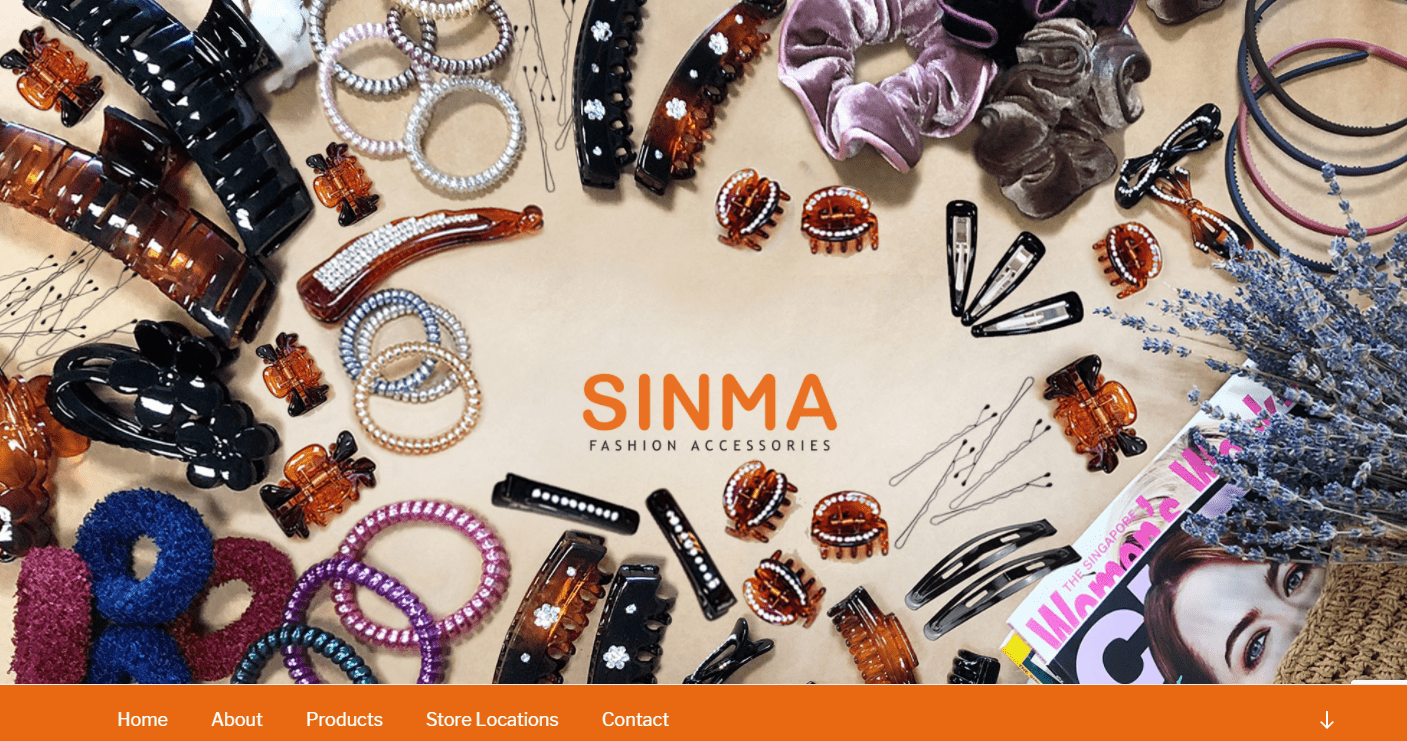 Sinma Jewellery is one of the most trusted retailers of hair and fashion accessories in Singapore. With numerous stores all over the island, they've proven that they have the best wigs in Singapore.
They're the ones behind Beautiq's wigs, so if you'd like to see more wig collections, you can visit their store and consult with their specialists. You can discover more hair wigs, hairpieces, and hair extensions made from both natural and synthetic materials.
Highlights
Hair wigs
Hairpieces
Hair extensions
5. Girl Hairdo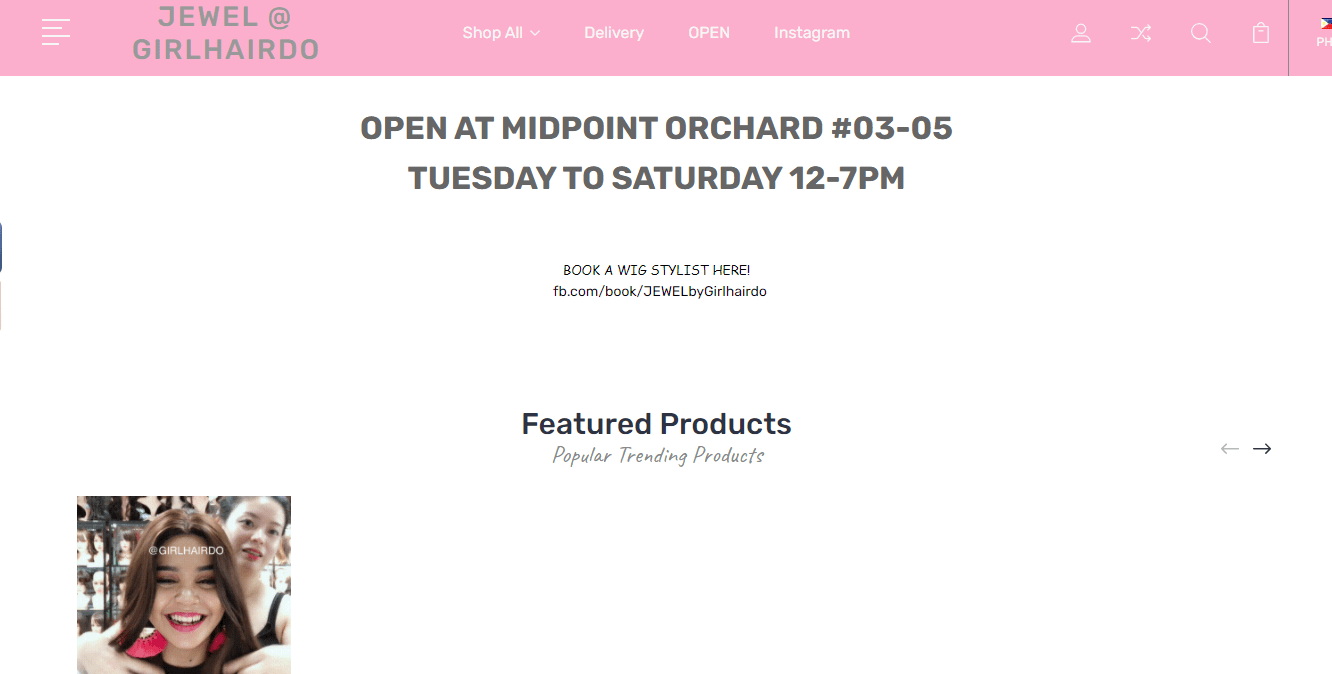 | | |
| --- | --- |
| BEST FOR | Chemotherapy medical wigs for cancer patients |
| PRICING | Shop |
| WEBSITE | http://www.girlhairdo.com/ |
| ADDRESS | Midpoint Orchard #03-05, Singapore 238852 |
| CONTACT DETAILS | +65 8742 7089 |
| OPERATING HOURS | Weekdays: 12pm – 7pm |
For stylish and coloured wigs, it's highly recommended to visit Girl Hairdo shop. They have different kinds of wigs that are perfect for cosplaying during birthday or Halloween parties.
They have cap hair, lace wigs, partial wigs, hair extensions, fringes, ponytail wigs, and more. They also offer wigs made of synthetic human hair for a natural look.
Most importantly, they have chemotherapy medical wigs for cancer patients. You can choose from their various wig materials, colours, and styles — all come at reasonable prices.
Highlights
Wig care products
Fringe, buns, and pony wigs
Chemotherapy beanie scarves
Hair extensions
Delivery service
And that's the end of our list of places with the best wigs in Singapore! Have you already found the perfect wig that suits you the most? Tell us all about it!
And if you're also looking for great hair products that'll help prevent hair loss and any hair damage, see these best hair loss treatments in Singapore!