8 Best Mechanical Keyboards in Singapore for Gamers Tested
If you're thinking of ways to improve your current gaming rig or home workstation, you might want to consider getting your hands on the best mechanical keyboard in Singapore.
Great mechanical keyboards can give you better and smoother gameplay than before. They can also reduce the ache in your wrists and fingers at the end of a long day of typing.
Luckily for you, we've just listed some of the best mechanical keyboards in Singapore worth your attention. We made sure to include only the ones with a durable build, quality features, and of course, a reasonable price.
But first, we're going to share a few tips on how to pick the best mechanical keyboards in Singapore. If you already know what to look for, feel free to jump right ahead to our picks.
Anyway, let's start!
How to Pick the Best Mechanical Keyboards in Singapore
Using the best mechanical keyboards in Singapore comes with a long list of benefits, including fewer typos, smoother gameplay, and the like — which is why it pays to take time just to find the right one.
On top of that, the best mechanical keyboards in Singapore are rarely cheap. So, you definitely want to make sure you're getting the ideal one for your situation if you don't want your hard-earned money to go to waste.
One of the first things that every buyer should look at in the best mechanical keyboards in Singapore is the type of switch used. After that, checking noise level and keyboard form is beneficial in the long run as well.
Let's go over some of these points below.
1. Switch
A mechanical keyboard wouldn't be what it is without its mechanical switches. Most of the best mechanical keyboards in Singapore use Cherry MX switches, but many other brands' switches can be found now, from Romer-Gs to Kailhs.
What's really important to note is that options aren't limited to a single type of switch under any of these brands.
For example, let's say you're looking at a keyboard with Cherry MX switches.
In most cases, the keyboard manufacturer will let you choose from a selection of Cherry MX switches to use in the product.
For casual and experienced gamers, keyboards with MX Red and MX Black switches are highly recommended. They're quiet and very, very sensitive.
Writers will have to stay away from such switches, though, because they'd be exhausting for typing jobs. They're so sensitive that you'll have typos all day long!
We'd strongly suggest MX Blue switches for writers because they offer a tactile audible click everytime they're pressed. They're gentle on the hands too, and still responsive enough for gaming.
On the other hand, an MX Brown switch is ideal for both gaming and typing if you're looking for a more versatile option. It sits right in the middle of the Reds and Blues, so think of it as the midway option if you can't decide between them.
Other switch brands have similar categories for their switches — they're just named different things, usually.
So, if you're confused by a switch manufacturer's products, ask the vendor which Cherry MX switch they're comparable to.
For instance, if you're looking for the equivalent of a Cherry MX Blue in Razer's lineup, you'd likely end up with a Razer Green switch. If you're looking for an equivalent from among Kailh switches, you'd probably get a Kailh Jade Box switch set.
2. Noise Level
After the switch, it's worth noting the noise level of the mechanical keyboard you're planning to get as it tends to vary per model.
Some people find the clicking sound of mechanical keyboards satisfying, even making it their top consideration when looking for one. But for others, a noisy mechanical keyboard is nothing but annoying.
So, if you tend to get irritated by clicking sounds, make sure to look for one that creates less noise, although you might encounter difficulty as most models are noisy.
Usually, the type of switch used will be the main determinant of a keyboard's noise level. Just refer to what we said earlier about the different types of Cherry MX switches.
3. Keyboard Form
If you've gotten used to the traditional layout of a keyboard, then you're free to opt for a mechanical keyboard with the conventional form. However, keep in mind that there are other keyboard layouts out there that can cater to your needs as a gamer.
The only downside with sticking to the traditional keyboard layout is that you have to place your hands further out to press a key sometimes.
Some other mechanical keyboards in Singapore only have 80% or 60% of what makes up a traditional keyboard layout, meaning there are fewer keys to press and less distance between your hands.
Extras: Macros, Lights, and So On
Most mechanical keyboards are meant for either gamers or the more tech-savvy, so they tend to come with quite a lot of extras.
These don't matter much if you're not interested in using a keyboard for anything but typing, of course. But on the whole, it's a good thing if a keyboard has macros (so you can store key-command combinations you use a lot), backlit keys (easier to see in dim light), and onboard memory (to store macros and keyboard profiles).
You'll also often see media keys on these — but again, they're really just bonuses. Nice to have, but not necessary!
The Best Mechanical Keyboards in Singapore
Now that you're aware of what to consider when looking for the best mechanical keyboards in Singapore, you're surely more ready to see our selection.
For this list, we picked some of the most highly recommended mechanical keyboards on the island. So, whether you're a gamer or writer, we've got your needs covered!
1. Tecware Phantom RGB
Best for Versatility

Price: $69.00
The Tecware Phantom RGB is known for being a versatile and durable mechanical keyboard, having features engineered for the needs of gamers and writers. It features a cool, vibrant design as well, with more than 18 lighting modes.
On top of that, the Tecware Phantom RGB comes with switches rated at 50 million keystrokes, so rest assured that it's going to last for a long time. It makes use of Dual FR-4 Fibreglass PCB for an enhanced lifespan.
Some of the additional features of the Tecware Phantom RGB are floating key design, modular switches, non-fade double-shot keycaps, multiple lighting effects, and many more — which is why we consider it one of the best budget mechanical keyboards in Singapore.
Pros
Outemu Blue/Brown/Red Mechanical Switch
Competitive price
Lifespan of 50 million keystrokes
Multiple lighting effects
Cons
Customer Reviews
Take a look at some of the comments posted on Amazon:
"Buy this keyboard. If you are coming from another low/mid-end mechanical you will be very happy. If you are coming from the membrane you will be ecstatic. If you are coming from a higher-end keyboard & don't pro-game this will fit the mold just find, you & your wallet will be happy."
"These springs feel like they were actually lubed, a lot of the keys such as space bar, shift, backspace, etc are just much more quiet and solid feeling. The board itself doesn't bend as easily as the Drevo did, which came lopsided out of the box and required bending back in place to use on my desk. It has the same macro functionalities as the Drevo, and the important media keys rebinding if you desire that. Most importantly if your switches go bad, you can actually replace them on this board."
2. Logitech G Pro X Mechanical Gaming Keyboard
Best for Advanced Gamers

Price: $149.00
If there's a mechanical keyboard we could recommend to avid (and super-technical) gamers, it'd have to be the Logitech G Pro X, considered one of the best mechanical keyboards in Singapore.
It might cost a lot more than the standard mechanical keyboard, but it will surely give your money's worth, down to the last cent. It can even be customised according to the preferences of the user, something that not a lot of mechanical keyboards can do.
On top of that, the Logitech G Pro X comes with user-swappable pro-grade switches that will make your gameplay a lot smoother and more exciting. It's even recommended by a lot of professional gamers because of its compact design and switches.
If you've been searching for ways to take your gaming sessions to the next level, then purchasing the Logitech G Pro X should be your first step!
Pros
3 base switches: GX Blue Clicky / GX Red Linear / GX Brown Tactile
Pro-grade switches that are user-swappable
Compact design
Detachable cable
Customisable
Tenkeyless (takes up less space on a desk)
Cons
Expensive
You have to buy complete sets of swappable switches instead of just the number of switches you need for the keys you're customising
Tenkeyless (can't use it as a calculator)
3. CoolerMaster CK350
Best for Affordability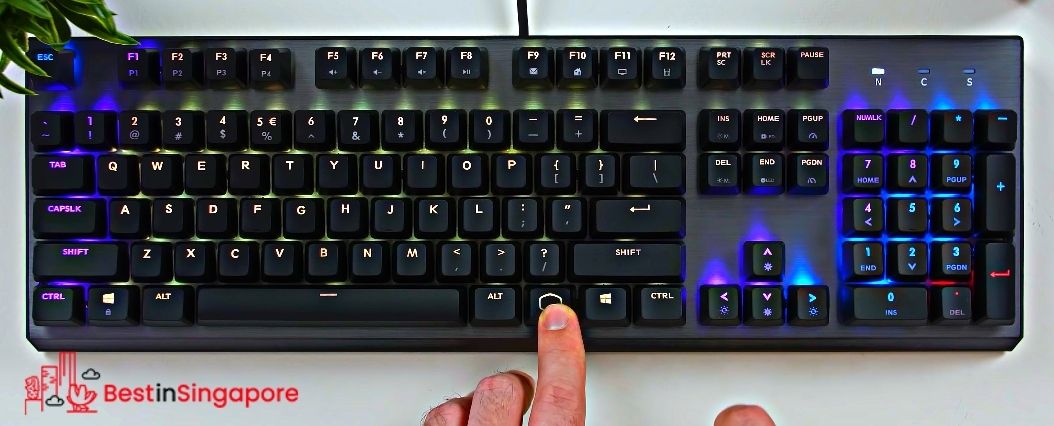 Price: $69.00
It's no secret that the best mechanical keyboards in Singapore rarely come cheap… but if you look hard enough, you might come across CoolerMaster CK50, one of the most affordable and best budget mechanical keyboard options on the island.
For no more than $70, both gamers and writers can enjoy a keyboard that's gentle on the hands without causing any discomfort after hours of usage.
Since it's cheap, it doesn't come with a lot of advanced features and gimmicks, but it does the job quite well.
On top of that, the CoolerMaster CK350'S switches are designed for durability and precision, which may be a surprise on a bargain-priced mechanical keyboard. This is why we call it one of the best mechanical keyboards in Singapore if you're on a budget!
It comes with the standard and basic keyboard layout, though, which can be a disadvantage for some gamers. But if you like that kind of familiarity, we guess that you wouldn't experience any hassle with its layout.
Pros
Gateron RGB Mechanical Switches
Reasonable price
Durable switches
RGB backlighting
Cons
Customer Reviews
Here's what customers had to say about the CoolerMaster CK350:
"In Cooler Master's description of the Cooler Master CK350, they call it the basic, standard-issue gaming keyboard that avoids gimmicks in favor of useful features essential for victory. I couldn't agree more. You get all the important features any gamer needs, except for maybe macro programming."
"Packaging was flawless with not a single dent at the edges despite having the box in a simple black plastic bag. RGB presets all work perfectly and I'm loving the sound and feel of the gateron browns. Keyboard doesn't slip and looks really sleek."
4.   Red Dragon K631
Best for Wired Mechanical Keyboard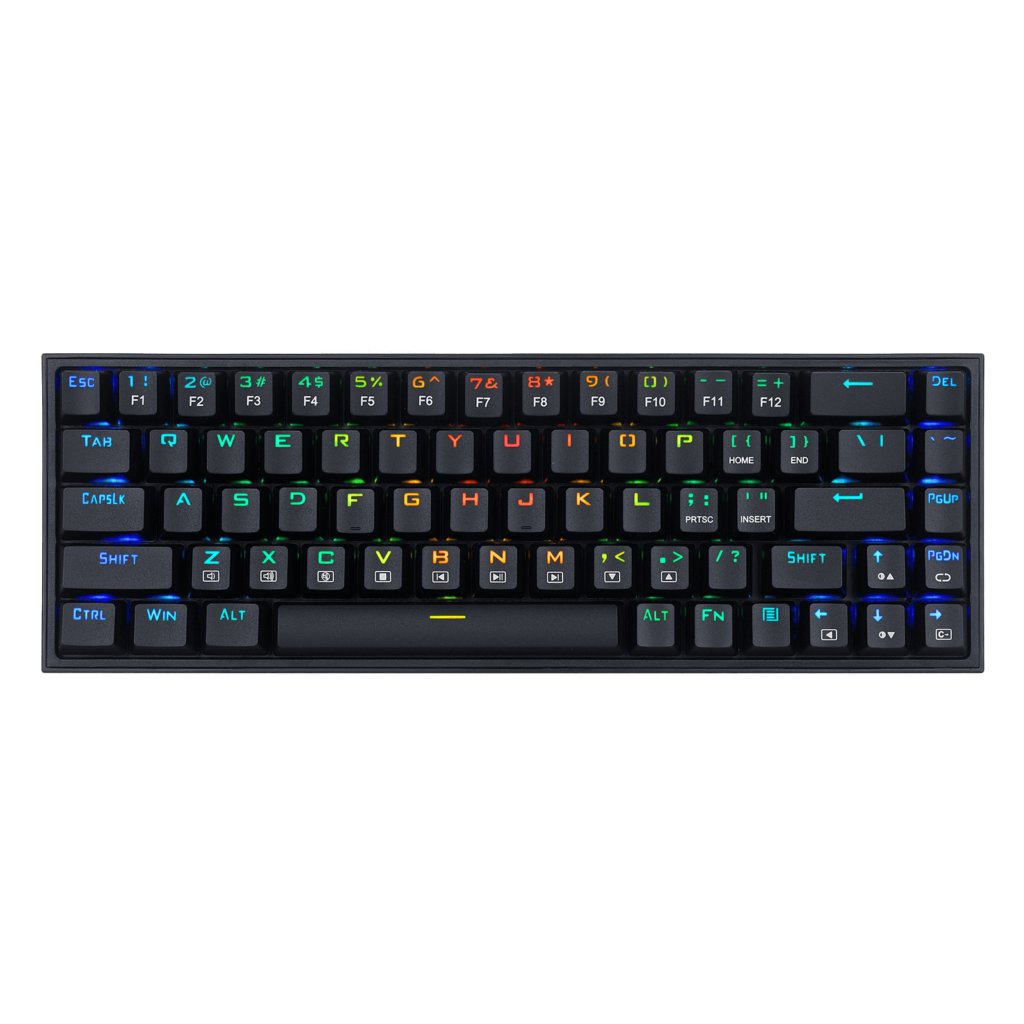 Price: $74.51
If you are looking for a 65% keyboard layout with a 75% variant, we got you covered.
Red Dragon is a well-known brand for its visually stunning brand for gaming accessories. Whether you need a keyboard, mouse, headsets, or mouse pads, they have it all.
In comparison to others, Red Dragon Castor 65% is a wired gaming keyboard with red switches. If you are a gamer, you would automatically know that these are the perfect ones for you as they require less force to press but still respond quickly.
What makes this even better is that they are hot-swappable. If you are tired of your stock switches, you will have the freedom to customize your keeb and find new switches that suit your gaming style.
Have an RGB set up? With this product, you will have 20 present backlighting modes. Definitely more than other keyboards out there.
And by the way, this keyboard is pro software supported. So if you want to explore and make new modes and effects, you know what to buy.
Pros
Comaptible with almosy all the MX style SMD-LED swiches (including Gateron, Cherry, and Kailh)
Can accomodate both 3 or 5-pin
Has both USB-C/A jacks
Cons
5.  Red Dragon K628
Best for Compact Layout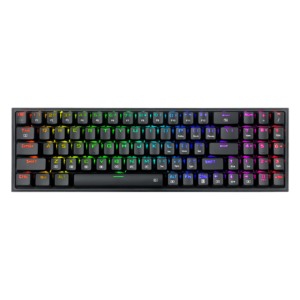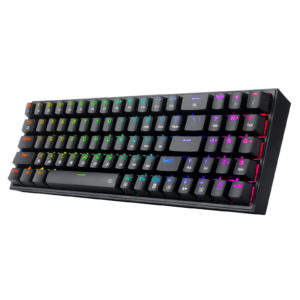 Price: $78.58 
We can all agree on the fact that a 104-key keyboard takes up way too much space on our desks. With Red Dragon Pollux 75% gaming keyboard, you will get to have a wired keyboard with 78-keys layout.
This is great for those who need a number pad because it has a balance of compactness and 104-key functionality!
Similar to Red Dragon K631, its stock switches are Outemu red and it also has an RGB lighting. Since this product is pro software supported as well, you can add your ow backlight effects depending on your preference.
Another great factor when it comes to lighting is thta its brightness and flowing speed is also adjustable. Simply click the fn key and the corresponding arrow key.
The only catch here is that you will really need time in adjusting since most of its keys have double function.
Pros
Has a 65% variant
Hot-swappable with 3 or 5-pins
Can put on custom keycaps
Cons
Sizing of some keys are not the same as the standard
6.   Elysium DOT
Best for Typing Jobs on a Mac/strong>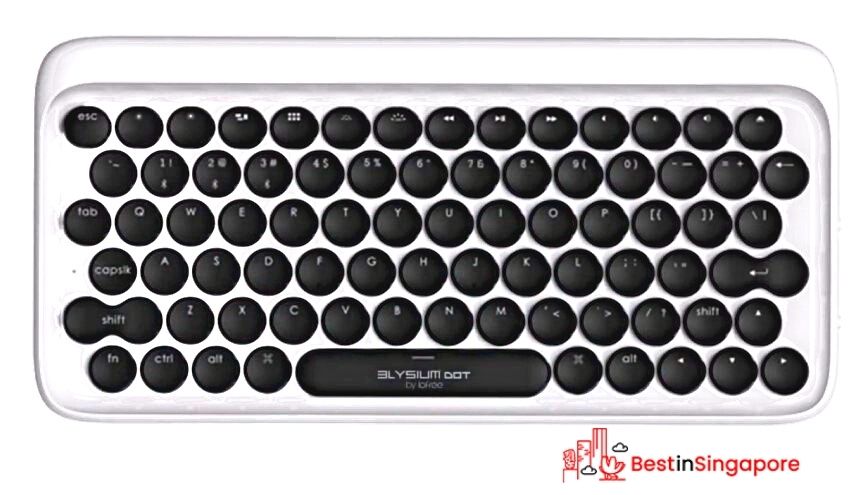 Price: $79.90
If you do a lot of writing for your job or school requirements, you might want to check out the Elysium DOT, considered one of the best mechanical keyboards in Singapore. It comes with features that will encourage writers to do more writing and beat their deadlines!
One of the best features of the Elysium DOT is its cute and elegant design that comes in either white or black. Even if it's made of plastic, it has a strong and sturdy feel to it, only enhanced by the slightly concave buttons.
In terms of layout, users might need some adjustment because it's different from the standard layout: the buttons are extremely close to each other. It can be connected to your computer via Bluetooth or USB cable, by the way.
The Elysium DOT only works with Apple computers, though, so if you're a Windows user, you're going to have to pass on this one.
Pros
Gateron Blue Mechanical Switches
Compact
Cute design
Concave buttons
Cons
7.  Redragon K530 Draconic 60% Compact RGB
Best 60% Gaming KB on a Budget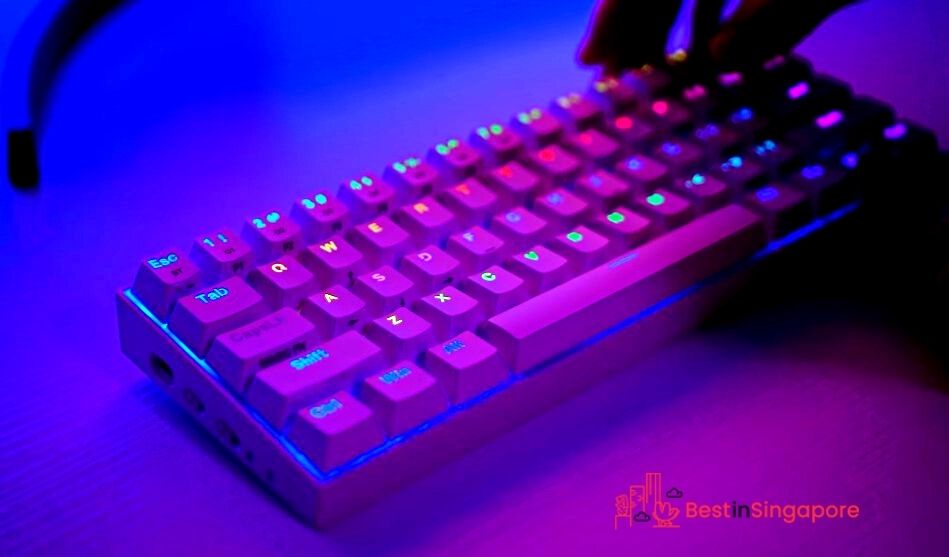 Price: $64.99
The Redragon K530 Draconic 60% Compact RGB has an ultra minimalistic 60% design with a 61-key portable layout, which helps free up table space for mouse movement. This device also offers the great performance for FPS gamers, as a result.
Durably built and equipped with mechanical switches, it's a very nice option if you're a gamer pressed for desk space. It measures a measly 11.5*3.9*1.4 in — but it's definitely not flimsy.
Use it and you can enjoy either a traditional wired connection or the freedom of wirelessness with a Bluetooth 5.0 connection and a 3000mAh battery. Furthermore, its tactile brown switches provide a soft bump but no click for quiet use with nice feedback.
Its most interesting feature is probably that its switches are hot-swappable. By default, though, it currently comes equipped with the brown ones, as mentioned earlier.
The switches are Outemus, rated for 50 million keypresses. Please note that we actually have another keyboard on this list with hot-swappable switches, though — the Logitech G Pro X.
That one sports GX Clicky switches instead. It's also more expensive, so the Redragon K530 may still be preferable to those on a budget… unless they're not terribly comfortable with macros or function keys, as those are necessary to access functions like the arrow keys on 60% keyboards.
Hands down this is the best budget mechanical keyboard in Singapore that provides a lot of value.
Pros
RGB illumination builder
First Redragon 60% keyboard
Wireless and wired connections
Dual Mode switch
Cons
May be awkward for those who prefer dedicated keys for arrow keys and the like

Not ideal for those who need a dedicated numpad for heavy calculation
Customer Reviews
Check out a few of the comments posted on their website:
"The Redragon K530 Draconic is a 60% keyboard featuring usb type c and on board bluetooth connection. Using this keyboard for nearly a month now, I am happy to say it is one of the best budget mechanical keyboards for its price. Coming with ABS keycaps that are textured close to pbt on the top of the key to ensure premium durability and shiny abs on the side of the keycaps to reflect the rgb lighting underneath. The wire is plugged into the left side of the keyboard which personally is perfect for me since I usually tilt my keyboard while gaming meaning the wire will not get in the way. The keyboard comes in only brown switches which is the only small downside however is hot swappable and comes with black, blue, red, and another brown switch variant. I am sure Redragon will release this keyboard in different switch types in the future but for now they only come with brown switches. Therefore, with all of these options taken into consideration, the Redragon K530 Draconic is easily one of the best budget 60% keyboards currently on the market!"
"Had an extra loose screw on the board. I have no idea where it came from. It's a great keyboard it's very intuitive. You can have 3 Bluetooth device profiles. As per usual with Reddragon the keyboard has a nice beefy weight to it. And well built. It comes with 5 switches so to you can do a little customization. Did I mention that this thing is tiny."
8.   Razer Huntsman Elite Optical Gaming Keyboard
Best for Overall Value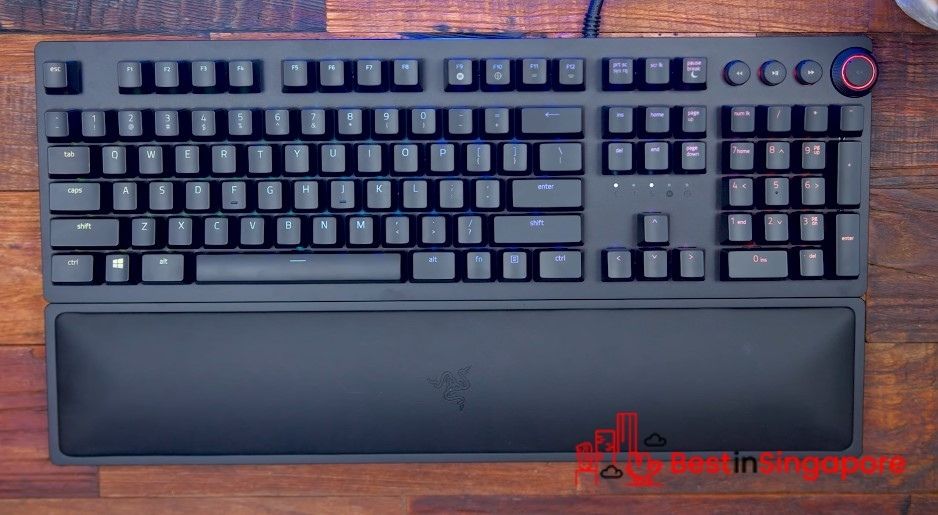 Price: $299.00
If you can spare money on a high-end, gamer-friendly mechanical keyboard, then look no further than the Razer Huntsman Elite Mechanical Keyboard. It's going to make your pockets hurt with its price, but it will definitely elevate your gameplay to a level you've never experienced.
One of the best features of the Razer Huntsman Elite is the 100 million-keystroke lifespan, significantly higher than most mechanical keyboards. It comes with optical switches as well with faster and stronger actuation.
It also features a stabilizer bar that will ensure the keycap motions are consistent, even if the corner of the keycap is pressed. It's adored by a lot of writers too because it is gentle on the hands and fingers even after hours of typing.
Some of the features found in the Razer Huntsman Elite are 10-key rollover, gaming mode, on-the-fly macro, aluminium matte top plate, and many more.
Overall, whether you're a writer or a gamer, this is one of the best mechanical keyboards in Singapore that you can use.
Pros
Razer Linear Optical Switch with 45 G actuation force
Lifespan of 100 million keystrokes
Faster actuation
Optical switches
2 years warranty
Cons
And with that, we conclude our list of the best mechanical keyboards in Singapore. If you've used any of these in the past, share with us how they improved your gaming and writing experience.
If you're still looking for items to complete your gaming rig, we recommend checking out our list of the best gaming mice in Singapore too. Every single one of these gaming mice is guaranteed to take your gameplay to the next level!