6 Best Drone Rentals in Singapore: Easy and Affordable! (2021)
Being able to capture our memories would be the best souvenir after an adventurous trip. Photos and footages can relieve all the memories, making each moment special. Therefore, we have a variety of videography options nowadays and one of these is the drone device. Drones can capture the widest angles, even the angles that may not be quite visible to you. However, this gadget can be quite expensive so it might be wiser to rent one. Here are some of the best drone rentals in Singapore to make your vacation even more memorable!
1. Renticulous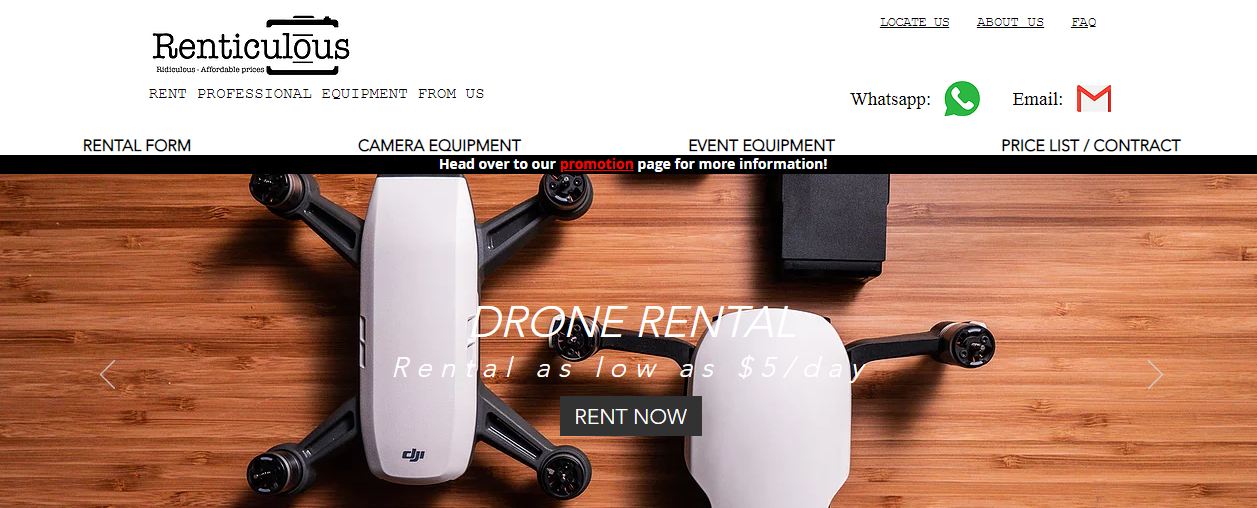 | | |
| --- | --- |
| BEST FOR  | Affordable Drone Rental Rates |
| PRICING | Rates |
| WEBSITE | https://www.renticulous.com/ |
| ADDRESS | 1008 Toa Payoh N, #05-12, Singapore 318996 |
| CONTACT DETAILS | +65 97282983 |
| OPERATING HOURS | Monday to Friday – 10:30am–6:30pm |
If you need a drone rental in Singapore with plenty of options, this one's for you. Renticulous has a range of professional equipment selections that are available for rental.
This includes drones, cameras, action cameras, gimbals, and many more. For as low as $5, you can have your drone be ready to use. If you are not too familiar with the idea of renting some recording equipment, their staff service will answer all of your questions so you can rest assured that your payments will be worth it. The brand of their offered devices such as Feiyutech, GoPro, DJI, Manfrotto, Sony, and Zhiyun. As of the moment, they have a total of five drones so you can pick which one is the most suitable for your content.
Service Highlights
Event equipment rentals
Batteries and accessories
Special promotions
Customer Reviews
Customers, especially the tourists who had first-time visits in the country, are very much impressed with the quality of the equipment as well as the friendly customer service. Javier recommended their services as he wrote this positive feedback on Google Reviews:
"Rented Mavic air drone with this friendly guy. The process of renting is smooth and hassle-free. Being the 1st time renting equipment in Carousell, i have my doubts beforehand. But not anymore, seller is reliable and the Mavic air is awesome to use. I hope him and his team can continue to provide such rental services at this affordable price. Good job and will definitely recommend my peers to use his rental services."
2. Rent Tycoons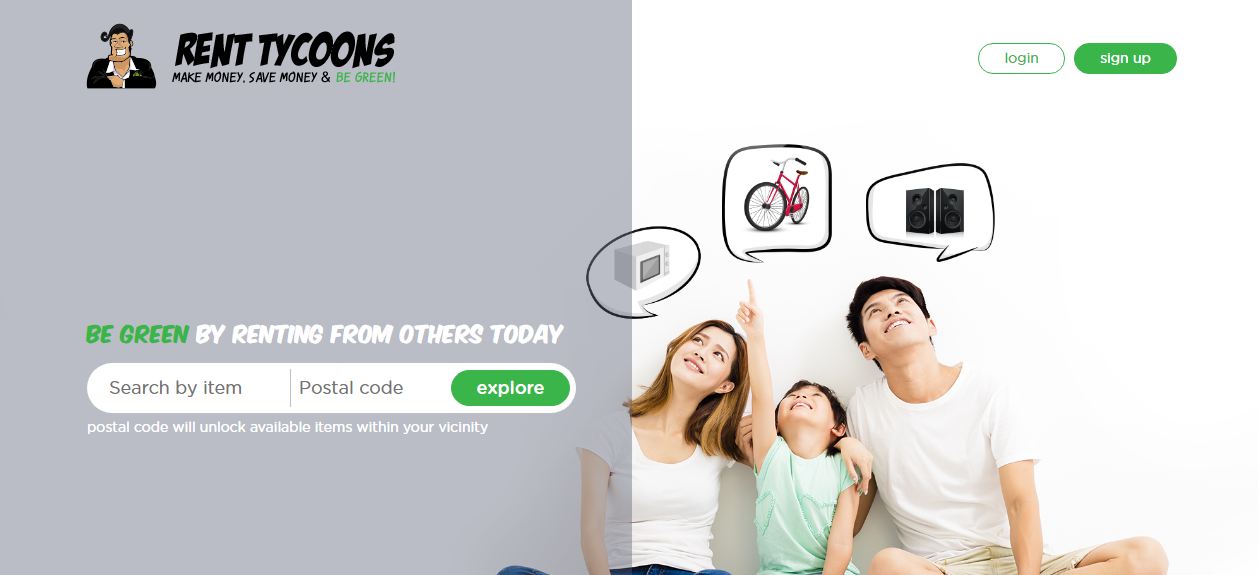 | | |
| --- | --- |
| BEST FOR  | Short-term Drone Rentals, Special Requests |
| PRICING | Rates |
| WEBSITE | https://www.renttycoons.com/ |
| ADDRESS | 20 Collyer Quay, #09-01, Singapore 049319 |
| CONTACT DETAILS | +65 8288 7720 |
| OPERATING HOURS | Daily, Open 24 hours |
Rent Tycoons provides a unique rental experience with allowing selected users to sell their items or services for rent. They also emphasize it would be much wiser to rent an item that you will only use for a short period of time. Given that the offered items come from respective owners, the transaction will be made between the owner and the renter. Just simply search the word drones on their portal and you can immediately see various options such as DJI and Xiro drones. Most of their drones for rent in Singapore are made by DJI which is claimed to be a renowned brand. With their services, you can both save and earn some money! 
Service Highlights
Peer-to-peer renting platform
Requests for desired items/services
Customer Reviews
Aside from the drones, customers of Rent Tycoons have also complimented the dynamic platform. A reviewer gave this nice review at their official website:
"I am impressed by the efficiency in the rental process, clear contractual obligations, prompt transfer of money from Rent Tycoons upon renting out the Air Cons. Thanks!!"
3. Camera Rental Center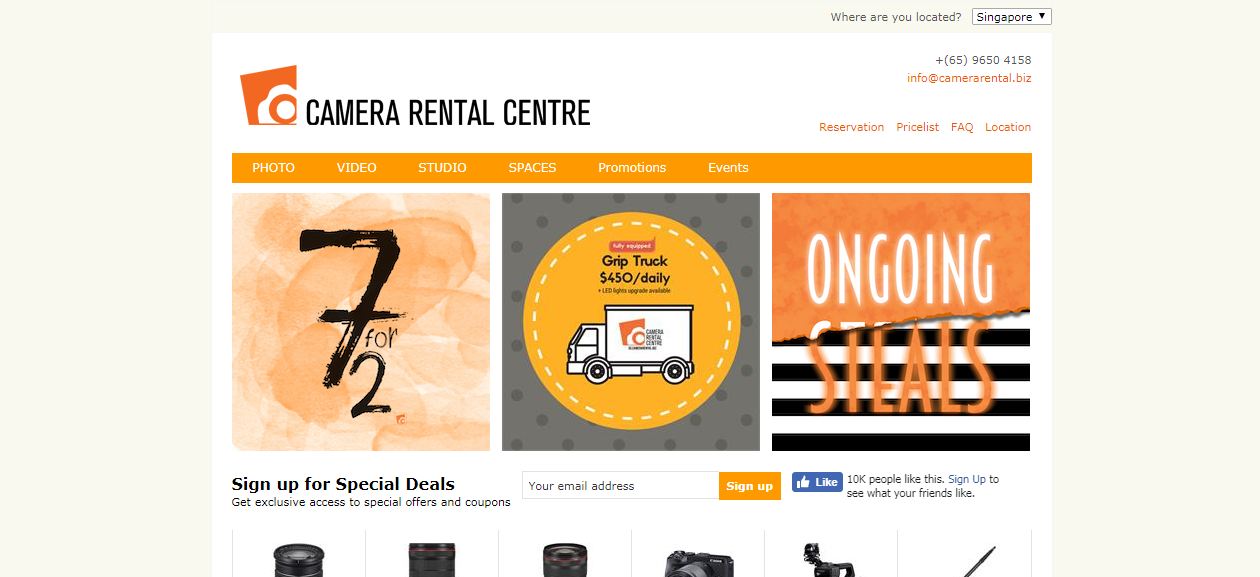 BEST FOR 
One-stop Rental Solutions
PRICING
Rates
WEBSITE
http://sg.camerarental.biz/
ADDRESS
CT Hub 2, 114 Lavender Street, #03-77 Singapore 338729
CONTACT DETAILS
+(65) 9650 4158
OPERATING HOURS
11:00 – 14:00, 14:30 – 19:00 Mondays – Thursday

 

11:00 – 14:00, 14:30 – 19:30 Friday

11:00 – 17:00 Saturday – Sunday

 

11:00 – 15:00 All public holidays except Christmas, New Year and 1st day of Chinese New Year

11:00 – 15:00 Selected eves of Public Holidays
All of the drones at Camera Rental Center are by the brand, DJI. Their video equipment is categorized by professional use, and home or office use. The cameras also come with full sets so if you are planning to rent a camera and a drone, make sure to take a look at their list of packages. Supporting equipment like tripods, cranes, LED panels, adaptors, and other items are also provided. Their other brands include Canon, Nikon, and Sony. you also book a reservation, particularly if you are a tourist who wants to save up some time for your travel itineraries.
Overall, we find that Camera Rental Centre is the best place for DJI drone rental in Singapore.
Service Highlights
Supporting equipment and accessories
Studio rentals
Photography and videography workshop
Customer Reviews
Camera Rental Center has received praise from the customers due to their efficient services and premium equipment quality. A reviewer gave this high-rated comment on Google Reviews:
"Convenient rental services which offers a wide range of lenses, cameras and lighting at an affordable rate."
4. Camwerkz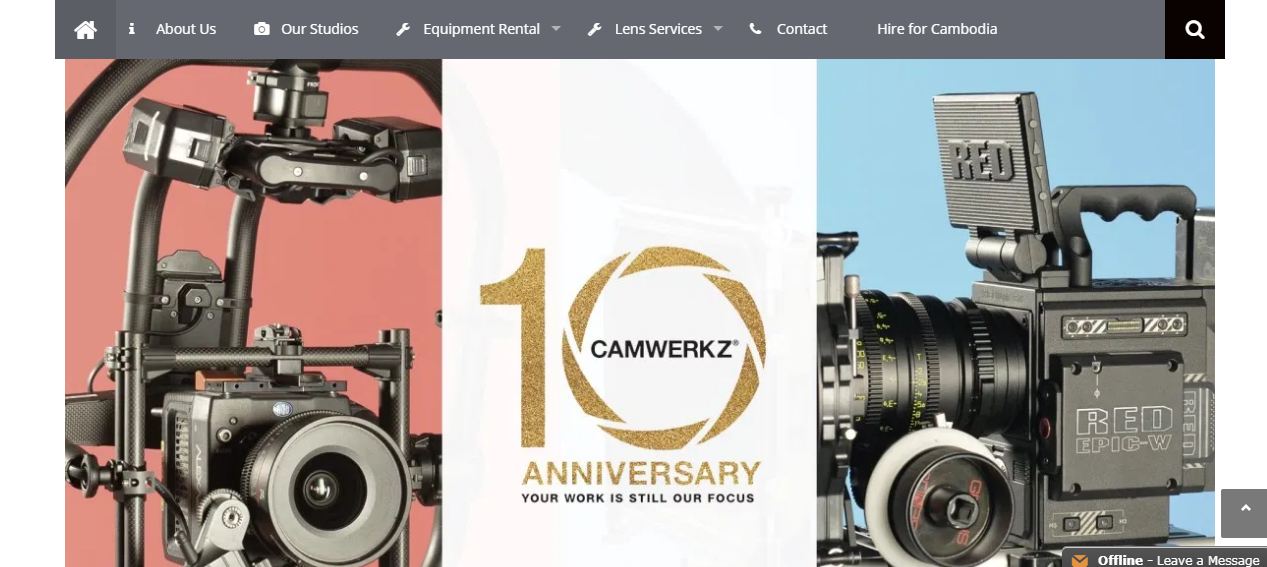 | | |
| --- | --- |
| BEST FOR  | Broad Range of Professional Equipment |
| PRICING | Rates |
| WEBSITE | https://www.camwerkz.com/ |
| ADDRESS | 115A Commonwealth Drive #05-07/08/09 Singapore 149596 |
| CONTACT DETAILS |  +65 64744787 ,  +65 90406463 |
| OPERATING HOURS | Daily, 9:30am–6:30pm |
For the professional videographers who somehow had an emergency such as lost or forgotten equipment, Camwerkz will be at your service. They offer professional equipment rental that ranges between a video camera and DSLR cinematography. Their team is proven to be highly knowledgeable when it comes to the technicalities, specifications, and other detailed information about a particular device. So even if you are an amateur, you can be sure that you will have the prime quality in the market when you hire drones in Singapore. Their offered drones come from the DJI Phantom series which caters to both functionality and affordability. Other devices are divided into audio, cameras, grips, lenses, lights, monitors, and accessories.
Contact them now for promotions and drone rental price in Singapore.
Service Highlights
Accommodating staff
Competitive rates
Discounted packages.
Customer Reviews
Aside from the rental services, Camwerkz also provides photo/video studio for an exclusive and private shooting area. You can truly rely on their overall services and attentive staff. A reviewer shared these compliments on Google Reviews:
"One of the forerunners for video equipment rental. Go with an idea of what you want and dan and his friendly team will suggest and equip you..right down to extension cords."
5. Lens 4 Lease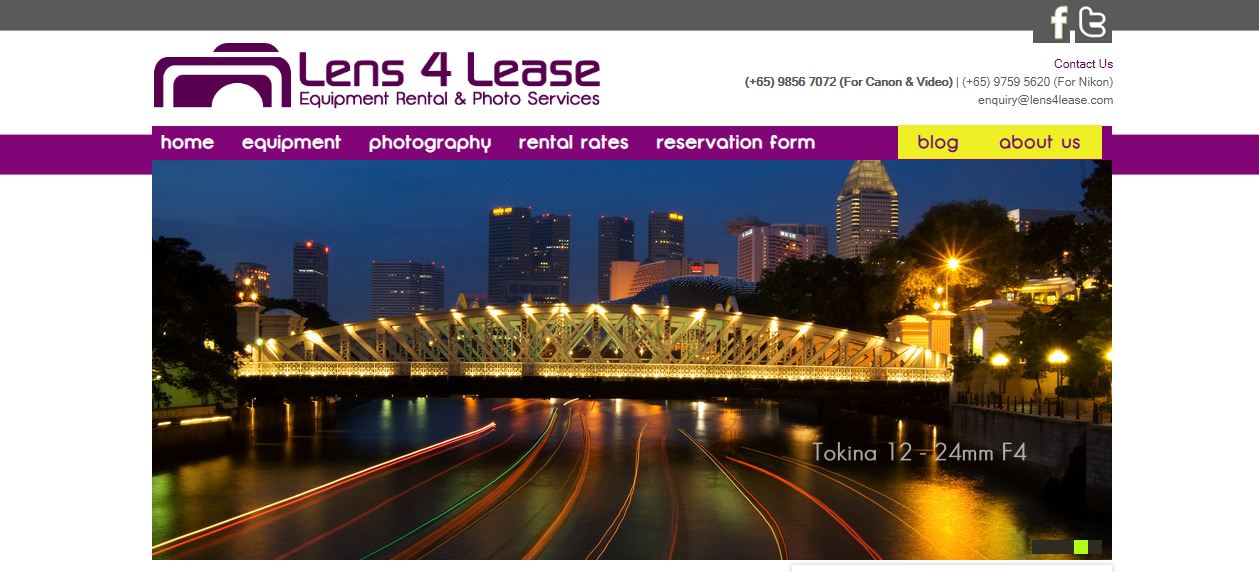 | | |
| --- | --- |
| BEST FOR  | Aerial Photography and Videography Equipment Rental |
| PRICING | Rates |
| WEBSITE | https://lens4lease.com/ |
| ADDRESS | 71 Yishun Ave 11 (Canon & Video/Aerial Equipment) The Canopy Singapore 768858 |
| CONTACT DETAILS | (+65) 9856 7072 |
| OPERATING HOURS | Daily, Open 24 hours |
Lens 4 Lease provides prime video and aerial drone equipment. This place is the perfect choice for those who are not quite familiar with how drones work or which one is more suitable. They provide consultancy services in which they give advice and solutions. Their team consists of a number of specialists who have years of experience in the industry so you can be certain that you will be in good hands. Apart from this, they also offer tripods and other essential accessories.
Service Highlights
Photo/video related consultancy services
Tutorial for trips and tricks
Special promotions
Customer Reviews
Customers who have acquired the services of Lens 4 Lease keep on coming back for they always have new updated equipment on their selections. Lawrence wrote this feedback on Google Reviews:
"Great place to get your lenses rented. Equipment is well maintained, in excellent condition and owner is able to provide a wealth of information about photography. Great for renting lenses to try before purchasing from retail or for special events. Have rented a couple of lenses before and the equipment is very well maintained and in excellent condition."
6. J Rental Center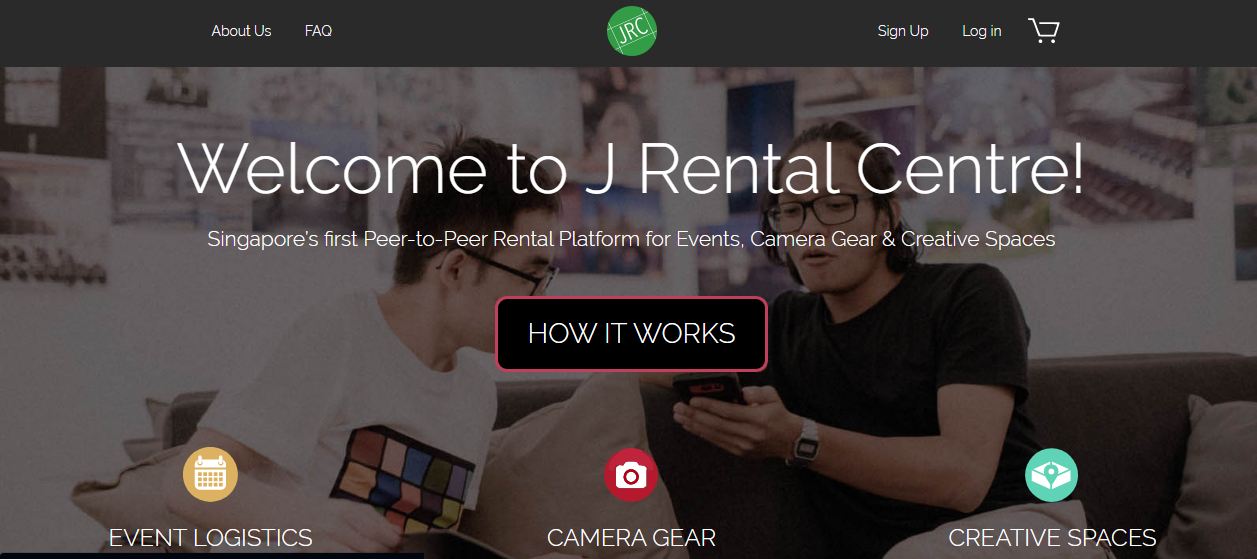 If renting drones in Singapore sounds a little daunting to you, J Rental Center should be your first stop. J Rental Center is also a peer-to-peer rental platform that has a variety of products for events, photography, and other creative spaces. For the event organizers, their wide range of products that cater to content creativity would be a great help. Once you have searched for rent drone cameras in Singapore, they have DJI equipment which is used by most professionals. They also provide DSLRs, lenses, video cameras, lights, and sound equipment.
Service Highlights
Discounted promotions
Business purposes
Affordable prices
Customer Reviews
With J Rental Center, you don't have to suffer from long waiting lines as they serve their services at an online platform. So it will be easier and more convenient for you to rent your desired equipment. Here's a wonderful feedback from a reviewer on Google Reviews:
"Convinient for people who have shoots but couldn't collect their equipments during office hours. Jrc offers flexible timings for collection even till before midnight! Apart from that, students get discount on top of the already-very-cheap rates!"
Renting a drone in Singapore need not be a complicated experience and we hope our list has been helpful. 
Enjoy your trip and treasure every moment by capturing your experiences through these excellent video equipment!
Images are taken from each company's official websites/social media.