The 12 Options for the Best Personalised Gifts in Singapore
Are you looking for something nice to give your friend on their special day? To make this little gesture even more sincere, you might want to consider giving them the best personalised gifts in Singapore.
Luckily, there are a handful of shops on the island that offer custom-made or personalised gifts. We combed through the island ourselves in search of the shops with the best personalised gifts in Singapore for your convenience.
Check out our list below to see where to find these shops and how to get in touch with them!
1. Printcious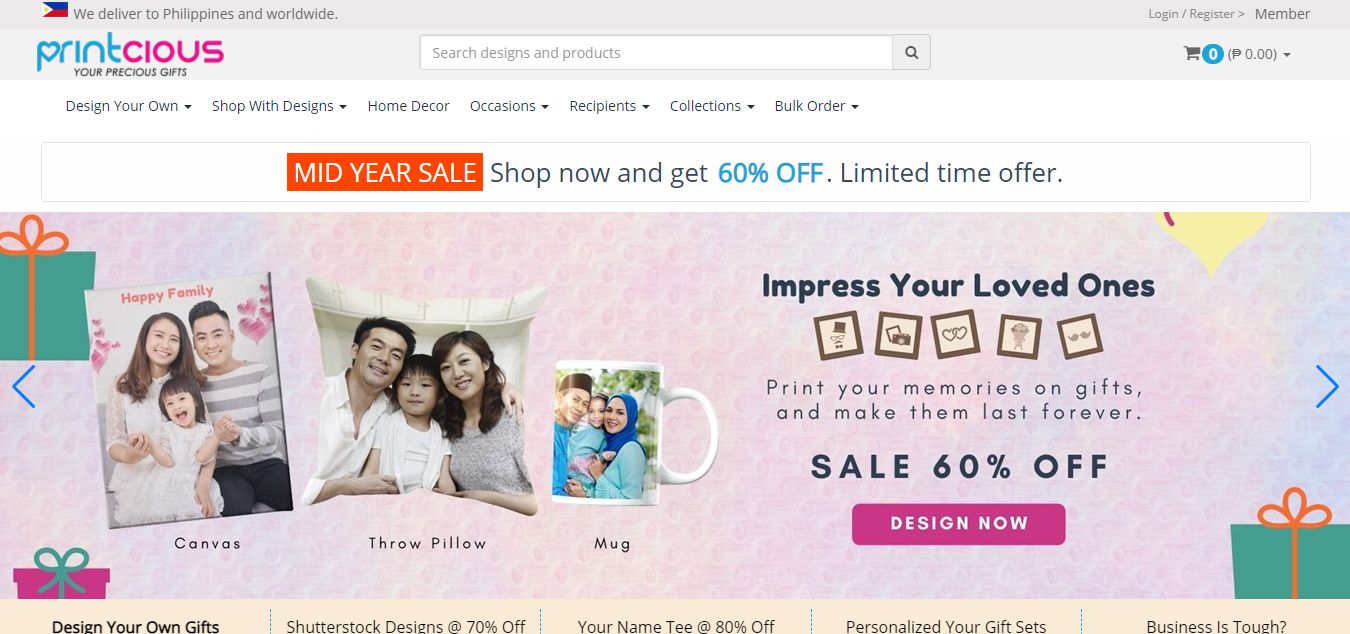 BEST FOR
Personalized and Customized Gifts
SERVICES
T-Shirts
Canvas
Mugs
Cushions
Puzzles
Mousepad
Bags
Photo Rocks
WEBSITE
Printcious
ADDRESS
Singapore
CONTACT DETAILS
+6010.317.1614


[email protected]

OPERATING HOURS
Contact for more details
Want to make your gift more personal? Printcious is the perfect shop for you. What's great about them is they offer personalized gift ideas and custom gifts for both men and women.
Unlike other shops on this list, working with them is super easy. In simple four steps, you are ready to order. You just need to choose your products, upload the photo you like, add & edit text, and press the add to cart button.
People prefer to buy from them because they always have discounts that range from 10% to 80% off. Plus you can create your own merchandise for different purposes, it is really all up to you.
A previous client mentioned that their products are nice and worth the price. Their payment options are VISA, Mastercard, and Stripe.
Highlights
Neat printing
Vibrant colors
Good quality products
2. That Corner Shop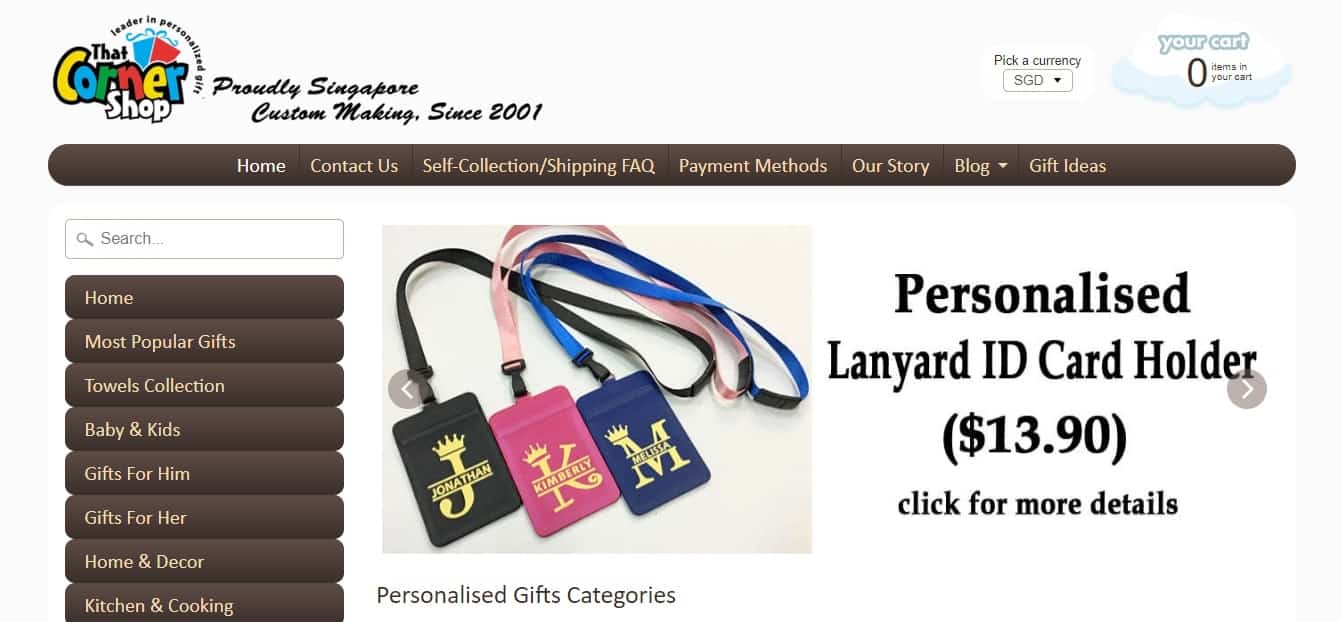 | | |
| --- | --- |
| BEST FOR | Fast shipping |
| PRODUCTS | Shirts, polos, towels, stuffed toys, home decors, kitchen equipment, bags, pouches, and travel accessories |
| WEBSITE | https://thatcornershop.com/ |
| ADDRESS | 10 Anson Road, #02-02, International Plaza, Singapore 079903 |
| CONTACT DETAILS | +65 9271 5622 |
| OPERATING HOURS | Monday – Friday, 11:00 AM – 7:00 PM |
For those searching for a gift shop that sells basically everything, we recommend checking out That Corner Shop. It offers both pickup and shipping services to its customers, for only a minimal additional price for the latter.
Some of the products that can be bought from its physical store are shirts, polos, travel accessories, bags, home decor, and kitchen tools, all of which can be customised. It's the ideal gift shop if you're looking forward to giving gifts to a bunch of people.
Another reason we consider it one of the top stores with the best personalised gifts in Singapore is the fast shipping. Customers who opt for their orders to be shipped may expect to receive them as fast as 3 days, 7 days max.
Highlights
Wide range of products
Quick shipping
Cheap delivery free
Customer Reviews
Take a peek at what previous customers had to say about That Corner Shop:
"Great help! We asked them to make customized water bottles for our company and we are really satisfied with the water bottles. The attendees of our company's gathering love the souvenir. Fast services and helpful customer service too. Thank you so much."
"Services are truly commendable:- Edmund is professional, customer-orientated, prompt & efficient & clear communications, goods ready on time as committed. Product quality is good standard and pricing is reasonable. Honest and sincere dealing. Edmund, thank you very much! Deeply appreciate the great jobs done! I believe your business will continue to flourish. God bless."
3. Alskar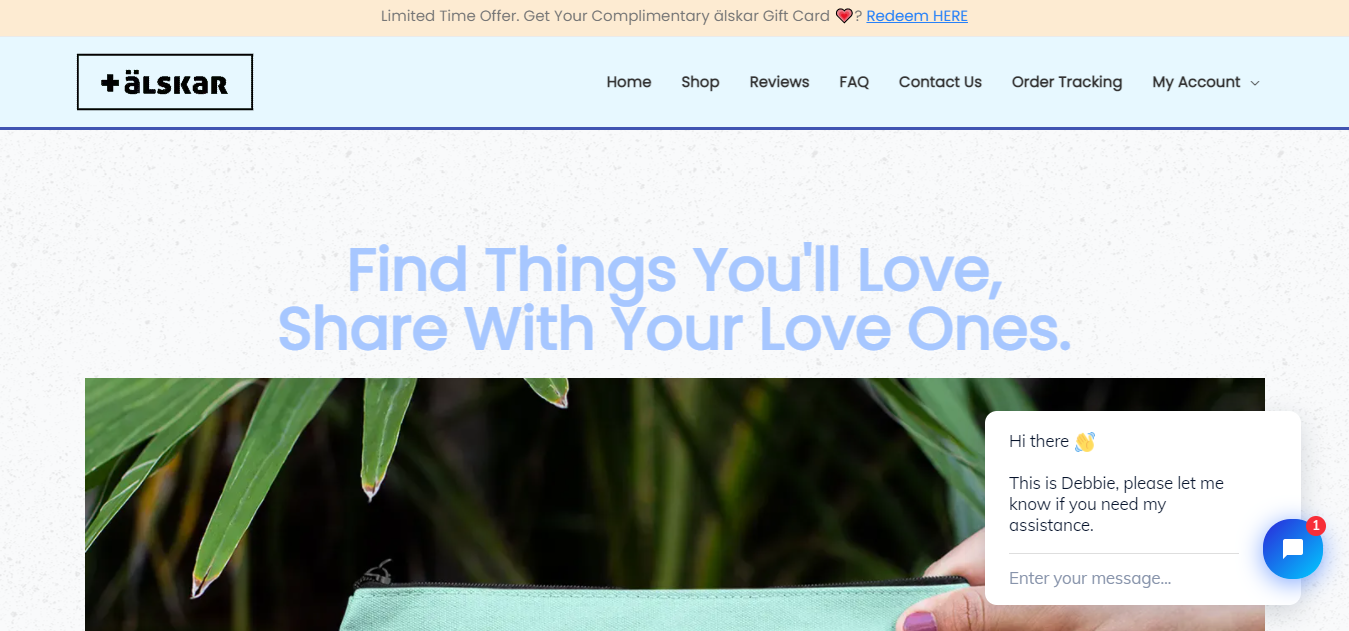 BEST FOR
Personalized, custom-made, and 100% handmade gifts
PRODUCTS
Products
WEBSITE
https://www.alskar.co/
ADDRESS
100 Peck Seah Street, #08-14 (PS100) S079333
CONTACT DETAILS

WhatsApp: +65 8893 6818

There is a chat feature on their website

OPERATING HOURS
Contact for more information
Alskar has been serving Singaporeans since 2013. Over the years, they have built a reputation for bringing together the best ideas, materials, manufacturing technology, and trends worldwide to find the perfect gift for any occasion.
In comparison to other shops, they source all of their raw materials from different countries like the United States, China, Korea, and Italy. They design and manufacture at their facility, thus offering distinctive and affordable products.
Their shop almost has everything anyone can think of giving as a gift. From personalized wedding robes, fashion accessories to insulated tumblers and jigsaw puzzles, they got you.
Almost all of their previous buyers gave them 5-stars. Most of them mentioned how pleased they were when their order came, how it was in excellent condition, and that they will definitely order again in the future.
Highlights
High-quality printing
Fast Delivery
Affordable
Customer Reviews
Here are some reviews from their previous customers:
"Product as described and delivery was fast. The seller was also approachable and friendly. Recommended seller!"
"Very fast and efficient service! Item delivered in a perfect and beautiful parcel! Nicely printed and pretty as a gift! Thanks a million ❤️"
"The necklace arrived in tremendous condition! The shipping was smooth and swift. The seller's friendly and accommodating. The quality of the product is excellent and a bang for your buck. Overall, it was a pleasant experience. Thank you"
4. TheImprint Singapore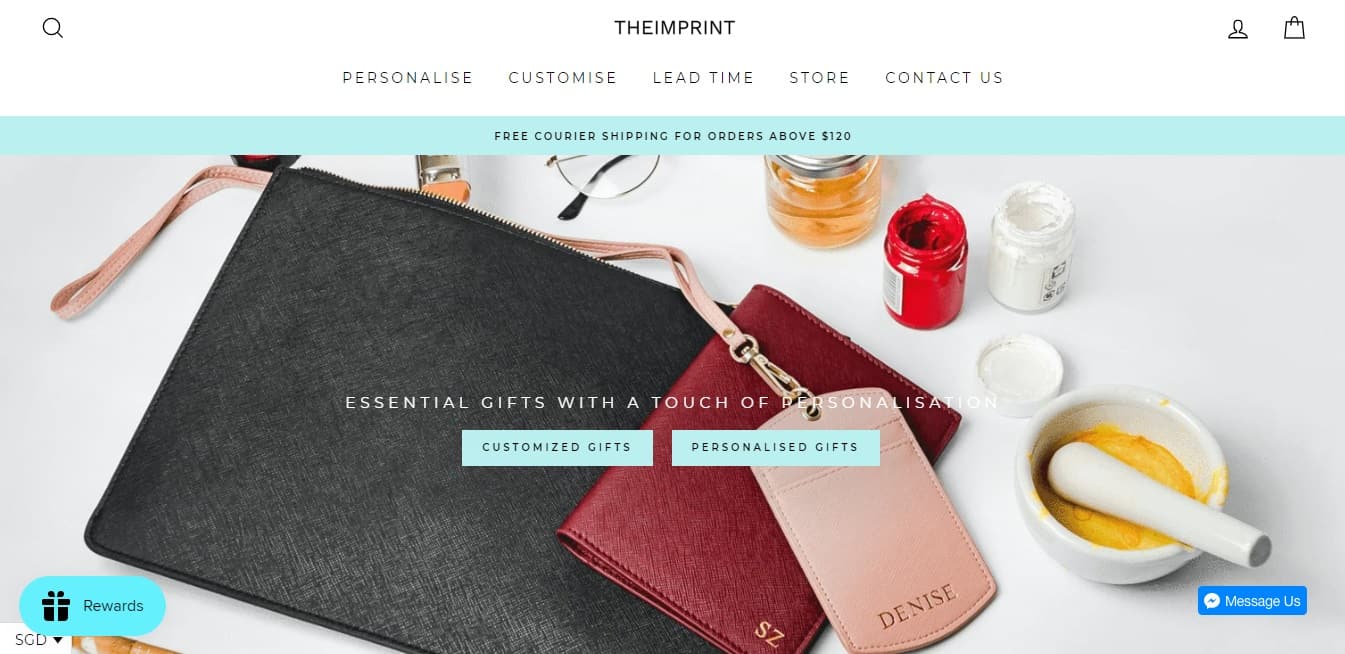 | | |
| --- | --- |
| BEST FOR | Office needs |
| PRODUCTS | Mugs, phone cases, passport holders, luggage tags, laptop sleeves, notebook , lanyards, and cardholders |
| WEBSITE | https://www.theimprint.sg/ |
| ADDRESS | 107 North Bridge Rd, Mall, #02-K08 Funan, Singapore 179105 |
| CONTACT DETAILS | +65 9658 4561 |
| OPERATING HOURS | Monday – Friday, 11:30 AM – 8:30 PM |
If you're after a shop that offers essential work items for grown-ups, we highly recommend checking out TheImprint Singapore. It's among the few gift shops that personalise items mostly used by adults in their everyday lives.
Some of the products offered by TheImprint Singapore are passport holders, mugs, phone cases, lanyards, laptop sleeves, and even notebooks.
If you're friends with somebody who likes these kinds of things, we're sure they're going to love to receive a personalised one!
Highlights
Bundle sales
Durable, handmade products
First-time buyer discounts
Customer Reviews
Here some examples of feedback posted on Google Reviews:
"Great service and fast delivery! They even have an option where you can email them to have a preview of the customised mugs. Will definitely buy again!! :)"
"Beautiful work of art!I love how fast they are and their customer service is perfect.The casing is worth the price too…Fantastic Job and I will be coming back for more from them…Thank you so much."
5. Gifts Less Ordinary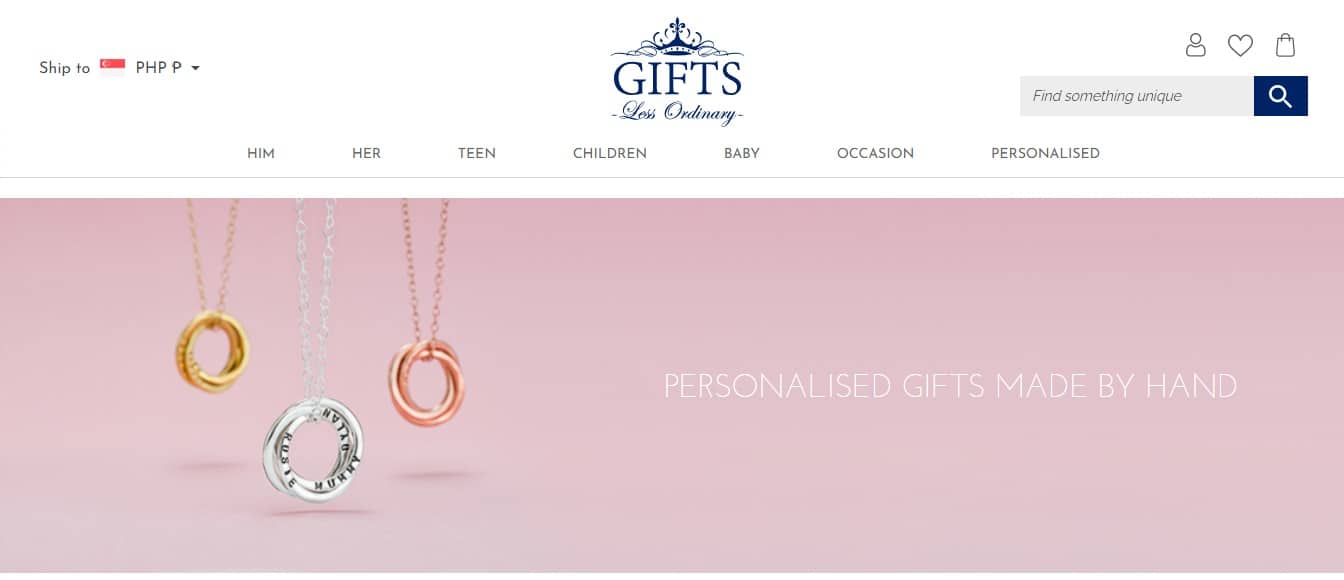 | | |
| --- | --- |
| BEST FOR | Jewelries for women and men |
| PRODUCTS | Necklace, rings, bracelets, cufflinks, and watches |
| WEBSITE | https://giftslessordinary.com/ph |
| ADDRESS | 120 Lower Delta Rd, Cendex Center, Singapore 169208 |
| CONTACT DETAILS | +65 6816 8260 |
| OPERATING HOURS | Open 24 hours |
If you're willing to spend more on a gorgeous necklace or bracelet, then Gifts Less Ordinary might be the one shop you're searching for. It's a gift store that aims to make gifts even more memorable by engraving names on them.
As one of the top gift stores with the best personalised gifts in Singapore, Gifts Less Ordinary ensures that everything in its collection is durable and of quality. All of its products can be gifted for all occasions as well, such as birthdays, anniversaries, weddings, and even Christmas.
Gifts Less Ordinary has also been featured in a few publications in Singapore, like Marie Claire, Singapore Tatler, Women's Weekly, and The Business Times, proving that it's one of the best in the business.
Highlights
For all occasions
High-quality jewelries
6. The Gift & Paper Company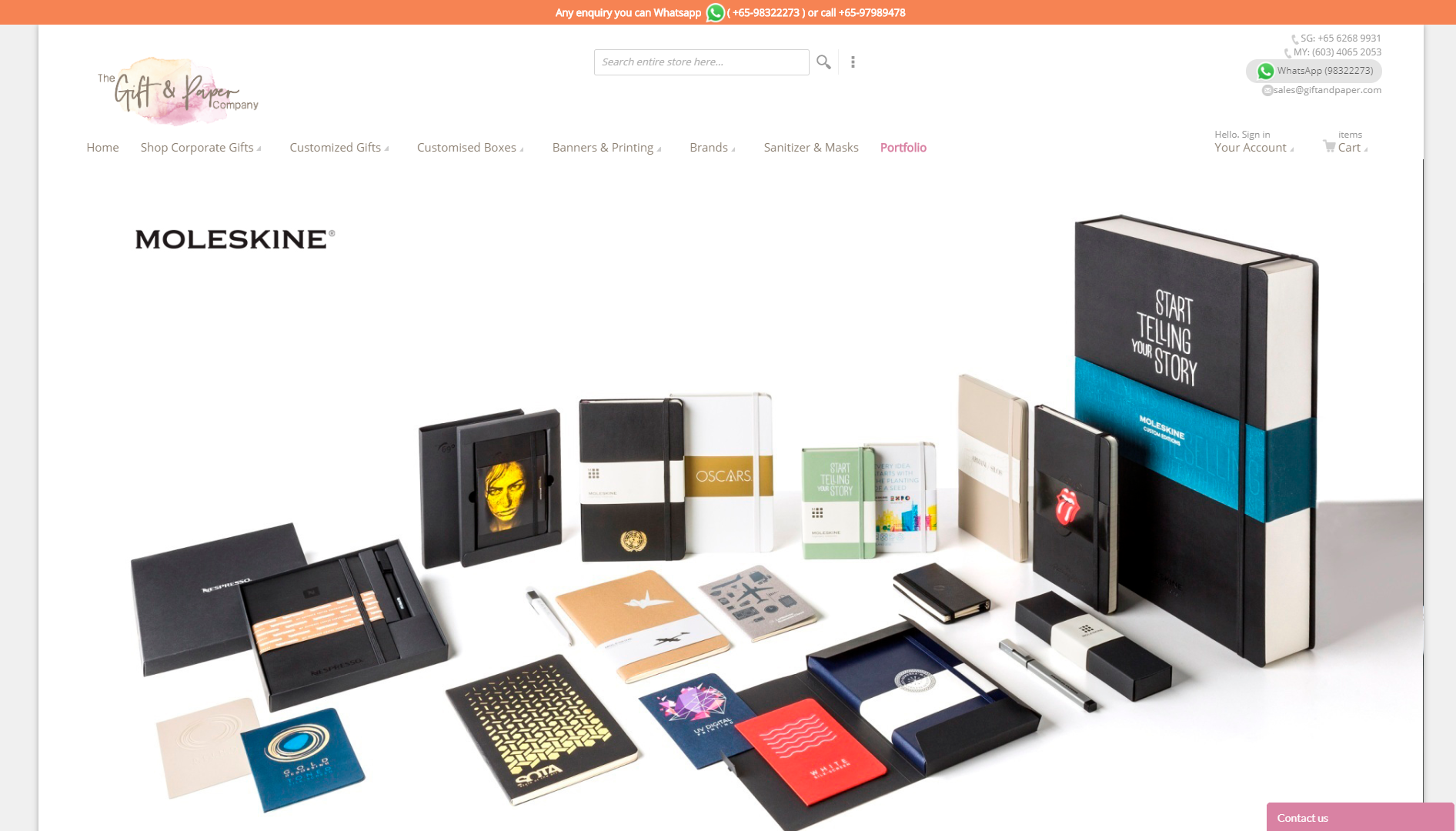 BEST FOR
Paper products
PRODUCTS
Corporate gifts, customised gifts, customised boxes, banners & printing, sanitisers and masks
WEBSITE
https://www.giftandpaper.com/
ADDRESS

2 Kallang Avenue

#09-06C CT HUB,

Singapore 339407

CONTACT DETAILS

+65 9798 9478

OPERATING HOURS
Monday-Friday: 8:30 AM-6 PM
The Gift & Paper Company offers personalised and generic paper gift products. They also offer other gifts, such as leatherware and electronics.
Their design team is innovative and customer-oriented. You can rest assured that whatever gift you may need, you'll find one that's well worth its price in The Gift & Paper Company.
Highlights
Innovative products
Unique customisations
7. ECEmbroid

BEST FOR
Customised Gifts
PRODUCTS
Bags, Keychains, Upperwear
WEBSITE
https://ecembroid.com
ADDRESS
Hougang Avenue 10 Blk 515
Singapore 530515
CONTACT DETAILS

+65 8817 8722
[email protected]

OPERATING HOURS
Monday – Sunday : 11am – 10pm
When it comes to customised apparel, ECEmbroid is one of the best companies to call. They offer a wide variety of customisable apparels and accessories.
Most importantly, their products and services are available at the most affordable prices. Check out their shop and see what they have in stock.
Highlights
Excellent customer service
Fast delivery
30 days money back guarantee
Satisfaction guaranteed
8. BeCrafty

BEST FOR
Handmade custom gifts
PRODUCTS
Terrarium, Preserved Flowers, Music Boxes
WEBSITE
https://www.becraftysg.com
ADDRESS

Hillion Mall
#02-24, Hillion Mall, 17 Petir Road, Bukit Panjang, Singapore 678278

Novena Square Velocity
#02-K2, Novena Square Velocity, 238 Thomson Road, Singapore 678278

CONTACT DETAILS

+65 9390 0936

OPERATING HOURS
Monday – Sunday : 11am – 9pm
Birthdays, anniversaries, fathers' day, and other special occasions deserve gifts that are just as special. If you're looking for something customisable and handmade, why not consider BeCrafty and its array of terrariums, preserved flowers, and music boxes?
Every design and item that comes out of this show were carefully and thoughtfully made. The shop takes into consideration the event or occasion at hand and incorporates features and items within their products to ensure that it properly represents the event.
Not so sure? Just look at their catalogue, which his updated regularly, and see the beauty of the BeCrafty products. Aside from being eye-catching and unique, these items are also meant to last forever, another great gift to show one's undying love to another person.
Highlights
All items are handmade and created with quality materials
Catalogue is updated regularly to include special dates and "just cause" gifts
Easy-to-navigate online shop and two locations available
Open seven days a week
9. VillageSmith Gifts Workshop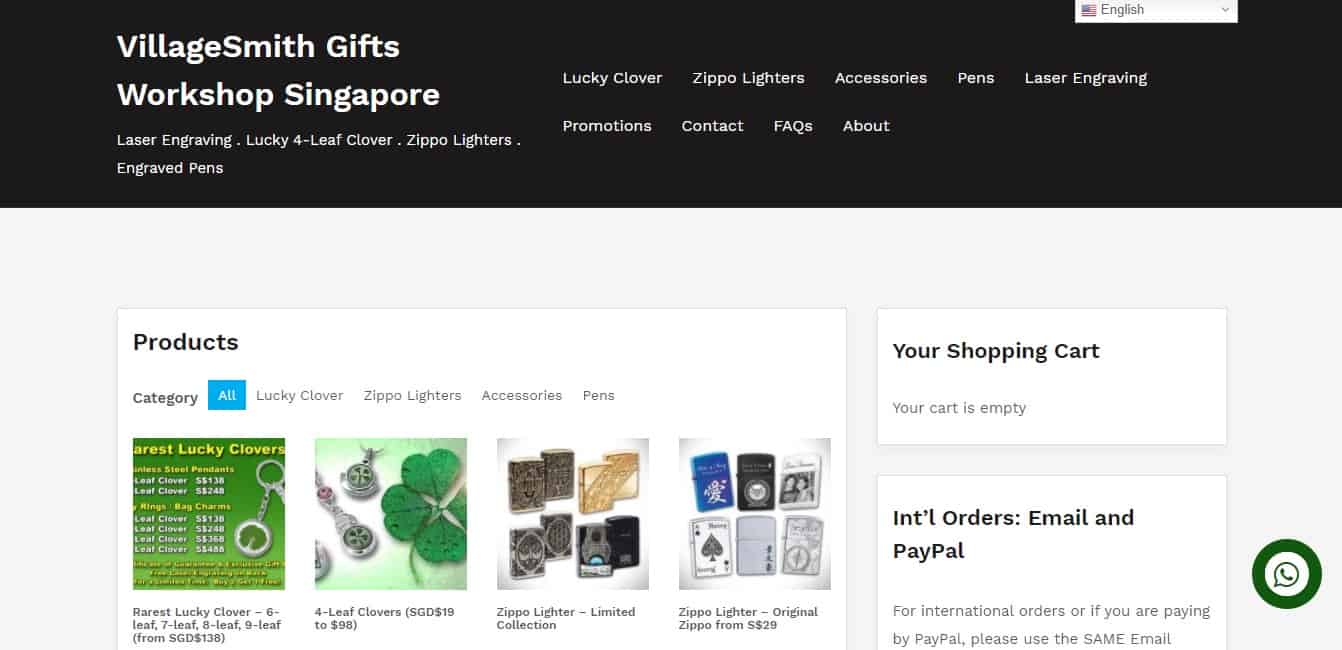 | | |
| --- | --- |
| BEST FOR | Safe payment method |
| SERVICES | Laser engraving |
| WEBSITE | https://gemworks.com/ |
| ADDRESS | L68 Orchard Rd, Unit 02-33, Singapore 238839evel 40, Ocean Financial Centre, 10 Collyer Quay, Singapore 049315 |
| CONTACT DETAILS | +65 6884 4661 |
| OPERATING HOURS | Monday – Friday, 11:00 AM – 9:30 PM |
If you're thinking about sending a friend an engraved accessory, key ring, or ballpen, we recommend trying out the services of VillageSmith Gifts Workshop.
It's considered one of the pioneers in the state-of-the-art engraving systems in Singapore, more powerful compared to previous engraving systems.
One reason it makes the cut of our list of the best personalised gifts in Singapore is the fact that it can engraved names on an extensive range of items, from lighters down to smartphone cases.
VillageSmith Gifts Workshop isn't limited to engraving just text either: it's also open to engraving images on all sorts of items.
Highlights
Name engraving
Photograph engraving
10. Art-Serve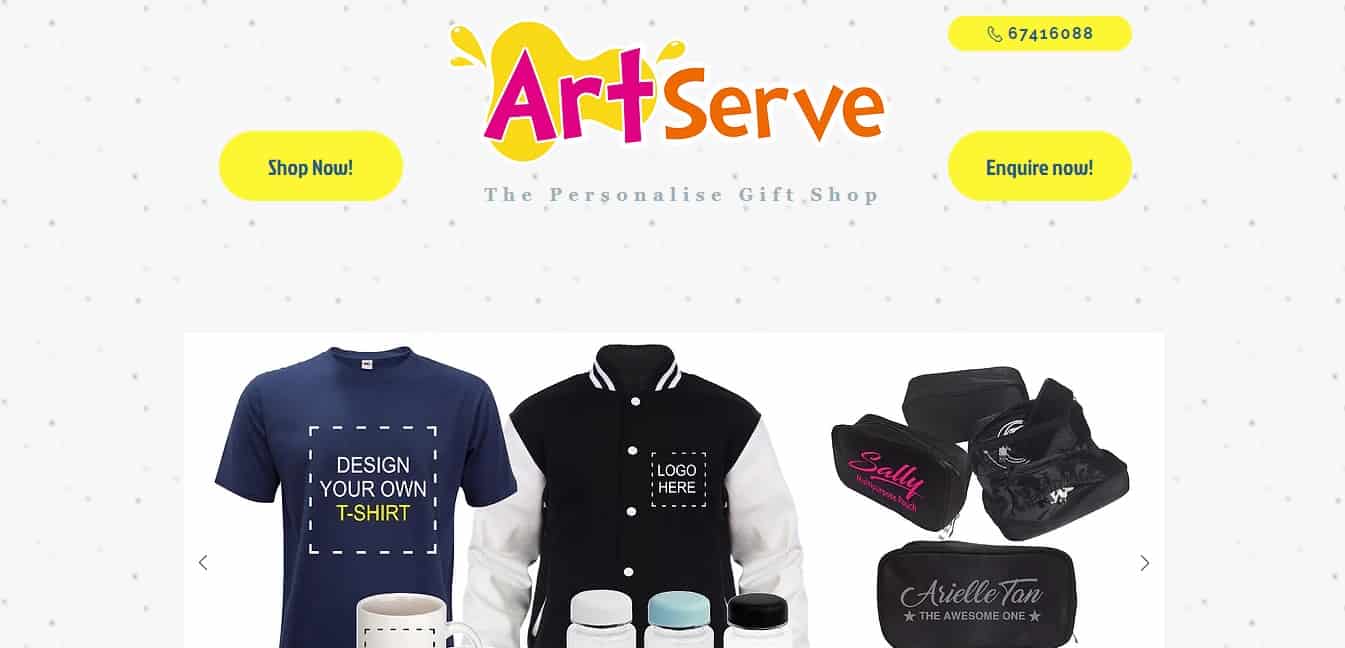 | | |
| --- | --- |
| BEST FOR | T-shirt printing |
| PRODUCTS | Shirts, mugs, bags, pouches, water bottles, pins, and embroidery services |
| WEBSITE | https://www.art-serve.net/ |
| ADDRESS | 3027 Ubi Rd 1, #01-140, Singapore 408720 |
| CONTACT DETAILS | +65 6741 6088 |
| OPERATING HOURS | Monday – Friday, 11:00 AM – 6:00 PM |
Art-Serve is a gift shop that sells unique customised items perfect for all occasions, from birthdays down to anniversaries. Some of the products from its collection are shirts, mugs, bags, pouches, pillows, water bottles, pins, and a whole lot more.
We consider it one of the top stores with the best personalised gifts in Singapore because most of its products are cheaper than expected.
So, if you're on a tight budget but eager to give a friend a special gift, then Art-Serve is truly the best option for you!
Apart from its printed tees and other items, Art-Serve is also open for personalised embroidery services to make the gift even more special!
Highlights
Affordable products
Embroidery services
11. SG Wedding Favors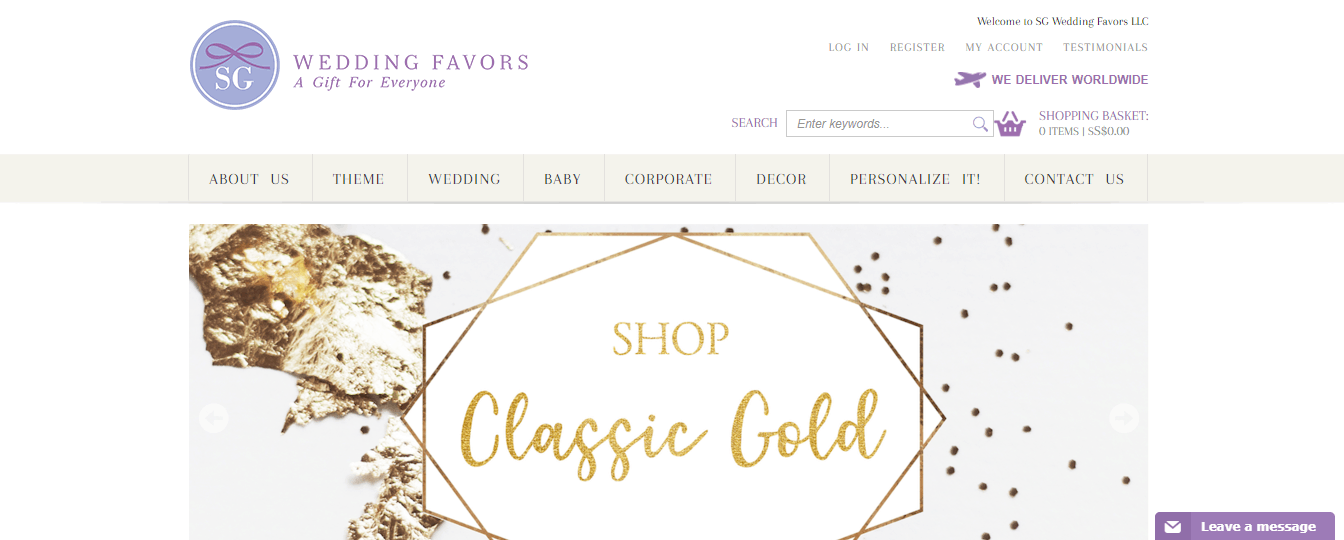 | | |
| --- | --- |
| PRODUCTS | Wedding gifts |
| WEBSITE | |
| ADDRESS | 8, #06-12 Burn Rd, Trivex, Singapore 369977 |
| CONTACT DETAILS | +65 6278 9069 |
| OPERATING HOURS | Tuesday – Saturday: 11:00 AM – 5:00 PM |
SG Wedding Favors specialises in making weddings special with its custom gifts.
It also makes building wedding basket giveaways easy because its online catalogue is subdivided either by culture, by season, by trend, and even by colour. It even has excellent pictures and detailed descriptions online for transparency.
Should you like to inspect the gifts for extra certainty, you may visit the SG Wedding Favors showroom anytime from 11 AM to 5 PM Tuesdays to Saturdays.
Another way that SG Wedding Favors makes things easy for its clients is through its payment schemes. It accepts all payments made via major credit cards, PayPal, direct bank transfer, OCBC, POSB, PayNow, Nets, and even cash.
Lastly, SG Wedding Favors is convenient as it does delivery service. It delivers nationally and internationally, and can even waive delivery fees for orders above $250.
Highlights
Focus on specialised wedding items

Numerous payment options

Showroom available for visiting

Organized catalogue of souvenir items
Customer Reviews
SG Wedding Favors is well-known not only for its products, but also for the high-quality service it provides. Here are some customer reviews that have said so:
"The delivery was prompt, and the customer service was good too. The costs were reasonable. Most importantly, I love the items; I bought Damask pepper&salt shakers, tea infuser for two and the name card dispenser (though the website named it as a card holder). My guests said they looked lovely. If you're not sure what to get, you may drop by the showroom, which I did too."—Rachel Ryu
"We would like to personally extend our gratitude again for your services. We are EXTREMELY happy with how our wedding favors turned out to be. The plants were very pretty and the decorations are very well made. Your professionalism in attending to us is very admirable. Thank you again." –Farid & Kas
12. Say It With A Gift Pte Ltd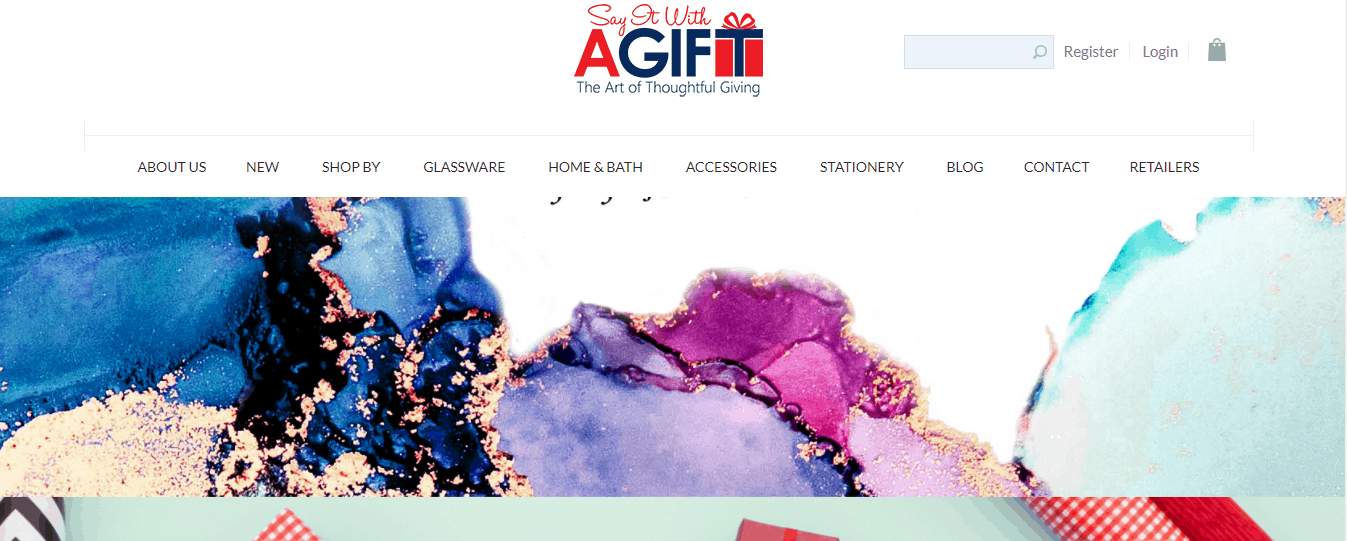 | | |
| --- | --- |
| PRODUCTS | Stationery, glassware, kitchenware, gardening tools, decor, tote bags, accessories |
| WEBSITE | |
| ADDRESS | 8, #06-12 Burn Rd, Trivex, Singapore 369977 |
| CONTACT DETAILS | +65 6909 8125 |
| OPERATING HOURS | Tuesday – Saturday: 11:00 AM – 5:00 PM |
Say It With A Gift is home to practical yet elegant customized gifts. We say this because its gift catalogue has glassware, metal accessories, body & bath, gardening, and stationery products which are all good presents for domesticated recipients.
The store may already have product samples and prototypes, yet Say It With A Gift still accepts personalization requests. This act alone makes the store worthy of being a part of this list.
All of Say It With A Gift's products are accessible not only to Singaporeans but to international clients, too. That's because it has locations all over the country and has convenient online ordering forms.
It even offers free shipping to both local and international orders, as long as they meet Say It With A Gift's minimum spending.
To add to all these, this store accepts payments made via PayPal-associated credit cards and bank transfers with OCBC and POSB. It can even accept dollar currencies from other nearby nations.
And should you want more perks from Say It With A Gift, you can simply check out its loyal membership program.
Highlights
Practical and elegant domestic gifts

Accepts numerous payment options and currencies

Free local and international shipping for big orders

Loyal Membership program for additional perks
Customer Reviews
Read these reviews to know what makes Say It With A Gift one of Singapore's favourite gift shops:
"I've ordered engraved champagne flutes a few times and they are perfect! Service was quick and great quality. Will definitely order from here again."—Preeti Gupta
"Beautiful place with tons of beautiful favors for anyone who appreciates the finer things."—Vik Riar
And that's it for our list of the shops with the best personalised gifts in Singapore. If you've been to any of these shops before, share with us what their products are like!
If we missed out on other gift shops worth checking out, don't hesitate to inform us of their names, and we'll check if we should include them in our list.
Once you've decided which gift shop to go with, it's time to consider how to send your present to the receiver! Luckily, we have our list of the best gift delivery services in Singapore for you to check out!