Review: AeraMax Professional Air Purifiers
If there's one thing we take for granted even before the pandemic, it would be clean and safe air. Nowadays, poorly ventilated indoor spaces are breeding grounds for viruses like COVID-19.
Unfortunately, we don't always have the luxury of having nice, big windows in every indoor space. One way to reduce airborne contaminants in spaces like this is by getting an air purifier.
But with so many options available in the market, it can be challenging to pick the right one. To help you in your search, we'll be reviewing Fellowes' commercial air purifiers, including their features, filters, and other important things you need to know before jumping the gun.
Overview of AeraMax Professional Air Purifiers
To start with, Fellowes is an American brand that manufactures all sorts of office accessories, from shredders to air purifiers.
Called AeraMax Professional, the line of commercial-grade air purifiers by Fellowes is used in different environments including offices, schools, and healthcare facilities, among others.
By "commercial-grade", this simply means that their air purifiers are equipped to capture airborne pollutants in very busy commercial spaces.
Compared to domestic air purifiers, they require multiple filters in order to catch up with constant changes in airflow that commercial spaces tend to have.
In Singapore, Fellowes has currently seven models of air purifiers available, each of which has different functions and features that we'll talk about below.
Features
Generally speaking, all Aeramax Professional air purifier models have been proven to reduce viral loads (like those for COVID-19) from the air in a given space. It's also worth noting that Fellowes conducted independent laboratory testing before making such claims.
You can thank their four-stage HEPA (high-efficiency particulate air) filtration system for this, but how exactly does it work?
Filter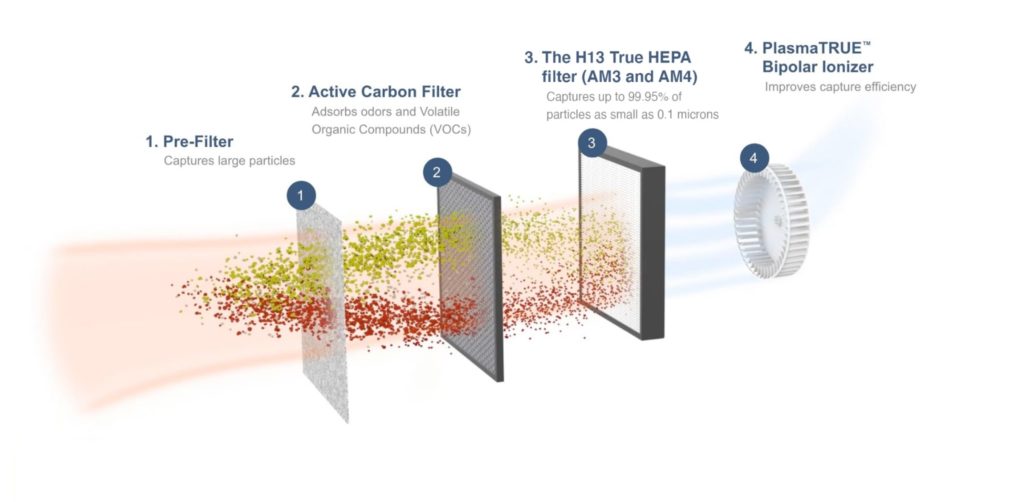 Basically, there are still a couple of filters behind the first one that you see, and they play different roles in catching pollutants. In other words, each filter type has a specific purpose.
As you can see above, the carbon filter is generally used to absorb contaminants directly, lessening odours in a room.
On the other hand, Aeramax Professional's H13 True HEPA filter is used to trap tinier particles that its previous filters didn't manage to catch.
Now, when talking about filters, it's also important to discuss their lifespans. This is important because lifespans affect the air purifier's efficiency, which can be hard to notice when your air purifier seems to function perfectly.
In other words, you need to replace filters every now and then so that your air purifier can do its job well.
For Aeramax Professional's filters, their lifespans follow the industry average. Their carbon filter normally lasts six months on average while their HEPA filters last about 12 to 18 months.
On the other hand, you can simply replace the pre-filter every time it gets dirty.
Normally, purchasing filters can be the most stressful part of owning an air purifier. That's because sourcing them can be quite a painstaking process, considering that not all vendors sell filters.
We're glad to see that it's not the case with Fellowes, seeing that you can conveniently purchase a filter online.
We're just a bit bummed to see that it sits on the higher end of things though, which can definitely ramp up costs over time depending on how often you change filters.
The good news is that you can split payments into three instalments via Atome, just in case costs are a bit high for you.
Hardware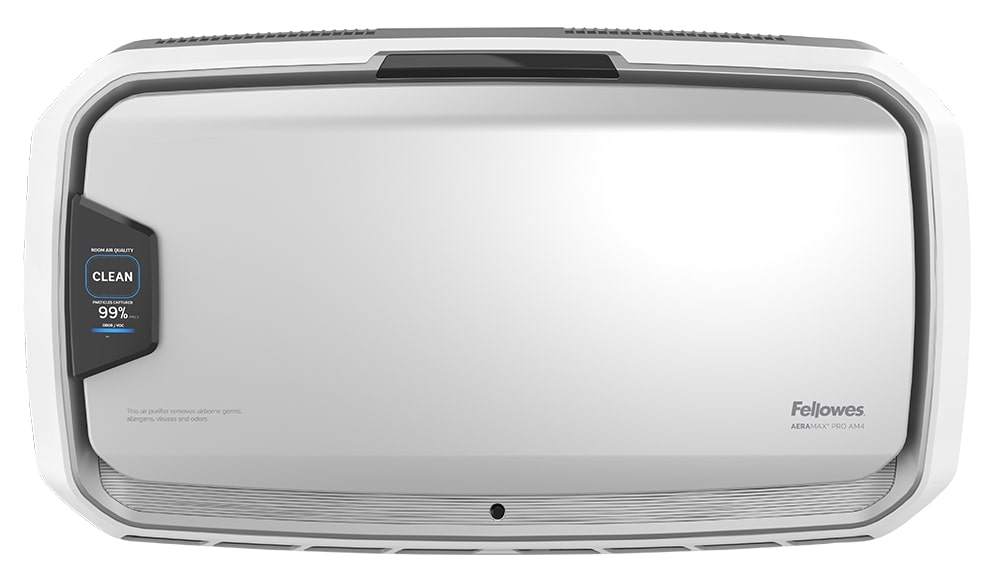 As mentioned above, AeraMax Professional air purifiers come in different SKUs. Each model is meant for a specific purpose.
For instance, we found the Aeramax Pro AMII to be suitable for small shared spaces like toilets, washrooms, and any space covering an area of 15 to 25 m².
We really love the fact that it can be positioned in different ways too, which makes it quite unique compared to other air purifiers. It can be mounted on a wall or a recessed wall, or it can be purchased with a stand.
It can even be converted into a standing position with kits that can be purchased separately.
Note that this multifunctionality also applies to other models, not just the Aeramax Pro AMII.
Furthermore, while the AeraMax PRO IV is a better option for waiting rooms and other large spaces with high concentrations of contaminants, the Aeramax PRO AMIV rooms that are just as large but are more crowded since they are wall mounted.
Ultimately, the most suitable one will depend on the room you wish to put your air purifier in.
What's also particularly interesting about AeraMax Professional air purifiers is that it comes with a patented smart sensor technology called EnviroSmart. This technology works by scanning the room's air conditions so that it can make adjustments to the system.
For example, if the purifier senses that the room is occupied, it will switch to quiet mode. On the other hand, it will switch back to normal mode when it senses that a room is unoccupied.
We think that this will come in handy in office settings, especially meeting rooms. Some air purifiers must be manually configured in case things get a bit noisy, but this automatic feature is a great add-on to have for that.
In other words, you don't need to set fan settings to low, medium, or high manually. This nifty purifier can do it for you.
But if you prefer to do it the old fashioned way, then you can always configure the settings yourself on the display panel.
There are five different fan speeds available, which we found fairly practical. You can also switch between manual and automatic mode anytime you want.
The purifier comes with a neat little screen at the front displaying the current air quality in the room and the percent of particles being captured in real-time.
We found this display screen to be a good way to keep track of the purifier's cleaning process, which shows you that it's doing its job in real time. While it's not really a necessity, it's still a good additional feature to have.
Lastly, the Aeramax Pro AMIII is ideal for those who have space to spare in their homes. If you want to closely monitor the air quality levels in your room, you may consider AeraMax Pro AMIIIS PC, which comes with a particle counter and a stand, which allows you to move it from room to room.
Price
As with most things in life, price can be the ultimate deciding factor. And so, you may ask us: do AeraMax Professional air purifiers offer the best value for money?
Before we answer that, here's a quick overview of each model's corresponding prices:
At first glance, these air purifiers seem to sit on the pricier end of things. But there are caveats to that assessment.
For example, it's important to take into account that these air purifiers are commercial-grade, meaning that they're designed specifically for commercial spaces.
So if you're purchasing an AeraMax Professional air purifier for your home or a very small office, then it will definitely seem like an expensive purchase.
We won't lie though: we do think they're still pricey compared to similar air purifiers (commercial ones) in the market today. Some brands have already started doing budget-type commercial air purifiers, after all.
At the same time, we also think that these purifiers can be investments, considering all the features each model is packed with. They have better build-quality than you'd see from the budget-type competition, as expected, and from what we've seen, tend to run better too.
We also like that AeraMax Professional air purifiers come with a 14-day trial to see if they work well for you. Other air purifier manufacturers don't normally offer this, so this was a very pleasant surprise.
As for the warranty, AMII has a 3-year warranty while the other models comes with a 5-year warranty, which is fair. Their customer support team responds relatively quickly during weekdays though, which is a huge plus!
What's also great is that you can split payments for a purifier into three instalments through Atome, just like with their filters. This flexible payment scheme allows you to manage your budget accordingly, in case costs are a bit steep for you.
As of writing, there is currently one promo available, and that is a 10% discount off the airpurifiers.
While you can pick up your order from their warehouse, it's a shame that they don't really have a showroom. On the plus side, each air purifier purchase comes with free delivery, so you don't have to worry about making pick-up arrangements in the first place.
Our Verdict
Pros
Ideal for commercial spaces
Wide variety of models available
Caters to different room areas/sizes
Equipped with an automatic setting
5 speed settings available
Various mountable options available
Filters available online
Free delivery
Instalments available
14-day trial available
Promos available
Warranty available
Cons
Premium pricing
Relatively expensive filters
Not ideal for domestic spaces
No showroom available
No customer support on weekends
All things considered, we found AeraMax Professional air purifiers to be pretty good in terms of build quality, advanced features, and smart design. They're also flexible when it comes to mounting, as they can be placed on the floor or wall, whichever way you prefer.
Regardless of your chosen model, we can say that you'll likely end up with one that does the job to your satisfaction, as performance was never an issue during our testing. It'll show that for you too—thanks to its PureView display screen, which provides you with real-time updates on air quality and machine performance.
Just bear in mind that an air purifier shouldn't act as your sole protection against harmful pollutants like COVID-19. It's still important to regularly disinfect your premises while practising safe distancing measures.
The biggest drawback with AeraMax Professional air purifiers is really just the price. They're still quite expensive compared to other similar air purifiers in the market.
On the plus side, you can pay for each one in instalments so it doesn't feel too heavy on your pocket. There's also a 14-day trial, which gives you ample time to decide whether this product is for you or not, so you won't have anything to lose.
More Resources about Similar Products in Singapore