Review: Is Luxequisite the Best Jewellery Shop in SG?
Ever wondered what it's like to own a piece of luxury jewellery? If that's a yes, then what's stopping you from having one?
Well, there are some financial considerations, of course. But what if we told you that you can actually invest in good and authentic jewellery without breaking the bank?
If you want to give it a try, we did some of the work for you. We set out to look for the best jewellery shops in Singapore and during our search, we found the newly established Luxequisite!
So, we went ahead and purchased one of their luxury jewellery. Curious about how it went? Read on to find out what we think!
Overview of Luxequisite
Luxequisite is an online-to-offline jewellery shop that connects buyers, sellers, and jewellery all in one platform. In fact, they don't only retail high-end jewellery, but also offer both bespoke and pre-owned luxurious pieces.
You see, by upcycling pre-owned jewellery, you'll help lessen waste caused by fast fashion. This tells us that Luxequisite supports sustainable fashion—and this is a huge plus for us and for those who are looking for a less expensive and sustainable option.
Another great thing that we like about Luxequisite is their philosophy of making heirloom classics and elegant jewellery more accessible to everyone, which we'll talk more about below.
Design
In terms of design, we think that Luxequisite covered all of the bases. They have jewellery in different colours, gemstones, sizes, and shapes-—all oozing with elegance!
Also, they offer different types of jewellery including fine jewellery, bespoke, pre-owned, haute, and more.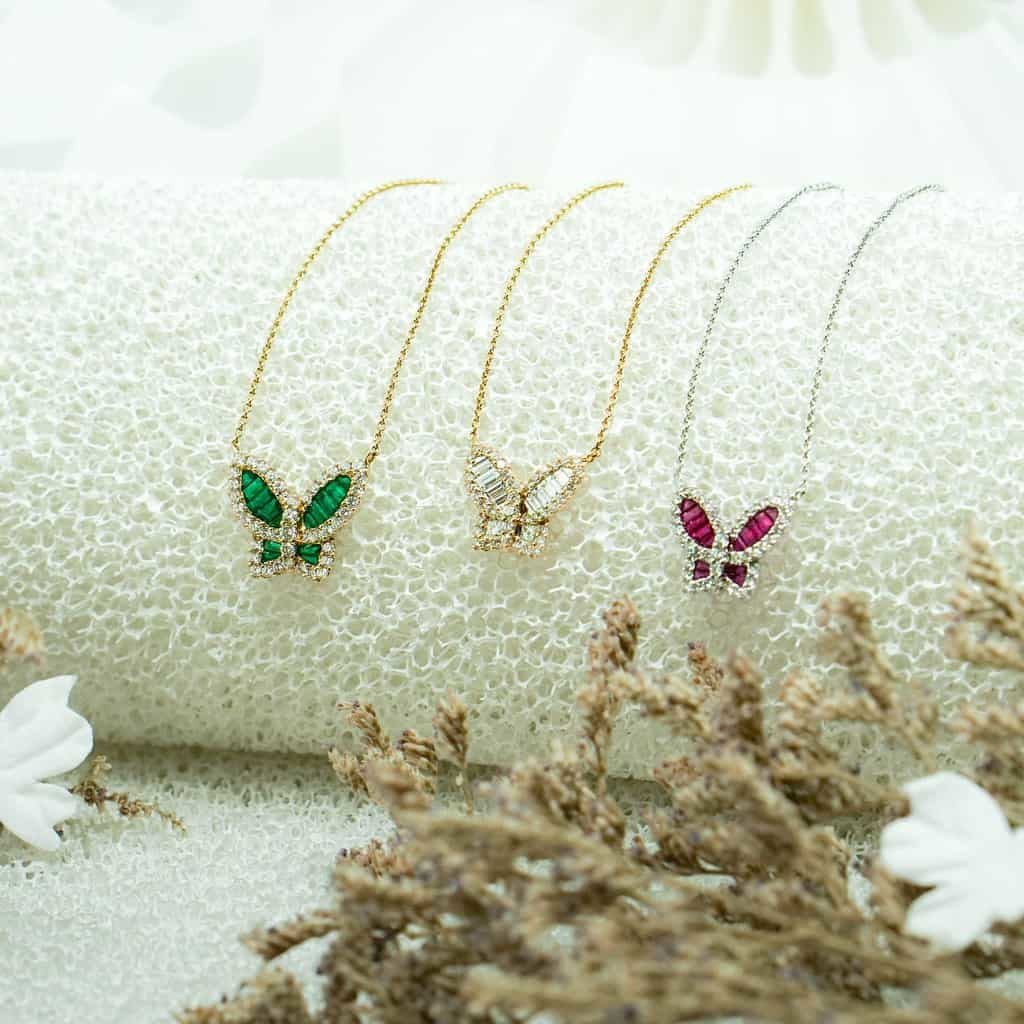 Apart from their usual grand designs, another thing that sparked our interest was their collection of unique jewellery pieces.
They have what we call "luxe dailies," which are pieces that are more dainty but luxurious at the same time. Under this category, you'll see a mixture of silver, gold, and colourful pieces. 
We think that prices can be relatively expensive depending on how you look at it. That's because the price range doesn't go below a hundred dollars and can go as high as almost a thousand.
Another thing that caught our attention was the haute jewellery collection because of its classic look. It focuses on sterling silver jewellery just like the famous brand, Tiffany & Co.
Unfortunately, prices are very high, which makes it only accessible to a select few. Luxury pieces under the haute jewellery range from $21,000 to almost $100,000 Singaporean dollars.
On the contrary, if you still want a jewellery piece that showcases a classic style without spending loads of money, you can consider getting bespoke jewellery.
It's a type of jewellery made to a particular specification. In other words, it's basically customised jewellery.
We don't often see a lot of jewellers offering this service, so that's another huge plus for them!
What we like about this service is that it gives a more personal feeling to it. You simply get to design your own jewellery.
In their website, they ask you about your desired price range, jewellery size, preferred delivery date, and more. They also provide recommendations to help you design your own bespoke jewellery.
Price Range
Now this came as a bit of a shock for us, as we expected the prices of all jewellery to be over a hundred Singaporean dollars, but we were wrong (good thing we were)!
Luxequisite's price ranges from $150 (from the "luxe dailies" collection) to $96,000 (from the "haute jewellery" collection). The wide price range gives ample opportunities for consumers from different walks of life to go and invest in authentic jewellery.
We have also broken down prices per category and came up with a conclusion that there are affordable pieces and extremely expensive ones on Luxequisite. So overall, they can be affordable or expensive depending on how you see it.
| Product Categories | Price Range |
| --- | --- |
| Fine Jewellery | $900 - $19,600 |
| Luxe Dailies | $150 - $960 |
| Haute Jewellery | $21,600 - $96,000 |
| Pre-owned | $720 - $7,200 |
Authenticity
We want to make sure that each purchase is worth the price, so authenticity plays a big role here… and so far, we can't fault the company here.
That's because Luxequisite engages with multiple gemologists and institutions that inspect every detail of the product.
Some affiliated laboratories include the Gemological Institute of America (GIA), Nan Yang Gemological Institute (NGI), and National Association of Jewelry Appraisers (NAJA).
What we love about Luxequisite is that they also provide certificates of authentication to all of their jewellery. In fact, they have certificates readily available under all jewellery types.
When it comes to pre-owned items, though, we're a bit bummed to see that certification via the Singapore Gemological Institute (SGI) is only available upon request, which requires an additional fee of $72.
The good thing is, this service is only optional and isn't automatically added to the product price.
Order and Payment
To order on Luxequisite's website, you need to create an account first. That way, each customer will be able to do their shopping and transactions faster.
They provide discount and promotion codes too. However, they don't specifically tell you how you'll get one. The only way you'll know is when you'll get updates about their latest deals on your email.
That's a bit of a bummer—but here's a pro tip: you can check other retail or bargain websites that offer promotional codes or online coupons as well.
Despite that, it was an advantage that they provided various modes of payment too.
From our experience, you can pay via Visa, Mastercard, Pay Now, and even Grab Pay—making payment easy and fast.
On top of that, Luxequisite allows you to pay in three instalments through Atome. We think that this makes another sweet deal for customers, especially if you're the type who prefers to split your payment into three.
Shipping Information
When it comes to shipping, we're so glad to see that Luxequisite provides both domestic and international shipments. For orders outside Singapore, they ship it via FedEx International Priority.
Although they can ship internationally, Luxequisite does not deliver to P.O. boxes, APO/FPO addresses and select U.S. territories, much to the dismay of some customers.
Having said that, they also have other shipping partners such as J&T Express, UPS, Direct Link, DHL, and more, giving you plenty of options to choose from.
For orders over $2,000, Luxequisite will ship it via specific jewellery transportation companies like Brinks, Chubb, and Malca-Amit.
However, when it comes to destination customs, all orders are delivered duties unpaid, which means that all import taxes and other fees fall under the responsibility of the customer. That's something to keep in mind when ordering abroad.
Packages are also provided with tracking numbers.
You'll receive additional tracking information via your registered email address. You can also see the status of your order under "My Purchases" on their website.
Overall, we found their shipping service to be quick and safe, at least in Singapore.
Insurance and Customer Service
Insurance is also a service that Luxequisite offers. Once you make an order, you won't only receive a certificate of authentication, but they also give you the option to get insured jewellery as well—but only if you want to.
This means that they don't insist on getting your jewellery insured; they'll only process it once you decide to get one. As a way to get your jewellery protected, they've partnered with AIG Insurance and Aspire Alliance.
We think this is a great way to get your jewellery safeguarded, especially if it costs a fortune! As the name suggests, jewellery insurance is a way to get your investment protected at all times.
When it comes to unforeseen circumstances such as accidents or thievery, getting your jewellery insured can cover at least a portion or its entire monetary value.
But it doesn't only cover the worst, one of the perks about having jewellery insurance is that it can cover damage and repairs too.
In fact, Luxequisite also provides delivery insurance. That's another way to ensure that your luxury jewellery is in safe and good hands during the shipment process.
It's just a shame to see Luxequisite's relatively strict return and exchange policy. Their refund policy is only effective for 7 days, which gives customers very little time to decide whether they want to keep the jewellery or not.
If you decide to return the product, keep in mind that you have to temporarily pay for the shipping fee enroute to Luxequisite. Don't worry though, Luxequisite will fully reimburse the shipping fee to the customer within 30 days once they've received the product back.
Aside from online retailing, Luxequisite also has a physical store. Their store is open from Monday to Friday from 11:00 AM to 7:00 PM.
Keep in mind that they're closed every Saturday and Sunday, which is a bit of a disadvantage for those customers who only have weekends off.
Despite that, it's a huge plus that they have a physical store, especially for customers who want to view the actual products in person.
If you want to check them out, their physical store is located at 6A Shenton Way, Level 04-01 OUE Downtown Gallery Singapore.
Our Verdict
Certificate of authentication instantly available to all products (except pre-loved)
Provides jewellery insurance
Wide range of designs to choose from
Easy online purchase
Multiple modes of payment accepted
Instalments available via Atome
Domestic and International shipping available
Delivery insurance guaranteed
Tracking number or information provided
Enables actual product viewing 
Physical store available
Higher cost of some products
Additional expense to avail of insurance
Discount and promotion codes update via email only 
No instant certificate of authentication provided for pre-loved products
Customer temporarily covers shipping fee upon return of product 
Does not deliver to some locations abroad
Shipping fee can get pricey (import taxes and other fees catered by the customer if shipped internationally)
Physical store closed on weekends
Overall, we definitely think that getting jewellery from Luxequisite is worth the shot! If you want to have a piece of authentic jewellery that will last for a long time, then buying one from Luxequisite can be a very good investment.
That said, Luxequisite is on the premium side of jewellery shops, and most of the prices of their products are usually higher than the average. While this can be a major downside for some, you can pay for it via instalments, on the plus side.
On the contrary, it's not just about vanity anymore. It's about owning a certified authentic product that will have greater value several years from now.
Luxury pieces can actually retain resale value after 20 to even 100 years. An antique studded jade ring may even become a collector's item in the future.
We love how they have jewellery pieces in different styles and prices. You can choose between a quirky or a classic piece available at different price points, as an example.
One problem that you should take into consideration is the shipment fee, however. Their shipping process might get pricey, especially if you're based abroad.
You need to cover all of the necessary fees and custom duties that come with it. But shipment is fast and safe, along with delivery insurance, so that's pretty reassuring too.
In addition, we also appreciate how convenient it is to view their products. Aside from a user-friendly website and easy online purchase, they also have a physical store where you can visit and see the actual luxury pieces.
Investing in good jewellery means investing in good money. If you think about it, that's the only visible investment that you can wear-—and Luxequisite can make it happen for you.
Check out Luxequisite here or contact them via email at [email protected] if you have any questions or want to learn more about the products.
More Resources About Accessory Shops in Singapore