Review: Lovrei Singapore's Performance Hair Dryer
They say that blow drying is the key to having styled hair everyday. And if you have stubborn flyaways like I do, you probably agree with this wholeheartedly.
Yet despite its perks, blow drying can still be very damaging to your hair, especially if it's done at very high temperatures and at frequent durations. On top of that, some hair dryers can also be more damaging than others, so there are a lot of things to consider here.
So, we set out to find the best hair dryers that you can find in Singapore with the least damaging features, adjustable heat and speed settings, and design, to name a few—all while giving us the best value for money.
During our search for hair dryers, we discovered Lovrei—a relatively new homegrown brand selling (as you might have guessed) hair dryers. We got one, tested it out ourselves, and weighed its pros and cons in this article, so read on to know more.
Features
The first thing that caught our attention was Lovrei's main selling point: each hair dryer is equipped to release 20 million anions when you blow dry your hair. But what does this mean and why does that matter, exactly?
To help you understand the science behind it, an ion is an atom or molecule with a net electrical charge. Your hair naturally has positive and negative ions, which essentially affects how your hair looks.
For example, positive ions may give your hair more volume but may also cause more frizz in the process. On the other hand, ionic hair dryers such as Lovrei's work to neutralise the effect by producing negative ions or anions, giving your hair a smoother and less frizzier look.
Compared to other hair dryers, Lovrei takes pride in the fact that it's the only hair dryer in the market to produce 20 million anions.
While there's no exact way of telling if this is the case, the results this hair dryer promises are clear-cut. It gives naturally thick and frizzy hair such as mine a smoother and more voluminous look, allowing me to get rid of my flyaways in a fraction of time.
What's surprising is that it holds up quite well throughout the day too, which means it goes great with certain products like heat protectant leave-in conditioners.
In fact, we highly recommend going with this combo (the Lovrei hair dryer + leave-in conditioner) if you plan on going out from morning to night, just so you don't have to worry about having frizzy hair throughout the day.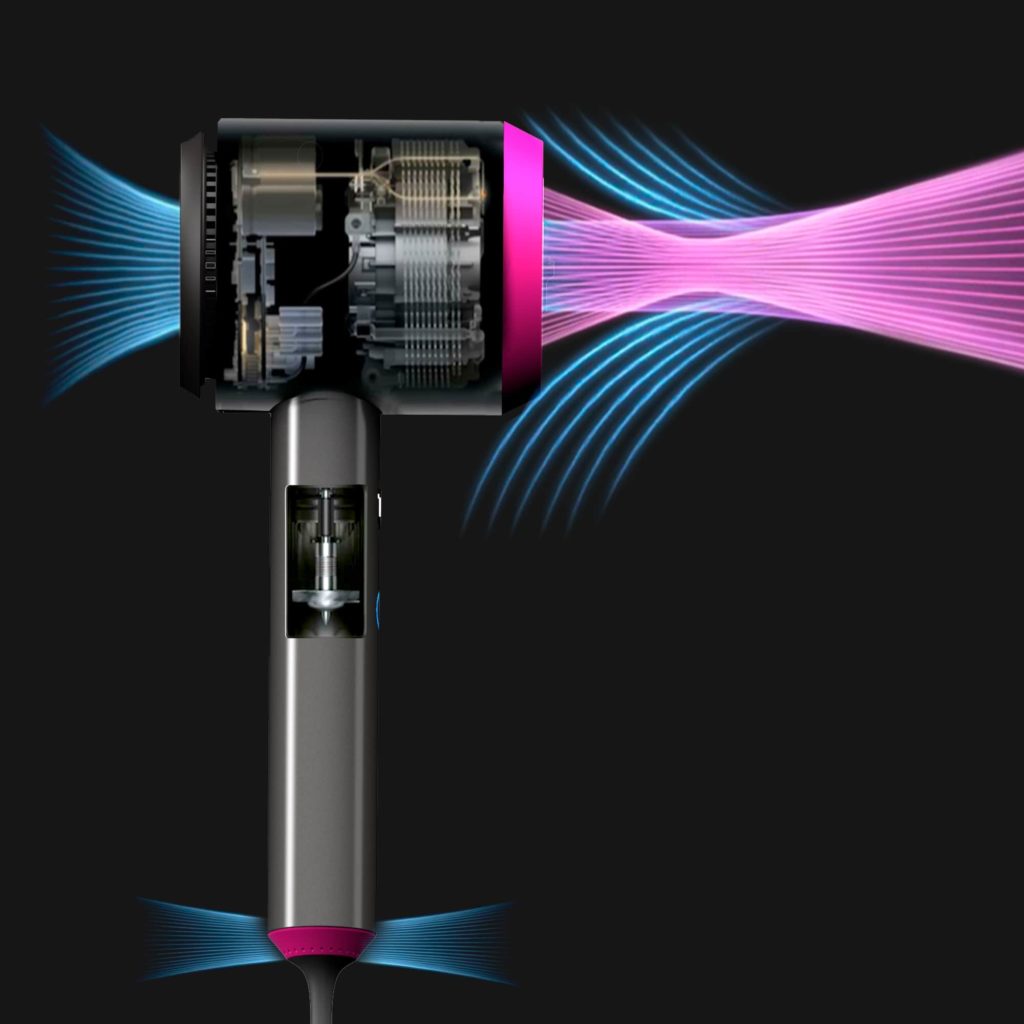 Another thing that we absolutely love about this nifty product is all the technology packed in it.
Thanks to its ionic technology, this hair dryer can provide your hair and scalp an extra layer of protection from the sun's harmful UV rays—perfect for ladies who love going out and about in hot and humid Singapore.
It's equipped with an intelligent thermostat sensor that also automatically adjusts the temperature so you don't have to worry about it overheating. Along with this, it comes with a feature that automatically shuts off after leaving it unattended for too long.
We think that these safety features in place are a good reminder for women who tend to lose track of time when blow drying. You absolutely can blow dry too long!
And like many hair dryers in the market nowadays, it also has four heat settings and two speed settings. This is surprisingly decent considering its size.
It also has a powerful 2100W motor. And while it's not the most energy-efficient hair dryer in the market today, it means that it can dry your hair much faster than most, on the plus side.
Specifications
Height
24 cm
Width
10 cm
Weight
0.7 kg
Rated Voltage
220V - 240V
Rated Power
1800W
Cable Length
1.8 m
Speed Settings
- Normal (25m/s)

- Fast (40m/s)

Heat Settings
- 24°C

- 60°C

- 80°C

- 100°C
Design
At first glance, you can tell that Lovrei's hair dryers don't come cheap, and we mean that in a good way.
You see, we like how stylish and minimalist it looks—perfect for the modern-day Singaporean woman. We polled several of the staff (and their family members) and most agreed that it looked nicely premium.
Utility-wise, the design is actually pretty straightforward. You'll see two buttons on the handle: the upper one being the wind adjustment key and the one below that being the heat setting button, indicated by different colours.
We also have to talk about its handle. One thing you've probably noticed about many commercial hair dryers is that their handles easily get hot after using them for long periods of time.
After testing it for 15 minutes, we're glad to report that this isn't the case for Lovrei's hair dryer, which can be attributed to its heat protection layer.
We think that the design also makes the perfect travel companion. It's incredibly lightweight, plus it doesn't have the pointed barrel that most hair dryers have, making it very luggage-friendly.
And if you're a little bit clumsy like me, you'll learn to appreciate just how durable this hair dryer is. It's built to withstand falls and scratches, which means that it should work perfectly fine even after you accidentally drop it.
In terms of design, there's really not much to dislike about Lovrei's hair dryer—it looks modern, it's handy, and amazingly silent.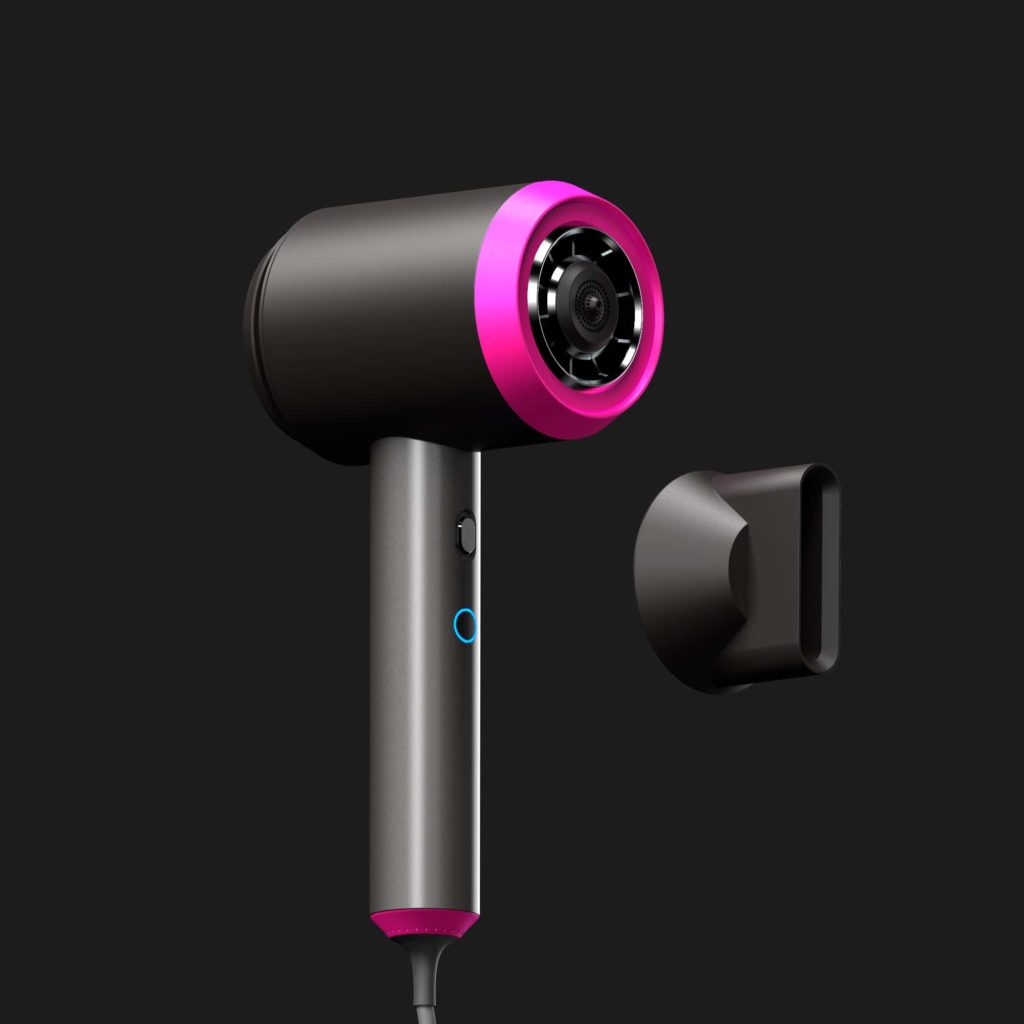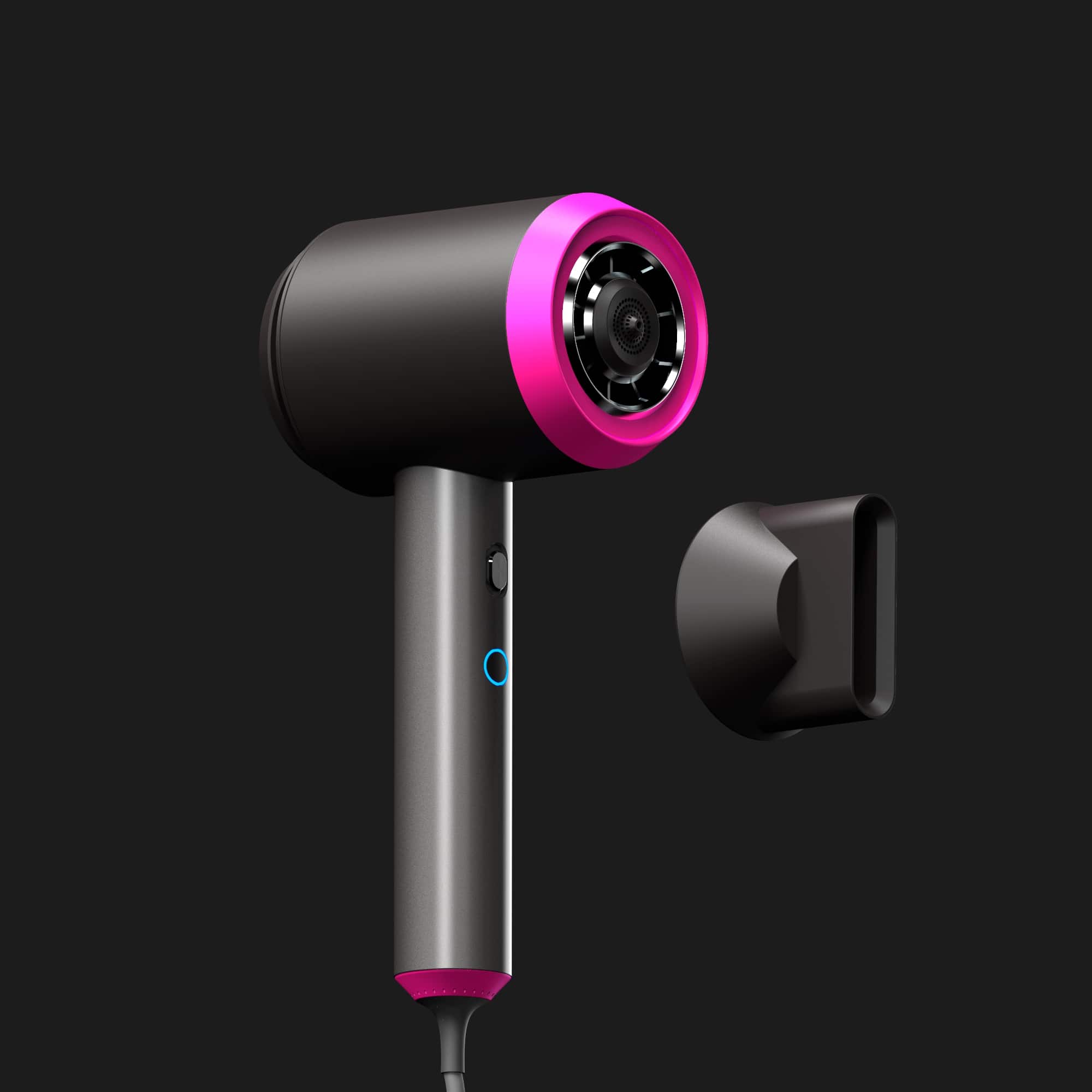 The hair dryer comes with only one attachment though, which can be a downside for some. The good news is that the concentrator nozzle it comes with is basically the only attachment you'll ever need in most cases.
On top of that, we also like the fact that the rotating capability of the nozzle allows you to use it without straining your wrist. In our opinion, this little ergonomic feature also makes it a great choice for lefties and righties alike.
We think that these little things greatly improve user experience, which is something you don't normally find in basic hair dryers.
Price and Customer Service
So now it all comes down to one thing: is it worth the price?
For starters, we have to admit that Lovrei's hair dryer is one of the most expensive ones on the market today. Costing $299, it sits on the higher end of the spectrum, which isn't very surprising considering all the features it comes with.
While it's not exactly a budget-friendly option, Lovrei promises that their hair dryers would last you many years. Because we only had ours for a couple of weeks, it's too soon to say that it indeed stands the test of time.
Despite this, the fact that the hair dryer comes with a five-year warranty is greatly reassuring. Compared to other hair dryers, Lovrei's warranty is one of the longest ones in the market—that's how confident they are in their product.
For now, you may only get the product through their website. This can be a bit of a downer if you're the type of person who prefers seeing and testing the actual product before making a purchase.
On the plus side, we really love the fact that they offer a 20-day trial period for everyone to make up for this drawback. And if you realize that this product doesn't live up to its hype during the trial period, then you can simply return the product.
The refund policy also makes Lovrei a more appealing choice.
Unlike many hair dryers nowadays, Lovrei has a no-questions-asked refund policy. This means that you can get your money back if you're simply unhappy with their product regardless of your reasons.
All you have to do is to shoot them an email or a WhatsApp message, and they'll get back to you in a few hours. Based on our experience, response has been quite quick and professional, which earns them another point!
Delivery
What's also great is that Lovrei also offers free shipping for all orders—no promo codes or minimum spend needed.
In fact, you can also avail their free same-day delivery service for orders placed between 9 AM to 5 PM. This is just one of the many reasons why we think they make a fantastic last-minute gift option as well!
Otherwise, you can expect your order to arrive the next day should you place your order beyond that period.
Sadly, they don't really offer tracking numbers.
From what we've experienced though, shipping was relatively easy and fast. We also appreciate how environmentally friendly they try to make their packaging to be.
This is why we think the lack of tracking numbers is only a minor inconvenience.
You can also pay for your order via cash on delivery actually, just in case you prefer it that way. Alternatively, you can pay for your order online using PayPal or with your Visa or Mastercard credit card.
In fact, we highly recommend taking this route in case you prefer to split your payments. Lovrei allows you to pay in three installments through Atome.
Perhaps the biggest drawback we're seeing with Lovrei in this aspect is the lack of international shipping options and with that, an international customer service team.
Claiming a refund or warranty can be a challenge for customers based abroad. This also means that you won't be able to order one and have it directly shipped to your address if you happen to be based outside of Singapore.
The logistics of how these situations would work remain unclear. And we can understand that, considering that Lovrei is still quite a young company, after all.
Our Verdict
Ideal for all hair types
Lightweight
Equipped with intelligent thermostat sensor
4 heat settings and 2 speed settings available
Free same-day delivery
Free 20-day trial
Refunds accepted
5-year warranty
Multiple modes of payment accepted
Installments available
On the premium end of the price spectrum
Not available in physical stores
Only one attachment included
No tracking number for deliveries
Overall, we think that Lovrei's hair dryer gives other hair dryers a run for their money. It's powerful, efficient, and effective, packaged in a handy and modern design.
We can't really tell for sure how effective these "20 million anions" are for everyone. But if you have stubborn and thick hair like mine, it will come off as a pleasant surprise to see how much this hair dryer can do at the shortest possible time.
In other words, it gets the job done—and very well, at that. This is why we wouldn't hesitate to recommend this product for all hair types.
That said, the biggest thing that you have to consider before purchasing this product is its price. The price is still quite steep compared to many hair dryers.
But then again, we think that there are many things that justify it. Apart from the actual product, this includes the 20-day trial period, refund policy, five-year warranty, and free same-day delivery service.
All things considered, we believe that the price is worth it. You don't often come across a good deal such as theirs—it's simply too good to pass up.
Lovrei hair dryers are available on the Lovrei website. You may contact +65 9831 3671 from 11 AM to 5 PM daily for more information.
Hair Tools and Services in Singapore