The 5 Best Vlogging Cameras in Singapore
If you want to do halfway-decent vlogs, you need a halfway decent vlogging camera. We've gone one better if you need a list of those, though, as what we have today are the best vlogging cameras in Singapore that can help record your everyday experiences.
And to help you further with your choice, we've also set up a quick guide to help you keep in mind what would be a good choice in the long run. After that, you should find it easy to select a camera from the great ones we've rounded up.
How Do I Choose A Great Camera?
There are plenty of great options for a vlogging camera, but the most expensive one isn't necessarily the best.
Like most things, it depends on the needs of the particular user. You should take into consideration what kind of vlogging you will be doing, for instance.
Are you going to do indoor vlogs, or are you going to move from one place to another? If the former, you'd need something like a DSLR that's propped on a tripod; if the latter, then a GoPro is ideal.
That's just the tip of the iceberg when choosing a vlogging camera. There are more protips below, so let's get started:
1. Camera Type
There are different types of cameras that can suit your needs, and we've listed down the kinds that can be appropriate for vlogging. Here are the types, for your reference.
Action cameras are small, handheld cameras that are usually made for sports and an active lifestyle. They can withstand being juggled around while retaining balance, avoiding shaky cam and jitter cam.
They have a fixed wide field of view despite their small size. This type is thus good for vloggers who are always on the go and need a quick set up they can fix anywhere.
Digital Single-Lens Reflex (DSLR)
Everyone is familiar with the large, bulky, cameras with massive lenses. They're the number one thing that comes into people's minds when people say "camera".
They're widely versatile, being able to capture both images and videos due to a variety of lenses and sensors. They also tend to produce amazing image/video quality.
While they are a good choice for the video quality, just be aware that these things are large and not very wieldy, so it's better for studio-type vlogging.
The mirrorless camera, much like the DSLR, has large sensors… but differs in that it doesn't have a physical moving mirror. Images usually go straight to the sensor of the camera.
Micro Four Thirds are quite similar to mirrorless cameras; however, they have smaller sensors. The lenses can be interchangeable, much like the DSLR.
With their compact design and the variety of lenses that can be used, they're one of the more popular picks for vlogging cams.
The point and shoot is more of a mix of a DSLR and an action camera. It can be lugged around anywhere.
This camera's features strike a good balance between the DSLR and action cam, but do be reminded that it excels at no task in particular.
2. Field of View
Field of view simply means how much the camera sees. Having a narrow or tight field of view is great for close-up shots, especially when showing off materials. Wide-angle field of view is perfect when capturing events, sports, or areas.
Action cameras have very wide fields of view; however, with the design to capture action anywhere, they're also non-adjustable.
Point and shoot cams are dab smack in the middle. DSLRs are ideal for a narrow field of view due to their lenses that can be replaced.
3. Resolution/Megapixels
Resolution and megapixels are always tied in together. The higher the number of megapixels, the better it looks.
You should aim for 720p or 1080p for videos, and while there are higher resolutions than that, you might want to make it look decent instead of trying to make it so high-res that it'll take 30 mins for the video to load for your viewers.
4. Sensor Size
The size of the sensor refers to the dots or pixels in a camera that collect light and capture images. The larger it is, the more pixels for clarity the video has.
Small cameras have smaller sensors, whilst DSLR cams have full-frame ones.
5. Microphone
While it is advisable to buy a separate microphone for recordings, getting a camera that has a good microphone is a good solution until then.
The Best Vlogging Cameras in Singapore
Now that we know the tips and tricks to picking a great vlogging camera, let's go to the list of the best vlogging cameras in Singapore. These were the best ones we found that are known for high definition, and that are popular with startup vloggers:
1. Panasonic Lumix G85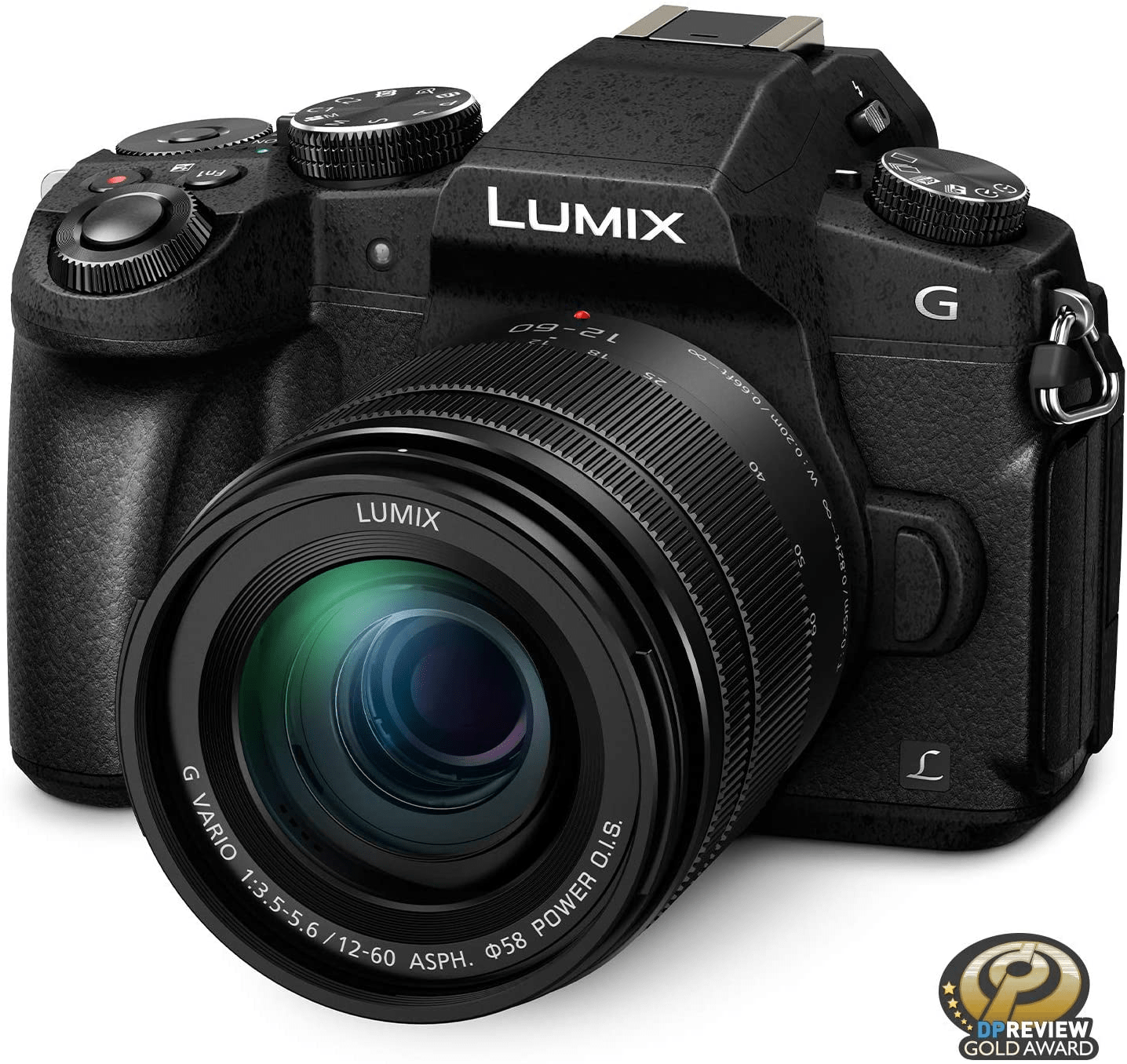 Price:$1,106.97
Limited Stocks At Shopee, Buy Now
The Panasonic Lumix G58 is a mirrorless cam that has interchangeable lenses to enhance camera quality.
It can also capture around 4K QFHD video recording (3840 x 2160), and 4K Post Focus. It can capture around 30FPS.
It also has dual stabilization, which both works in photo and motion capture, and even 4K mode. It also can capture clear imagery under low light conditions.
These great features make it one of the best vlogging cameras in Singapore.
Pros
12-60mm lens
Sharp quality
Dual stabilization
Cons
16MP stills
Noise in low light shots
Customer Reviews
Here are some reviews from Amazon about the this amazing product:
One of the best value camera out there. Hands down.
For current users, I highly suggest to do the following: Go to menu –> Setup –> beep (page 2) –> Turn off the beep volume and E shutter volume
This was a huge annoyance for me at first, and I was relieved to find it in the settings.
Battery saving options are also within the page 2 of setup such as Live View Mode (30fps), Monitor Luminance, and Economy.
Pros:
Stills quality is very nice and sharp, even from the 12-60mm kit lens. Image quality and bokeh are stunning when paired with the 25mm f1.7. The dual IS is really good for stills and even more amazing in video. Two custom settings within the dial are really helpful for saving your own shooting modes. I personally save Shutter-priority video moves to these in different recording formats (i.e. 4k30fps, FHD60fps). There are also plenty of fn buttons to customize. There are also color profiles to shoot in that may be customized. I find that the "Natural" profile to be the most pleasing in video. There is also Cine-D for those wanting a flatter look or for grading.
Weather sealed – Not much to say here other than, great!
Coming from a Nikon APSC camera, I am amazed at how light and robust the mirrorless form factor is. There is little fatigue in carrying it in your hands all day. The LCD screen that allows a full swivel is really neat for selfies/vlogging.
Finally… the video. Most buyers are probably here b/c of this and yes… it does not disappoint. The detail is amazing! BUT, the real shocker is the image stabilization. When paired w/ dual IS and E-stabilization turned on, the video is practically gliding (especially @ wider angles – 12mm). I am not joking. Walking with the camera is buttery smooth, no jittery videos.
Cons:
It's only up to 16MP stills, though I still find the image quality to be very good even when an image has been cropped in edits.
I found that the image is a bit noisy at higher iso (6400 and above), though this is not really a bother to me. I find that it gives it a natural feel to lowlight shots. You can always dial it down with a bit of NR in Lightroom and other software.
A slight crop to the 4k video recording.
This was not a con for me, but others may think it. There's a lot to learn w/in the settings of this camera. Take the time to read the advanced handbook. Experiment!
In summary, I highly recommend this. If you are on the fence, JUMP OVER!
-Lou Gabriel
So I was not 100% sure if this was the right buy because some of the reviews scared me but this is PERFECT! I have been into photography as a hobby for years and I've never shot on such a crisp and clean camera like this! It's seriously next level. Not only does the camera take AMAZING photos but it also takes even better videos. I regularly post on YouTube and people have been so hype about the difference in my filming!!! I'll attach some pictures I've taken
-Cami
2. GoPro Hero 8
Price:$521.00
Limited Stocks At Shopee, Buy Now
The Go Pro Hero 8 is perfect for those vloggers who document their day-to-day life in the great outdoors.
This model has improved stabilization, giving it three levels — On, High and Boost. This provides smoother frame rates and the widest field-of-view.
Aside from those, it has clearer audio due to the boosted microphone and the ability to capture super-stabilized time-lapse videos while you move through an activity, whether you're cycling through country roads or trekking through the mountains.
Pros
Improved stabilization
More pocketable design
Cons
Pricey
Not good in low light settings
Customer Reviews
Here are some reviews from Amazon about the this amazing product:
A lot of the reviews I see here are from previous GoPro users who are unhappy with their upgrade. I am a first-time GoPro user but come from a family of photographers and professionals. I personally can say I absolutely love the hero8. Stabilization from hypersmooth 2.0 is really near gimbal quality at this point. I've already tested the underwater aspect of the camera without a case and it performed beautifully! I've had zero issues with SD cards, freezing or really anything else. My main gripe is with the GoPro app… not a fan! but doesn't matter because I'm exporting everything to Adobe premiere pro anyways. To sum it up, for an action camera the image quality really is incredible on the GoPro Hero8 and I am perfectly pleased with my purchase I can't wait to really push the limits of this camera!
-Chase W.
I skipped Hero 7 because I got Hero 6 right before the 7 came out. Anyways, HUGE upgrade in stabilization from my Hero 6, also audio is much better, this is the best GoPro in terms of stabilization. If you need gimbal performance without an actual gimbal I think this is the way to go plus it fits in my pocket so I take it everywhere and make videos anywhere I want. Low light performance is not that great, better than Hero 6 but I don't expect to use this for low light too much, it's really action camera for daylight.
-Max Lee
3. DJI Osmo Pocket

Price:$379.00
Limited Stocks At Shopee, Buy Now
The DJI Osmo Pocket is a great pick for those who need to set up quickly and pack up quickly as well. It's perfect for novices who have just begun with their vlogging channel.
This pint-sized powerhouse packs a punch, being able to withstand weather, and has amazing portability. With over 4K quality in video, this little friend provides great gimbal stabilization and a wide variety of settings: ActiveTrack, FaceTrack, Timelapse, Motion Lapse, Pano, NightShot, and Story Mode.
This is one of the top choices of many users due to its pocketability and video quality. Overall, we think it's a seriously strong choice if your vlogs are shot in variable conditions outdoors.
Pros
Smooth stabilization
Weatherproof
Cons
Needs to be registered
Not compatible with some phones
Customer Reviews
Here are some reviews from Amazon about the this amazing product:
ts amazing , works like a dream , took pano in the dark hand held on the party buss and picture came out sharp , video is fantastic. If you have a micro usb phone then give it to your grandma and get an Iphone x 😉
-Maksym M.
Having waited for months for the release of this camera, I am not disappointed. Videos are rock steady and very clear. I was a little concerned about the audio but after filming my granddaughters school Xmas concert, it recorded fine. Since I didn't have an iPhone or an Android phone with usb-c I had to use my iPad mini to register and get access to the pro features. It works fine as long as there is no case on it. With even a thin case, the gimbal would hit. The only thing that would make it better would be an optical zoom lens. Hopefully in a future generation.
UPDATE: Love it! I added the WIFI module and now I can just sit the camera on a table or tripod and control what the camera is filming thru the app on my phone. I have numerous other cameras that can be controlled by an app but you can only snap a picture or film a video that the camera is looking at.
8 people found this helpful
-Hatburger
4. Canon Powershot G7X Mark III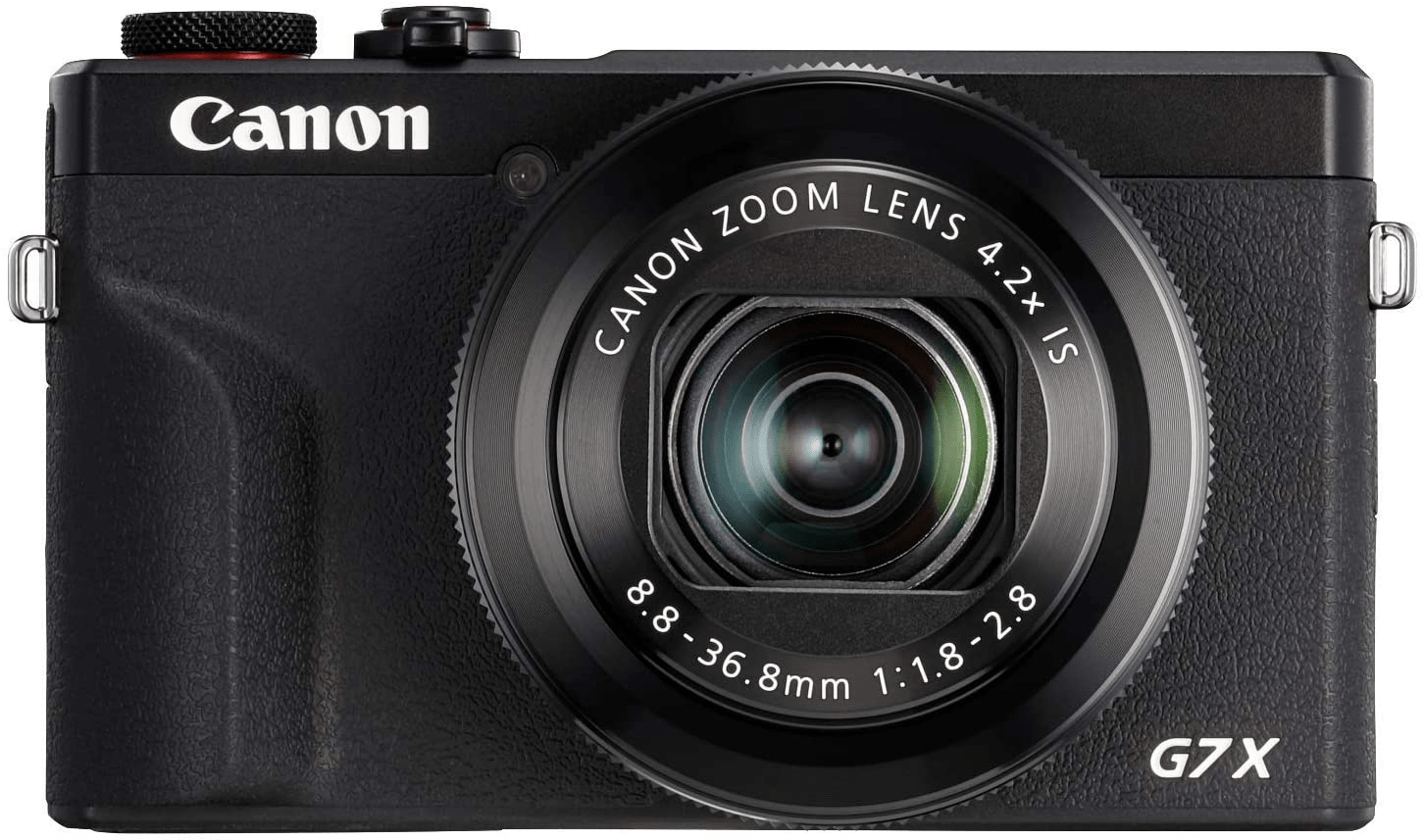 Price: $1,391.00
Limited Stocks At Shopee, Buy Now
The Canon Powershot G7X Mark III is one of the most versatile vlogging cameras in the market. It has a 4k sensor and incredible image stabilization… and captures videos in lowlight with better quality than most vlogging cameras.
It also has a microphone socket for the best vlogging experience. Another brilliant feature is that it can stream directly to Youtube.
These amazing features make it one of the best vlogging cameras in Singapore.
Pros
Direct Youtube streaming
Mic input
Improved stabilization
Cons
5. Sony ZV-1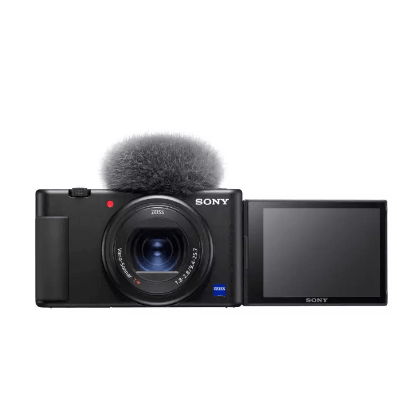 Price: $999.00
Limited Stocks In Shopee, Buy Now
One of the best vlogging cameras in Singapore, the Sony ZV-1 is supreme with its 24-70mm lens, microphone port, auto focus feature, and more. Its real-time tracking and Eye AF provides great depth and a good field-of-view too.
This proves itself a great pick for beginners and vlogging veterans alike. The stabilization is great, and it provides enough clarity in close up shots for those pretty little product show-off moments.
Pros
Compact design
24-70mm lens
Cons
Limited touch controls
Can only be used with micro USB ports
And that ends our list for the best vlogging cameras in Singapore. We hope this list helped with your mission to create great vlogs in the future.
Did we miss a great camera, though? Tell us its name and what makes it great in the comments below!
And remember that we have other roundups for the best cameras in Singapore if you need more options. Need to narrow down the search to mirrorless cameras, for example? Head over to the list of the best mirrorless cameras in Singapore and check out our picks for those.
We can also help if you need to take your WiFi with you when doing vlogs outdoors: come check out the list of the best portable WiFi devices in Singapore for that!