By Ryan Lim
Are you looking for faster ways to lose excess skin and fat? If so, the best tummy tuck in Singapore can make those go away, something that going to the gym cannot do in a flash!
Since tummy tuck is a delicate and major procedure, we made sure to only include aesthetic clinics that can do plastic surgeries safely and effectively. So, without further ado, here's our list of the clinics with the best tummy tuck in Singapore.
(Note: This list is in no particular order.)
1. Dr. Terence Goh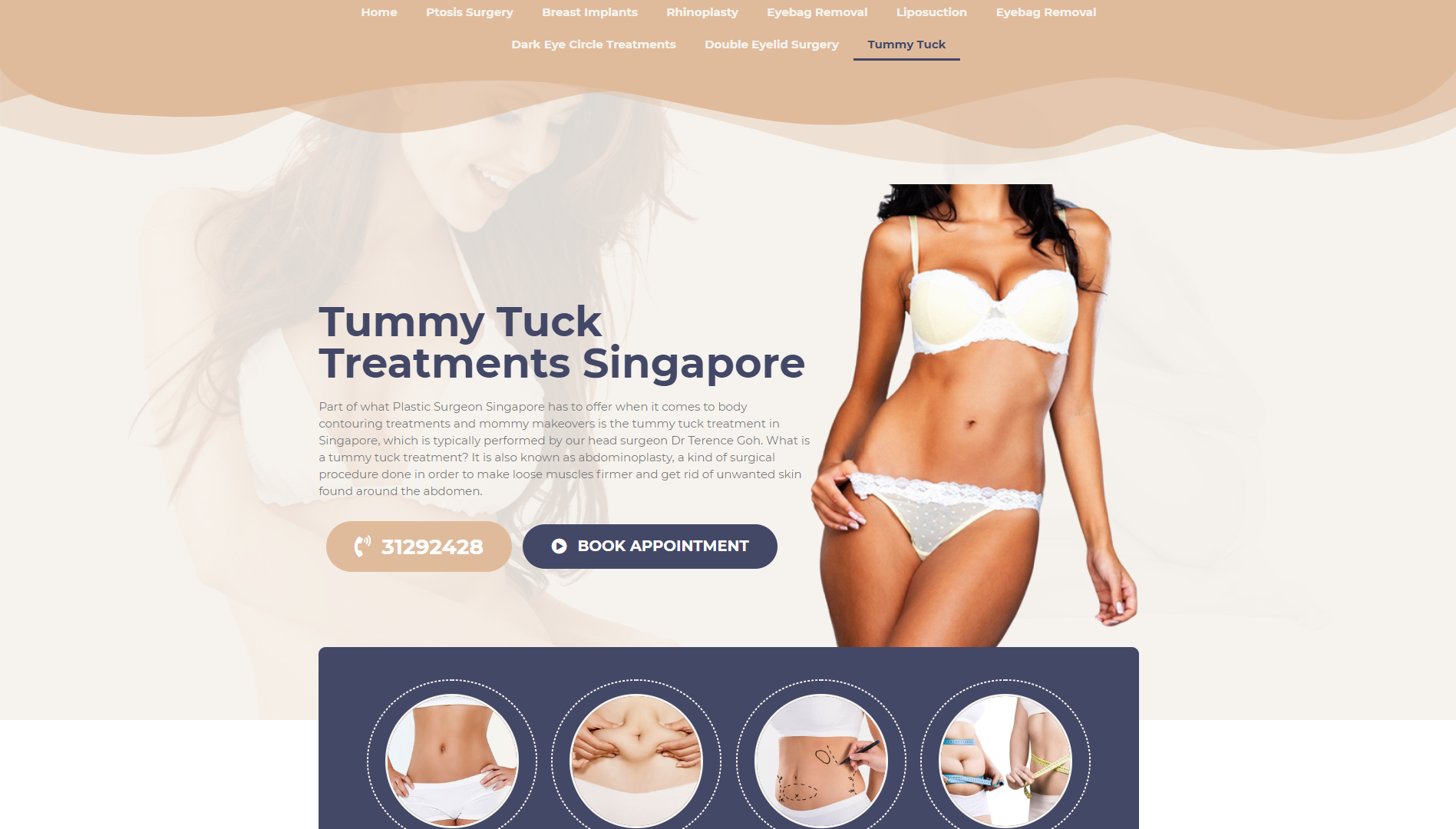 Plastic Surgeon Singapore is preferred by many when it come to aesthetic treatments, particularly due to its high degree of personalisation. They provide a wide range of services, from facial alterations to body modifications. Tummy tuck treatments are part of the services they offer.
Dr. Terence Goh leads this clinic's team of expert surgeons. He is is skilled when it comes to aesthetic and reconstructive microsurgery, which improves his body modification treatments greatly. His clinical expertise is fueled by his passion to guide people towards enhancing their looks and in consequence, their lives.
Besides offering high quality services to their clients, the staff of Plastic Surgeon Singapore also ensures that every individual they handle is able to recover swiftly and smoothly. If you're ever in need of their services, you can trust them to do the job right.
Highlights
Various Treatment Options
Responsive Staff
Post-Surgery Guidance
2.  Allure Plastic Surgery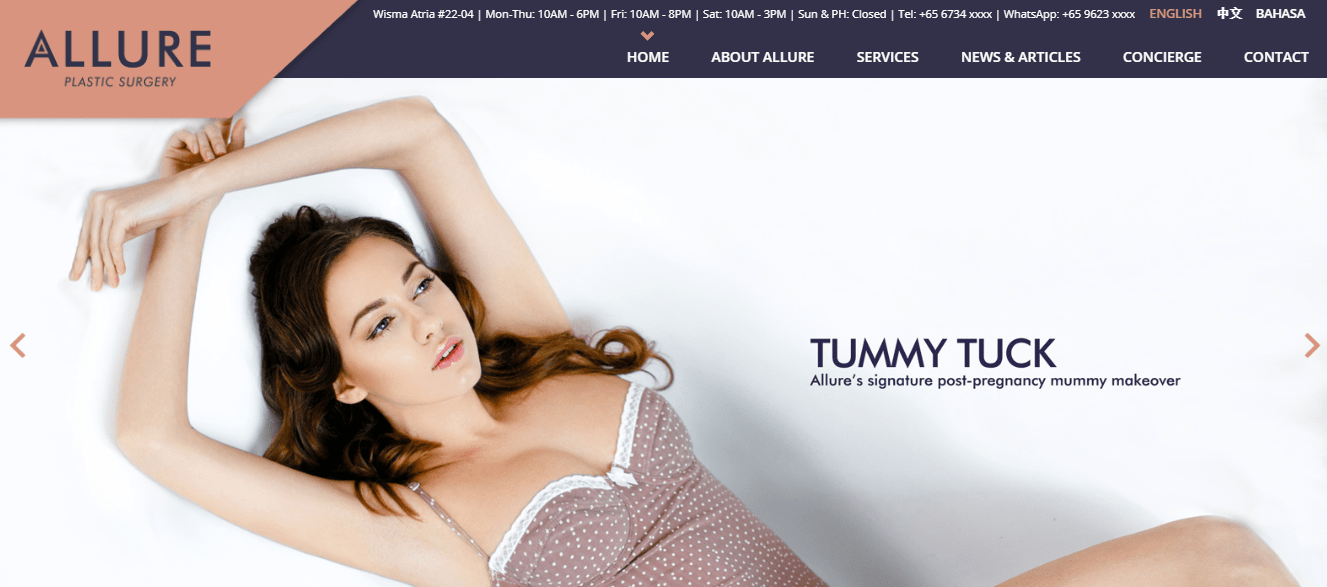 | | |
| --- | --- |
| BEST FOR  | Facial and Body Procedures |
| SERVICES | Tummy Tuck, Liposuction, Breast Augmentation, Breast Lift, Double Eyelid Surgery, Face Lift, Nose Lift, and Rhinoplasty |
| WEBSITE | https://www.drsamuelplasticsurgery.com/ |
| ADDRESS | 435 Orchard Rd, #22-04 Wisma Atria, Singapore 238877 |
| CONTACT DETAILS | 65 3138 4790 |
| OPERATING HOURS | Monday – Friday, 10:00 AM – 6:00 PM |
Allure Plastic Surgery is one of the most in-demand aesthetic clinics in Singapore for their wide range of beauty procedures. Some of these include rhinoplasty, breast augmentation, liposuction, face and nose life, and of course, tummy tuck.
As an aesthetic clinic, it primarily aims to make clients feel better about themselves by providing effective and safe beauty treatments that can boost their confidence.
It's headed by Dr. Samuel Ho, a doctor with years of practice in aesthetic medicine. On top of this, Allure Plastic Surgery also has experienced and professional nurses and support medical staff.
It offers not only 1 but 4 types of tummy tuck, including mini tummy tuck, fully tummy tuck, lipo-abdominoplasty, and belt lipectomy and lower body. All these are capable of fully removing excess skin and fat, and that's why we deem it one of the clinics with the best tummy tuck in Singapore.
Highlights
4 types of tummy tuck
Experienced doctors
With multiple accolades
Customer Reviews
Here are some reviews left by satisfied clients: 
"Went down yesterday morning for my first consultation with a doctor. Very pleasantly surprised by how the nurse made sure I was comfortable. I've been to a couple of clinics for consults but i think this is the first time i was made to feel not so nervous Dr Ho also conducted himself very professionally, his advice definitely helped me better understand how i can better deal with the changes I am undergoing after pregnancy."
"Dr Ho is really impressive with his knowledge and skill on aesthetics. The way he seems to keep you at ease from consult to procedure is something I'll definitely come back for. I'm pleasantly surprised my double eyelids turned out this well, although my hubby can't seem to get used to it. Thanks Dr Ho!"
3.  Aesthetic Central

BEST FOR 
Patient Care
SERVICES
Tummy Tuck, Fat Freezing, Hair Removal, Breast Implants, Liposuction, Hand Rejuvenation, and Body Hyperpigmentation Treatment
WEBSITE
https://www.cosmeticsurgery.sg/
ADDRESS
Singapore
CONTACT DETAILS
(+65) 6532 2400

(+65) 8318 6332

OPERATING HOURS
Monday – Friday, 10:00 AM – 8:00 PM
If you're looking for an aesthetic clinic that has friendly and warm staff and doctors, then consider checking out Aesthetic Central Clinic. It's one of the best aesthetic clinics in terms of facilities due to its large consultation rooms, private lounge, and spacious operating rooms.
Aesthetic Central Clinic offers 2 types of tummy tucks. Customers are given the option to have a full tummy tuck and mini tummy tuck, both of which are very effective in getting rid of excess skin and fat — that's why we consider it among the top clinics for the best tummy tuck in Singapore.
What's more, Aesthetic Central Clinic's tummy tuck procedure is only done by licensed and professional aesthetic doctors. So, there's no need to be scared while undergoing the treatment because every patient is in great hands.
Highlights
Experienced doctors
Excellent outcomes
Short downtime
Comfortable environment
3.  Dr. Marco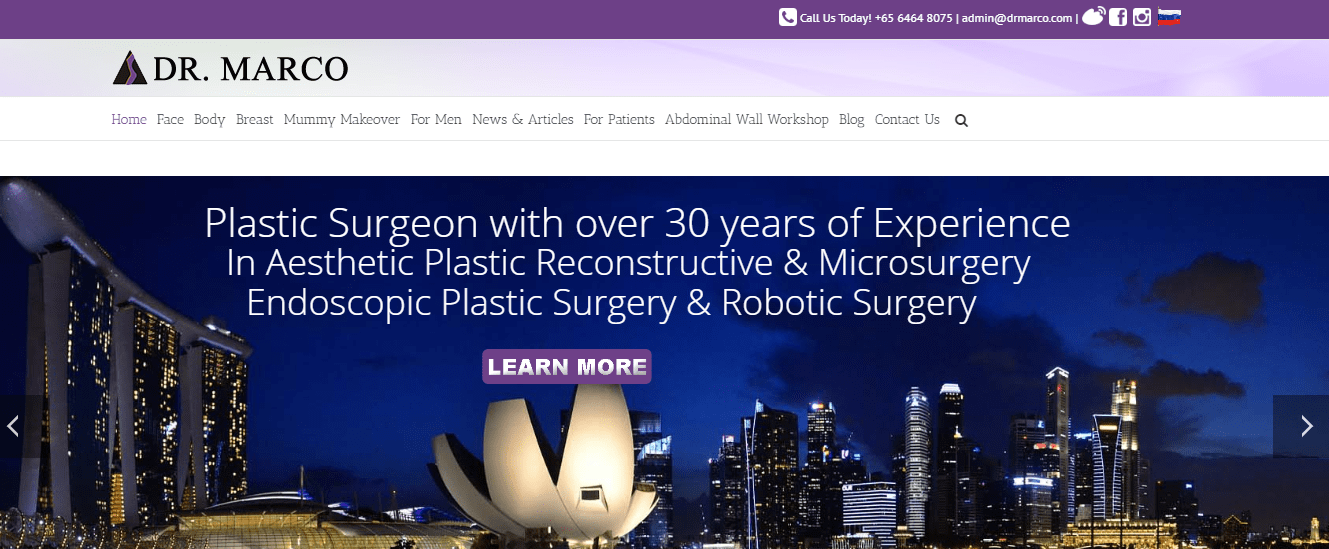 | | |
| --- | --- |
| BEST FOR  | Plastic Surgery |
| SERVICES | Tummy Tuck, Liposuction, Breast Augmentation, Endoscopic Surgery, Face Lift, Cheek Augmentation, and Chin Augmentation |
| WEBSITE | https://www.drmarco.com/ |
| ADDRESS | 38 Irrawaddy Road Mount Elizabeth Novena Specialist Centre. #10-26/27, Singapore 329563 |
| CONTACT DETAILS | +65 6464 8075 |
| OPERATING HOURS | Monday – Friday, 10:00 AM – 6:00 PM |
Dr. Marco is one of the most well-known plastic surgeons in Singapore and has over 30 years of experience and multiple awards that recognize his excellence. Originally from Brazil, he splits his time between Singapore and his home country to practice aesthetic medicine.
Among Dr. Marco's areas of expertise are facial rejuvenation, breasts implants and reduction, and body contouring procedures. He also offers different types of tummy tucks to address the different conditions of his clients.
Customers may choose between a vertical tummy tuck, anchor tummy tuck, circumferential tummy tuck, and mini tummy tuck. If you don't know which one to get, you may consult Dr. Marco.
Highlights
Long years of experience
Well-awarded doctor
Internationally trained
5.  Sweng Plastic Aesthetic and Reconstructive Surgery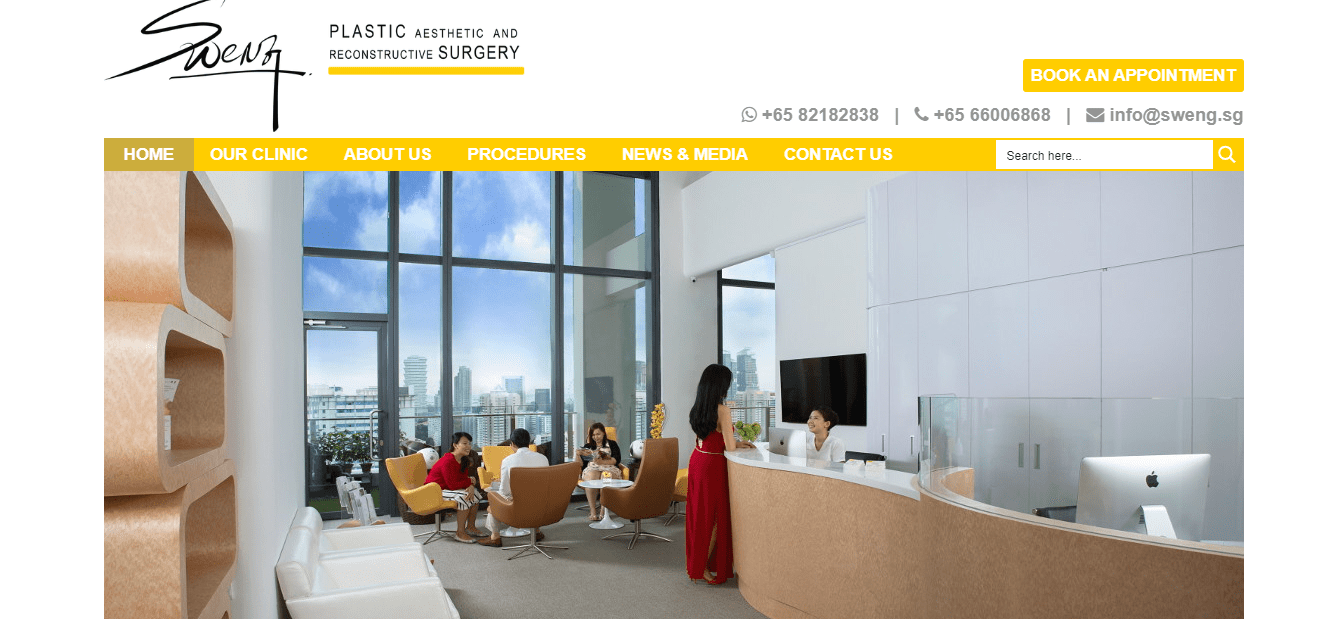 BEST FOR 
Accessible Locations
SERVICES
Tummy Tuck, Breast Enhancement, Liposuction, Face Lift, Nose Lift, Rhinoplasty, Thread Lift, Chin Augmentation, Neck Lift, and Facial Contouring
WEBSITE
https://www.sweng.sg/
ADDRESS
1 Farrer Park Station Rd, #16-08 to 10 Connexion, Singapore 217562

6A Napier Rd, #08-08 Singapore 258499, Singapore 258499

CONTACT DETAILS
+65 6600 6868
OPERATING HOURS
Monday – Friday, 9:00 AM – 6:00 PM
Sweng Plastic Aesthetic and Reconstructive Surgery has two locations in Singapore — one in Farrer Park Station and another along Napier Road. As one of the top aesthetic clinics in Singapore, it has a long list of beauty procedures that cater to the facial and body concerns of Singaporeans.
In terms of tummy tuck, it remains one of its most in-demand services, mainly because of the expertise of its doctors. Customers who have tried it also noted how swift, safe, and pain-free the entire procedure is, on top of having very short downtime.
Highlights
2 locations
Experienced doctors
4-5 hours of procedure
Customer Reviews
Take a look at these reviews from Google Reviews:
"2 months ago- Dr Ng is the most gentle, soft spoken and meticulous doctor I've met. He went through every tiny detail before my operation day and answered all my doubts and queries. Along with his cheerful and caring team, I know I'm in good hands. My surgery went well and I could barely notice my scar. Will definitely be back in the future if I need any aesthetic care!"
"Dr. Ng is an excellent doctor who treats his patients with respect and genuine care.  He is very skilled and meticulous in his work.  He explains all of the details of the surgery and sees his patients through post-op care and scar healing.  He recently helped my daughter when she had a very bad accident and was admitted to the hospital.  Dr. Ng and Michelle came right away to the hospital to treat her.  Michelle stayed with my daughter and I in the ward as we waited for surgery and took care of all of our needs.  It was a blessing to our family.    Thank you Dr. Ng and staff!"
6. WC Ong Plastic Reconstructive Surgery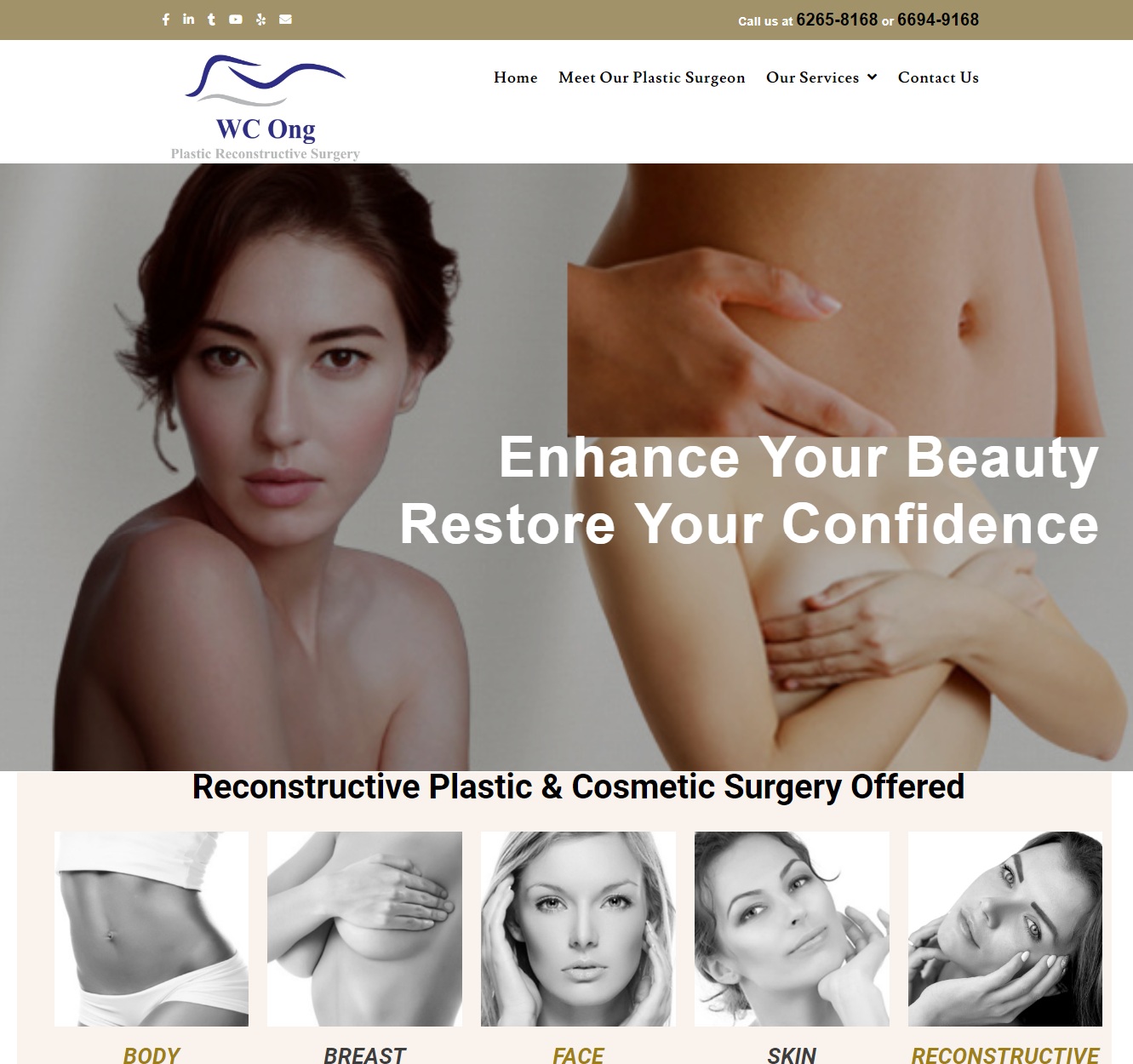 WC Ong Plastic Reconstructive Surgery has decades of experience providing personalized treatments and procedures according to their clients' body types, needs, and requirements. They offer an extensive range of cosmetic plastic surgery services including body contouring, specifically the tummy tuck procedure.
Before proceeding with the surgical procedure, the team makes sure to conduct a detailed consultation will first be performed by their specialist to address their clients' specific concerns and a detailed examination performed to make sure they are an ideal candidate for the operation.
Highlights
Personalized treatments and plans

MOH accredited plastic surgeon
And that's it for our list of the aesthetic centres with the best tummy tuck in Singapore. Say goodbye to ugly excess skin and fat with any of these reliable aesthetic clinics!
If you know other aesthetic clinics that also do tummy tuck, share their names with us because we'd like include them in our list!
By the way, did you know that excess fat can also be removed without going under the knife? If you want clinics that offer non-invasive procedures, then check out our list of the clinics with the best coolsculpting in Singapore.