The 13 Best Tooth Implants in Singapore
By Michaela Koh
Want to gain more self-confidence by improving your teeth's appearance and oral health? You may want to consider consulting with a dental professional and see if you're fit for the best tooth implants in Singapore!
Dental implants serve as artificial replacements for a missing tooth/teeth. Compared to dentures, they look more natural and you can also eat and speak more comfortably with them.
We've carefully selected clinics that do such implants based on the quality of their dental practices, exceptional facilities, and economic costs as well. Check them out below.
(Note: The list is in no particular order.)
1. Symmetry Dentofacial Aesthetics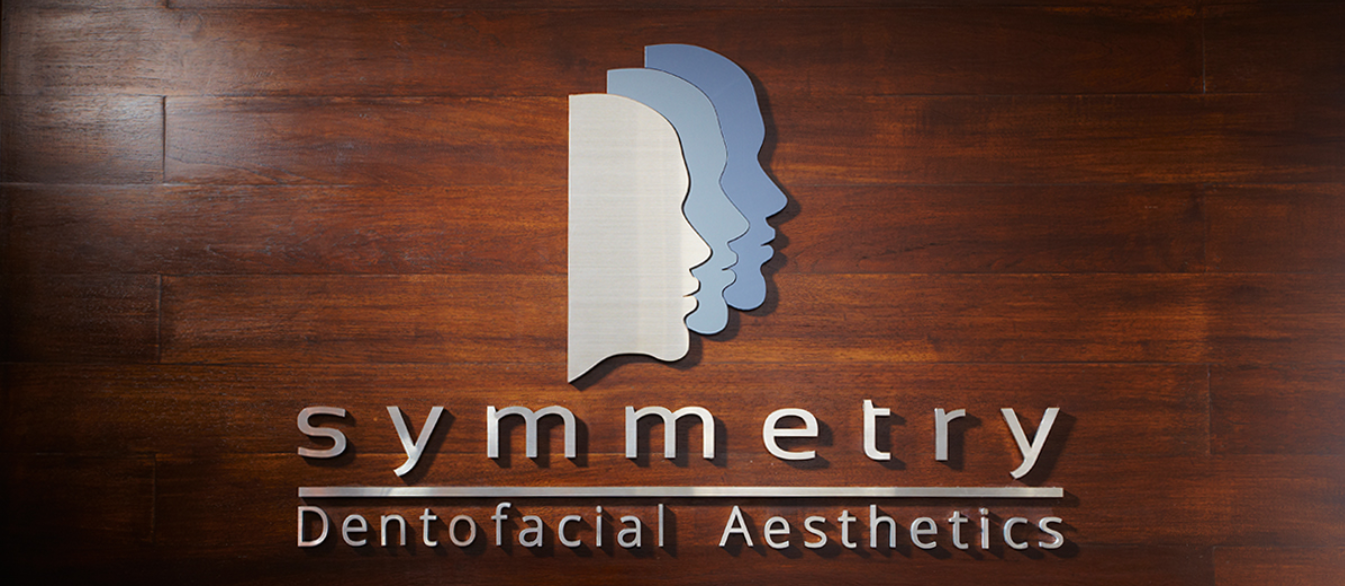 BEST FOR 
Dentofacial Aesthetics
PRICING
Contact for more details
WEBSITE
https://www.dentalsingapore.co/
ADDRESS
1 Farrer Park Station Road
#15-15 Connexion
Farrer Park Medical Centre
Singapore 217562
CONTACT DETAILS
(65) 3138 4425
OPERATING HOURS
Tuesday – Friday 9.30am – 7.30pm
Saturday 8.00am – 2.30pm
Closed on Sundays, Mondays and Public Holidays
Symmetry Dentofacial Aesthetics is a premier specialist clinic that offers a variety of personalised dentofacial aesthetic services for the teeth and face. Throughout the years, the clinic has served both local and international patients.
Dr Eugene Wee, a resident specialist at the clinic and the Clinical Director, is one of the first few dental surgeons to receive accreditation from the Singapore Dental Council. He spent 10 years in full-time public service at NDCS and is now a registered specialist with the Singapore Dental Council, and the Academy of Medicine.
Some services that the clinic offers are Aesthetic Brace Treatments, Surgical Orthodontic Treatment, Routine Dental Maintenance, Teeth Whitening Treatment and Adjunctive Non-surgical Aesthetic Treatment.
Highlights
Braces/Dental Alignment
Functional Aesthetics
Personalised International Services
2. Dental Implant Centre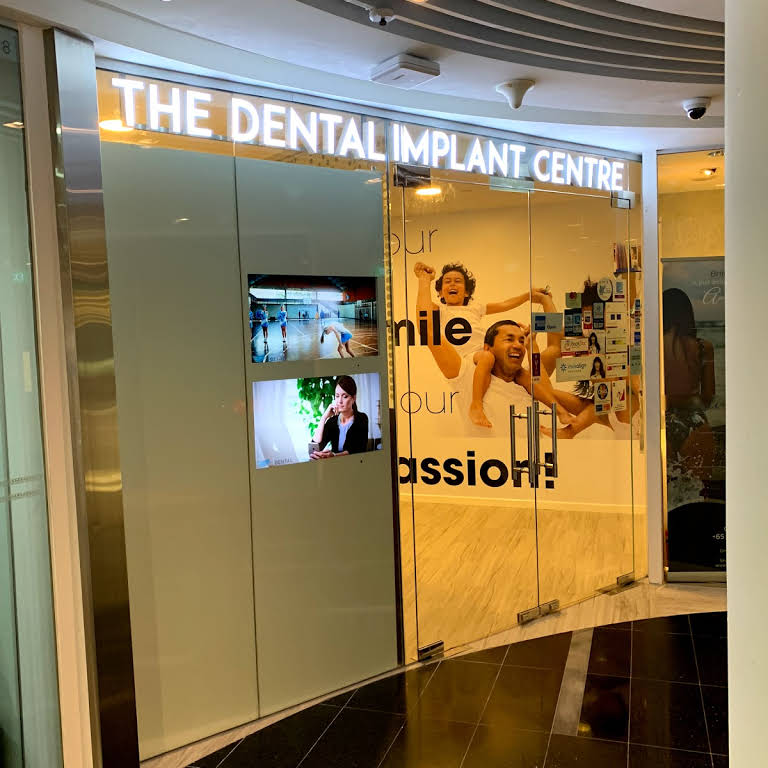 | | |
| --- | --- |
| BEST FOR  |  Different types of dental implant systems |
| WEBSITE | https://www.thedentalimplantcentre.com.sg/ |
| ADDRESS | The Dental Implant Centre 1 Raffles Place, #05-19 Singapore 048616 |
| CONTACT DETAILS | +65 6532 2644 |
| OPERATING HOURS | Weekdays: 9 am  to 6 pm |
Dental Implant Centre has competent and inclusive dental care offered at affordable costs. They're equipped with experienced professionals who perform computer-guided dental implant surgery for absolute precision and safety.
They provide various dental implant systems such as single/multiple teeth dental implants, all-on 4-implants, and metal-free implants. This range is the main reason they're known to have the best tooth implants in Singapore.
Since they offer same-day implants, you can proceed with the treatment right after tooth extraction. Other services include gum recession, wisdom tooth extraction, and bone augmentation.
Highlights
Modern dental 3D imaging
Comprehensive treatment plan
Medisave accreditation
Accessible location
Customer Reviews
Customers shared that the Dental Implant Centre truly provides reliable treatments and costs. They said that they felt safe and comfortable throughout the surgery.
Here's feedback from one of their customers:
"Had done polish, filling, crowning and implant with Dr. Amit in the past 1 year. Amit is nice and patient. Overall experience is very good, not painful at all for crowning and implant for myself. I even didn't take the pain killer given after implant surgery. A bit pricey though comparing with other dentists visited earlier and so far I give 5 stars to the Dr. Amit."
3.  Specialist Dental Group
Specialist Dental Group features a broad range of dental services, including their advanced procedure of implementing the best tooth implant in Singapore. This award-winning clinic provides dental implants that are designed to last for a lifetime, giving you healthier treatment with minimal maintenance.
They offer conventional dental implants, all-on-4 implant procedures, and even Trefoil dental implants. With the range and quality of their dental care treatments, you'll certainly achieve your desired results within a short span of time.
Highlights
Long-lasting dental implants
Medisave accreditation
Customer Reviews
Specialist Dental Group has gained the trust of many customers due to the durable quality of their dental implants as well as as the accommodating staff. A customer gave this review:
"Had done polish, filling, crowning and implant with Dr. Amit in the past 1 year. Amit is nice and patient. Overall experience is very good, not painful at all for crowning and implant for myself. I even didn't take the pain killer given after implant surgery. A bit pricey though comparing with other dentists visited earlier and so far I give 5 stars to the Dr. Amit."
4.  Orchard Scotts Dental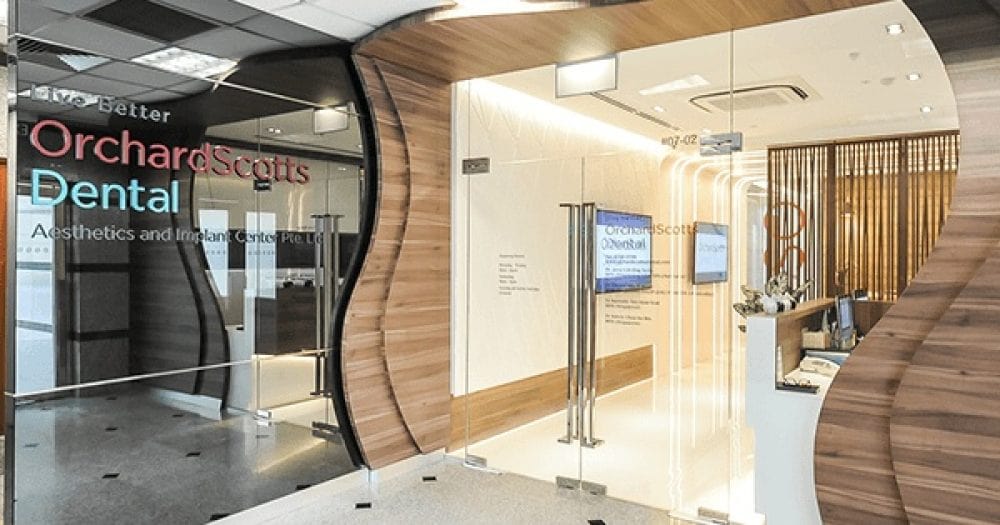 Orchard Scotts Dental specialises in aesthetic dentistry and offers the best tooth implants in Singapore. They have signature dental implant services that use a patented technology that provides shorter healing time and uses slimmer, durable, and non-metallic dental implants.
It's the perfect choice for those who have thin or recessed gums. They're partnered with one of the most reputable developers of dental implants and supplies too, so you can be sure that you're in good hands.
Highlights
Signature dental implant services
Accessible locations
Customer Reviews
Many customers said that because of the restorative and cosmetic dental solutions of Orchard Scotts Dental, they were able to receive necessary treatment and show off their smile with confidence.
A customer shared this experience:
"The journey from implant to veneers with Dr Jerry Lim and his team has been great and pleasant. Dr Jerry is very professional, skilful and meticulous. His team, Eumi and the rest who are part of this journey are professional and caring. Dr Jerry was recommended by my friend and his mum. Coupled with my own experience, I trust his work and advice."
5.  Royce Dental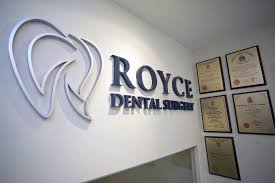 BEST FOR 
Flexible payment options
WEBSITE
https://www.roycedental.com.sg/
ADDRESS
Block 371 Woodlands Ave 1, #01-821 Singapore 730371
CONTACT DETAILS
63687467
OPERATING HOURS
Mon – Thu: 9:00 AM – 9:00 PM

Fri – Sun: 9:00 AM – 6:00 PM
Royce Dental features general and specialist dentistry treatments and this involves their best dental implants in Singapore. Whether you're missing a single tooth or multiple missing teeth, you can rely on their inclusive dental implant procedures.
The whole procedure takes a maximum of 6 months, though it may vary based on the patient's oral health and bone health. Still, you know you'll be in good hands.
They have years of experience in both private and public health care. They also strive to keep their services cost-effective for everyone.
Highlights
Applicable for simple/missing tooth
Medisave, CHAS, Merderka Generation, Pioneer accreditation
6.  Casa Dental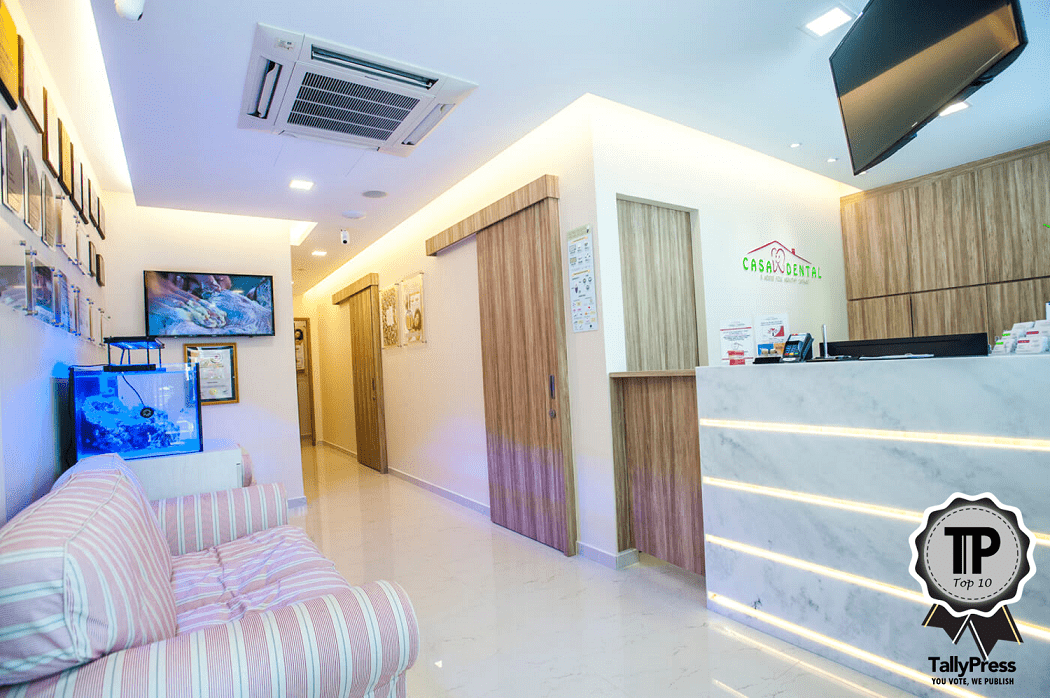 Casa Dental is another award-winning dental clinic that focuses on providing optimal dental health care. When it comes to their dental implants, they're equipped with advanced technology for accurate diagnosis and planning, as well as safety.
Their specialists perform modern techniques that'll help you improve your oral health and gain more confidence in your smile. They offer some of the best dental implants in Singapore such as traditional implant treatment, keyhole implant treatment, and mini implants.
Highlights
Student and corporate packages
Medisave, Pioneer, CHAS, Baby Bonus accreditation
Customer Reviews
Most customers said that they experienced a safe and smooth dental implant procedure offered at an economic cost when they went to this clinic. Here's a review from a customer:
"I went to Casa Dental at AMK for my tooth implant. I had a great experience with Dr Chan and the staffs of the clinic. Dr Chan is very skillful and attentive in handling the treatments. The entire process was very smooth and pleasant. Serena and nurse are also very friendly and helpful. I would like to express my  gratitude to Dr Chan as well as the team member."
7.  Dr. Seah Root Canal + Implant Surgical Clinic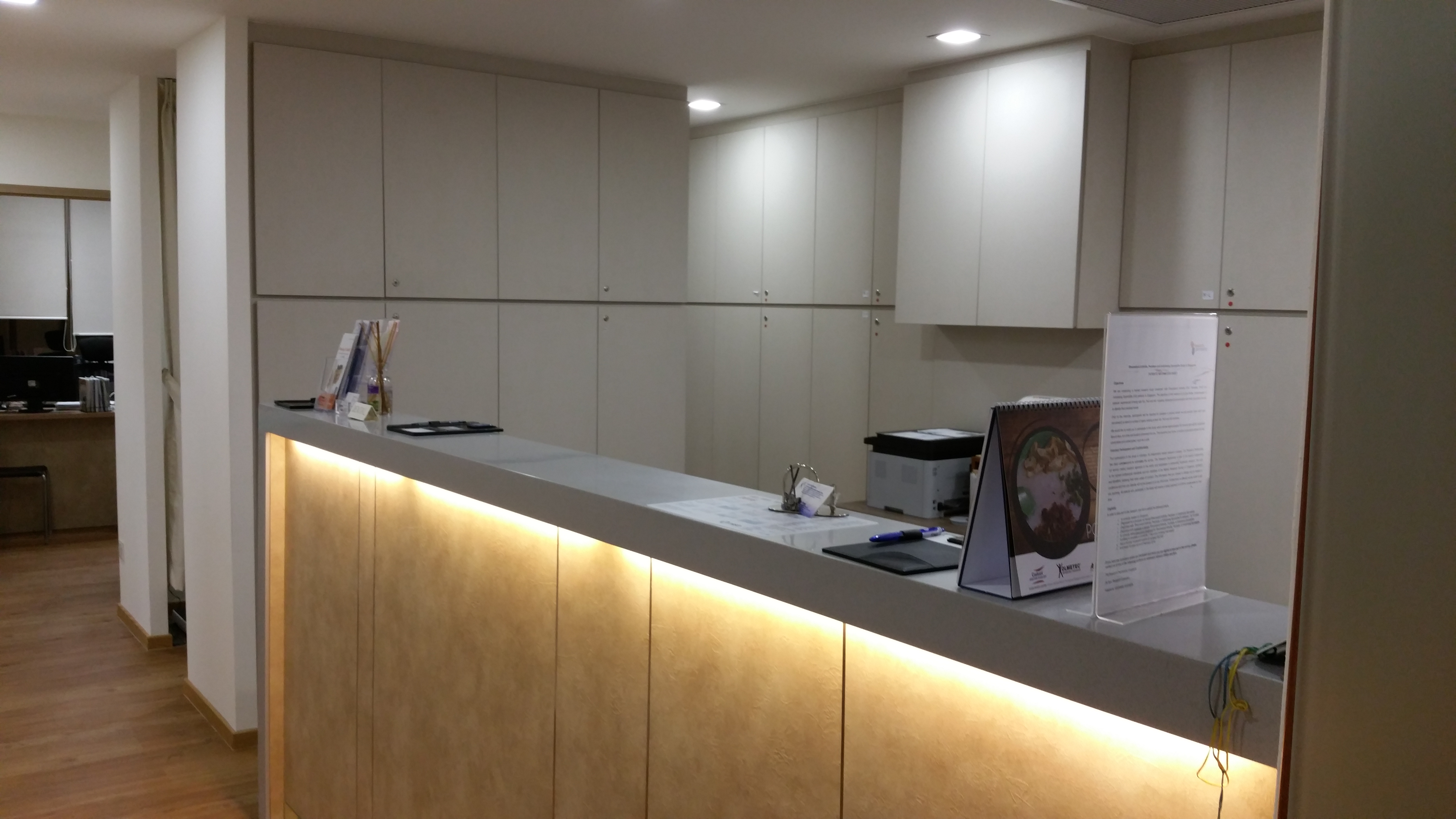 | | |
| --- | --- |
| BEST FOR  | Root Canal & Dental Implants |
| WEBSITE | https://drseah.com.sg/ |
| ADDRESS | 3 Mount Elizabeth,Mount Elizabeth Medical Centre #07-05, Singapore 228510 |
| CONTACT DETAILS | (+ 65) 6737 1601/ (+65) 6734 5522| [email protected] |
| OPERATING HOURS | Monday, Wednesday- Friday, 9:00 am – 6:00 pm, Saturday, 9:00 am – 1:00 pm |
Sometimes, patients underestimate the seriousness of a nagging toothache, until it causes sleepless nights. Fortunately, Dr. Seah Root Canal + Implant Surgical Clinic is one of the few clinics able to help determine which is the better option: Dental Implants or a root canal.
Whenever you need an emergency toothache treatment, they are willing to see you within the same day of the phone call and end your misery in a span of a few hours. They pride themselves on their slogan: "Treatment within 24 hours."
The clinic's main asset is Dr. Seah's skills and gentle touch– something that has continuously provided customers with satisfying results. With their technologically advanced equipment, they make sure that their procedures are much faster, easier and most of all, more comfortable for the patient.
Highlights
Root Canal Treatment
Root Canal Apical Surgery
Dental Implants
Wisdom Tooth Surgery
Customer Reviews
Here is a review left by a very satisfied client:
"Seeing dentist is the most significant fear in my life!!! However, my visit to Dr. Seah changes my perspective towards dentist! He is assuring and give honest advice. I got my premolar extracted as it can't be save via root canal treatment as my tooth bone is too weak to sustain in the long run. There was entirely no pain during the extraction process. I walk out his clinic happily 🙂 and will visit to place my implant soon."
8.  AJ Warren Dental Clinic

AJ Warren Dental Clinic is a 24 hour clinic that offers multiple services to cater to your oral needs. The place provides a cozy ambiance and sense of luxury while you're getting that perfect smile done.
Their services are not only limited to routine dental care, but also include cosmetic transformations and surgical procedures performed by highly-trained dentists– all of which use advanced technology for a painless and efficient experience.
Highlights
Great Interior Design of the Clinic
Excellent Service by Staff
Customer Reviews
Here is a review left by a very satisfied client:
"Dr Warren is great with his hands and very thorough. His lovely assistant Joanne is very pleasant and welcoming. The ambience and decor of the space made it feel like you were in a lounge, rather than a dental clinic. By far my best experience at a routine scaling and polishin"
9.  Ocean Dental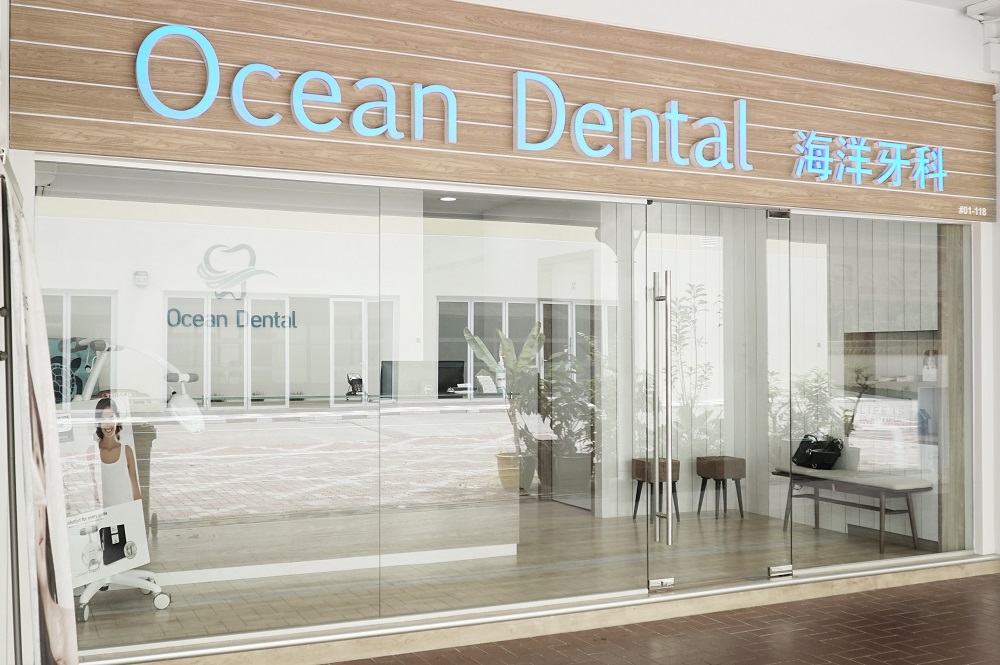 BEST FOR 
Teeth scaling and polishing
WEBSITE
https://www.oceandental.sg/
ADDRESS
721 Clementi West Street 2, #01-118, Singapore 120721
CONTACT DETAILS
Tel: 6266 3011
Email: [email protected]
OPERATING HOURS
Monday – Friday: 9am–9pm
Saturday – Sunday: 9am–6pm
Ocean Dental is a clinic that was established in 2017 with the goal of providing high quality dental care at a very affordable price. The clinic, together with their surgeons and staff, commit to practicing the most genuine service, leaving each customer comfortable, happy, and very much satisfied with their work.
They offer wide scale services, one of which includes their famous teeth implants. It's done continuously for a couple of months, and results into a longer-lasting look that will certainly be worth the wait.
Ocean Dental believes that a confident smile includes a nice, full set of teeth, and with their amazing dental implant service, you'll surely achieve that in no time.
Highlights
Highly experienced dentist
Fast dental implant processing
Customer Reviews
Customers have left nothing but good reviews for Ocean Dental. Here's one of them:
"I am in love with their top-notch service, professional yet really super friendly (: Went over today and Dr.Terance was really nice, before he does anything with my teeth he explain what needs to be done and what he is going to do with my teeth making sure I know what is going on. He is patience and so is his assistant as well she constantly making sure that I am comfortable, checking if I am doing ok and she likes to joke which overall makes the atmosphere brighten up. My first trip to Ocean Dental I could say this will be my official permanent dental care 😀 Used to have Childhood dental phobia but now is gone thanks to Dr Terrance and his friendly assistant."
10.  White Dental Group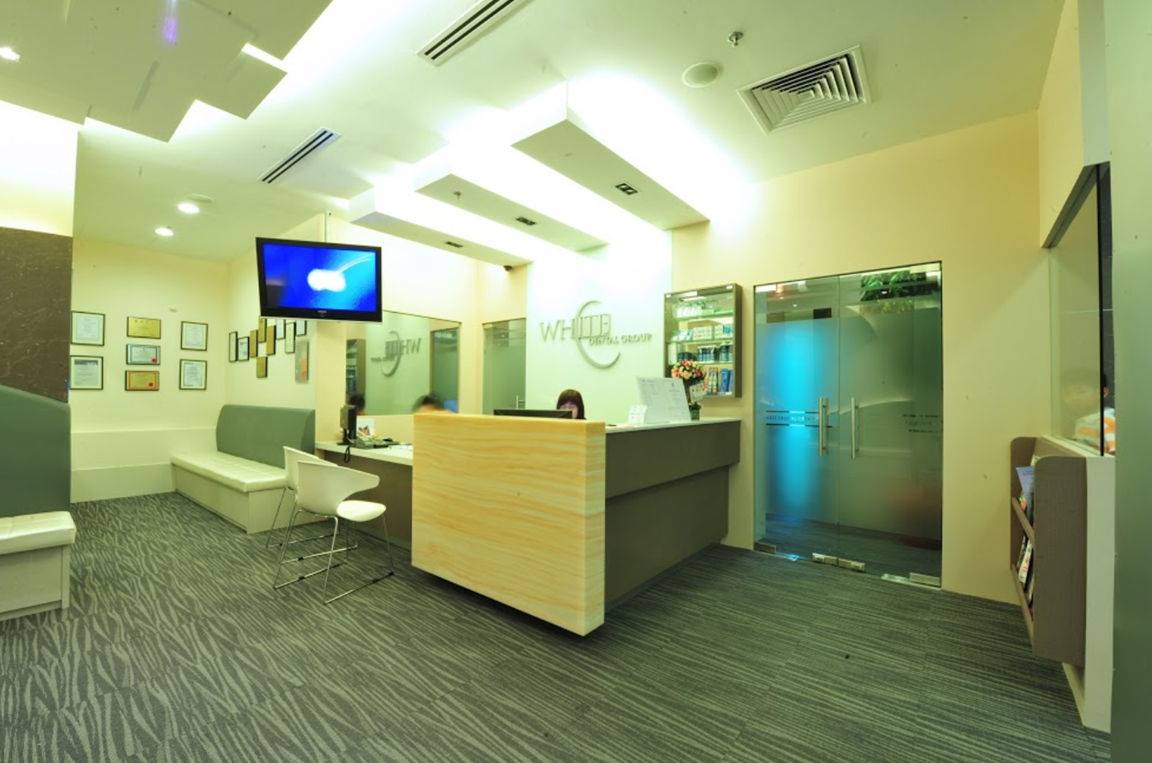 BEST FOR 
Highly professional dental implants
WEBSITE
http://whitedental.com.sg/
ADDRESS
271 Bukit Timah Road, #B1-03 Balmoral Plaza,
Singapore 259708
CONTACT DETAILS
Phone: (65) 6733 0268
Fax: (65) 6733 0132
Email: [email protected]
OPERATING HOURS
Mondays to Fridays: 9am to 6pm
Saturdays: 9am to 1pm
White Dental Group is a visionary dental clinic that provides both general and specialised care for your teeth. They're widely known in Singapore for a lot of things, but one that hits the mark is that they're considered as one of the best when it comes to providing high quality tooth implants.
The establishment boasts of their cost-efficient implant procedure that ensures minimal pain, but maximum results. With the way they do it, you'll never have to come back for a retouch, as their practice proves to be long-lasting and very much effective.
Aside from their dental implant servicing, they also offer a whole lot more services, making them a one-stop place for you to receive any of your dental needs.
Highlights
Reasonable pricing
Advanced surgical techniques
Minimal pain in procedures
Customer Reviews
"Best dental experience ever. Walked in at 09:00 with chipped tooth and walked out at 09:45 after fast and friendly professional treatment all at a very reasonable cost! Thanks to the whole staff!!"
11.  TP Dental Surgeons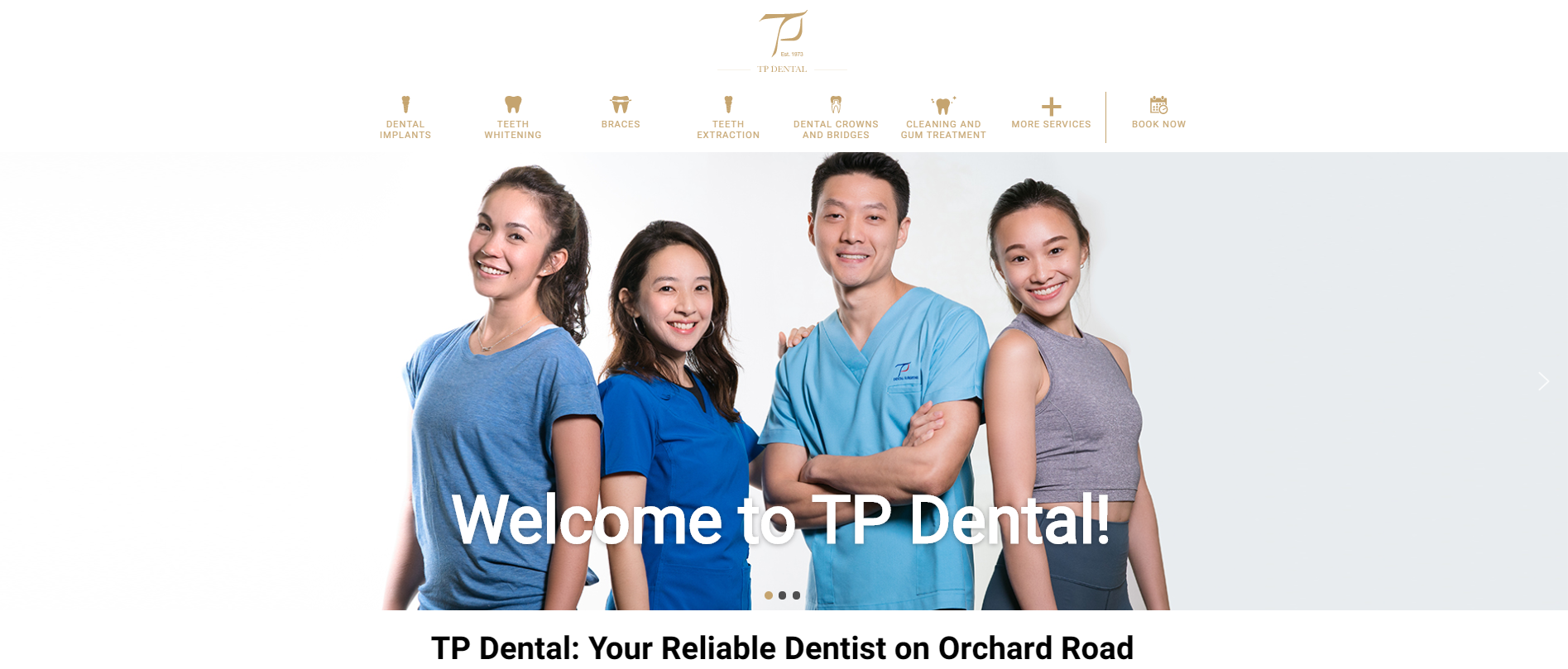 BEST FOR 
Dental Services
WEBSITE
https://www.tpdental.com.sg/
ADDRESS
The Penthouse
391B Orchard Road, Ngee Ann City Tower B #26-01, Singapore 238874
CONTACT DETAILS
(+65) 6737 9011| [email protected]
OPERATING HOURS
Monday to Friday, 8:30am – 7:00pm
Saturdays, 8:00am – 5:00pm
Sundays & Public Holidays, 9:30am – 1:00pm
The TP Dental is a professional dental clinic on Orchard Road. They are a multi-disciplinary dental clinic that practices providing quality and consistent oral care for patients of all ages.
From Dental Implant to Gum Treatment, they offer a wide selection of dental services where the treatment is tailored to the individual patient. They also offer professional advice so that you may make an informed decision and understand what the procedure entails.
Their dental clinic in Singapore utilises cutting-edge technology. This ensures that they deliver the most precise and efficient oral treatment.
Highlights
Dental Implant
Teeth Whitening
Braces
Teeth Extraction
Dental Crowns
Bridges
Cleaning
Gum Treatment
Customer Reviews
Here is a review left by a very satisfied client:
"This is probably one of the more professional dental clinics I've been to, and it's surprisingly reasonably priced seeing how they're situated in the heart of Orchard area. I got my teeth cleaned as part of my regular maintenance, and it costed about $140 all inclusive. With x-ray and stuff, I paid about $400+, but it's all very transparently told to you what's wrong and how to fix them. I personally feel at ease coming to this clinic, like many others who look like regulars."
12.  Elite Dental Group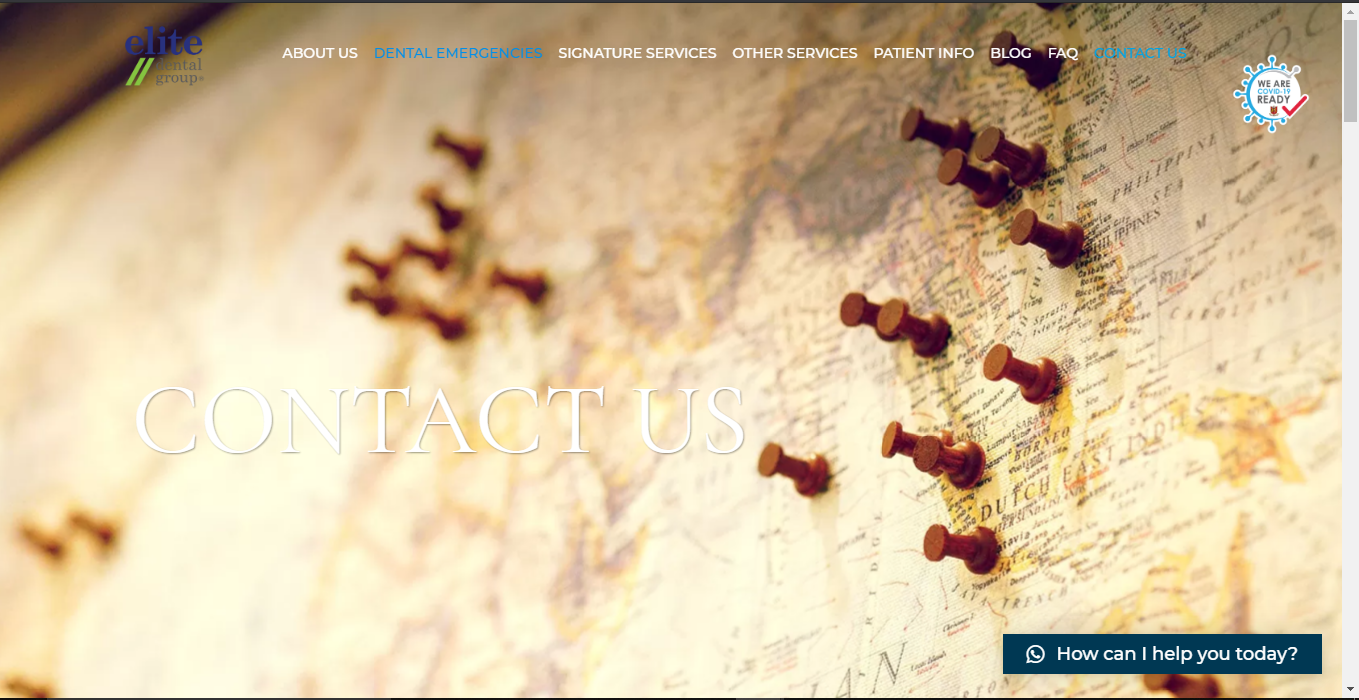 BEST FOR 
Dental Care and Treatment
WEBSITE
https://www.elitedental.com.sg/
ADDRESS
1 Grange Rd Orchard Building
#12-03, Singapore (239693)
CONTACT DETAILS
 (+65) 6333 4456 (24-hour hotline)
(+65) 9788 9407 (SMS/Whatsapp)
[email protected]
OPERATING HOURS
Mondays – Fridays: 9am – 6pm
Saturday Mornings: 9am – 1pm
Made up of outstanding dental specialists, dental surgeons, nurses, and staff, the Elite Dental Group is devoted to rendering optimised care. Its primary goal is to relieve all patients of dental anxiety.
Every member of the Elite Dental Group undergoes extensive training in order to ensure that his/her knowledge and skills are thoroughly enhanced and always in line with the latest technological advancements. They are strategic and discerning, applying all they have learned in conducting dental treatment, makeovers, and other procedures.
Elite Dental Group expertly handles emergencies, routine dental care, and even refined aesthetic treatments. Choosing it as your dental health care partner is a wise and practical investment.
Highlights
Wide choice of services
Uses latest technologies
Accessible location
Expert medical team
13. NoFrills Dental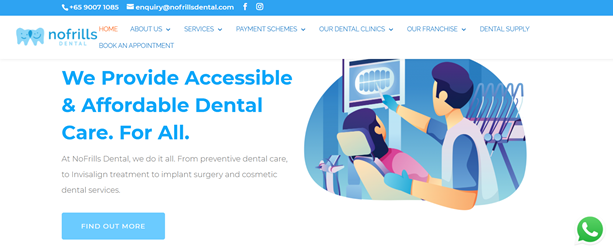 BEST FOR
Wide range of services
SERVICES

All-On-4 Treatments
Clear Aligners
Invisalign
Braces
Crowns & Bridges
Dental Implants
Dentures
Digital X-Rays
Fluoride Treatment
Gum Treatment & Surgery
Polishing & Scaling
Root Canal Treatment
Sleep Apnea
Tooth Extractions
Tooth Filling
Tooth Sensitivity Treatment
Veneers
Whitening
Wisdom Tooth Surgery
Suntec City
3 Temasek Boulevard,
Suntec City North Wing/Sky Garden (Between Tower 1 & 2), #03-317 (Lobby H) S(038983)Tel: +65 6337 7319
WhatsApp: +65 8281 5514Marina Square
6 Raffles Boulevard, #B1-11, Marina Square (Exit B, Esplanade MRT),

WEBSITE
https://nofrillsdental.com.sg/
ADDRESS

Suntec City
3 Temasek Boulevard,
Suntec City North Wing/Sky Garden (Between Tower 1 & 2), #03-317 (Lobby H) S(038983)Marina Square
6 Raffles Boulevard, #B1-11, Marina Square (Exit B, Esplanade MRT), S(039594)Corporate HQ
81 Ubi Avenue 4, UB.One, #10-10/09/08, Singapore 408830

CONTACT DETAILS
+65 9007 1085 [email protected]
OPERATING HOURS
Open 24 hours
No matter how late your dental emergency may be, or how severe the damages are, rest assured that NoFrills Dental has got you covered.
Offering an accessible means of providing top-quality dental services, NoFrills is the place to be if you want to be handled only by the best dentists in the country. They deliver a holistic dental experience for all ages, at a very affordable price.
Materials and technology used in the clinic are unmatched, proving just how amazing NoFrills is.
The clinic is open 24 hours for emergencies and offers a comprehensive range of services for you to acquire, making them a one-stop solution for any of your dental needs.
Highlights
Accessible locations
Affordable dental services
Highly skilled dentists
Dental insurances are accepted
Customer Reviews
Below are some of the feedback from patients of NoFrills Dental:
"Dr Joshua Chong had gentle hands and provided the information in a clear manner. He was patient and answered all the queries I had. Would highly recommend : )"
"The clinic is very clean and bright and staff are very friendly. I had a filling and a clean with Dr Li, she was very patient and thorough with her explanations and the filling didn't hurt at all.Very pleasant experience overall, highly recommend."
And that's our list of the best tooth implants in Singapore! If we missed out on other great clinics, feel free to share your recommendations with us!
If you'd rather see more options, take a look at these best dental clinics in Singapore! They also offer restorative and cosmetic dental services so you can also find more dental implant treatments.