Our 5 Favourite Places for Tonsil Removal Singapore
If your tonsillitis keeps coming back or has begun to cause other complications like sleeping disorders, tonsil surgery is usually recommended by medical specialists. If your doctor suggests a surgical treatment, it's wise to seek a second opinion from a trusted surgeon that performs the best tonsil removal in Singapore.
In doing so, we've already narrowed down your options and listed some of the respected professionals known for providing the best tonsil removal in Singapore.
See the list below to know where you can contact them as well as their offered fees.
(This list is in no particular order.)
Dr Kenny Peter Pang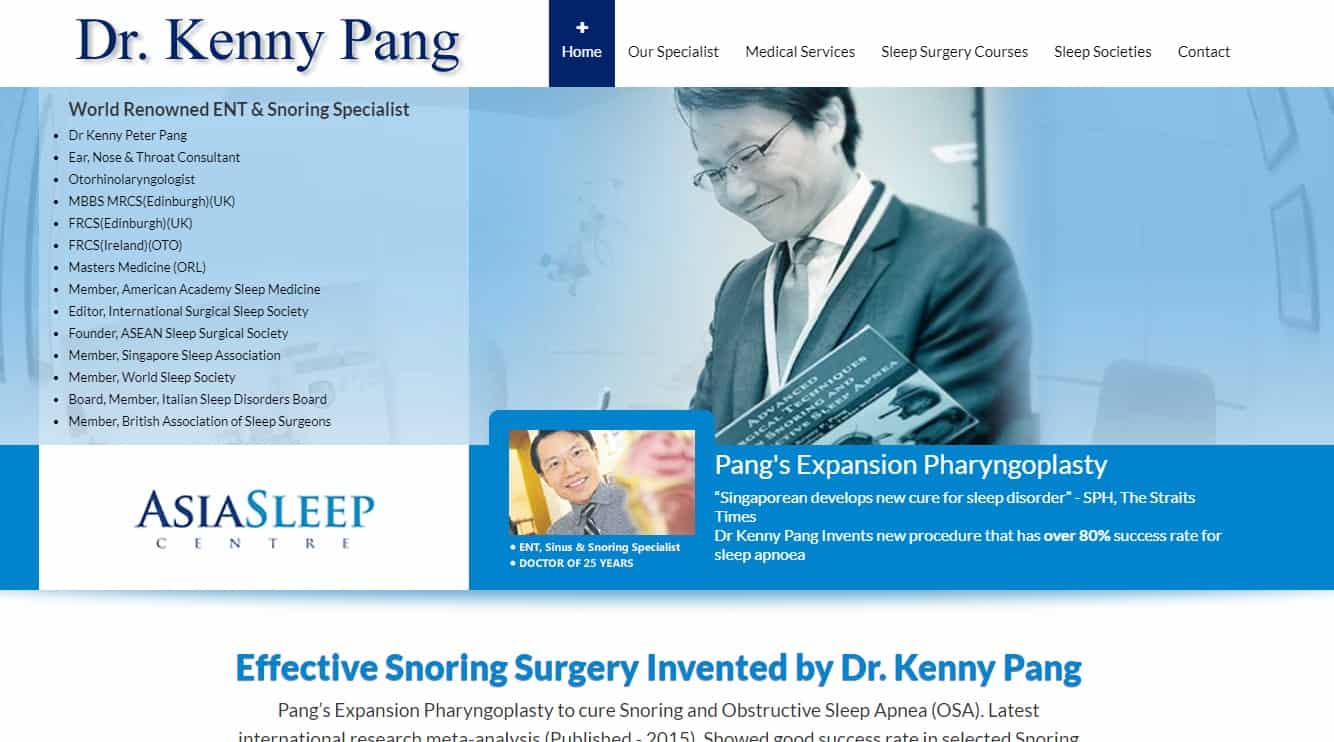 BEST FOR
Wide range of treatments for all kinds of voice and throat problems
WEBSITE
http://www.drkennypang.com/
ADDRESS
Paragon, 18-04, Singapore
CONTACT DETAILS
(65) 6836 0060
OPERATING HOURS
Weekdays: 8:30am–5:30pm

Saturdays: 8:30am–12:30pm
Dr Kenny Peter Pang specialises in treating ENT (Ear, Neck, and Throat) diseases and this includes tonsillar and adenoid problems. He's capable of performing a tonsillectomy to eliminate throat problems.
He's known for dealing with sleeping disorders, so if you're experiencing severe snoring or sleep apnea, he offers the best tonsil removal in Singapore, helping you manage major sleep problems.
His clinic is fully equipped with advanced medical technologies such as coblation technology, providing accurate and proper operation.
He's the founder of ASEAN Sleep Surgical Society and the director of Asia Sleep Centre. He's also the medical specialist behind the tongue suture surgery, the first minimally invasive method to treat snoring and sleeping apnea.
Highlights
Sleep disorders treatment
Paediatric treatments
Dr Gan Eng Cern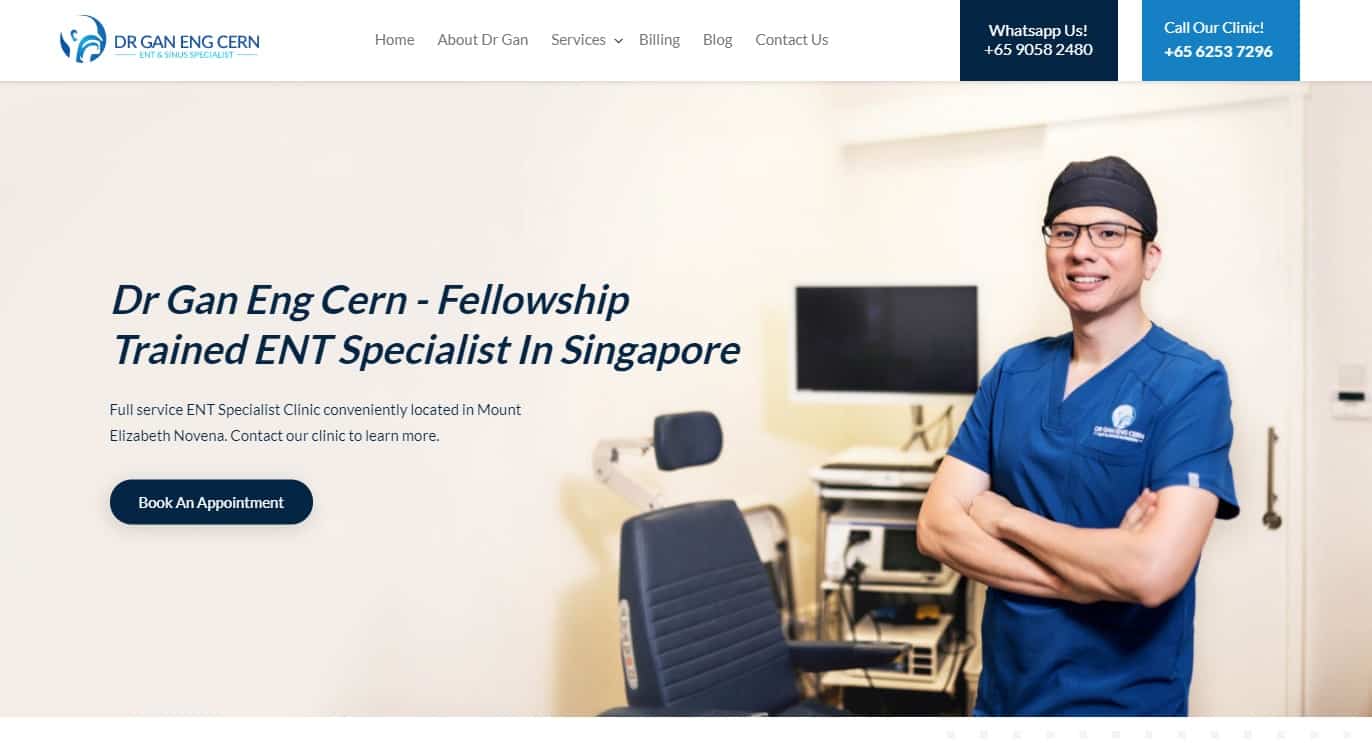 BEST FOR 
Award-winning specialist
WEBSITE
drganent.com
ADDRESS
38 Irrawaddy Road #08-45 Mount Elizabeth Novena Specialist Centre Singapore 329563
CONTACT DETAILS
+65 6253 7296
OPERATING HOURS
Weekdays: 9:00 am – 5:00 pm

 

Saturdays: 8:30 am – 12:00 pm
Dr Gan Eng Cern is a trained ENT specialist at Mount Elizabeth Novena Hospital, which is one of the largest medical centres in Singapore. He provides comprehensive treatments for various throat and voice problems including tonsil infection.
He specialises in conducting tonsil surgery to manage frequent and severe tonsil infections. He stated that the procedure doesn't weaken the immune system, so it's a recommended treatment to prevent possible (and worse) throat conditions.
He's also a specialist who earned a medical degree in Australia and an ENT accreditation from the Ministry of Health of Singapore. With these achievements and his extensive knowledge in ENT treatment procedures, he has become known for providing the tonsil removal in Singapore.
Highlights
Medisave and Insurance shield plan approved
Advanced ENT equipment and fully equipped facility
Dr Kenneth Oo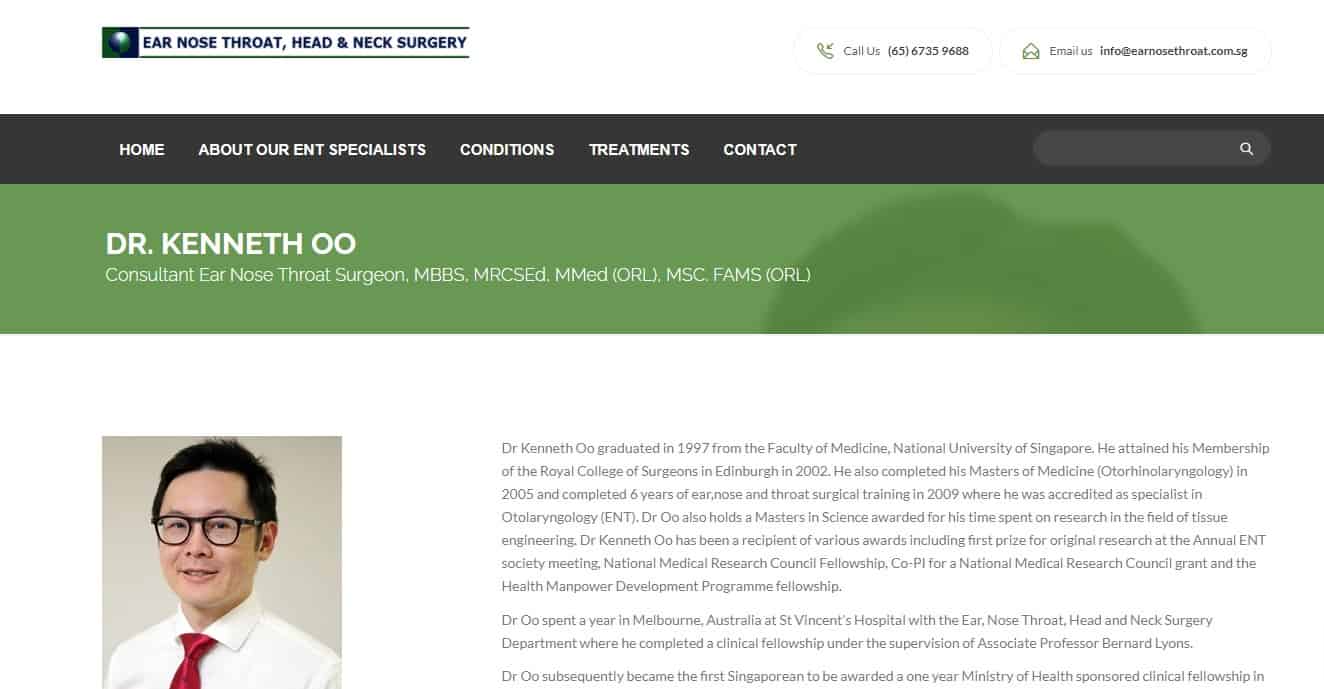 BEST FOR
Tonsillectomy and Adenoidectomy
WEBSITE
https://earnosethroat.com.sg/
ADDRESS
3 Mount Elizabeth, #03-01/02 Medical Centre, Singapore 228510
CONTACT DETAILS
+65 6735 9688
OPERATING HOURS
Weekdays: 9am–5pm

Saturdays: 9am–12:30pm
Dr Kenneth Oo completed 6 years of ear, nose, and throat surgical training and was accredited as a specialist in Otolaryngology (ENT). proving that he's indeed capable of performing the best tonsil surgery in Singapore.
He conducts tonsillectomy to treat recurrent tonsillitis, difficulties in breathing, and abscess near the tonsils. To provide a definitive diagnosis, he provides a thorough physical examination and hearing tests.
For paediatric treatments, he often suggests adenoid removal along with tonsil surgery. This is to reduce middle ear infections, sleep apnoea, and recurrent upper respiratory tract.
He also gives lectures at regional and international academies. He's also a visiting consultant at Singapore General Hospital and Changi General Hospital.
Highlights
Paediatric treatments
Acute and recurrent tonsillitis treatment
Dr Lau Chee Chong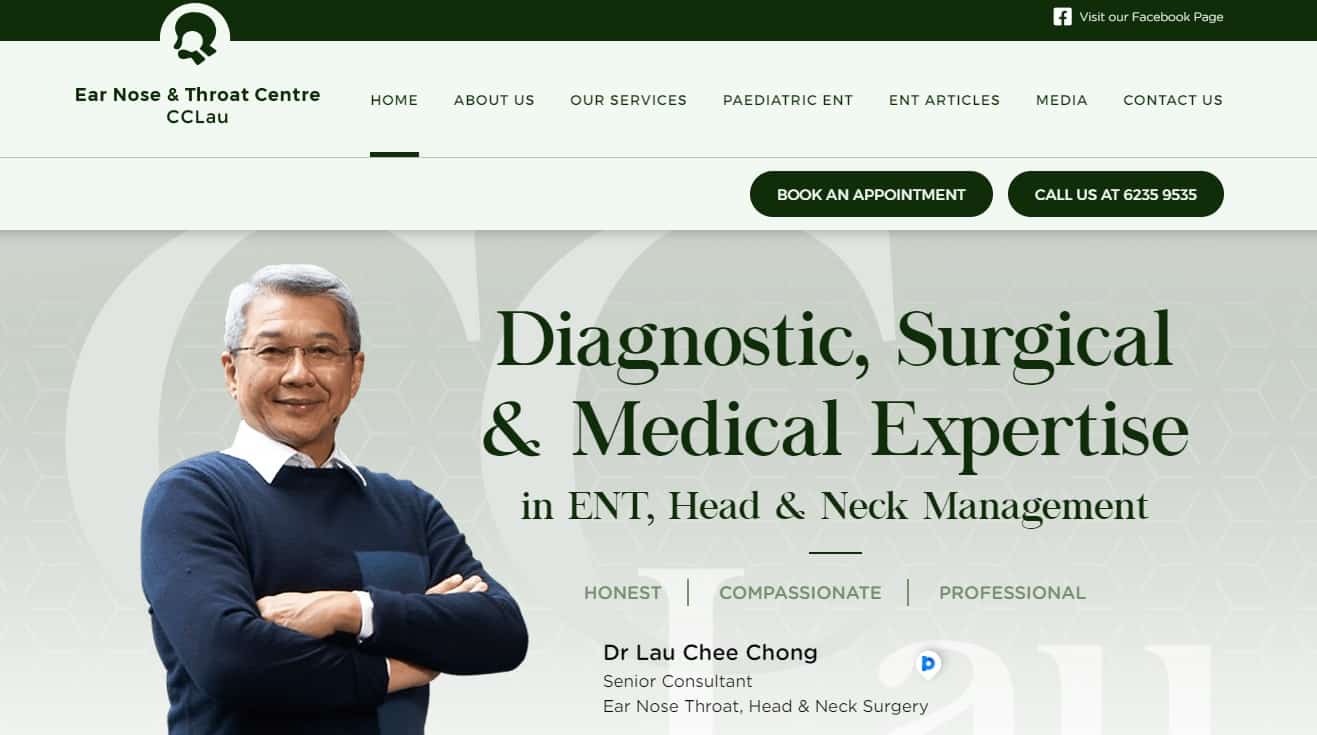 BEST FOR
Surgical and visiting rights to all private hospitals in Singapore
WEBSITE
https://www.entcentrecclau.com.sg/eng/
ADDRESS
3 Mount Elizabeth, Suite 14-11 (14th Floor) Mount Elizabeth Medical Centre Singapore 228510
CONTACT DETAILS
6235 9535
OPERATING HOURS
Weekdays: 9:00 am to 05:00 pm

Saturdays: 9:00 am to 01:00 pm
Dr Lau Chee Chong is a senior consultant at the ENT clinic in Mount Elizabeth Hospital. He offers a great range of treatments to treat ENT conditions in both adults and children.
To analyse and treat one's throat condition, he conducts screening for viral or bacterial infections and provides medical prescriptions. He also advises patients on self-care methods and performs surgery if needed.
His clinic is well-equipped for almost all ENT procedures, including the best tonsil removal in Singapore.
He can also conduct surgeries for throat cancer and polyp treatment. He received ENT training in the United Kingdom and has medical experience in both governmental and private hospitals.
Moreover, he has surgical and visiting rights to all private hospitals in Singapore, making him a well-known ENT specialist in the medical industry.
Highlights
Covers all areas diagnostic, surgical and medical of ENT
Throat cancer and polyps treatment
Dr Annabelle Leong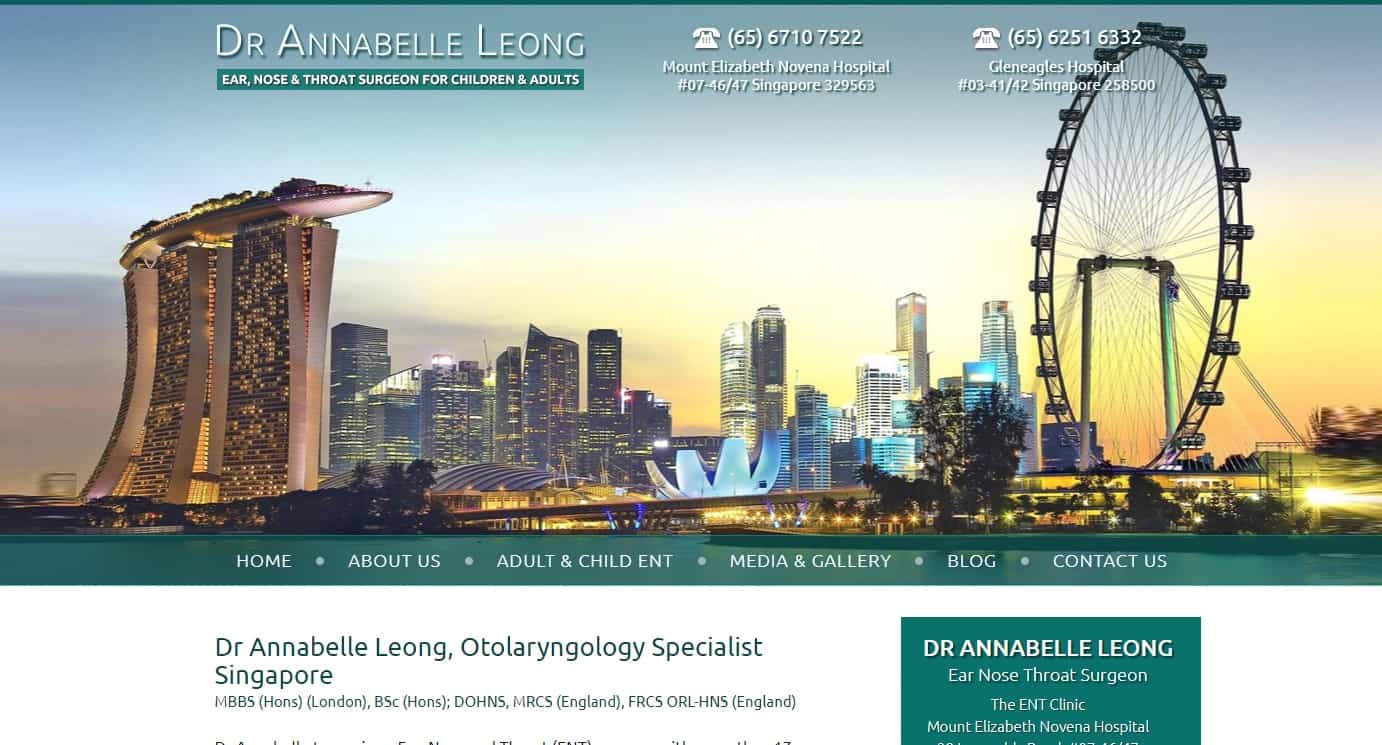 Dr Annabelle Leong is an ENT surgeon who manages all types of ENT conditions, including throat problems such as tonsil issues.
She conducts flexible nasendoscopy to carefully examine the throat. She then recommends the best tonsil removal in Singapore if the painkiller and antibiotics are not enough and tonsillitis occurs on a frequent basis.
Due to her surgical skills, she became the first and only Singaporean recipient of the Royal Society of Medicine (RSM) National Temporal Bone Prize. That already tells you why we consider her one of the top doctors for the best tonsil removal in Singapore.
Highlights
Wide range of throat and voice treatments
Award-winning surgeon
Always remember to seek medical consultation if you're experiencing throat problems. Not being aware of the possible risks will only lead to worse cases — so make sure to share all of your concerns to receive an accurate diagnosis and proper treatment.
If you'd like to see other specialists, by the way, the best ENT specialists in Singapore are also knowledgeable of throat problems and tonsil surgery. Check out that other list too!